Until quite recently, if you considered yourself serious about your audio, you might have been right for dismissing wireless headphones as just a statement for the fashion-conscious. The early days of wireless audio were often marred by glitchy and intermittent audio, but still, wireless cans persevered and survived. Recent Bluetooth technology has really started to catch up with the concepts of how wireless audio should really behave (and, more importantly, sound). Here at TMS, we decided to pick the very best of the latest crop of Bluetooth headphones of this year for you, just to prove things really have caught up.

How We Choose:
What we've aimed to nail down when choosing the current best wireless headphones on the market is the golden formula of top components and build, audiophile-grade performance, glitch-free wireless streaming, continuous playback time on a single charge and, of course, aesthetics and presentation. Each pick here represents the best in class for its price. Where applicable, we namecheck and describe the presence of noise cancellation, voice control and other unique features that might really tip you into deciding what spec is right for you. Our Buying Advice section further below leaves very few stones unturned when dissecting the technologies currently available, so do check it out. And if you want something a little more high-end, check out our roundup of the best premium cans, too.

Our Wireless Headphone Picks: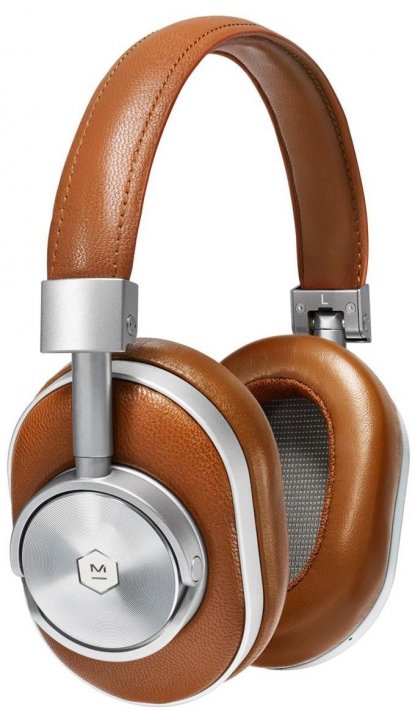 Headphone Type: Closed-Back, Over-Ear
Driver Size: 45mm
Continuous Playback Time: 16 hours
Smartphone Controls/Mic: Yes
Active Noise Cancellation: No
aptX Capable: Yes
What We Like: Luxurious feel and looks, sturdy controls, good isolation and great sound.
What We Don't: Uncomfortable when worn around the neck, occasional dropouts.
Let's start proceedings with this exclusive-looking and -feeling pair of over-ear headphones made by Master & Dynamic. Designed by a bunch of New Yorkers admittedly obsessed not only with premium audio quality, but also with aesthetics, the MW60 will stand out from afar. The combo of tan (or black) leather and stainless steel gives this pair an effortlessly slick look normally associated with luxury cars. These cans are superbly designed and thankfully not only hip-looking, but very comfortable. The large leather pads are non-fatiguing, even after hours of constant use. We would have preferred a wider headband, and it needs to be said that the 45° swivel of the pads is not enough for them to fold completely flat - wearing them around the neck can be a tad uncomfortable.
However, wireless functionality is mostly top notch. The MW60s use a very powerful Bluetooth receiver, improving reception (and distance) considerably when compared to most units on this list. The controls are well-placed and feel substantial to the touch. Audio quality is superb as expected at this price. It's very obvious that Master & Dynamic have opted for a very classic sonic approach - not using ANC (Active Noise Cancellation, which can often alter the tone of the headphones) but instead going for natural-sounding characteristics enhanced by an impressive acoustic noise isolation. Highly recommended.
See the Master & Dynamic MW60

Headphone Type: Closed-Back, Over-Ear
Driver Size: 40mm
Continuous Playback Time: 16 hours
Smartphone Controls/Mic: Yes
Active Noise Cancellation: Yes
aptX Capable: Yes
What We Like: Great update of an already great pair, killer looks, coverage and sound.
What We Don't: Barely noticeable high-pitched static noise, caused by the ANC circuit, although only when no music is being played.
We like the ethos driving Bang & Olufsen as a company. The B&O H9 is a proud successor to the previous H versions and shares most of their features, although it really cranks the style up. The use of aluminum and lambskin is already a B&O trademark in itself, and these easily rival the looks of other headphones in this class.
The H9 has an equally impressive wireless performance, but a substantial spec difference here is the presence of an in-house-designed and -tuned active noise cancellation (ANC) circuit. This is a very welcome feature since, despite the fairly large pads, the H9's acoustic isolation is not as hefty as one might expect. With the ANC active, though, the Beoplays are impressively quiet and can last up to sixteen hours before needing a charge. The aluminum interface on the ear cup is similar in design to previous models (H8, H7, etc.) and certain minor pops occasionally accompanying the control functions of H8 or earlier models are thankfully absent here. Since we're comparing this pair to the older H8, we do notice a better range coverage and a slight improvement in audio quality as well. The H9's cleverly utilise the latest Bluetooth 4.2, which with the low latency performance of the aptX codec make them into a real tour de force of portable audio entertainment. A superb choice for any wireless audiophile.
See the B&O Beoplay H9 Wireless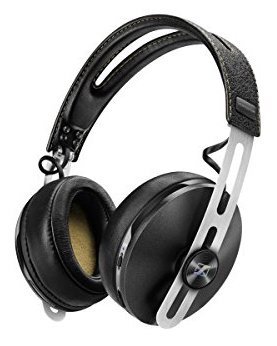 Headphone Type: Closed-Back, Over-Ear
Driver Size: 40 mm
Continuous Playback Time: 22 hours
Smartphone Controls/Mic: Yes
Active Noise Cancellation: Yes
aptX Capable: Yes
What We Like: Looks, sound, range, foldability.
What We Don't: They might be good, but we reckon they are overpriced for what you get.
The updated Momentum Wireless continues a line that listeners across the world have fallen in love with - and with good reason. Actually, several reasons. The ergonomic multi-function controls are easily accessed from the rim edge of the earcups, which also house not one but several miniature mics - two for hands free calling (when paired with your smartphone) and further four for the built in NoiseGard active noise cancellation circuit. Sennheiser have really scored with this update, which adds VoiceMax technology (read: voice level optimization), voice prompts, easy NFC (Near-Field Communication) Bluetooth pairing and multi-device connectivity. The Momentum 2.0 Wireless offer an impressive 22 hours of continuous performance (in Bluetooth/NoiseGard mode) and can also be used as a wired passive pair (with an included locking 3.5mm jack). Made of stainless steel, aluminum and leather, they also have these cool thumbscrews for headband adjustments on the earpads sides bearing the Sennheiser logo. As with many cans in this price range, the included accessories are top notch and we like the elegant carry case - perfect for longevity, since this is a foldable pair.
Interestingly, after being auditioned in a passive mode and then switched to an active mode, especially with the NoiseGard (ANC) circuit on, the sound character changes quite substantially - for the better. The internal circuitry is really well-specced and these headphones can take full advantage of it by connecting to a digital device for audio streaming via its mini-USB cable as well. In its intended mode - wireless Bluetooth - the audio is rich and uninterrupted, thanks to the Bluetooth version 4.0, and the aptX low-latency codec helps enormously - whether you use the Sennheiser Momentum 2.0 for music, movie soundtracks or for playing games. As we said in our review, "Some things in this world just work."
See the Sennheiser Momentum 2.0 Wireless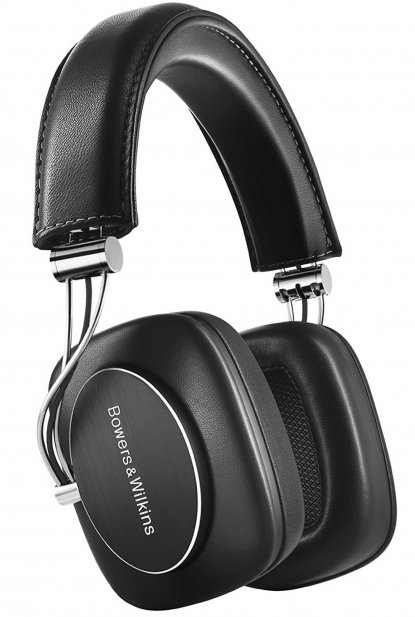 Headphone Type: Closed-Back, Over-Ear
Driver Size: 40 mm
Continuous Playback Time: 17 hours
Smartphone Controls/Mic: Yes
Active Noise Cancellation: No
aptX Capable: Yes
What We Like: Very impressive sound, beautifully built, long battery life.
What We Don't: Lack of quality accessories.
Featuring a smart looking metal and leather combo, the B&W P7 headphones look exclusive, feel sturdy (even though they are also foldable) and are very solidly built - despite the flimsy-looking metal accents.The P7 Wireless, as the name suggests, has quite a few siblings, although all but one other (the P5) are wired.
To preserve the drivers' acoustic performance, the company have opted not to use an active noise cancellation circuit, and have gone for proper isolation using good padding instead. How proper? Well, maybe not as proper as you might wish if you are a frequent flyer. For enjoying detailed audio during air travel, you might want to go for something like the Beoplay H9s instead. But the P7 manages to keep most external noise out, and the audio performance is incredibly impressive. Bowers & Wilkins know more than a thing or two about reference speakers, and it really shows here. The sound, as we said in our review, is extraordinary. Being of low impedance (22 ohms), the P7 can be driven by any smartphone/handheld device, and do not really require a preamp per se. When put through one though, however, the pair elevates itself into a different league altogether, coming close in performance and audio detail to some serious wired-only reference-grade cans. If you can forgive the lack of accessories - outside of wires, all you get is a slightly boring, too-small carry case and a subscription to B&W's album service for three months - you've got a winner.
See the Bowers & Wilkins P7 Wireless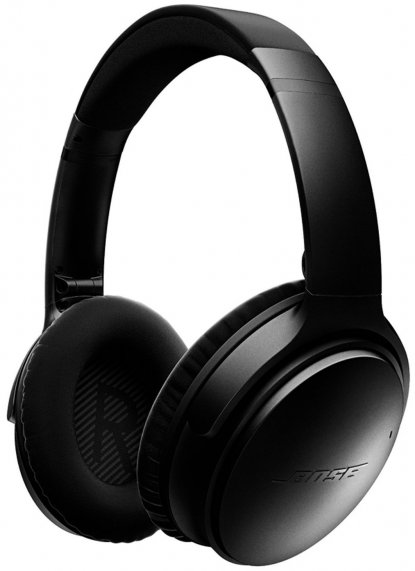 Headphone Type: Closed-Back, Over-Ear
Driver Size: 40 mm
Continuous Playback Time: 20 hours
Smartphone Controls/Mic: Yes
Active Noise Cancellation: Yes
aptX Capable: No
What We Like: Terrific ANC tech, great mic quality, very good overall tonal character.
What We Don't: No aptX support, you can't turn off the ANC circuit, no auto-sensing power-off.
Bose's QuietComfort range has been around for a while, to great acclaim. We like other models over it, but there's no faulting its popularity, especially with the frequent-flyer crowd. The models in the series are quite different from regular headphones; this is due to the way Bose have employed their digital audio prowess in voicing the 35s. The tonal character of these cans relies entirely on the company's digital tweaking - EQ curve, frequency levels, crossover points, and so on. And the sonic character has been digitally 'imprinted' - applying its magic before reaching the DACs ( 'digital to analog converter' chips, translating digital ones-and-zeros into actual sound).
It really works, and the rich sonic image has plenty of balance and control throughout all the frequency registers. Unfortunately, you can't deactivate the ANC function (even in wired mode) and in addition to that, external codecs such as the hi-res audio aptX are not supported - a bit of a pity. However, Bluetooth audio signal is super solid, and a special mention is reserved for the 35's voice call quality, which remains crystal clear even in the noisiest surroundings.
See the Bose QuietComfort 35 Wireless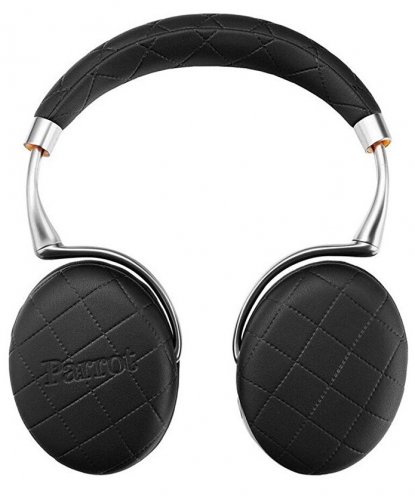 Headphone Type: Closed-Back, Over-Ear
Driver Size: 40 mm
Continuous Playback Time: 7 hours (mode-dependant up to 18 hours)
Smartphone Controls/Mic: Yes
Active Noise Cancellation: Yes
aptX Capable: No
What We Like: Quirky (perhaps ingenious?) swivel design and custom finishes, good audio performance.
What We Don't: Bluetooth 3.0 only, meaning no aptX.
The Parrot Zik 3 has been around for a little while now and we already have a very extensive review here, but let's outline some of the main pros and cons. We can start nowhere else but the looks. It's rather obvious that the Parrots are anything but a parrot! Bird of Paradise, more like, in terms of looks at least. The super-cool quirkiness of the swivel design could be one of Jean Paul Gaultier's costume creations for the classic sci-fi flick The Fifth Element: visually-striking, unique and with a multitude of loud colors and finishes on offer. Strange they may be, and yet they manage to be pleasing and beautiful at the same time.
The Zik 3 comes with a very capable ANC circuit and a smart app which allows for user-controled features such as amount of ambience noise-reduction (handy!), EQ and virtual ambience settings, and smart pause via an accelerometer (just take the cans off your head and they're on pause). Really, really cool stuff that matches and even surpasses the initial expectations given by the Parrots' looks and design. The only let-down, for the price that is, is the fact that the main biz here - Bluetooth transmission - is done over a yesteryear version, 3.0. We'll explain in our Buyer's Advice below the significance of having Bluetooth 4.0 or later. AptX codec support is missing too, due to the same fact. The result? Sound is OK, but the sonic wow factor is somewhat less punchy than the visual impact. So close though!
See the Parrot Zik 3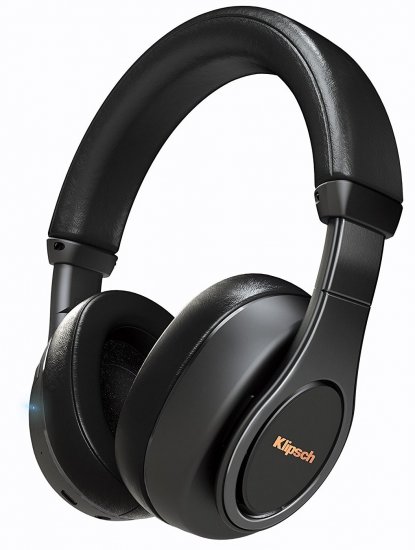 Headphone Type: Closed-Back, Over-Ear
Driver Size: 40 mm
Continuous Playback Time: 20 hours
Smartphone Controls/Mic: Yes
Active Noise Cancellation: No
aptX Capable: Yes
What We Like: They look good, and we love the audio performance.
What We Don't: No ANC.
We hardly need to introduce Klipsch as a brand - most music lovers already know of their speaker design bad-assery. The company is not new to the headphone market either, and the Klipsch Reference Bluetooth Headphones (yes, that is their name - the folks at Klipsch clearly aren't romantics) are possibly the complete antithesis to the Zik 3's above, on account of their fairly quotidian looks and total emphasis on audio quality.
Don't get us wrong, they are not bad looking headphones on any account, and are also reassuringly large, which we really like. One thing that they do exceptionally well is sound incredible for a Bluetooth pair of cans of this price tag. Taking a full advantage of some of Klipsch's famed speaker design innovations, namely their Balanced Dynamic technology, which drastically reduces speaker distortion, these headphones achieve a very tight and clean-sounding audio performance. The bass frequencies are extended and round, controlled, and never muddy. For a Bluetooth set, this probably comes as close to a 'reference' grade performance as it is currently possible, so Klipsch are not boasting in vain - even though they don't deliver the excitement or shine that we expect from cans if they're going to crack the higher echelons of this list. The wireless audio is helped big time by aptX and AAC codec support, and last but not least, voice calls sound fantastic too.
See the Klipsch Reference Bluetooth Headphones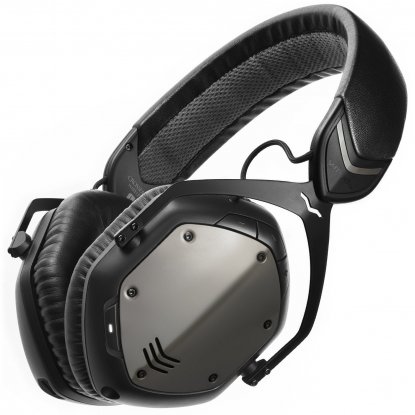 Headphone Type: Closed-Back, Over-Ear
Driver Size: 50 mm
Continuous Playback Time: 12 hours
Smartphone Controls/Mic: Yes
Active Noise Cancellation: No
aptX Capable: No
What We Like: Highly detailed performance, rugged construction.
What We Don't: The sci-fi macho commando looks may not be suited for everyone.
Once you see the V-Moda Crossfade Wireless headphones, it's hard to un-see them. They make the same striking visual impression as the Parrot Zik 3's, but in a much more sci-fi commando kind of way. The word 'military' is used more than once in the specs, as well as terms such as gunmetal black, steelflex and custom shield plate kit, which are more appropriate to something from a Tom Cruise movie. It's all in the name of durability of course, and thankfully V-Moda have limited the military-grade-ness only to some of the materials and testing procedures. You'll still be able to board a flight with them, but not unnoticed though - this is one big pair of headphones.
But even if you are not a big person, these headphones will fit well. They are fully adjustable and incredibly comfortable - no effort spared here, memory pads and all. The substantial size of the the earcups is due to the larger (50mm) speaker drivers - always a promise for a good, capable bass performance. Having already won multiple design awards, the drivers feature a patent-pending dual-diaphragm design, sporting inner and outer rings which separate bass content from the the mid and treble registers, a bit like reference bookshelf speakers featuring main drivers for low end content and separate tweeters for tops. Sort of. Being a headphone design obviously changes how things work, but what is important here is the result, and the audio is mightily impressive. There's no ANC circuit on this model, but the extra padding does help, so these isolate ambient noise quite well.
See the V-MODA Crossfade Wireless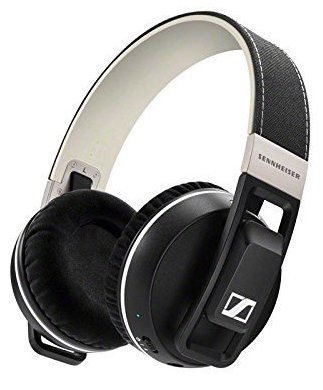 Headphone Type: Closed-Back, Over-Ear
Driver Size: 32 mm
Continuous Playback Time: 25 hours
Smartphone Controls/Mic: Yes
Active Noise Cancellation: No
aptX Capable:Yes
What We Like: Smart touch control, solid construction, big urban club sound.
What We Don't: Touch control can get quirky, bass is like a big woolly mammoth.
Having already spoken about the Momentum 2.0, which is one of Sennheiser's flagship wireless headphones, it is rather interesting to see how they've approached the design and specs of this cheaper model. The Urbanite XL Wireless have a contemporary design, befitting their name. This is a foldable pair, and although the earcups are made of plastic, the fold hinges are stainless steel and look very reassuring. Earpads are substantial, and made of memory foam and black velvet. The marketing material give a good idea of the product's main customer target, displaying urban culture - skaters, DJs and hipsters. But of course you don't need to wear your cap backwards to give these a chance.
Sennheiser have come up with a large earcup touch panel for volume adjustments (just slide up or down) and similarly to the Parrot Zik 3's you can just tap the panel to control various features - play, pause, skip, take a call and so on. Although meant as an intuitive, the interface can at times confuse the tap controls, and we find the Momentums' smart button more reliable and user-friendly. Sonics are solid but (let's talk straight here) very bass-heavy. They are well suited for hip-hop, R&B, drum and bass and like, but the tower registers do get out of hand with other production styles and genres. Bass can swamp over the mid registers, often coming across as 'bloaty' and undefined. This is the only drawback here really. Other than that, Bluetooth and aptX wireless audio performance is as expected - fast and furious. One for the bass heads.
See the Sennheiser Urbanite XL Wireless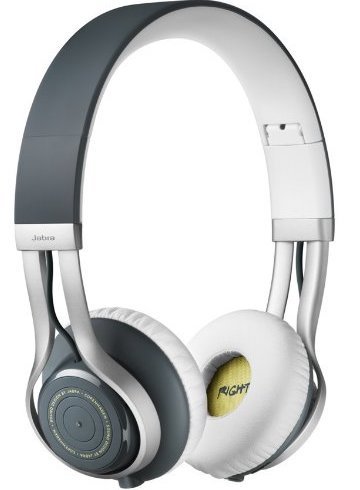 Headphone Type: Closed-Back, On-Ear
Driver Size: 40mm
Continuous Playback Time: 12 hours
Smartphone Controls/Mic: Yes
Active Noise Cancellation: No
aptX Capable: No
What We Like: Shatterproof construction, tap/slide controls, Dolby codec enhancement with the supplied Jabra app.
What We Don't: Not future-proof, due to older Bluetooth versions, which means no aptX or similar codec support.
We like Jabra. They are definitely one of the less-widely known brands, and are deserving of a major following. They always come with some really cool and elegant designs representing amazing value for money, and which are always so well built. And this sums up the REVO wireless quite well, too. This is a foldable on-ear set of headphones which are extremely solidly-built, featuring an aluminum frame, steel hinges, and a 'shatterproof' headband. Clearly a lot of effort has gone into durability here and the REVOs also look quite smart and elegant, in a sporty kind of way.
Function controls take similar approach to some previous picks on this list by including a designated multi-function button, but it's interesting to find a circular surface on the side of the ear cup as well as, and here it is called Turntable Touch Control. The name is on account of easily applying circular movements (as a DJ would use on a turntable) which allow you to control volume, skip tracks, manage calls and so on. This works quite well, and if the Jabras are used in a hybrid wired mode, the supplied lead has a multi-function button 'taking over' some of these functions. These cans also come with their own Jabra app (which has a launch button on the opposite ear cup - nice touch!) and this not only allows for tailoring of control functions, but also launches the included Dolby Digital Plus codec installed in the app's settings. This is a huge bonus of extra tweak-ability and the REVOs' sound character is very satisfactory across all musical genres too. No aptX unfortunately, but for the price these headphones represent a very impressive package.
See the Jabra REVO Wireless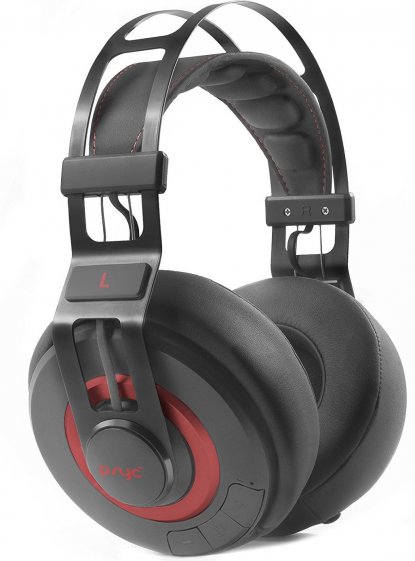 Headphone Type: Closed-Back, Over-Ear
Driver Size: 50mm
Continuous Playback Time: 6 hours
Smartphone Controls/Mic: Yes
Active Noise Cancellation: No
aptX Capable: No
What We Like: Big sound and looks, good isolation and steady Bluetooth 4.0 performance.
What We Don't: Kind of basic.
We have a somewhat Mad Max-inspired pair of wireless cans here. The ear cups in question could fill a small car's tyres with envy, but this is thankfully justified by the presence of larger-than-average 50 mm drivers, buried beneath a generous amount of padding. The headband is fairly sturdy and well padded too, but we need to say that as it's of the self-adjusting type, it may present a challenge for people with heads fairly large (or small for that matter). For the price of $40, though, we're quite impressed, and the design and extra-largeness of the Psyc Waves have that gentle giant kind of a charm.
Battery life is OK for the price, and as with most wireless sets this pair can be wired, too. The playback and call controls are very simple and quite old-fashioned compared to more contemporary (OK, expensive) models, but everything works. Telephone calls come loud and clear and the built-in voice mic delivers a very decent sound. Sonics are also impressive - certainly for this price range. Don't expect aptX here, but the signal is always steady with these cans. Similar to the Urbanites, this is a pair directed firmly at hip-hop, R&B and the like, necessitating big bass coverage. But there's nothing wrong with that, and they are still a very enjoyable pair; for first-time wireless headphone users, they will be better than just OK.
See the Sumvision Psyc Wave Wireless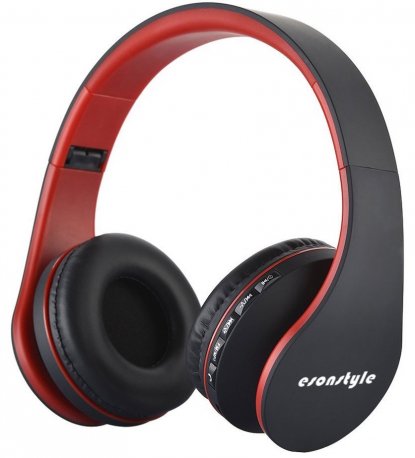 Headphone Type: Closed-Back, Over-Ear
Driver Size: 40mm
Continuous Playback Time: 4 hours
Smartphone Controls/Mic: Yes
Active Noise Cancellation: No
aptX Capable: No
What We Like: Design is pleasant, audio is decent and with plenty of low end, SD card slot!
What We Don't: Voice prompt, occasional crackles and potentially fragile.
At the bottom of our list is this fairly generic but still capable pair of Bluetooth wireless headphones made by Esonstyle. For less than twenty bucks, their looks are respectable, and they genuinely don't feel as cheap as their price tag. The foldable design has obviously borrowed from the popular brands out there and although these cans might not live long enough to serve you forever, they are sturdy enough for everyday casual use.
We should remember to not judge things harshly and compare these to the superchamps up on this list, so considering their price, everything works as expected and often better than expected. In terms of Bluetooth performance, these over-ears run on version 3.0, and do not have any fancy codecs or anything but do manage a steady connection. Control functions for music and phone calls are straightforward and we especially like the inclusion of a SD/TF card slot. These cards are dirt cheap and you can easily dump all your favorite songs on one of them and make these headphones into a self-sufficient mp3 player - a niche market, to be sure, but an interesting one, and one that is unique on this list. Outside of that, battery life allows several hours of continuous use and the audio quality is very decent, with a sort of extended urban bass character. We won't fool you into thinking that sonics will challenge a $500 pair, but for beginners, they're excellent.
See the Esonstyle Wireless

Specs Table:
| Headphones | Price | Driver | Type | CPT* | Controls | ANC** | aptX |
| --- | --- | --- | --- | --- | --- | --- | --- |
| Esonstyle Wireless | $20 | 40mm | Over-Ear, Closed | 4 Hours | Yes | No | No |
| Sumvision Psyc Wave | $40 | 50mm | Over-Ear, Closed | 6 Hours | Yes | No | No |
| Jabra REVO Wireless | $145 | 40mm | Over-Ear, Closed | 12 Hours | Yes | No | No |
| Sennheiser Urbanite XL | $200 | 32mm | Over-Ear, Closed | 25 Hours | Yes | No | Yes |
| V-MODA Crossfade | $299 | 50mm | Over-Ear, Closed | 12 Hours | Yes | No | No |
| Klipsch Reference | $299 | 40mm | Over-Ear, Closed | 20 Hours | Yes | No | Yes |
| Parrot Zik 3 | $329 | 40mm | Over-Ear, Closed | 7/18 Hours | Yes | Yes | No |
| Bose QuietComfort 35 | $349 | 40mm | Over-Ear, Closed | 20 Hours | Yes | Yes | No |
| B&W P7 Wireless | $400 | 40mm | Over-Ear, Closed | 17 Hours | Yes | No | Yes |
| Sennheiser Momentum 2.0 | $449 | 40mm | Over-Ear, Closed | 22 Hours | Yes | Yes | Yes |
| B&O Beoplay H9 | $499 | 40mm | Over-Ear, Closed | 16 Hours | Yes | Yes | Yes |
| Master & Dynamic MW60 | $549 | 45mm | Over-Ear, Closed | 16 Hours | Yes | No | Yes |
*CPT = Continuous Playback Time
**ANC = Active Noise Cancellation

Buying Advice: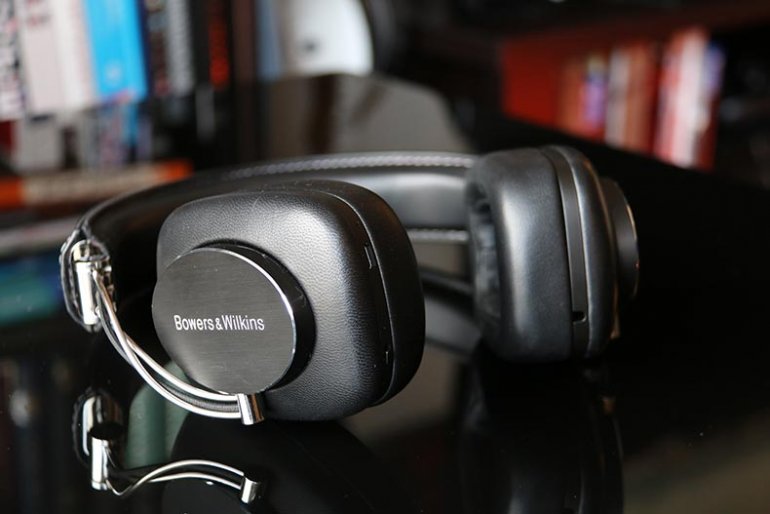 How Do Wireless Headphones Work?
Wireless headphones are just like regular wired headphones, but outfitted with an internal Bluetooth wireless receiver. This receiver 'picks up' the music player - a Bluetooth equipped smartphone, tablet or a computer, and allows for it to be paired with the headphones - just like two smartphones can pair for data exchange, or how your Android or iOS watch might be linked to your smart device.
After the two devices are paired, you just hit play and bingo - your new wireless cans start blaring the track. Not much else is needed in terms of setting up, and user-selectable functions like level, EQ or similar can be tweaked as normal from your device.
Pros And Cons
The immediately obvious advantage of wireless headphones is the sense of physical liberation - which is great for sports or activities, or wearing clothing which would otherwise make things difficult, like a hooded ski jacket. By no longer being limited by a wire, you can move around - normally up to 30 feet, in some cases much more, and still enjoy your music.
The first limitation - because yeah, there's more than one - is the the battery life. All wireless headphones require power to function, and have built-in rechargeable batteries. The cans' price and quality often determine longevity of playback on a single charge and this can vary enormously - from a few hours to up to a day of continuous music playing, and many more in a dormant standby mode.
The main issue with wireless headphones is in the problems and shortcomings associated with Bluetooth tech itself - namely the steadiness of delivering glitch free audio, which can be quite a challenge. We'll talk about different 'grades' of Bluetooth transmission below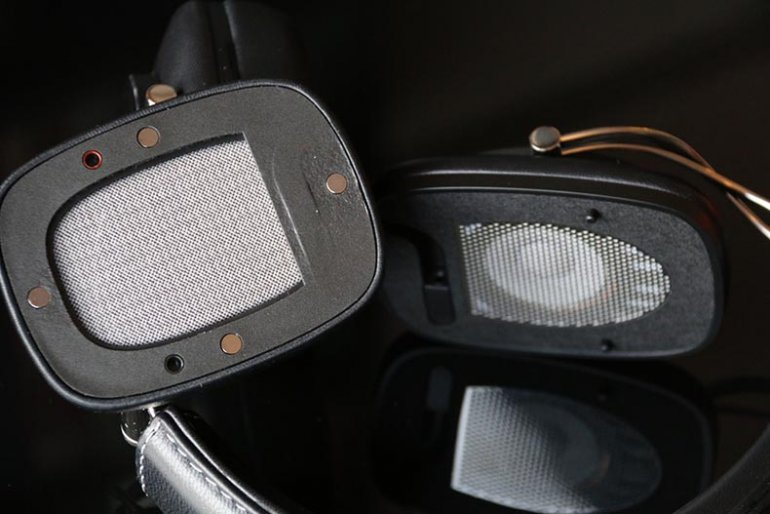 Wired vs Wireless
Alright, this is a big one and many people might resist switching to wireless cans because they've read so many bad things about 'ruined' wireless sound quality. That might be true in some cases, but may be much much less-so (and even non-existent) with new models. Let's try and compare what goes in in terms of audio signal in these two similar but drastically different technologies.
Audio performance of regular wired headphones is often a result of their own audio characteristics (speaker driver performance) and those of the music player's headphone preamp. Digital audio is being converted to pure analog sound at the player's end, and is being 'pushed' through an analog cable to the headphone drivers. A fairly simple signal path, no?
(We have to add that impedance matching in this scenario is quite crucial for this relationship and their audio performance. To keep things as clear as possible, we'll talk about impedance again further below, albeit briefly.)
When following the audio in the case of a digital music player pairing with a Bluetooth wireless headphones, the signal path is altogether very different. Bluetooth headphones (or speakers) completely bypass the digital-to-analogue converters (DACs) of your source player. These are the internal hardware chipsets ending in a 3.5mm mini-jack output - normally feeding a wired pair headphones. DACs are the chips converting digital data into actual analog audio, but when using wireless, they are rendered irrelevant since the player is beaming ones-and-zeros directly to the headset.
Which from the word go is bad news for Bluetooth audio, since Bluetooth is by design a compressed format. It has to cut down the amount of data being sent, shaving off nonessential bits, in order to get the audio effectively and quickly to the headphones. That means a lower-resolution version of your audio reaching the headphones' drivers. Compressed sound quality is often described as slightly crunchy, grainy, cold and pixelated, so is this not a good thing.
Considering that many listeners start with an already compressed audio file - the default 192 Kbps MP3/AAC files found in Amazon/iTunes as well as virtually all streaming services - it is easy to understand why the end result in many wireless headphone setups can sound worse than what you'd hear on a CD (uncompressed audio) of the same material pumped through a nice headphone preamp, driving a real fancy wired pair of headphones...
BUT. Hang on a second.
Even if the above tech facts are true, the good news is that many headphones on this list are so good, they'd probably 'blur' the subjective quality gap. The even better news is that Bluetooth has come of age and is trying hard to carry and deliver the large chunks of data that previously couldn't even dream of lifting. How's it doing that? We explain below…and if you want to switch to wired at any time, you should check out our guide to improving your headphone audio with DACs and amps. While we're at, we also have a guide to buying headphones, expanding on everything we talked about. All the guides! Guides for everyone!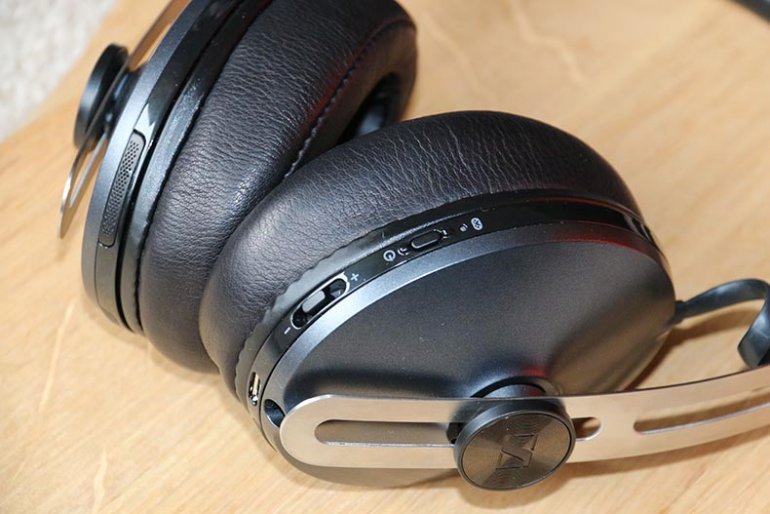 Bluetooth 3.1 Vs 4.0
From a digital 'ones-and-zeros' perspective, it isn't possible to fit enough data in a Bluetooth signal to get a proper, high-resolution sound, right? Well, yeah, that's true, though version 4.0, (and especially the updates - 4.1 and 4.2, also known as Bluetooth Smart or Bluetooth Low Energy) are certainly trying to make things better.
But how so? Bluetooth Smart (4.1), which makes a considerable leap forward when compared to the previous versions, offers major performance improvements in terms of quick (and smart) device pairing, increased range, speed and bandwidth, and up to four times less strain on battery power.
The big news for audio applications is version 4.1's vastly improved latency - theoretically up to ten times better (or smaller figure).
For example: if you are a gamer, or if you play a virtual synth on your device, it can be very disorientating to tap your device and hear the sound coming in your wireless cans not in 'real time' but noticeably later. In Bluetooth 3.0 or earlier versions, latency can often be of up to 200 milliseconds (ms), which honestly sounds like hearing your voice as a 'slap-back' wall echo in a large bathroom. This is the best way to describe latency.
Bluetooth Smart-equipped headphones (or speakers) deal with latency much better, in theory taking the latency numbers down to 40ms, which explains their much better 'feel' for real time control. It is much closer to that of a wired pair of cans in fact
It is a bit shocking to know that version 4.0 became commercially available back in 2010 and is just about now becoming the universally used version. It would be therefore exciting to see what version 5.0 has in store for us, and yes, it has already been announced that it will quadruple range coverage and increase the capacity of wireless data broadcasts by eight hundred percent. We can do the simple maths - this would easily mean that version 5.0 will handle super high-res files with ease!

aptX Explained
Until Bluetooth 5.0 has kicked in though, we have a savior for transmitting high quality audio over Bluetooth: aptX.
The aptX audio codec (yes, it has no capital letter at the start) is a mode of wireless data transfer using a smarter type of compression, which packs larger chunks of data using a 4:1 ratio algorithm. This means that it can easily handle up to 'CD quality' files - 16-bit 44.1 kHz.. Latency is also reduced considerably - down to 32ms,well within the 40ms threshold recommended for having no audio-visual 'lip sync' issues. This is the real deal, not just public relations.
aptX is pretty much the standard version of the codec when used in Bluetooth wireless audio, and you might often see it advertised as aptX Low Latency. Let's note that there are indeed several quality 'grades' of aptX - including aptX Enhanced and aptX Lossless, which can broadcast proper hi-res formats of up to 24/48kHz and 24/96kHz respectively. Since these hi-res aptX versions are not widely used yet, let's focus on the version relevant to our wireless cans on this list.
The most important thing to know about aptX Low Latency is its mode of operation. It runs pretty much exclusively on Bluetooth version 4.0 or higher, on account of its increased capability. The crucial fact that we need to take into account is that it can only work on compatible devices.
It really is a case of 'it takes two to tango' - aptX works only if you have both aptX-capable player and headphones. Many aptX-enabled devices do not, unfortunately, indicate clearly if aptX is present or even active, but it is always easy enough to check if aptX comes as an option on your smartphone (or other music device)!
What about aptX on Apple devices? Unfortunately Apple have dug their heels in the ground and have so far refused to embrace the aptX codec. With the iPhone being a virtual market leader of the smartphone market, that's not such good news, is it?
But not all is lost. You might have noticed us mentioning 'AAC codec support' in the descriptions of certain headphone models on this list. Apple devices do support AAC (Advanced Audio Coding), as it is a very popular codec widely used by Apple iTunes and YouTube. It was originally designed to offer a similar compression to MP3, though in theory at least, does offer slightly better quality than MP3 (all subject to bitrate figures of course).
Until recently AAC was not used in wireless applications at all, but thankfully many modern wireless headphone models now offer native AAC codec support. By native here, we mean that the AAC 'language' beams directly from player to cans, and the quality is not 'ruined' by additional Bluetooth compression. Until Apple embrace aptX, this is the one you should be looking for if you use your top notch wireless cans with an iPhone!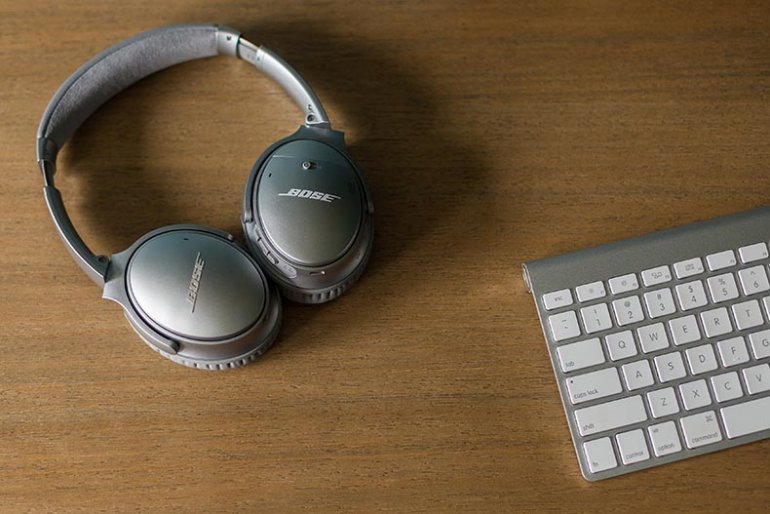 Impedance Explained
Impedance can be another puzzling technical term. We can explain it simply by saying that it measures how easily or not can a set of headphones be 'driven' to a decent playback level. The lower the impedance, the less you need to push the volume on your music player.
Impedance in wireless headphones is all taken care of by the wireless circuit itself - you don't really need to worry about impedance when they are used in their regular wireless mode, as the headphones' built-in amp handles it. The DAC (digital-to-analog converter, as described above) converts digital data (audio) and feeds it into (the built-in) mini headphone preamp circuit. This takes care of the impedance necessary to feed the headphone drivers.
The impedance of wireless headphones changes when you go into wired mode. This is where now you have to rely on an external circuit to power the cans - and this may of course be your smartphone, or a headphone amp or external DAC. Most wireless headsets are designed to have low or 'friendly' impedances, which means they can easily be driven by any device.
What is a low impedance figure, you might ask? Most (wired) cans with low impedance (say 25 ohms or less) will work well with 'weak amplification' gear such as portable music players, phones, and other similar portable devices. Higher impedance wired sets (32 ohms and over) demand more power to deliver a proper playback level. The big plus with such high-impedance sets, is that they are actually better-protected from clipping damage or even "blowing" when used with more powerful audio sources.
With higher impedance values (for example, 250 ohms and up to 600 ohms) it's likely that portable devices will struggle to deliver decent playback levels at all. In such cases you'd need an additional headphone preamp (also known as headphone amp) to drive the signal of your wired headphones to an optimum listening level.

Noise Isolation And Active Noise Cancellation
Isolation refers to how well headphones eliminate ambient noise, by means of their physical construction, the type of materials used and the tightness of the fit on your ears. The better the isolation, the better you hear the music and more expensive models strike the perfect balance between isolation and comfort, even when worn for long periods.
If passive noise isolation uses the design and construction to block out unwanted sound, active noise-cancelling designs use a powered circuit, reducing ambient noise by a process called phase-reversal.
Such designs require a power source, usually a battery, to drive their circuit. These circuits feature a teeny-tiny mic (or two, or even four in some recent models) dedicated solely for monitoring the outside noise. These mini mics feed the outside world into a mini processor, which reverses its phase (the direction of the soundwaves). This 'reversed material' is introduced, at a low level, into the cans' playback - all in near-real time. The two ambient 'feeds' are quite like two identical ocean waves crashing into each other, resulting in reduction of each other's level.
Active noise-cancelling technology can often attenuate ambient noise superbly, but it's worth mentioning that it works best on constant or sustained sounds. These are mostly lower frequencies - airplane engine noise, distant traffic, that kind of thing.
Regular noise suppression algorithms (meaning those in cheaper units) are much less effective on sudden/quick sounds like a knock on the door or high-pitched noises. Certain more expensive headphones' ANC circuits have the ability to seek-and-destroy noise located in much wider frequency 'windows' and so can be equally impressive in higher pitch noise reduction.
Many ANC-equipped headphones have the so called 'Ambient" mode button, which lets you hear your environment. This is of course handy if you are crossing the street, or cycling, etc. The process involves 'un-reversing' the reversed ambience mic feed (which as described is employed for cancelling the external noise). The result is that you are now hearing the ambience 'straight'. Flip the button again and the phase-reversal kicks in.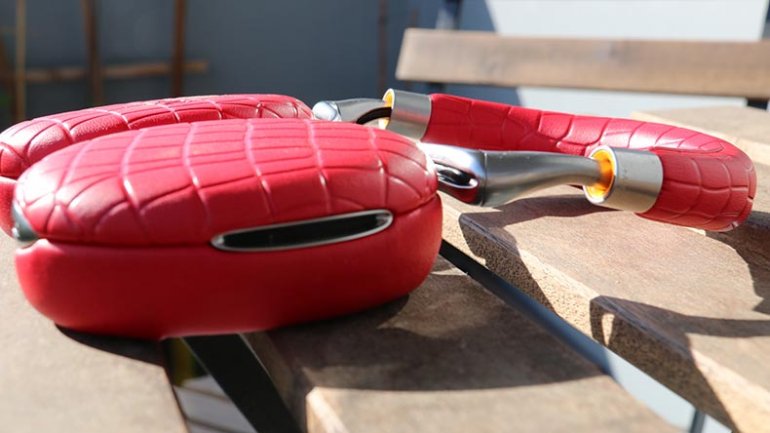 Phone Call Voice Optimization
Voice level optimization is another digital process which can vastly improve the quality of smartphone calls through wireless headphones and headsets. Similarly to ANC, a digital processor (working of the chipset within the headset) locates ambient noises located in certain frequencies and 'ducks' their levels, while slightly boosting frequencies associated with human speech registers.
You may often see the term 'cVc 6.0 noise cancellation technology' in the spec sheet of many (including budget ones) wireless devices - Bluetooth headsets, handsets and hands-free devices. cVc brings noise suppression and advanced audio enhancements by means of digital processing (like an app, really) and it's widely popular especially with lower-priced tech items. You can read more here.

Frequency Response And Intelligibility
At TMS, we try to avoid quoting frequency response figures. There are too many factors that make these figures subjective outside of a lab environment, and we don't think they're useful when you're deciding which pair to buy.
Ideally, headphones should sound transparent. It's OK if they depart slightly from the ideal flat response (meaning the way music was intended and made by the producers). A little emphasis can be applied on both the bass and treble, and this is normally what we like to do from our player's EQ settings. This helps simulate the sound you would be hearing if the levels were higher (the human hearing sensitivity at both spectrum ends drops drastically when the sound becomes quieter).
Lower listening levels are the secret for prolonged hours of listening. If wearing a pair of cans for several hours a day, comfort and durability are also key factors. If listening in quiet environments, they do not really need to block external noises. Many people also want to hear and understand if someone talking to them without removing their headphones. An open-back design represents the best choice in such a case. Compared to closed-back headphones, they offer a flatter frequency response too (think truer sound), and are much less fatiguing after hours of listening.