Beats by Dre Studio3 Wireless ($350)
Noise-Canceling: Yes
Battery Life: 23 Hours
Smart Assistant: Siri
What We Like: Good range of colors, fast charging works well.
What We Don't: Appalling sound, expensive, plasticky design.
See the Beats by Dre Studio3 Wireless
Beats by Dre are arguably the easiest brand to pick out of a crowd. The infamous "b" located on any earcup, bud, or case can be spotted from a mile away. We die a little inside every time we see it, because the Beats by Dre Studio3 Wireless are the single worst pair of headphones we have ever tested. And not for the reasons you would think. In this review, we break down the sound, design, comfort and fit, packaging and accessories, specs and more of the Beats by Dre Studio3 Wireless. To see alternatives, check out our list of the best headphones.
 
Sound
Overall Sound Quality and Power
Beats by Dre, which we'll refer to as Beats from now on, are supposedly famous for their powerful, world-beating sound. At least, that was our notion when we started planning this review. Everything about the Beats by Dre Studio3 Wireless is supposed to leave a lasting impression of strength and passion for sound, with a quality that earns their $350 price tag. After getting our hands on the cheap, plastic material of the headphones - we'll talk more about this below - we prayed that the money would be in the audio.
Alas, we were sorely mistaken. The Studio3 Wireless are some of the least-powerful headphones we've ever tested, but not in a volume sense. Nothing about their sound makes you feel like they're a powerful pair of headphones. They lack a certain full-bodied robustness that other headphones pull off, like the 1More Triple Driver Over-Ear (full review here) which only cost $250. That isn't to say the Studio 3 Wireless don't get loud - you can certainly blast noise into your brain - but that's all you'll accomplish. Pure noise. The Studio3 Wireless have no warmth, drive, or power behind their sound. The harsh airiness and lack of depth we experienced was contradictory to what we'd envisioned for the headphones, and our hearts sank a little with each minute of playback. We were so disappointed, that we had to create a separate section in our best headphones roundup advising listeners to avoid them. Yes, we went there.
To be honest, we were concerned enough about the Studio3 Wireless sound, that we legitimately thought they were broken. This might be the first time in TMS history, that we had to go to a retail store, track down a pair of headphones, and retest them to make sure we weren't losing our minds - or our hearing. We tested two other pairs of Studio3 Wireless, and one other pair of Solo3 Wireless, just to double check that we weren't missing something. And, without one shred of a doubt, we can say that our conclusion was the same. These are the worst pair of headphones we have ever tested in this price-range. Anyone who says otherwise, please feel free to fight us in the comments.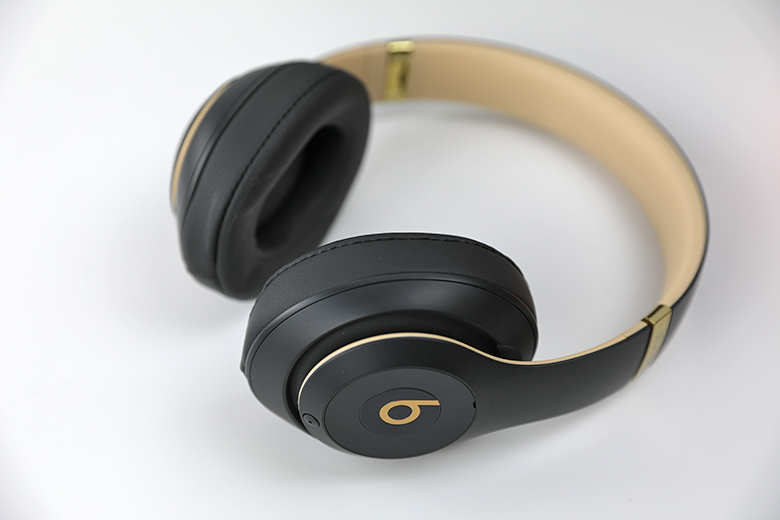 Low-End (Bass)
The loss of depth starts with the low-end - or lack thereof. While Beats is known for pounding bass, we've had better luck with $50 crowd-funded models, like the Modular Mod-1s (full review here). Those headphones managed to pull off a better bass-line than Beats' Studio3 Wireless, which cost seven times the price. When we tested bass-heavy tracks on the Studio3 Wireless, the low-end sounded dull and recessed. Bass was present in some songs, but not to the point that we felt it was making the statement Beats by Dre is infamous for - "change the way you hear sound." Oh, believe us, it did. If you're looking for a pair of headphones with punchy, impressive bass, check out the Sony WH-1000XM3 (full review here). They even cost $2 less than the Studio3 Wireless, at $348, and offer better sound and noise-canceling.
 
High-End (Treble) and Mids
The high-end and mids of the Studio3 Wireless are the most notable aspects of the sound, but not necessarily in a good way. Although the highs sound a bit dull at moderate volumes, they are still present and highlight key features in the tracks, like strings and effects. However, genres like EDM or pop, which feature tons of high-end effects and instruments, tended to distort at loud volumes. They were generally displeasing to the ear when we turned them up. We have experience with airy or bright headphones - like the Grado Labs SR352e (full review here) which serve a purpose as open-back headphones - but Beats' high-end can't touch their detail, even though they cost $55 more than the $295 Grados.
The Studio3 Wireless aren't perfect for vocals, but they clearly have more emphasis than other sections, and we could handle listening to some R&B. If anything stood out to us about the sound, it would be the vocals. Despite lacking warmth, they were at least audible. The rest of the mids existed around the vocals, and there was clear definition between mids and highs. We didn't experience any muddiness, but we also didn't feel like the notes were crystal clear. As for soundstage, which we usually devote an entire section to, we can't say much. Like the vocals, the soundstage exists, but it's not something to call home about. Overall, we've never felt so indifferent or uninspired by a product's sound.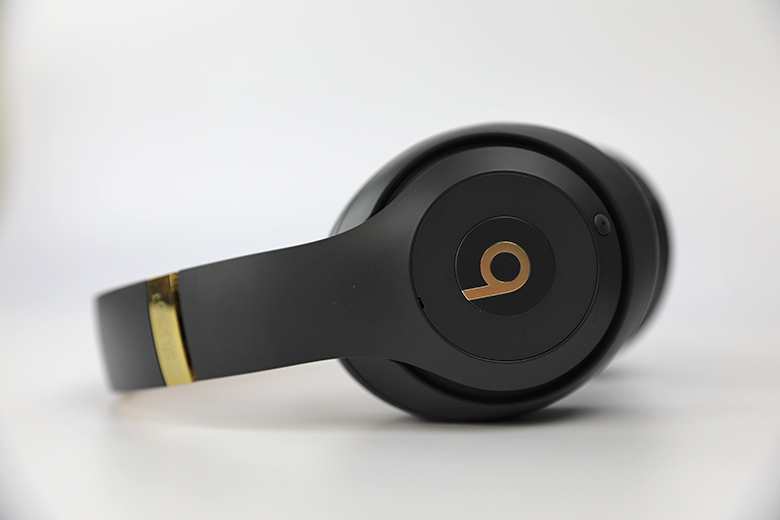 Noise-Canceling
The noise-canceling of the Studio3 Wireless certainly worked, but much like every other aspect of the headphones, it just wasn't as good as other models. At the time of writing this review, Bose had just released their QuietComfort 35 IIs (full review here), which had flawless noise-canceling, and objectively better sound quality. In comparison to the Studio3 Wireless, the noise-canceling is far superior, blocking out all outside distractions and ambience. The noise-canceling in the Studio3 Wireless allows for a lot more intrusion.
And while Beats has cleaned up their act – more on this below – Bose's newer headphones, like the imaginatively- named Noise Cancelling Headphones 700 (full review here) are still a better option if you are looking for good noise-canceling.
As a default, the Studio3 Wireless always have noise-canceling enabled, and will reset each time you turn them on. Not only does this drain the battery life - more on this below - but it's a bit confusing for some listeners who don't want to use noise-canceling. If you want to turn noise-canceling off, you can either do so by double-pressing the power button on the bottom of the earcup, or through the headphones' settings on your iPhone. If you're an Android user, you won't have the option to turn it off in your device settings, and will have to do so manually with the button. Surprise, surprise. Since Apple purchased Beats by Dre, all of the headphones' usability is designed for iOS devices. The noise-canceling also has no indication of being turned on or off. While most headphones, like the Bose QuietComfort 35 II will announce whether noise-canceling has been activated, the Studio3 Wireless throw all common sense to the wind with their fun guessing game.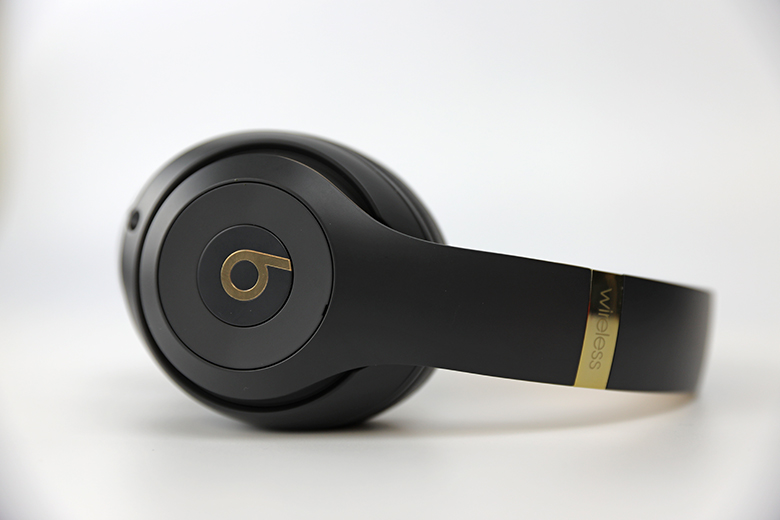 Design
Aesthetics and Build Quality
For our review model, we chose the shadow grey and gold version of the Beats by Dre Studio3 Wireless. This style was all-the-rage when first released, and we found it to be a slightly better option than the others available. These headphones also come in matte black, blue, white, red, and porcelain rose. We have to admit, the rose option looks better than it sounds, but no one wants to think about wearing a toilet bowl on their head. Although, that toilet bowl might have looked a little better than whatever Beats is trying to pass off as "stylish."
The colorway of the headphones is not our main qualm with the product. The overall look of the Studio3s is in line with the majority of other over-ear headphones, and even adds a dash of flare with metal accents on the band. However, no amount of research could prepare us for the utter disappointment that is the Beats' build quality. These headphones may fool you with their fashionable aesthetic, but the all-plastic, all-expenses-spared dollar store-quality material, which encompasses the entirety of the product, will have you in dismay. Never before have we felt that a product was so overpriced for the materials given, and we've reviewed some serious big-ticket items, like the $2,489 digital audio player from Astell&Kern - which yes, has great sound, but also costs as much as a used car. If not for their comfortable earpads - we'll talk more about these below - we would have to give Beats the worst rating for over-ear headphone design quality. The matte finish on the headphones does little to salvage the style, and if anything, acts as a dust and dandruff magnet.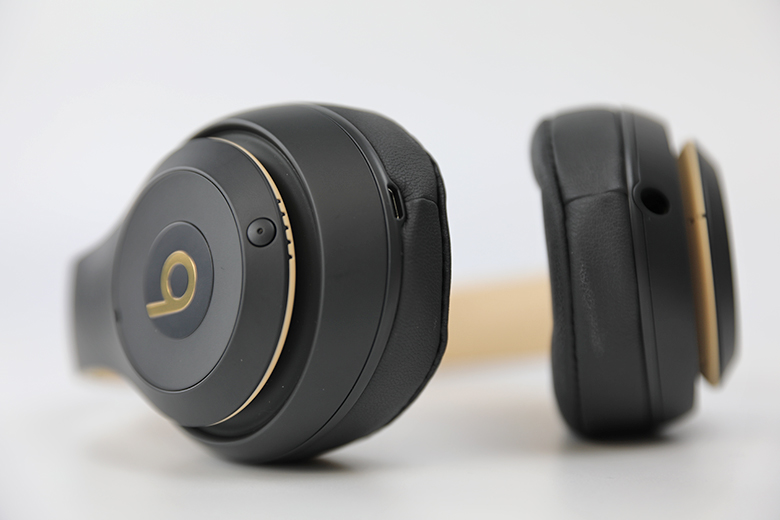 Many over-ear headphones have used a similar plastic-based design, which is mostly to save money on cost and reduce the overall weight of the product. The lighter the better, right? But when it comes to a product we're planning on tossing into a gym bag or at the bottom of our backpacks, we'd like to see a little more durability. This is something headphones like the PSB M4U 8 Wireless (full review here) did right, adding a heftiness that convinced us of their $400 value. They might not have been flawless in design, but they didn't feel flimsy or unreliable, like the Studio3 Wireless. If you're concerned about durability, invest your money in something other than a pair of Beats.
 
Portability
The Studio3 Wireless might not be the most durable, but they are portable. The band folds in just above the cups, like most over-ear headphones, and they fit nicely into the supplied carrying case. We would have liked to see the earcups rotate to allow us to wear the headphones around our necks - something the Sony WH-1000XM3 (full review here) get right - but at least Beats accomplishes the bare minimum. As for flexibility, the Studio3 Wireless can be flexed a bit, but certainly not like other models. We don't recommend bending or flexing them, out of fear that they might snap from the pressure.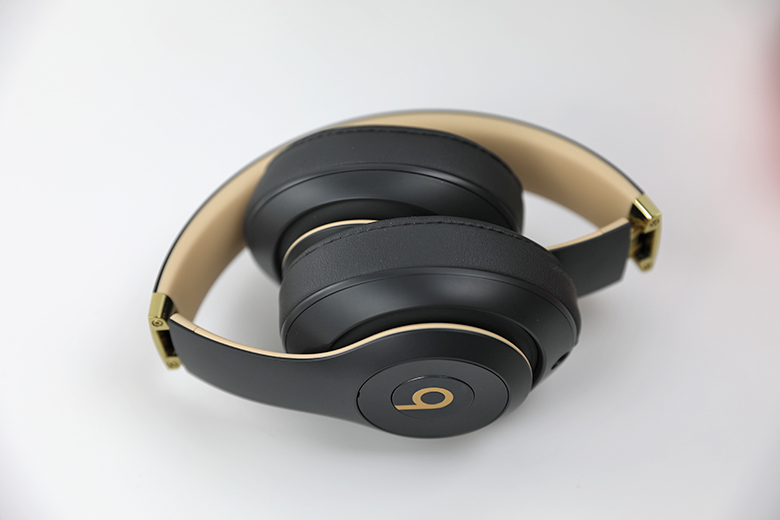 Controls and Features
The physical controls and connections for the Studio3 Wireless are located on the earcups. The left earcup houses a 3.5mm audio port on the bottom and the main control button on the side, while the right is home to the micro-USB charging port and the power/noise-canceling button. Starting with the left controls: the side of the earcup, where you also see the Beats logo, works as one big control pad. We've seen this before with models like the Modular Mod-1s, but those headphones sported a metal-plated button, while the Studio3 Wireless are entirely plastic. Does this make a difference? The answer is yes. In order to control the Studio3 Wireless manually, and access all of their features, you have to press this button. Every time you do, you will be reminded of how plasticy and cheap the construction is. This isn't something you want after you've just bought a $350 pair of headphones.
The large button functions as a pause/play, skip forward/back, volume up and down, and Siri smart assistant. Clicking the middle button once will pause or play, twice will skip forward, and three times will skip backwards. This might sound like a simple design, but it can be clunky depending on how soft or hard you press the button, and could take a while to get used to. Holding down the button will enable Siri for iPhone users. Sorry, Android. No, smart assistant for you.
As for the right side, this is where you connect your included 3.5mm aux cable with in-line microphone, as well as control the active noise-canceling feature. Pressing the power button twice will turn noise-canceling off or on. As we mentioned previously, noise-canceling is enabled every time you turn on the headphones. Be sure to disable it if you need to hear your surroundings - not that you'll have any trouble there, with the dubious quality of the cancelation. The button setup is pretty standard for wireless headphones, using one ear as the master and the other as the slave, but we would have like some sturdier controls - like you'd find on the Bowers & Wilkins P7 Wireless (full review here). Now, those are some sexy headphones, with solid build quality and better sound for a mere $50 more than the Studio3 Wireless.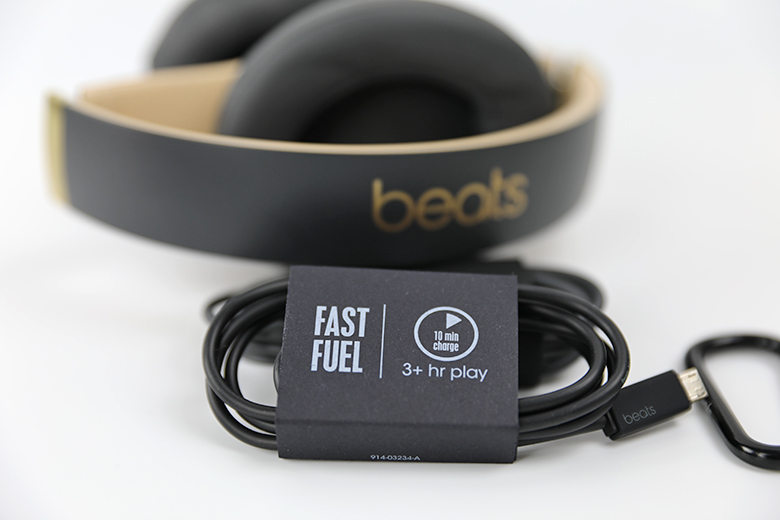 Connectivity
Let's talk about connections. Normally, this isn't something we're passionate about, but we'd like to point out the immense design flaw with the Beats by Dre headphone line. Like we mentioned above, the headphones come with a 3.5mm aux cable and a micro-USB charging port - neither of which are iPhone friendly. As Apple has transitioned into USB-C and Lightning connections, they've left Beats in the dark with their outdated cables. The included aux cable does not end in a Lightning connection, nor does it come with an adaptor, and micro-USB charging is unheard of in the Apple world. This is utter insanity. It essentially forces all listeners, Apple and Android, to use the headphones via Bluetooth connection, which not only creates issues for battery-life and charging, but makes the included in-line microphone cable completely useless for anyone without a 3.5mm port. A serious design flaw, if you ask us.
The Bluetooth connectivity of the Studio3 Wireless is standard for an Apple product. We were able to get a decent amount of distance from our phones before experiencing dropouts, and the pairing is quick and intuitive, like the $235 Apple AirPods Pro. Using Apple's W1 chip, connections are the easiest and most useful part of the Studio3 Wireless. Having said that, it's almost sad that proximity pairing and connectivity is the only good thing about this pair of headphones. It's also worth noting that newer products, like the aforementioned AirPods Pro, use an even faster chip to connect.
 
Battery Life
The battery life of the Studio3 Wireless, like the overall product, is middling. At full volume, you can only expect roughly 10 hours of playback, and 23 at half volume. If you're someone who enjoys really pumping up the tunes, then these won't last you a full day, and definitely not a transatlantic flight.
Fortunately, thanks to the Fast Fuel feature, you can get an additional three hours of playback at moderate volume with just 10 minutes of charging. If you're planning on going off-the-grid, however, these aren't the headphones for you. If you're looking for a pair of headphones with extended battery life and a decent sound, stick with the Sony WH-1000XM3, which offer 30 hours of battery life. They even boast a quick charging feature too, which grants them five hours for a 10 minutes of charging. Suck it, Beats.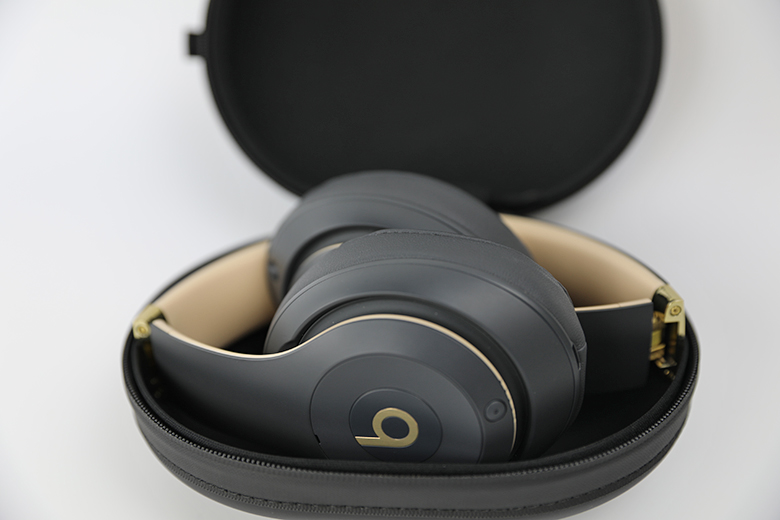 Comfort & Fit
Earpads and Band
As we mentioned before, the earpads are the saving grace of the Studio3 Wireless. They are comfortable, squishy, and don't put too much pressure on the ear. The fit is snug, so be aware if you have a larger head or ears. The only complaint we have with the earpads is that the insides are a bit compact - which is mostly a good point for isolation - but they do tend to get a bit stuffy after long periods of time. If you're seriously uncomfortable with ear sweat, avoid these.
The band is lightweight and fits nicely on your head, but the lack of flexibility - as mentioned before - can lead to some pressure for large noggins. We didn't notice any pain or discomfort while wearing the headphones, but our skulls felt objectively better once they were removed - not a good thing when reviewing a piece of gear that's supposed to be on your head for a full 23 hours. Though the band is fairly comfortable, the soft plastic material used to cover the underside of the band can tug hair when you take the headphones off. The Studio3 Wireless have nothing on the $450 Beyerdynamic Amiron Home (full review here) which are the most comfortable headphones on the planet. If you value your skull, hair, and ears, check those out. They sound terrific, too.
 
Weight and Daily Use
The Studio3 Wireless are lightweight, compact, and everything you'd expect from wireless headphones. They weigh 9.17oz, which is on par with other headphones, like the 9oz Sony WH-1000XM3. You shouldn't have too much of an issue with weight here for long-term use.
The Studio3 Wireless meet the minimum requirements for something you can take to the gym and toss around without a care in the world. If not for their outlandish price tag - yes, we truly believe they are not worth their cost - then we'd be ok with meeting the bare minimum. But, in the world of audio where you're pitted against many products with the same feature-set and price, you have to do more than the least. Read our list of the best headphones, shoot a nerf gun at the screen, and you'll hit something better and more worthwhile than these.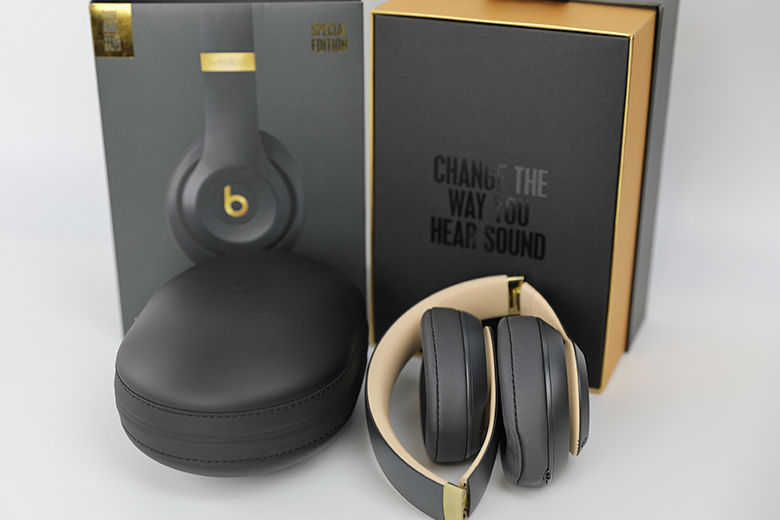 Newer Beats by Dre Models
As you've probably guessed by now, we don't very much like the Studio3 Wireless. At the time they came out, they were emblematic of everything we hated about Beats by Dre. But here's the real surprise: in the past few years, Beats by Dre products actually became good. Not just good: occasionally great. The Powerbeats Pro true wireless earbuds (full review here) were a revelation – a genuinely great pair of earbuds with smart design features and impressive sound.
The Studio3 Wireless on review here is still available, but we strongly recommend you get newer Solo Pro headphones. They are not only cheaper, but have better noise cancelling, better battery, and significantly better sound they are in every way a superior model to the Studio3 Wireless, and we highly recommend them.
 
Accessories & Packaging
We have a theory - unsubstantiated, and possibly a little fanciful - that the packaging of the Studio3 Wireless is worth more than the product itself. When opening the package, you can tell that someone or something put a lot of thought into the design, and we were genuinely impressed with the style - if only it were enough to redeem the headphones. However, the innards are almost identical to what we've seen with other wireless headphones. They feature the same box with branded sleeve, opening to reveal the contents inside. The level of creativity with headphone packaging has hit a wall that we'd like to see improved, but at least Beats has a little flair. With the shadow grey and gold version we ordered, we received the matching box, with gold accents and flashy slogans.
The accessories were also impressive, at least until we knew we couldn't utilize them fully. The Studio3 Wireless come with a pill-shaped carrying case, a micro-USB charging cable, a 3.5mm in-line microphone cable, and a carabiner to hold them all together - and a manual, of course. All the accessories were black and matched the style we ordered. This was a nice touch, but wasn't enough to win us over when we realized that the 3.5mm aux cable wasn't compatible with newer iPhones, and the micro-USB charging cable wouldn't work for other Apple devices. Android users will take the win on this one, if they want it that badly.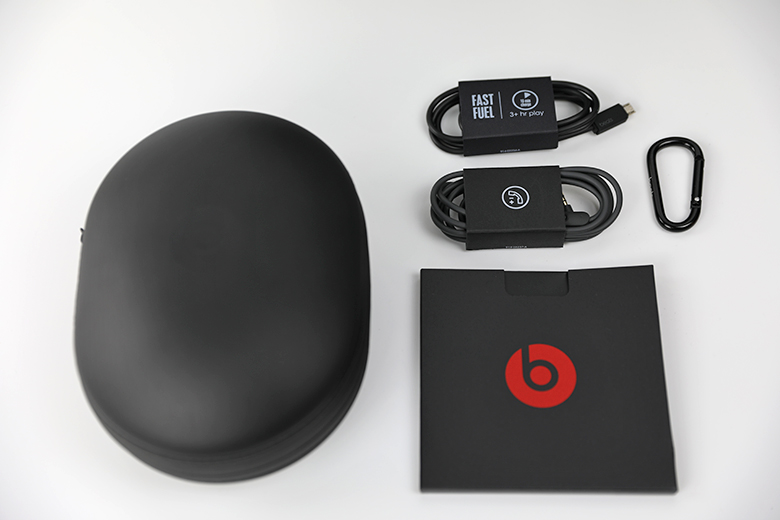 What We Like
The Beats by Dre Studio3 Wireless come in a variety of colors.
The Fast Fuel charging feature delivers three hours of battery life for ten minutes of charge.
The headphones use intuitive and easy proximity pairing for iPhone users.
 
What We Don't
The Studio3 Wireless have middling sound quality, at best.
The plastic construction is discouraging and not worth the cost.
Android users can't use proximity pairing or Siri
Apple users can't use the included in-line microphone cable or 3.5mm audio port. 
Everything about the Studio3 Wireless sound and feel cheap.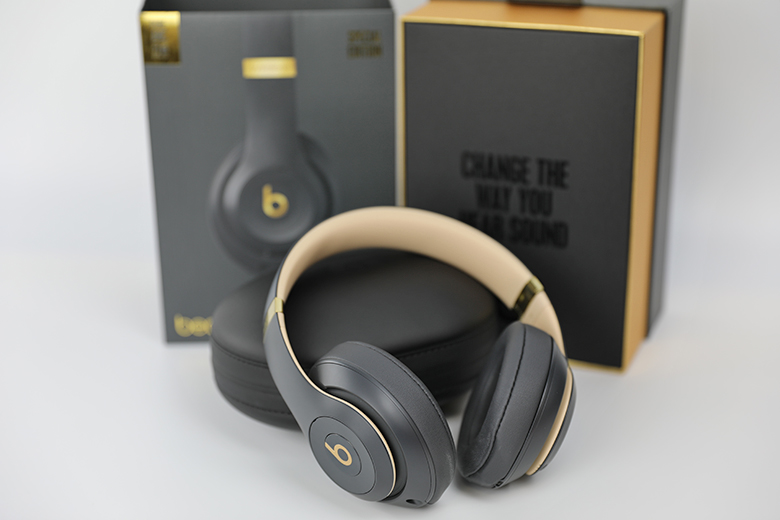 Comparison Table
*NC = Noise-Canceling
**Batt. = Battery Life
***Imp. = Impedance
****Sens. = Sensitivity
Want Even More Master Switch? Sign Up For Our Weekly Newsletter!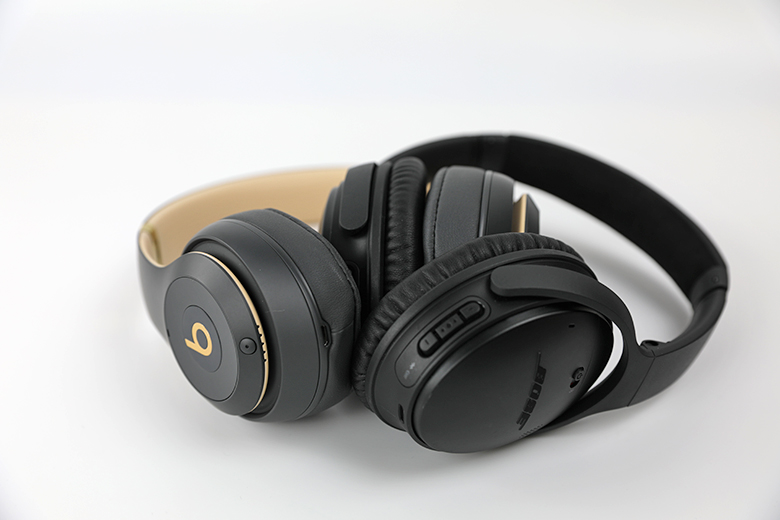 The Competition
We recently reviewed the Bose QuietComfort 35 II, and rated them the best noise-canceling headphones we've ever tested. They cost roughly the same as the Studio3 Wireless, at $349, and offer far superior noise-canceling and sound quality. Their battery life is also similar, lasting 18 hours at moderate volume. The design is a more durable plastic build, with greater flexibility and comfortable earcups that rotate 90 degrees. All-in-all, for the same price, we'd choose the Bose QuietComfort 35 IIs any day of the week.
Another pair of headphones we reviewed recently: the Sony WH-1000XM3. These headphones impressed us with their noise-canceling, battery life, sound, and general existence. We would recommend these over the Studio3 Wireless for any and all reasons. Their bass was a driving force that we craved, and enjoyed with every track - not something we can say for the Studio3 Wireless. They also cost a whole $2 less than the Beats, at $348. If you're interested in saving a little cash, the older XM2s will certainly be going on sale soon. For now, the XM3s are the best headphones you can buy.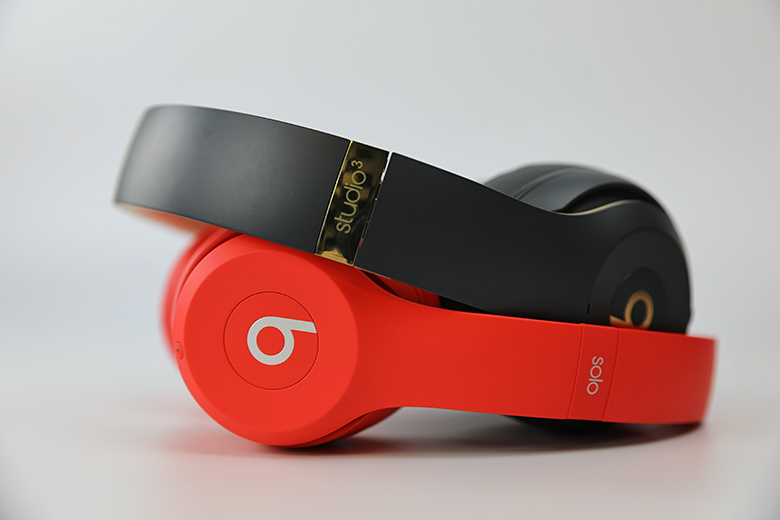 The Sennheiser HD1 Wireless are a couple years old now, but still remain one of our favorite pairs of wireless headphones. They might not be the most future-proof products - no proximity pairing or smart assistance here - but they have a sound that will outlast any of these newer, low-quality products. In comparison to the Studio3 Wireless, they have a similar battery life, active noise-canceling, and virtually-flawless Bluetooth connection. They also have a soundstage that could blow Beats into space. They may cost the same as the Studio3 Wireless, at $350, but they are more than worth the money.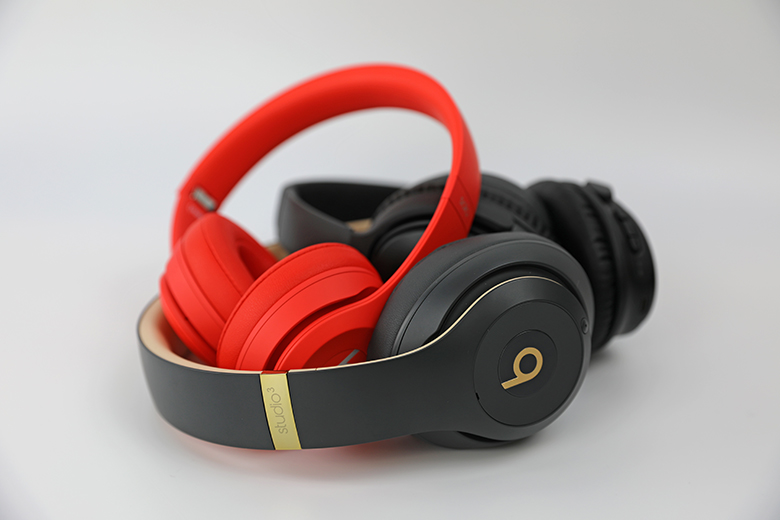 Last and certainly least, the Beats by Dre Solo 3 Wireless. Or, as we like to call them, Budget Beats. Seeing these on the street, you might actually recognize them before the Studio3 Wireless. They were the original Beats, the ones everyone and their dog were wearing, and they started the most god-awful color trend: Beats Red. Beats Red might not be a real color on the wheel, but it's one we've all learned to loathe. The Solo3 Wireless cost $50 less than the Studio3 Wireless, at $300. They boast a better battery life than the Studio3 Wireless, rated for 40 hours - however, this is due to the lack of active noise-canceling and we are seriously skeptical that you'll get the full amount. The sound is debatably worse in some areas, and better in others, but we won't put up a fight for them. If you want to spend $300 on something, please ask us for better options - seriously, email us, we're here to help - or read our in-depth review of the Solo3 Wireless, coming soon, for comparisons.
See the Beats by Dre Studio3 Wireless See the Best Headphones
Learn More About Headphones