If you've never heard the name Modular, or Mod-1, we aren't surprised. Until recently, we hadn't either. But then Modular released a pair of wireless headphones that might just dethrone the annoyingly-popular Beats by Dre Solo3 Wireless. They even surpassed their goal on Indiegogo with months to spare, and with 315% funding - clearly, there is hope. In this review, we break down the Modular Mod-1 Wireless Headphones' design, comfort and fit, sound, packaging and accessories, specs and more, as well as how they compare to other models. You can also check out our video review.
Design:
Our first note about the Modular Mod-1s is their sleek design.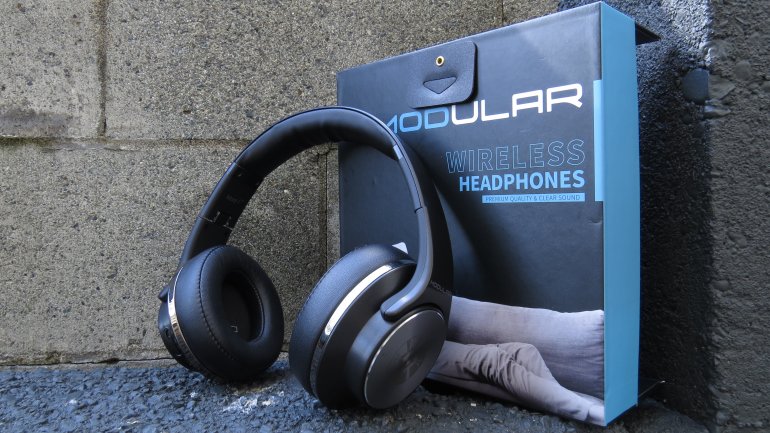 They're made of a smooth, durable metal, rather than the thick plastic that many similarly-priced headphones are made from. And, despite the sheer size of the earcups, the Mod-1s are fairly portable, and collapse for travel purposes - you can easily slot them into the side of your bag. If you carry way too much stuff like we do, though, you might struggle to find the space to accommodate them. Alternatively, their lightweight build invites them to hang around your neck - if you don't mind being that guy.
They come in three different styles - gunmetal, black, and rose gold. You may remember our rant about rose gold from the 1More Triple Driver Over-Ear (full review) review recently, but we appreciate having the option here. And, if you like rose gold, just go for it. We won't tell.
The only aesthetic flaw here is the gaudy logo, which takes up the majority of the outer-right cup. It doesn't affect the overall design of the headphones, but we think it could use another trip to the drawing board - especially as style trends delve further into minimalism.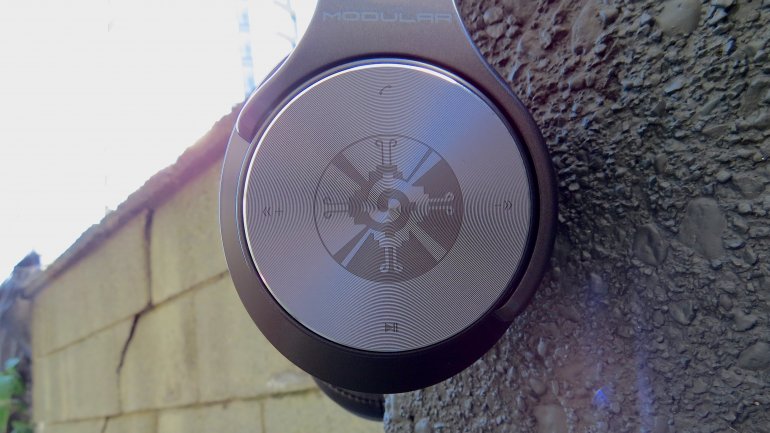 The Bluetooth controls are easy to use. You can find them on the right channel, surrounding the aforementioned logo. Originally, we thought this was a brilliant alternative to the button placements some headphones have - like the B&W P7 Wireless (full review) which has tiny buttons located on the outside edge rather than the outside of the cup - but then we tried to use them, and quickly realized why B&W chose their design. With the Mods, the buttons are so sensitive that you'll find yourself skipping songs, ending phone calls, and pressing every button in between when you least expect it. If you're going to use these for calls, definitely get the fit right beforehand; otherwise, you'll most likely hang up on whoever's on the other end.
Our suggestion to Modular: make the buttons singular and depressible next time, rather that one giant pad.
What sets the Mod-1s apart from the rest of the current headphone market is their unique playback abilities. Like most headphones, they feature Bluetooth and AUX connections - but they also contain a MicroSD card reader, which can be found on the left channel. If you're looking to completely unplug and focus on the music, you can stick your MicroSD card in and go - no need for exterior devices.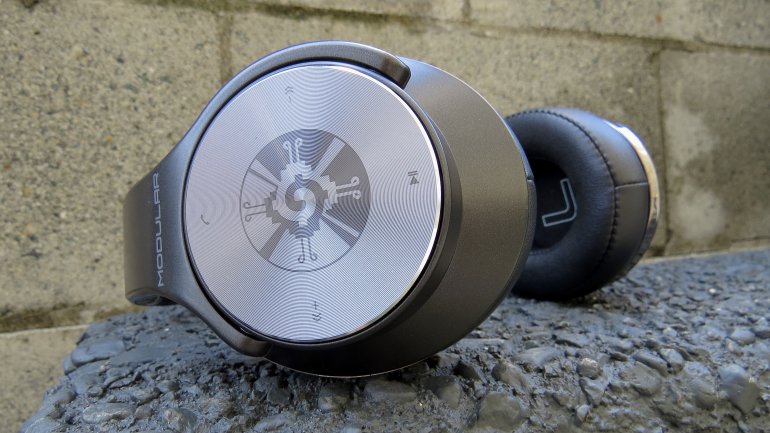 Comfort & Fit:
The Mod-1s are comfortable and lightweight. We had no issues using them for multiple hours at a time. The underside of the band is squishy, and fits nicely on top of your head. The band is also flexible, despite being made of metal, and is accomodating for all sizes - if you have a particularly large noggin, these should be your go-to.
The ear pads are comfortable too. They have a tight, all encompassing fit, that helps reduce outside noise, but don't feel intrusive. If you don't mind walking around with larger over-ear headphones, you could easily bring these out into the real world.
Like we mentioned before, we believe they'll be the next big commuter or gym cans, competing with big brands like Beats. Because of their secured fit and lightweight build, we'd say they'd be perfect for it.
Modular even has a photo on their Indiegogo of someone wearing these while sleeping. Though we haven't tried wearing them to bed, we can say that they're great for hours of Netflix usage on the couch. Modular definitely put some thought into the comfort of the Mod-1s, and it's much appreciated.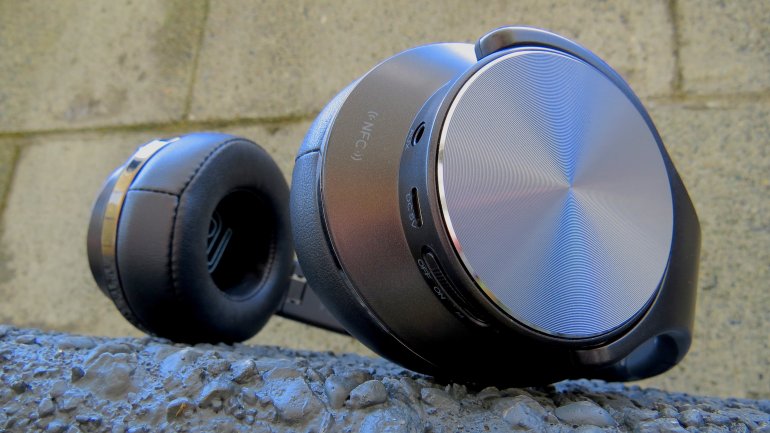 Sound:
If the Mod-1s have anything to really improve on, it's their sound.
For starters, Modular claims that these headphones are "uniquely immersive," which is quite the statement considering we're pitting them against headphones like Master & Dynamic MH40 Over-Ears (full review) and the Shinola Canfield In-Ears (full review). Both of which are perfect examples of headphones that utilize noise-isolation to their full potential.
The two key components to immersiveness are isolation and space - space referring to where instruments sit in the mix, and how you hear them placed around you while wearing the headphones. Ideally, you want to be in the center, and feel like music is playing all around, with no outside interference. Though the Mod-1s do manage some isolation, they certainly aren't "unique", and wane in comparison to the two mentioned above. As for space, they fall short of the overall soundstage experience.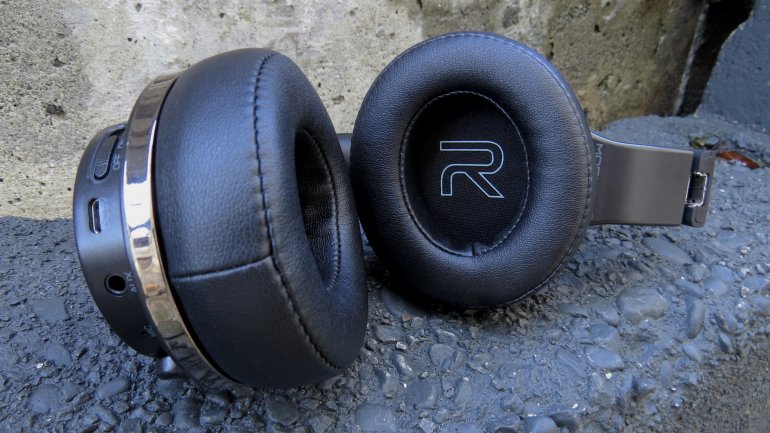 Sadly, they've also followed the bass-heavy trend we see in a lot of headphones, meaning they feature an overwhelming amount of low end - and not much else. The bass is smooth, and deep, like Modular states in their campaign, but the boost is a little too obvious for our liking. If you're an EDM or dubstep fan, however, feel free to disagree with us and party on, Garth.
The lower mids are lackluster, too, and are often overshadowed by the resonance of the bass. There's also a considerable cut in the mid range, which really doesn't do vocal tracks justice. This is especially obvious in R&B, which features a tight balance of beat, instrumentation, and vocals. Outside of the pounding bass, the most obvious playback flaw is the boost in treble. Any and all "S" sounds are exaggerated - vocals, snare, and effects - which can be rather jarring and unpleasant at times.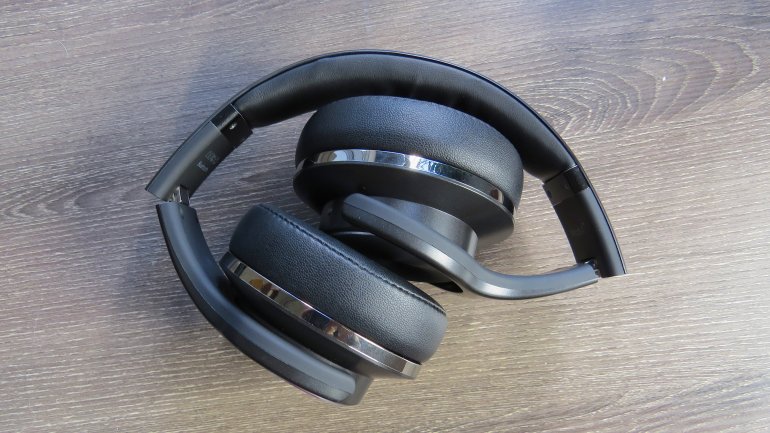 Fortunately, if you aren't using these for music playback, you can still enjoy them for watching videos. They tested well for everyday use, and we found them most enjoyable for Netflix and Youtube. We would almost recommend using these exclusively for binge-watching, because they're so comfortable and lightweight. And, although the sound isn't great for music, somehow, they help vocal tracks in film stand out. This might have to do with the lack of bass in film, paired with the Mod-1s' boost in treble, which is where a lot of voices sit. Either way, we're not going to question it. It's an honest blessing if you have a tough time hearing dialogue.
If Mod-1 could nail their music playback on the second go, they'd easily make our list of top affordable over-ears. Until then, they've been assigned to Netflix.
Accessories & Packaging:
The packaging is nothing special, like a lot of headphones in this price range - we can't, after all, expect $50 headphones to come in a fabulous package like the Nuraphones (full review).
It's a standard black, cardboard box with a plastic cover, and felted space for the headphones to sit inside. We could have done without the weird photo of the dude on the front, but that's an advertising choice Modular decided to make, and maybe they like it.
The Mod-1 package consists of the over-ears with removable cups, an AUX cable with 3.5mm jack, and a Micro-USB charging cable, nothing too extravagant - nowhere near as impressive as the AudioQuest Nighthawk Carbons (full review) which came with a range of accessories, including a leather case, additional pads, cloths, and cables, but they covered their bases. Depending on which package you select, whether it be on Indiegogo or the website, you may receive an additional pair of ear cups.
Other than that, the Mod-1s don't offer anything in the way of accessories. We're anticipating their release of extras post-launch, and will keep you posted if we hear anything.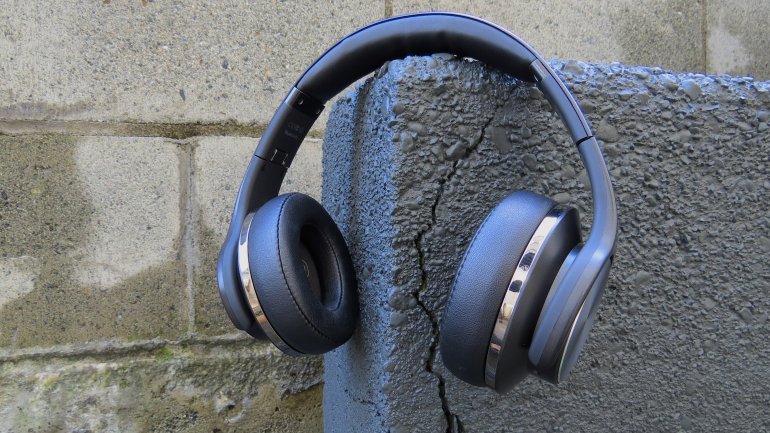 Verdict:
The Mod-1s are alright. Just alright. But we think, with a few improvements, they could be a lot better.
They're adequate commuter cans, great for at-home use, and are durable and lightweight enough to use at the gym. They're also pretty comfortable, which merits quite a few brownie points from us. If not for their uninspired sound, we'd be recommending them left, right, and center.
Focussing entirely on design and style, we believe they could quickly overthrow products like Beats or Skullcandy, as they're much more affordable and exist at the same, if not better, quality level. For $50, which they're currently offered for, we can't complain. Our recommendation to Modular: focus less on the bass, and test these headphones with every genre of music. If you can nail the playback quality here, you'll be unstoppable. Oh, and maybe ditch the logo.
What We Like:
Affordable.
Comfortable and lightweight.
Multiple playback options.
Stylish, with multiple color combinations.
Compatible with all bluetooth devices - including Samsung Dual Audio.
What We Don't:
Unbalanced sound.​
Less than impressive noise-isolation.​
Bulky controls, which are easy to misuse.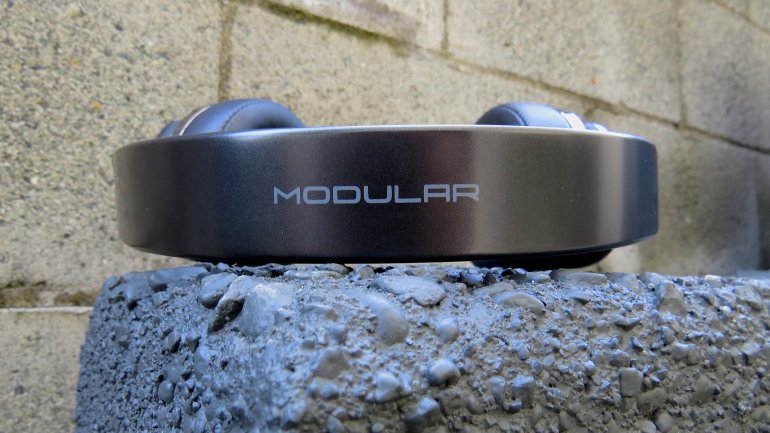 Alternatives:
For a pair of sub-$200 wireless headphones, the EarPrint H2s still manage to impress us. They look great, combining wood, leather, and metal for a unique style that we'd expect from headphones in a much higher price range.
Style aside, they also sound pretty good - one of the best available. Their most unique selling feature: they take a sound image of your ear canal to customize the playback experience, which works pretty well. Though they may lack presence in the vocal range, we think their overall sound is good. A worthy alternative if you're prepared to spend a little more.
The Plantronics Backbeat 500 make a great alternative because they're very similar to the Mod-1s in terms of style and price. They even made our roundup of Best Wireless Headphones of 2018. An upgrade from their previous model, the Backbeat PRO2, the 500s are less than half the price, and offer roughly the same functionality. No, there's no aptX wireless function, just straight Bluetooth 4.1, but they can handle almost 18 hours of playback.
The sound quality is good, offering a crisp detail that surprised us, especially for cans this affordable. Sitting at just $80 retail price, you can't go wrong.
If you can stretch your budget a little, we will always recommend the B&W P7 Wireless. They're just awesome. Period. Though B&W has released a newer version - the PX Wireless - the P7s remain a fantastic and affordable alternative.
They offer an immersive experience that most wireless headphones can't seem to accomplish, while managing to look stylish. They're attractive, comfortable, and built solid, making them perfect for everyday use. The P7s give you everything you want from a traditional, high quality over-ear, without the need for a cable. They're also low impedance, which means you can drive them with an average smartphone, rather than needing an amp. They exist in a separate class from the Mod-1s, but should definitely make your list if you can afford it. Read our full, in-depth review.
Comparison Table:
*Batt. = Battery Life
**ANC = Active Noise-Cancellation
Video Review:
Learn More About Headphones