If you've heard the name Shinola, you're probably familiar with the luxury watches, accessories, or even bicycles that they make. But what is a Detroit-based watch manufacturer doing creating audio gear? Let alone, decent audio gear. Shinola teamed up with Campfire Audio - known for their out-of-this-world in-ears - to make something quite interesting: the Canfield In-Ears. In this review, we break down the Canfields and their sound, design, comfort and fit, packaging and accessories, specs and more. If you'd like additional options, see the best high-end headphones.
 
Sound:
First Impressions
Even if the Shinola Canfields couldn't win you over with style, they certainly crush the competition with sound quality. As a watch and accessory manufacturer, what could Shinola have known about making quality in-ears? We had our doubts, and besides a couple small drawbacks, were proven very wrong. Clearly, working with Campfire was a smart move - they are the creators of the Vega In-Ears, after all. Until you've played with the Canfields yourself, it's hard to understand just how rad these babies are. Let's explore.
The noise-isolation - we'll talk more about it below - was the first thing we noticed about the Canfield's sound, which makes them ideal for at home listening. Once the track started playing, it was as if the rest of the world simply disappeared. This is what we expect from an immersive experience: no distractions, just you and your favorite tunes.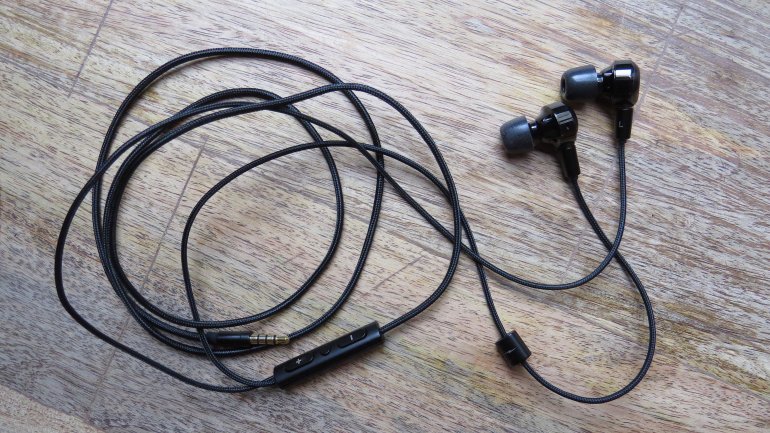 Soundstage and Quality
Details in the tracks were pulled forward, which allowed us to hear what artists were trying to create with each mix. As if rebooting old songs, effects like reverbs, and delays were finally noticeable. The Canfields were able to separate tracks into the widest soundstage we've heard from earbuds at this price, far surpassing others like the MEE Audio Pinnacle P1s (full review). Each component found its place without being lost. This was especially obvious in songs with stringed instruments, like fiddles and acoustic guitars, which often don't come across well on earbuds.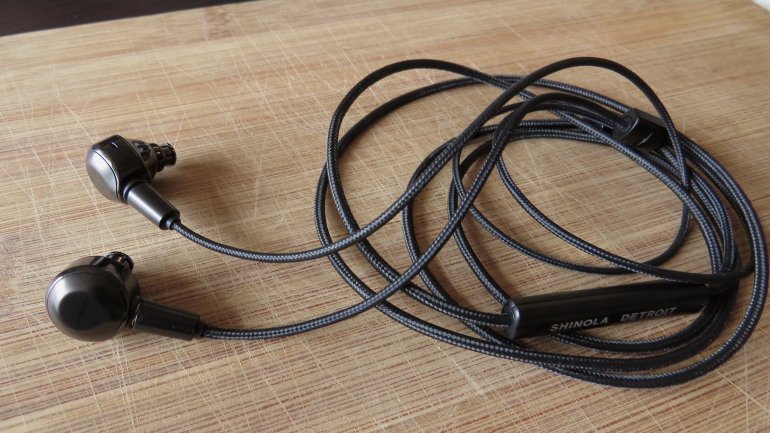 Unfortunately, the Canfields were still missing a polish that could have scored them a home run. The lack of crispness and clarity left us craving something better. If Shinola could master this, they'd most definitely win our Editor's Choice Award. However, if you're a rap or R&B fan, you'll appreciate what the Canfields can do with a solid, bass-driven track. They manage to drive steady lows without overwhelming the rest of the song, which is not an easy feat - usually, it's the first test models fail (Beats, we're looking at you.) The mids are smooth, warm, and inviting, but can get cluttered in the lower mid-range if there's a lot going on - instruments like the double bass, or even deep acoustic guitars start to sound more like mud than music. Fortunately, vocals are brought directly to the front of the mix, outshining dull instrumentation. For fans of vocal-centric genres, like acoustic, the Canfields are ideal, and will do any artist justice.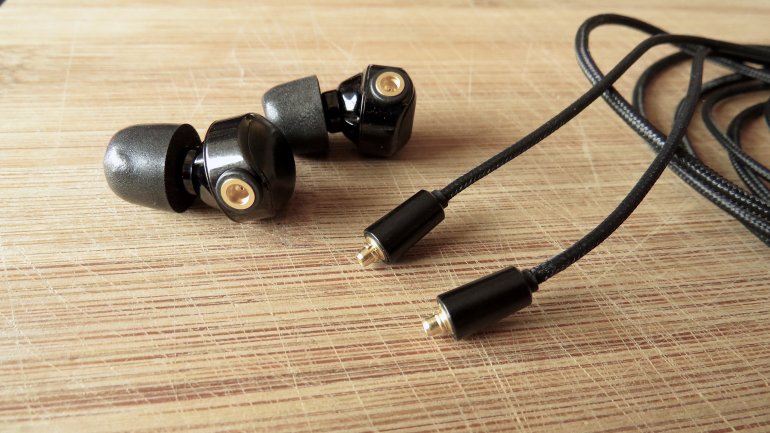 Microphone Quality
Microphone quality isn't generally what we focus on in our sound section - some earbuds, like the Periodic Audio Titanium (full review) don't even have a mic - but we do feel the need to point out that this microphone will pick up everything. Everything. The person laughing down the street, the garbage truck, outside music… From what we gather, there's little to no effort placed on vocal isolation, which makes it obscenely difficult to hold a conversation in busy settings. Definitely something to keep in mind if you make a lot of calls on the go.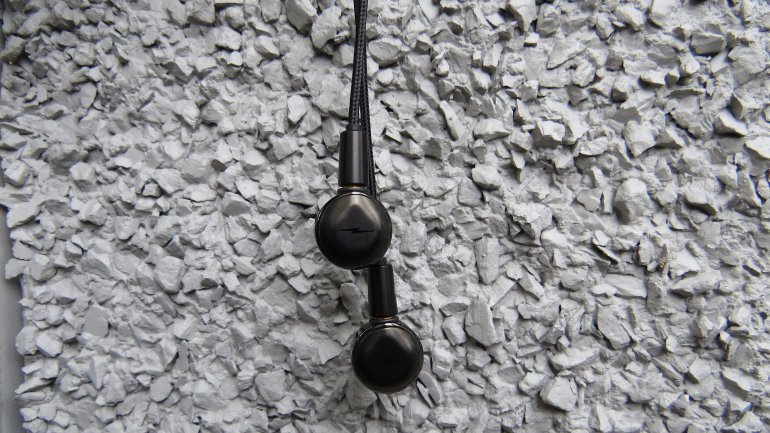 Design:
Build
From the moment you open the package, the Canfields create a lasting impression. The earbuds are heavy - made from stainless steel - and feel solid in your hand. You can't help but admire the lightning bolt symbol on the outside of the earbuds, and the thick casing with mounted memory foam tips. Unlike in-ears designed for subtlety, like the semi-transparent Brainwavz B400s (full review), everything about these demands to be seen. The Canfields come in two different styles: black, and silver. Both are made from the same steel, accompanied by a detachable 4' long, corded cable.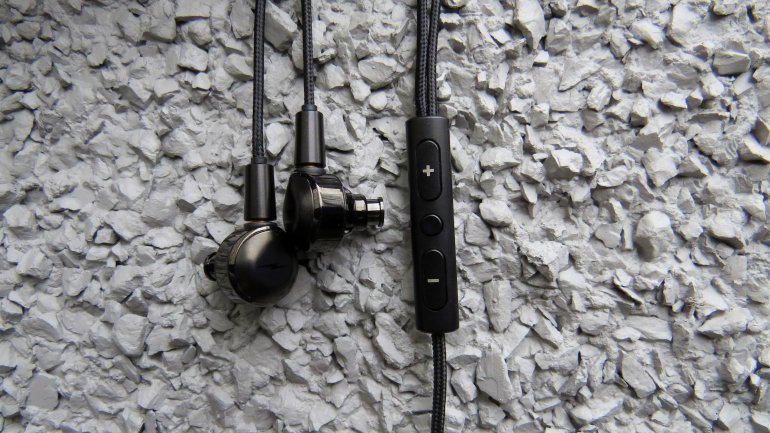 Attached to the right channel is an ⅛" inline mic, which follows the standard for modern headphones. The remote for the volume control, however, is located where the two channels meet in the center of your chest. Originally, we thought this placement was an improvement from the usual mic/remote combo - like you would find on the Optoma NuForce BE2s (full review) - but we were sorely mistaken. If you're wearing a thick coat, or even a scarf, the remote gets lost easily, and can throw you for a loop if you're used to the average placement. The remote itself is also made from a cheaper material than the rest of the Canfields, which is just disappointing. A simple fix here could have made a big difference to the overall impression. Tsk tsk.
The 8.5mm dynamic drivers in the earbuds are made of beryllium. This rare material is actually found in the cores of stars, and used to create high-speed aircraft, missiles, and the all-powerful, world-beating Focal Utopia (full review) headphones. Though there are a couple other beryllium-based earbuds kicking around, like the Treblab X2s, we think the Canfields deserve to exist in the same class as missiles. They're just that cool.
Compatibility
Unfortunately, this missile veered way off course when Shinola decided to eliminate over half of their potential listeners. The inline remote and microphone we mentioned? They're only compatible with Apple products that are 6th generation or newer, meaning Android users could be knocked out entirely. Shinola, why? Even our least favorite earbuds, the Focal Spark Wireless (full review) play nice with others. The earbuds themselves should still function with other devices, but the package even states that they're for use with Apple products. If you're not an Apple person, you'll still be able to enjoy the Canfields' sound and aesthetics, but half the features will be rendered utterly useless. Hopefully, this is something they'll reconsider in the future.
Good news: the Canfields come with a two-year manufacturer's warranty (from the date of retail purchase), which covers any defect in the product. This is one of the benefits of choosing slightly pricier earbuds, as opposed to taking a gamble with cheaper models.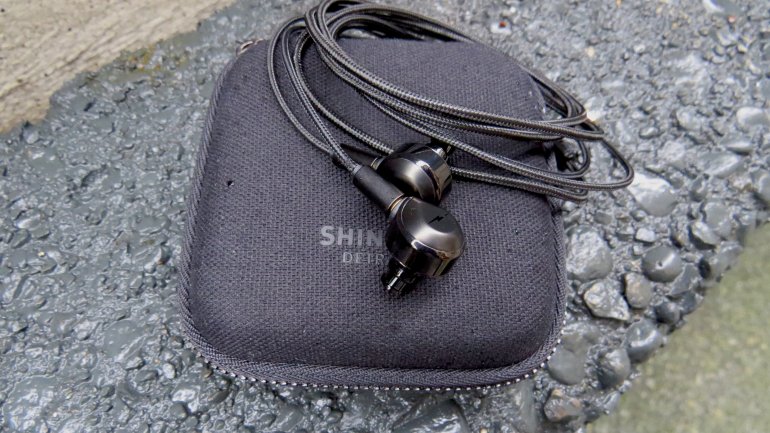 Comfort & Fit:
Noise Isolation
If you're looking to avoid people, these are the buds for you. The noise-isolation here is flawless - unlike . They manage to block out virtually any sound trying to seep through. It's one of their best features for music, but at the same time, a struggle for everyday use - making it an odd, double-edged sword.
For listening, isolation is key, and there's definitely no danger of missing out on the mix here - like you might with the MEE Audio Pinnacle P1 (full review). However, if you live in a city with reckless cab drivers - and/or cyclists - you may be in very real danger. This shouldn't be considered a downside of the earbuds themselves, because they're just doing their job, but the inability to hear approaching traffic is...well, concerning. If you're going to wear them out and about, please exercise caution. Also worth noting: at times, the isolation makes it difficult to hear your own voice, which can obstruct the flow of conversation - an issue you wouldn't expect from earbuds, further limiting their usability.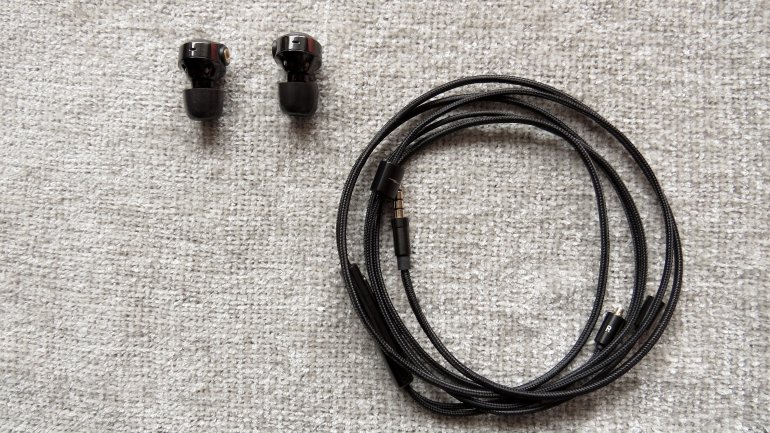 Fit
The Canfields sit snug in your ear canal, and are practically unmoveable once secured. You don't have to worry about them shaking loose, falling out, or rattling in your ear, like you do with generic Apple earbuds. But this also means that, if they do get yanked out - if, for example, you have a dog that likes to greet you at the door and get tangled in your cords - you may suffer quite the tug.
Unfortunately, the testing model we were sent didn't include the silicone eartips that come with the retail model for fit customization. Shinola offers three sizes - S, M, L - which seems generous, but is actually much less than what's provided with the Audiofly AF140. We made do with the mounted memory foam ones. Regardless, the Canfields were comfortable for longer periods of time, despite being heavier than your average earbuds. We did notice some fatigue after about two hours, though this probably could have been avoided by wearing appropriately sized tips.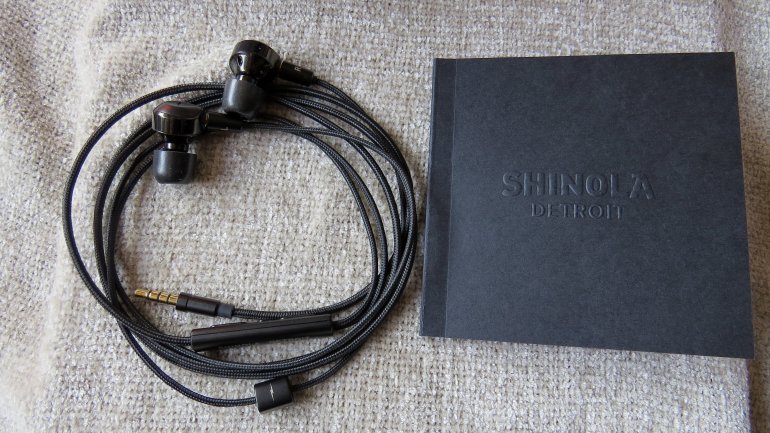 Accessories & Packaging:
Packaging
Much like the earbuds themselves, the Canfields' packaging is impressive. The box, which looks like it was actually made for a luxury watch, is covered by a matte-finish, cardstock sleeve featuring all the Canfields' information. The carrying case is a deep black with classic font, sealed with a thick zipper to protect the goods inside. Even the manual is cool (seriously), with embossed font and cardstock paper. You can tell Shinola takes pride in their whole package. This was a nice surprise after suffering through some rather boring boxes in the past - like the OPPO PM-2 (full review).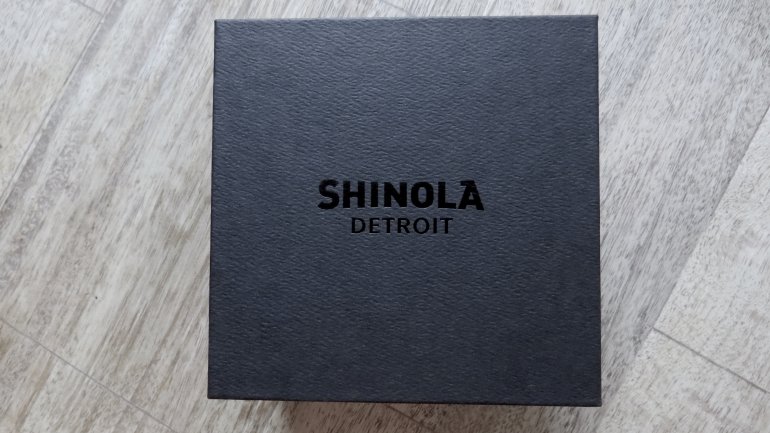 Accessories
As well as the carrying case and manual, you get the three additional sets of silicone tips, a 4' long, corded cable with custom MMCX Connectors, and an inline mic and remote. At the end of the cable is a 3.5mm stereo jack for use with most headphone ports. Oddly enough, the cable is possibly the most appreciated design feature of Canfields, as it makes them much less likely to tangle. There's nothing worse than pulling a mangled mess from your pocket, especially if you're in a hurry. Every fiber of the cable is satisfying to touch, and a true testament to the Canfields quality overall. The only complaint we have about the cable is the noise it makes when rubbing against metal zippers - a problem we wouldn't have with simpler in-ears, like the RHA T20Is (full review). But we'll take noise over tangle anyday!
The travel case is handy, and helps further prevent the Canfields from tangling. Thank you, Shinola! It's lightweight, compact, and takes almost no additional effort to use. With the earbuds' high-class appearance, you definitely don't want to scuff them up. Plus, unlike average audio packaging, the box is worth keeping. You could even save it for watch or jewelry storage.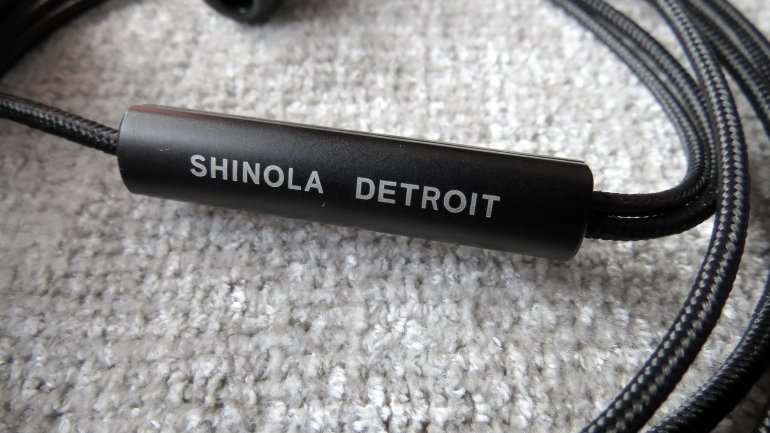 What We Like:
The Shinola Canfields are of superior quality and build.
The earbuds are durable and heavyweight.
They are possibly the most stylish earbuds on the market.
The Canfields have a solid sound, far surpassing their price tag.
​The bass response is present, but not overwhelming.
 
What We Don't:
They're a bit expensive for commuter buds, but exist in a higher class than those.
The remote and mic could be better, and placed in a more convenient location.
Unfortunately, the remote and mic are only compatible with Gen. 6 Apple products or newer.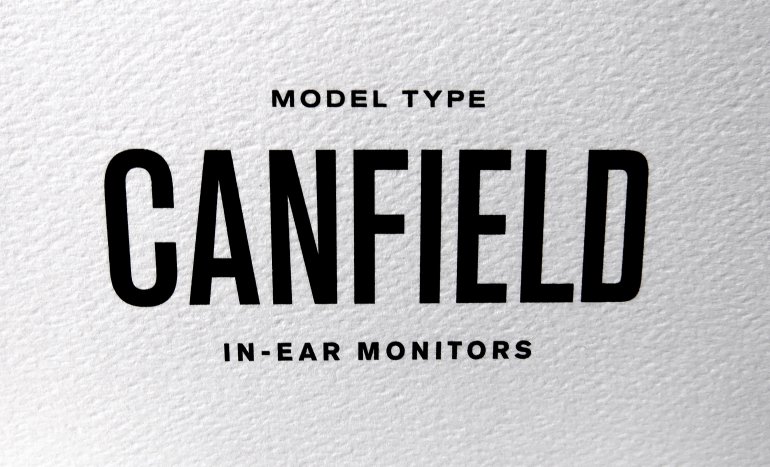 Comparison Table:
Want Even More Master Switch? Sign Up For Our Weekly Newsletter!
 
The Competition:
There's no denying that the Canfields are classy as hell, winning us over the moment we opened the package. Plus, from a sound standpoint, they outperform the majority of in-ears in their price range. They retail for $195 - walking a thin line between expensive earbuds and affordable ones. But they're fairly versatile, which makes it easy to float from daily to professional life, meaning you don't have to settle for one over the other. In our opinion, the experience you get with each track is more than worth the cost. However, if you're interested in some other options - at least until you realize the Canfields are superior - we've gathered some for you. 
We reviewed the Brainwavz B400 (full review) recently, and can safely say they live in the same class as the Shinola Canfields - both in price, and quality. The B400s offer a wide soundstage, clear vocals, and decent mid-range, but also lack the brightness we missed with the Canfields. Though they sound similar, the two products sit on entirely opposite sides of the style spectrum. We chose the B400s as an alternative simply for those who don't appreciate the Canfields' design. They are semi-transparent, subtle, and easily concealable - the polar opposite of Shinola's statement piece. Priced at $190, these are the perfect alternative for the less flashy earbud connoisseur.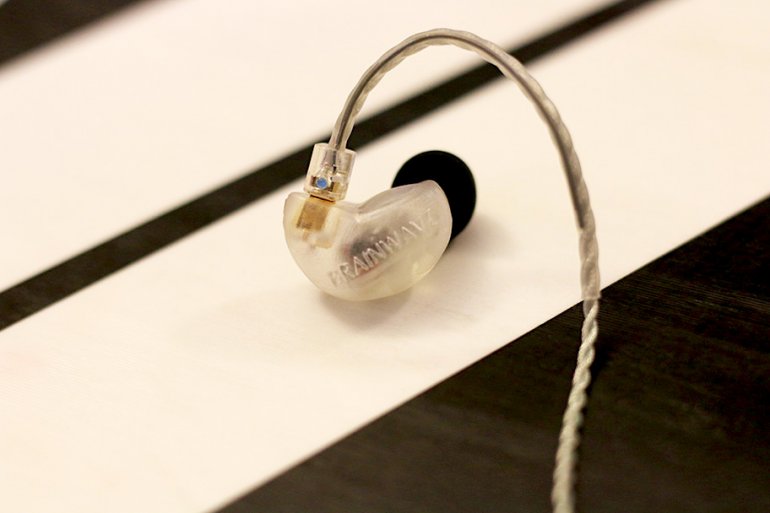 The Audiofly AF140s certainly earned their place in our selection of top earbuds. They offer similar soundstage and mids, but manage to deliver the crisp high-end that both the Canfields and B400s are lacking. Priced at just $150, they're also more affordable. Sadly for Audiofly, these earbuds have two major drawbacks. The fit is off, and the cable is a disaster. However, the great sound quality might be enough to tip the scales for the right listener, and these are definitely a viable alternative.
Because Campfire Audio are responsible for the Canfields' sound, we just had to put one of their models on the list. If you're looking for a stellar pair of in-ears, and can afford to spend a bit more, you should definitely check out their personal line. The Campfire Orions sit at the lowest end of the price range, making them the most accessible in-ears offered by Campfire. We've tested them ourselves, and have nothing but good things to say. They have a wide soundstage, tight bass, smooth, detailed mids, and crisp, clear highs. Everything the Canfields are, and more. We'd love to write a full review on the Orions (seriously, Campfire - send some), but for now, you can enjoy them for us.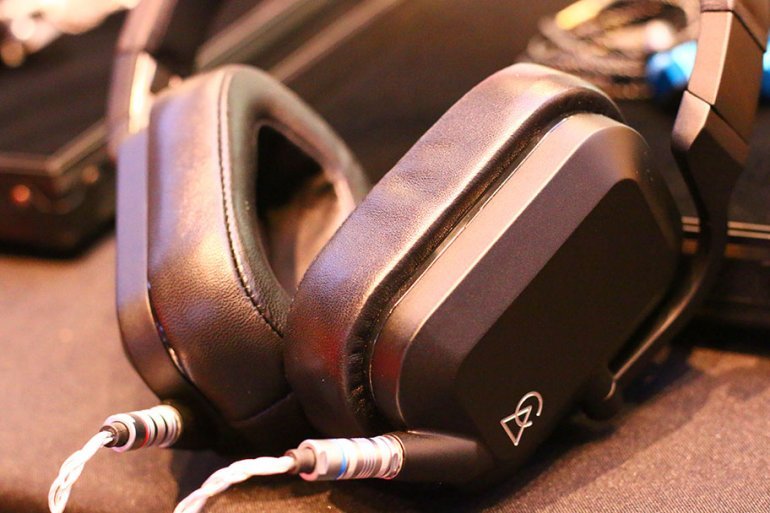 If in-ears aren't your thing - clearly, you're reading the wrong review - or you're interested in trying something new, you might want to check out Shinola's line of on ear and over-ear headphones. They've been making waves in the audio world - some possitive, some not so possitive. Their main selling features are design and style, which some audio critics aren't fans of. However, we can appreciate the use of headphones as fashion pieces, and would much rather spend our money on something with solid sound quality that also looks great. Yes, they might cost you a few extra dollars, but gosh, are they ever gorgeous. Plus, they have beryllium drivers like the in-ears. The Canfield on-ear and over-ear lines are available on their website, and come in three different styles to suit your personal aesthetic.
See the Shinola Canfield In-Ears See the Best High-End Headphones
Learn More About Headphones