Reviewing the MEE audio Pinnacle P1 earbuds is quite a challenge. They are both an almost reference-grade high-end set of monitors, which all but demand you plug them into a decent headphone amp, and a regular, everyday pair of buds that you can quite comfortably use with your phone. They even include separate, interchangeable cables for this purpose.
The challenge is that we have different criteria for measuring these situations. There are things we aren't going to ask a pair of everyday, walkabout buds that we might ask of a high-end pair. What these buds had to do, in other words, was show us that they could handle both situations without throwing a wobbly.
MEE audio are established brand, and if anybody was going to pull it off, it would be them. The name, after all, stands for Music Enjoyment for Everyone. Could they carry off the difficult balancing act of the Pinnacle P1s?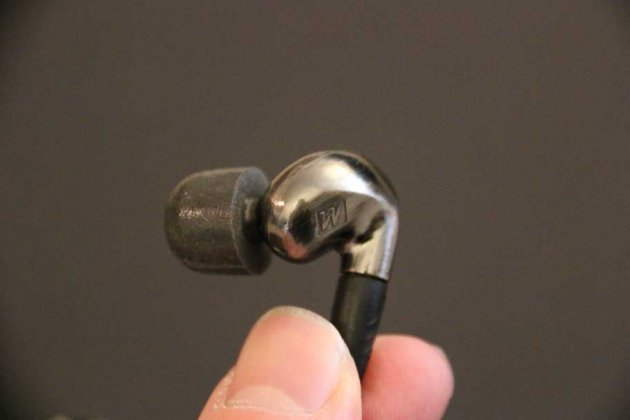 Design
One thing we can certainly say that whatever situation you listen in, there's a lot to love about how these headphones are made.
Let's start with the cable. Or rather, cables. There are two of them, of identical length: a gold one for amplifier listening, and a black one with an in-line control/microphone for use on the go. The cables are attractive, and feel great in the hands, with their coiled design evoking a strong chain. The problem is, once you pull them out the case, they are invariably tangled – and the coils don't exactly lend themselves to quick and easy untangling. To some extent, this is an issue that all earbuds share, but it's frustrating to see such a decent cable fall prey to it.
The cables attach to the buds with a satisfying click. The buds themselves are terrific: they're made of brushed metal, and feel incredibly robust, like you could drop them from a great height. (Important note: we don't advise dropping any headphones from a great height). They fit comfortably inside the curve of the ear, and since MEE audio includes multiple ear tip sizes, including Comply memory foam tips, getting a decent fit was the work of moments.
At the end of the cables is a standard 3.5 mm jack, with a 6.3 mm attachment included.
We do have to say that we are in love with their case. The earbuds are stored in absolutely beautiful leather wallet, with a magnetic snap clasp and a metal plaque with the model's serial number engraved on it. This kind of thing is an important part of any audio experience, and it's one we take seriously. The headphones are, after all, going to live in this case, and its usability sets up how any listening session is going to go. Admittedly, you might have to spend a few minutes untangling the cable once you pull them out, but we still adore the case. The aesthetic extends to the actual box the headphones come in, which opens like a treasure chest.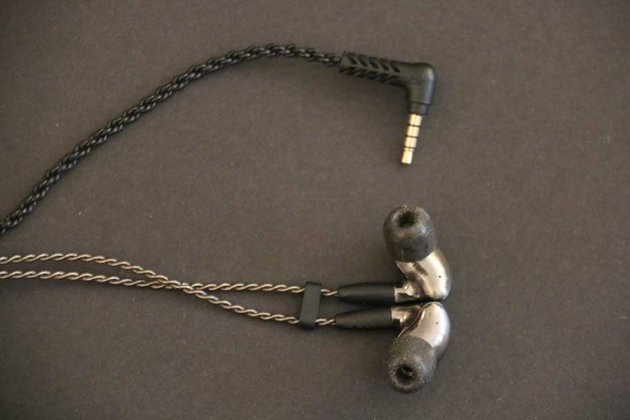 Sound
Before we used the Pinnacle P1s for the first time, we took a look at the specifications, interested to see (from a technical standpoint) how these buds would handle the different outputs of an amp and a smart phone. With an impedance of 50Ω and a sensitivity of 96dB, they seemed to offer a good balance on paper – And if those stats mean absolutely nothing to you, we've got a handy explainer with all sorts of stuff that's worth knowing. But how would they perform once we plugged them in?
Spoiler alert: the Pinnacle P1s are really, really good.
They're a lot more accurate than we thought they would be in terms of not overly coloring the sound. This was quite a refreshing change: it's nice to hear a pair of buds deliver precision and clarity instead of forcing the music to bend to their will. With every track we listen to, we couldn't help but marvel at the even spacing in the mix, the precise detail in the highs, the bass that was powerful without being too aggressive.
These metal gizmos might be small, but they pack a staggering amount of technology into them which helps build the sound profile. Not only have they been rigorously tuned, but they also include a special acoustic chamber to help certain frequencies resonate. While we'd be hard-pressed to pick out the individual frequencies that benefit from this, there is no question that the end result is extraordinary.
Although they are superb when put through a good system (we used our favorite combo of an Optoma uDAC5 and a Linear Tube Audio MZ2-S amplifier) they are more than solid when used with a smartphone. They didn't have quite the same detail and stereo spread, but still managed to do an excellent job when plugged into our OnePlus 2 phone.
Put simply, we expected these to be good, but we didn't expect them to walk the line so well, or to deliver such fantastic sound. These are marketed as a high-end, audiophile pair of buds, but really, at $200, you're getting an awful lot of bang for your buck, even if you're nowhere near being an audiophile.
We do have to say that we found call quality, while perfectly clear, was occasionally at a lower volume than we would like. It's not a major issue, by any means, but it's worth noting.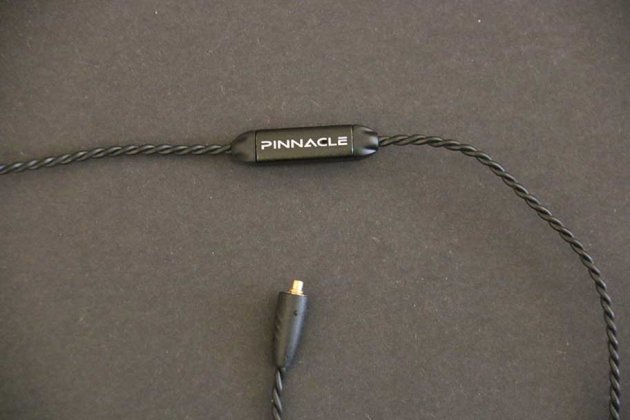 Should You Buy Them?
If you care about your audio: yeah. Absolutely.
These can be an intimidating buy. The emphasis on the technology and the audiophile marketing might chase you off them, especially if you don't own a dedicated amp (although you should really think about it, because they rock). But trust us: whatever you're using as your source, you'll have the time of your life with these. They do a truly magnificent job of conveying sound accurately and with precision, and we can't recommend them highly enough.
Unless of course, tangled cables drive you mad. Then maybe you should look at something else.
See the MEE audio Pinnacle P1s on Amazon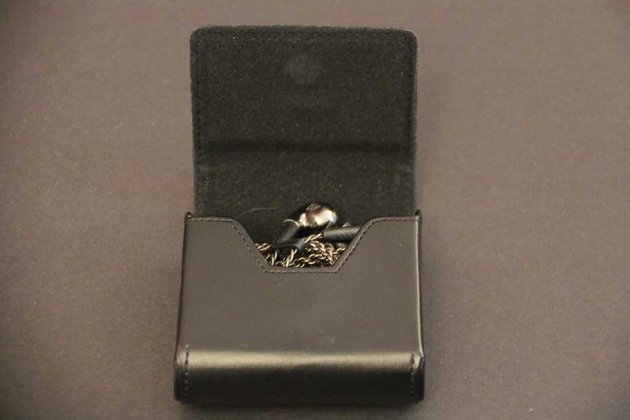 Good:
Superlative sound, robust construction, phenomenal carry-case
Bad:
Cables get tangled
Best For:
Making a major upgrade to your sound

Alternatives:
Our reviewer Niko noted that "for the few weeks we spent with the RHA T20i's, our listening sessions proved to be a real pleasure." These are a little more expensive, but they are infinitely customisable, and the sound is superb.
We debated whether or not to include these, as as we sometimes found they colored the sound a little too much. If the audiophile aesthetic of the Pinnacles turns you off, these are a viable alternative.

Breaking Down The Specs: