Denon DP-450USB ($599)
Type: Belt Drive
USB: Yes
Speed: 33⅓, 45, 78
What We Like: Good audio quality, excellent features, easy-to-use.
What We Don't: Light weight, unimpressive cartridge.
Denon have been associated with home hi-fi and vinyl playback for decades and they've just come up with a new turntable: the DP-450USB. It rests firmly on the shoulders of its popular predecessor, the DP-300F. In this review, we break down the sound, design, packaging and accessories, specs, and more of the DP-450USB. To see how it stacks up against the competition, check out our list of Best Turntables.
 
Sound
Overall Audio Quality
Within minutes of unboxing, the Denon DP-450USB was ready for playback. Having indulged in way too many wallet-busting vinyl upgrades in the past, the easy setup made us appreciate the experience of playing the Denon straight out of the box even more. More importantly, the DP-450USB just sounds right, and did not exhibit any setup or audio playback hiccups that we often see in budget turntables. Its audio performance is characterised by a solid low-end authority and full-bodied mids. The audio picture has plenty of width to its soundstage, and the overall frequency response has a familiar and classic tonality.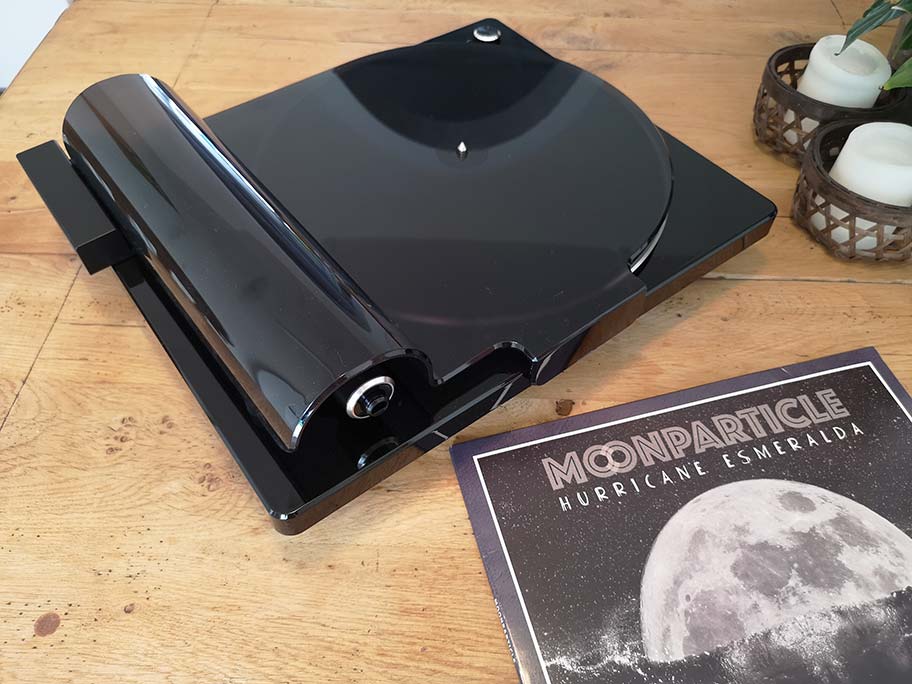 This turntable is capable of all three playback speeds - 33 ⅓, 45 and 78 RPM - and pitch consistency was impressive in all of them. We auditioned a wide selection of music and spoken word, and we could immediately appreciate the warm transparency of DP-450USB's vinyl reproduction against digital equivalents of the same material. There are of course many factors determining the overall audio quality of a turntable and we will discuss DP-450USB's mechanical movement, arm setup and cartridge further below.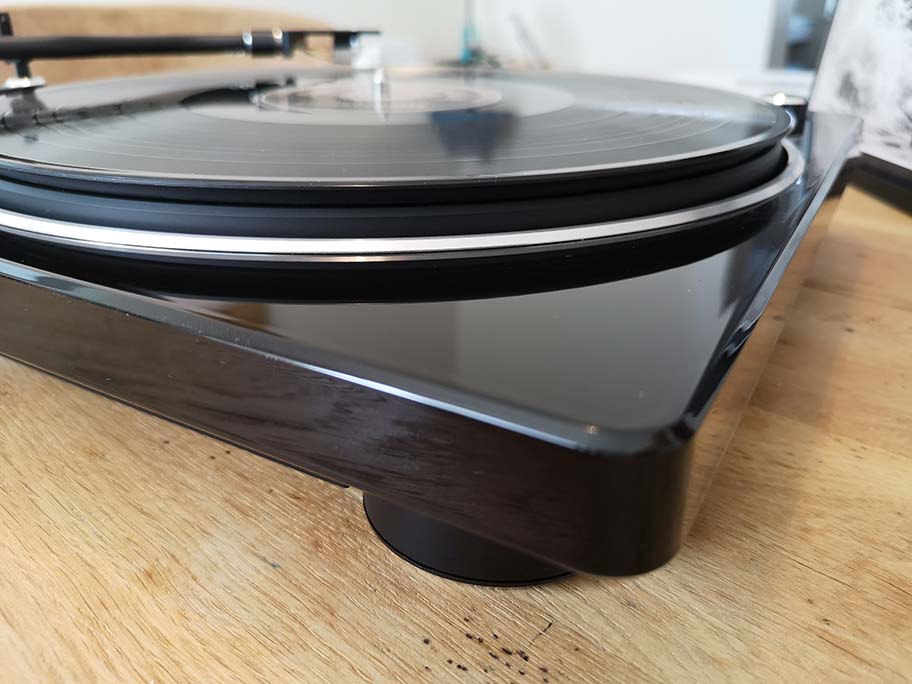 Phono Equaliser
In the majority of vinyl setups, a turntable is connected to the phono input of an integrated amplifier. Flipping the mini switch labeled Phono Equaliser on the back of the DP-450USB, allowed us to connect straight into a pair of active Genelec reference monitors. The term Phono Equaliser may be slightly confusing to some in our opinion, as this essentially is a phono preamp. When this feature is activated, the phono signal is boosted to a Line level and although phono stages may sometimes employ passive equalisation, they are first and foremost preamplifier circuits.
The quality of the phono preamp stage is incredibly important for audio reproduction, and the DP-450USB's phono preamp portrayed a very clear and detailed sonic character. It is perhaps on a par with many external phono preamps. It is important to note that the Phono Equaliser feature is optimised for MM (moving magnet) cartridges only. If you're upgrading to a more audiophile-grade MC (Moving Coil) cartridge, or aiming to improve the turntable's preamp quality even further, please check our in-depth guide to external phono preamps. There are many models suited to MC cartridges that will pair well with this Denon turntable.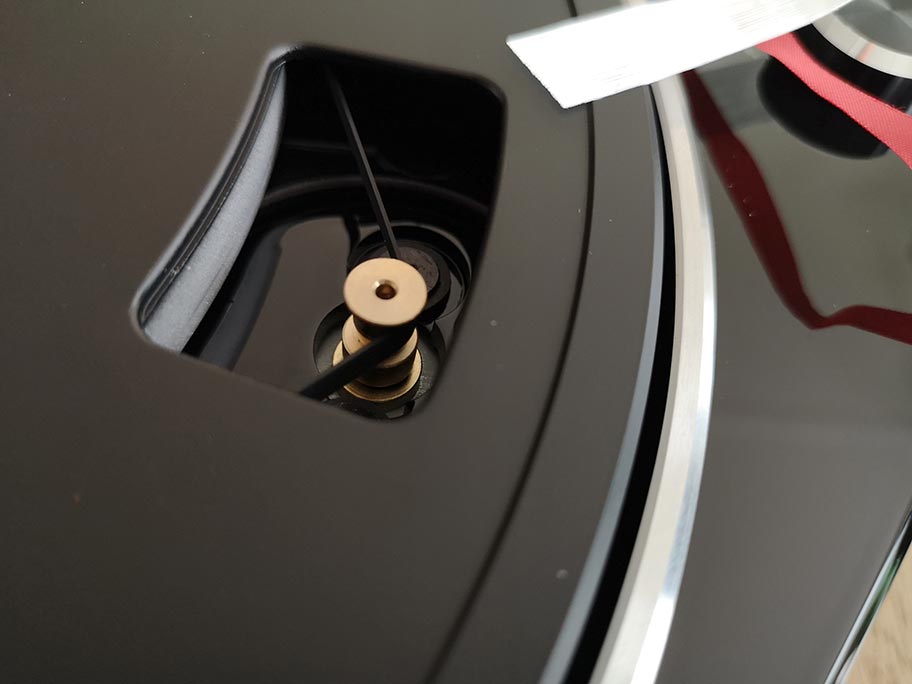 Tracking
The DP-450USB is a semi-automatic turntable, meaning that the stylus must be positioned above the beginning of the record by hand. The design, feel and weight of the S-shaped arm is top-notch, with plenty of scope for setting height and balance quickly and easily. As always, when setting up a turntable for the first time it is worth taking your time with it - the initial process of setting the arm height, weight and balance may test your patience, but you'll find the included manual extremely helpful.
We found the consistency of DP-450USB's motor impressive. Running smooth and steady, the turntable consistently delivered skip-free playback when placed on a flat solid surface. The DP-450USB's automatic record-off function can be bypassed if so desired. When activated, it disengages the motor when the record is finished.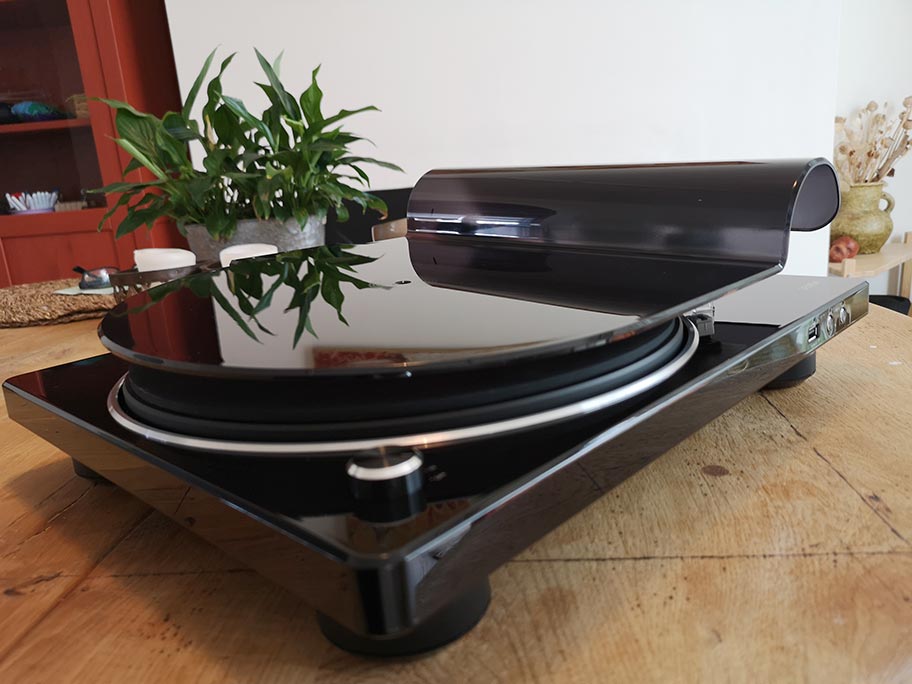 Cartridge
A phono cartridge will determine much of what we perceive as a good vinyl playback. The supplied Denon MM (Moving Magnet) cartridge features their DSN-85 diamond tip stylus which is certainly OK, even if on the lower spectrum of price and quality. Its audio and tracking performance are on par with styli found on similarly priced models like the Audio-Technica AT-LP7, which costs $799. The DSN-85 stylus has a life expectancy of around 400 hours but rest assured, replacements are readily available.
Complete cartridge upgrade options may also be considered, as they will offer an immediate and noticeable improvement in audio quality. Since the DP-450USB ships with a standard headshell, so swapping the cartridge for a better model is extremely easy. As mentioned, MC (Moving Coil) cartridges would not be able to use the built-in Phono Equalizer (preamp) as this is optimised for Moving Magnet type only.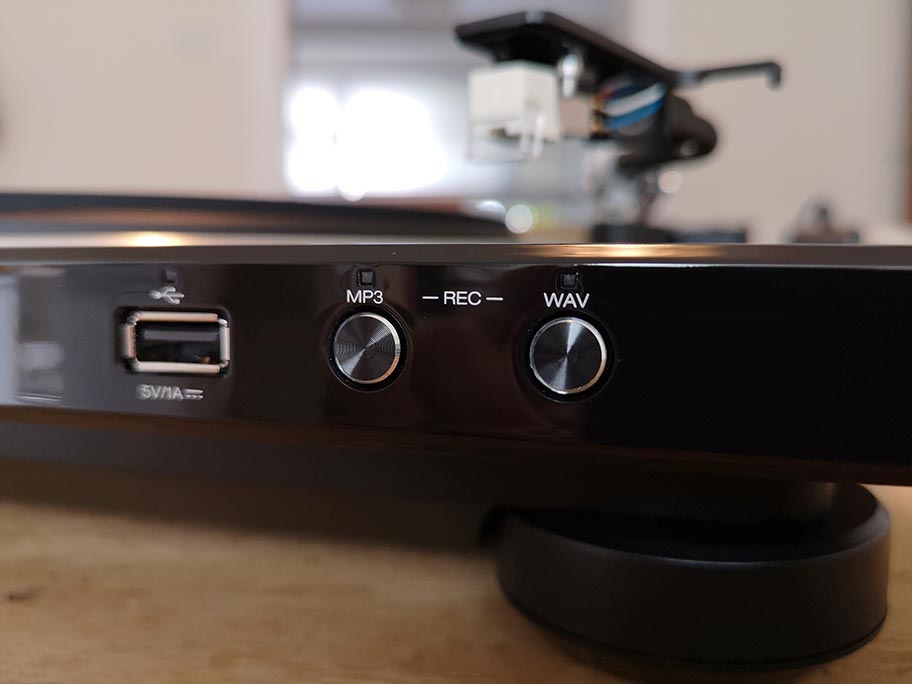 USB Recording
Turntables with a built-in USB port are nothing new. In the majority of cases the turntable connects to a computer which acts as a digital audio recording workstation. Denon have taken a more streamlined approach as the DP-450USB offers an on-board recording function, ripping your vinyl playback directly to a USB stick. The operation is simple: press a button prior to commencing playback and you are recording. Press the same button again after the record is finished and you're done. You can choose the quality of the digital file from the front two buttons - it can be either WAV or MP3. For those really interested in digital bitrate quality, Denon specify that the WAV button renders the audio to CD quality (16-bit/44.1kHz - here's more on what that means). There's unfortunately no mention of MP3 specs so we'll presume it is 192kbps - the most common bitrate as used by the likes of Amazon and iTunes.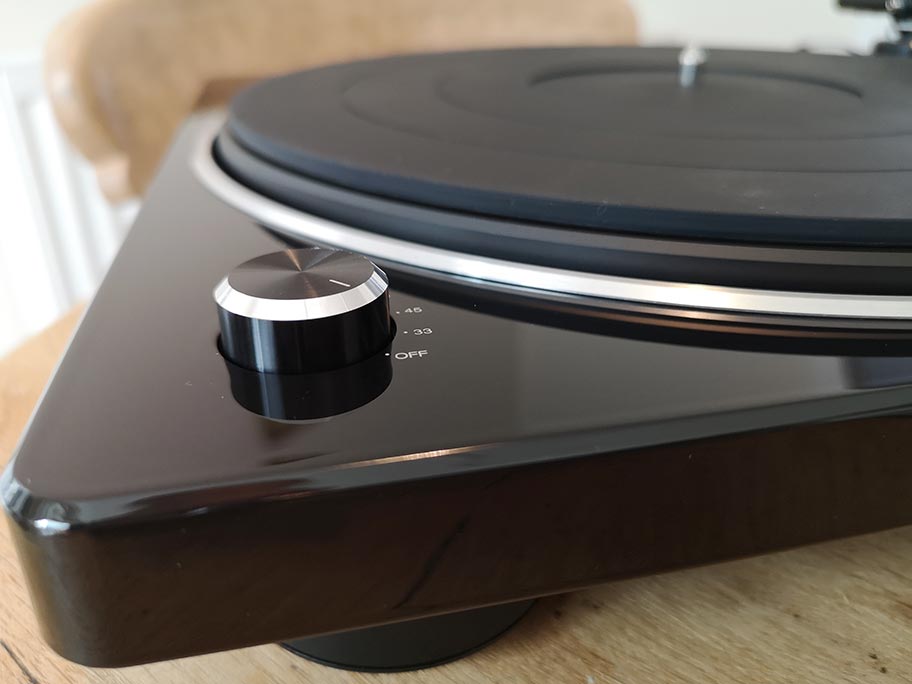 Digitising a record directly from the DP-450USB is extremely easy, though we should note a couple of details to avoid potential problems. Firstly, not every USB flash drive out there will be supported by the turntable. Secondly, your drive should be already formatted prior to recording. The USB port cannot be used for digital or analog playback or linking the turntable to a device via a cable. Lastly, and this goes for any USB-equipped turntable, digitising a whole record side will result in one long digital audio file which will need trimming into separate songs. Denon offer a free digital audio editor called MusiCut for DENON. Made by TrackSafe, this software package is downloadable from the Denon DP-450USB product page. It unfortunately only supports Windows (8, 8.1 and 10) but any audio editor for Mac can deliver similar or better results. Try Audacity, which is free.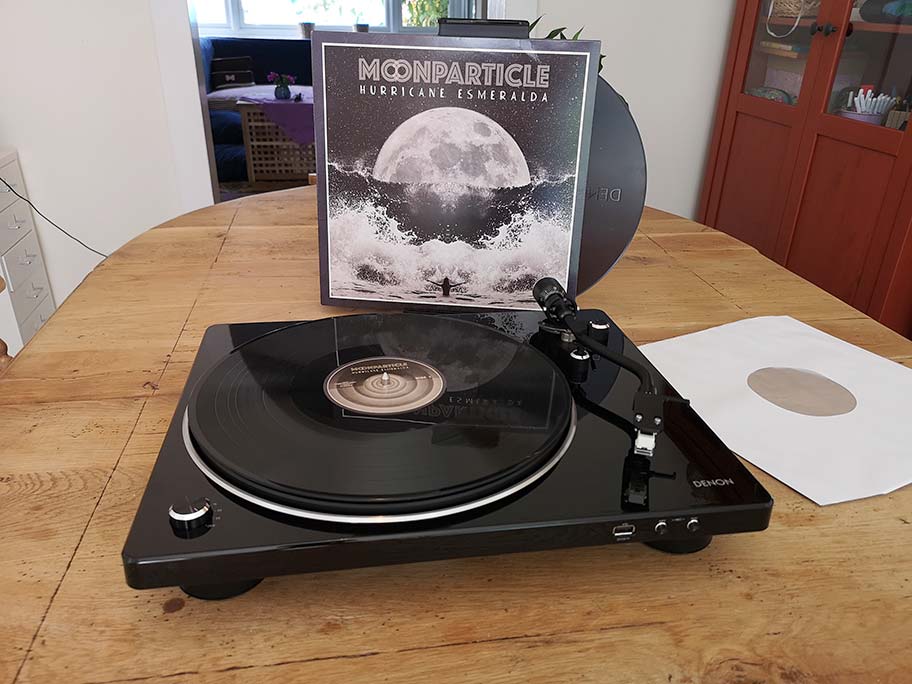 Design
Looks and Build Quality
While the DP-450USB is quite a stunner with its sleek piano black gloss finish, this is very easy to pick fingerprints and dust. We would have preferred matt. Its shape, with slightly rounded corners, is more contemporary-looking than the majority of turntables currently on the market and when first assembled you might stop for a split second to marvel at it. The overall simplicity is countered by the somewhat unusually-shaped dust cover. It interestingly doubles as a record sleeve display holder - a nice touch!
The DP-450USB is around an inch or so smaller on each side than your average Technics 1210 or its sibling, the Denon DP-300F (far less expensive, at under $200). That's perfect for stacking on top or on the side of other hi-fi components. It's a light turntable, at less than 13lbs. That can sometimes be a problem, as heavier tends to be better when it comes to vinyl playback, but we didn't encounter any skipping issues here.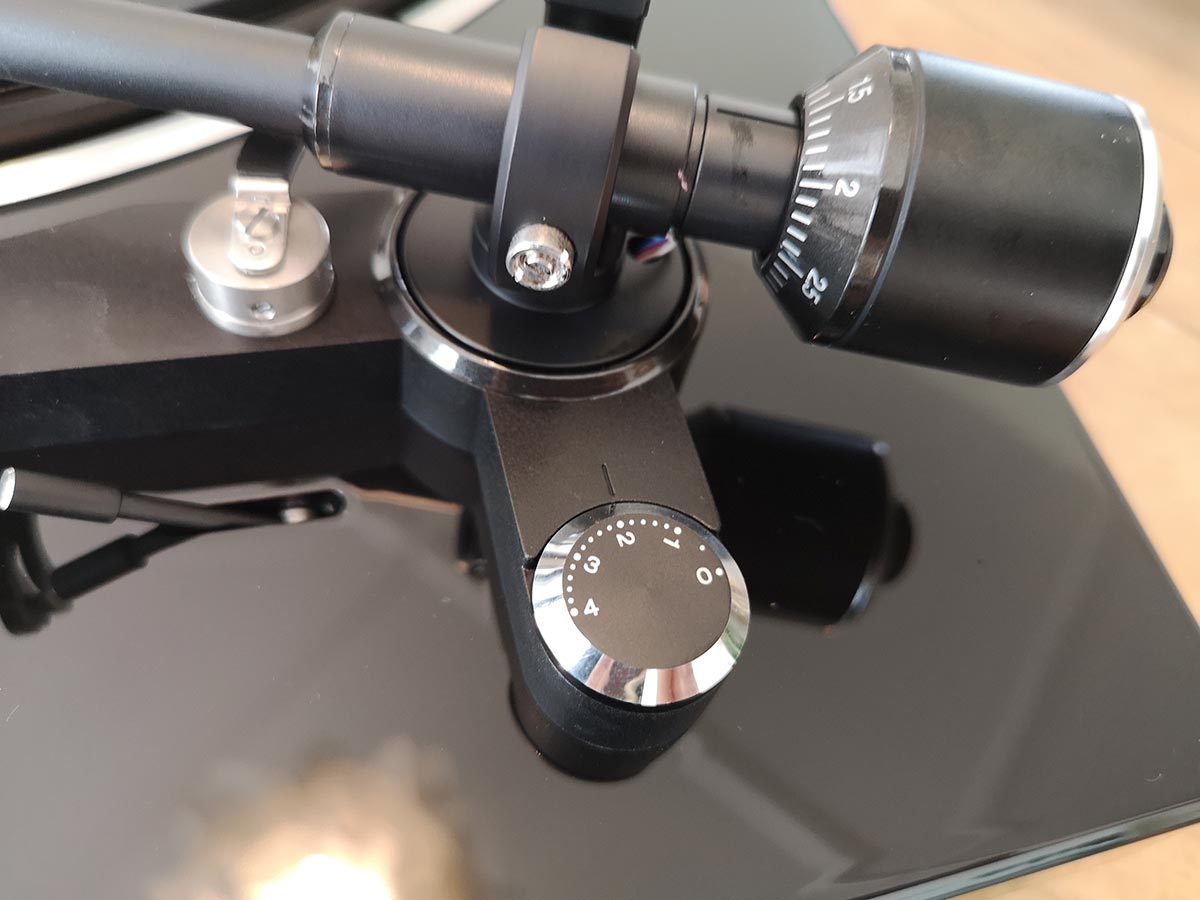 The cast steel platter and the S-shaped arm impressed us with their solid build and tactile feel. The motor is powered by an external DC power supply and that's an improvement over previous Denon turntables, as it is somewhat more reliable than AC designs. Wow and flutter specifications read around 0.08% which is a small but notable improvement over the DP-300F for example. The DP-450USB's is well engineered and its motor and arm hardware are of superb quality. The overall vibe is quite contemporary and user friendly.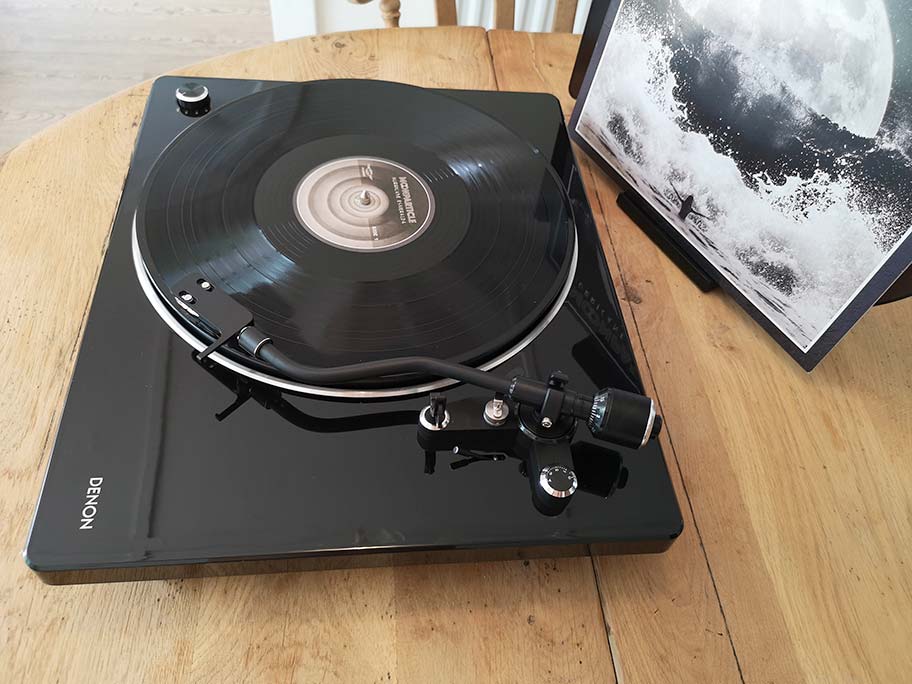 Controls and Connections
DP-450USB's audio connections will not present any surprises - there's just a pair of RCA outputs which are switchable between Phono and Line level. The only input is the USB port at the front. Controls are minimal with the most obvious rotary dial on the left reserved for speed selection and motor On/Off. All other controls are rather discrete: there's the mechanical arm height adjustment dial and the two buttons on the front labeled MP3 and WAV. There are also two mini switch options at the back - one activating the autostop function and the other engaging the Phono Equaliser (phono stage preamp).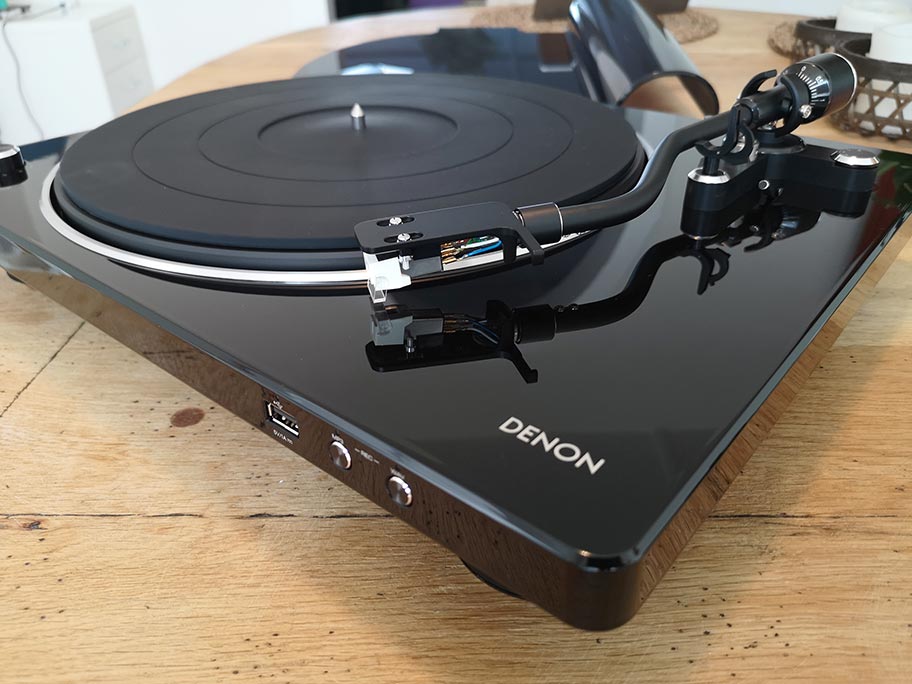 Accessories and Packaging
DP-450USB comes disassembled and extremely well-packaged in a high quality box. Each of its main components - chassis, platter, lid and arm hardware are neatly wrapped separately. This is not like buying IKEA furniture though - everything is labeled clearly and assembling the turntable is straightforward. The belt attachment for instance, which can be a frustrating first assembly task with other turntables like the cheaper Sony PS-HX500, was a breeze. The already attached to the platter belt is conveniently held by a piece of sticky tape. Removing this allows for an easy looping the belt around the motor.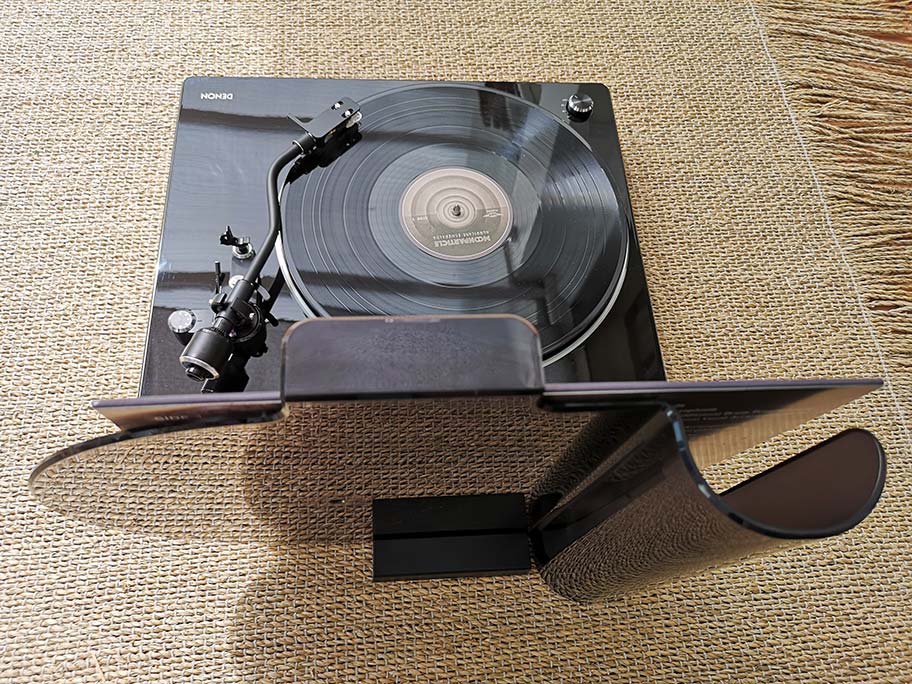 Aside from included rubber matt and the arm hardware (counterweight and headshell), you will also find the uniquely shaped lid paired with a little stand. When the deck is in use, the cover lid slots in the stand in a vertical position, allowing you to display the record sleeve. Yes, it may be a bit of a gimmick perhaps, but admiring the artwork while listening to the music is a bona fide vinyl tradition. The turntable includes a pair of RCA cables - capable no doubt, but of the cheerful bargain bin variety. We used a pair of good quality Klotz leads for the purpose of this review. The supplied external DC PSU is a current-sensing unit adaptable for 110V, 230V, and 240V currents and comes with a variety of end plugs to fit various standards of wall sockets. The user manual (hard copy included), deserves another mention here as it is super-helpful, with plenty of good images.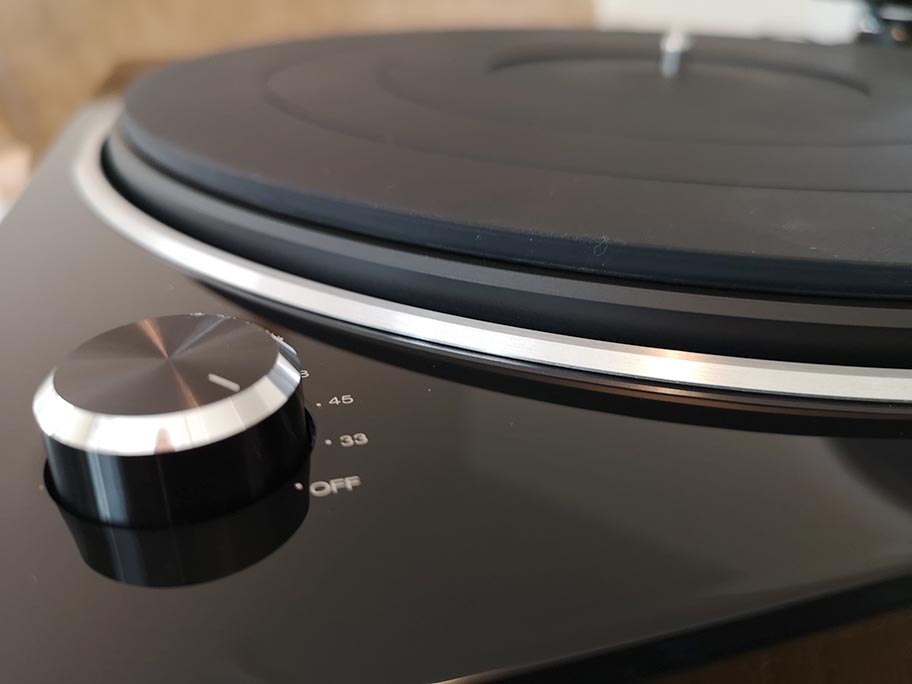 What We Like
The Denon DP-450USB offers an excellent range of digital and analogue features
The audio quality of the Denon DP-450USB is very good. Upgrades in cartridge and preamp can make it great.
The DP-450USB is simple to setup and use, with straightforward controls and design.
 
What We Don't
The light weight of the Denon DP-450USB may be a problem.
The supplied cartridge for the Denon DP-450USB is only decent at best.
If swapping to an MC cartridge, the built-in phono preamp will be rendered unusable

Comparison Table
*Phono preamp stage included

The Competition
Despite the fact that Denon may have an advantage over newer brands, the turntable market is ripe with fierce competition. The DP-450USB is a very capable turntable which is also somewhat unique in its native ability to digitize vinyl playback. This in itself might not necessarily be enough of a reason for customers to choose it over a slightly cheaper, conventional USB turntable. We picked several similarly spec'd turntables which would qualify as direct competitors.
For those more interested in pure quality vinyl playback rather than additional bells and whistles such as digital conversion: you might find the Rega RP3 just right. Slightly more expensive than the Denon DP-450USB, the RP3 perfectly encapsulates the audiophile engineering ethos normally associated with four figure prices. Rega have been at the forefront of playback for 30 years and the RP3 features a hand-tuned motor and an updated 3D-printed version of their classic RB300 tonearm design. If representing a step up in terms of playback, the Rega on other side lacks the modern versatility and affordability of the Denon, so we'll leave it for you to decide.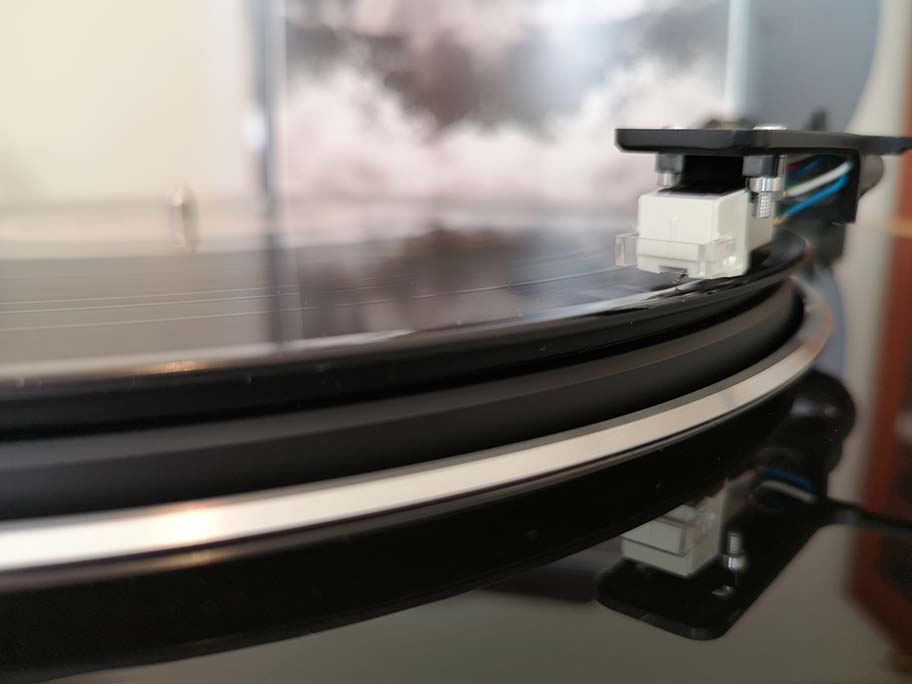 Edwards Audio out of UK offer the Edwards Audio TT1 Mk2, which is a boutique-grade record deck featuring a straight carbon arm and matt-less acrylic platter. There's so much going on with this turntable in terms of pure vinyl playback prowess, but please note that it doesn't support 78rpm speed, nor does it have a USB port. Nowadays, the latter is not such an issue, as you could always get a standalone Phono to USB converter. Similarly priced to the Denon, the Apprentice is one hell of a deck, though you might have to contact the company direct. Its US distribution is a bit patchy at the time of writing this.
One of Denon's archrivals, Sony, have just released the Sony PS-HX500, which is a belt-driven turntable with a list of impressive specs. Featuring a classic layout, straight arm, and highly optimised spindle-bearing motor, it easily challenges the Denon. Despite its lack of 78rpm playback, its USB port features ultra hi-res capabilities. When connected to a PC or Mac, the turntable's DSD Native AD converter supports digitizing of up to 5.6 MHz DSD digital files. These are much better than standard CD quality, and for the serious hi-res enthusiasts this might be great news.
Quite a lot cheaper than the DP-450USB, the Audio-Technica's AT-LP120-USB is another serious competitor. Featuring three playback speeds, it also has a built-in preamp and a USB port for connection to a computer. Digitizing is helped by Audacity, which is an industry standard audio editor supporting both Windows and Mac OS computers. The AT-LP120-USB features a direct drive motor and even if its reverse playback feature may be aimed at DJs, this remains a versatile turntable that would suit any setup.
Learn More About Hi-Fi Audio