To more established headphone companies like Sennheiser and AUDEZE, it must have felt like getting hit with a freight train. When French speaker manufacturer Focal made the decision to push deep into the headphone market, few would have predicted that they'd have this level of success. But having recently released the undisputed (as far as we're concerned) best headphone of all time, in the Focal Utopia, a solid mid-range entry in the Elear, as well as a slew of other less-expensive models, they're on a major roll. The Clear is their first real test of longevity: an Elear 2.0 that aims to bridge the gap between the company's high-end models. In this review, we break down the Clear's design, comfort and fit, sound, packaging and accessories and more, as well as how they compare to other models. You can also check out our video review.

Design:
We'll admit: when we first saw the Focal Clear, we were sceptical. A reskinned version of the Elear? For $500 more? To us, it seemed as if Focal were muddying the waters a little bit, succumbing to the iPhone malady of releasing incremental upgrades. It didn't help that in design terms, these headphones were functionally identical to the Elear. They don't just look sort of the same; outside of a different colour scheme, they look exactly the same.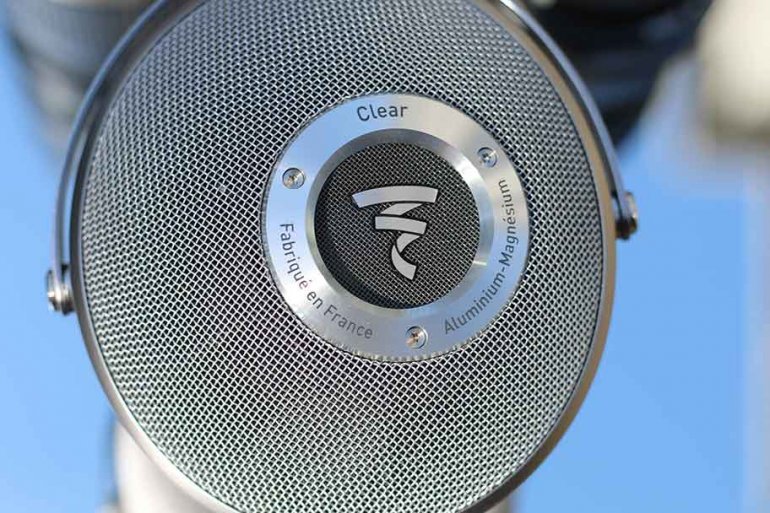 Admittedly, it's a design that works incredibly well, and is distinctive enough to spot from a distance. These are open-back headphones, with a mesh grille on the outside of the housing, protecting the driver. The central element, with the company logo surrounded by a circle detailing not only the material the driver is constructed from (aluminum-magnesium, since you ask) but also that the headphones were Fabrique en France, feels as well-built and substantial as it did on the Elear.
The ear cups themselves are soft, squashy, and breathable, and also removable in case you need to access the serial number, or swap them out at a later date – a feature we always like to see. While it is slightly strange that the leather headband has the same padding underneath as the material on the cups, it still looks and feels very good indeed. Weirdly, the hinges are actually spring-loaded, meaning the cups drop back into a resting position after you push on them.
And really…that's kind of it. The biggest difference here is the color; while the Elear came in black, the Clear comes in a tasteful shade of grey, with silver metallic accents. As with all Focal products, it feels well built and substantial, but we just can't help thinking that the design is perhaps a little bit lazy. Yes, it works, and works well – and if we're going to stick with an earlier metaphor, it's not like the iPhone changed substantially between iterations. But if you're going to make something look identical to its predecessor, and not even change the name beyond a single letter, it doesn't really add to the illusion that you've put a lot of thought into it.
While it is a little frustrating, it must be said that we don't consider these points to detract from the overall package all that much. And this trick, of releasing a slightly more expensive reskinned version, is something that plenty other manufacturers have tried before – to highlight just one example, when Mr Speakers released the very good Ether Flow headphones to replace the original Ether, the design remained largely unchanged. So don't read too much into it: this is still an exceptionally well-designed pair of headphones.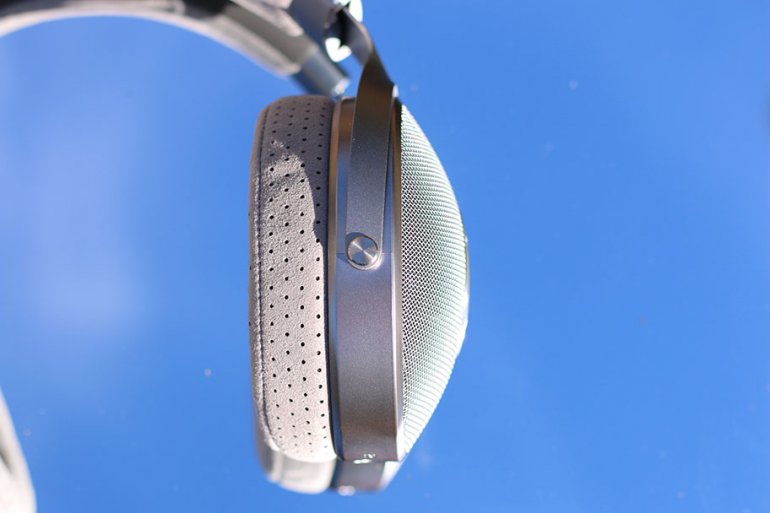 Comfort/Fit:
One of the things that really set the Utopia apart from the competition was just how comfortable it was to wear for long periods. Other high-end models, like the AUDEZE LCD-4, can be difficult to wear after a couple of hours, on account of the fact that eventually the muscles in your neck stop being able to hold them up. That's not a problem that Focal has. As with almost all their other models, the Clear feels terrific to wear.
It has an identical weight to the Elear (just under a pound), and the clamping pressure feels perfectly engineered – something to do, no doubt, with those spring-loaded hinges. We very happily wore these for hours at a time – the soft earcups never felt like they were going to cause us any discomfort, and the space in the middle is wide enough to accommodate all but the largest of ears. And despite our misgivings about the headband, it's very comfortable to wear. These may be bulky over ear headphones, but when you're wearing them, they certainly don't feel like it.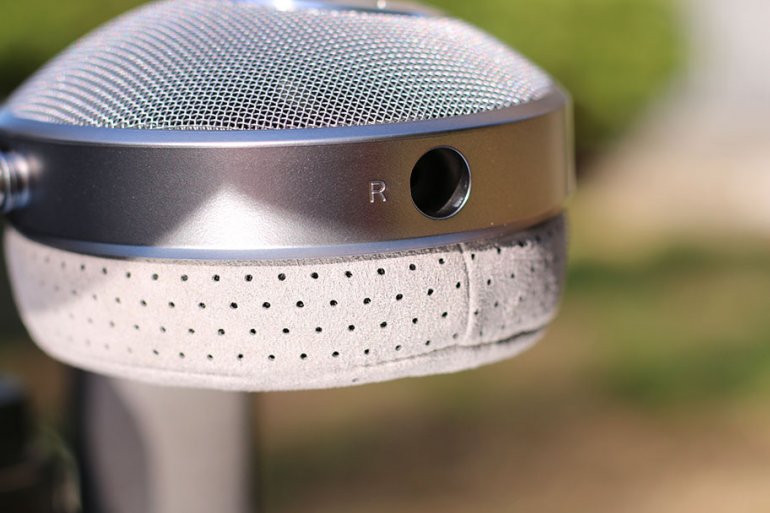 Sound:
Nothing would have torpedoed these headphones faster than having an identical sound signature to their younger brother. Focal absolutely had to pull out all the stops here, or the entire exercise would have been written off as nothing more than naked profiteering.
Good news: the Clear don't just sound good, they sound distinctive.
Like the Elear, the drivers are 40mm aluminum-magnesium, and are designed in an M shape. They are packaged with a copper voice coil, and together, these two elements work together to control the dynamics and the bass. We haven't had a close look at the Clear's drivers – although we have with the ones in the Utopia, which were heavy enough to kill if you threw one of them with the right amount of force – but what we can say is that they do one hell of a job with your audio.
Across the entire spectrum, things feel refined and clear – more so than in their predecessor, which was already pretty good. There's a level of detail that isn't present in the cheaper Elears, and a certain class and clarity to the low end that we found refreshing. It was clear from the very start that these sounded like a different, newer pair of headphones, thanks no doubt to the tuning work that Focal's engineers have put in.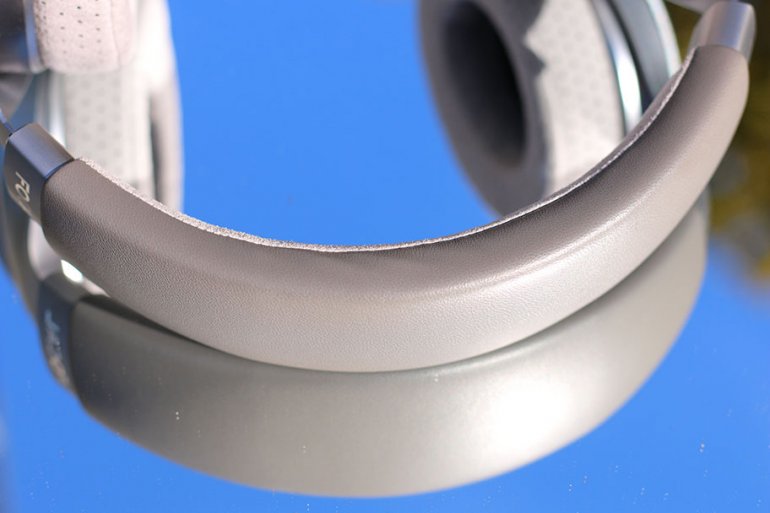 While we did occasionally wish that the mids were just a touch warmer and more forward, the clarity these presented was unmatched in this particular price range. The bites of electric guitars and the crisp hit of snare drums really came through, and the headphones showed off some superb dynamics. The low-end isn't as weighty as other models, like the ZMF Eikon, but it feels tight and controlled, with enough thump to satisfy most people. Certainly enough to satisfy us.
We tested these on a variety of amplifiers, ranging from a $99 Schiit Fulla 2 to a $10,000 Goldmund Telos 2, and they always performed at the top of their game. Obviously, having decent amplification always helped, but even when we listened to them off simple smartphone, they performed well. Not with quite as much volume, to be sure, but still solid.
Comparing these to the Elear, the audio specs don't show a huge amount of difference. The Elear is 80Ω, while the Clear presents at 55Ω (Meaning it's easier to drive, and requires slightly less power). The Clear also offers a slightly wider frequency range, peaking at 28kHz to the Elear's 23kHz. Sensitivity is identical, at 104dB, although the Clear has slightly lower Total Harmonic Distortion (at 0.25%/1kHz to the Elear's 0.3%/1kHz).
Similar they may be, but there are definite differences. Compared to models like the aforementioned ZMF and the Sennheiser HD800S, these more than hold their own. And by the way, if everything we just wrote is complete gobbledygook, we've got a full explainer article that breaks down all the common headphone specs we've just mentioned, and more.
The Elear already sounded spectacular. The Clear ups the ante, sharpening everything we liked about the sound while adding its own special flavour. It must be said that if you already own the former, you're not going to get an absolutely enormous upgrade by buying these, and while there are definitely differences, they do share the same sound signature – as you might expect. But having spent a few weeks listening to these, we're satisfied that this is a significant enough upgrade to get it out of iPhone 5CXS+ territory.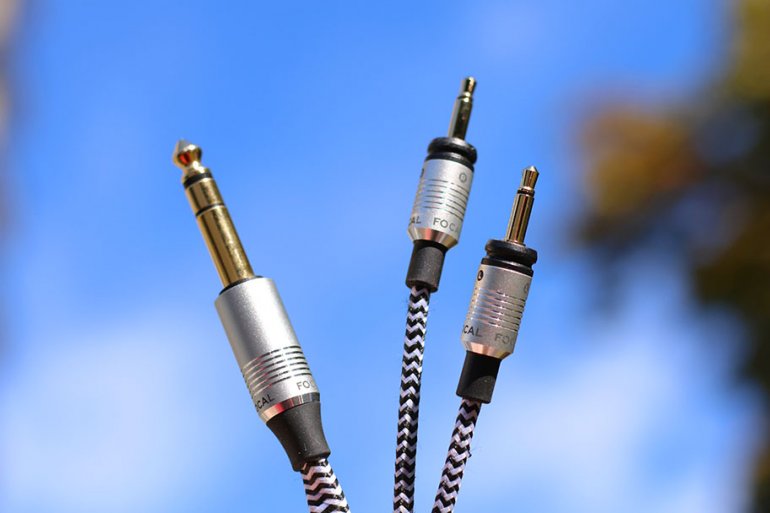 Packaging/Accessories:
It must be said: Focal definitely don't skimp on the accessories. If anything, there's an embarrassment of riches here.
You get not one but three different detachable cables, all of which a sheath in a vaguely chequerboard black-and-white pattern, and all of which come with solid metal connectors. You get a 4" cable with a 3.5mm plug for smartphone use, a 10" cable with the standard 6.3mm plug, and you even get a 10" balanced cable with a 4-point XLR connector. All the cables come with nifty velcro straps built in, to help you hold things in place while not in use.
On the unit we tested, the cables were remarkably stiff, but Focal's PR agency flagged this up before they sent us the headphones, and said that it would be rectified prior to release.
The other main accessory is a terrific carry-case, with a hard, textured surface and a substantial zip running around it, as well as a useful carry handle. Inside, foam inserts hold the headphones in place, and there is a space for your chosen cable. It's one of the better carry cases we've seen, and is easy-to-use, flipping open in a clamshell design.
The packaging for the Clear is good, if unspectacular. It shies away from the standard black-box-with-foam-inserts as seen with the Elear and the Utopia, going for more of a flower-like designs that opens out into multiple sections. We rather liked it - it got the job done, without being overly flashy, or getting in the way.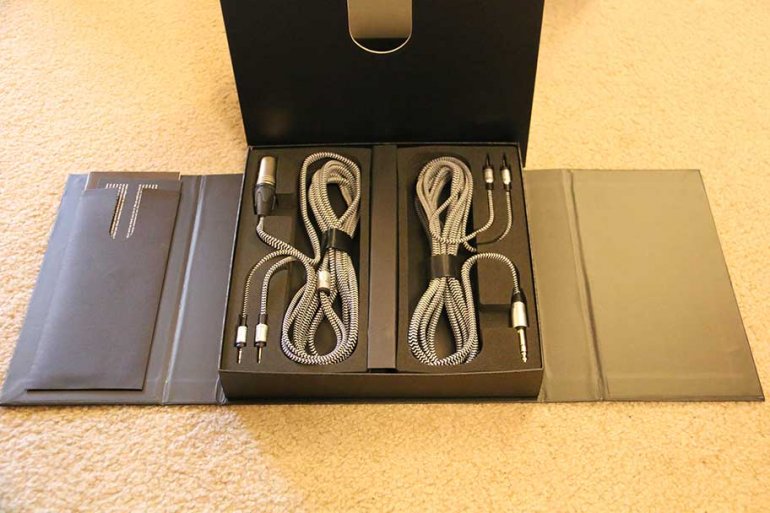 Verdict:
The biggest question we have to answer when reviewing these is: are they worth the extra money when something like the Elear exists?
Because, again, they are incredibly similar. They have virtually identical design, similar specs, and at the base of it, a similar sound signature. What they had to prove to us was that they represented enough of a leap forward to justify the extra five hundred smackers.
We think they achieved that goal. They sound more refined and slightly more elegant than their younger sibling, with quantifiable evidence that work has been done to improve the overall experience. They offer a much wider range of accessories, all of which feel worth owning. These don't just feel like a simple reskinning of a core concept; rather, they offer definite improvements, and they act as a very effective bridge between the sub—$1,000 Elear and the $3,995 Utopia. It must be said that if you own the former, you've got very little reason to buy these, but if you don't, this could be a very classy entry into the high-end headphone world
If the Elear didn't exist, these would be revolutionary. As it is, they are merely very, very good. When we next update our list of the best high-end headphones, consider these a lock.

Good:
Refined and classy sound.
Improves on the original formula.
Substantial accessories.
Bad:
Design is too similar to the Elear.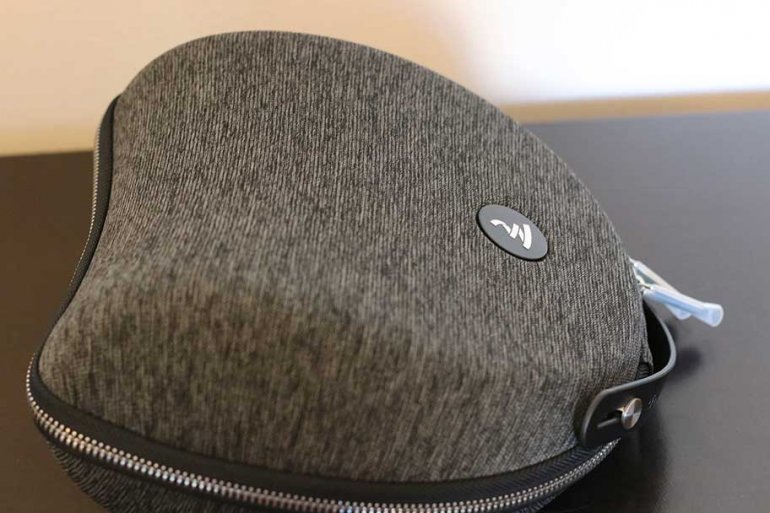 Alternatives:
If you like your headphones to have a little bit more of a human touch, if you prefer wood to metal, then give Zach Mehrbach's cans a go. His ZMF series, which at the time of writing is about to get a new open-back planar model, is stellar.
The Eikon is one his top models. It's around the same price as the Elear – perhaps a little cheaper – and offers a much more substantial low end. While it doesn't have the same clarity and the treble, it's an excellent alternative, and one of the best headphones available right now.

It's a consistent surprise just how well these headphones have endured over the years. They've hung in there, easily competing with headphones twice their price.
They are surprisingly light, and although they require a fair amount of power to drive properly, they will reward you with clear and elegant sound that takes full advantage of the open back design. For the record, we still prefer the Focal Utopia, but we would never say no to a listening session with these. They are higher quality than the Clear, and a good alternative if you have cash to burn.

Well, we kind of had to. Sorry.
We got into a lot more detail about how these headphones differ to the Clear in the review above, but we can say that as the price continues to drop, they will continue to be one of the best pairs of headphones currently available. We don't think they are quite as good as things like the Eikon, but they still do a very solid job, especially for the money you pay. If you don't want to spend what you would for the Clear, these are well worth looking at, and remain an excellent pair of headphones.
Comparison Table:
| Headphones | Price | Weight | Type | Drivers | Impedance | Sensitivity |
| --- | --- | --- | --- | --- | --- | --- |
| Focal Clear | $1,499 | 1lb | Dynamic | 40mm | 55Ω | 104dB |
| ZMF Eikon | $1,300 | 1.1lbs | Dynamic | 50mm | 300Ω | 99dB |
| HiFiMAN HE1000 V2 | $2,999 | 14.8oz | Planar | Unknown | 35Ω | 90dB |
| Focal Elear | $869 | 1lb | Dynamic | 40mm | 80Ω | 104dB |

Video Review