iFi Audio are nothing if not consistent. That's the kind of first review sentence that normally has most readers rolling their eyes - don't lie, we saw you do it - but we use it deliberately. Their design aesthetic is utterly resistant to change, modern aesthetics, or flair. Their DACs and amps and weird USB gizmos all adhere to same nerdy looks, and all are festooned with opaque jargon and strange switches. But in the nano iOne, a Bluetooth DAC designed for desktop use, there is a surprising spark of life. In this review, we break down the nano iOne's design, sound, packaging and accessories and more, as well as how it compares to other models. You can also check out our video review.

Design:
Perhaps we should start by talking about what the iFi nano iOne is. Unlike many DACs, it adds a still-relatively-uncommon weapon to its arsenal: Bluetooth.
There are plenty of models that have tried this – Arcam and Audioquest come to mind – but discrete digital-to-analog converters are still rooted in the world of cables and wires in separate components, and it's actually quite rare for audiophiles to opt for Bluetooth signal. We are all in favor of not only making things easier and relying less on timely cables, but also in products but squeeze the compressed Bluetooth signal for everything it's worth. The nano iOne does both.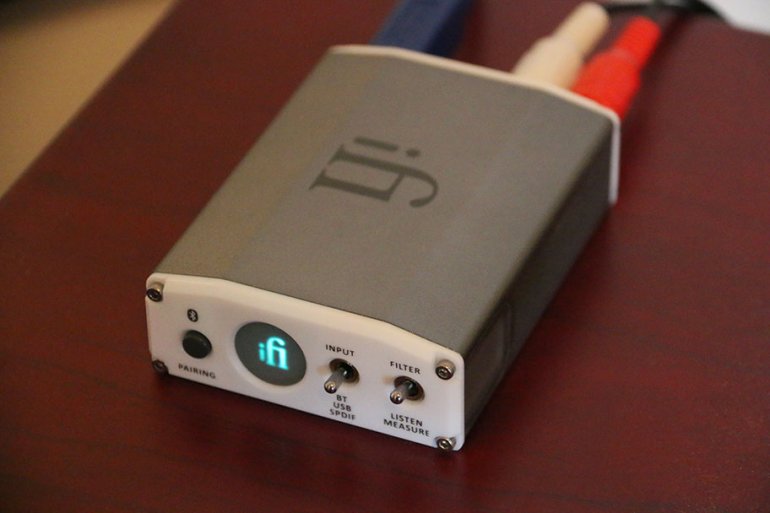 It's part of iFi's nano range (obviously), a slightly more user-friendly section of the company's offerings, designed for those of us who are quite ready for something like the massive Pro iCAN amp. What it is, when you take out the basic packaging, is a tiny box roughly the size of a palm. The design aesthetic – slightly coffin-shaped has become something of a company trademark, with the same style seen in products like the micro CAN SE amp (full review here). Filters and switches on the front, connections on the back, and a whole lot of pointless jargon, instructions, and marketing copy written on the bottom.
Our mocking is meant to be gentle. For the most part, this is an exceptionally well-engineered product. Unlike many of the company's offerings, the housing is made of metal, but the plastic is robust enough to withstand being knocked off a desk, and the build quality feels strong and sturdy. Round the back, you get a simple set of connections: a USB input, an S/PDIF in/out, and a standard RCA output. Nothing you haven't seen on a million DACs before. It's round the front where the interesting stuff is, and this is where, against all odds, the nano iOne shows a little bit of personality.
There are two switches, both metal, and both with a pleasing clunk when you flick them – although it's nothing on what Schiit does with the switches on their apps, like the Magni 3, which has one of the best activation noises in audio (on second thought, perhaps we shouldn't be the ones accusing iFi of being nerdy). One switch controls the input, while the other controls a filter that modifies the sound slightly, and which we will go into in a little more detail below. One of the things we can't quite understand is why the Bluetooth button, which allows you to pair the DAC with the device, wasn't made into a switch as well. It's a boring old button, as if the supply of switches in the iFi factory suddenly ran out. Perhaps it's just to keep costs down, but really, how much more would it have increased the price to add in a third switch? It's a wasted opportunity.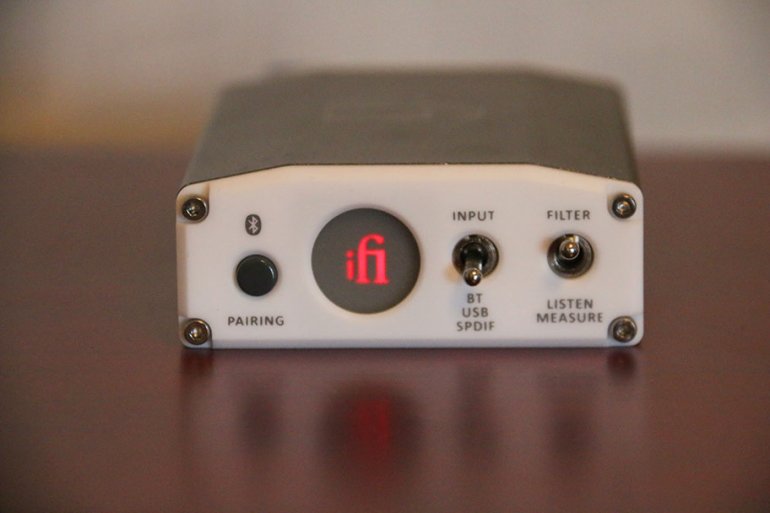 However, the front end does redeem itself, because it has one very cool, very human feature: a big, backlit iFi logo that changes color depending on what input is selected. It's very cool – and works well, allowing you to figure out the input status at a glance. It's a surprisingly human touch, and it's something we hope to see a lot more of in future releases.
Beyond that, the DAC functions without any surprises. Things work exactly like they are supposed to. Bluetooth pairing is virtually instantaneous, and we never experienced dropouts. The fun part is figuring out the best way to use the DAC. Sure, it functions just fine on a desktop-based speaker or headphone setup, but it can also be used quite comfortably with a gaming console, a TV, or something like a Google Chromecast. It's also dead silent, meaning no noises to interrupt your listening.
And no: it's far from the most exciting product around, despite the fun little touches. Don't expect your pulse to jump. What you get for your money is an eminently capable, well-designed DAC that shows some real thought.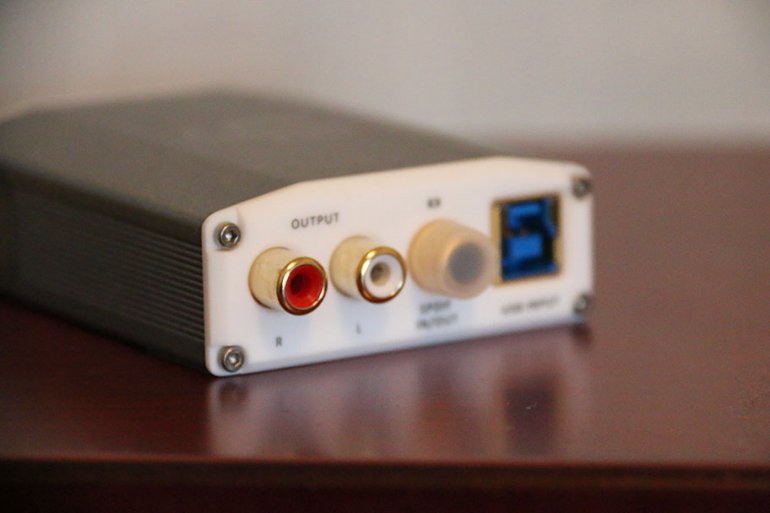 Sound:
DACs are subtle. We know this. They are often so subtle, the act of converting digital signals to analog ones so subservient to the actual amplification, the debates still rage about whether they make any difference at all. We are firmly of the opinion that they do – as anyone who has ever listened to the Benchmark DAC3 HGC (full review here) will tell you – but the nano iOne definitely isn't going to win the argument on this one.
If we had to pin the sound down, we'd say that it's reasonably bright and balanced. It offers a clear, concise picture of exactly what's going on with the audio quality, sharpening it ever so slightly before passing it over to the amp. No matter what input you choose, the overall impression is one of smooth competence, with little if any dramatic effect on the sound.
The same could be said for these selectable filters. One is labelled Listen, and it's designed for…well, listening, and the other is labelled Measure, and is designed for taking measurements. What measurements? We have absolutely no idea. What we can tell you is that the Listen filter is very, very slightly brighter than the Measure one. It's an interesting addition, but a slightly pointless one. If you have a product that is clearly aimed at new listeners, those who might not be entirely sure how all of these things work, then why include a filter with an option specifically devoted to those who do? It's as if they shoved it in at the last minute, purely because they thought they needed to put something there. Chances are, you'll play with the filter once, and then forget it exists.
It must be said that there is a very tiny difference between the quality of the Bluetooth audio, and that of wired audio when using this as a traditional DAC. Although this takes high-resolution aptX audio, which is something that is always good to see, and which we made good use of, it must be said that it still can't beat wires just yet. Again, the difference is subtle – so subtle that we almost missed it first – but it's there. However, that's just Bluetooth, rather than the DAC itself, so it shouldn't necessarily count as a negative.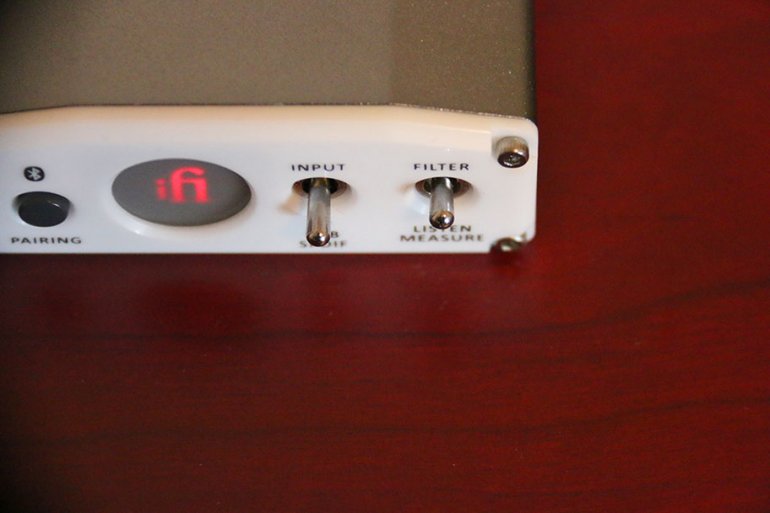 The DAC packs in a Burr-Brown converter chip, a brand known for its quality, and it does the job well. It's not only able to handle up to 192kHz of standard PCM audio - your average Spotify stream, for example – but also DSD and DXD audio, if you've got a specialised player that can deal with it. It must be said that DSD on this thing sings. It's where we noticed the greatest impact of the smooth conversion, which felt like it gave the audio just a tiny little bit of a lift where it counted. There's also an ultraprecise clock system embedded in the machine's guts, although its effect is the kind of thing that you only notice if something went wrong. Still, nice to have.
Comparing this with other DACs, it's clear that most of the difference is in functionality, rather than sound. For example, the AudioQuest Beetle does similar duty as a Bluetooth hub, and offers similar sound quality without offering as many input and output options. Then again, the Beetle has a much smoother and more distinctive design, but if sound quality is what you're after, then you could quite happily choose either one. As it is, the audio of the nano iOne is like the design: it gets the job done, with minimal fuss, and a lot of functionality. It'll never beat a model like the high-end Arcam irDAC II, which really does make a dramatic difference to the sound, but we still consider it a strong option if you're looking for a good-sounding DAC.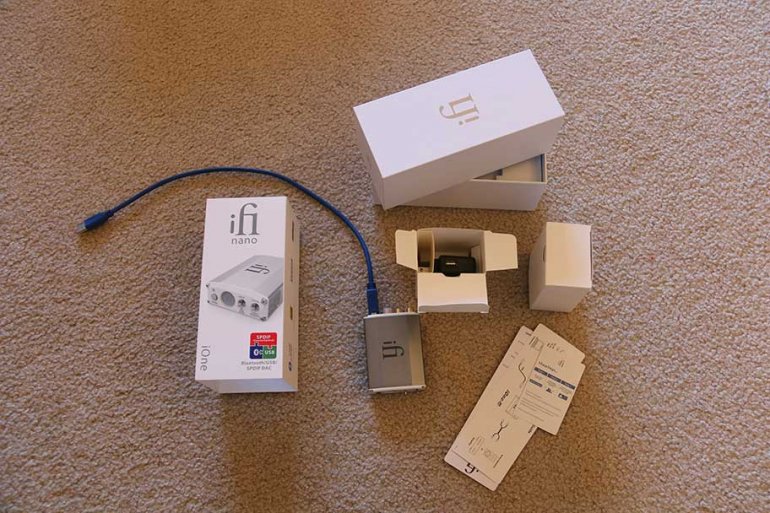 Accessories/Packaging:
iFi's accessory game has always been strong. We still remember the surprise when we popped open the iCAN SE packaging to find that they'd included an RCA cable, which is something we've still never seen, anywhere. In this case, outside of the wart and power cable, what you get is an included USB cable. Some outlets have grumbled about how short it is, but we think that's almost absurdly ungrateful. After all, it's not like most homes are short of USB cables, and after all, it is a Bluetooth DAC.
Beyond that, there's nothing too exciting. It's a standard cardboard box, which you can dispose of the moment you unwrap it.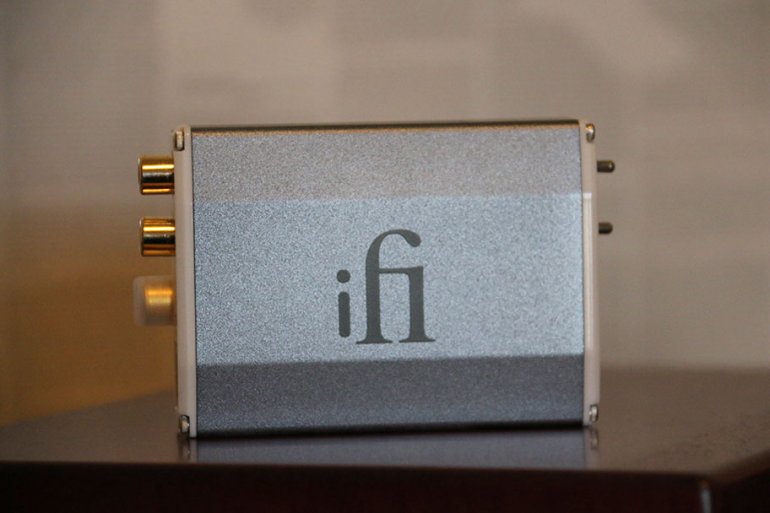 Verdict:
You don't buy this DAC for the sound quality.
It's absolutely fine. It gets the job done – a sentence which should be printed on the company's packaging – but it is never going to compete with more expensive models, and is never going to be the main reason you buy this particular product. No, you get this one because it makes the act of transferring and directing your audio very, very easy. The backlit logo allows you to eyeball the input at a glance. The Bluetooth functionality is virtually flawless. The range of inputs and outputs is good, and the unit is small and light enough to sit unobtrusively to one side. It's practically a set-and-forget.
This is not a product you buy if you want to be wowed by your new gear. You buy it to fill a need in your existing setup. What we do really like is that its user-friendliness is off the charts, meaning that it's a welcome addition for anybody just getting started with decent audio. While we do wish that the folks at iFi would let their hair down now and then, just a little bit, this is a very solid DAC that - yes - gets the job done.

Good:
Solid functionality.
Excellent Bluetooth.
Good build quality.
Smooth sound.
Bad:
Pointless filters.
Kind of boring, despite the human touches.
See the iFi nano iOne on Amazon

Alternatives: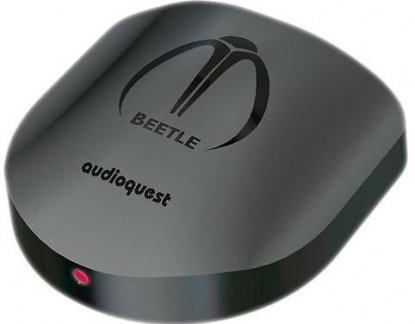 Smaller and even more discreet than the nano iOne, the Beetle swaps out the range of inputs from the back of the latter for even more stripped down approach: optical, USB, and a 3.5mm output. It's very barebones, but it works well. However, be warned: unlike the nano iOne, there's no aptX Bluetooth, so no high-resolution audio streaming.
The sound, like the iOne, is smooth and clear. If you want something a little bit more exciting, this is the one we'd go for. We've had one in the office for the past few weeks, and there will be a full review forthcoming soon.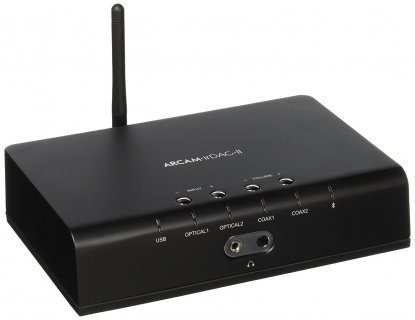 Now we're talking. The irDAC II is a beast: a multi-input DAC with huge functionality, and some genuinely brilliant circuitry in its guts.
This one really does make a difference to the sound, and the effect is distinctly high-end. You will definitely pay more for this one and you will for the nano iOne, though, and as such, it's for serious listeners only.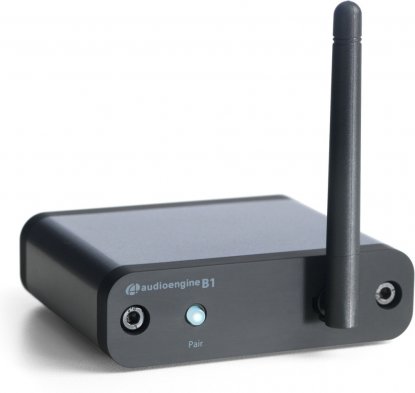 A good alternative if neither the Beetle nor the nano iOne are available. This little Bluetooth DAC doesn't do anything that the iOne doesn't do, and it's similarly functional design lends to it being put somewhere where you're not going to notice it.
That being said, we do prefer the build quality and construction here, which Audioengine are really good at, and we do like their 30-day home trial option. It's a good luck.

Comparison Table:

Video Review: