We've never quite understood why CDs have fallen out of fashion. Okay, so they take up a lot of space, and they're not as convenient as streaming over WiFi, and they cost too much, and… all right, fine, we totally understand why CDs have fallen out of fashion. But that doesn't mean they aren't still around, or that you can't get very high quality players. Introducing the Marantz M-CR611, a 'network CD receiver' that wants to be the centre of your home music system. Despite its use of old school technology, it's an ambitious beast of a machine – but in a world of wireless speakers and Spotify, can it compete?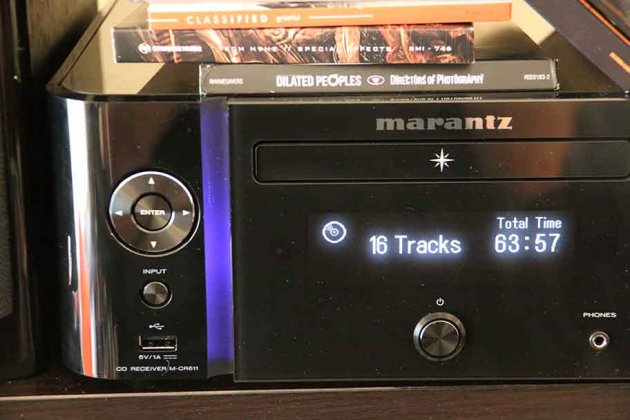 Big Black Box
Say what you like about the M-CR611's quirks and foibles (and we're going to, at length), it packs a hell of a lot into its chunky frame. The twelve-inch-long box has a high-quality digital display that allows you to access all its functions with ease, and it gives you plenty of options. Not only can you listen to CDs by the ancient method of opening the disc tray and putting one in, but you also have access to Bluetooth streaming, Internet music from Spotify and Pandora, radio (in the form of FM, AM and Sirius XM), Apple Airplay, and the ability to add in two pairs of speakers with independent volume control. You can play via front or rear USB, and the unit can decode high-resolution audio. There's a headphone jack, as well as analogue and optical inputs round the back. With a few exceptions, all these features work extremely well.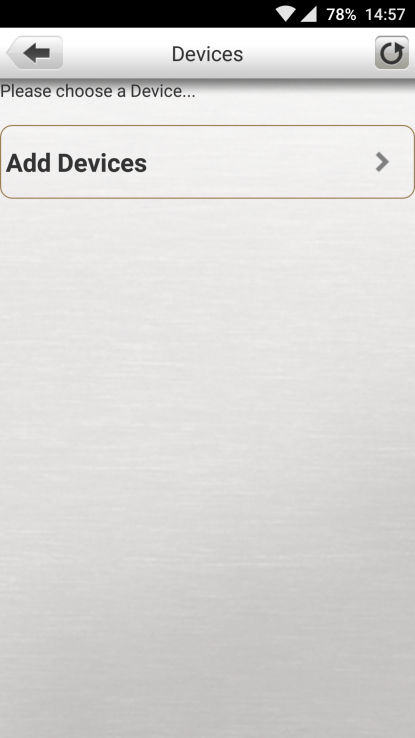 Connecting our speakers was simple enough, and when the unit booted up, it displayed an attractive blue light from the sides of the display. But unfortunately, we now have to talk about one of its big problems: WiFi.
To get the things set up on our network, we had to enter password manually, using the directional arrows on the front control panel. It was painful. We would love to tell you whether or not you're able to do this with the companion app, available on both Android and iOS, but we couldn't get it to work. It found our device easily enough, but it wouldn't let us do anything with it, either hanging or kicking us back to the main menu. And the problems didn't stop when we finally got the M-CR611 connected.
Our preferred service is Spotify, which Marantz prominently advertise as working with this unit. For the first few tracks, it worked fine, appearing as a device in our Spotify app. But then the connection began to drop in and out repeatedly, and there were long periods where the device simply wouldn't respond. It would come back, work for a time, then vanish again. Never has the convenience factor of something like Spotify be more apparent. Once it's gone, your only option is to use CDs, and while we love them, they are undeniably clunky.
It should be said that all the other methods of playing music worked just fine. Navigating the menus was a breeze, too, thanks to a sensible layout and a well-designed remote. It's painfully obvious that quite a lot of thought went into the physical usability, so it's a shame that we can't say the same for the digital.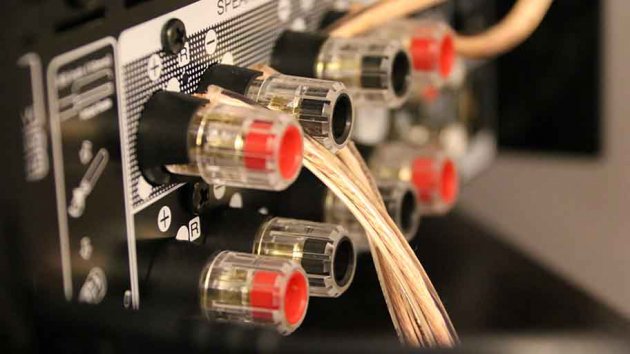 Sound Reasoning
It's a very good thing that the M-CR611's faults don't derail the experience, because it really is quite an experience.
There's a reason we still talk about CD-quality, even in an age of streaming, and there's no question that the M-CR611 delivers on this. It may be helped along by the high-quality recordings, but no matter what audio we threw at it, ranging from compressed MP3s to lossless audio, it did its job. The sound it put out had real weight to it, hefty and punchy, with a level of fullness in the low-end that spoke of high quality innards. More importantly, the presentation was smooth, with a level of sheen that we absolutely loved.
While we did sometimes think that the high end could have used a little more detail, it was still a magnificent performance. The twin 60 watt channels and the digital amplifiers really do a superb job of representing the sound. In a way, this was part of the fun: it prompted us to dig through our CD collection (such as it is) to find ones we had listened to in a while, and to experience them with a level of detail and punch that we hadn't heard before. It's also quite happy at high volumes, and we admit: in the game of chicken between us and the volume control, we lost. It got loud enough for our neighbours to complain. They're used to it, because this is The Master Switch and we like our music loud, but the complaints were more forceful than normal.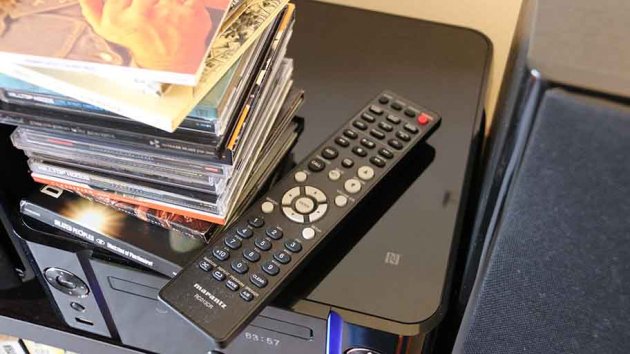 Price Points
So the verdict: the M-CR611 is an excellent CD player with plenty of virtues and a couple of maddening foibles. But is it worth buying?
A lot of that depends on you. If you're the kind of person who owns a lot of CDs, who lusts after high-quality audio, and who has a bit of money in the bank (the unit retails for $699 on Amazon), then this will definitely be worth it. It pulls off its key functions with style and class, and we couldn't find fault with them. If, however, you prefer your music to come from streaming sources, and you don't have a vast budget, then this quite simply isn't going to be for you.
What Marantz have created here is a niche product for a niche audience. It's terrific at most things, it performs well…but we can't see it getting a massive following.
See the Marantz M-CR611 on Amazon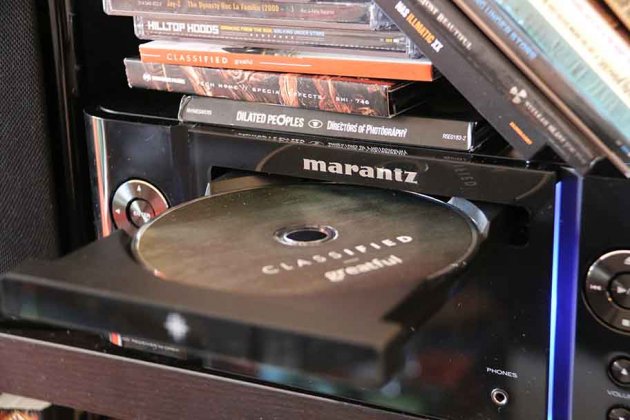 Good:
Fantastic audio quality, easy to use

Bad:
WiFi problems, terrible app

Best For:
CD junkies

Alternatives:
You'll need a separate digital-to-analogue converted to make it work, but if you've got that, then you'll be enjoying a superb CD player with a wonderful, light, dynamic sound. Cambridge Audio always make good stuff, and this player is no exception.
Why, exactly, does this no-frills product with a display right out of the 1990s, cost over $1300? Because of the incredible, life changing sound. Cyrus may have ditched most of the features that you'll find as standard on the M-CR611, but who cares? If you're an audiophile with a CD fetish, then you need this in your life.

Breaking Down The Specs:
| Player | Price | Weight | Footprint | Wattage | Channels | WiFi | StNR* |
| --- | --- | --- | --- | --- | --- | --- | --- |
| Marantz M-CR611 | $699 | 7.4lbs | 12" x 11.5" x 4.3" | 120 | 2 | Yes | 90dB |
| Cambridge Audio CXC | $499 | 10.3lbs | 16.9" x 12.4" x 3.1" | Unknown | 2 | No | Unknown |
| Cyrus CD-i | $1300 | 7.9lbs | 14" x 8.5" x 2.9" | Unknown | 2 | No | Unknown |
*StN = Signal To Noise Ratio