The shelf at Meridian Audio's HQ displaying their hi-fi innovation awards must be a substantial one. The company has a solid history of stellar Digital-to-Analog Conversion (DAC) tech, and they even make pocket-friendly options, like the subject of this review - The Explorer2. It's a DAC that handles hi-res MQA audio, and even now, that's not super-common. In this review, we break down the Explorer2's sound, design, packaging and accessories, specs and more. To see how it stacks up, see our list of the best DACs.
 
Sound:
Concept
Before we dive fully into the world of the Meridian Audio Explorer2, a word on DACs themselves. If you're new to the world of external DACs you are likely asking yourself the question 'Will I hear any difference in audio quality?' The short answer is: yes. If your ears are used to the audio delivered out of the minijack of your Macbook, Windows laptop or even a smartphone, you're in for a big wow. It might not be not as big as buying a pair of speakers costing four figures, but you will immediately notice it - your speakers/cans will suddenly sound better.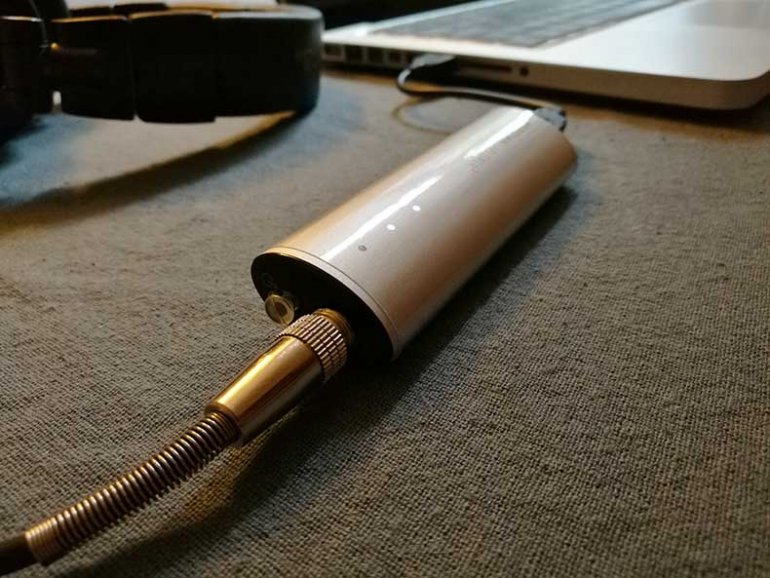 There's an idea in audio that USB DACs are reserved only for audiophiles with hi-res audio libraries. So it's a bit of a revelation listening to your regular lossy music files (formats such as AAC and MP3) and noticing how much wider and more spacious they sound through the Explorer2. That enlarged soundstage is the first striking difference.
 
Clarity and Neutrality
The second (and we're not straining our ears yet - these are just casual first impressions) is the extra clarity and detail noticeable in the mids and high frequency content. These audio frequency registers are crucial for any music genre as they 'carry' the human voices within a mix and, more importantly, the main transients (the strong hits at the start of sounds) of percussive elements and instruments in general. The top frequencies are often described as 'air' by audio professionals, and in the case of this converter, which features the Texas Instruments PCM5102 chipset, the top end content is worth describing as such. It's open and sweet, with minimal harshness. It compares very favorably with other similarly-priced DACs, including our current favorite in this range, the iFi Audio Micro iDAC2 (full review here). That DAC costs almost double, at $379 new compared to the Explorer2's $199, and the latter easily manages to keep up in the audio race.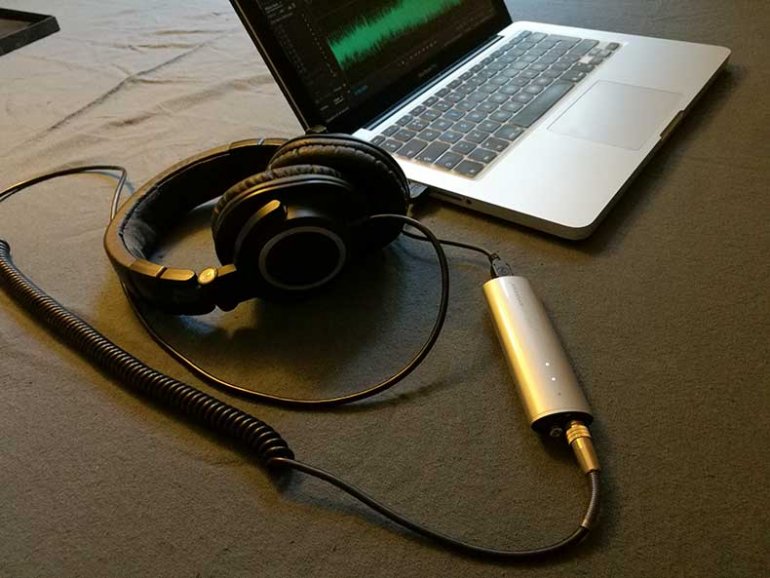 Headphone Amp
All of the subjective characteristics explained above are of course a lot more pronounced with high resolution audio (192kHz files for instance) and whether you are streaming from Tidal or using bit-perfect high fidelity players like Foobar or Audirvana, the Explorer2 simply shines. We were mightily impressed with the headphone amp, tested with a pair of Audio-Technica ATH-M50s. We also cranked some audio through the Explorer2's line-level output - going into a pair of Genelec 8030B reference-grade active studio monitors. Again - bags of top end clarity, mellow but tight mids and round, organic-sounding bass… All in all, very capable audiophile performance that will do justice to any high-fidelity material.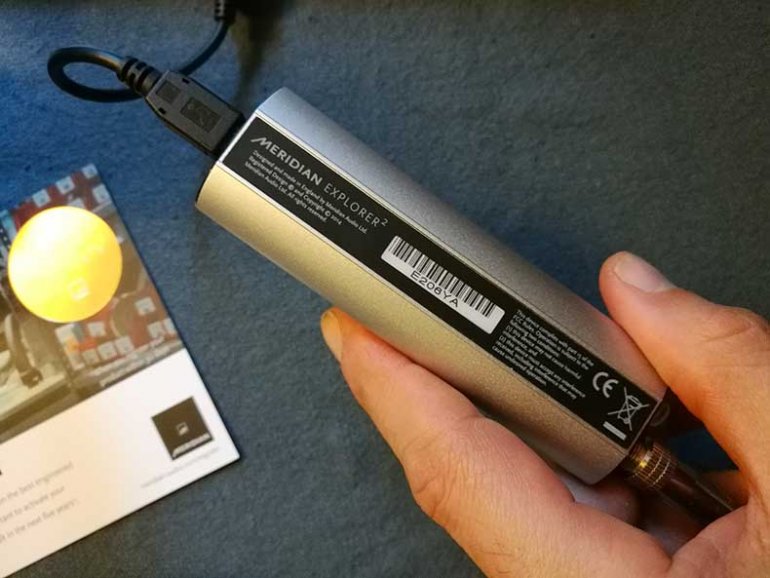 MQA Support
The Explorer2 is one of the first portable DACs to support MQA (Master Quality Authenticated) files - a lossless file protocol ensuring mastering-grade audio but with a smaller footprint. The Explorer2's big party trick (at the time of its release at least) was the first-ever support of MQA files. There are quite a few more similarly priced DACs that promise to support MQA files and this makes things somewhat harder for Meridian - the USB DAC market is already a hugely competitive one. The MyTek Clef, for example, is only a touch more expensive than the Explorer2, and handles both MQA conversion duties as well as being an excellent headphone amp. It costs $299, compared to the Explorer2's $199 - so, there are definitely options out there.
The LED lights can also change color depending on whether a MQA file is being streamed through the DAC. They glow white when playing PCM (WAV, AIFF or lossy) files, green for MQA files and blue for MQA Studio file playback. The combination of color-coding and individual light-ups makes for an easy, at-a-glance way to judge audio quality. You can read more about MQA and other related audio formats here.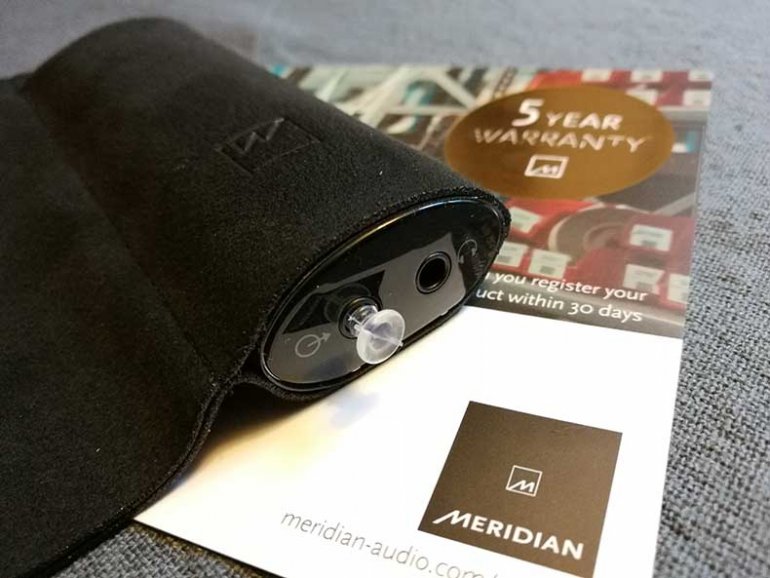 Design:
Looks and Build Quality
The cherry-picking moment of the unboxing experience is, of course, unwrapping the unit itself and having a closer look and feel. Pictures can often deceive regarding real size and proportions. So, holding the Explorer2 in your hand proves that it's small but not tiny - sort of like an oversized cigarette lighter (and with a similar oval/tubular shape). The top of the matte aluminum body features the engraved words Meridian Explorer2 (in a darker metallic color) and three LED lights, which help indicate the quality of audio being player. Only one lights up for audio playback resolutions of 44.1kHz or 48kHz, two for 88.2kHz or 96kHz and all three for 176.4kHz or 192kHz.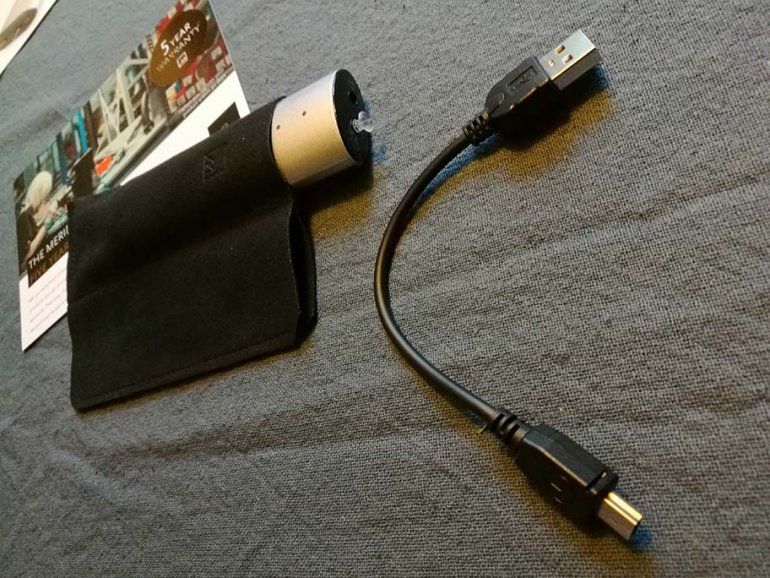 Inputs and Outputs
Inputs and outputs can be found on the sides - a micro USB (B) port on one side for computer connection and two 1/8" (3.5mm) outputs on the other. Two outputs? That's because both are stereo outs and analog only (no digital outs here). The first is a headphone out, featuring a powerful analog headphone amp (0.13 watts) with sixty-four increments of volume adjustment (via your computer). The second mini-jack out is a Line Out - reserved for connections with stereo amps, for example). The Explorer2 uses auto-sensing circuitry which deactivates the headphone preamp when the line-level output is in use, reducing potential crosstalk noise.
We like Meridian's attention to the little details, like the insertion of a little plastic 'plug' in the line output just to prevent any confusion. Connecting a pair of cans into a high-powered line-level output may easily blow the headphones' drivers. So, keep that 'plug' in - at least until you need to use the DAC with amplification. It's a real shame that the Explorer2 isn't designed for use with smartphones or tablets - a feature we would have liked to see. If you're into smartphone audio, you may want to look elsewhere, like the tiny FiiO K1. At $40, it's significantly cheaper than the Explorer2, but is also one hell of a DAC.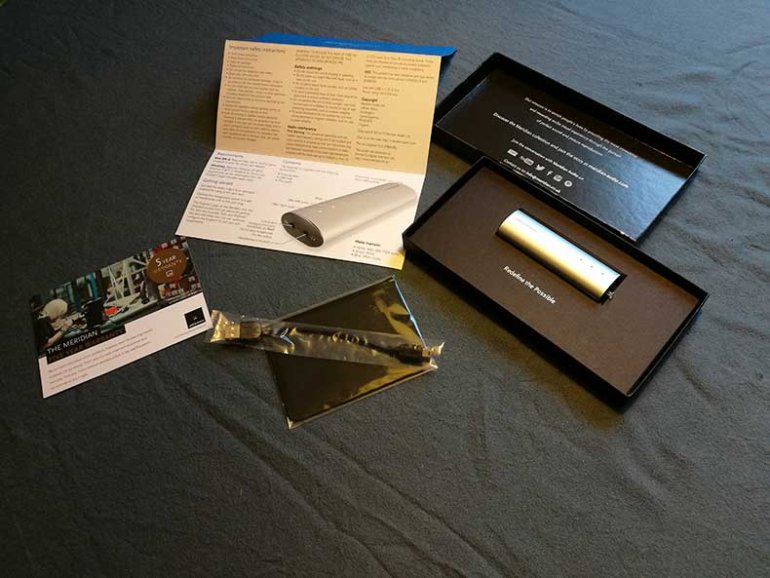 Setup
Having connected the DAC to a computer (via a regular USB port), the unit is ready to take over all audio playback duties from your existing sound card. Unlike other DACs, the Explorer2's headphone amp volume is controlled just like you tweak your volume normally. We like the fact that no specific audio app/drivers are needed for Mac, however, before connecting the Explorer2 to a Windows machine, it is necessary to download and install the latest (USB 2.0 class compliant up to 480MB/S) audio driver from Meridian's support page. Meridian include step-by-step instructions with their driver downloads and it is not a bad idea to follow those even if you have done this sort of thing before. Once done, audio adjustments work just like normal - of course, after selecting the Explorer2 as a default playback device from your PC's Control Panel. Still, setup of the DAC is relatively straightforward.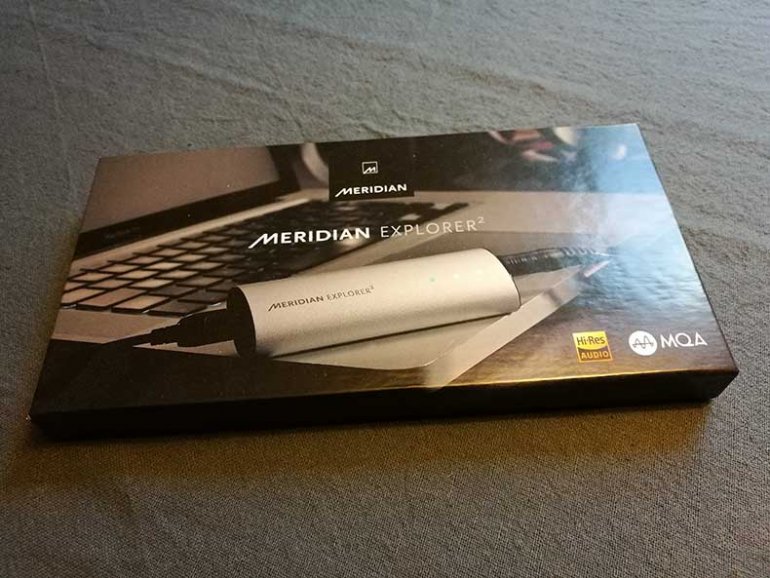 Accessories & Packaging:
The contents are smartly wrapped and, aside from the DAC, you will find a printed manual booklet, containing simple but thorough instructions and spec figures. As well as the short USB cable, there's also a velvet carry pouch - nothing really luxurious, but still perfectly designed to keep the DAC and the cable away from harm (e.g. the dreaded laptop bag mess). That's it - after all, not much else is needed to get you (and your computer) acquainted with the Explorer2. As for packaging, the DAC comes in a fairly thin box - a bit like a box of chocolates, but in this case featuring a large picture of the DAC in question. The overall impression is one of a stylish, minimal and very twenty first century approach to presentation. It had an almost Japanese aesthetic to it, with the Explorer2 nestled in a black compartment, the accessories underneath it. There's nothing overly special about the packaging - it's clean, competent, and gets the job done.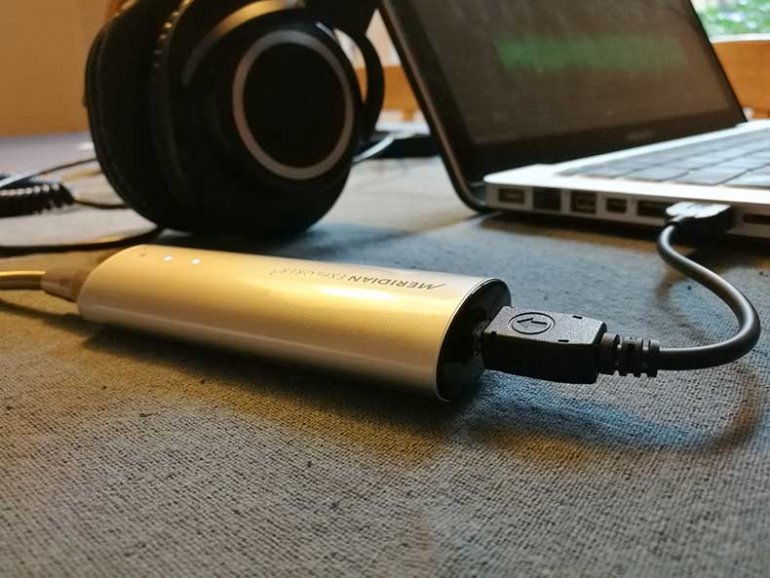 What We Like:
The Meridian Audio Explorer2 has excellent sound quality, easily standing up to comparable DACs.
The setup of the Explorer2 is straightforward, with no expertise needed.
​The design is excellent, with a slim aesthetic and good build quality.
 
What We Don't:
MQA support isn't that big a deal these days, meaning the Explorer2 loses some of its unique charm.
At the time of writing, there's no smartphone or tablet functionality.
The Explorer2 won't convince those who think high-end DACs make zero difference.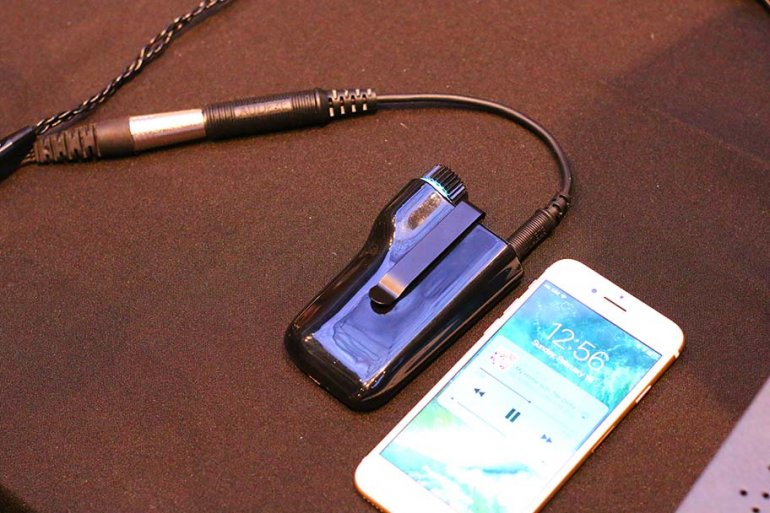 Comparison Table:
Want Even More Master Switch? Sign Up For Our Weekly Newsletter!
 
The Competition:
For an alternative, you should check out Schiit's DACs - being a brand arguably as renowned as Meridian Audio they make some proper cutting edge spec gear. We particularly like their Fulla 2, which for around $100 is a stupendously good DAC - and cheaper than the $199 Explorer2. It only manages 24/96kHz resolutions but features a large hardware volume knob, which many people really prefer. What really sets the Fulla2 apart is flexibility - it can act as a standalone preamp or just as DAC if you like, and it will work pretty much with anything, including smartphones. It has some proper DAC chips in its belly too - the mighty AKM AK4490. How do they manage all that for $99? Schiit's answer is simply: "By making tons of them, selling direct, and not being greedy".
AudioQuest's Dragonfly Red is one of Explorer2's main competitors. We really dig the sound, and although AudioQuest are working on MQA file support, this is still not a live feature. It also only handles 96kHz audio (half of the Explorer2's resolution).  It can take a variety of adapters, allowing the DragonFly to be used with smartphones. It has a virtually identical price to the Explorer2, at $200.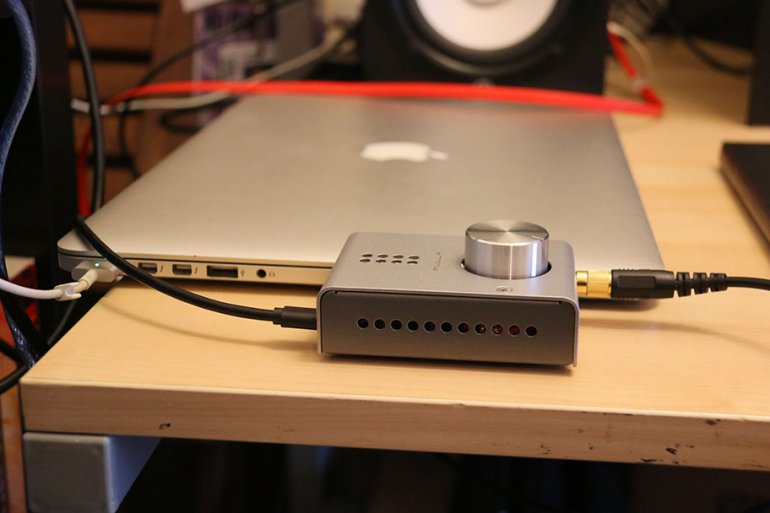 We've already mentioned the MyTek Clef, which we think is actually better than the Explorer2. It handles MQA, doubles as a headphone amp, and delivers block-rocking sound quality. When we first heard it at CanJam NYC 2018, we came away impressed with the level of energy and dynamism to the sound, as well as the Clef's design. It's what all the cool kids are rocking this summer (disclaimer: we are not actually sure what it is that the cool kids are rocking). You'll pay for it, though - it's $100 more than the Explorer2, at $299.
 Finally we should mention the Explorer2's bigger bro - the Meridian Audio Director, featuring a 'next level' of serious audiophile audio quality (but for more cash - $349, compared to the Explorer2's $199). Based on audio performance alone, the Director DAC smokes most of its similarly priced competition out of the water. Apart from a truly stunning audio performance it accepts digital streams (Coaxial and Optical) as well. You'd go for this if you wanted something a little more heavy duty than the Explorer2, but wanted to stick to the same brand.
Learn More About Personal Audio