Sometimes, this job can land us with happy accident. Here's an example. When speaker maker SVS asked if they could ship us a pair of their Ultra Tower speakers to review, the response was an enthusiastic yes. But what actually arrived, courtesy of a distributor mixup, was a pair of their older and slightly less powerful Prime Towers. While we waited for the Ultras to be picked up, however, we did still have a pair of the companies speakers in our testing room… And they weren't doing anything… And we couldn't resist testing them out too. While they are not a patch on the unbelievable Ultras, the Primes still offer some of the best value in floorstanding speakers. Here's why.


Design:
Released in late 2014, the SVS Prime Tower speakers quickly established themselves as a pair of contenders. Although we eventually got to review the monstrously large Ultra Towers, we still found a lot to love about the smaller model, and we found that it's aged quite well indeed.
Part of this is down to the design. SVS have always been known for solid construction and reliable build quality, and there is no exception here. You get two options for the finish: the standard black ash, which our speakers came in, or piano gloss, for $100 more. The bulky, heavy wooden frame feels solid, and our wood finish felt terrific under the fingers.
These are among the more traditional speaker designs from the company, in that they don't differ greatly in terms of shape and construction from other floorstanding speakers. Unlike the flared bottoms of the Ultras, these have a standard square base, although you will need to put a bit of space between the rear side and the wall, thanks to the cavernous bass ports that dominate the rear. Although this didn't have a dramatic effect on the low end, which we'll go into a little more detail below, it's still a nice touch, and wouldn't have a problem positioning the speakers a little further out. And at forty pounds a pop, with a base of 11.6" x 8" and a 36.6" height, they are a manageable size, too. One person should easily be able to lift these into position, which was nice; we've become accustomed to SVS products requiring a team of your friends and a forklift truck to get across the room.
Round the front, you've got a fairly standard collection of drivers. You get a 1" tweeter, with the characteristic bolt pattern and SVS logo, a 4.5" midrange driver below it, and underneath that, two 6.5" woofers. Well, technically, one and and a half – the second one from the bottom trespasses into the mid range.
Technically, this makes them three-way speakers – as opposed to two-way, which just have a tweeter and woofer – but SVS actually refer to the speakers as 3.5-way, thanks to how the crossover between the two woofers is set up. Potato, potatoe. Either way, it's a good range of drivers that will satisfy just about anyone looking for a solid tower. There is a detachable grille for each speaker, and although it doesn't have the fancy magnetic connections of some of Audioengine's speakers, for example, like the HDP6 (full review here), the grilles attach and detach without any issue. Round the back, there's a standard set of gold binding posts – nothing as fancy as the four-post wonders on the back of the Ultras, but they get the job done without too much hassle.
To be honest, you don't really buy these speakers for the design. Yes, it's good, and yes, the construction is strong and reliable, but it doesn't do anything out of the ordinary in terms of its build or aesthetics. It gets the job done, in a competent enough way. That being said, we do appreciate how the black finish looks and feels, and how easily the speakers slotted into our lounge area slash testing room. It feels wrong to call these the little black dress of floorstanding speakers, but like that particular garment, they are appropriate for everything, and never go out of style.
As with all their speakers, SVS offer one of the best warranty deals in the business: a 45-day risk-free home trial, and a five year unconditional warranty. We are going to stick our neck out here and say that you probably won't need it.
Sound:
With speakers in this particular price range, you don't expect miracles. You expect faithful reproduction of the sound, without too many glaring issues. And we were very pleasantly surprised at just how good the sound of the Primes was.
The immediate sensation was one of delicate balance. It never felt like any part of the frequency spectrum was overcooked, or left out of the mix. With optimum listening position – always a good idea to maximise what you're hearing, especially from slightly cheaper speakers – we found that we weren't missing anything. Dialogue was clear and precise. Sound effects had a pleasing snap to them. Although they were far from the best we've ever heard, the highs felt detailed, with good dynamics. It's the kind of sound we'd expect from speakers with another digit on the end, and it's yet another testament to just how good the people at SVS are at their jobs.
Another pleasant surprise: the soundstage. Floorstanding speakers can often suffer in this area, with some models demanding that you remain in the sweet spot to really get the full sense of things. But the Prime Towers felt wide and accommodating, with a very good spread of audio elements throughout the room. While we hesitate to call the sound room-filling – they don't have quite enough power for that, with a low-ish sensitivity of 87dB – we certainly weren't left wanting.
Thinking about some of the speakers we've heard recently, we were pleased to see just how favorably the Prime Towers compare with them. Fluance's Signature Series floorstanders may have the Primes beaten on the low end, but we think the Primes are just as good in terms of overall sound, and at a slightly cheaper price. And while there may be a little more expensive than the ELAC Debut F6 towers, they feel like they should cost a lot more. It's a very good look.
We were also more than satisfied when switching between hifi and home theater use. As part of a traditional 5.1 setup, the speakers performed admirably, but one thing we demand of any speakers is that they do a good job with music, and with this, the Primes mostly nailed it. They were surprisingly musical, with great articulation and detail. We are comfortable saying that these could be used in just about any situation, although again, good positioning will help things along.
If there is one area we felt could be improved, it's the bass. It was a little bit of a surprise (and not a pleasant one) that despite the twin woofers and the twin ports round the back, the low end just didn't feel as full or as deep as we would have liked. It was there, and it was doing its job, but given how impressive the rest of the sound spectrum was, we felt a little shortchanged when it came to the bottom notes. Explosions didn't have as much kick as they should have, and kick drums, while perfectly OK, felt a tiny bit lifeless. That being said, it's the sort of thing that can very easily be remedied with a subwoofer – perhaps one of the company's own PB16-Ultras (full review)? If you do, it may be worth using the company's detailed system builder, easily accessible via their site.
Still, despite the slight issue with the low-end – and it is a very slight issue – we give the sound of the speakers a healthy thumbs up. They do everything well, some things really well, and when they do have flaws, it's never enough to spoil the experience.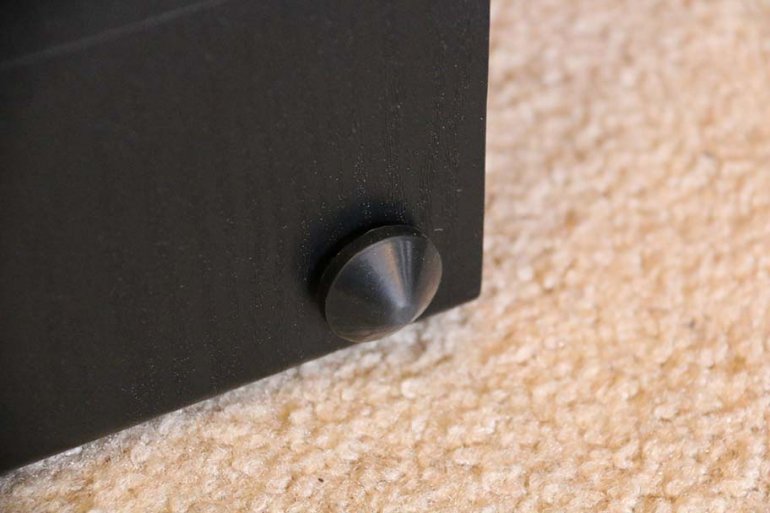 Accessories/Packaging:
Pretty minimal, although you do get some helpful accessories.
Chief among these are a set of feet that you can use to both balance the speaker on your floor, and to isolate it sonically. You get a set of 3mm elastomer bumpers, which you can easily stick on the bottom, or a set of adjustable metal spikes, which help eliminate vibrations. Nothing exciting, but it's good to see that SVS has got the nuts and bolts right.
There are no foam plugs, as is common with some of their other products – these plugs help control the bass response – but we can't see them making a huge difference here. Outside of that, the only other accessories you get are the mesh grilles. We like to leave ours off.
Packaging is basic but functional, with a straightforward cardboard box. Nothing you won't forget within a few minutes of disposal.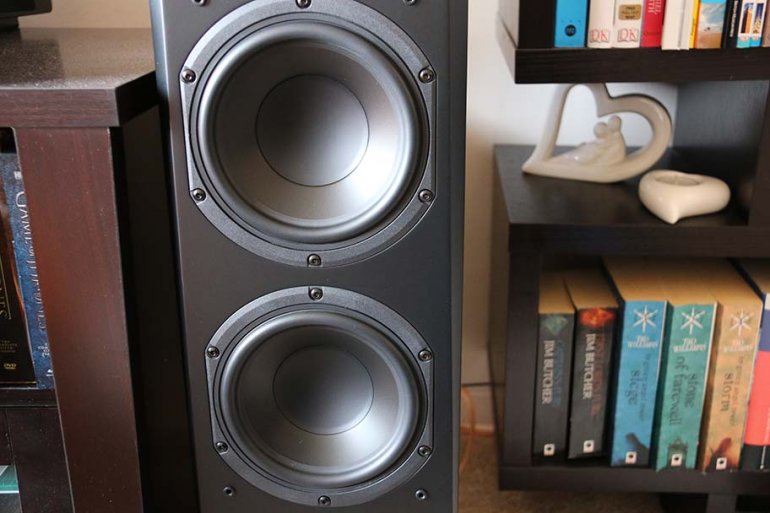 Verdict:
Really, whether or not you buy these comes down to your stance on new gadgets.
If you're the kind of person to always buy the latest phone, or indulge obsessions with drones, smartwatches and smart speakers, then these probably are going to be for you. They are, after all, nearly three years old – and even when they were released, they didn't do huge amounts to push forward the floorstanding speaker market. If you do need to have something new and exciting, it may be worth going for at something like the Monitor Audio Silver 200 speakers. You'll pay more, but then again, you'll pay more for the latest iPhone, too.
But if what you're looking for is a solid speaker that performs very well, and you have the additional components – such as a subwoofer – to make it worthwhile, then we'd unhesitatingly recommend these. They offer solid performance, and unimposing footprint, and rocksolid reliability and construction. Yes, they are a little old, but if you buy them new, you should have absolutely no problems – especially with such a generous warranty. They are reasonably priced, too - at $500 each for the wood finish, a couple of these are unlikely to bankrupt you. They take amps with a generous power range (20-250 watts at 8 ohms), and they fit well into just about any room.
Maybe the little black dress metaphor isn't so inappropriate after all…

Good:
Great detail, balance and soundstage.
Warm, engaging mids.
Solid build and construction.
Good price - and a great warranty.
Bad:
Bass can be unsatisfying.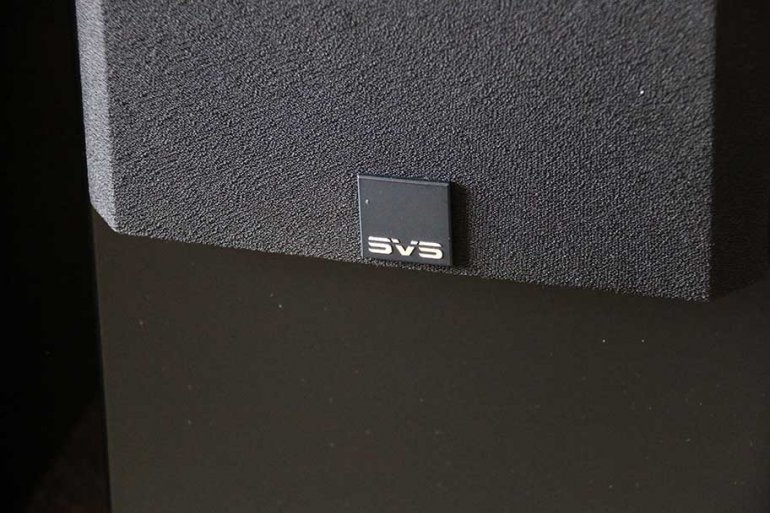 Alternatives:
While we don't think the value-for-money is quite as good here, you do get a very capable and enjoyable set of speakers. Fluance have a great reputation, and we really like the design of these.
In addition, while we'll always advise the acquisition of a subwoofer, there's nothing wrong with the low end here. It's meaty and powerful, and deeply satisfying. You'd go for these if you have a little bit more to spend, or want something newer.

Can't quite stretch to the $500 per? Then try out the Debut F6 from ELAC. They don't quite offer the quality or class of the Primes, but for all that, you won't be dissatisfied with the buy.
One of the things we liked about the Primes was how musical they were, and we think the Debut F6 has the same quality. They really shine as part of a stereo amp setup, and will deliver some wonderful audio if you go for them.

We really, really like these – and we can see them sneaking onto our Best Of list as soon as we've had a chance to properly hear them. You will definitely pay more than you would for the Primes, but not a great deal more, and if you have some more cash to spend, you should check them out.
Our initial impression was that we could really get used to the sound – it was fun and addictive, with some great dynamics. The design is eyecatching, and we can see these becoming firm favorites.

Specs Table:
*RAP = Recommended Amplifier Power
Video Review: