The Ultimate Ears Roll 2 comes with the strangest accessory we've ever seen. Unlike most audio companies, UE refuse to settle for just shipping with a charging cable and a companion app; no, the Logitech-owned company has included an inflatable bladder. You pop the tiny circular speaker on top of this, and let it float out on the pool/ocean/lake, accompanying you while you splash about.
For while the speaker is fully waterproof (rated IPX7, which means you can happily submerge it in three feet of water for half an hour), it doesn't float, bobbing helplessly under the surface. The bladder, however stupid it may look, is necessary. Not only that, but it is emblematic of a speaker that has a weird, left-field sense of fun, and that gets the job done in a classy fashion.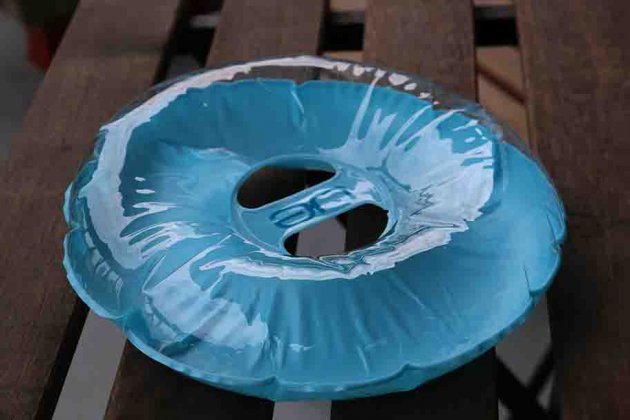 Meet The Upgrade
The UE Roll 2 is, as you'd expect, an upgrade to the UE Roll. They are both flat, circular speakers a few inches across, with oversized volume buttons and a very handy bungee cord on the back. The UE tradition is to offer them in a variety of eyeball-searing colors with cheeky names. Ours, Sugarplum, came in a fetching shades of purple, yellow and turquoise. At least, we think it's turquoise. If that colour scheme doesn't grab you, you can choose from Habanero, Atmosphere, Volcano, Reef and, um, Tropical Anime.
(And by the way: that bungee cord is more useful than you can imagine. We can't understand why more speaker makers haven't followed suit.)
The most obvious question here is: what's changed? The upgraded speaker has an identical battery life to its predecessor (nine hours), and an identical waterproof rating. The biggest difference is in the range. The first version only allowed you to go about forty feet from your playback source, while the new version upgrades that to a hundred feet. We tested this in a large area, and it was only at about ninety feet that things started to glitch. Given the size of the speaker, that's a tremendous achievement. It's also a hell of a lot louder than the original version – UE claim at least 15%. And as you can imagine, it costs more, although not dramatically so. On Amazon, the original was and is $79, and the Roll 2 is $100.
So the follow-up question: is it worth upgrading? If you own the original already, or a similarly priced Bluetooth speaker, then don't bother. We can't imagine many situations in which having a range of a hundred feet would be better than having a range of forty feet. But if you're new in the market, then just pay the extra $20. Seriously.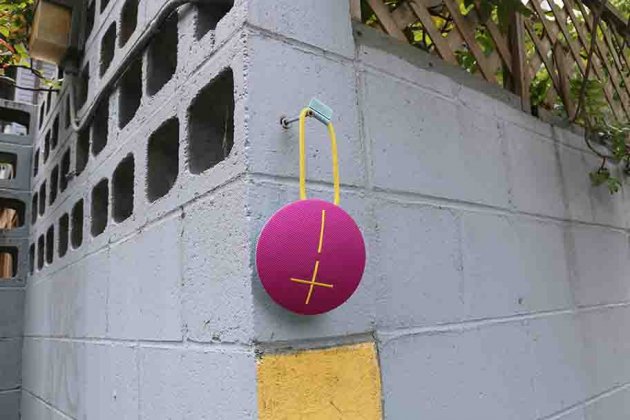 Floating Points
Let's talk about sound quality. As you'd expect for a speaker in this price range, it's not exactly audiophile-level. The twin tweeters and single two inch driver aren't exactly going to knock Bose or Braven out of the top spot. However, that's not what this speaker is for. It's designed for use outdoors, preferably at very sunny pool parties, where you'd be hard pressed to discern subtleties of the music anyway, and probably already too drunk to care. What's important is that it gets the major details across: it's crisp, loud, and warm. Anybody turning this one up to max volume will have no complaints.
That being said, the low end just isn't going to impress. The drivers aren't big enough. Particularly bass-heavy genres like dubstep or house may sound like they are getting the best treatment. It's not a massive problem – we didn't expect to speak of this size to blow us away with its bass - but it's worth bearing in mind.
UE really know what they're about when it comes to designing apps. The Roll App, freely available from either the App Store or the Google Play store, is beautifully made and easy-to-use. Pairing the speaker is a cinch, the work of a few seconds, and you've got easy access to things like EQ to adjust the sound, as well as an alarm. There is also a comprehensive and well laid out How-To section, if you get stuck. It's easy to connect multiple playback devices to the speaker, meaning that you and your friends can fight over the music selection quite happily.
There's also an interesting feature called Double Up, which allows you to connect two speakers together, using the same playback source. We didn't have another Roll 2 to test this, but what we did have in our possession is UE's bigger Bluetooth speaker, the Megaboom. As long as you've updated it with the latest firmware, getting this all connected up is a breeze.
Unfortunately, it just doesn't work that well. Almost from the start, one of our two speakers was glitching, the Bluetooth signal cutting out. No matter what we did, we couldn't fix this. In addition, there was sometimes a delay in playback, meaning we got a disorienting stereo effect. Playing from one speaker works perfectly well, but putting more than one in the mix clearly needs a bit of work.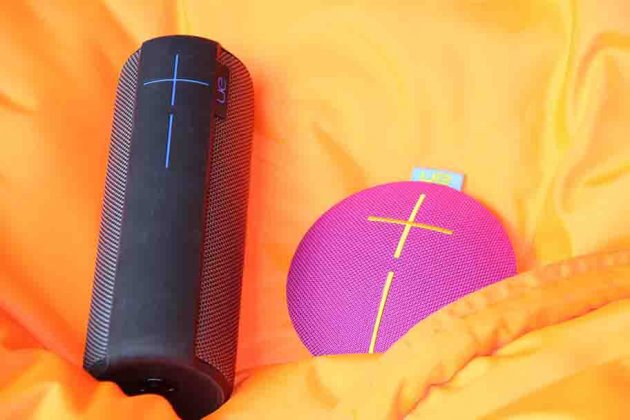 End Game
What we liked most about the speaker was something we don't often say about a lot of audio equipment. The tech we review is often classy, usually sleek, occasionally drop dead gorgeous. But very rarely does it invoke a sense of glee, or surprise. It's difficult to dislike a speaker that all but urges you to take it somewhere where it can be bashed about, have beer poured over it, float for hours on a ridiculous life vest, all while playing music as loud as it will possibly go. Despite the issues with bass and with paring other speakers, this gets a hearty thumbs up from us.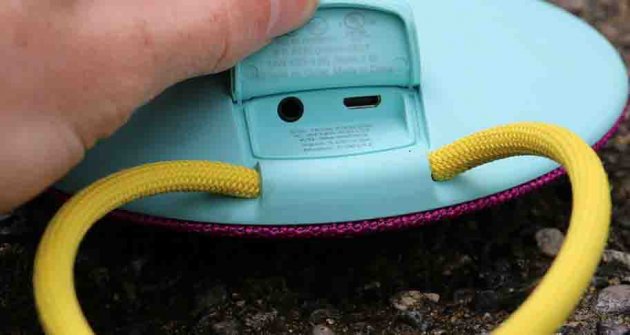 Good:
Terrific sense of fun, easy to use, loud, clear sound
Bad:
Pairing issues, lack of bass
Best for:
Big-ass pool parties
 
Alternatives
Although it's not nearly as stylish in looks as the Roll 2, the BRV-1 is an equally capable speaker at about ten bucks less. It's probably more suited to extreme sports and rougher conditions than the UE number, as it's a little bit more rugged in design. Go for this if you plan on doing things like kayaking or biking.
Although it resembles the UE Megaboom more than the Roll 2, it's actually slightly cheaper than the latter, at $94. What it sacrifices in waterproof capability (do not dunk this one in the pool) it makes up for in sound quality and improved low-end. 

Breaking Down The Specs:
| Speaker | Price | Weight | Dimensions | Batt. Life | B'Tooth | Wattage |
| --- | --- | --- | --- | --- | --- | --- |
| UE Roll 2 | $100 | 11.64oz | 5.8" x 5.3" x 1" | 9 Hours | Unknown | Unknown |
| Braven BRV-1 | $90 | 2lbs | 4.8" x 2.2" x 3.2" | 12 Hours | Unknown | 6 |
| JBL Flip 3 | $94 | 1.65lbs | 7.5" x 4.5" x 3.9" | 10 Hours | 3.0 | Unknown |
Learn More About Speakers