Docking speakers have been around for nearly two decades now, having grown as a separate, symbiotic A/V branch out of the big Apple tree - almost instantaneously since the iPod's birthday. Nowadays of course you'll find a zillion third party manufacturers outdoing each other at creating the perfect docking speaker system. And to use them, you only need one thing - a compatible iOS or Android device. Easy to use, cable-free, functional and often incredible sounding, they have been a super-popular choice for many people. Regardless of which device you happen to favor or own, the good news is that docking speakers aren't going anywhere, with many people choosing to plug rather than Bluetooth it and hope for the best. Wiith so many models crowding the market we've picked some of the coolest and best models to enhance your living space, visually and sonically speaking.

How We Choose:
Fair warning: you're going to see a lot of older models here. Speaker dock production has waned in the past few years, with several manufacturers updating their ranges to wireless only. Don't worry - if you still prefer to plug in, there are plenty of options to choose from, and we stand by all our picks.
As with all of our "Best of..." TMS series, we gather our picks by eyeing them with an end user approach - checking out usual important stuff like physical size, features, component choice, sonic clarity, loudness, looks and of course price. Before each pick's description, we outline the most important specs, as well as the main pros and cons. We're also interested in value for money - not from a savings perspective per se, but whether the gear in question is (at least one of) the best you could get for a particular budget. Components and features affect the price and speaker docks start from a handful of dollars for the 'mini alarm clock' examples, going up to $30K, as in the now discontinued 10000 Watt Behringer iNuke BOOM. We've aimed to cover units which are either the latest generation, or ones which are timeless classics, and when arranged from top to bottom, this more often than not means that expensive really means better. This list's top picks represent the more boutique end of the current speaker dock designs, but it quickly descends into what is considered the most competitive price bracket - $100 to $350 where the real heavies fight tooth and claw for the special privilege of becoming your room mates. They all deserve it in the end, so choose your best match from the contenders below. Do check our Buying Advice section below the list, where we outline all things good and bad about docking speakers and the tech inside them.

Our Speaker Dock Picks
Dock: 8-pin lightning connection
Inputs: 3.5mm mini-jack, Digital Optical (Toslink)
Wireless: AirPlay (via WiFi)
Wattage: 400 Watts (Peak, total)
Drivers: Unknown
Acoustic Port: Yes
What We Like: Volume, clarity, connectivity.
What We Don't: No Bluetooth.
We all know that anything that Sony put their hands on turns gold. This speaker system (let's call it just that, since the actual model number RDP XA900IPN is just a ridiculous name for a product) is truly superb. In our opinion, it's one of the best examples of the docking speaker concept. Small it ain't, but this is the strong selling point - its bigger size here really aids acoustics, audio spread and therefore power. The RDP XA900IPN sports two Magnetic Fluid main speakers plus two subwoofers with Acoustic Ports to aid bass spread.
If you're thinking mushy or wooly sound, you would be wrong. Sony deploy some of their phase-alignment DSP processing, pumped through their S-Master digital amp section and the clarity is impressive. OK, this is nowhere near audiophile territory but it can be so very entertaining. Bluetooth playback is supported and even low-res streaming sites (Pandora, Sirius, etc.) sound mighty on this. We would have expected a better spec'd remote unit (a playlist option would have been nice at least) but for basics such as track skip, play and pause it just about does it. Aside from that this is a winner.
See the Sony RDP XA900IP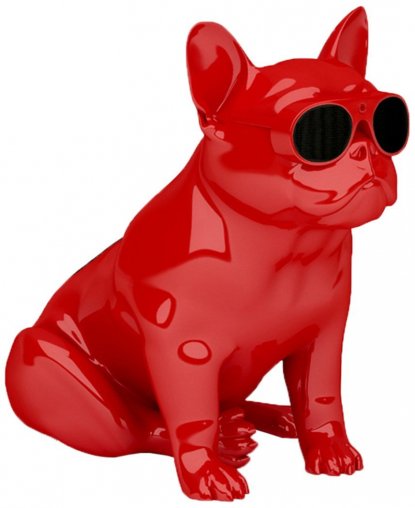 Dock: 8-pin lightning connection
Inputs: 3.5mm mini-jack
Wireless: WiFi and Bluetooth
Wattage: 240 Watts (Peak, total)
Drivers: 5.24" Woofer, 2 x 2.24" Drivers
Acoustic Port: No
What We Like: Crazy looks which work, plenty of volume.
What We Don't: Looks and price are not for everybody.
Meet the AeroBull - an exotic-looking speaker system clearly aimed at fashion-conscious music lovers, created by Jarre Technologies. It must take an extra dollop of courage and an eighties synth-pop electronica wizard (Jean Michel Jarre) to come up with such a concept: a shades-wearing bulldog-shaped 2.1 speaker system (two stereo speakers plus a sub), capable of 240 Watts of clean power. The speakers, by the way, are in the sunglasses, and the remote is bone-shaped. Of course.
The (life sized) bulldog knows a few tricks. Starting with the docking station, which is positioned on its head, it's good to know that this fully supports all current generation iDevices with its lightning connection. This also means that if your device uses the older 30-pin protocol you might need a suitable adapter. Alternate wired audio connections (for TV, DVD and so on) are easy with the included 3.5mm mini-jack aux input, but the AeroBull's name hints at wireless talents, as this is indeed one superb wireless Bluetooth speaker - an altogether different subject perhaps, which we've covered it all detail here. But it's worth noting that just like its physical inputs, the AeroBull's Bluetooth spec is a current generation, which means support of the high-resolution aptX (wireless audio codec) streaming - up to CD quality in fact. The audio detail is mighty fine and especially so when positioned facing the room and with its back (think sub) towards a corner. The AeroDog proves that it's far far more than just a modern art piece and may indeed easily become your iPhone/iPad's best friend. Be warned: it's often hard to find, although we still think it's a top pick.
See the Jarre Technologies AeroBull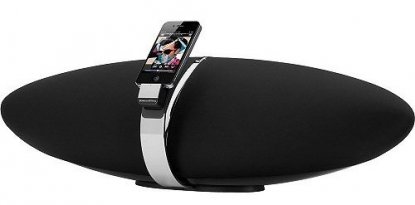 Dock: 8-pin lightning connection
Inputs: 3.5mm mini-jack
Wireless: AirPlay (via WiFi)
Wattage: 150 Watts (Peak, total)
Drivers: 2x Tweeters, 2x Midrange Speakers, 1x subwoofer
Acoustic Port: Yes
What We Like: Fantastic package and sound.
What We Don't: Bluetooth receiver would have been nice.
Bowers & Wilkins older Zeppelin model is still tremendous value for anyone sporting an older gen 30-pin iDevice. Although the Zeppelin Air is a few years old now it is a formidable lightning port update to the famous Zep, keeping most of its original specs including the famed flamboyant looks. Bowers & Wilkins are well known for their stylish designs and despite of its somewhat striking shape, the Zep Air still pulls that contemporary smart appearance that is so well suited to any home. They no longer aggressively market this, preferring to stake their rep on the dockless Zeppelin Wireless, but this is still available and a killer choice.
The Zeppelin Air certainly can go loud but its sound has plenty of clarity and spread and is really suited for casual music listening and sofa movie marathon sessions. With a power rating measured around 150 watts, this is a truly capable unit that projects well even in large spaces and thanks to its centre subwoofer, two midrange drivers and two tweeters, the audio signature is on a par with many 'proper' A/V setups. Of course, the presence of the lightning dock supports all current iPlayers but you do get an extra bang for your back with its ability to act as an AirPlay wireless speaker. We explain the (big) difference between Bluetooth and AirPlay wireless streaming in our Buying Advice section below, but it's worth noting that Zep Air needs to be incorporated in your WiFi network (via the Ethernet port at the back) and the big advantage (over Bluetooth) is that it can stream video content and lossless audio. The disadvantage here is that only Apple devices can make use of AirPlay. We say if style and design are as high on your agenda as great sound, the Zeppelin Air might be the one for you.
See the Bowers & Wilkins Zeppelin Air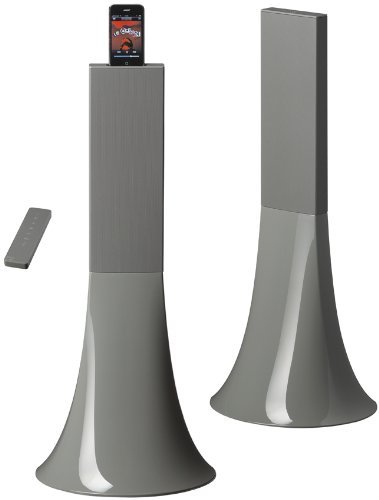 Dock: 30-pin
Inputs: Aux In 3.5mm mini-jack
Wireless: Bluetooth, WiFi
Wattage: 200 Watts (Peak, total)
Drivers: Unknown
Acoustic Port: Yes
What We Like: Looks, volume.
What We Don't: Audio detail could be better.
We like Parrot. Their designs are as quirky as they get without being a plastic dog, and if you take their reverse approach to product names (music - muzik - zikmu) you'll get a sense of their brand ethos.
Why are they at number four then? As already described, it's true that in most cases more expensive means better quality, but with these Zikmu though, we believe that despite their film set looks, their audio is quite average for the $1.5K price tag and they feature the older 30-pin design, so you would need a suitable 8-pin lightning converter. Having outlined the cons, let's talk about the good bits. The model comes in a variety of colors (subject to availability) and despite its older version docking port these speakers feature wireless connectivity - both WiFi and Bluetooth. Although the latter does not support aptX, the Zikmu are NFC (Near Field Communication) capable, which is great for Android devices - just position one on the speaker and they'll be paired for Bluetooth streaming. The looks and versatility are the strong selling points here. Sure, these sound loud enough (100 Watts RMS) but they are not for anyone looking for a bargain or on a shoestring budget. If money ain't an issue though, the Parrots are great for any modern living space.
See the Parrot Zikmu


Dock: 8-pin lightning connection
Inputs: 3.5mm mini-jack
Wireless: No
Wattage: Unknown
Drivers: Unknown
Acoustic Port: No
What We Like: Classic Bose sound.
What We Don't: Fairly basic specs.
Bose Corporation's presence in the hifi industry is like Coca-Cola's within the food industry and the SoundDock III is a deservingly popular docking speaker - despite what some audiophiles may think. This is a compact package designed for casual listening and this is probably the very definition of Bose's ethos. With so many successful 'mini' designs, it probably took the design team mere minutes to 'retrofit' a powered Bose speaker with a lightning port (a 30-pin dock version is still available on Amazon).
What we mean of course is that you if have ever owned or listened to a Bose, you will know the signature sound which is present here - more than slightly emphasized top frequencies, scooped mids and big but at times boomy bass. This is not a criticism (unless you expect audiophile frequency response) - it really works, and for the SoundDock III's size, the audio is solid. If the company's famed digital signal and acoustic processing may give the SoundDock a slight advantage over some of the previous picks, the lack of any wireless capability is a slight let down for the price - unless of course you start considering additional wireless adapters. Non-lightning port (and legacy) devices can be connected via the auxiliary 3.5mm input at the back, and all is controlled by the included RF Bose remote. A near classic.
See the Bose SoundDock III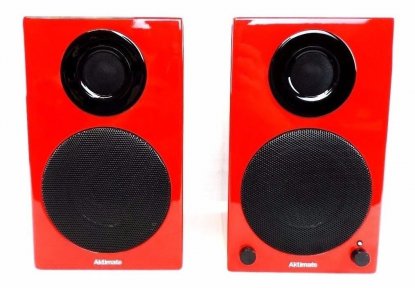 Dock: 30-pin
Inputs: 3.5mm Mini-jack, USB
Wireless: No
Wattage: 80 Watts (Peak, total)
Driver: 2 x 4" Drivers
Acoustic Port: Yes
What We Like: Bookshelf looks and sound.
What We Don't: Quite an old model now.
The AktiMate Micro are an active pair of bookshelf speakers featuring a built-in 30-pin dock on top of the main speaker. By main we mean the one that houses the actual power amp, which in turn powers the 'slave satellite' passive speaker via the included cable. By going for such a hybrid design, AktiMate have managed to keep costs down, while still managing an impressive audio performance. A winner of multiple awards (at the time of its release) this little pair measures only at around 40 watts but the sound is very much in line with the looks - sort of a mellow, while tight, classic bookshelf speaker performance. They have none of the overcooked boomy low end normally associated with small plastic speaker enclosures.
They feature an additional 3.5mm aux in at the back, and it's also interesting to see the inclusion of a USB port, reserved for computer playback, which means that the AktiMate Micros would act as DACs (Digital to Analog Converters) when in this mode. This really is a worthy little pair and despite its older spec docking port, the speakers represent a great value for money. What was that saying? 'Old but gold'? Yep, it applies here.
See the AktiMate Micro


Dock: 30-pin lightning connection
Inputs: 3.5mm mini-jack
Wireless: Bluetooth
Wattage: 20 Watts (Peak, Total)
Drivers: 1 x 3" Woofer, 2 x 2" Drivers
Acoustic Port: No
What We Like: Good design, cool sound.
What We Don't: No issues.
Soundfreaq have come up with the cool-looking SoundStep which is a speaker dock that can runs on rechargeable batteries. With a playback time of around seven hours, his looks a bit too smart for a 'ghetto-blaster' walk around the park, however. In our opinion it would be perfect for creative professionals needing constant music in the office (whether this is home, or an actual office).
The SoundStep cannot do loud - it is only around 20 watts, but the sound is pleasantly full - possibly on account of it being a mini 2.1 system (2 x 2" main drivers and a 3" basswoofer). Aside from lightning dock connectivity, the Soundfreaq also features Bluetooth streaming, FM radio (courtesy of the Soundfreaq app) and a mini-jack input for external sources. We like the minor but cool details such as including usb ports for charging additional handhelds and the little slot for the (included) remote, reserved right underneath the base of the unit - they do get easily lost otherwise, don't they? If supersizing and cranking the level to eleven ain't your thing, you could do worse than giving this a chance!
See the Soundfreaq SoundStep

Dock: 8-pin lightning connection
Inputs: 3.5mm mini-jack
Wireless: No
Wattage: Unknown
Drivers: Unknown
Acoustic Port: No
What We Like: Good design and decent audio.
What We Don't: General build is on the flimsy side.
We've already discussed the impressive RDP XA900IPN at the top of this list and this naming scheme really must be a some sort of internal joke for Sony's R&D department - we have the smaller (and much cheaper) sibling called RDP T50IPN. This little speaker's primary purpose is to live somewhere in your kitchen, ideal for when you are relaxing, cooking for friends and impressing them with some cool mellow background music - nothing heavy, intrusive or loud. If this is something you are looking for, well you've found it.
It is portable, it comes with a remote (which tucks behind the unit - we like that) and apart from charging and playing audio from your iOS device through the lightning port, it can accept external audio through a mini-jack. There's no Bluetooth or AirPlay wireless option here but while docked, your iOS device could still work its wi-fi magic and translate it into countless DAB radio stations or streaming services. The sound quality is nothing more than what you can expect from a unit this size but nothing really less than Sony's usual high standards. Recommended!
See the Sony RDP T50IPN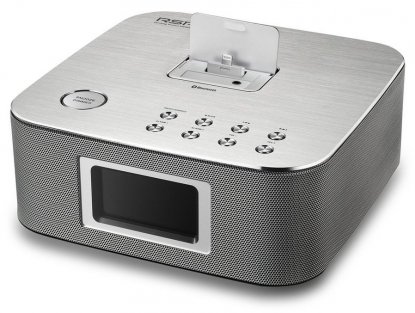 Dock: 8-pin lightning connection
Inputs: 3.5mm mini-jack
Wireless: Bluetooth
Wattage: 8 Watts (Peak, total)
Drivers: Unknown
Acoustic Port: No
What We Like: Sturdy and stylish.
What We Don't: Not loud enough for most.
The Richsound Research DS406 may look like a regular alarm clock slash tabletop radio, but it is in fact a very capable and versatile speaker aimed specifically at Apple iOS users. It is very smart and professional-looking with its sturdy aluminum body, featuring a flip-up lid containing the 8-pin lightning port. It's quite clever as when you flip the lid open it creates a back support for your iOS device, if you want to use its Bluetooth function just close the lid and it's all looking discreet.
The DS406 can accept audio through a mini-jack and you will also see a USB port at the back but this is only for charging of additional devices. The initial alarm clock looks are there for a reason: this model features a dual alarm buzzer as well as a twenty-preset FM radio, but in no way is the DS406 some overpriced alarm clock. It is well connected, up to date and sounding pretty fantastic for its size. It may not run on batteries but it's highly portable, so you could easily take it anywhere with you.
See the Richsound Research DS406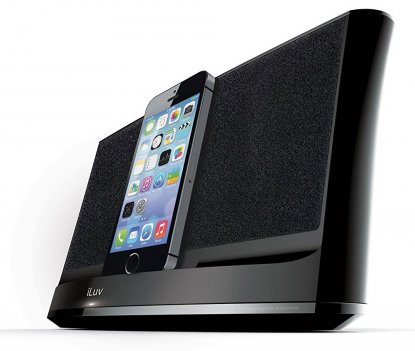 Dock: 8-pin lightning connection
Inputs: 3.5mm mini-jack
Wireless: Bluetooth
Wattage: Unknown
Drivers: Unknown
Acoustic Port: No
What We Like: Simple but well designed.
What We Don't: Slightly overcooked bass.
Here's the iLuv Aud 3, and its name is clearly influenced by Apple's famed trademark. It's cool to see that iLove do love everyone - and by that we mean both iOS and Android device users - they also have a micro USB port Aud 3 version for Android devices available (within the same product link). The iOS version in question here supports lightning port equipped iPhones only though - iPads do not fit in unfortunately. For seventy bucks though this really feels like a quality product and it is quite substantial as a build.
The Aud 3 does accept audio through its aux input, though it is a pity that there's no wireless connectivity. The sound is respectable and quite full bodied, though we have to say that iLove have really tried to crank the bass up, which can lead to a wooly low frequency portrayal - at higher levels you may even struggle to tell the pitch of the notes. Luckily this is all easily fixable - just install a decent EQ app and dip the low mids slightly. Instant magic as clarity is restored! You can try this little trick on any of the picks on this list. You get that one for free.
See the iLove Aud 3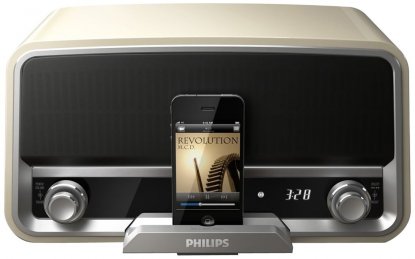 Dock: 30-pin
Inputs: 3.5mm mini-jack
Wireless: No
Wattage: Unknown
Drivers: Unknown
Acoustic Port: Yes
What We Like: Killer vintage looks and a nice full sound too.
What We Don't: Again, no wireless - why, Philips?
The Philips ORD7100C/37 probably deserves an award for its stylish design (if not its clunky name). It's a nod to the company's past history - many of their tube-driven radios from the 1950's still work and are worth a fortune. This unit has those vibey Cadillac looks and it would have been an utter disappointment if it didn't feature an actual radio tuner. Thankfully it does - there's an FM tuner. You might need a converter for your iOS device playback though - this features a 30-pin docking port and in all honesty this very 'old spec' actually helps this Philips radio docking speaker, giving it an incredible value - its audio performance is impressive for the $50 price tag (possibly because its full retail value at the time of release was three of four times that amount).
Philips are not shy about their 'bass reflex speaker system' which in simple terms means the presence of a well-tuned acoustic bass port feeding a passive radiator (which is like a bass speaker but a non-powered one, only enhancing the low end content). This passive woofer really works, and the designers have thankfully not overhyped the bass performance; there is no boominess - even at higher levels of playback. It's a bit of a disappointment that there is no wireless streaming option on this model but we still think at this price this really is a bargain. Just include the 30-pin to lightning port converter when clicking Buy.
See the Philips ORD7100C/37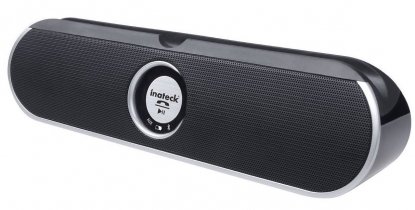 Dock: 8-pin lightning connection
Inputs: 3.5mm mini-jack
Wireless: Bluetooth
Wattage: 20 Watts (Peak, total)
Drivers: Unknown
Acoustic Port: No
What We Like: Good volume, wireless connectivity, mic for hands free phone calls.
What We Don't: Bluetooth sound not that great actually.
To end proceedings we have this somewhat generic but nevertheless impressive speaker dock by Inateck. Like others on this list, the Inateck is a rechargeable portable speaker and it's just a tad wider than an iPad. It's a 8-pin lightning port affair, also featuring additional mini-jack audio in and Bluetooth wireless streaming which is of course supported by both iOS and Android devices, or any suitable wireless audio device for that matter.
What is interesting (for a docking speaker) is that Inateck have included a built-in mic which makes this suited for hands free calling. It's not just a gimmick - it works well. In terms of audio performance the two five watt drivers may surprise you - louder than what the figures suggest, and with plenty of clarity for the price and size. Recharging is done via a USB cable and everything else works as expected. This unit is really well built, and it would be a great first introduction to the world of docking speakers.
See the Inateck Bluetooth Speaker

Specs Table: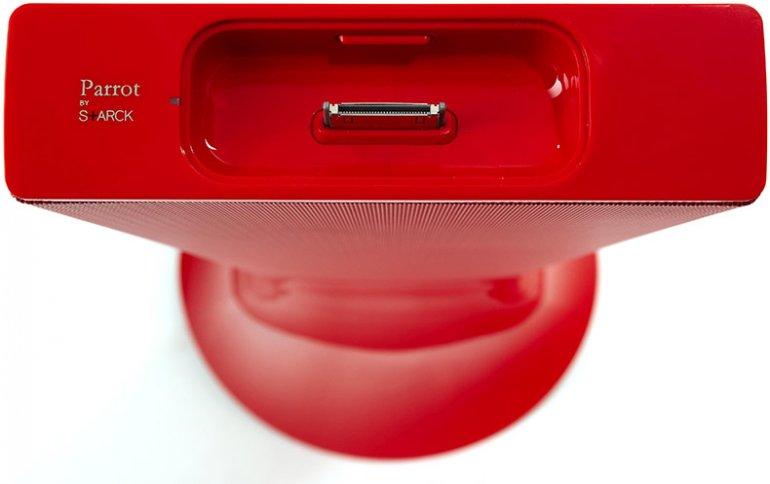 Buying Advice:
What Exactly Are Docking Speakers?
Docking speakers (or speaker docks) are self-powered stereo speaker systems incorporating a docking port station for Apple iDevices (iPods, iPads and iPhones). There are manufacturers also releasing docking models for Android devices.
Docking speakers allow for direct amplification of the device's audio while also acting as charging docks. Their popularity began with the birth of the original first generation iPod, and their specs such as connectivity, size, portability and wattage can vary enormously.
In terms of connectivity, most speaker docks feature at least one additional audio connection - most likely a 3.5mm mini-jack input, but it is increasingly common, almost expected even, some sort of wireless connectivity - whether it is AirPlay as part of an existent wifi setup (via a Ethernet port) or Bluetooth streaming.
Of course, Apple's cheeky replacement of the old 30-pin design with a lightning connection did create a momentary speaker dock market confusion, but the 'recovery' spawned yet more merch ideas: newer lightning port versions of 'old classic' docking speaker models and naturally: a myriad of 30-pin to lightning port converters which make some of the legacy docking speakers a real bargain!
When reminded that Android devices command over 80% of the market share, it is easy to see why so many iOS docking speaker models also come in an Android version.

Docking Connections And Compatibility
Although Android device sales outnumber Apple iOS sales several times over, the higher end of the speaker docks market has been historically largely Apple-focussed.
The main reason for that is the big variety of designs of Android devices. Although the physical port connections (mainly mini-USB, now also USB-C) may be fairly universal, Android devices come in a myriad of types, sizes and shapes, which makes the design of one-for-all speaker dock close to impossible. Philips came up with some clever port design in their AS851/37 which manages to take most Android devices, but as a whole most docking speaker manufacturers have treaded the safer path of catering for the iOS market.
With Apple's dramatic spec changes and u-turns, iOS docking speakers have gone through similar compatibility challenges and are largely classed as 'old' and 'new' on account of their docking connection. The original 30-pin i-connector is a legacy protocol not supported by newer products - since October 2012, Apple has been using the smaller 8-pin lightning port instead.
Both varieties are still quite relevant, as many people still use older-generation Apple handhelds and of course there are converters which can easily 'update' an older (but good) 30-pin dock speaker to a lightning 8-pin variety. The converters are mostly self explanatory: just slot them in and they are ready to accept accommodate a device.
It is worth mentioning that not every converter out there is suited for audio, even if it seems compatible - manufacturers do (or should ) point out if this is the case, as some converters can only charge the connected iOS device, as opposed to transmitting audio. The other thing is that using converters may affect port stability, and make the fit unsteady and often require you to remove any case or shells you may have on the device.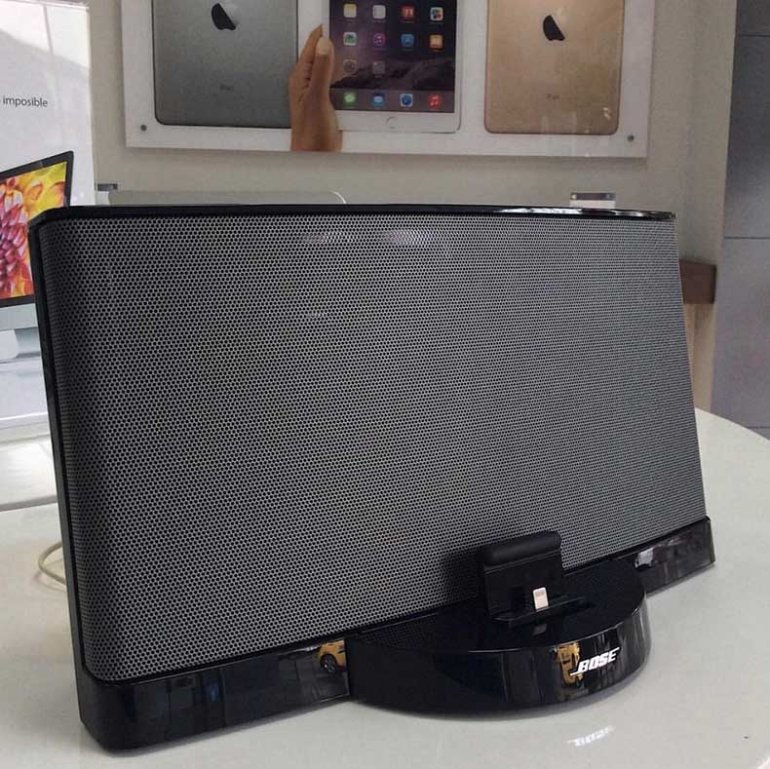 Does More Expensive Mean Better?
As a general rule, speaker docks exhibit all the characteristics of regular speakers - the quality of audio reproduction is down to the unit's power amp capacity, the number, size and wattage of the speaker drivers and whether there is a subwoofer driver present. Of course the type of wired and wireless connectivity also affects price and higher quality speaker docks are much better equipped, pretty much in every way.
Docking speaker manufacturers tend to mainly focus on small to medium designs - sort of starting from the 'glorified alarm clock' docking package and stretching up to something...still smaller than a regular A/V system. All of these are mostly aimed at providing a decent sounding audio for your living room or kitchen - you know, for playing some tracks in the background, Youtube videos and so on. By 'decent audio' we mean that by casual listening standards - the majority are certainly loud enough and with enough clarity, though would not overpower a regular conversation or win any audiophile awards.
When stretching above the $250 price bracket, you will start seeing higher wattage specs - 100 watts and above - plus larger drivers and the inclusion of integrated subwoofers. These are the main factors for getting more grown-up audio performance - fuller yet tight bass, transparent mid registers and silky top frequency content. Some higher quality speaker docks (above $450) can really sound (close to) spectacular, also on account of the audio circuitry and choice of components. The amplification and the DACs used (Digital-to-Analog Converters - the hardware chips converting digital audio to analog sound) make a crucial difference and combination of features, components and quality of build really can justify the higher price tags.

Enhancement Apps Explained
Take any current A/V Receiver and you will see in the specs at least a few EQ options, volume levelers, HD and surround audio codecs, room correction algorithms and so on. Most speaker docks don't even have a basic equaliser or even a volume control, relying entirely on the iOS device to act as an actual preamp. What this means is that the smartphone does all the hard work.
This may seem a limitation, but can in fact be turned into an advantage, considering the 'fluid' nature of smart devices. Add some cool apps to fine-tune your docking speaker's audio performance, frequency characteristics and so on, and you're in business. EQ apps in particular can be real game changers, especially with the often boomy and artificially 'over-cooked' bass response of some of the smaller sized docking speakers out there.
If you've never used an Equaliser we can give a couple of simple tips. Equalisation is at its most efficient when used to dip, rather than boost frequencies - go easy, small changes go a long way! Most user-definable EQs, short for Equaliser, feature the most crucial frequency zones - sub-bass, bass, low mids, high mids, high frequencies (also called treble) tied to a particular 'fader' or slider - pretty much following that order from left to right.
These 'faders' or sliders (also often found in the device's regular sound preferences) are very much like a volume control but for a particular frequency 'zone' only. If attempting to unclutter the low end and make it cleaner and tighter, we recommend lowering the low bass (far left slider) ever so slightly and the lower mids - normally the (left side) mid-position sliders.
Trying and comparing EQ presets is the best way to 'calibrate' your ear and hear as well as see the changes that EQ positions produce. Most apps come with a ton of presets and if you don't have a clue which EQ to look for in the iOS app store, check out these really good ones - SmartEQ, BOOM, MolaEquiliser, or the brilliant EQu.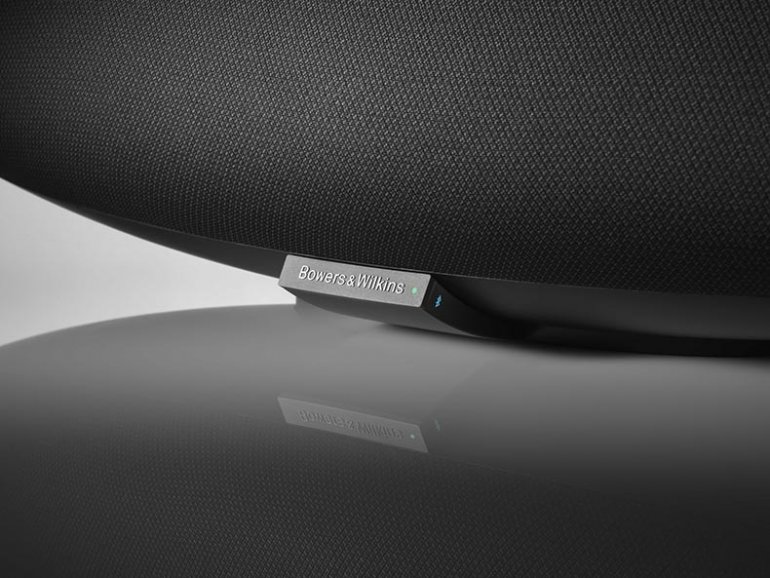 Docking Audio Quality Vs AirPlay And Bluetooth Wireless
Speaking of wireless audio streaming, this is quickly becoming the prefered template of home hi-fi audio and you might be asking yourself, wouldn't it be better to just go for a wireless-only speaker? Why bother with a dock
Well, that may well be the case in a few years - the signs are strong that the hi-fi/home theatre industry is headed there. But as of today wired or connected audio still beats wireless streaming in terms of audio quality.
AirPlay which as we have already explained, is Apple's proprietary wireless protocol. It is lossless and therefore capable of 'beaming' not only hi-res audio but video content as well. The feature is often found in (mostly higher end) speaker docks and if yours doesn't have it you could always consider an Airplay adapter. When available as a feature, the speaker dock needs to 'talk' to your WiFi via an Ethernet cable and therefore its wireless performance and coverage is entirely dependent on an existent WiFi home network.
Bluetooth on the other hand is lossy protocol format by default and connecting a device through a dock port or audio wired connection will surely 'sound better'. It's important to note the version of the speaker dock's Bluetooth receiver (if present), ok that gets really geeky we know, having to check spec sheets and so on, but for your info, Bluetooth versions before 3.1 can be considered as old school, and not cool either. Versions 4.0, 4.1 and later are the ones good for audio (but not video) streaming and they also support third party high res audio codecs such as aptX.
It would be therefore exciting to see what version 5.0 has in store for us, as it is already announced that it will quadruple range coverage and increase the capacity of wireless data broadcasts by eight hundred percent. We can do the simple maths - this would easily mean that version 5.0 will handle super high-res files with ease! Which would most likely mean death to all cables...and ports.
About damn time, if you ask us.