Speaker docks have been around for nearly two decades now, having grown as a separate, symbiotic branch out of the big Apple tree - almost instantaneously since the iPod's birthday. Nowadays, of course you'll find a zillion third party manufacturers trying to outdo each other at creating the perfect docking speaker system. And to use them, you only need one thing - a compatible iOS or Android device. Easy to use, cable-free, functional, and often decent sounding, they have been a super-popular choice for many people. With so many models crowding the market, we've picked some of the best. If you want to upgrade your system further, check out our list of the Best Stereo Amps and Best Bookshelf Speakers.
 
---
Table of Contents
---
Best Overall Speaker Dock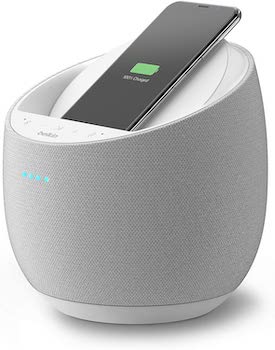 Docks: Qi Charging
Inputs: None
Wireless: Bluetooth
Wattage: 30 Watts
What We Like: Excellent sound quality and design.
What We Don't: Can only charge via Qi dock, no 'landscape mode'.
No speaker has surprised us more this year than the Belkin Soundform Elite. It's easily the best-sounding (and best-looking) dock we've ever tested. The audio design is borrowed from high-end manufacturer Devialet, and the sound quality is lifelike and fun. And compared to similarly-priced docks from the like of Grace Digital, the Soundform Elite looks especially sleek. It's a real winner, and an easy top choice.
There are two downsides to the Belkin SoundForm Elite. The first is that with no inputs save for a power cable, charging is only available via the Qi pad. You can't plug in devices via USB. In addition, you can only charge with the phone in portrait orientation. If you want to full-screen a movie while you charge, you're out of luck. In those cases, the Grace Digital Mondo Elite Classic, below, is a better option. All in all, though, the Belkin SoundForm Elite is a superb speaker dock.
See the Belkin Soundform Elite
 
Best Budget Speaker Dock Under $100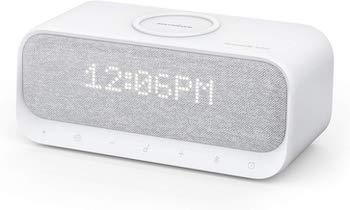 Dock: Qi Charging
Inputs: Aux
Wireless: Bluetooth
Wattage: 15 Watts
What We Like: Simple to use, good volume, sleek design.
What We Don't: Emphasizes volume over clarity.
The Anker Soundcore Wakey may have a silly name, but it does a few things exceptionally well. This model never strays very far from its main job as a basic alarm clock, and performs this role exceptionally well. You get a clear display, full Qi wireless charging, and a simple set of controls that make setup and operation a breeze. It's also surprisingly loud, meaning it can pull double duty elsewhere in your house, and we love the sleek looks. At under a hundred dollars, it's easily one of the best options available if you're looking for an affordable dock.
However, there's at least one puzzling aspect that puts it out of contention – especially when compared to the Grace Digital Mondo Elite Classic, for example. It emphasizes volume over clarity. Unless you really like blasting music in the bedroom, you're probably going to find that the Wakey doesn't sound nearly as good as its looks would suggest. That's a shame, but we still think it has plenty of pluses.
See the Anker Soundcore Wakey

A Dock with Qi Wireless Charging and Great Sound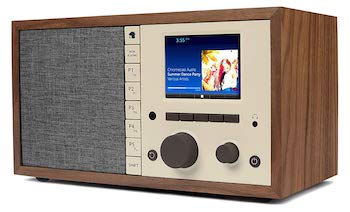 Dock: Qi Charging
Inputs: 3.5mm, Aux
Wireless: Bluetooth
Wattage: 25 Watts
What We Like: Incredible digital spec and wireless prowess, great audio.
What We Don't: USB to Ethernet connector not included.
The Grace Digital Mondo Elite Classic is like a movie star that everybody likes. Perfect exterior and a g reat personality. You might wonder why on earth have we enlisted it in the wrong movie production - speaker docks instead of wireless speakers. Although it does not feature a dock cradle for you to plug your phone in, you are essentially still docking by wireless charging. So, we are bravely including the Mondo Elite Classic in our best speaker docks list to make way for new technology. We have a full explainer on Qi wireless power transfer in our Buying Advice below the picks.
The Mondo Elite Classic is a superbly spec'd miniature media center that does pretty much everything a digital audio enthusiast might need. Aside from the Qi induction pad on top, which charges your compatible device, this wireless speaker features full Wi-Fi integration as well as Bluetooth 4.1 streaming. The device's OS runs Chromecast natively, so voice control over multiple streaming-compatible devices is a breeze - especially if you're already familiar with Chromecast. All of the above features open access to a multitude of internet radio stations and streaming platforms. Our only complaint is with how the Mondo Elite Classic integrates with a home network - you have to purchase a Grace USB to Ethernet connector, which is sold separately. Unlike many other picks on this list the Mondo Elite Classic is properly future-proof and deserves its place in the top three of this list.
See the Grace Digital Mondo Elite Classic
 
 

Best High-End Speaker Dock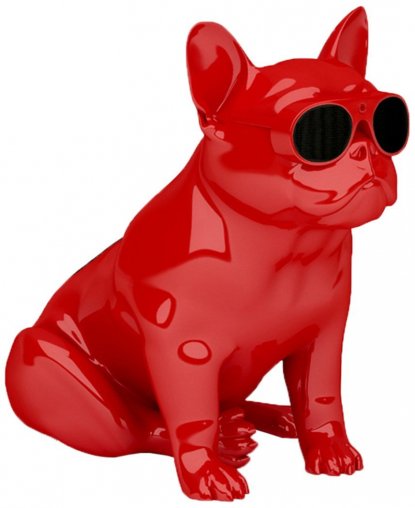 Dock: 8-pin (Lightning)
Inputs: 3.5mm, Aux
Wireless: Bluetooth, Wi-Fi
Wattage: 240 Watts
What We Like: Crazy looks which work, plenty of volume.
What We Don't: Looks and price are not for everybody.
It was on top before, and with our latest update, the dog remains there - albeit in our High-End category. Meet the AeroBull - an exotic-looking speaker system clearly aimed at fashion-conscious music lovers, created by Jarre Technologies. It must take an extra dollop of courage and an eighties synth-pop electronica wizard (Jean Michel Jarre) to come up with such a concept: a shades-wearing bulldog-shaped 2.1 speaker system (two stereo speakers plus a sub), capable of 240 Watts of clean power. The speakers, by the way, are in the sunglasses, and the remote is bone-shaped. Of course. By the way, don't mistake its looks for a gimmick - well, they are a gimmick, but it sounds good enough to warrant a high placement here.
Starting with the docking station, which is positioned on its head, it's good to know that this fully supports all current generation iDevices with its lightning connection. This also means that if your device uses the older 30-pin protocol you might need a suitable adapter. Alternate wired audio connections (for TV, DVD and so on) are easy with the included 3.5mm mini-jack aux input, but the AeroBull's name hints at wireless talents, as this is indeed one superb wireless Bluetooth speaker - an altogether different subject perhaps.. But it's worth noting that just like its physical inputs, the AeroBull's Bluetooth spec is a current generation, which means support of the high-resolution aptX (wireless audio codec) streaming - up to CD quality in fact. The audio detail is mighty fine and especially so when positioned facing the room and with its back (think sub) towards a corner. The AeroDog proves that it's far far more than just a modern art piece and may indeed easily become your iPhone/iPad's best friend. Be warned: it's often hard to find, although we still think it's a top pick.
See the Jarre Technologies AeroBull HD Classic

A Great Dock for an iPod

Dock: 8-pin (Lightning)
Inputs: 3.5mm, Aux
Wireless: No
Wattage: Unknown
What We Like: Classic Bose sound.
What We Don't: Fairly basic specs.
Bose Corporation's presence in the hi-fi industry is like Coca-Cola's within the food industry and the SoundDock III is a deservingly popular docking speaker - despite what some audiophiles may think. This is a compact package designed for casual listening and this is probably the very definition of Bose's ethos. With so many successful 'mini' designs, it probably took the design team mere minutes to 'retrofit' a powered Bose speaker with a lightning port (a 30-pin dock version is still available on Amazon). It's one of the best options if you still use an iPod digital audio player./p>
What we mean of course is that you if have ever owned or listened to a Bose, you will know the signature sound which is present here - more than slightly emphasized top frequencies, scooped mids and big but at times boomy bass. This is not a criticism (unless you expect audiophile frequency response) - it really works, and for the SoundDock III's size, the audio is solid, although we'd still choose the Earthquake Sound IQ52B due to its slightly more faithful representation of middle and treble frequencies. If the company's famed digital signal and acoustic processing may give the SoundDock a slight advantage over some of the previous picks, the lack of any wireless capability is a slight let down for the price - unless of course you start considering additional wireless adapters. Non-lightning port (and legacy) devices can be connected via the auxiliary 3.5mm input at the back, and all is controlled by the included RF Bose remote. A near classic.
See the Bose SoundDock III

A Soundbar With Included Dock

Dock: 30-pin
Inputs: Aux
Wireless: No
Wattage: Unknown
What We Like: The perfect docking speaker/soundbar hybrid, subwoofer out.
What We Don't: Don't expect proper surround.
Look no further if you're shopping around for both a speaker dock and a soundbar. The iLive 3.1 is exactly that - a hybrid of the two hugely popular formats. The 37-inch wall mountable bar includes a motorized tray, allowing you to dock 30-pin iOS devices. This makes for a simple and discrete setup when you want to undock and listen to other sources, or just watch some movies. There are two RCA aux-ins, which are perfect for your TV and BluRay set-up - or any other line source - to be permanently patched in. Source selection, which also includes FM radio, is made easy by the included remote control, letting you become the couch potato you've always dreamed of.
All of these features wouldn't count for much if the audio quality was substandard. Luckily, there's enough volume and clarity here to justify not spending tons of cash. It might not be the best speaker, but the number 3.1 in the model title points to the SRS XT surround codec, and you even get a subwoofer out. Most of the picks on this list aren't large enough to deliver any serious bass frequencies, but with the iLive 3.1, you can hook up a nice subwoofer and let the neighbours know about it.
See the iLive 3.1
 
Maximum Waterproofing and Portability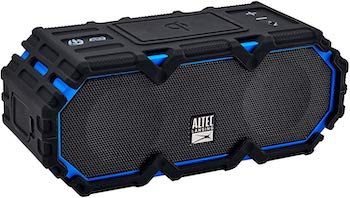 Dock: Qi Charging
Inputs: Aux
Wireless: Bluetooth
Wattage: Unknown
What We Like: Rugged design, waterproofing.
What We Don't: Poor sound and volume for the price, distorted speakerphone.
Altec Lansing make several variations of the Lifejacket. This isn't even the latest one; the Lifejacket 2 was recently released. Regardless, we think the original is still the best and it's considerably cheaper than some of the other versions. The Lifejacket is a fully wireless speaker with a rugged design, as well as waterproofing. These features make it ideal for outdoor activities like camping trips, and the Qi wireless charging means you don't need a cable to charge your phone. That could be a real bonus if you're on the move. The Lifejacket boasts up to 20 hours of battery life – although this will, of course, decrease with any charging you do.
Our main issue with the Altec Lansing Lifejacket is that it sounds thin and weedy, which is a particular issue given how expensive it is. Admittedly, it's one of the few speaker docks that can be taken outdoors, but we still expected more clarity for the price. We also expected a better speakerphone - calls were consistently distorted and hard to hear. The Lifejacket has some selling points, but the whole line has a way to go before we can seriously recommend it.
See the Altec Lansing Lifejacket

Best of the Rest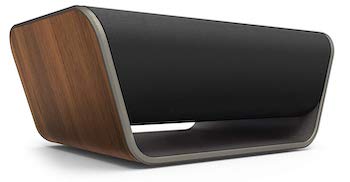 Dock: Qi Charging
Inputs: None
Wireless: Bluetooth, Wi-Fi
Wattage: 20 Watts
What We Like: Great looks, multiple features, good sound.
What We Don't: Seems less powerful than most 20 Watt speakers.
Qi charging and docking is becoming a popular feature with speaker docks. The Cavalier Air is a perfect example, echoing the ethos of the classic docking speakers of yesteryear but with the addition of modern wireless functionality. Its mahogany veneer and dark grey speaker cloth are a familiar looking combo that would suit any modern living space. The Qi charging dock works with any compatible iOs or Android device, and fits even the largest smartphones currently available. Control function LEDs are laid out on a strip at the top of the dock, but since this is predominantly a voice-command device, there are only a couple of physical buttons.
While most functions can be called out using Alexa's voice control or via external Bluetooth connection, it's nice that there's an inclusion of a multi function button. This can activate different modes and can even be customized using the Cavalier App. Aimed at casual music enjoyment, the app has Amazon Music, Spotify, and Pandora already dialled in. The Cavalier can additionally access a near-infinite number of radio and streaming platforms, as part of a Wi-Fi home network, and its combined Bluetooth and Wi-Fi connectivity allow for pairing of up to 15 devices. Sound-wise, you won't expect award-winning clarity or loud volume, but the Cavalier is perfect as a casual bookshelf speaker.
See the Cavalier Air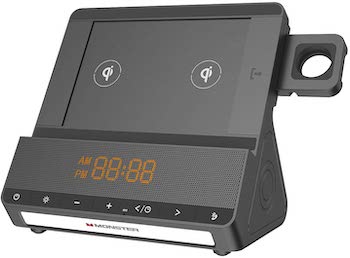 Dock: Qi Charging
Inputs: 3.5mm, USB
Wireless: Bluetooth
Wattage: 20 Watts
What We Like: Manages to charge two phones and a smartwatch, something no other no other dock here can do.
What We Don't: Poor sound quality.
The Monster Trio looks very odd, but the design has a real purpose. The Qi wireless charging lets you connect not just to separate phones at the same time, but also a smartwatch. That's what the strange slot on the side is for. While we think there are better options as an overall speaker dock, such as those from Cavalier and Belkin, we really like the approach that the Monster Trio text. It will suit anybody looking for a single speaker/charging station for multiple devices, and is perfect for the bedside table or kitchen.
However, the biggest downside of the Monster Trio is that it just doesn't sound very good. It has relatively low power— at 20 watts, it's significantly quieter than previous models from Monster— and the audio quality just isn't quite there. That's a shame, and if you're looking for good sound, you may want to steer clear of the Trio in favor of models from Emerson and iHome. All the same, it's a pretty creative speaker with a great selling point.
See the Monster Trio
 
Dock: 8-pin (Lightning)
Inputs: 3.5mm, Aux
Wireless: No
Wattage: Unknown
What We Like: Good design and decent audio.
What We Don't: General build is on the flimsy side.
This naming scheme really must be some sort of internal joke for Sony's R&D department, because here we have the smaller (and much cheaper) version called RDP T50IPN which may have a somewhat similar audio character but without its sibling's punch and power. This little speaker's primary purpose is to live somewhere in your kitchen, ideal for when you are relaxing, cooking for friends and impressing them with some cool mellow background music - nothing heavy, intrusive or loud. If this is something you are looking for, well you've found it.It is portable, it comes with a remote (which tucks behind the unit - we like that) and apart from charging and playing audio from your iOS device through the lightning port, it can accept external audio through a mini-jack. There's no Bluetooth or AirPlay wireless option here but while docked, your iOS device could still work its Wi-Fi magic  and translate it into countless DAB radio stations or streaming services. The sound quality is nothing more than what you can expect from a unit this size but nothing  really less than Sony's usual high standards. Recommended!
See the Sony RDP T50IPN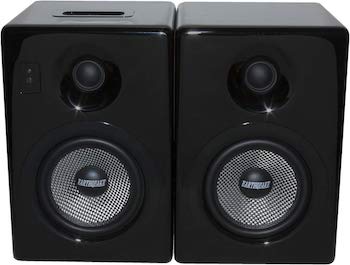 Dock: 30-pin
Inputs: 3.5mm, Aux
Wireless: No
Wattage: 200 Watts
What We Like: Great audio detail, variety of connections, sub and video out.
What We Don't: Bluetooth would have been nice.
It's quite overpriced now, but we still think the Earthquake Sound IQ52B is worth your time. If bookshelf speakers could walk, talk, and spend all their money at an imaginary tech supermarket, they would come back looking like the Earthquake Sound IQ52B. This setup is an over-engineered marvel of the docking speaker concept, featuring a multitude of inputs and outputs - from a 30-pin dock to an S-Video port, and even a subwoofer output. What's even better is the fact that this wealth of connections is a result of proper spec planning, allowing for your numerous devices to be integrated into a complete audio-visual solution. Earthquake Sound have designed the system as one active speaker - containing a 200W Class A/B power amp - powering a second passive speaker via the included speaker cable.
The active speaker is the one featuring all the audio inputs and outputs, including the 30-pin dock positioned on top. The setup allows for many ways of expansion, especially if you consider adding an active subwoofer, via the sub out. You also have the option to simply take the powered speaker and use it on its own. This would be a slightly more portable solution for dance rehearsals, small parties, etc., as long as you don't mind being summed down to monophonic sound. The included remote is superb and the audio quality is outstanding.
See the Earthquake Sound IQ52B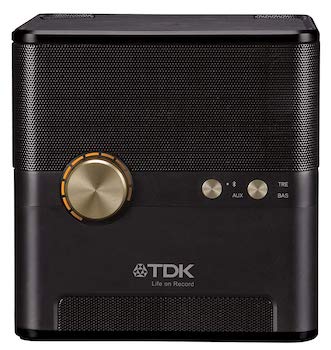 Dock: Qi Charging
Inputs: 3.5mm, Aux
Wireless: Bluetooth
Wattage: 23 Watts
What We Like: Easy operation, good sound quality, decent bass.
What We Don't: Slightly boxy, utilitarian design, Bluetooth version is outdated.
Back in the 1980s, TDK was the undisputed king of the cassette tape ghetto blaster. Very few hi-fi brands can match their experience in designing compact speakers with great sound. The LoR (Life on Record) Q35 is solid proof that TDK are keeping up with the times. The design of this boombox echoes the company's classic models; the unmistakable TDK logo and metal mesh grilles give a familiar impression. A bit boxy in its appearance, the LoR Q35 is essentially a Bluetooth wireless speaker featuring a rechargeable battery. Its docking capabilities are limited to the Qi charging dock on top, which is universal for any Qi-capable Android or Apple device.
The LoR Q35 features a stripped-down control layout, with a large wheel on the front to scroll between functions, adjust the volume level, and access bass or treble settings when the option is selected. Source selection, like Bluetooth or Aux Input, are also selectable from the front. The LoR Q35 features four two-inch speakers positioned on each side of the unit. While their eight watts of combined output is on-par with the majority of portable bluetooth speakers on the market, the LoR also features a 15 watt down-firing subwoofer that makes a substantial difference. The sound is full and clear, and more than loud enough for casual listening. Our only serious criticism is about the dated Bluetooth version, which is set at Bluetooth 2.1. Regardless, this is a very capable Qi-docking Bluetooth speaker that suits any room or outdoor space.
See the TDK LoR Q35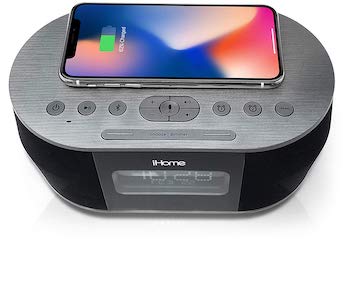 Dock: Qi Charging
Inputs: None
Wireless: Bluetooth
Wattage: 10 Watts
What We Like: Qi charging, can be used as a hands-free speaker.
What We Don't: Not very loud, annoying notification when Bluetooth pairing.
The iHome brand has been quite prolific recently, despite their previous dismissal. The iBTW38 is one of their several successful Bluetooth speakers that features a Qi charging dock. Sure, it's somewhat of a glorified alarm clock, but is just as capable as the majority of portable bluetooth speakers on the market. Its Qi dock delivers fast charging, compatible with iPhone 8 or higher, as well as selected Samsung 8 models. All other Qi compatible devices can still be charged at regular speed. Apart from its functionality as a Qi dock, the iBTW38 is a regular Bluetooth speaker and all its device pairing functionality and features are standard.
The iHome iBTW38 can act as a speakerphone and its digital voice echo cancellation feature is quite effective. However, there are no voice command features and external device connectivity is kept to a bare minimum with just an additional USB port for device charging. The buttons are also quite basic and self-explanatory, since most playback related menus and controls are largely delegated to the Bluetooth paired device. iHome give very little information on the unit's audio playback specifications but it suffices to say that the iBTW38 is perfect for your bedside or kitchen table. It may not be loud, but it delivers everything as promised at an affordable price.
See the iHome iBTW38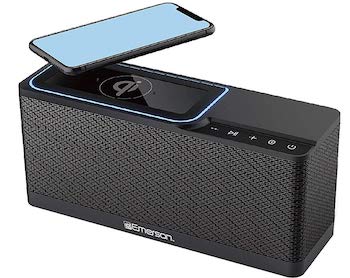 Dock: Qi Charging
Inputs: Aux
Wireless: Bluetooth
Wattage: 20 Watts
What We Like: Elegant design, solid features, decent sound.
What We Don't: No radio, despite the name.
Emerson Radio is a brand that's been making consumer goods and radios for nearly a century. Nowadays, with hundreds of speaker manufacturers in the competition, their age and expertise is invaluable. Despite the brand name and reputation, the ER-BTW100 features no radio. You might even say that its docking function is not really a dock either. The ER-BTW100 features Qi docking, which you can read more about in our Buying Advice below the picks.
The ER-BTW100 is a 20W wireless speaker that features Bluetooth 4.1, allowing you to play your source music whether the device is on the dock or 30 feet away. While charging on the dock, the Emerson provides five watt wireless Qi charging for both Android and Apple Qi-capable devices. We are happy to report that the sound quality is more than just decent, especially considering the price.
See the Emerson Radio ER-BTW100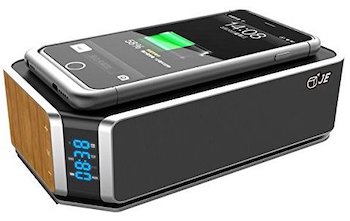 Docks: Qi Charging
Inputs: 3.5mm, Aux, TF Card
Wireless: Bluetooth
Wattage: 4 Watts
What We Like: Simple layout, additional USB source charging, TF card reader.
What We Don't: Audio quality could be better for the price.
As far as Qi wireless speakers go, the JE Hi-Fly must be one of the simplest designs available. Just place your Qi-compatible device on top and you're docked. The Hi-Fly is perfectly sized for the current crop of Apple and Android Qi-enabled devices. The wood-like veneer has a touch of marmite divisiveness about it - you'll either like it or hate it. Overall, this is a smart layout, sporting a clear display in the slightly-offset corner.
The additional USB port - used for powering non-Qi devices - and 3.5mm Aux input are positioned on the opposite end. What stands out about this device is that there's even an included TF card reader - a good use for your audio book library or stored music. Regardless of the loveable features and design, we have to add that we'd like better playback at this price. We're not saying that the sound is atrocious - the speaker just lacks bass and definition at higher volumes. While it might not be great for music, the JE Hi-Fly is perfect for podcasts, vlogs, YouTube and the like.
See the JE Hi-Fly
 
Speaker Docks Comparison Table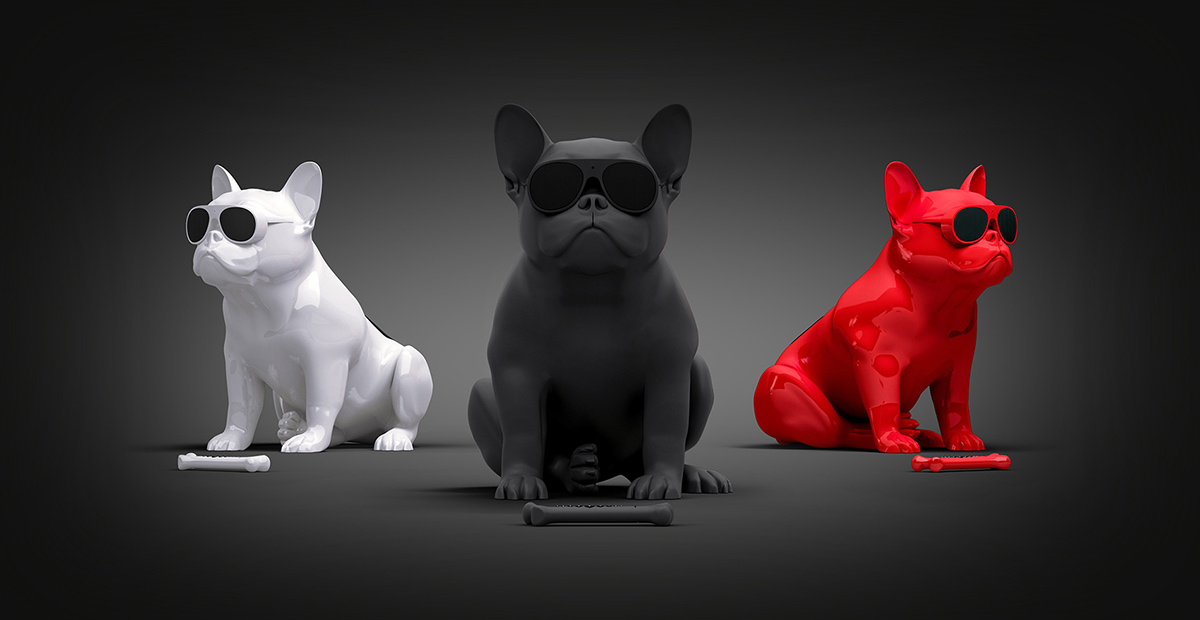 Speaker Docks Buying Advice
Docking Speakers vs. Regular Speakers
Docking speakers (or speaker docks) are self-powered stereo speaker systems incorporating a docking port station for Apple iDevices (iPods, iPads and iPhones). There are manufacturers also releasing docking models for Android and Kindle devices. Their popularity began with the birth of the original first generation iPod, and their specs such as connectivity, size, portability and wattage can vary enormously. Docking speakers also usually allow for direct amplification of the device's audio while also acting as charging docks. They fulfil a different role to the ones regular speakers do.
As a general rule, speaker docks exhibit all the characteristics of regular speakers - the quality of audio reproduction is down to the unit's power amp capacity, the number, size and wattage of the speaker drivers and whether there is a subwoofer driver present. But not unlike soundbases, speaker docks exhibit a very limited physical space for all of their components to be placed in, while at the same time, consumer expectations - we can even call it pressure if you like, for audio quality to match that of conventional home theater setups is sky high.
If we take any award winning speaker dock design as an example would be a good way of understanding how the choice and the positioning of the tech housed inside dictates sonic performance. Audio spread and room-filling dispersion (in great docking speaker designs) are often aided by strategically placed high rigidity speaker cones minimising distortion. Cabinet 'tuning' is perhaps the most challenging task when designing small speaker enclosures and this where bass ports save the day. Last, but not least, considering the fact that speaker docks are designed with digital audio in mind, the digital-to-analog converter chips (DACs) within the circuitry play a huge role in the overall subjective audio detail.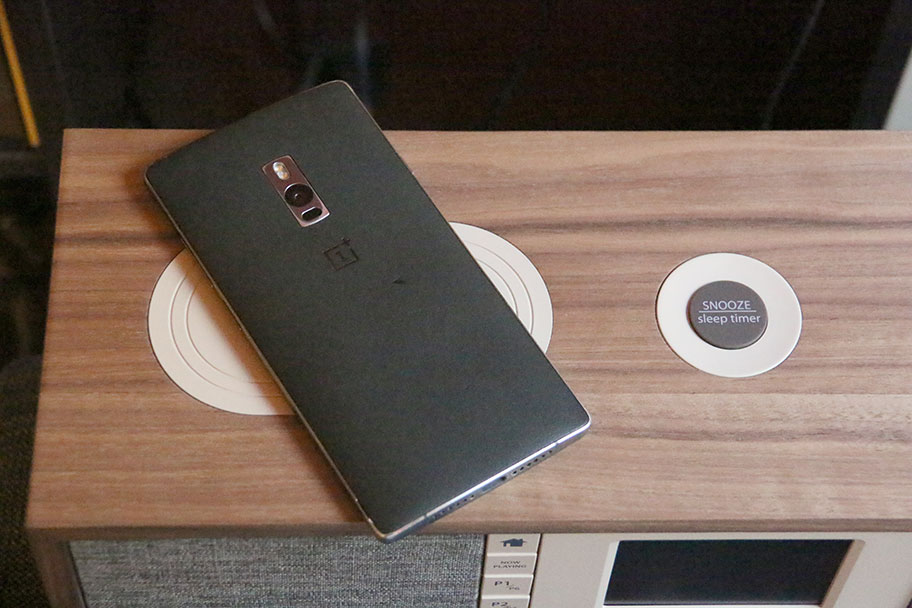 Qi Wireless Charging Explained
Wireless speakers featuring Qi charging are the latest equivalent to dock speakers - although some might argue whether or not these are 'true' docks. Qi (pronounced chee) is a wireless power transfer standard that is a pretty miraculous bit of technology. It allows you to charge devices by transmitting a power current over short distances (up to 1.6 inches). The magnetic induction pad - used to replace the dock cradle in older models of the list above - charges the compatible device by simply resting it on the pad. Depending on the battery capacity, a full charge is usually achieved within a few hours. That's definitely the case with our top Qi charging pick, the $250 Grace Digital Mondo Elite Classic.
The low-power Qi spec, which is featured on some of the picks in this article, is typically reserved for charging mobile devices. It usually delivers a current of 5W, but sometimes reaches 7.5 watts or even 10 watts in specs quoted as 'fast charging Qi'. The whole concept of wireless power is extremely lucrative and of enormous importance. The Qi standards are being developed at a breakneck speed and the new medium power Qi specification already delivers a current of up to 120 watts. We predict powering laptops and home appliances is next on the list. Some furniture retailers, like IKEA, are already selling products with integrated Qi pads! This technology is improving and growing almost every month. Watch this space for more exciting updates, coming soon.
 
Are Docking Speakers Still Relevant?
To many people the idea of speaker docks may feel a bit like yesterday's newspaper - or just newspapers in general - but if you have ever played music through such a setup, you'd never deny their ease of use. Yes, wireless streaming has taken over the world, but at the time of writing wireless charging is still not really a reality. So docking speakers already have a leg-up there - they'll charge your phone or tablet while you listen.
Nearly a decade after the first proponents became available, and long after the iPod's retirement, speaker docks are still going strong. Swapping the touchscreen navigation with an 'old-school' remote and limiting your attention to just a playlist or a movie, is perhaps a very healthy therapy for the growing cases of Facebook addiction, to name just a few. The very fact that over 70% of all YouTube content is streamed through a handheld device, explains the lasting popularity of speaker docks. People just love them and new models are still popping up frequently - placing one of them in your living room or even a kitchen can still be most people's requirements for a smart A/V home theater solution.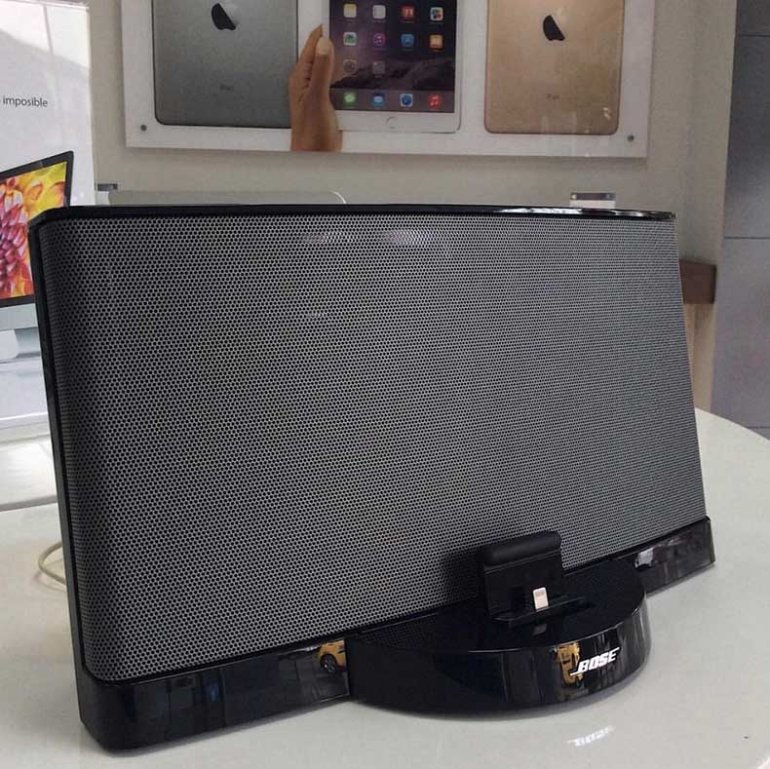 Cheap vs. Expensive Docking Speakers
Audio quality and (wired and wireless) connectivity do affect price, and higher quality speaker docks are much better equipped, pretty much in every way.
Docking speaker manufacturers tend to mainly focus on small to medium designs - sort of starting from the 'glorified alarm clock' docking package and stretching up to something...still smaller than a regular A/V system. All of these are mostly aimed at providing a decent sounding audio for your living room or kitchen - you know, for playing some tracks in the background, YouTube videos and so on. By 'decent audio' we mean that by casual listening standards - the majority are certainly loud enough and with enough clarity, though would not overpower a regular conversation or win any audiophile awards.
When stretching above the $250 price bracket, you will start seeing higher wattage specs - 100 watts and above - plus larger drivers and the inclusion of integrated subwoofers. These are the main factors for getting more grown-up audio performance - fuller yet tight bass, transparent mid registers and silky top frequency content. Some higher quality speaker docks (above $450) can really sound (close to) spectacular, also on account of the audio circuitry and choice of components. The amplification and the DACs used (Digital-to-Analog Converters - the hardware chips converting digital audio to analog sound) make a crucial difference and combination of features, components and quality of build really can justify the higher price tags.
 
Docking Speakers: Android vs. Apple Devices
With Apple's dramatic spec changes and u-turns, iOS docking speakers have gone through several compatibility challenges and are largely classed as 'old' and 'new' on account of their docking connection. The original 30-pin i-connector (as seen on our pick, the Earthquake Sound IQ52B) is a legacy protocol not supported by newer products - since October 2012, Apple has been using the smaller 8-pin lightning port instead. The cheeky replacement of the old 30-pin design with a lightning connection did create a momentary speaker dock market confusion, but the 'recovery' spawned yet more merch ideas: newer lightning port versions of 'old classic' docking speaker models and naturally: a myriad of 30-pin to lightning port converters (more on those below) which make some of the legacy docking speakers a real bargain! Both port varieties are still relevant, as people still use surviving older-generation Apple handhelds and of course there are converters which can easily 'update' an older (but good) 30-pin dock speaker to a lightning 8-pin variety. It is interesting to note how Apple's famous, brave design concepts have been emulated by many of the best-selling speaker docks.
Onto Android. When reminded that Android devices command over 80% of the market share, it is easy to see why so many iOS docking speaker models also come in an Android version. Although Android device sales outnumber Apple iOS sales several times over, the higher end of the speaker docks market has been historically largely Apple-focused. The main reason for that is the wide variety of Android designs. Although the physical port connections (mainly mini-USB, now also USB-C) may be fairly universal, Android devices do come in a myriad of types, sizes and shapes, which makes designing a one-for-all speaker dock close to impossible. As a whole most docking speaker manufacturers have treaded the safer path of catering for the iOS market.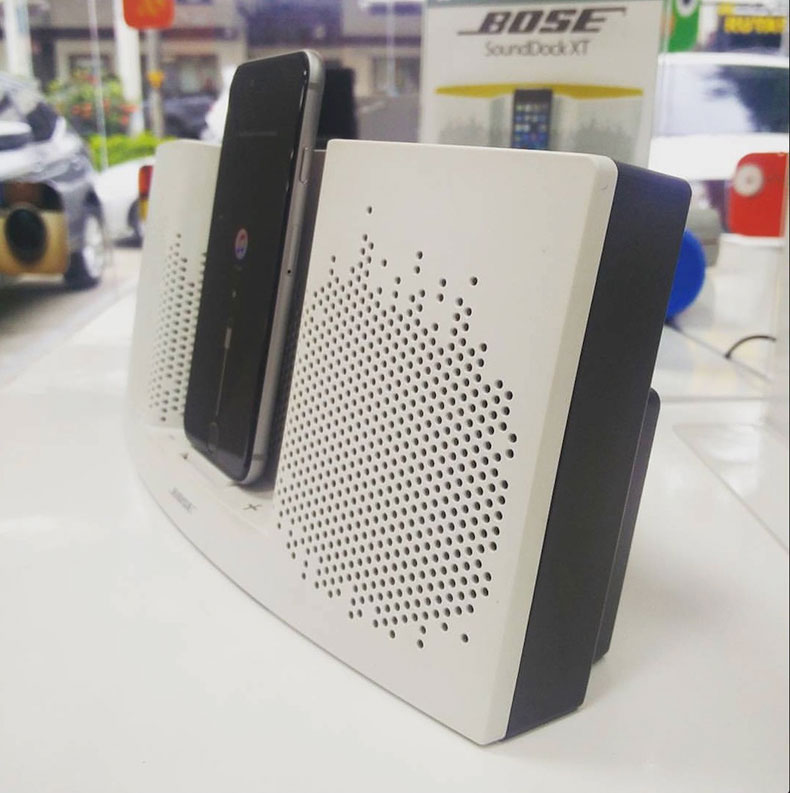 Port Converters and Alternative Connections Explained
The converters are mostly self explanatory: just slot them in and they are ready to accommodate a device. It is worth mentioning that not every converter out there is suited for audio, even if it seems compatible - manufacturers do (or should ) point out if this is the case, as some converters can only charge the connected iOS device, as opposed to transmitting audio. The other thing is that using converters may affect port stability, and make the fit unsteady and often require you to remove any case or shells you may have on the device. One last thing - even if certain models may work well with 30-pin and lightning port converters, we have noticed (and flagged) some issues with certain features being inaccessible. This year, we've noticed a new trend in docking accessories - an 8 or 30 pin converter doubling as a Bluetooth receiver - such as the DockLinQ. These are great for converting a great old docking system into a Bluetooth wireless speaker.
In terms of connectivity, most speaker docks feature at least one additional audio connection - most likely a 3.5mm mini-jack input. But it is increasingly common, almost expected, even, to have some sort of wireless connectivity - whether it is AirPlay as part of an existing Wi-Fi setup (via Ethernet port) or Bluetooth streaming. You may also find USB ports and even external (SD card) storage slots. All of that makes speaker docks well suited for general A/V use and such features have extended their 'life expectancy' enormously, though as of this year you may well find that you are using them a little less as docks and a lot more as wireless streaming speakers.
 
Wattage Explained
As mentioned, docking speakers are often preferred over conventional hi-fi setups due to their user-friendly convenience, but wattage comparisons (and expectations!) between such differing approaches to home audio entertainment are inevitable.
Wattage refers to how much power a speaker puts out - a rough analogue for how loud it will go. With several exceptions (the four picks at the top of this list) speaker docks exhibit lower wattage than, for example, regular bookshelf speakers. This is still OK as docking speakers are not intended as reference-grade audiophile systems, or designed to have the same power. It is worth noting how manufacturers measure and quote wattage as this can often be a bit misleading. Since the wattage rating of built-in amplifiers is matched to that of the unit's speaker drivers, manufacturers quote the figure of the amp module, times two. For instance, if an amp has a continuous power rating (also known as RMS Power) of 20 watts, manufacturers will normally quote 40 watts and this is known as Peak Power.
In many cases, more than one amp module may be present - the second one, for instance, powering the built-in subwoofer. If this second amp is again rated at 20 watts, then the wattage figure on the unit's spec sheet would be 80 watts Peak Total (as in 2 x 40W). Why is this slightly misleading? Well, because peak power figures are just for audio labs - referencing a maximum (and very occasional) level peaks. The real, continuous wattage figures actually give the right idea of how this will be translated in 'loudness' and this is also a good place to mention that rarely a speaker dock will sound at its best if cranked over three-quarters of its maximum volume capacity.
 
Enhancement Apps Explained
Take any current A/V Receiver and you will see in the specs at least a few EQ options, volume levelers, HD and surround audio codecs, room correction algorithms and so on. Most speaker docks don't even have a basic equalizer or even a volume control, relying entirely on the iOS device to act as an actual preamp. What this means is that the smartphone does all the hard work. This may seem a limitation, but can in fact be turned into an advantage, considering the 'fluid' nature of smart devices. Add some cool apps to fine-tune your docking speaker's audio performance, frequency characteristics and so on, and you're in business. EQ apps in particular can be real game changers, especially with the often boomy and artificially 'over-cooked' bass response of some of the smaller sized docking speakers out there.
If you've never used an Equaliser we can give a couple of simple tips. Equalization is at its most efficient when used to dip, rather than boost frequencies - go easy, small changes go a long way! Most user-definable EQs, short for Equalizer, feature the most crucial frequency zones - sub-bass, bass, low mids, high mids, high frequencies (also called treble) tied to a particular 'fader' or slider - pretty much following that order from left to right. These 'faders' or sliders (also often found in the device's regular sound preferences) are very much like a volume control but for a particular frequency 'zone' only. If attempting to declutter the low end and make it cleaner and tighter, we recommend lowering the low bass (far left slider) ever so slightly and the lower mids - normally the (left side) mid-position sliders. Trying and comparing EQ presets is the best way to 'calibrate' your ear and hear as well as see the changes that EQ positions produce. Most apps come with a ton of presets and if you don't have a clue which EQ to look for in the iOS app store, check out SmartEQ or the brilliant EQu.
 
Audio Quality: Docking vs. Wireless
Speaking of wireless audio streaming, this is quickly becoming the preferred template of home hi-fi audio and you might be asking yourself, wouldn't it be better to just go for a wireless-only speaker? Why bother with a dock Well, that may well be the case in a few years - the signs are strong that the hi-fi/home theater industry is headed there. But as of today wired or connected audio still beats wireless streaming in terms of audio quality.
AirPlay which as we have already explained, is Apple's proprietary wireless protocol. It is lossless and therefore capable of 'beaming' not only hi-res audio but video content as well. The feature is often found in (mostly higher end) speaker docks and if yours doesn't have it you could always consider an Airplay adapter. When available as a feature, the speaker dock needs to 'talk' to your Wi-Fi via an Ethernet cable and therefore its wireless performance and coverage is entirely dependent on an existent Wi-Fi home network. Bluetooth on the other hand is lossy protocol format by default and connecting a device through a dock port or audio wired connection will surely 'sound better'. It's important to note the version of the speaker dock's Bluetooth receiver (if present), ok that gets really geeky we know, having to check spec sheets and so on, but for your info, Bluetooth versions before 3.1 can be considered as old school, and not cool either. Versions 4.0, 4.1 and later are the ones good for audio (but not video) streaming and they also support third party high res audio codecs such as aptX.
It would be therefore exciting to see what version 5.0 has in store for us, as it is already announced that it will quadruple range coverage and increase the capacity of wireless data broadcasts by eight hundred percent. We can do the simple maths - this would easily mean that version 5.0 will handle super high-res files with ease! Which would most likely mean death to all cables...and ports. About damn time, if you ask us.
Learn More About Home Audio