Jabra Elite 85H ($300)
Battery: 33 Hours
Noise-Canceling: Yes
Smart Assistant: Google, Alexa, Siri
What we like: Intelligent design and controls, terrific battery life, good sound quality.
What we don't: Poor noise-canceling, SmartSound feature isn't very good.
See the Jabra Elite 85H
If you want an example of an arms race in the audio world, check out the drive to create the best wireless noise-canceling headphones. For the past year, it's been a battle between Sony and Bose (spoiler alert: Sony is winning). But now a new challenger has entered the race, in the form of the Elite 85H headphones from Jabra. In this review, we break down the sound, design, comfort and fit, packaging and accessories, specs and more of the Jabra Elite 85H. To see how they stack up, check out our list of the best headphones.
 
Sound
Midrange and High-End (Treble)
If the Jabra Elite 85H want to compete with the juggernauts designed by Bose and Sony, they need to perform at an exceptionally high level. It all starts with sound quality. Based on their lofty $300 price tag, the standard must be high in order to stand a chance against the competition. Fortunately, the Elite 85H headphones more than meet expectations.
The overall sound quality of these headphones is impressive. They offer a solid balance of detailed highs and warm, engaging mids, both of which enter the party without taking over the room. We enjoyed how laid-back and relaxing the sound was. While they don't have the precise, shining audio detail of the superb Sony WH-1000XM3s (full review here), they make up for it by being welcoming and fun. Given that they are less expensive than the $350 Sony headphones, that's quite impressive.
No matter how long we listened to these headphones, they never felt fatiguing. With their stunning battery life – more on this below – these headphones are clearly designed to be used for long periods, and we can confirm that they remained a genuine pleasure hours later. Vocals in particular really benefited from their easy-going nature, as they felt smooth and dynamic without being pushy. Sometimes, it takes us a while to warm up to a particular pair of headphones – sound is subjective, and not everything is to our tastes. But with the Elite 85H, we knew we were going to like them from the moment we pressed play.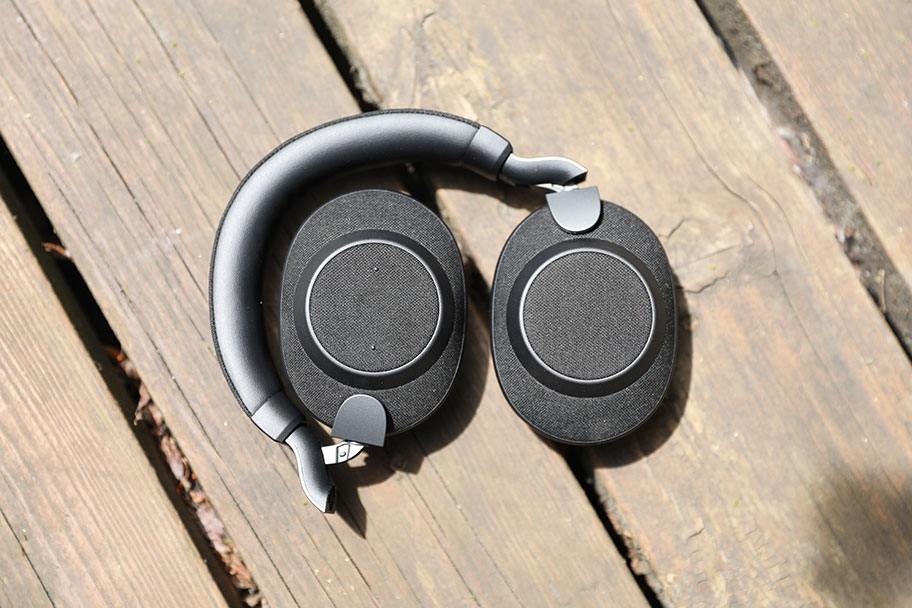 Bass (Low-End)
This laid-back character extends to the bass. The Elite 85H don't have muddy bass like the Beats by Dre Studio3 Wireless (full review here), which is a very good thing. What they do have is bass that's punchy and fresh without being overly aggressive. It means you get an excellent balance of thumping drums to go with those warm mids and highs. Even when we played genres with difficult-to-manage low-end, like metal, the Elite 85H performed well.
We noticed a significant difference from models like the Bose Quietcomfort 35 II (full review here). Those headphones may be more expensive, at $350, and offer superior noise-canceling, but the sound quality cannot compete with the Elite 85H. On the Bose headphones, the bass feels grainy and slightly undefined. There's no question that the overall sound quality is far superior on the Jabra headphones. If good sound is something you value highly, and you don't want to spend $350 on the Sony headphones, then we strongly recommend the Elite 85H.
One thing worth noting is that, while the Jabra Elite 85H offer Bluetooth 5.0 streaming, they do not offer aptX functionality, as well as lacking AAC and LDAC. We certainly noticed a dip in quality, but the headphones offer enough that it wasn't a deal breaker. The Bluetooth sound quality felt good enough that we didn't have too much of an issue. And if all this talk of Bluetooth 5.0 and aptX makes no sense, we've got a full explainer here.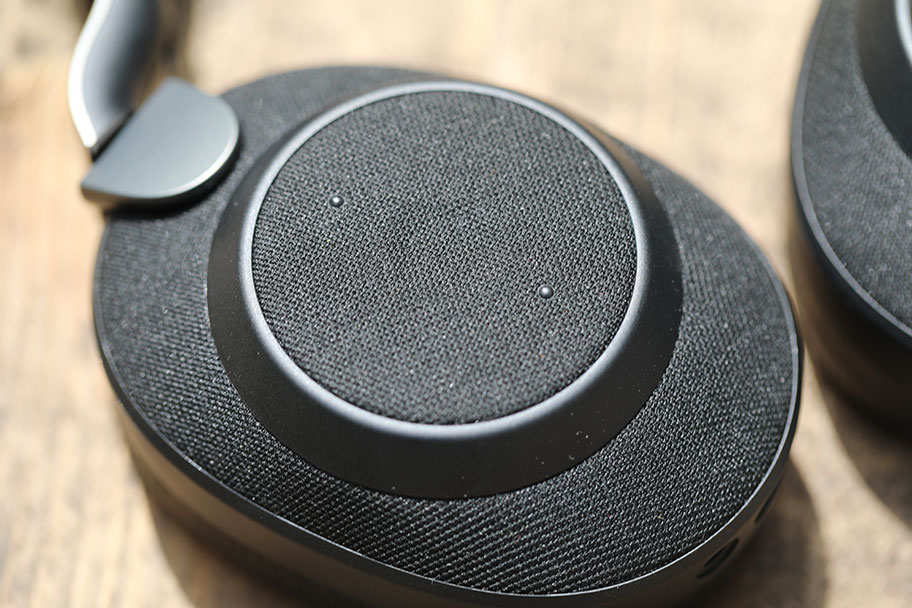 Noise-Canceling
But of course, if Jabra's flagship model is going to make an impact, then it has to remove noise as well as it can produce it. And unfortunately, while it still does a good job of noise cancelation, it definitely isn't the best available.
We were fortunate enough to have both a pair of Bose Quietcomfort 35 IIs and Sony WH-1000XM3s on hand, so we could directly compare their noise cancelation in identical environments. We tested them on a packed commuter train, walking through a busy shopping area, and on an airplane. In all cases, the Jabras were the bronze medallists (Sony won, BTW). No matter how much we tweaked the cancelation – and as you'll see, there are several ways to do so in the companion app – it never felt like it was doing as much as it should. There was still significant presence of low-frequency rumble, and it never felt like the outside world was blocked out as effectively as we would have liked.
This is a real shame. Jabra have already proven that they have what it takes to be at the number one spot in other categories; their Elite Active 65t true wireless earbuds (full review here) are the best you can currently buy. But noise-canceling is a tricky art, with technology that doesn't always play ball. As much effort as Jabra has put into making these headphones future-proof – and again, will talk about this in a little more detail below – they haven't quite nailed it here.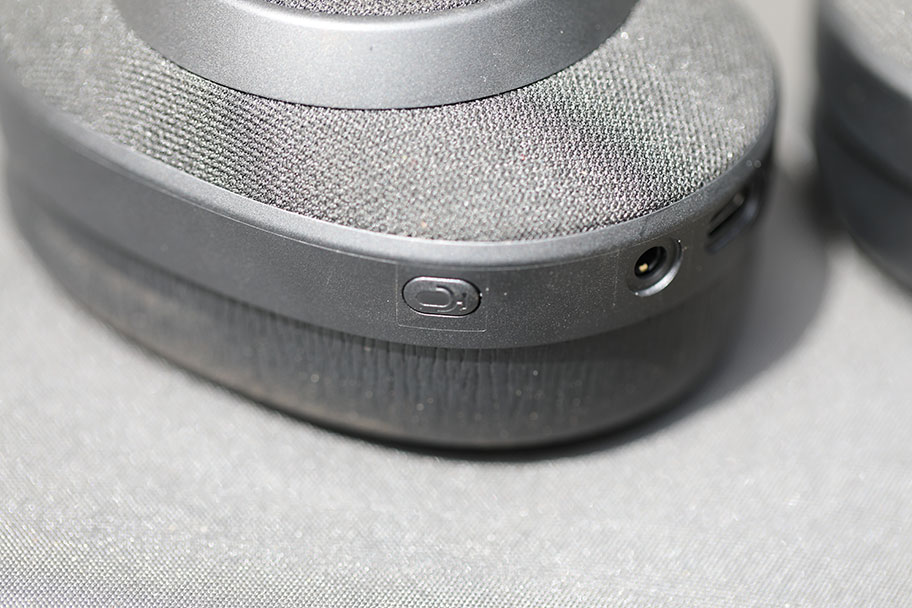 SmartSound and HearThrough
There's a sense that Jabra are aware of their mistakes - that they know, deep down, they aren't going to beat Bose's technology or Sony's skilled sound engineers. And so, for the Elite 85H, the marketing has been less about how good the cancelation is and more about how intelligent it is.
The Elite 85H incorporate a mode called SmartSound, controllable via the Sound+ smartphone app. It's actually quite a neat idea. If SmartSound is activated, the headphones are constantly listening to your surroundings, and they will automatically adjust your audio to give you what they think is the best experience. This isn't just about noise-canceling; the headphones incorporate what is called HearThrough mode, which lets you listen to what's going on around you without interrupting the music.
There are four 'Moments' available: Commute, In Public, Private, and an additional My Moment that is fully customizable. As you move around, SmartSound automatically changes these to reflect the noise level around you. For example, It could detect that you have entered a noisy airport, and turn on HearThrough so you can listen to any boarding announcements. But when you're on the plane, it will switch to Commute Mode, which will turn noise-canceling on. You can also give each mode a music preset - Speech, Bass Boost, Treble Boost, and the like.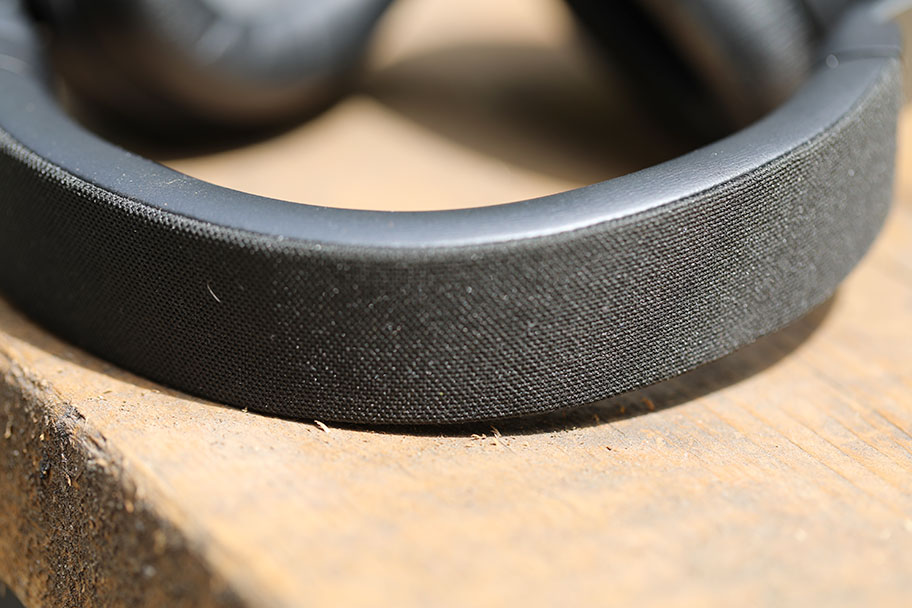 That's the theory, anyway. In practice, we ended up turning off SmartSound quite quickly. The problem wasn't that it didn't work well – it did – but that it worked too often. The app was constantly switching modes, even if we hadn't changed our surroundings. We know this because the default option is for the headphones to announce a mode change in a perky voice, which was so annoying that we couldn't believe Jabra thought it would be a good idea. At one point, walking through a busy ferry terminal, it changed modes three times in twenty seconds. Fortunately, you can turn this notification off, but we still found it far better to manually select which options we wanted. HearThrough Mode, in particular, worked well – it existed in previous products, like the Elite Active 65t, but it's been improved in the Elite 85H. There's even a dedicated button on the right earcup to cycle through noise-canceling and HearThrough.
Although we love seeing audio companies innovating, especially with smart features, the tech just isn't where it should be. Individually, the noise-canceling, HearThrough, music presets, and the infinitely-customisable options work exceptionally well. But the moment the automatic control takes over, everything falls to pieces. Hopefully this is something Jabra can fix in an update further down the line. We know they're capable of this, because we had to do a massive firmware update before we could even begin to use SmartSound. If you like your headphones to work directly out of the box, you may want to keep this in mind.
 
Call Quality and Voice Assistant
They may not have the best noise-canceling technology, but Jabra certainly know how to use it for call quality. The microphones embedded in the Elite 85H are superb, and when you combine it with intelligent cancelation, you get call quality that's even better than the Bose and Sony models. It easily beats far more expensive options, like the $499 Master & Dynamic MW65.
You also get full access to voice assistants, including Siri, Google Assistant, and Amazon Alexa. Whichever one you prefer to use, there's a dedicated button on the left earcup to activate it. While it's great to see that this feature works with all virtual assistants, the reality is that there is often significant lag between pressing the button and the assistant recognising your commands.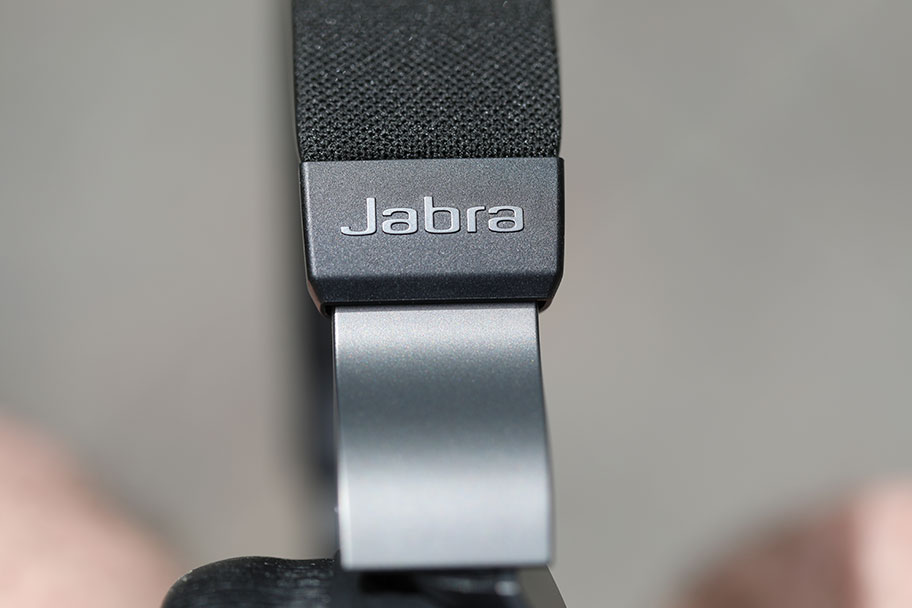 Design
Looks and Controls
While the audio technology may need a bit of work, one aspect we found flawless was the design. We want this on record: the Elite 85H are some of the best-looking wireless headphones we've ever come across. Go read our full roundup of the top models for this year, and try to find more than one or two that can match them. They're just gorgeous.
Again, we'll compare the Elite 85H to the Sony WH-1000XM3s. Those headphones offer superlative sound, but are made of plastic, and don't feel especially luxurious. The Jabra Elite 85H are less expensive, at $300, and are covered with smooth fabric that is an absolute joy to run your fingers over. This fabric is both on the outside of the cups and on the top of the headband. The insides of both are covered in silky-soft leather. The use of fabrics works well with the gentle curves, especially those found just above the hinges. The Elite 85H have an instantly recognisable silhouette, and one we've fallen in love with.
They match this design with some truly intelligent controls. To turn the headphones on, all you have to do is flip the cups from horizontal to vertical – as you would if you were taking the headphones from around your neck and putting them on. A cheery chime tells you this has happened, and the headphones instantly announce their battery life and whether or not they're connected. Removing the headphones pauses the music, which is such a useful feature that we still don't understand how it isn't standard throughout the industry. You'll find the track controls on the outside of the right earcup and they work exceptionally well. Other manufacturers may go for touch controls, as Bose have done with their new NC700 headphones (which we haven't had a chance to test, or we'd be comparing them here) but Jabra have opted for buttons. They're easy to find without hunting for them. A recessed central button handles play/pause and call answering, while two volume buttons indicated by raised dots do the rest. Everything here speaks of clever design and real thought, and it makes the Elite 85H a true pleasure to use.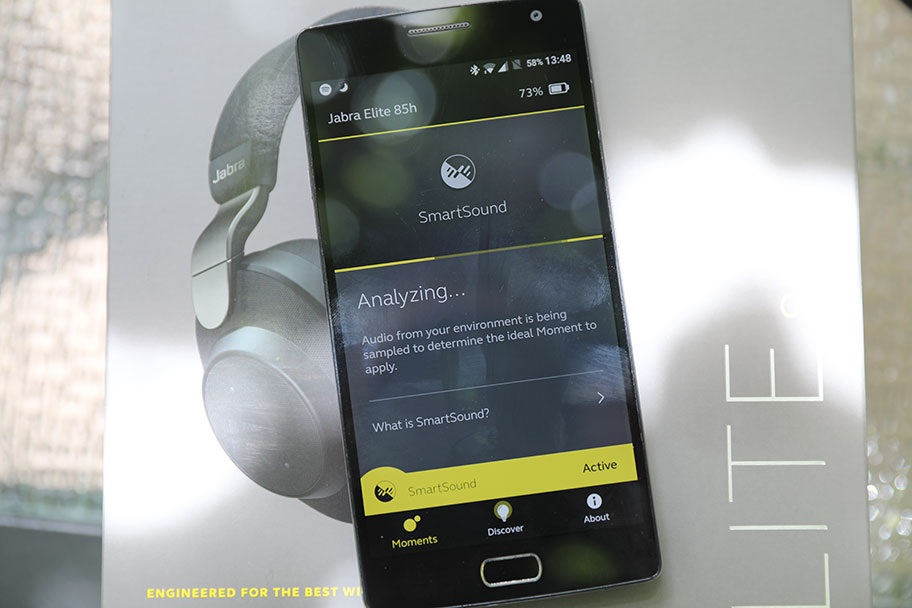 Sound+ App
This thoughtful design extends to the app, which is one of the best of its kind. It's called Sound+, and it very easily allows you to change any option, ranging from toggling noise-canceling on and off to telling the headphones which smart assistant to use. There's a dedicated tab that lets you reference the controls, in case you need a refresher, and a full manual embedded within the app. It's the kind of thing we wish every audio manufacturer would do.
The app also contains a rather interesting feature called Find My Jabra. When you activate this, the headphones register where you are when you turn them off, leaving a little GPS signal on the app. If you ever lose them – and it's worth noting that this feature extends to all other Jabra products, such as their true wireless earbuds – you'll easily be able to see where you were when you took them off. We tested this, and it works well, although we imagine its usefulness is relatively limited. After all, Find My Jabra might be able to tell you that the headphones are at home, but won't reveal that they've dropped down the back of the couch. Still, you don't have to use this feature, but it's nice to have the option - and if your headphones get stolen, it'll be terrific.
Battery Life
One more big positive point in favour of the Elite 85H is the battery life. Jabra claim that you'll get 36 hours with noise-canceling activated, and five hours of listening from 15 minutes of charging. In practice, it was closer to 33 hours, but even then, that's still significantly more than the Sony WH-1000XM3s at their best. Right now, only the Audio-Technica ATH-M50xBT can match the Elite 85H for battery life, and those headphones don't come with any sort of noise cancelation or advanced features. If you need your headphones to last a heck of a long time, the Elite 85H are the ones to go for.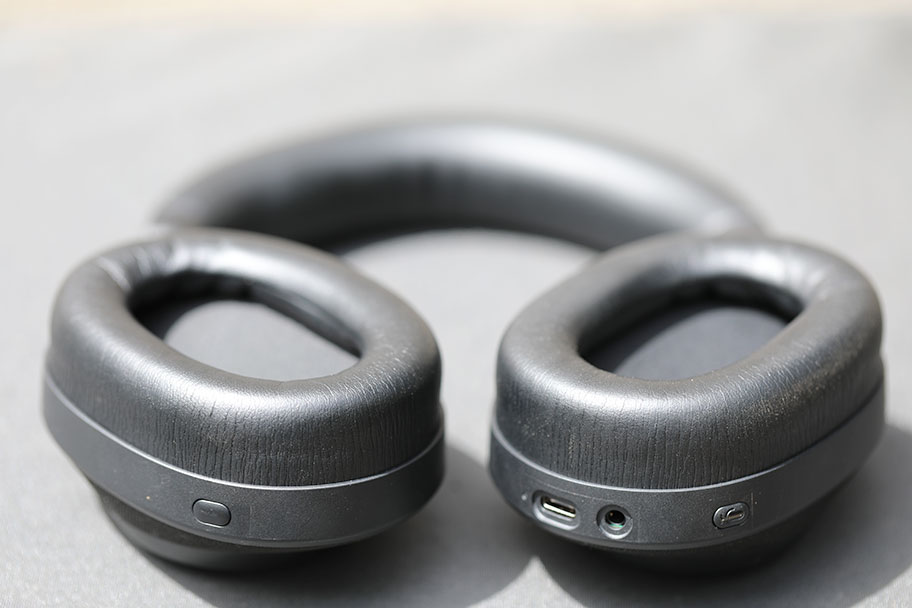 Comfort & Fit
We've already mentioned the plush ear pads, and at no stage did we have any issues with pinching. The pads are sizeable enough to handle even our enormous ears, and the leather on the underside of the headband means that we were able to get a good fit very easily. While the Elite 85H don't do anything particularly special in terms of comfort, they still managed to impress, and we believe the battery will run out long before you have any issues with fit. It is, however, worth noting that the Elite 85H are about an ounce heavier than the Sony and Bose models, at 10.4oz. While that does make them one of the heavier options available, we never had an issue with weight or bulkiness.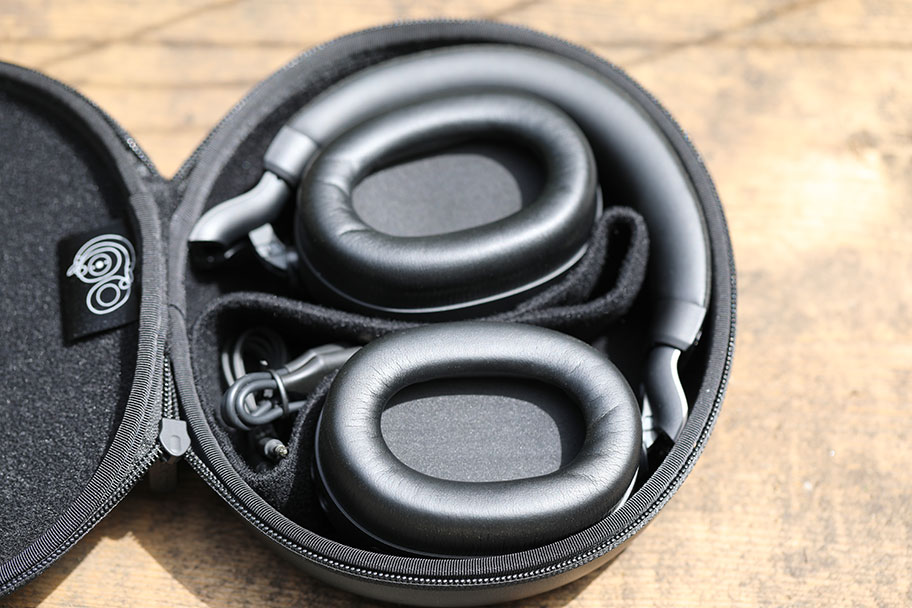 Accessories & Packaging
There's very little to get excited about with the packaging and accessories. You get a cardboard box that holds the case. The case is a semi-hard, zippered oval with dedicated slots for the headphones, assorted cables, and airplane adapter. It gets the job done without particularly raising the pulse. It would be nice to see a more thoughtful case – perhaps one with the document slot, like that found on the case for the Bose Quietcomfort 35 II. Then again, you don't really buy these headphones for the accessories.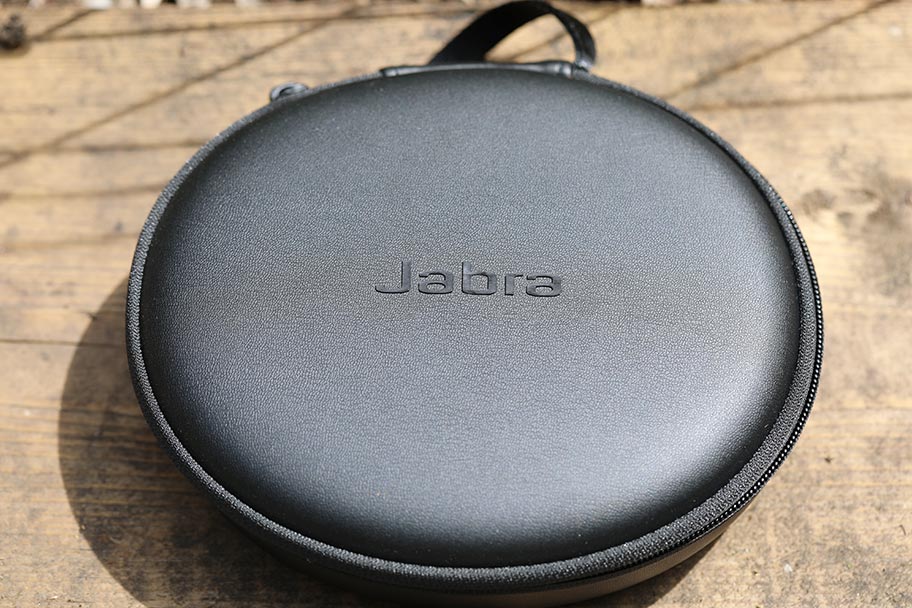 What We Like
The Jabra Elite 85H boast intelligent, thoughtful design, and controls that make them a joy to use.
The battery life of the Elite 85H is world class.
The sound quality is warm and welcoming, offering plenty of detail and excitement without being fatiguing.
 
What We Don't
The noise-canceling on the Jabra Elite 85H isn't as good as it should be.
The SmartSounds feature is too idiosyncratic for long-term use.
We encountered significant lag while using voice assistants.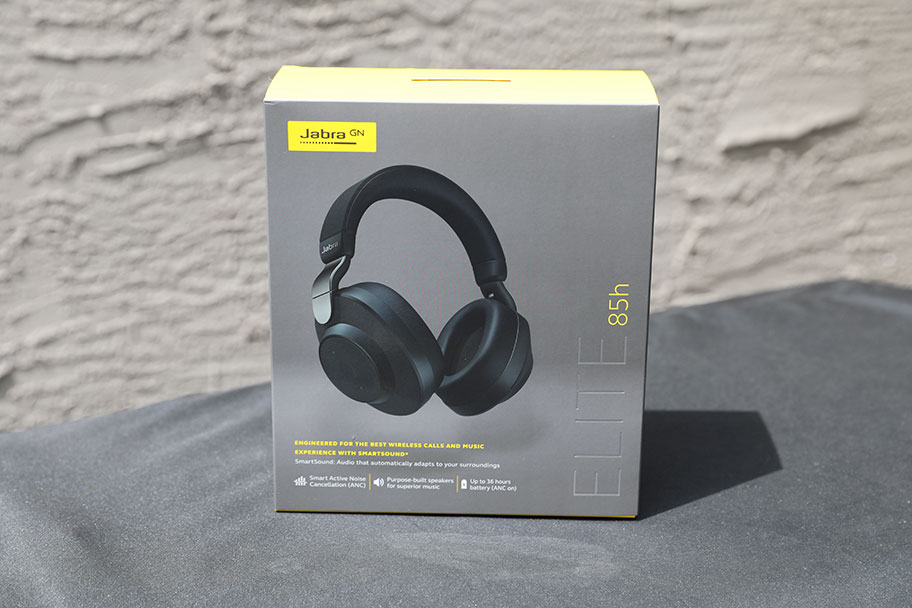 Comparison Table
*Batt. = Battery Life
**Canc. = Noise-Cancelation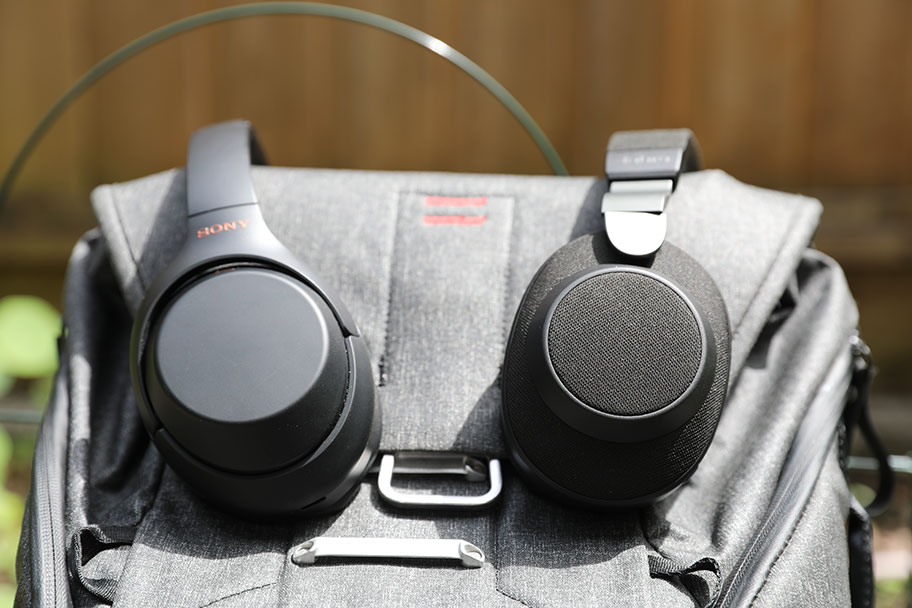 The Competition
Unsurprisingly, and as we've already mentioned, the biggest competitors for the Jabra Elite 85H come from Sony and Bose. Let's talk about Sony first. In our opinion, their WH-1000XM3 headphones are the best wireless headphones on the market. They combine incredible technology, genuinely brilliant sound, and good noise-canceling in a package that makes them a superior option to the Elite 85H. They are a bit lighter, too, although the design isn't as good. At $350, they're significantly more expensive than the $300 Jabras, but the extra cost is more than worth it for the increased sound quality.
There are several sites that claim the Sony headphones have the best noise-canceling available. We disagree. Right now, the Bose QuietComfort 35 II offer far superior cancelation. The sound quality isn't nearly as good as that offered by the Jabra Elite 85H, but these headphones more than make up for it with their superlative tech. If you want to block out the outside world, they should be your first option. Having said this, at the time of writing, Bose have just released the NC700 headphones, which promise to be even better. They are on our review schedule and we think they'll be worth waiting for. Expect an update when we have one.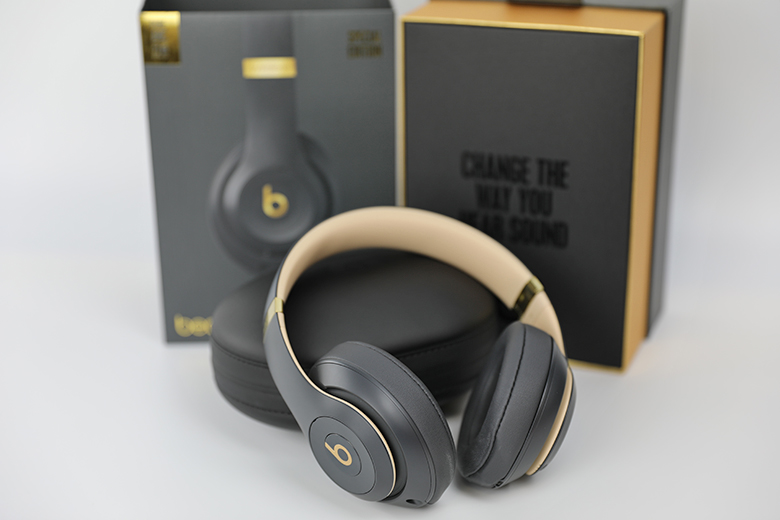 If you're thinking of buying the Beats by Dre Studio3 Wireless as an alternative to the Jabra Elite 85H, don't. Just don't. Plasticky construction, plasticky sound, shorter battery life, poorer noise cancelation. And they're more expensive than the $300 Elite 85H, at a price of $350. Sometimes we have to write quite a lot about a pair of headphones to justify why we're comparing them to the model under review. Here, we just have to write this: the Beats by Dre Studio3 Wireless are some of the worst headphones that have ever been created, and you should steer clear at all cost.
Right now, Jabra doesn't have another pair of wireless over-ear headphones available. While they do have other headphones, these are almost universally for corporate phone systems. In the spirit of providing options, let's compare the Elite 85H to one of our favorite budget headphones: the Plantronics BackBeat GO 810. For $150, you get eye-catching design, decent sound, 28 hours of battery life, and highly acceptable noise-canceling tech. There's a lot to love about them and we think that the wallet-friendly GO 810 should be your first pick if you can't stretch to the $300 Elite 85H.
Learn More About Headphone Audio