Monoprice MM-3 ($199)
Power: 46 Watts
Connection: 3.5mm, RCA, Bluetooth
Sensitivity: Unknown
What We Like: Affordable, good sound quality, easy to set up.
What We Don't: Unexciting style, lack of volume.
See the Monoprice MM-3
Despite what you may think, computer speakers are not the same as regular speakers. They're designed to work in close proximity to the ears, and while this sounds easy, it's often quite tricky to get right. With their new MM-3 wireless speakers, Monoprice have given it one hell of a college try. In this review, we break down the sound, design, packaging and accessories, specs and more of the MM-3 speakers. To see how they stack up, check out our list of the best computer speakers.
 
Sound
Volume and Power
The first detail to note about the $199 Monoprice MM-3 speakers is that they aren't very loud. Monoprice don't list the sensitivity of the speakers in their specs, but they do list the power: 23 watts total for each speaker. That's quite minimal, especially compared to other speakers. For example, competing modes, like the Audioengine A2+ at $249, punch out 30 watts with ease. Even with the volume knob turned up to 11, we could comfortably sit in front of the MM-3s without wincing.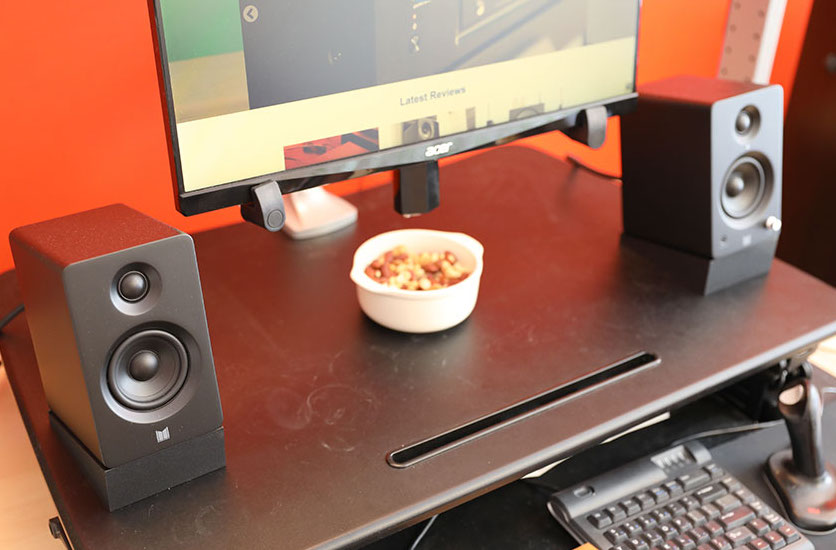 On the other hand, this isn't exactly a problem. The MM-3s are designed to sit on either side of your laptop or monitor, and are only meant to project sound within a few feet. If you're looking to fill a room with sound, then these are poor investments – you'd be far better off going for a regular set of bookshelf speakers, which can handle power with a bit more finesse. But if all you want to do is play some music while you work, then these could be an ideal set of speakers. Their unobtrusive size and clear audio benefits make them a clear choice for this purpose. They look small, they sound small… and that's not necessarily a bad thing.

Midrange and High-End (Treble)
Monoprice generally produce audio equipment that gets the job done, without any sort of flash or flare. The pint-sized MM-3s are no exception. We'd be lying if we said the sound quality was particularly exciting or dynamic; it's certainly not as bass-focused as something like the JBL Pebbles, which cost $230 versus $199 for the MM-3s. But simply because a pair of speakers doesn't sound super flashy doesn't mean they don't do a good job (yes, we cracked out the triple negative – we were feeling it).
The sound quality tends to push the mids forward, meaning vocals and dialogue take center stage. The high-end didn't have a staggering amount of detail, but they were crisp and dynamic. We particularly liked what the MM-3s did with snares, which sizzled in the mix. This sense of life in the highs made the speakers a lot of fun to listen to, and they were significantly less fatiguing than we would have expected, even after several hours of listening.
Low-End (Bass)
The low-end was similarly impressive. While the woofer on the MM-3 speakers isn't particularly large - a simple 3" polypropylene driver - the bass still comes across clearly and efficiently. Regardless of whether it was bumping kick drums or in-game explosions, the MM-3s delivered. The external bass ports may be slim little openings, rather than the circular holes we're used to, but they work well.
Again, the MM-3s don't do anything particularly special or dramatic in terms of sound quality. The overall impression was one of calm, controlled competence. The MM-3s communicated exactly what they needed to, without overly coloring the sound, and generally stayed true to the source material. They performed just as well as other computer speakers we've tested, and at a very reasonable price.
 
Bluetooth Audio
One gripe we had with the MM-3s was the Bluetooth quality. While these speakers are capable of aptX audio, they only deliver Bluetooth 4.0 (here's what that means). That makes them feel a little old-fashioned. We think Monoprice should be able to improve the Bluetooth here without raising the retail price. In comparison, the Logitech G560 which are also listed at $200, have Bluetooth 4.1. This version isn't as advanced as we'd like, but better than what the MM-3s offer. The Logitech speakers also manage to pull off some flare, with nifty flashing lights and a design that looks like Prada handbags from the future. They're like the anti-Monoprice.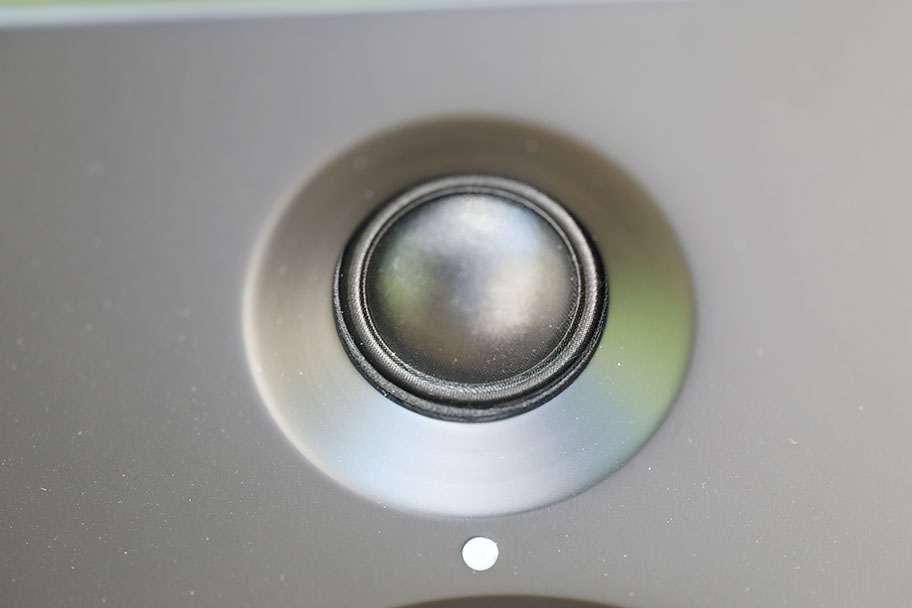 Gaming Audio vs. Music
Any set of computer speakers has got to be able to perform well with both music and game audio, and we are pleased to say that the Monoprice MM-3s had no issue here. While the somewhat neutral sound probably lends itself to music more than gaming, the MM-3s had no trouble communicating exactly what was going on in the middle of a frantic Overwatch firefight. If you do find that the MM-3s disturb your roommates, despite their underwhelming power, there's an included headphone jack on the front of the master speaker. It definitely doesn't beat a standard headphone amp, and you'll lose out on the excellent soundstage – more on this below. But it's a welcome option for late-night sessions.
 
Soundstage
If the audio quality of the MM-3s has one major selling point, it's the soundstage. The stereo image is much better than we would have expected. The sweet spot feels wide and forgiving, even when you aren't using the included speaker stands (we'll talk more about these stands below). There's a real sense that the audio is coming from around you, rather than being concentrated in a single spot. Compared to other computer speakers we've tested, like the $150 Edifier R1700BT, the MM-3s were clearly the superior option. They may only be slightly more expensive than the Edifiers, but we really felt like they did a better job of communicating direction and spacing.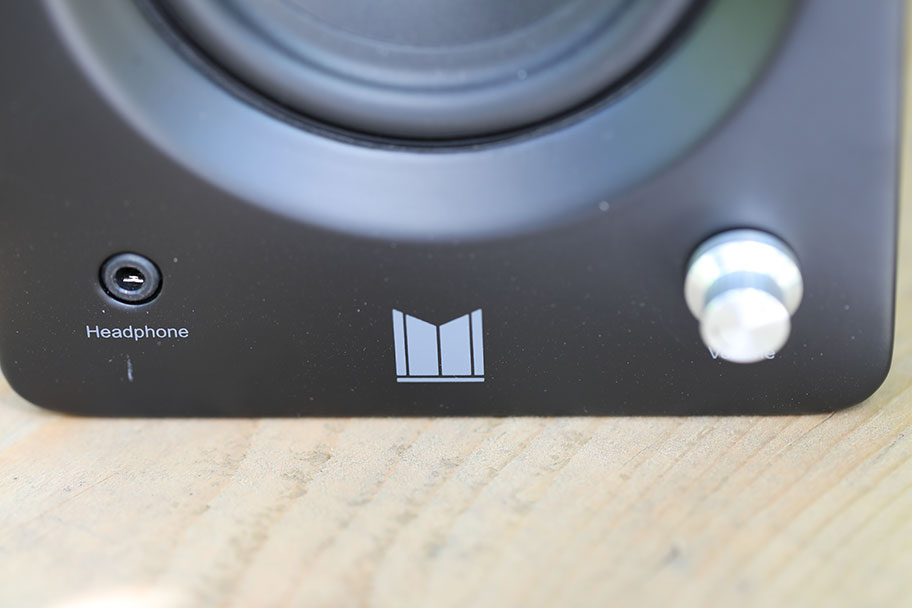 Design
Looks and Build Quality
These speakers are a festival for the eyes. They are a magnificent conglomeration of sparkling color, complex and nuanced geometry, and scintillating angles. Obviously, we're being sarcastic. They are small grey boxes. When a company like Monoprice designs a set of speakers, they don't exactly push the design envelope. If you want a pleasing place for the eye to rest as it passes over your computer setup, might we suggest investing in a pair of Genius SW-G2.1 2000? They don't sound as good, but they look terrific.
It must be said that we don't think the design of the MM-3 speakers is necessarily a problem. The sound quality is good enough that we can forgive the lack of flare, and while the MM-3s are particularly eye-catching, they have a neatness that we appreciate. The robust housing with its rounded edges and smooth matte finish works well, looking sleek and professional on either side of a laptop screen.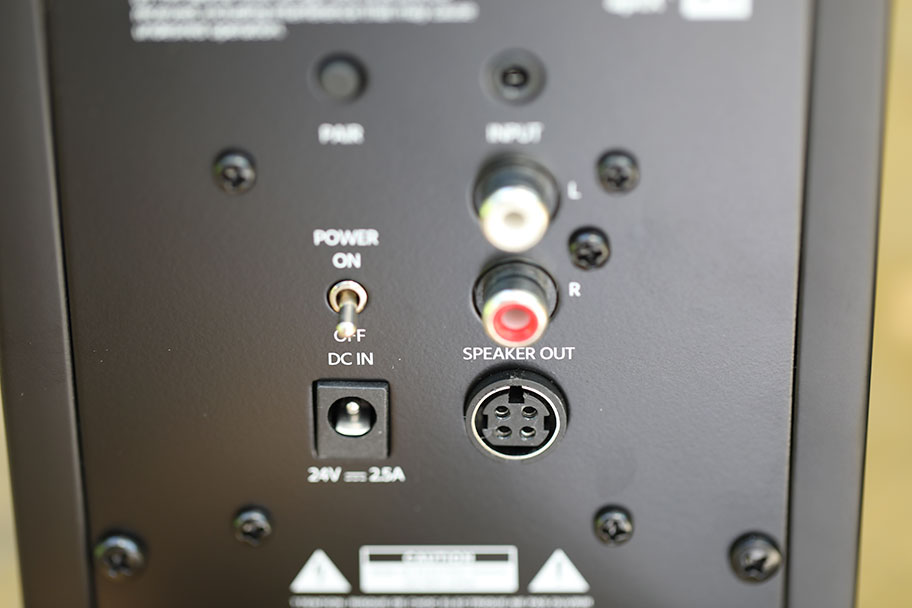 Inputs and Outputs
Outside of the aptX Bluetooth, you get a regular RCA input, as well as a 3.5mm input. Inputs are selected automatically, depending on what your source is. Unusually, there's no subwoofer output. While it certainly isn't essential, given the high quality of the low-end, it would have made the MM-3s a little more versatile. Beyond that, the two speakers are connected with an included cable of surprising thickness. There's no remote available – the volume knob is your only control – and if you are hoping for an app to adjust the audio quality, you really shouldn't. Again, this setup is as simple as you can get. The speakers don't even have the ability to connect to a computer via USB, which is something that their competitors often include. Competitors, like the Creative Sound BlasterX Kratos S5 can link to a computer via a USB cable.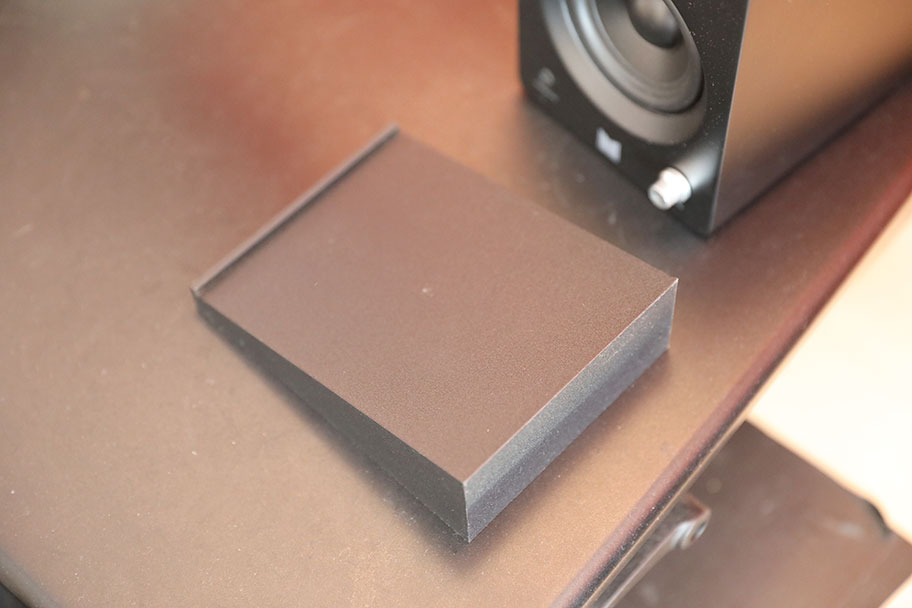 Accessories & Packaging
With the Monoprice MM-3s, you get at least one particularly clever accessory. Or perhaps that should be two. Included with the speakers is a pair of thick, textured plastic stands, precisely angled so that the speakers will be pointing directly at your ears when rested on top of them. It's a smart and forward thinking inclusion. The stands not only builds on the already excellent soundstage of the MM-3s, but make it even easier to catch all that excellent audio detail. Fair warning: you need to be careful with the stands. Unlike the speakers, the edges are sharp, and we poked ourselves on them more than once. But they definitely elevate the audio quality and we highly recommend using them.
 
What We Like
The Monoprice MM-3s are an excellent, affordable set of computer speakers.
The sound quality is generally decent, with detailed and lively highs.
The MM-3s are simple to setup and use, with straightforward controls and design.
What We Don't
If you're looking for excitement, the Monoprice MM-3s probably aren't the speakers for you.
The Bluetooth of the MM-3s isn't as powerful as we would have liked.
The lack of volume may be a problem if you're looking for room-filling sound.
 
Comparison Table
| Speaker | Price | Power* | Connection | Sens.** | Size |
| --- | --- | --- | --- | --- | --- |
| Monoprice MM-3 | $199 | 46 Watts | 3.5mm, RCA, Bluetooth | Unknown | 7.1" x 5.7" x 4.3" |
| Audioengine A2+ | $249 | 60 Watts | 3.5mm, RCA, USB | 95dB | 6" x 5.25" x 4" |
| Edifier R1700BT | $150 | 66 Watts | RCA, Bluetooth | 85dB | 9.7" x 6" x 8" |
| JBL Pebbles | $260 | Unknown | 3.5mm, USB | 89dB | 5.2" x 5.9" x 3.1" |
| Monoprice DT-3 | $80 | 50 Watts | 3.5mm, RCA | Unknown | 8.0" x 5.9" x 5.5" |
*Power figures are all listed as RMS
**Sens. = Sensitivity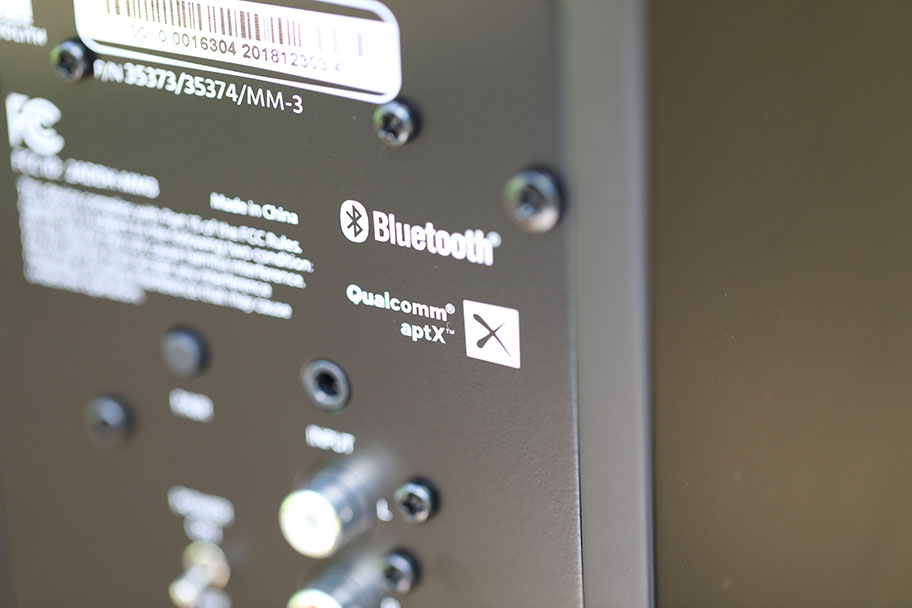 The Competition
Perhaps it's just as well that the MM-3s aren't massively ambitious, because the competition in the world of computer speakers is fierce. The closest competitor to this setup is the Audioengine A2+. Audioengine recently refreshed this model. It's currently sitting at the top of our list of the Best Computer Speakers of this year, and with good reason. At first glance, they seem very similar to the MM-3s, especially in terms of design. But they are by far the more powerful and advanced set of speakers. You get a subwoofer output, more powerful amplification (60 watts, versus 50 for the MM-3s) Bluetooth 5.0, and significantly more dynamic and lively sound quality. Yes, they're more expensive, to the tune of $50, but we highly recommend them.
Another option is the Edifier R1700BT. The MM-3s need to include a stand so you can angle them towards your ears, but the R1700BT speakers include this in the design. We adore the design, which matches wood with a neat recessed control panel. That being said, the MM-3s sound better. They have much more control in the low-end than that of the R1700BT, which can be unrefined and overpower other elements. These are good speakers – and less expensive, at $150 – but they are very much the second choice.
The JBL Pebbles have a lot going for them, and have some definite pluses as an alternative. For one thing, they are far more portable than the MM-3s. Rather than being designed to sit on a desk, their small size makes them ideal for mobile gaming sessions. There's no Bluetooth, but the USB connection also provides power, making these an easy-to-use solution. They sound good, if not spectacular. The real problem, however, is the price - $230 is a bit steep considering the package. They're a good alternative, especially if you're on the move, but we still prefer the MM-3s.
If you want to save some cash, and don't need Bluetooth, then it might be worth checking out a slightly older model: the Monoprice DT-3. It has a virtually identical design to the newer MM-3s, and a similar sound quality. The DT-3s have a little more power, and are slightly larger, but outside of the Bluetooth capability, there is very little difference between them. We did notice that the older DT-3s are connected via regular speaker wire, and don't have the ability to use banana plugs. All the same, they go for $80 on Amazon, which is very reasonable for the sound quality you get.
Learn More About Computer Audio