At the time of writing this review, the best smart speaker with a screen, in our opinion, is this one: the tiny Amazon Echo Spot. Smart speakers with bigger screens may be popular right now, but this is still the best available. This circular little number has become the center of our lives, and with very good reason - it's genuinely brilliant. In this review, we break down the design, sound quality, packaging and accessories, specs and more of the Echo Spot. To see how it stacks up, check out our list of the best wireless speakers.
 
Design
Screen and Controls
Usually, we start all our reviews by discussing sound quality – we are an audio website, after all, so that's kind of important. But in the case of the Amazon Echo Spot, sound quality isn't the main draw. We'll talk about the sound below, but we want to highlight the most important things first: the screen and the virtual assistant. The Echo Spot - we'll just call it the Spot - costs $130. It isn't the newest speaker the company has made. Amazon have a huge range of smart speakers, several of them with screens. Right now, we can't think of one that works quite as well as the Spot does, or gets so many things right. The Spot does this because of its screen - not because having a screen on a smart speaker is revolutionary, but because the screen boosts the entire smart speaker experience in ways that we didn't expect.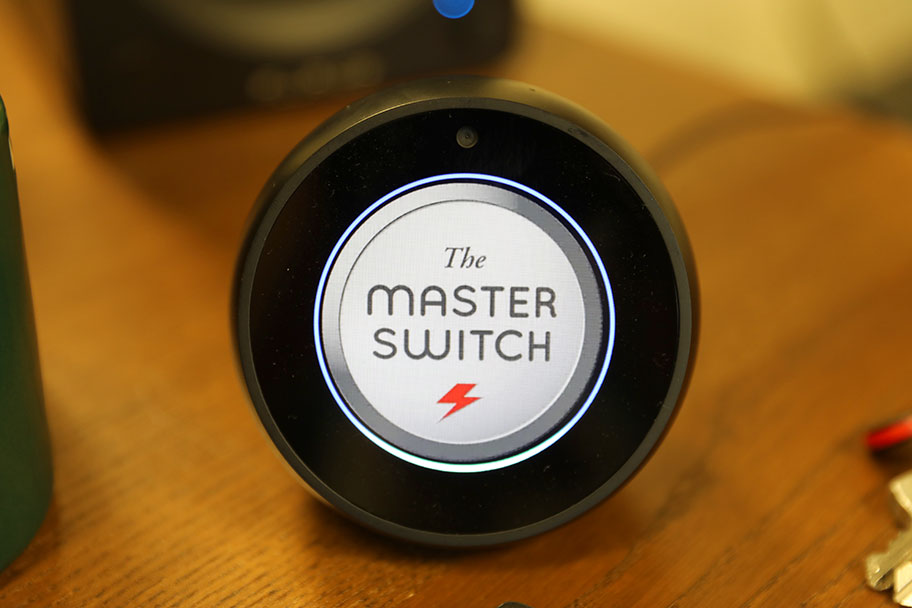 The Spot is shaped like a baseball cut in half by a katana. The circular screen is located in the middle, and it's of superb quality - displaying visuals that are easy to see from across the room, in bright, attractive colours. Whatever we had displayed on the screen – the time, the weather, a series of photos, even a short video from our favored news outlet, it all came across perfectly. Amazon are generally good at making screens, and they know it; their newest speaker, the second-generation Echo Show ($230), has a massive rectangular screen. The thing is, while that speaker is excellent, we do sometimes feel like the whole point of a smart speaker is that you shouldn't need to control it with the screen - you should be able to do so entirely using voice. It should complement the experience, rather than being the focal point. That's something the Spot absolutely nails: we were able to control it entirely using voice, with the screen showing us additional information at a glance.
It also helps that the touch controls are absolutely flawless. They feel more responsive than the ones found on the top of speakers like the Google Home (full review here). That speaker costs $149 - only slightly more expensive than the Spot - but we greatly prefer the controls on the latter. There are also physical controls located on the top of the speaker: three buttons, to be precise. Two-volume, and one to toggle microphone on and off. When you press the mic button, a handy red ring appears around the display to let you know that the microphone has been turned off.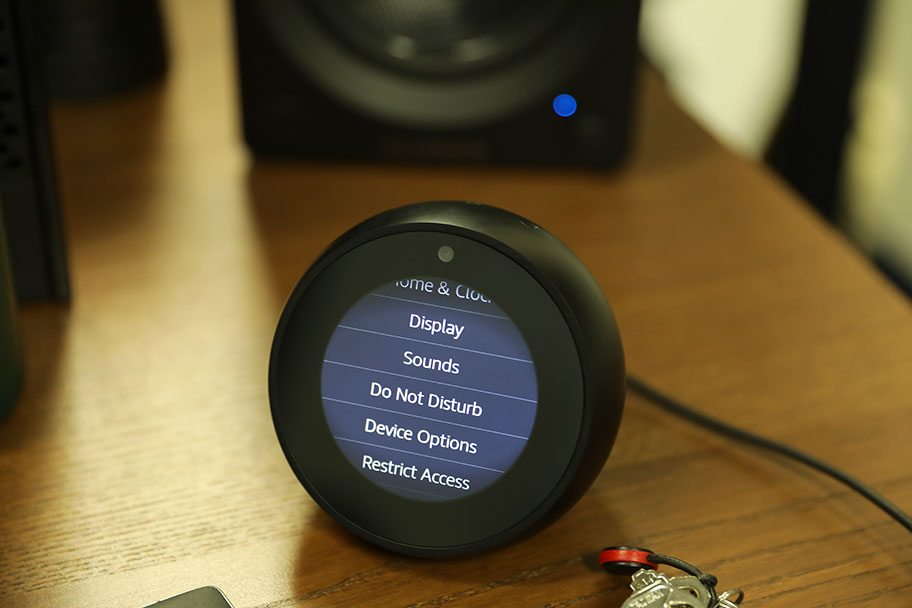 App, Setup and Menus
Connecting the speaker for the first time is a slightly annoying process. While it's great to have a touchscreen to enter your details, you will be required to input your Amazon username and password, and your Wi-Fi password. It's a little fiddly and time consuming, but you only need to do it once – from there, the Spot takes care of the rest, and we had ours up and running in under five minutes. It's not as quick as say, setting up a wireless speaker, but it's relatively straightforward.
The annoyance was also mitigated by the fact that this speaker is a breeze to use, even when you have to dive into the menus. Swiping down on the touchscreen brings up a contextual menu, which allows you to access your settings, turn on day and night mode, and, in a recent update, access smart home routines and alarms with a single button push. With other Amazon speakers, like the $50 Echo Dot (3rd Gen) (review coming soon), all of this needs to be done with the Alexa app. This feels better in just about every way.
It must be said that the Alexa app is pretty good, regardless of what platform you use it on. It's responsive and well-laid-out, and we particularly like the Skills store. This marketplace not only lets you install new skills for your smart speaker to use, but also gives you easy access to the ones you've installed already. We talk more about skills below.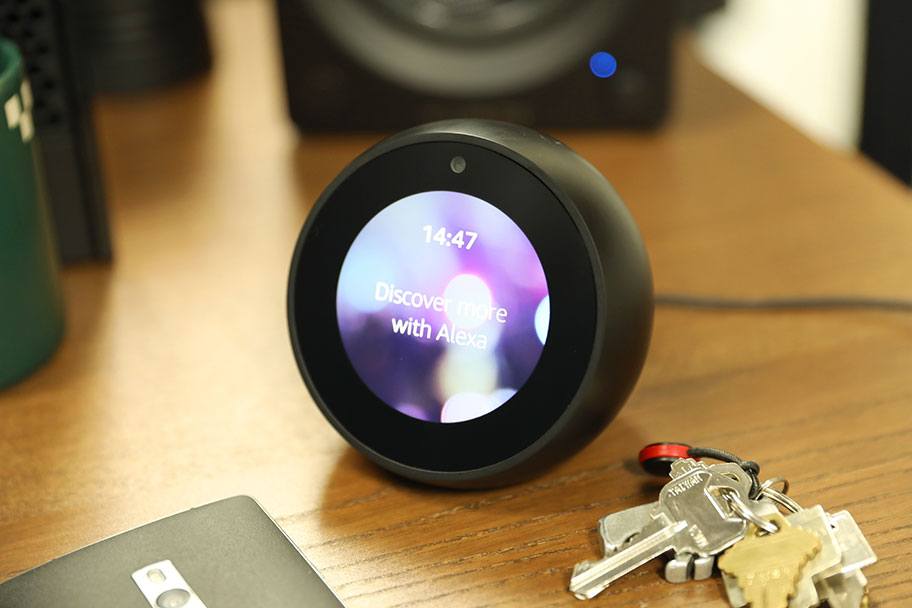 Amazon Alexa
It's worth talking about what the Echo Spot can do, and what it can't. As you might expect, it uses Amazon Alexa, the company's virtual assistant. Say the word "Alexa" and the edges of the Spot's screen will light up in blue and green, ready to take instructions.
Here's the thing about Alexa. She's actually quite dumb. For all the marketing fluff about how virtual assistants are going to change our lives, asking Alexa to do anything remotely complicated is often pointless. She has real problems with follow-up commands, and will often return what appears to be a very simple request with "Hmm, I don't know that." Compared to other virtual assistants like Google Assistant, this assistant just isn't there yet.
However, while Alexa is a key part of this particular smart speaker, we also need to caution that evaluating the virtual assistant should take place separately from our evaluation of the speaker itself. Alexa is available on multiple speakers, from multiple manufacturers – ranging from Amazon to the Ultimate Ears MEGABLAST, which costs $175 and is arguably the best portable smart speaker available right now.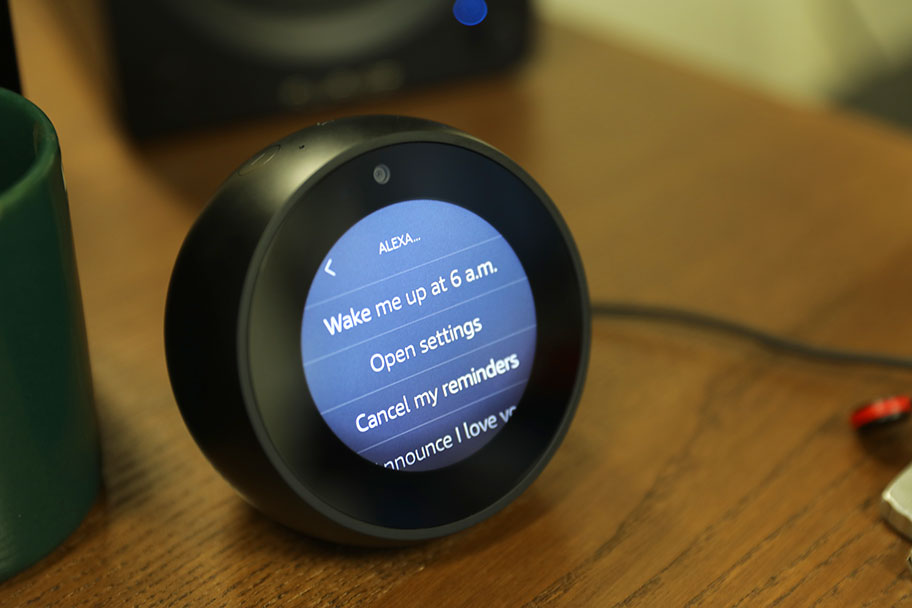 It's important to look at things in context. In this case, it means that while the speaker does falter with many requests, the ones it is capable of are performed very well indeed. Setting alarms is a breeze, as are timers. The speaker can tell you the weather in multiple locations, and give you an on-screen reference. You can play news alerts, set up routines, and control third-party music services like Spotify without any issue at all. It will set reminders, read your calendar, even give you details from your email if you ask nicely. You can make calls on it, including video calls. Virtual assistants may not be ready to take over the world, but the Echo Spot proves that they don't have to. It performs the function of a virtual assistant, giving you the relevant information when you need it, and then getting out of the way. Thanks to that fantastic screen, the Echo Spot has slotted into our lives in a way that something like the SONOS ONE – a $199 smart speaker with Alexa included - hasn't been able to. The ONE feels like a music speaker that just happens to be smart. That's fine, but it''s not central to our lives the Spot is.
It's worth noting that there are some concerns about data and privacy. This is true with all smart speakers, and it's to be expected. After all, this is a device that will be listening to its surroundings at all times, unless you tell it otherwise.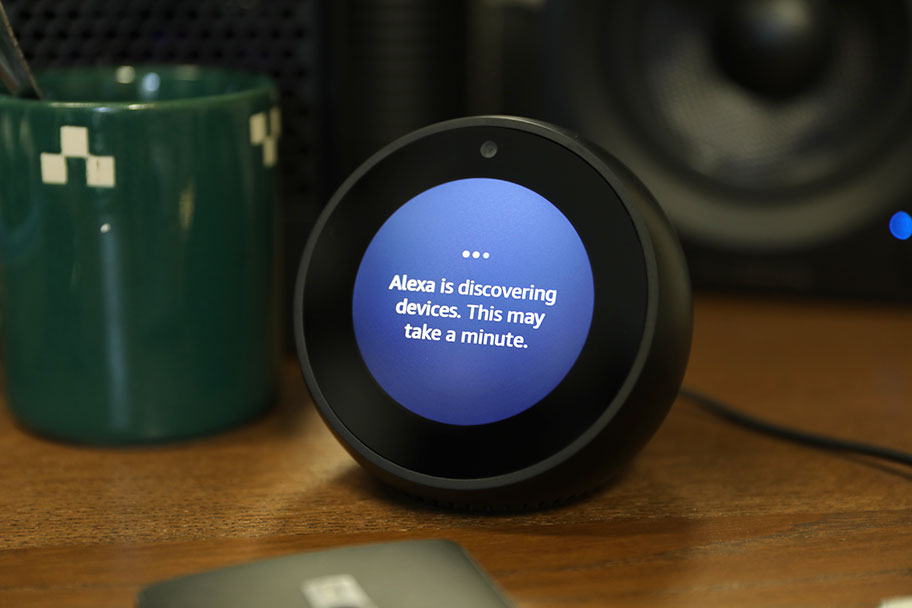 Smart Home Integration
One thing that the Spot couldn't pull off was smart home integration. We live in a house with smart light switches, a Nest thermostat, and a Roomba vacuum cleaner (yes, it's exactly as cool as you think it is). One of the things we wanted to do with our Spot was link it to our home, so that we could control things with our voice. Sadly, we couldn't do it. The Spot just wouldn't detect anything. Normally, we'd say there was an issue with the smart home devices themselves, except for the fact that the Alexa app on our phones picked them up just fine. We still haven't figured out why there was an issue, but it was a serious black mark against the Spot. If you want to integrate voice into your smart home, you may be better off going for something like the newly-released Google Home Hub. This $149 smart speaker is looking to knock off the Echo Spot and the Echo Show, and we'll have a full review soon. Google Assistant has, in our experience, handled smart home integration well. And, at least for now, it's a better option.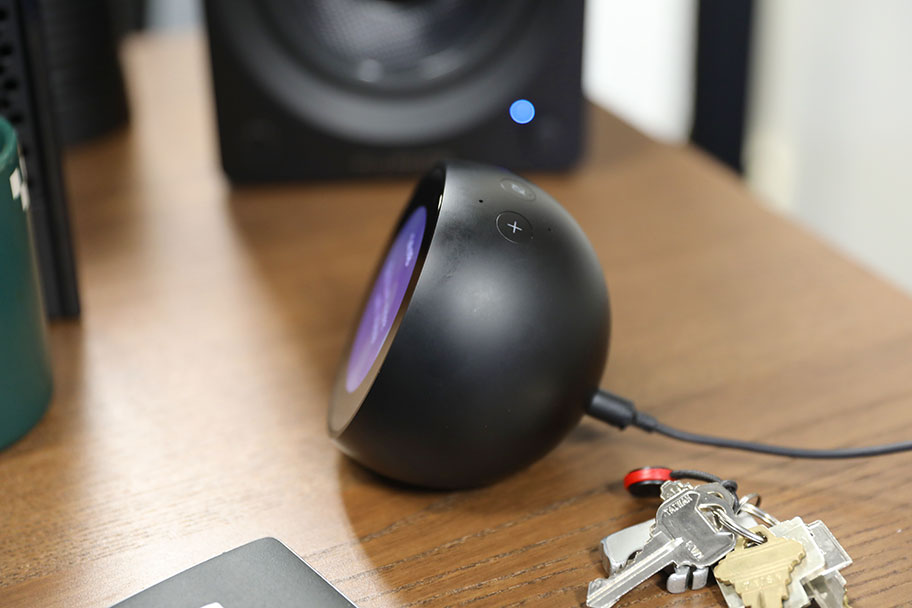 Sound
Music Quality
You don't buy a speaker like the Echo Show for music playback. You just don't. It's not very good at it, and that's not what it's designed for. While it's capable of playing tunes through the speaker drivers on the bottom, you almost don't want it to. The drivers themselves are tiny, and the audio quality they put out is heavily biased towards the mids. That makes sense – it allows Alexa's voice to come through clean and clear – but it's borderline unpleasant to listen to. The bass is downright pathetic, and the highs can often be quite harsh.
Where the speaker excels is if you connect it to a separate wireless speaker, effectively turning it into a smart speaker. You can do this via Bluetooth, or via the 3.5mm aux connection on the rear. For the past few months, we've had the Spot connected to a Kanto Syd (full review here), a $270 wireless speaker that sounds amazing. Adding the Spot to a wireless speaker gives it full smart speaker functionality, and we love it. Being able to search playlists, pause music, and skip tracks with our voice, all while enjoying crystal clear sound, is a joy. This is one of the best ways to use a smart speaker, and we can't recommend it highly enough.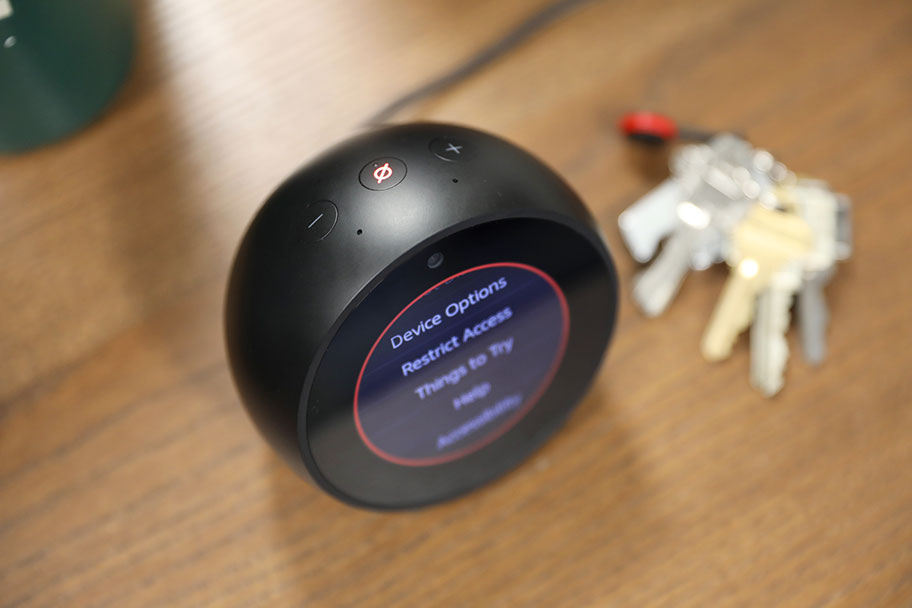 Call Quality and Drop-In
One of the cooler features of the Spot is the ability to make calls. Link it with your contacts list, and you can dial by telling Alexa to call whoever you like. This allows you to make voice calls to anybody over the Internet, and you can also make video calls to anyone with the Alexa app, or an Echo Spot or Show speaker of their own. The feature works seamlessly, and the call quality is good. We found that even when moving around the room, the microphones in the Spot were able to pick us up without any issue. Receiving calls is a little trickier: you can only do it if the person on the other end is calling with the Alexa app (iOS/Android), or an Amazon speaker. It's a slight frustration, but nothing too terrible.
One quite unusual feature is what Amazon calls Drop-In. Once it's set up, you can make a video call from your smartphone to your Spot - or any Spot – that will be automatically answered, allowing your face and voice to be broadcast from the speaker you are calling. On the one hand, this is slightly creepy. On the other, it definitely has its uses. Being able to check up on pets, or on an elderly relative, make it exceedingly useful. Doing it is not as straightforward as making a simple call, but it's a good feature to have, and you can always disable it if you don't like the idea. It's a feature that is unique to Alexa smart speakers, for the time being – you won't find it on other screen-based speakers like the $244 Lenovo Smart Display, which uses Google Assistant.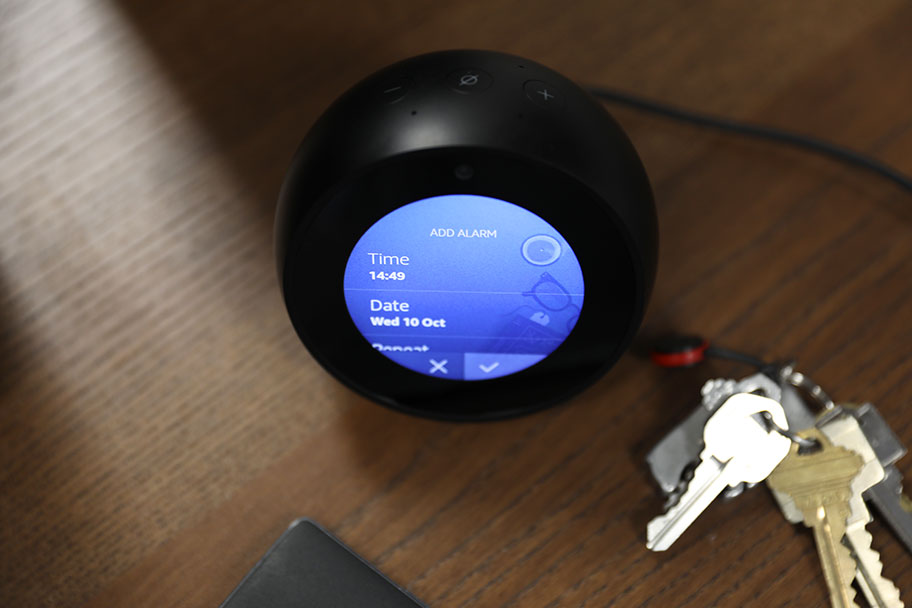 Accessories & Packaging
There are very few accessories included here – just a simple black plug, and power cable, which is fortunately long enough to reach even a distant power outlet. It's not a USB plug, and the wire is permanently attached, but it's small and petite enough not to get in the way. The speaker and the plug are the only things you'll find in the minimalist packaging, which is relatively inoffensive, and can be disposed of straight away.

What We Like
The Amazon Echo Spot has a glorious touchscreen, and a bright, clear display.
The navigation and functionality of the Spot are superb, and very easy-to-use.
The affordable price means you're getting an awful lot for your money.
 
What We Don't
The sound quality of the Echo Spot isn't great - it's much better when used to control a wireless speaker.
We had some issues with smart home functionality, where the Spot wouldn't recognise our devices.
Amazon Alexa is as dumb as rocks, unless you ask things in a very specific way.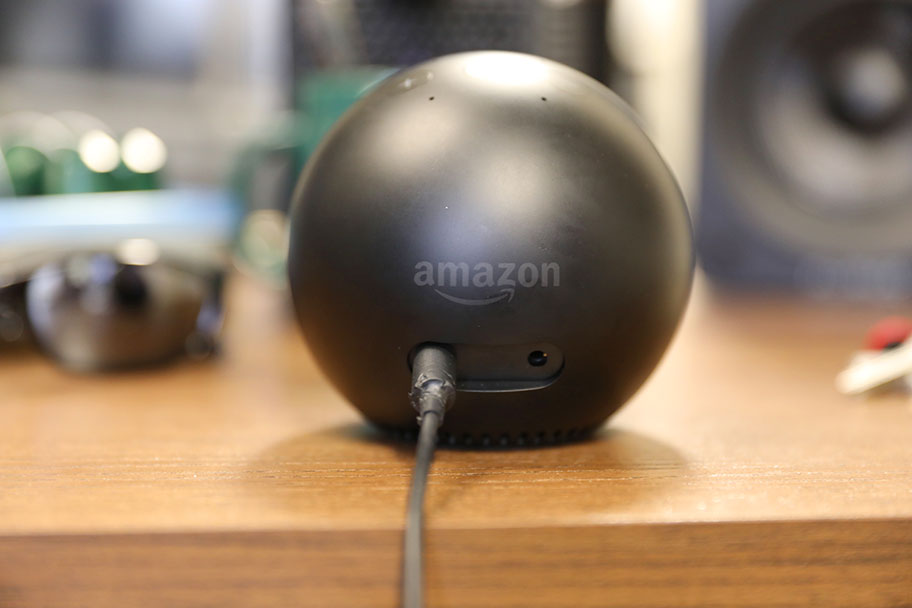 Comparison Table
Want Even More Master Switch? Sign Up For Our Weekly Newsletter!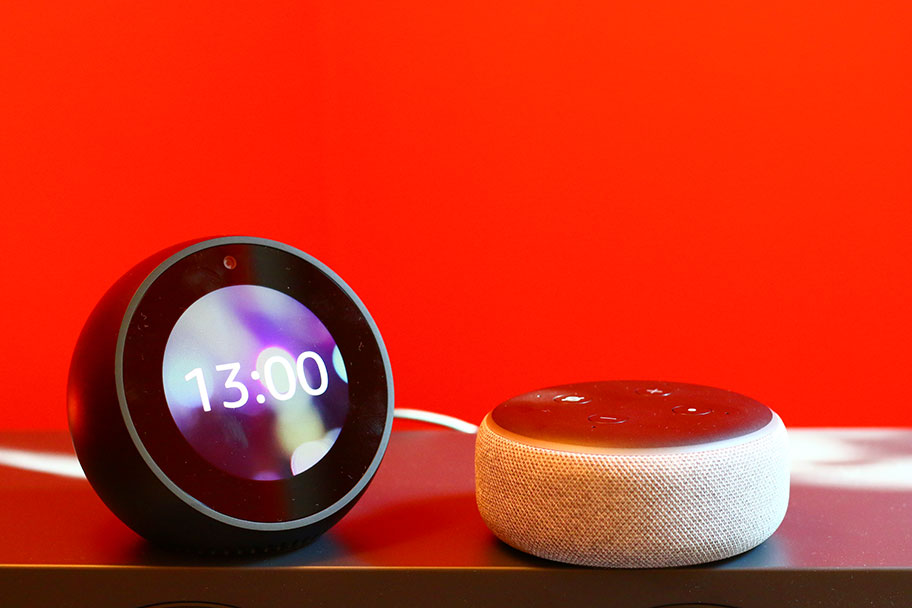 The Competition
The Echo Spot is currently the cheapest smart speaker available that includes a screen. We'll talk about some screen-based alternatives in a moment, but we first want to mention another smart speaker in the same price range – one that functions as a direct competitor to the Spot. The $149 Google Home uses Google Assistant, which we consider the best virtual assistant currently available. If the additional functionality and intelligence appeals to you, then it's more than worth the extra $19. It does have its faults, some of which are shared with the Spot. These include dodgy sound quality (although again, sound quality isn't really the point here). It also doesn't have a screen. For now, we recommend going with the Spot unless you demand the very best from your virtual assistant. The Spot is cheaper, and feels a lot more natural to use thanks to its intuitive menus and great screen.
Amazon currently dominates the smart speaker market, and with good reason. Their newest speaker with the screen is the second generation Echo Show, which costs $230. Very obviously, it can do everything the Spot can do, and more. The larger rectangular screen and advanced sound quality are more geared towards watching movies. This puts it in a slightly different position to the Spot, but you can view this as an alternative to pickup if you know you're going to demand more than just reminders and alarms from your smart speaker.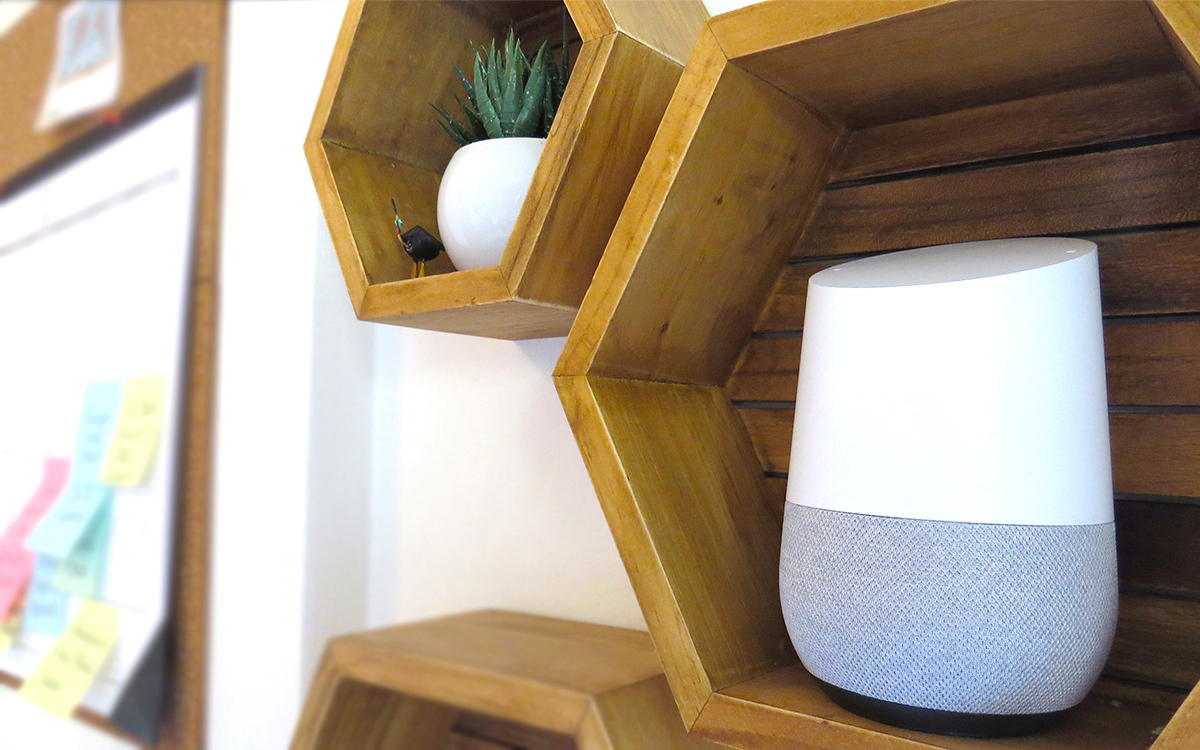 Smart speakers with screens are still relatively rare. The new Google Home Hub has been released, at the time of writing, and we are reluctant to form an opinion about it just yet. But if you're looking for an alternative to either Amazon or Google, try the Lenovo Smart Display. It costs $244, and its Google system functionality means that it can handle just about any request. We think the sound quality isn't as good as it could be for the price – it's only marginally better than the Spot, and still distorts at high volumes. You also can't do things like flip the display vertically, which can be annoying. Still, it's an excellent alternative if the Spot isn't the speaker for you.
One more Amazon speaker – this time, a much cheaper version of the Echo series, which ditches the screen altogether. If all you have is $50, pick up the third generation of the Echo Dot. It no longer looks like a hockey puck, with rounded edges that recall Apple's HomePod smart speaker, and has had a serious upgrade with better audio quality. It's the ideal smart speaker to pick up if you are new to the game, and just want to get your feet wet. While there's no screen, it still functions well as a smart speaker.
Learn More About Speakers