It's hard not to be enamoured with Audioengine. They make some of the most enjoyable speakers available, from the superlative A5+ powered speakers to the thundering S8 subwoofer. And they've really turned heads with the product on the block this week: a pint-size pair of wireless speakers called the HD3s - their attempt to attract previously casual users who want a real upgrade to their audio. In this review, we break down the HD3's sound, design, packaging and accessories, specs and more. To see how it stacks up, see our list of the best wireless and Bluetooth speakers.
 
Sound:
Bluetooth Audio
We were a little worried when he heard that the Audioengine HD3 speakers were Bluetooth-only. Anybody who spends even five seconds on the site will know that we much prefer Wi-Fi, which in our experience gives a more stable signal and a better audio experience. We needn't have worried. Whatever Audioengine have packed inside these tiny cabinets, it results in some truly stellar sound. There were never any Bluetooth dropouts, and pairing them with both our smartphone and our Mac laptop was the work of moments. And unlike so many other Bluetooth devices, there's even a USB connection - so you can take full advantage of the built-in DAC. We'll talk about that a little bit more when we discuss the speakers' inputs below.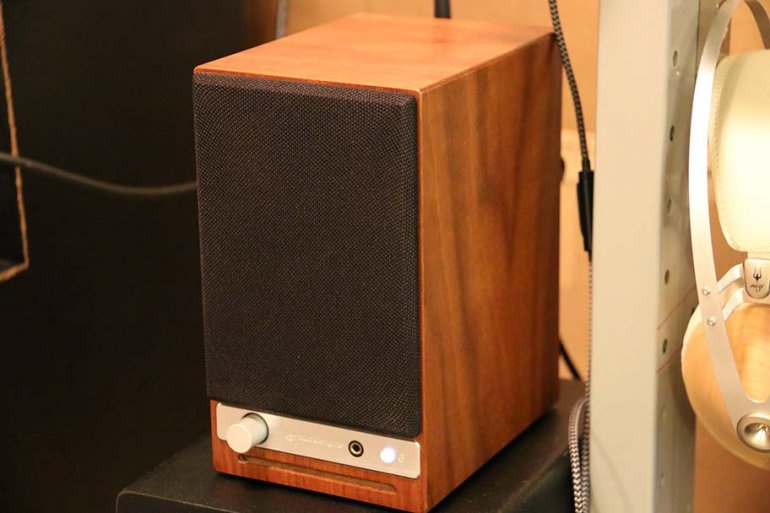 Low-End (Bass)
We were particularly impressed with the bass – despite their tiny size, the HD3s' low-end was rounded and punchy, quick to respond, and immensely satisfying. Although they didn't have quite the shine in the highs that we would have liked, the overall sonic picture was still excellent. We couldn't stop marvelling at how something so tiny could produce sound so good – it puts most other wireless options to shame. It's also worth noting that if the bass reduction switch isn't hit, the HD3s put on a lot of air. You can actually cool your hand down by holding it next to the vent while a bass-heavy track is playing! The first time we encountered it, it was surprising, to say the least. It's not going to move as much air as something with massive bass ports, like the floorstanding SVS Ultra Towers (full review here), but it more than delivers for something this size.
There is, however, one caveat. The sound quality might be impeccable, but the HD3s simply aren't very loud. Even at maximum volume, you'll struggle to fill anything larger than a medium-sized room. Again, that's not necessarily an issue, as these are clearly designed for small offices and other, similar spaces. But if you're looking for something to really pound out the noise, you might be best off looking elsewhere.
 
High-End (Treble) and Midrange
We tested the speakers over the period of a month, trying a variety of genres on them almost daily. As we got deeper into the sound, we found ourselves enthralled with the warm mids as well as the bass, and just how polished everything sounded. That included the highs, which felt clear and detailed. They weren't going to match the level of precision put out by some of the company's more expensive speakers, like the wireless HD6, but that the speakers also costs $300 more, at $699, so we can't hold it against the HD3s. Undoubtedly, the wires connecting the speakers (as opposed to a Bluetooth connection) make a real difference here. We also didn't notice any real difference when using the headphone jack in the front, or the USB or RCAs. Throughout it all, the HD3s didn't falter.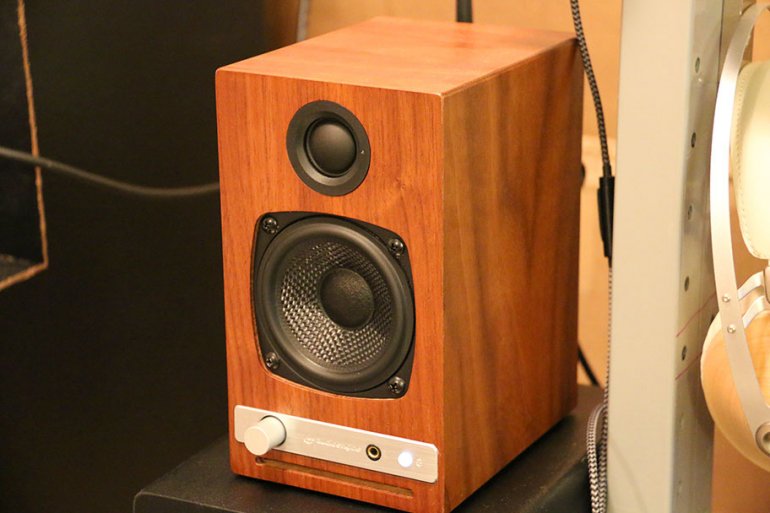 Design:
Looks and Build Quality
In terms of the actual speakers themselves, it's hard to give anything but top marks. They look and feel fantastic. The two separate cabinets, each approximately seven inches tall, were finished in smooth, brown walnut (satin-black and cherry-red options are also available). Contrast this to one of the direct competitors for the speakers, the Edifier S1000DB; while they are slightly cheaper, at $350, they have a plastic front that doesn't look nearly as good. And the HD3s were nicely matched, with a brushed metal panel on the front above a small vent - the master speaker containing an on switch/volume knob, Bluetooth light and headphone jack on the panel. They immediately set themselves apart as being well designed with the speaker grilles: magnetically-attached, they separate from the cabinets with the merest tug, revealing a 2.75" woofer and a 0.75" tweeter. The speakers are designed to be unobtrusive, and are best used as part of a desktop setup. They are light and slim enough to put just about anywhere, and could become doubly stashed below a monitor or on either side of a laptop.
 
Inputs and Outputs
Pairing with a Bluetooth device is as simple as it gets, and the signal was never anything but strong and solid. Once the initial pairing was complete (a matter of moments) the light glowed yellow, and we were away. With the speakers turned on – achieved by simply turning up the volume knob – Bluetooth connection was almost instant. We tested it with multiple devices, and it got absolutely top marks. Outside of that, the master speaker has a screw-on antenna, USB input, a very subtle, almost invisible bass reduction switch, and a pair of RCA inputs and outputs. The array of options is pleasing, showing that the speakers are capable of slotting into just about any setup. And if you can get past the quirks of the wiring, you'll find that these are a pair of superbly-designed speakers that will fit naturally into your office or home environment.
Things get a little trickier when you flip to the back end. For speakers that advertise themselves as wireless, they sure do have some seriously chunky wires back there. Not only does the power cable use a brick, but the speakers themselves don't communicate via Bluetooth, relying instead on a thick, tough set of speaker cables. This isn't a problem in and of itself; once you've set everything up and got the position you want, you can more or less forget about it, as we did.  And if we're being totally fair, it's something that many other Bluetooth speakers have in common: just look at the Kanto YU4, which also require speaker wire for a connection. If you're interested in those, they are about $100 cheaper than the HD3s, at $300.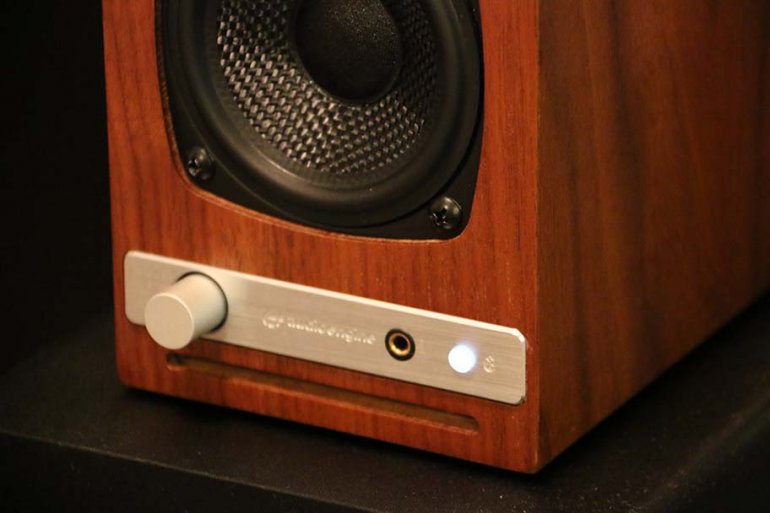 Accessories & Packaging:
The box the HD3s common isn't really worth commenting on: it's simple, and gets the job done. However, you get a surprising number of accessories, all of which work well, and which we had no complaints about. The most obvious of these are twin grilles which snap onto the speakers magnetically; we preferred to leave them off, but re-attaching them if we needed to was dead simple. There's also a pair of canvas cloth bags included, which is nice, if a little superfluous – you aren't, after all, going to be taking these to the beach. Beyond that, you get 6.5' of speaker wire, meaning that you can place the speakers a reasonable distance apart.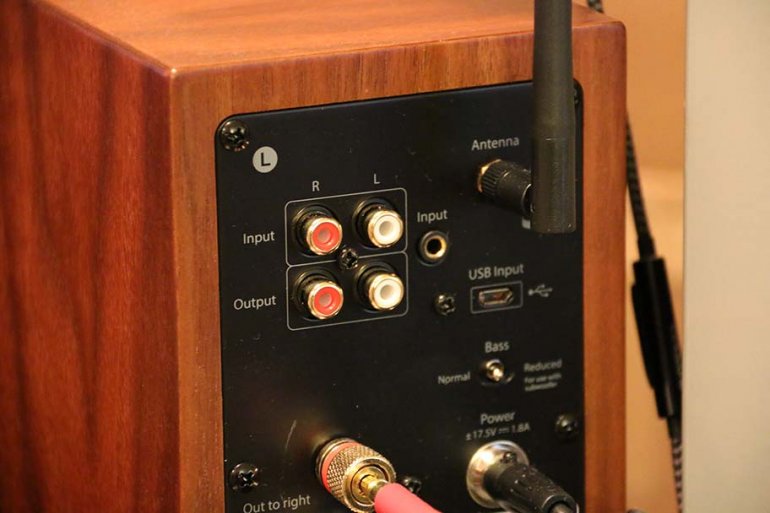 What We Like:
The sound of the HD3s is extraordinary, especially given their size.
At $399, they offer a very cost-effective way to experience excellent Bluetooth sound.
​The design and wood finish are superb, and look really good compared to other, similar speakers.
 
What We Don't:
The HD3s do not get very loud, and are unsuitable for bigger spaces.
They do not rely on Wi-Fi, which we think offers improved sound quality.
​There is still a wired connection between the speakers.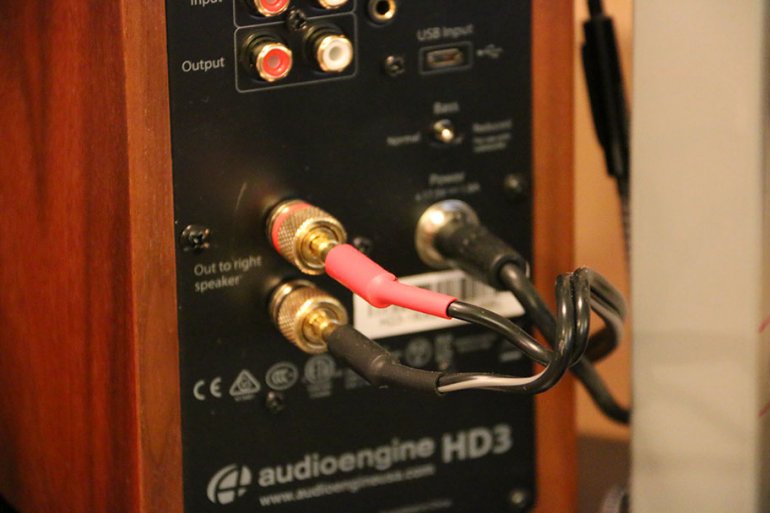 Comparison Table:
| Speaker | Price | Weight | Dimensions | Drivers | Wireless | DAC |
| --- | --- | --- | --- | --- | --- | --- |
| Audioengine HD3 | $399 | 7.4lbs | 7" x 5.5" x 4.25" | 2.75", 0.75" | Bluetooth | Yes |
| Edifier S1000DB | $350 | 18lbs | 13.5" x 11" x 8" | 5.5", 1" | Bluetooth | Yes |
| Kanto YU4 | $300 | 13.2lbs | 8.7" x 7.5" x 5.5" | 4", 1" | Bluetooth | Yes |
| Audioengine A2+ | $249 | 6.6lbs | 6" x 5.2" x 4" | 2.75", 0.75" | N/A | Yes |
| KEF LS50 Wireless | $2,200 | 22lbs | 12.1" x 11.8" x 7.9" | 5.25" | Bluetooth | Yes |
Want Even More Master Switch? Sign Up For Our Weekly Newsletter!
 
The Competition:
Is actually quite rare to find stereo Bluetooth speakers – i.e. ones which have two distinct speakers, as opposed to a single unit – in this price range. You're more likely to find a self-contained box system. But there are a few, and one of them is the excellent Edifier S1000DB. They cost less than the $399 HD3s, at $350 - though they aren't as nice to look at - and do an excellent job with the audio quality. They share many similarities to the HD3s, including total power output (60 watts per channel) but you do get a remote. Ultimately, you'll be satisfied with either, and these are a viable alternative if you want to spend a little bit less.
We've already mentioned the Kanto YU4, which retails for around $100 less than the HD3s. They are a little bit old now, and we don't think they are nearly as good as the HD3s. But they are still an excellent desktop system, and provide very pleasing sound quality. There's not a huge amount to differentiate them from their bigger brothers. So, think of them as a low-cost alternative for when you want to spend under $300.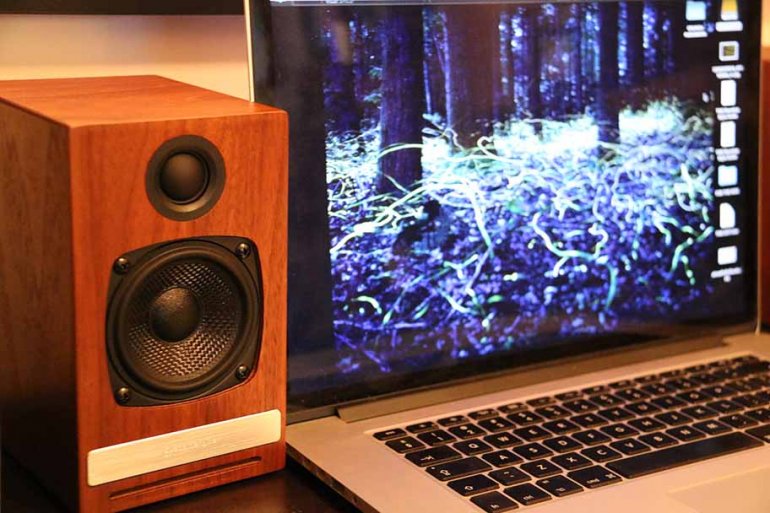 It's also worth comparing the HD3s to at least one other model from the same manufacturer. We're going to go for the Audioengine A2+. Now, these are not Bluetooth speakers, but they share so much DNA with the HD3s that it's very easy to compare them. They offer virtually identical sound quality, at a much more attractive price ($249), making them ideal if you want to set up a desktop system that's fully wired. And to be honest, almost all of the company's speakers are worth a look - there are even more powerful options if you need them.
One last alternatice – and these are only for mad people. If you want the most powerful stereo Bluetooth speakers on the market, then pull out your cheque book and invest in a pair of KEF LS50 Wireless. The price? A mere $2,200. Pocket change for a person of your wealth and taste. And oh goodness, the sound. It's actually quite extraordinary how good it can get when you consider that there are no wires involved. Very obviously, these aren't a direct comparison to the HD3s, but we wanted to include them anyway.
Learn More About Hi-Fi Audio