Headphone amps, for the most part, break down into two categories: ones that you plug in and forget about, and ones that invite you to tinker - messing with the settings, switching out various bits, and generally getting your hands dirty. Both are great; each offer unique experiences. But what would happen if you tried to combine them? That's what the Burson PLAY wants to do. In this review, we break down the PLAY's sound, design, packaging and accessories, specs and more. To see how it stacks up, see our list of the best headphone amps.
 
Sound:
Customization and Op-Amp Swapping
Burson Audio, an Australian company, is known for making some pretty sweet amps. Their Soloist and Conductor remain two of the best headphone amps ever made. But, with the PLAY headphone amp, they're trying something…a little different. See, if all you want is a way to boost the power of your headphones and improve your sound, you need do nothing but plug the PLAY in, and switch on. Your experience – as we'll describe in a moment – will be excellent. But, if you're the kind of person who enjoys tinkering with your audio quality, then all you need to do is pull off the lid, and get cracking.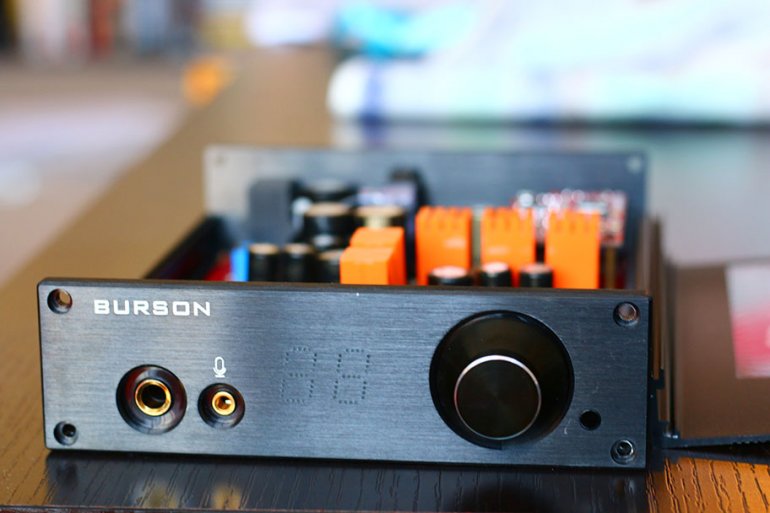 Burson actually supply a small screwdriver for this. Just undo the screws on the front panel, pull the lid off, and you'll get access to the internal circuit board, where you can switch out some of the op-amps for ones of your choosing. An op-amp, if you didn't know, is an electrical component that takes the difference between two signals and amplifies it, all while looking like an office building for ants. Swapping them out is an excellent way to alter the sound of a particular amplifier. If you're into tube rolling – meaning you like to swap out the vacuum tubes on your amps to alter the bass quality – then this task is right up your alley. But the brilliance of the PLAY is that, if you aren't interested in tinkering, you don't have to. You can, quite happily, use the PLAY without even thinking about customization. It's as simple or as complicated as you want it to be. This is one hell of a neat trick, and is something we think very highly of on the site.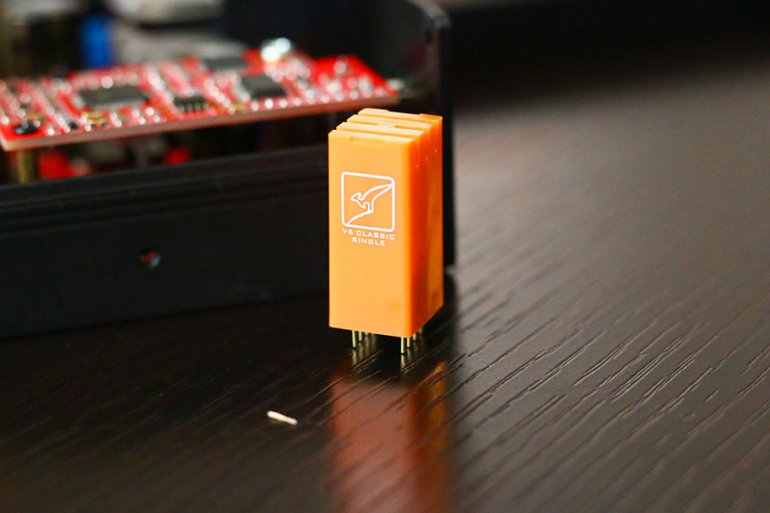 We also need to to tip a hat to Burson here – after all, it's not often that we get sent two different versions of the same product to test. We had two versions of the $549 model, one with the orange V6 Classic Op-Amps, and one with the V6 Dual op-amps. We'll go into the actual ins and outs of swapping op-amps when we talk about the design of the amp, below, but we definitely had enough to compare the different sound styles. With the stock op-amps - the Classics - the sound was very good indeed. While we did find ourselves wanting a touch more dominant bass response, the low-end itself felt clear and tight. And the other elements of the sound seriously impressed us. The mids felt warm and engaging, with just the right amount of smoothness on the vocals, while there was an adequate level of detail in the highs, which felt precise and clean. The sound didn't blow us away in the same way that the Schiit Magni 3 (full review) did, but it certainly didn't take anything off the table - bass response aside. For the most part, it offered an enjoyable and elegant sound signature.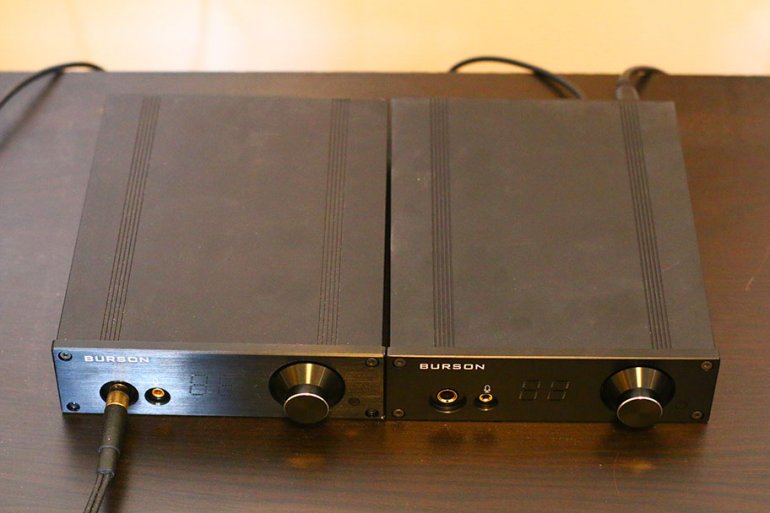 Fortunately, bass response was dealt with the moment we started using the second lap – the one with the V6 Dual op-amps. We vastly preferred this particular sound, which had a richness and depth to the bass that we found addictive. The music we listened to had a dynamism and excitement that put the Classic op-amps in the shade. Both were very good, but the second one put us in mind of one of our favorite amps, the Linear Tube Audio MZ2-S (full review here). Given that that amp costs around $1,235 – over double the price of the most expensive PLAY – it's a serious accolade. And again: you don't have to swap out the op-amps at all, if you don't feel like it. You can simply use this as a plug-and-play headphone amp. We often did.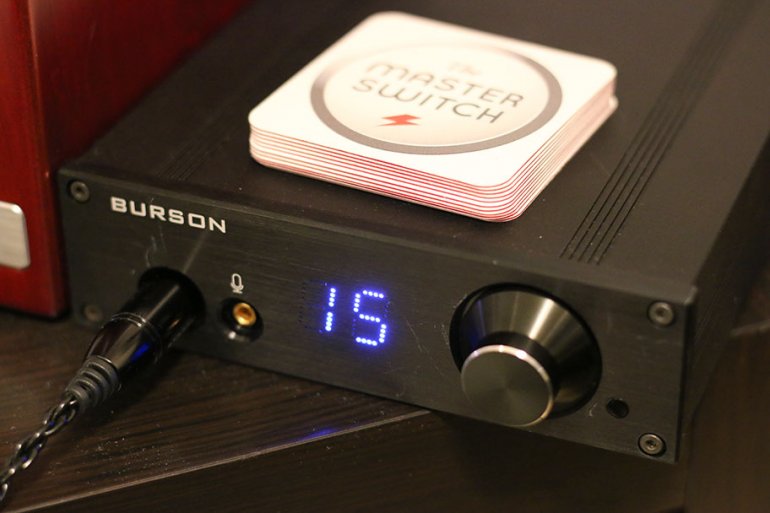 Power
It must be said that the amplifier is also quite flattering with decent headphones. Connect a mid-range model to it and you'll still get excellent sound. However, once you get into levels like planar magnetic headphones, or anything above the $800 mark, it really starts to sing. This amplifier has a knack for bringing out the best in a pair of headphones. When paired to the AUDEZE LCD2C (full review), both amp and headphones combined beautifully, providing an incredible audio experience.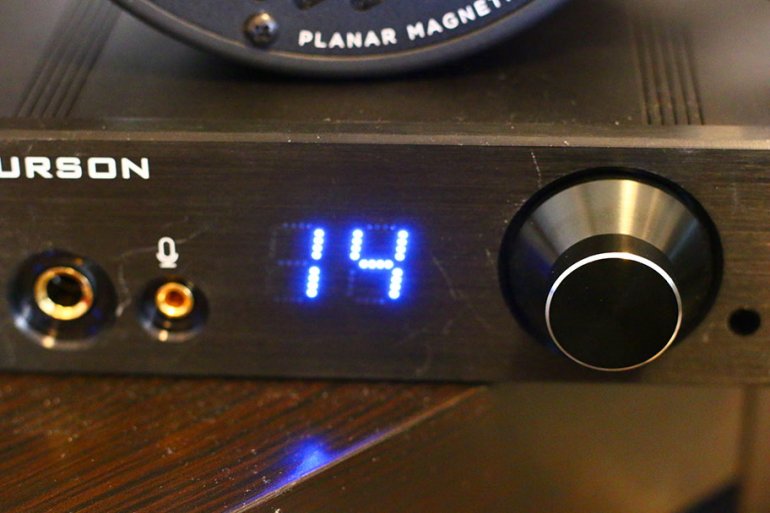 It helps that the amplifier has a very solid level of power. The PLAY outputs one watt into 32 ohms - more than enough to run all but the most power hungry headphones. In most of the PLAY's press photos, the digital volume display is shown turned up to 89 – we find that absurd, since we couldn't get even remotely close to that. The highest volume we managed, even on high-impedance headphones like the 250 ohm Beyerdynamic Amiron Home (full review), was roughly 16. In other words, we never had an issue getting a decent volume, and we think you'd have to work hard to have this problem. Many amps that look good, or have satisfying functionality, are often middling in the sound department. That's not the case here. While we still prefer the Magni 3, which offers so much for little outlay, this is an easy second.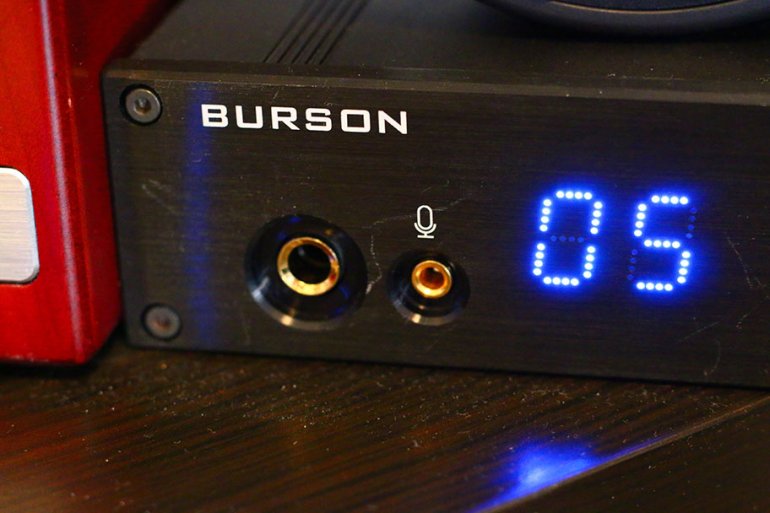 Design:
Looks and Build Quality
Say what you like about the quality of the Soloist, but it looked a bit boring. The boxy frame and dull front-end did nothing to catch the eye as it passed across. The PLAY doesn't completely get rid of that problem - it's still, at heart, just a box - but there have been some major improvements to the front end. The most obvious one is a slick digital volume display. It's clear, easy to read, and looks terrific. It's partnered by a smooth volume knob, as well as a mic input, and a 6.3mm headphone port - all of which are embedded in brushed black metal. It's a big step up, in terms of aesthetics. It's never going to beat the sheer class of something like the Woo Audio WA7, with its glowing tubes and glass blocks, but that particular amp costs $1,000 - far more than even the most expensive PLAY model. (It's worth noting that the second amp we were sent with a slightly newer model, with a subtly-different front-end.)
One of the amp's very few downsides comes in swapping out those op amps. On the surface, the procedure is easy – just pull out the old ones and insert the new – but is surprisingly complex once you get down to it. The op amps have to be seated in a particular direction, and it is often quite hard to initially tell if you've inserted them correctly. The only way to tell that things are fine is to complete the circuit, and try and listen to something. We had a couple of instances where we had issues with this - so, it's definitely something to bear in mind. The customization aspect of the amp is also reflected in the price, ranging from $299 to $549. Don't need ultra-high-level op-amps and the included remote? Go for the $299 version. Want to mess around with the V6 Classic op amps, and are prepared to pay a bit more? You can. For an amp as good as this to sell for $299 is criminal.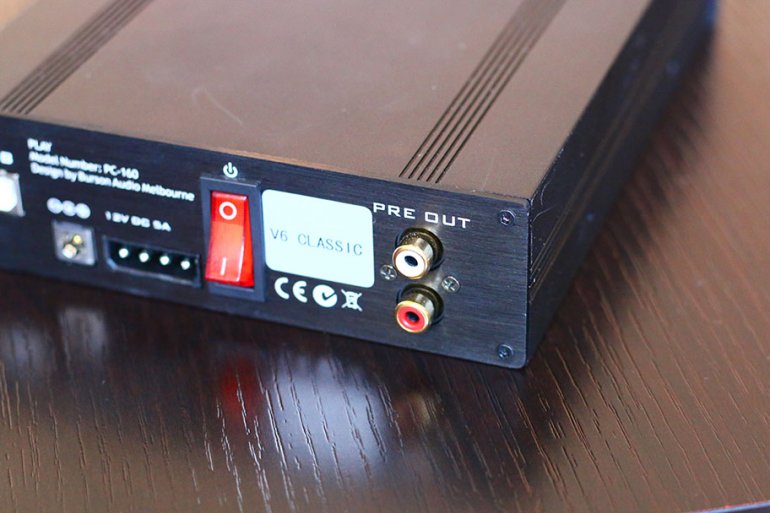 Inputs and Outputs
Around the back, you've got a USB input, as well as an RCA pre out - if you wish to use the PLAY as a preamp. The included digital-to-analog converter - a SABRE32/ESS9018 chip, if you're keeping score - does a fine job. That being said, another of the (very minor) issues that we had with this particular amplifier was that we couldn't use an external DAC. It would have been great fun to insert a Chord Hugo 2 into the chain, and see how well they played together. It's not a dealbreaker, but it's worth bearing in mind that you can't use an external DAC with this particular amp.
 
Use in PC Gaming
There are some other cool features too. If you're a PC gamer, the PLAY is just the right size to slot into your tower, meaning you can get an instant boost in your headphone sound, and the included mic input makes it easy to connect a gaming microphone. That's not a feature we see very often, and we even believe this might be the first amplifier designed to move between a basic listening setup and PC gaming. Unfortunately, this is an aspect we didn't get to test; we don't have a PC gaming tower, and our gaming writer is all the way over in the UK. However, we can't imagine there being any serious issues, given the amp's record so far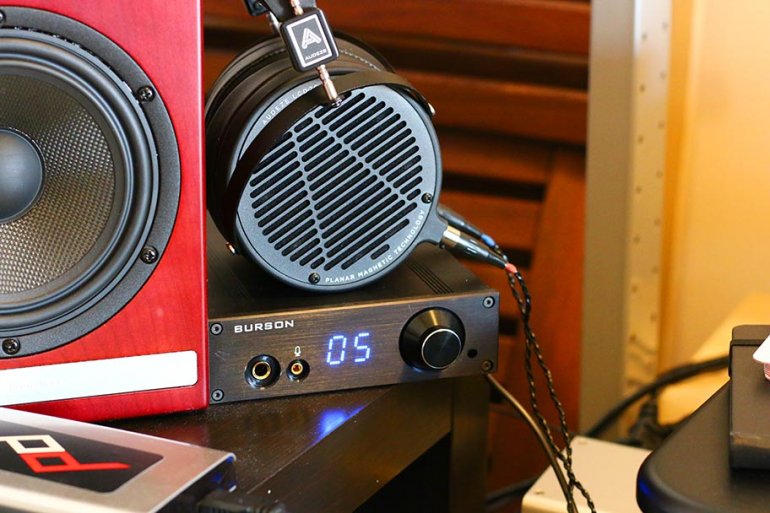 Accessories & Packaging:
Whether you want to just listen, or do a deep dive into amp customization, Burson provides you with all the accessories you need. Alongside the standard power cable and USB connector, you also get two cool RCA cables – we never thought we'd call an RCA cable cool, but these manage it, with futuristic-looking connectors from Pailiccs. Plus, you get all the accessories you could need if you wanted to connect the amp to a computer tower, including an 8-pin USB-to-motherboard connector, and a PC slot insert (hilariously identified as a "PC slot insect" in a typo in the manual; now that's an accessory we'd like to see. You get a 6.3mm headphone adapter, four stick-on rubber feet, a miniature Allen key screwdriver for when you want to go op-amping, and even spare screws in case yours go walkies. Although the models themselves don't come with separate op-amps, you can buy them very easily – although we do think they are quite expensive as they stand.
Several of the purchase options also come with a remote control, which we really like. It's a thin little chocolate bar of black metal. While it doesn't have an off/on switch – a puzzling oversight – the clicky silver buttons do let you raise and lower the volume, as well as mute the amp (which you can also do by pressing the volume knob). The remote fits nicely in the hand and looks terrific. Though it's not strictly needed to operate the amp, and you can always save a bit of money by going for an option without, it's great to have around. It reminds us of the remote that came with the Sony TA-ZH1ES (full review) – given that the Sony costs over four times as much as a $549 PLAY, that is quite something. Packaging is decent as well: a stylish black box, inside of which you'll find intelligently-arranged compartments storing all the accessories, with the amp in the middle.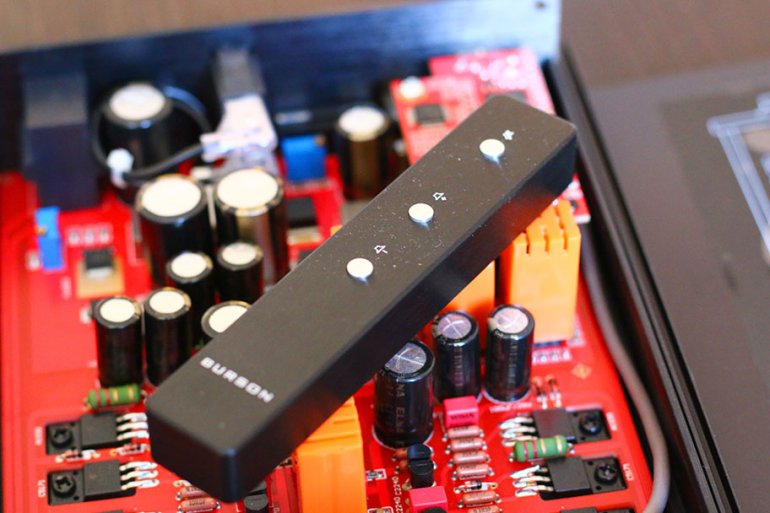 What We Like:
The Burson Audio PLAY As one of the best headphone amps we've ever heard, and offers tremendous value.
The op-amp rolling is simple and effective, and as complicated as you need it to be.
​The sound quality is fantastic, especially with the upgraded op-amps, which deliver rich and powerful bass.
 
What We Don't:
We had some minor issues switching out the op-amps – the process was easy, but surprisingly finicky.
The op amps, when purchased by themselves, are quite expensive.
​You can't use an external DAC with the PLAY, which is slightly frustrating.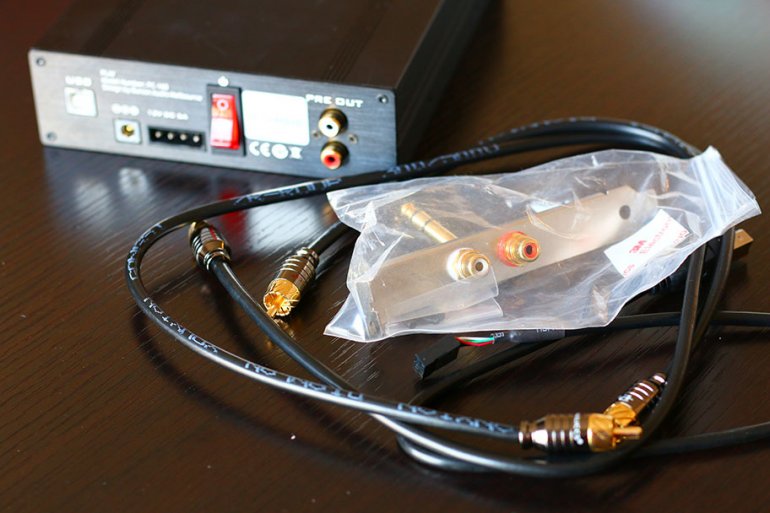 Comparison Table:
*DAC = Digital-to-Analogue Converter
**RHI = Recommended Headphone Impedance
***WPC = Watts Per Channel
Want Even More Master Switch? Sign Up For Our Weekly Newsletter!
 
The Competition:
The only amp right now that we consider better than the Burson Play - in the sub-$1,000 range - is the Schiit Magni 3. What you don't get when you buy this: the ability to switch out the internals; the ability to slot it into a PC rack; the included mic input; or a DAC. What you do get when you buy this: the best headphone amp available. Hands down. It's a $99 wonder that can power anything, has breathtaking sound, gorgeous industrial design, and is a total joy to use. The Burson has more specific uses, but, for a general audience, this is the clear winner.
Got a little bit more money to spend? Want to customise your sound, and get something really beautiful? You need the glass-topped Woo Audio WA7 - nicknamed 'Fireflies.' You'll understand why when you operate this thing in the dark. It's the perfect upgrade, if you want to splurge a little bit more, and is renowned as one of the best headphone amps of all time. It has a smooth, detailed audio character, and is pretty versatile, too. You'll get it for $999, around twice the price of a base PLAY.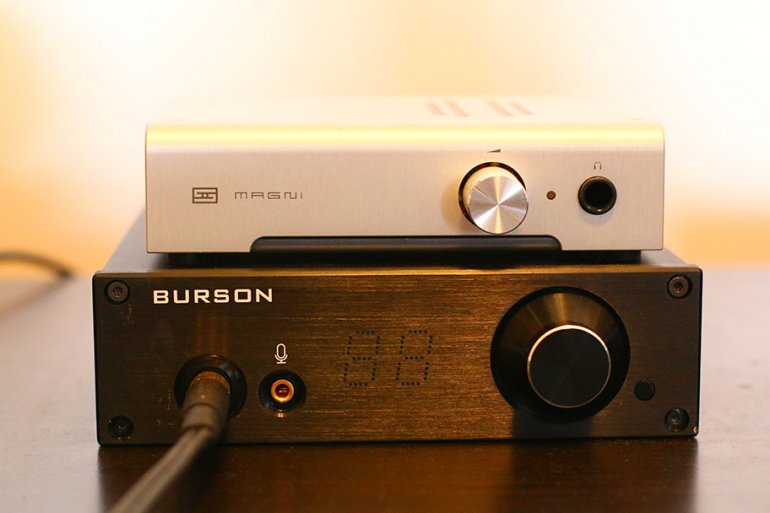 The JDS Labs The Element is another great desktop amp, midway in price between the Magni 3 and the PLAY. It's very simple to use, and its oversized volume knob feels great. The sound quality is solid, although, not quite as refined as other models. When it comes to amp/DAC combos, it still ranks as one of the best available, and is a stunning flagship model from a company that we expect big things from in the future. The Element is $349, making it comparable to a mid-range PLAY option.
Burson make several amps – and one, the Soloist, is among our favorites. But it's quite old, and we think the PLAY is even better. So, let's have some fun. If you had $1,000 to spend, and you wanted to experience the Burson sound, then we'd steer you in the direction of the Conductor V2+. It's an amp/DAC combination that definitely gave some of its DNA to the PLAY, and which sounds absolutely terrific. We do prefer the WA7, above, but we've got a real soft spot for this particular amp.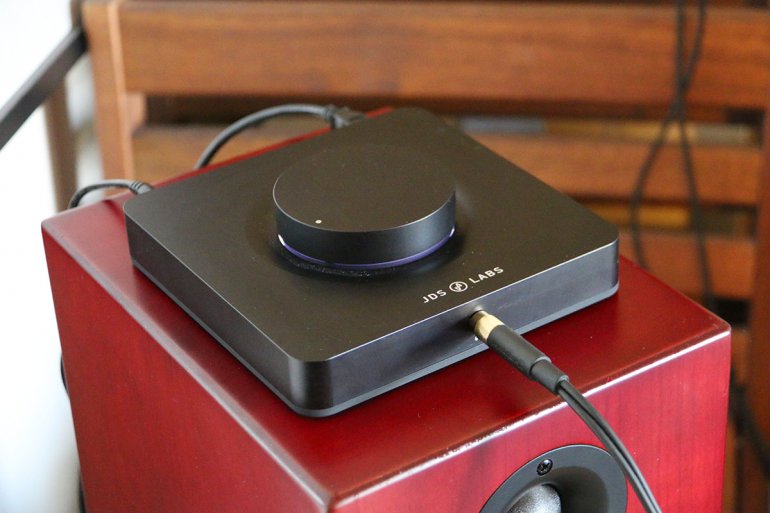 Back to the PLAY. It doesn't quite score an Editor's Choice award – that's reserved for amplifiers that really blow our mind in every aspect and are near perfect – but it's easily top five among those currently available. What we loved most about the amp was that it walks the very tricky line between audiophile and beginner; between those who demand the best, and those who just want something fun to listen to. It achieves this in a way that's clever and fun, and never feels like it's excluding those who don't have the requisite knowledge. The amp is perfectly priced, and gives you enough options to spend as much or as little as you like. In the sub-$1,000 range, very few amps offer this level of value, or give you this much to play with. The PLAY takes everything we loved about the Soloist, ditches the things we didn't, and adds new wrinkles for tinkering. It might not be the perfect amp, but it's pretty damn close.
Learn More About Personal Audio