Good:
Great sound, easy to use
Bad:
You lose in-line control, bass boost feels tacked-on
Best For:
Smartphone listeners, and those who enjoy DJ mixes or podcasts

Portable amps are tricky little things. While they unquestionably make your sound better, they don't have the luxuries that desktop models do. They can't be heavy, or feature cool-looking tubes, or have loads of connections. They have to be discrete, easy-to-manage, and useable by just about anyone. It's a very tricky balancing act to pull off.
FiiO, a Chinese audio company with a very solid pedigree, is just the kind of outfit to tackle this. Hot on the heels of their hip-flask-shaped Fiio A3 comes the Fiio A5, a blocky, rectangular amplifier that the company claims "strives for perfection."
It doesn't quite get there. But that doesn't stop this amp from being an impressive addition to your audio arsenal, and something that will kick your phone's sound quality into the upper stratosphere.

Design
Good
For any headphone amp in this particular area to have to work, it has to be unobtrusive. At the minimum, it needs to be roughly the same size as a smartphone, able to slide into a pocket or bag with minimal issues. Fortunately, that's no problem here - and thanks to some clever design features, it's easy to forget you've got this bad boy on you.
The A5 is a rectangular block of sandblasted aluminum, with a reassuringly compact size: 4.9" long, 2.6" wide, 0.5" deep. That's about the size of a smartphone, albeit perhaps a little deeper, and while it feels hefty it only weighs around 6oz. FiiO has obviously putting a lot of work into making the A5 as easy to carry around as possible, and it endeared it to us immediately.
Connecting to your phone and headphones is clever, too. The top of the unit has two clearly-marked 3.5mm ports - one for your cans, the other to go directly to your player. The latter is accomplished by the unique connector FiiO includes: a u-shaped double-ended 3.5mm jack, maybe an inch long, that allows you to sit the amp flat against the back of your phone while it's connected. To stop them sliding around in your pocket, the company also throws in a couple of tough black elastic bands, designed to lock the two together.
For the most part, this works well, and we only had a few instances where the phone and the amp bounced off one another. It's not the most elegant setup in the world, but it gets the job done.
The rest of the design is robust and straightforward. The volume knob - a genuinely cool threaded cylinder with a red accent - acts as a power button, and is simple to operate even in a pocket. There's a high/low gain switch, allowing the unit to operate just about any type of headphones - something helped along by the fact that it accepts cans with anything from 16 to 300 ohms - and along one side is a bass boost switch. Both switches are chunky, and unlikely to be hit in error.
Next to the bass switch is a micro-USB charging port, and two lights on the top flat side indicate charging and battery levels. The design is as simple as it gets, and you won't need a manual of any kind to figure it out - this is plug-and-play of the best kind, something that can be in full use within moments of having it out of the box.
Battery life was solid. Charging took around three hours, and we squeezed eleven hours of life out of this at 75% volume. It also works extremely well as a simple desktop amp, although it does need be pared with a separate DAC - this isn't like the company's E17K Alpen 2, which packs a full converter into it.
Bad
There are, however, some compromises FiiO has had to make. By using the amp, you're sacrificing any control you've got with your in-line microphone on your chosen cans. The controls can communicate with your Android or iPhone, but they can't do so through the amp. It would be wrong to expect otherwise - implementing this would require some expensive circuitry, possibly adding to weight as well - but it does mean that if you like keeping your phone in your pocket and never pulling it out, ever, then you're going to struggle with this one.
There's also a chance that you'll find the volume knob sitting below the top of your phone, meaning that finding it can be a pain. Again, not a dealbreaker, but worth bearing in mind.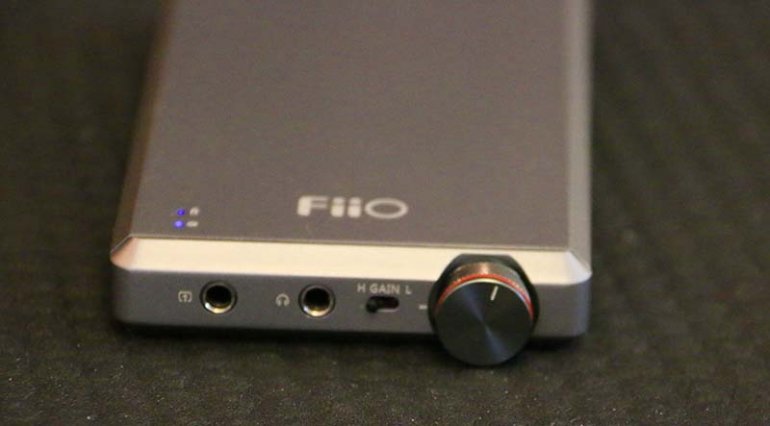 Sound
Good
FiiO take a lot of care to get the sound right. Sometimes, that can hurt them, as it did with the X1 player, which sounded unreal but which gave us grey hairs trying to operate. That's not the case here - FiiO matches the A5's superb design with some truly jaw-dropping sound.
Any amp, even a cheap one, is going to improve the sound. But the A5 goes way, way beyond the level we'd normally expect. It delivers effortless audio that sounds extremely clean and neutral, showcasing the best your music has to offer without getting in the way. Even when using the high gain switch, there's almost no distortion, which is just extraordinary.
We tried the A5 on a variety of combinations, including smartphones, desktop setups, and varying headphones. It never faltered. Like the X1, its audio quality impressed regardless of genre or style, with a delicious top end and rounded, powerful mids.
FiiO achieves this through some excellent internal circuitry. Not only do they rely on an excellent opamp (an operational amp - explaining the ins and outs of this is quite technical, but there's a good explanation here), but they also use a high-quality power supply to deliver a very low noise floor. It works, and it works really well. And if you pair it with a dedicated player, like the aforementioned X1, it'll just sing.
Bad
We're always a little wary of bass boost functions on hardware. Usually, they're there to disguise problems with the equipment. While that isn't the case here - the bass boost is both transparent and enjoyable - we did find ourselves relying on it a little more often than we'd like. It would have been nice to have a decent level of low-end built into the base sound, rather than having to constantly toggle the boost switch. It's a minor point, though.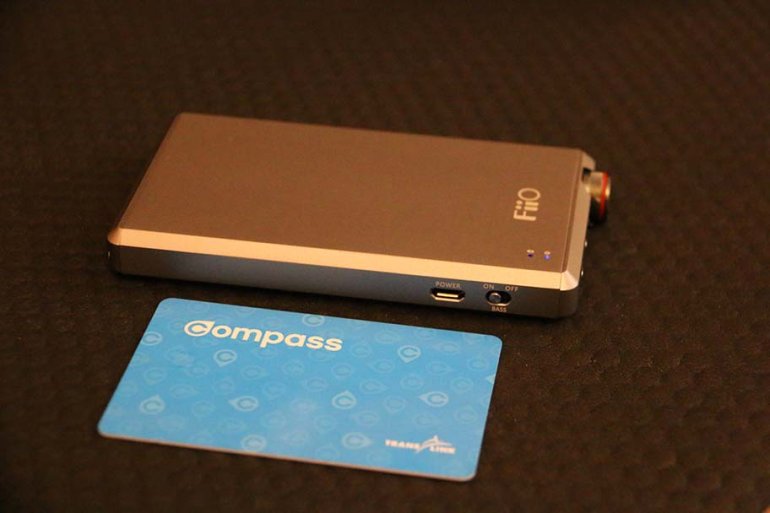 Should You Buy It?
If you're the type of person who continually removes your phone from your pocket, probably not. It'll get in the way, despite its excellent design. But if you're the kind of person who enjoys things like DJ mixes or podcasts, or aren't too fussed about leaving your phone in a bag or purse, then hell yes. Hell yes. The excellent sound quality and instant, crisp boost to your music will be well worth it, and at this price - $130 on Amazon - it's almost a no brainer.
Despite a couple of minor hiccups, the A5 is a genuinely wonderful little amp - one we had a lot of fun using. This comes highly recommended.
Alternatives
It's not going to work with smartphones, but the D3 is an excellent desktop system, with a simple USB plug-and-play setup. A deep bass signature makes it a must-buy for low-end lovers.
This is what you go for if you're prepared to sacrifice audio quality for battery life. For while the NX1's sound isn't a patch on the A5's, it lasts an incredibly long time - up to twenty hours - and is still highly portable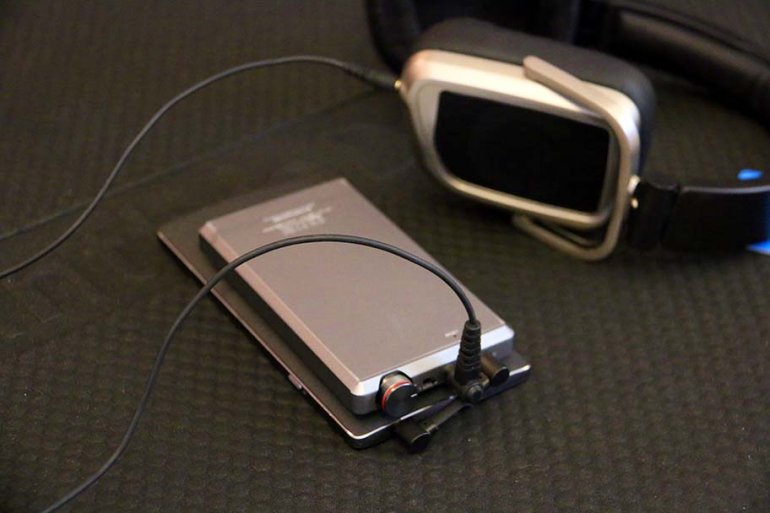 Specs Table
| Amp | Price | Weight | Dimensions | RHI* | WPC** | DAC |
| --- | --- | --- | --- | --- | --- | --- |
| Fiio A5 | $130 | 6oz | 4.9" x 2.6" x 0.5" | 16-300Ω | 0.8W/32Ω | No |
| AudioEngine D3 | $149 | 2oz | 2.5" x 0.75" x 0.375" | 10-10KΩ | Unknown | Yes |
| Topping NX1 | $37 | 3.3oz | 3.5" x 2.3" x 0.5" | 16-300Ω | 1W/32Ω | Yes |
*RHI - Recommended Headphone Impedance
**WPC - Watts Per Channel

Video Review