If you ever buy the Jaybird Freedom Wireless earbuds, here's a little tip. Make sure you have a couple of bowls handy. Better yet, a couple of small Tupperwares with sealable lids. The sheer number of foam tips, rubber tips, pliable fins, shirt clips and adjustable doodads that Jaybird have packed into the carry case can be utterly bewildering, and if you're a little too hasty with opening the plastic bags, you'll have foam eartips flying around your ears and vanishing under furniture.
This sounds like a bad thing. It is, but only if you're not prepared for it. And the upside is, with so many options for fitting the Freedoms in your ears, you're almost certain to get a comfortable fit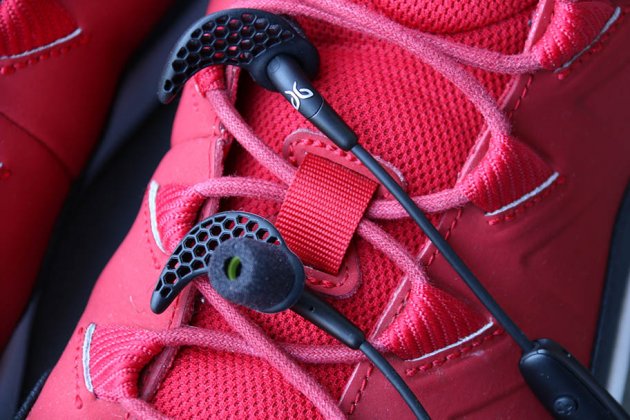 Pick And Choose
The Freedoms are a pair of exercise headphones, and they work like this.
You have two drivers, connected by a single wire with a chunky in-line microphone attached. You select a tip type (rubber or foam), a tip size, and then a size of fin. The fin goes onto each driver, followed by the tip. Because there are so many options to choose from, it can take a little while to get fit you like, and it's worth setting aside a few minutes to experiment. Fortunately, changing them out is easy, and once they're on, they stay on.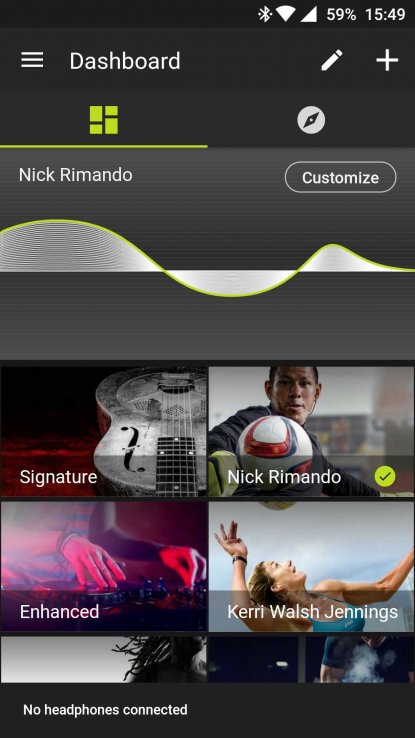 Once that's done, you can slot the buds in - either straight, or with the wire hooked over your ears. The wire goes around the back of your neck, with the controls draped just below your left ear. Pairing the whole kaboodle with your phone via Bluetooth is an absolute cinch, thanks to Jaybird's MySound app (of which more in a moment). Once that's done, a perky female voice tells you, rather loudly, that your headphones are connected, and you're away. You can also connect two sets of buds to one device, if you like to run with a partner - and there's smartwatch functionality, too.
You can use the clips to secure the wire to the back of your shirt or to itself, in order to keep it from bouncing around. In practice, we never used it. The design of the Freedoms is such that the wire and controls never felt like they were getting in the way. They were never uncomfortable, even after long, sweaty workouts, and after a while, we forgot they were even there. Really, this is the most important thing with exercise earbuds: they have to be comfortable, doing their job without becoming an annoyance, and the Freedoms managed to pull this off with aplomb. We were initially sceptical about the placement of the in-line microphone, but it worked really well, and we never had to scramble around to find the right button.
When you run out of battery – which we found lasted for about seven hours, a perfectly acceptable amount – the woman who lives in the headphones will inform you that it is time to charge. This is relatively fast, and is done by plugging them into a magnetic cradle with a USB cable on the end. No problems there.
The accompanying app (Android and iOS) is simple, clear and effective. It's mostly used for pairing new devices and adjusting the sound itself, and it comes with a bunch of presets, some of which have been designed by famous athletes. Why you'd want a soccer player dictating how you listen to your tunes is beyond us, but if nothing else, it's interesting to see how BMX champ Fuzzy Hall likes his EQ.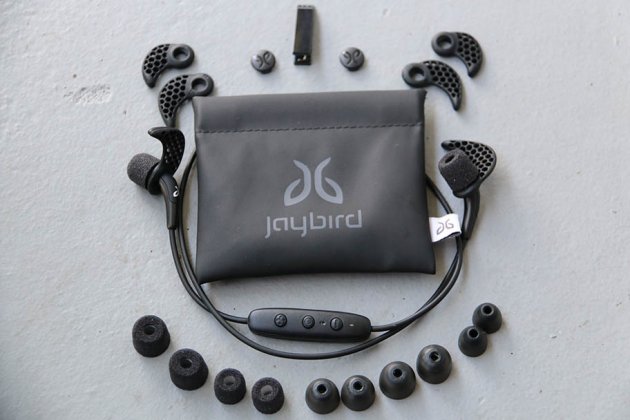 Audio Archery
Our first impression of the sound of the Freedoms was that it was OK. Not great, not spectacular: just OK.
After listening for a few hours, we realised that might be a little unfair. What it is is flat - neutral, uncolored, clear. It doesn't pretend to deliver ginormous bass or aspire to audiophile heights; it just gets the job done simply, clearly, and with the bare minimum of fuss.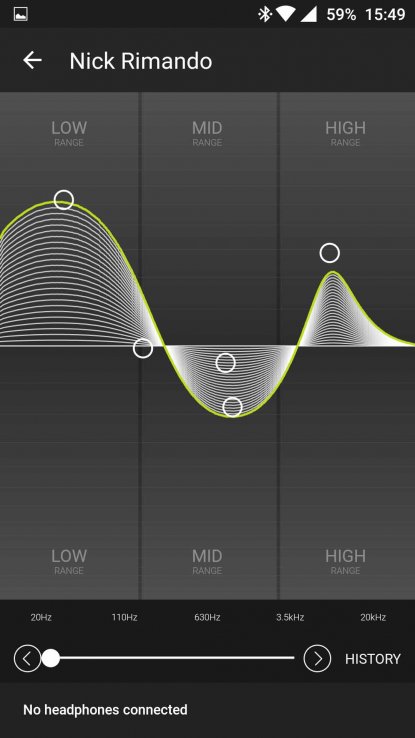 Had this been all that offered, it might have been a black mark. Fortunately, the EQ in the app is just fantastic. It allows very fine-grained control, allowing you to move both individual nodes and to adjust the curve as a whole. It's the work of a few moments to not only deliver more low end, but to deliver exactly the amount you want. These are when the Freedoms really come into their own, when they elevate themselves above other exercise and running earbuds. While we don't think the presets are all that, it was still a pleasure to customise our sound to our exact specifications. 
Buds like these need plenty of field tests to get their full measure. We used them in a noisy gym, on a basketball court on a crowded summer day, and walking down a packed street with traffic blaring in the background. No problem. The Freedoms took it all, and kept on coming.
These buds aren't going to win any awards for their audio quality, but after a few moments with the EQ, it becomes clear that you're listening to something that costs nearly $200. Although while we're on the subject, that is a lot of cash to pay for a pair of running earbuds.
As with any pair of earbuds, we did extensive testing with call quality. They performed flawlessly, with zero distortion or interference.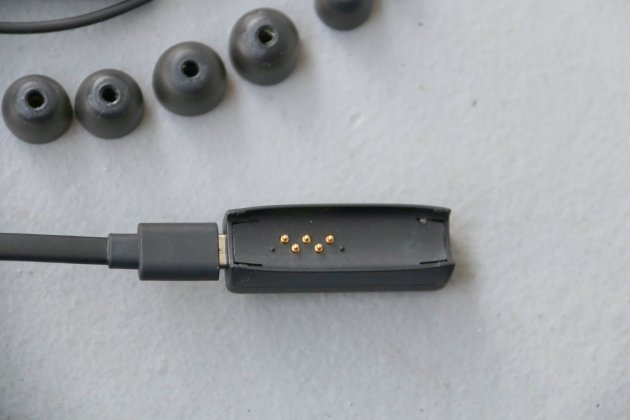 End Game
The Jaybird Freedom Wireless earbuds are among the best exercise headphones we've ever tested. They are feature-loaded, easy-to-use (once you've set them up), sweat proof, and attractive to look at. Their sound, after you've fiddled with the EQ, is excellent. Although they can initially be bewildering, they're a real gem, and it's clear that Jaybird put a lot of thought into the way they work. These are real winners.
Only: we weren't kidding about the tupperwares. Seriously, we're still finding plastic fins down the back of our couch.
See the Jaybird Freedom Wireless on Amazon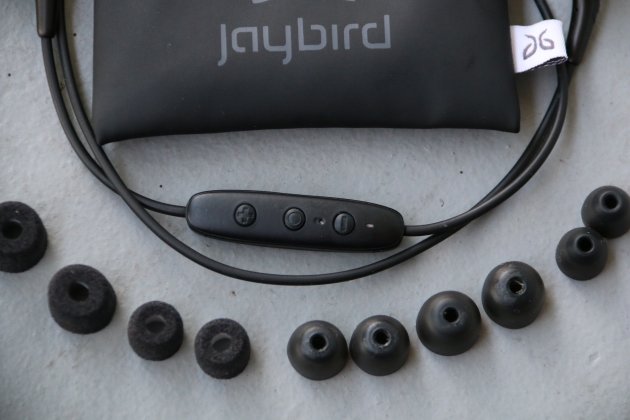 Good
Great fit, sweat-proof, solid sound, terrific EQ
Bad
Confusing set-up, sound need customising before you get it right, maybe a little too expensive?
Best For:
Anyone who exercises. 
 
Alternatives
A pair of buds with a built-in heart rate monitor? Why has no one done this before? Their audio quality may not be up to the level of the Freedoms, but if you're more interested in your performance than in the band's performance, you should definitely check these out.
Jaybird, Jabra, JLab…does the letter J have fitness connotations we don't know about? Regardless, the JLab Epic 2 are half the price of the Freedoms, and although they don't offer a killer feature, there are very worthy alternative for someone who doesn't have that much money to spend.
 
Breaking Down The Specs:
Learn More About Headphones