Rotel don't often get the love they deserve. Perhaps it's the name, which sounds like a copy machine manufacturer. Perhaps it's the fact that they've been around so long, unshowily doing their thing for over 55 years. But we think the Japanese company deserves to be a household name. A little while ago, we got a chance to hang out with one of their integrated stereo amps, the RA-1572, and it only reinforced our opinion that these guys know what they're doing. In this review, we break down the RA-1572's sound, design, accessories and packaging, specs and more. To see how it stacks up, see our list of the best stereo amps.
 
Sound
Power and Clarity
Honestly, if the Rotel RA-1572 didn't sound as good as it did, we would probably have written it off. The unassuming exterior might not raise your heart rate, but the audio quality definitely will. You get 120 watts of clear Class AB power per channel (for an explanation of what that means, check this out), and even before the amplifier channels it through its meaty power supply and ginormous toroidal transformer, it gets put through a very competent built-in DAC. This beast is a 32-bit/768kHz AKM number, and it's quite capable of handling just about everything you throw at it, up to and including full DSD – which, if you don't know, is an ultra high-resolution audio format. For our money, it performed just as well as many of the top DACs on the market at the moment, and we never felt the urge to swap it out for something with a little more refinement. And even if you are using the full 120 watts, you're in for a wild ride.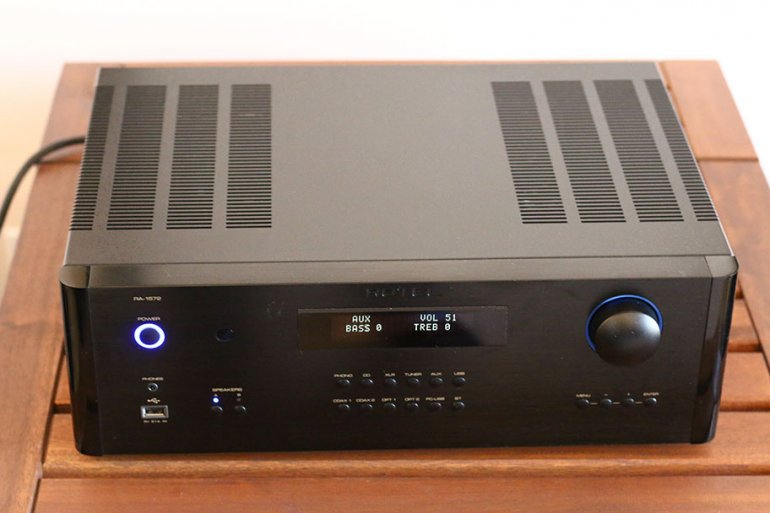 The first thing that struck us about the sound quality was just how much weight it had. We're not just talking about low-end; we mean everything. Every aspect of the music had volume and definition, as if we could physically pick them up and move them around at will. There was an unbelievable amount of realism here: not just reference great detail, but a genuine sense that we were hearing exactly what the musician intended us to. Whether it was rap vocals, an operatic chorus, or a grinding lead guitar, it never sounded anything less than solid and powerful. The actual bass itself doubled down on this, thumping out our test speakers – a pair of MarkAudioSOTA Cesti Ts (full review here) – with enough oomph to rattle the windows, even at relatively low volumes. It really accentuated the speakers natural qualities, and floated the other elements of the music on a warm, deep, squashy comforter of bass.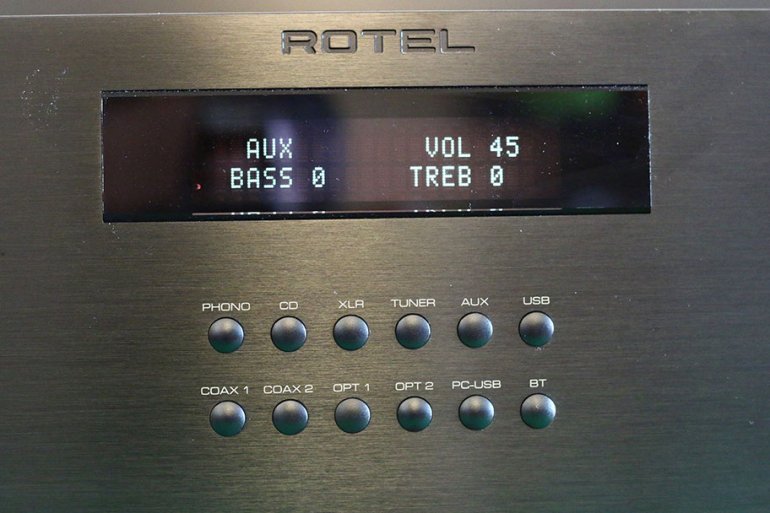 High End (Treble) and Mids
We were equally impressed with those other elements. The highs had excellent detail while never sounding harsh, and things like vocals in the mid-range felt full and rich. Whenever we have something like this in our test room, we always like to put it through its paces with as many different genres of music as we can, even extending it to movie and series audio if appropriate. The RA-1572 didn't even flinch. From the gnarliest, grimiest 90s rap tune to a thundering symphonic metal joint, it just kept right on trucking. The power and performance it delivered easily competed with amps double and triple its price, and we got a real kick out of seeing what it could do. You know, it's weird. One of the most puzzling things about high-end audio – and we fully recognise that at this price range, the RA-1572 is barely at the outer edges of that category – is just how boring things look, compared to how magical they sound. The most unassuming metal boxes can just blow your socks off, if you let them. Perfect case in point: the Benchmark DAC3-HGC (full review here), which we think is probably the best DAC on the market today, but which looks like something you'd use to diagnose a gall bladder infection. Perhaps it's time for a revolution in amp design, where they can be made to look as good as they sound. Companies like Schiit Audio and McIntosh have already shown the elements that can be pushed, but we're waiting for something that makes our jaws hit the floor, in terms of looks. Meanwhile, when it comes to sound quality, the Rotel has everything sewn right up.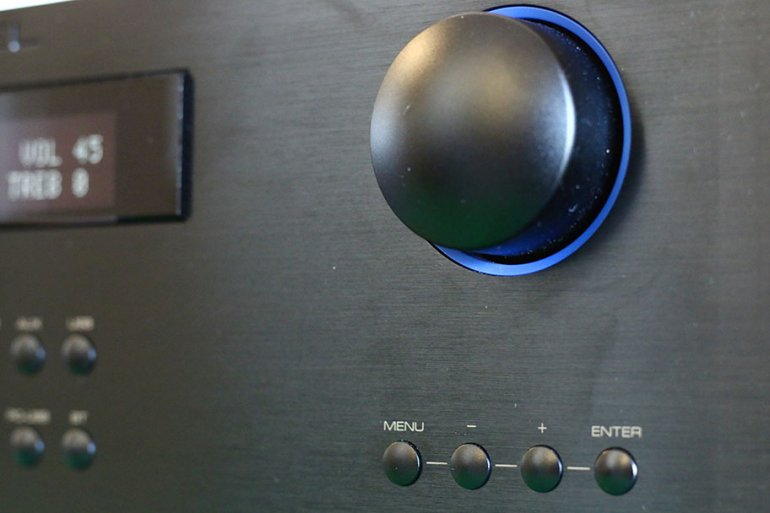 Design
Looks and Functionality
The Rotel RA-1572 is part of the company's 1570 range, which includes the RCD-1572 CD Player and the RC-1572 Preamplifier - and now, the newer RA-1592, which we'll talk about a little bit more when we get into the 1572's competition. And in looking at this collection, we'd suggest another reason why the company isn't as well known as it should be: a slightly ho-hum attitude to design.It's not that the amp doesn't look good. It looks fine. There are a couple of nice touches, like the blue light accents around the power button and the volume knob, which will never cease to raise a smile. But the front end, while perfectly functional, does absolutely nothing special. It is as exciting and energising as a wet weekend in Wales. And taken as a whole, this amp commits a sin that a zillion other amplifiers have made before it: it is, when it comes down to it, a big black box. Although you can get it in silver, too. How wild is this party?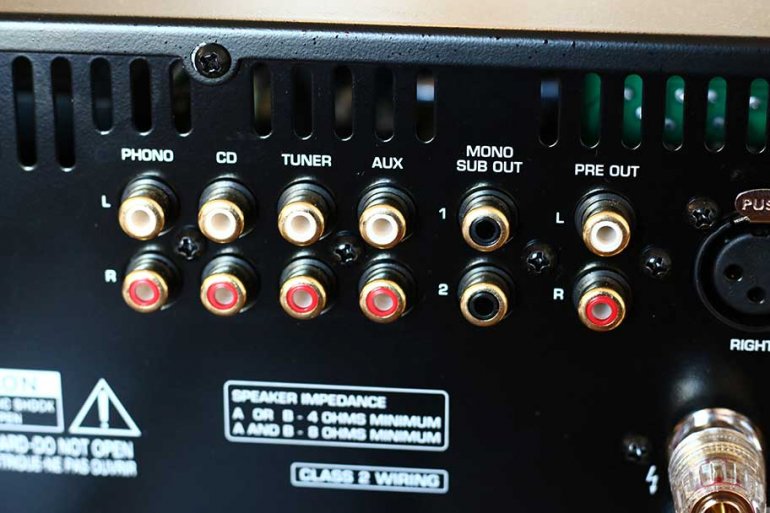 Still, what it lacks in design nous, It more than makes up in functionality, and just the sheer amount of stuff that you get for your $1,699. For starters, you get an absolutely colossal range of inputs, far more than the average person could ever find a use for. You get a huge range of auxiliary inputs, including an input for a moving magnet phono preamp, allowing you to directly connect your turntable. There are twin balanced XLR inputs, a whole host of digital inputs (including optical), USB port, an ethernet port…we haven't even scratched the surface here. You would have to look very long and very hard to find a piece of audio equipment that couldn't be connected to this particular amplifier. While none of this is surprising or groundbreaking, it's relatively uncommon to see such an embarrassment of options in an amp costing less than $2,000. Compare it to something like the very good Bryston B60R (full review here), which at $3,385 is over double the RA-1572's $1,699 , and you'll get an idea of what we mean. The latter amp is terrific, with god-like sound, but compared to the RA-1572, the input and output section is piddling.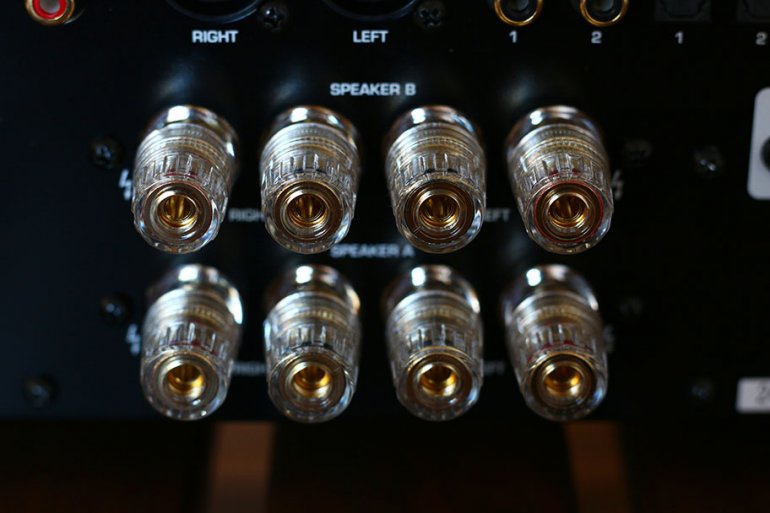 That's without talking about the not one but two sets of speaker binding posts, which can be switched between or activated simultaneously using the dedicated buttons on the front of the unit. For A/B-ing purposes, when you've got it connected to multiple speakers, this is unbelievably useful. The binding posts, in particular, are a joy to use, with chunky plastic and an easy action. Oh, and you also get trivial things like aptX Bluetooth, and even a dedicated app - although it must be said, the app, which is iOS only, is a bit meh. Actually, a lot meh. It does the job perfectly well, but the design feels clunky.
 
Build Quality
Overall, the construction feels incredibly solid, with a good build and decent attention to detail. It's a hefty beast, too, weighing in at a sizeable 29lbs – always a good sign for an amp's ability to handle power. The digital display screen on the front is simple, but gets the job done, with a basic set of well labelled buttons that allow you to easily scroll through the options, of which there are a fair few. You get twelve input selector switches on the front – something which, we feel, would be much better handled with a single button that allows you to scroll through them – and a good-sized volume knob. Nothing we didn't expect, and it handled everything we threw at it with grace, and with ease. So where does this leave us, in terms of design? It leaves us, to be honest, with a bit of a shrug. We love the input section, we love the solid build and construction, and we really appreciate how well everything (bar the app) works well. But if you're going to buy this amp for the joie de vivre it brings to a room, you should re-examine your priorities. In terms of aesthetics, it gets the job done, but no more.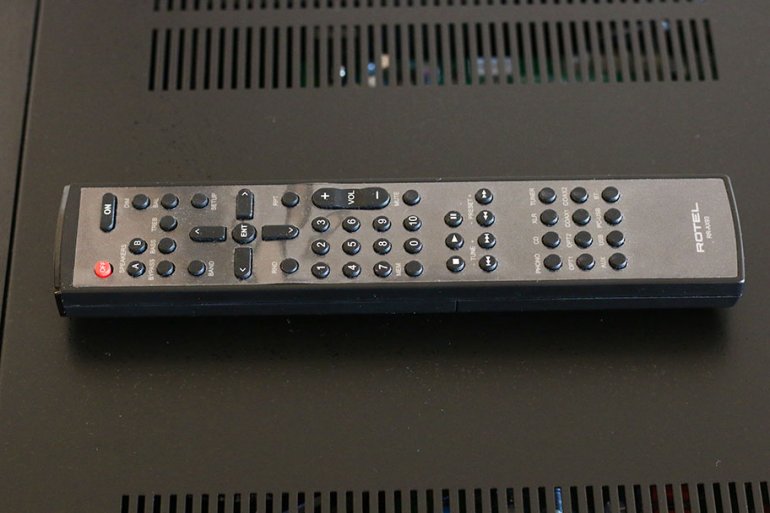 Signal Source
The Rotel RA-1572 is quite old now - we first reviewed it back in 2017! Since then, Rotel have released a few new models, many of which are worth considering if you plan to get a newer one. We actually talk about the most recent, the Rotel RA-1592, in the Competition section below.
We do want to highlight a particular feature that can now be downloaded to all Rotel apps via a firmware update. It's called Signal Source, and it makes the amplifiers even more useful. Once it's installed via a software update, the ample automatically turn on when an audio signal is detected. This means you can treated as you would an always-on wireless product, like those made by Sonos. Just start playing music, and you're good to go. We've seen this in action, and its exceptionally handy – and another reason to pick up an amp from Rotel.
 
Accessories & Packaging
Packaging
Rotel package in a good range of cables and cords along with the amp, to help you get started, including things like an ethernet cable, which always handy to have around. And in terms of packaging…come on. If you came to this review to find out whether or not this amp had good packaging, you're probably on the wrong website. It's a cardboard box with polystyrene inserts. That is it. Like so much else on this amplifier, it gets the job done without ever once causing anything that might be deemed excitement. Although it must be said, its identical to many other amps' packaging - we had similar feelings about the Goldmund Telos II (full review here), and that cost a cool $10,400, roughly seven times more than the Rotel.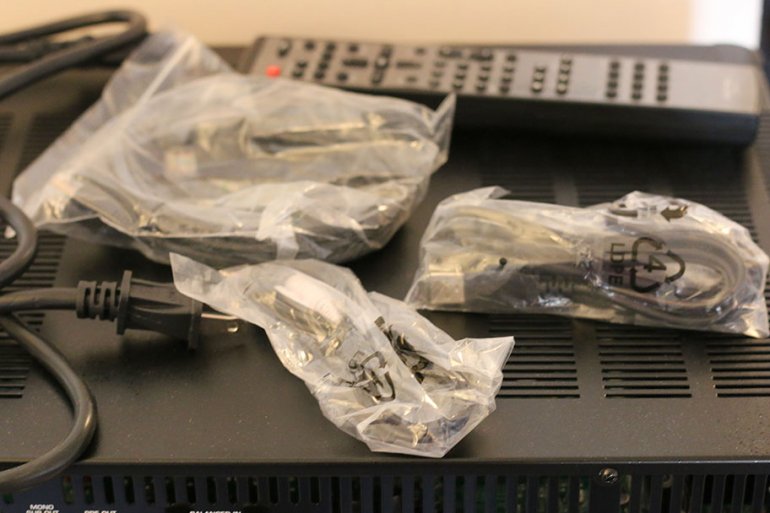 Accessories
Now we need to talk about the remote. It's a remote control, all right? It does everything it is supposed to. You point it at the amplifier, push a button, and something interesting happens. Really, that's about it. But line it up next to your TV remote, your DVD remote, hell, the one that controls your ceiling fan, and it's more or less invisible. It's a collection of buttons that do things. We didn't think that a part of this particular package could show any less design thought than the amp itself, but the remote did. It should win an award for how much it lowers pulses. Beyond that, there's very little to get excited about.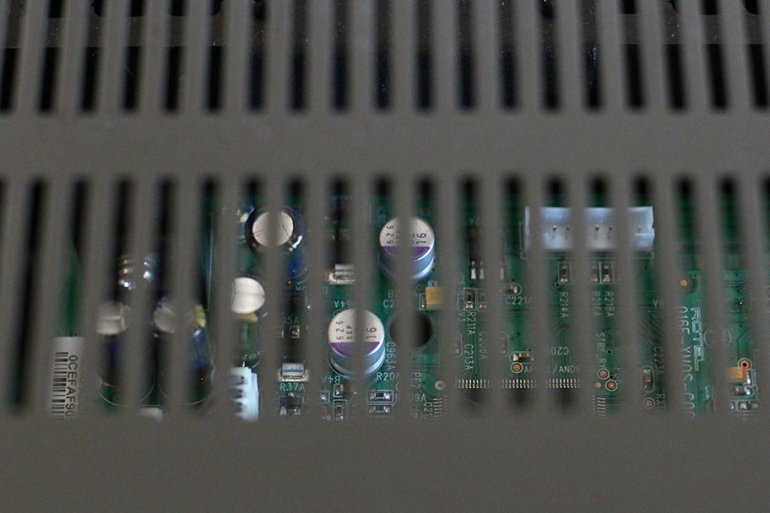 What We Like
The RA-1572 has some outrageous sound quality, with serious power and definition.
The amp offers a huge range of inputs, meaning you can connect just about anything.
​The power and included DAC more than match others in its class.
 
What We Don't
The RA-1572's design is deadly-dull, although we do like the blue light color scheme.
​The remote feels like an afterthought, and the app is crazy clunky.
You may want to go with the newer RA-1592, which is pricier by about $800, but offers more options.
Comparison Table
| Stereo Amp | Price | Weight | RMS* | DAC? | Peak**  | Dimensions |
| --- | --- | --- | --- | --- | --- | --- |
| Rotel RA-1572 | $1,699 | 29lbs | 120W/8Ω | Yes | Unknown | 17" x 14.1" x 5.7" |
| Marantz HD-AMP1 | $1,099 | 12.8lbs | 35W/8Ω | Yes | Unknown | 13.9" x 12" x 4.2" |
| Onkyo A-9110 | $280 | 15.4lbs | 15W/4Ω | No | Unknown | 17.1" x 13" x 5" |
| Peachtree Audio nova300 | $2,199 | 17lbs | 300W/8Ω | Yes | 400W/8Ω | 14.8" x 13.25" x 4.4" |
| Rotel RA-1592 | $2,499 | 37lbs | 200W/8Ω | Yes | Unknown | 17" × 5.7" × 16" |
*RMS = RMS/Continuous Power
**Peak = Peak/Dynamic Power
 
The Competition
We should be clear: we do dig this amplifier. While we don't think the design is even within sniffing distance of spectacular, and it does absolutely nothing to push this particular category forward, it offers a truly staggering amount for the money. All the same, there are plenty of excellent alternatives.
Want slightly better design? Don't need quite as many inputs, or aren't interested in as much power? Then the flagship budget Marantz HD-AMP1 may be the one to go for. It offers far less power than the Rotel - 35 watts to the RA-1572's 120 – but we still think the value for money is good, especially if you have a slightly smaller room. We don't adore it quite as much as the RA-1572, but it's still fantastic.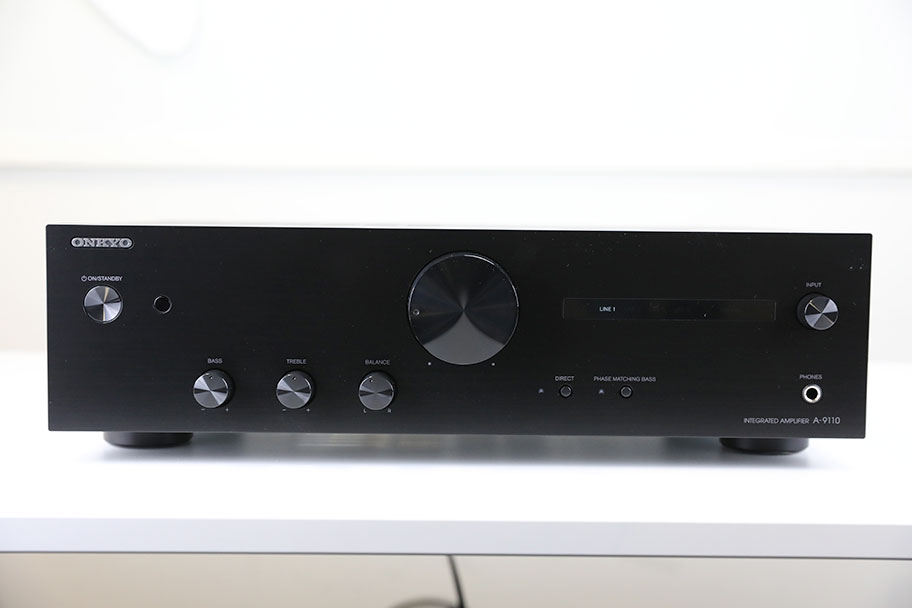 There is an amp that we tried recently that we want to include here – and it's especially useful if you landed on this page looking for a budget amplifier. Or at least, one less expensive than the $1,000-plus Rotel. The Onkyo A-9110 is an excellent, exceptionally simple amplifier that sacrifices feature set for a robust build and stellar sound quality. It can power just about any speakers you can think of, and it costs a fraction of the price of a Rotel, at $280. Very obviously, you'll miss out on things like the included DAC, but it's an excellent budget alternative.
Of course, you could always go for the smashing Peachtree Audio nova300. Yes, we know it's probably not a direct comparison to the RA-1572, but if you have a little bit more cash to spend, this is absolutely one you should go for. It offers jaw-dropping power, stunning sound, and (we think) excellent functionality. It's also much better looking, with a better remote and housing. A stellar choice.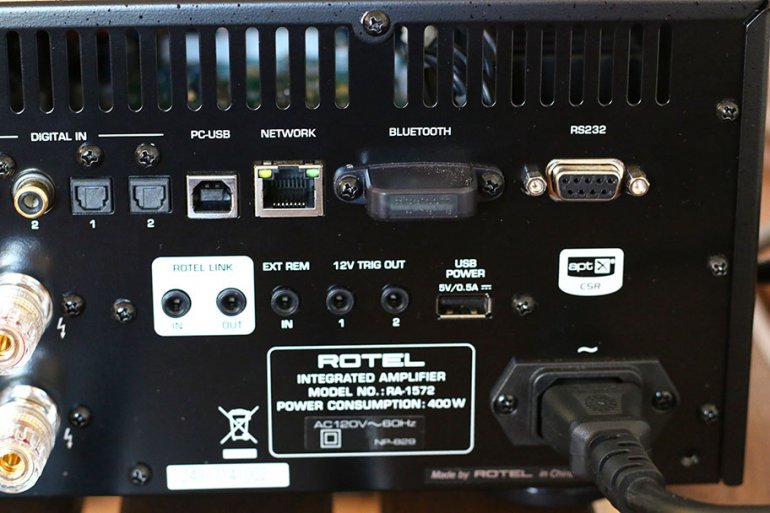 Finally: Rotel have updated this model since we first reviewed it. The Rotel RA-1592 is more expensive - $2,499 to the 1572's $1,699 - and offers more power, with 80 watts of extra noise. The problem is, it doesn't offer huge differences beyond that, in both looks and functionality - and it being more expensive doesn't help. Get it if you want the latest model, but unless your speakers call for it, you could quite happily stick with the '72 for now.
Ultimately, perhaps the best analogy we can give for the RA-1572 (especially when compared to the newer model) is that of an extremely accomplished concert pianist: one who has been playing for over fifty years, and has never met a piece of music she can't handle…only she never quite became as famous as should have been, and spends most of her time playing well worn concertos in moderately well attended venues. Good…but not quite as good as she could have been. Perhaps it's time Rotel got a new design director, and put the poor dear into an environment where she might truly excel. Until then, this is still a top five amplifier. No question.
Learn More About Personal Audio