The Sennheiser PXC 550s are simultaneously one of the most convenient, enjoyable pairs of headphones we've ever used, and also the most infuriating. They do so many things right, and yet are subject to some bizarre design choices and glitches.
We can't quite figure out how they ended up this way. It's as if a bunch of Sennheiser engineers were brainstorming, and nobody could quite agree on the quality of their ideas, so they just decided to do absolutely everything. Bung it all in, see which ones people like best.
Here. Let us explain.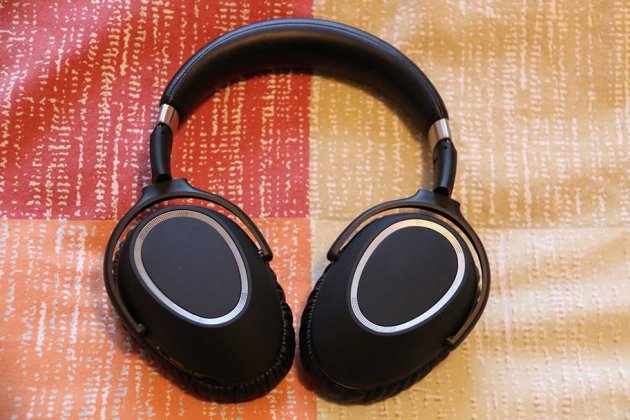 Design
With the PXC 550s, Sennheiser are travelling down a trail blazed by the likes of the Parrot Zik 3. They don't share the luxury stylings and faux-alligator-leather of that model - this is a company, remember, who feel like allowing any colors other than black, dark grey, silver and perhaps a very tasteful navy onto their headphones is the height of licentiousness. But they do incorporate quite a lot of the same technology, including motion sensing, touch controls, and some superlative active noise cancelling.
The actual headphones themselves are built well, if unspectacularly. Plastic housing, with a silver ring on the outside. Leather headband. Leather earcups. Foldable, portable design. LED battery life indicator. All perfectly functional and comfortable and easy-to-use. Nothing the company hasn't done before. But you get a sense of the thinking here the first time you turn the headphones on, turning the cups ninety degrees from a flat position. There's a pleasing click, a female voice saying "Power on", and you're away. Turning them off is as simple as clicking them back in the other direction.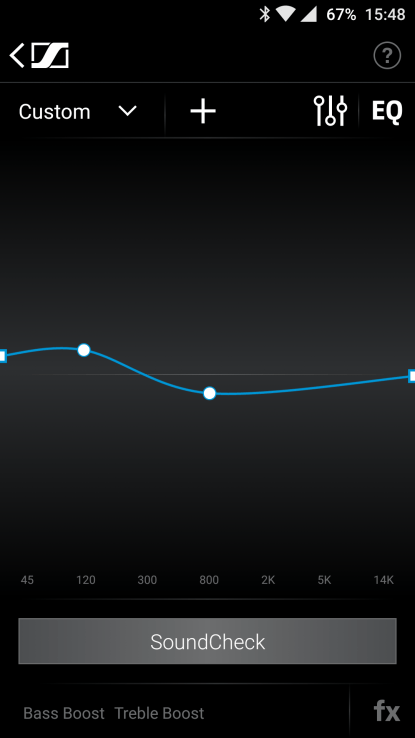 It's a thoughtful, intuitive, highly useful system – a call back to what Sennheiser did with the volume button on their Momentum 2.0 headphones, which was similarly well-designed. Pairing the phone via Bluetooth (there is a cable if you wish to save battery) was the work of moments, and before long we were away.
And this is where things started to get a little strange.
You can control your music and your calls by tapping on the right earcup. For the most part, this works well, but there's a noticeable lag between tapping and having the command recognised, and raising and lowering the volume felt strangely imprecise. There's also the matter of the external controls themselves. Sennheiser include not one but three separate buttons outside of the touch controls, all of which relate to a different function.
The Bluetooth button we can understand, even if we always had to take a few seconds to hunt for it (it's stashed under the hinge on the right-hand side). But we can't understand the controls for the active noise cancelling, and for switching various sound modes. Why are they there? What is their purpose? Sennheiser already incorporates an excellent app, Captune, and it seems to make far more sense to have these options included there. We get that perhaps they wanted to make things simple, so that you could control every aspect of the cans without having to pull out your phone, but most people will play with these buttons once and never touch them again. Once you've selected the type of noise cancelling you prefer (which we'll go into in more detail below) and the type of sound preset you like, you're unlikely to change them. The buttons don't impact the experience, but they needlessly complicate a pair of headphones that should have been relatively simple to understand.
And while we're on the subject: the manual. Dear God, the manual. We don't usually dwell on the subject, because manuals are boring, but these headphones had so many different functions that we had to turn to it, and it's just awful. A foldout poster thing filled with densely packed blocks of information in multiple languages that still somehow ends up being incomprehensible, despite numerous handy graphics. If you're going to make a pair of headphones this complicated, then it behooves you to come up within intelligible way of demonstrating how they work.
The cans themselves come in an unremarkable semirigid zippered case, with a useful pouch for stashing the travel and 6.3mm adapters, and the USB charging cable. Battery life was good - we managed to squeeze fifteen hours out of one charge, which was very welcome.
Sound
Sennheiser know what they're about with audio, and fortunately, the PXC 550s are no exception. At $400, the audio quality more than matches expectations: the sound is rich, powerful, and deep, with a particular texture in the mids that we found addictive. While we don't think they sound quite as good as the absolutely superlative Momentum 2.0s, they still do a phenomenal job. Combine that with the Soundcheck function on the app, which allows you to A/B test various EQ curves in order to get your preferred sound, and you've got a winner.
It's also worth mentioning the various modes that you can switch either using the app or the dedicated button on the headphones themselves. Club, Movie, Speech and Director modes are all relatively self-explanatory, and although we can't see ourselves switching between them all that often (unless we were watching a movie or something) they do a reasonable job.
Active noise cancelling is good, too. Playing around with the button on the side of the right cup gives you three modes: off, full, or mid-way, with the setting that can be adjusted using the app. We preferred ours on full, and we're pleased to report that it shrouded us in an agreeable silence. We also really, really liked the double tap function: hit the right cup twice, and the music pauses along with the noise cancellation, replacing them with the sound of the outside world, piped through built-in microphones. It doesn't quite match the Zik 3s, which had similar functionality, but the implementation here is much better.
Unfortunately, that didn't stop us having some frustrations with Bluetooth. We kept suffering periods of dropout, which seemed to occur at random no matter what device we were using, and in all circumstances. We acknowledge that this isn't a replicable problem – we can't produce it at will, and we can't say with authority that it isn't down to a particular setting on our devices. But it's still a worrying red flag.
Call quality on these was just fine, and answering with a single tap was simplicity itself.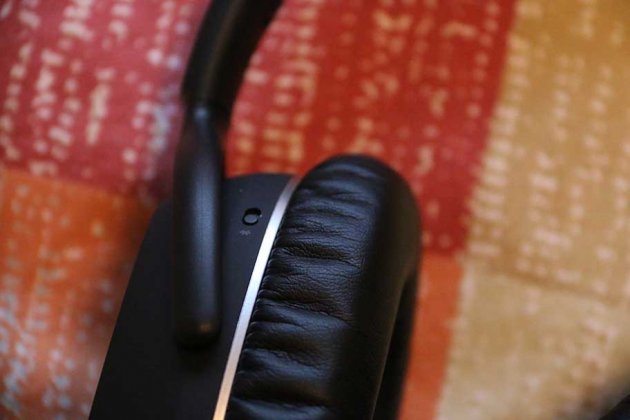 Should You Buy Them?
Despite the bizarre design choices, despite the close-but-yet-so-far vibe we get from these, we still recommend them. Not just for the excellent sound, which never misses a beat, and which never faltered no matter what music we threw at it. We recommend them because, problems aside, they are among the most convenient headphones we've ever used.
They were just…easy. Turn on phone Bluetooth, click the cups ninety degrees, start listening – all in wireless, noise-cancelled comfort. While the Bluetooth dropouts were annoying, they weren't frequent enough for us to not use these on a regular basis, often picking them out of our headphone locker over other, less idiosyncratic choices. These aren't going to win Headphone Of The Year, and they're definitely not winning any design prizes… But all the same, we going to be sad to send them back.
See the Sennheiser PXC 550s on Amazon

Good:
Great sound, convenience, some genuinely good ideas
Bad:
Some genuinely terrible ideas, Bluetooth dropout
Best For:
Convenient, hassle-free use

Alternatives:
The upgrade to Bose's noise cancellation line is already a firm favourite. It does everything the 25s did and more, although it doesn't include as many features as the Sennheisers.
Still the absolute best when it comes to all-singing, all-dancing wireless noise cancelling headphones. A little overdesigned, but still miraculous.

Breaking Down The Specs: