The Sennheiser PXC 550s are simultaneously one of the most convenient, enjoyable pairs of headphones we've ever used, and also the most infuriating. They do so many things right, and yet are subject to some bizarre design choices and glitches. It's as if a bunch of Sennheiser engineers were brainstorming, and nobody could quite agree on the quality of their ideas, so they just decided to do absolutely everything. In this review, we break down the sound, design, comfort and fit, packaging and accessories, specs and more of the PXC 550s. To see alternatives, read our list of the best headphones.
 
Sound:
High-End (Treble) and Mids
Sennheiser know what they're about with audio, and fortunately, the PXC 550s are no exception. The mids felt present without being overwhelming, and the highs had a decent level of detail and clarity. Song elements like vocals, violins and guitars felt clean and natural, and no matter what genre we tested, we never felt like the sound quality was going to get fatiguing. While we don't think they sound quite as good as the company's absolutely superlative HD1 Wireless (full review here), they still do a phenomenal job. If you are interested in the HD1s, we've seen them actually drop below the price of the $344 PXC 550s – and if that happens, we would definitely pick them first.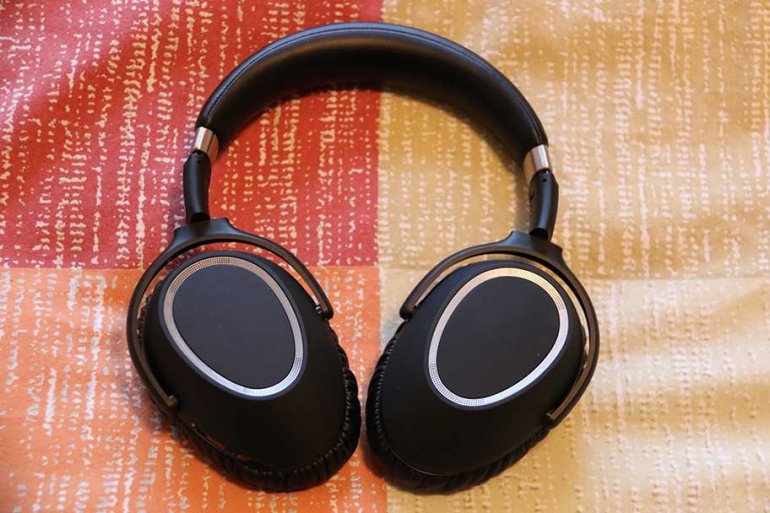 Low-End (Bass)
The sound is rich, powerful, and deep, with a particular texture in the bass that we found addictive. While it certainly wasn't a matchup for high-end headphones, we definitely felt like the bass was giving us a larger amount of detail than normal, with a decent level of extension - by which we mean, it goes down to significantly low a frequency (17Hz) to deliver powerful bass. Interestingly, it's not quite as low as other headphones on the market, such as the Bowers & Wilkins PX, which go down to 10Hz, but it's not dramatically different - and in some cases, we'd even call it superior. The PX, by the way, costs $400, around $50 more than the PXC 550s.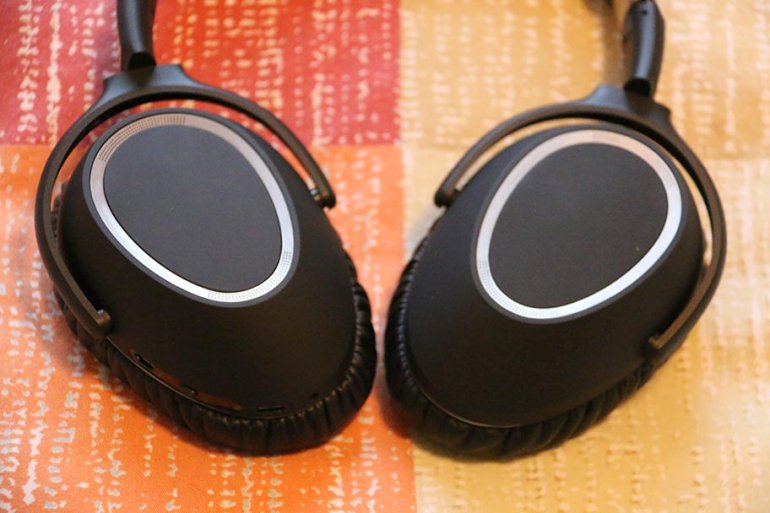 App and Battery Life
The Soundcheck function on the Captune app, which allows you to A/B test various EQ curves in order to get your preferred sound, works perfectly. It's an intuitive and clever system, and it does a very good job of not only giving you the sound you want, but making you feel smart for getting it. That's quite an achievement – even if you're not actually putting in a huge amount of effort. We compare this very favorably to another pair of wireless headphones, the Nuraphones (full review here). Those may have slightly more advanced sound personalisation, but they are also more expensive, at $399 to the PXC 550's current price of $344.
It's also worth mentioning the various modes that you can switch either using the app or the dedicated button on the headphones themselves. Club, Movie, Speech and Director modes are all relatively self-explanatory, and although we can't see ourselves switching between them all that often (unless we were watching a movie or something) they do a reasonable job. Battery life was good, too - we managed to squeeze fifteen hours out of one charge, which was very welcome. That is more than the twelve hours we managed out of the V-Moda Crossfade 2 (full review here) – which, at the time of writing, were actually more expensive than the PXC 550s.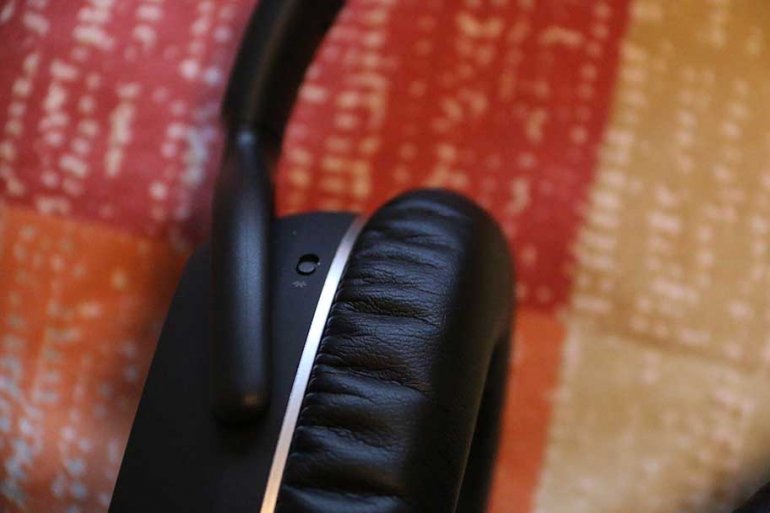 Noise Cancelation and Bluetooth
Active noise-canceling is good, too. Playing around with the button on the side of the right cup gives you three modes: off, full, or mid-way, with the setting that can be adjusted using the app. We preferred ours on full, and we're pleased to report that it shrouded us in an agreeable silence.  We still think the cancelation on the Bose Quietcomfort 35 II is superior, but then again, that's their specialty. They cost $349 at the time of writing - only slightly more expensive than the PXC 550s - if you want to check them out.
We also really liked the double tap function: hit the right cup twice, and the music pauses along with the noise cancelation, replacing them with the sound of the outside world, piped through built-in microphones. It doesn't quite match the old Parrot Zik 3 headphones, which had similar functionality, but the implementation here is much better. Unfortunately, that didn't stop us having some frustrations with Bluetooth. We kept suffering periods of dropout, which seemed to occur at random no matter what device we were using, and in all circumstances. We acknowledge that this isn't a replicable problem – we can't produce it at will, and we can't say with authority that it isn't down to a particular setting on our devices. But it's still a worrying red flag.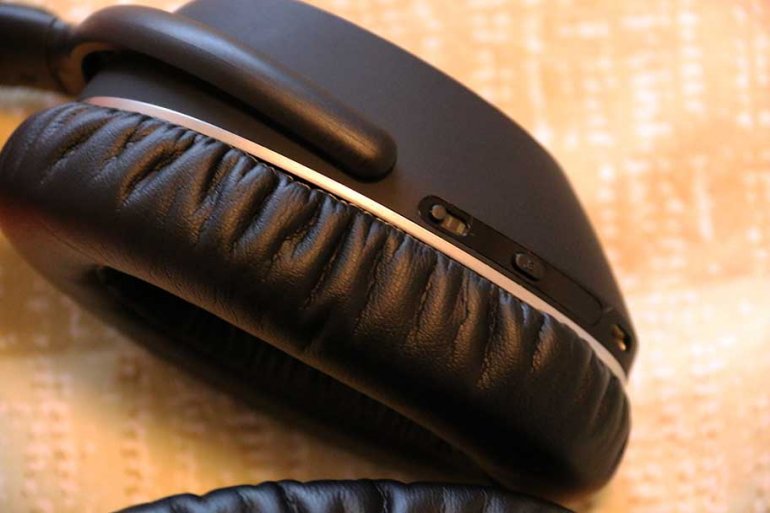 Design:
Looks and Build Quality
It sometimes feels like Sennheiser are a company that believes allowing any colors other than black, dark grey, silver, and perhaps a very tasteful navy onto their headphones is the height of licentiousness. The actual headphones themselves are built well, if unspectacular. Plastic housing, with a silver ring on the outside. Leather headband. Leather earcups. Foldable, portable design. LED battery life indicator. All perfectly functional and comfortable and easy-to-use. Nothing the company hasn't done before, but you get a sense of the thinking here the first time you turn the headphones on, rotating the cups ninety degrees from a flat position. There's a pleasing click, a female voice saying "Power on", and you're away. Turning them off is as simple as clicking them back in the other direction. It's a thoughtful, intuitive, highly useful system, and one we haven't seen used on other headphones, before or since. Pairing the phone via Bluetooth (there is a cable if you wish to save battery) was the work of moments, and before long, we were ready to go.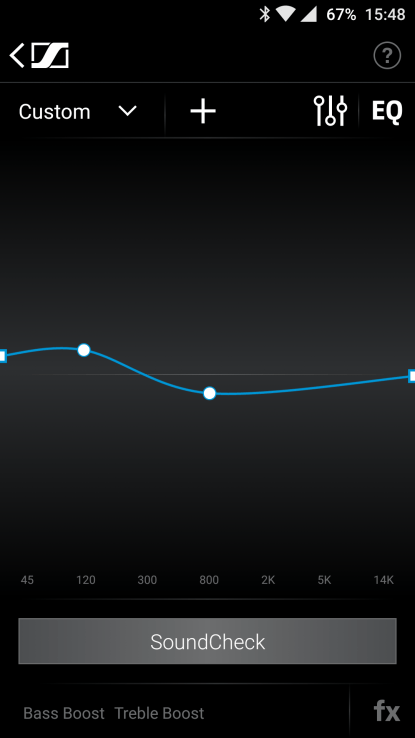 Controls
You can control your music and your calls by tapping on the right earcup. For the most part, this works well, but there's a noticeable lag between tapping and having the command recognised, and lowering the volume felt strangely imprecise. There's also the matter of the external controls themselves. Sennheiser include not one, but three separate buttons outside of the touch controls - all of which relate to a different function. The Bluetooth button we can understand, even if we always had to take a few seconds to hunt for it (it's stashed under the hinge on the right-hand side). But we can't understand the controls for the active noise-canceling, and for switching various sound modes.
Why are they there? What is their purpose? Sennheiser already incorporates an excellent app, the aforementioned Captune, and it seems to make far more sense to have these options included there. We get that perhaps they wanted to make things simple - so that you could control every aspect of the cans without having to pull out your phone - but most people will play with these buttons once and never touch them again. Once you've selected the type of noise-canceling you prefer and the type of sound preset you like, you're unlikely to change them. The buttons don't impact the experience, but they needlessly complicate a pair of headphones that should have been relatively simple to understand. Compare these with something like the outstanding Sony WH-1000XM2 – which not only has better controls than the PXC 550, but is also virtually the same price, at $348 – and you begin to wonder why these headphones have sold as well as they have.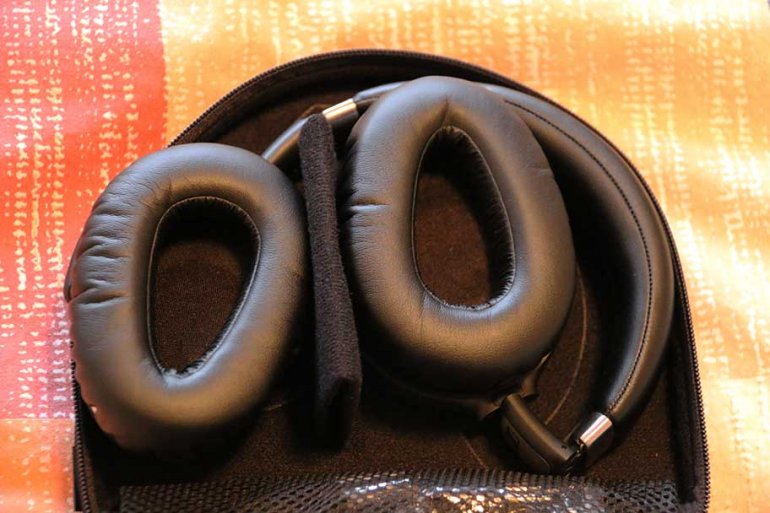 Comfort & Fit:
Earcups
The PXC 550s may have issues with the design and the controls, but their comfort and fit is outstanding. Largely, this is down to the huge cups: giant blobs of foam cocooned in soft leather, which shroud the ears without pinching - even on our enormous lugs. These cups meant that the headphones were very comfortable to wear for long periods of time, which is something that is absolutely essential when it comes to headphones that you take with you into the world. Top marks here.
 
Headband and Clamping Pressure
The band isn't quite as thick as the ear cups, but it is just as squashy, with the soft leather creating a very light pressure on top of the head. While these aren't the most comfortable headphones we've ever tested (those would be the incredible Beyerdynamic Amiron Home headphones, which we reviewed here), they are reasonably light, at just over eight ounces. That lightweight, coupled with an easy-going clamping pressure, meant we had no problem wearing these.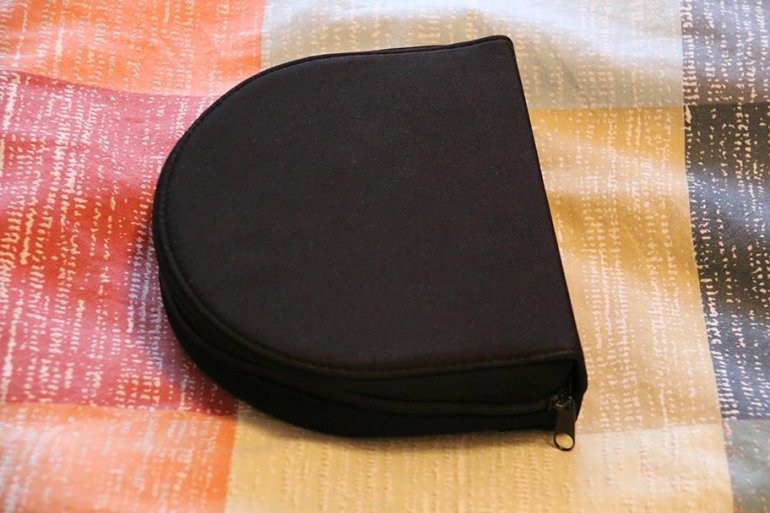 Accessories & Packaging:
The cans themselves come in an unremarkable semirigid zippered case, with a useful pouch for stashing the travel and 6.3mm adapters, and the USB charging cable. And while we're on the subject: the manual. Dear God, the manual. We don't usually dwell on the subject, because manuals are boring, but these headphones had so many different functions that we had to turn to it, and it's just awful. A fold-out poster thing filled with densely packed blocks of information in multiple languages that still somehow ends up being incomprehensible, despite numerous handy graphics. If you're going to make a pair of headphones this complicated, then it behooves you to come up with an intelligible way of demonstrating how they work.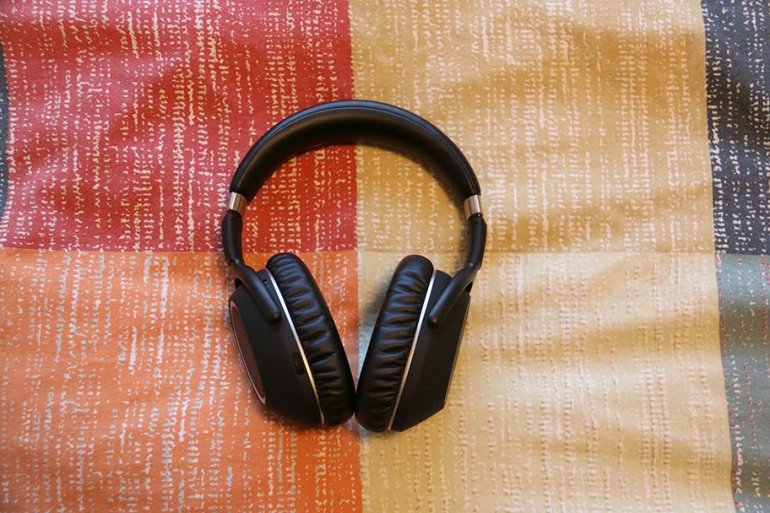 What We Like:
The Sennheiser PXC 550 wireless headphones have excellent sound – much better than we expected, particularly in the low-end.
They are convenient, and offers some interesting ideas, like turning on the headphones by rotating the cups.
​The price at the time of writing is very reasonable, and competitive with other leading wireless headphones.
 
What We Don't:
The controls for the PXC 550s feel clunky and unmanageable, and we think Sennheiser could have put in a lot more thought here.
The design works well enough, but feels very drab.
​There are, to put it bluntly, many headphones in this price range that are a lot better. You can see some examples of these below.
 
Comparison Table:
*Batt. = Battery Life
**Canc. = Noise-Cancelation
Want Even More Master Switch? Sign Up For Our Weekly Newsletter!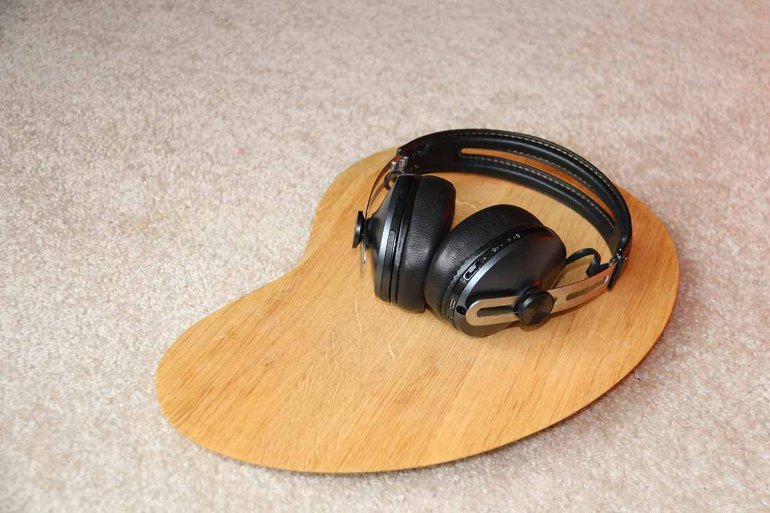 The Competition:
This price range ($300-$400) is absolutely stacked with headphones for the PXC 550 to compete against. Unfortunately, in many cases, it comes off second best. Comparing these to the Sony WH-1000XM2 is apples and oranges; the Sonys are only a tiny bit more expensive than the Sennheisers, at $348, but offer so much more. The controls, noise-canceling, and overall sound quality are just light years ahead. Our verdict here is simple: buy the Sony headphones.
One model the PXC 550s do manage to compete handily with are the Bose Quietcomfort 35 II headphones. While the Bose have them easily beaten on the noise-canceling front, the PXC 550 manages to produce much better sound. If audio quality is important to you, and if you particularly enjoy tracks that are a little bit more bass-heavy, then we recommend the Sennheisers over the Bose. Get the latter if you want to block out the world. They too are only slightly more expensive than the Sennheiser model, at $349.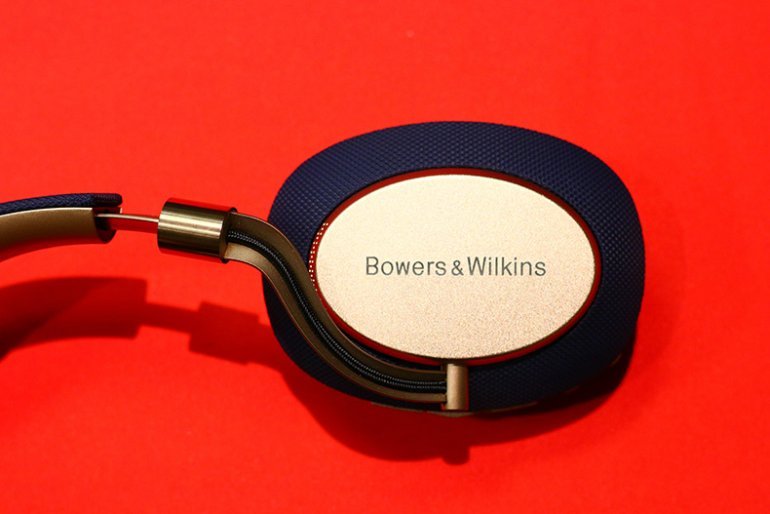 And speaking of expensive: if you do want to look at something at the top end of the range, an easy choice are the Bowers & Wilkins PX headphones. They are absolutely beautiful pair of cans that are in the top five headphones available right now, in our opinion. They deliver superlative cancelation and wireless functionality, as well as elegant, refined sound – less heavy on the low end than the Sennheisers, but still very good indeed. They can be had for $400.
Finally, one of the bigger problems the PXC 550 has is that Sennheiser themselves make headphones that are much better. Case in point: the HD1 Wireless, which are just stunning. They are a little bit old now, and could probably use an update at some point, but they remain a superb pair of wireless headphones. Be warned, though: we've seen their price fluctuate, and they've come in at both more expensive and cheaper than the PXC 550s. If you do want to go for them – and you really should – make sure you shop around to get a good deal.
Learn More About Headphones