Although perhaps better known as creators of superlative televisions, VIZIO also have a nice line in audio gear. While they've yet to plunge headlong into full, surround home theater, the Californian company certainly knows what it's doing. It's their soundbars that they are best known for, with models that not only complement their existing range of TVs, but just about any setup. It's not an easy position to take – soundbars are often the subject of scorn from audiophiles, especially those who are fully committed to 5.1 or 7.1 sound – but it's one the company has gone all in on, and with an SB3851 soundbar system in our testing room to get to grips with, we were looking forward to finding out if the approach had paid off.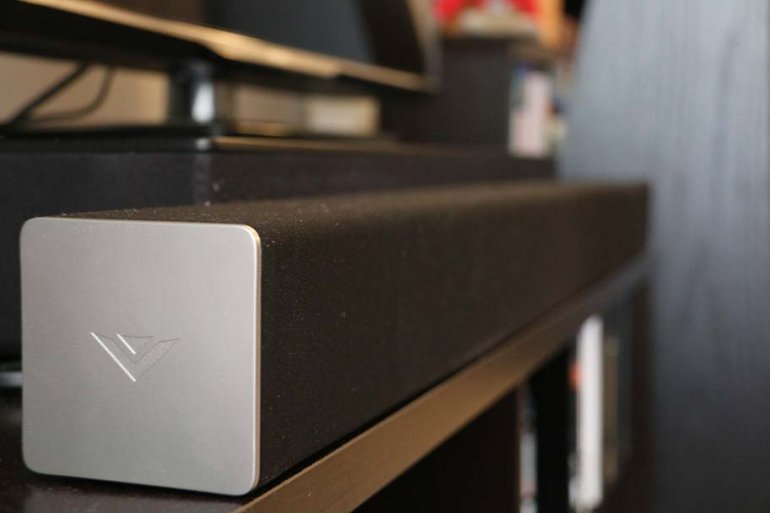 Design:
5.1 soundbars are quite rare, making this model something of an outlier. It comes in multiple sizes and configurations, more of which can be seen on VIZIO's site. Consequently, the SB3851 is actually a system of multiple components, not just the soundbar. In addition to that, you get a little bruiser of a wireless subwoofer, and two dinky satellite speakers. We'll get to those. Let's talk about the soundbar first.
It's a looker. No doubt about that. At 38" long, its black frame sits snug in front of just about any TV, capped on either side with silver panels bearing the VIZIO logo. The design is minimalist, with very discreet controls on top: a line of five buttons, clearly marked, that you almost won't notice unless you're actually looking for them. Feedback is governed by a series of vertical lights on the far left of the bar. It's a system we've seen before, on bars like the Polk MagniFi (full review here), but it feels a little bit classier, which is down to the lights being recessed behind the black fabric that covers the bar. Designwise, then, the bar gets top marks.
You could say the same for the external speakers. The subwoofer is surprisingly small: a little black box capped with a silver top, that you could happily hide away in a corner of the room, or off to one side. The controls and ports are round the back, including a power switch, a pairing button, and two ports to connect the satellite speakers. There's also an acoustic port, which is something we have…thoughts about. We'll talk about that when we get to discussing the sound of this thing.
The satellite speakers aren't truly wireless; you have to connect them to the subwoofer to get them to work, although you do so via cables the long enough for you to place them just about anywhere in your room. The two speakers are roughly the size of Coke cans, and mirror the design of the subwoofer.
Although the overall design of the entire SB3851 package doesn't do anything dramatic or groundbreaking, it's clear that there's been some thought into how it will slot into the aesthetic of a room, and how it can be made to both look and feel natural. It's intuitive, straightforward and classy. At a time when so many soundbars are clunky as hell, it's nice to see a little bit of design thought.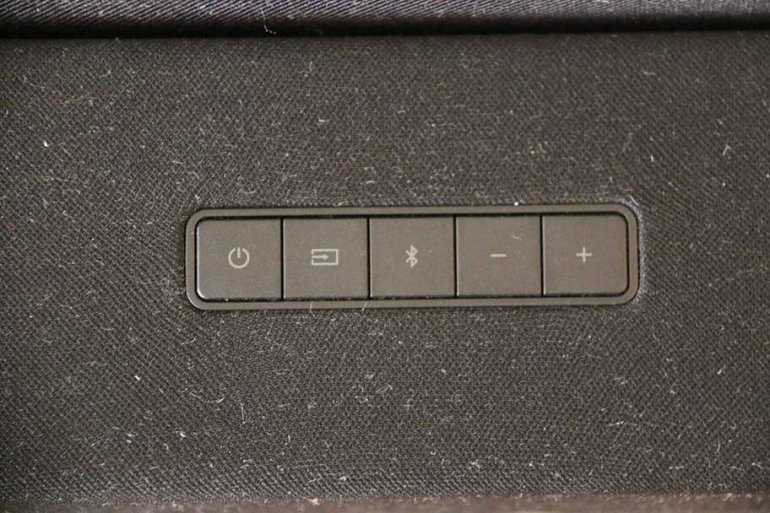 Setup:
Dead easy. Total breeze.
Although the bar might be party upfront, it's all business in the back, and is a huge range of ports you can use. You get two HDMI in/outs, a digital coaxial in, and an optical in. There's even a USB port, as well as an auxiliary input, and an ethernet input for when you don't want to connect to the WiFi. For the most part, we chose to connect to our TV via the HDMI ARC input.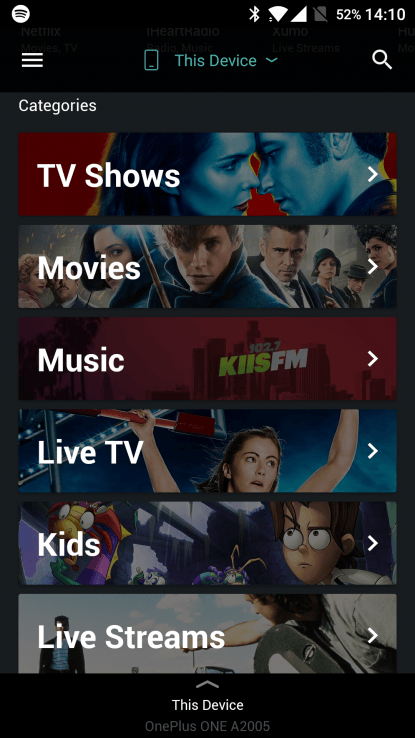 Connecting to the external speakers is simple, too. The soundbar creates its own wireless network, so all you have to do is set the subwoofer into pairing mode, and they'll connect automatically. Once you've actually wired this up, getting it to transmit sound is the work of moments.
It's also handy that there are so many ways to control it. If you don't feel like relying on the excellent remote, which we'll talk about in a little bit, then you can always download VIZIO's SmartCast app. This app, available on both iOS and Android, is exceptionally well-designed, and allows you to do just about anything, from setting up the soundbar to listening via Google Cast to sorting out multiroom systems. It's exactly the kind of thing we expected to see, and we were pleased that it didn't let us down. These days, not having an app for your TV sound equipment is tantamount to admitting that you just don't care.
Soundbars have always been known for easy setup, but the SB3851 goes above and beyond. Again, top marks.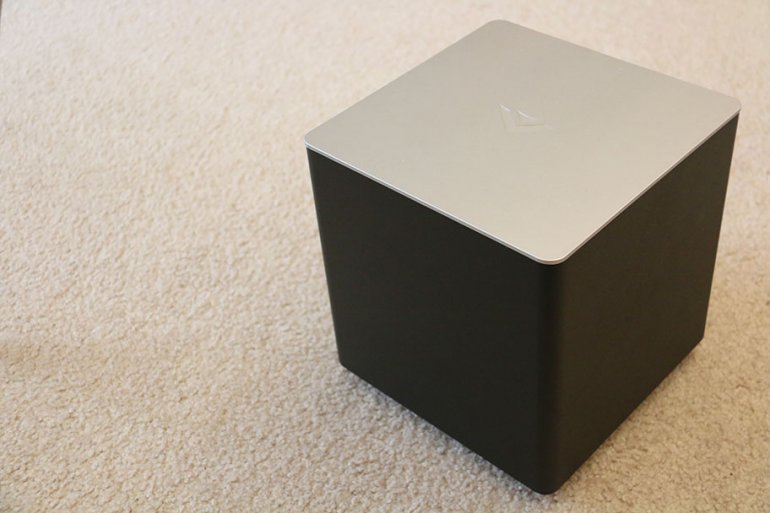 Sound:
This is where things start to falter. A little.
On the face of it, the SB3851 is stacked with audio capability. It's got full surround sound enhancement and decoding from the likes of DTS and Dolby Digital, and aims to deliver a game impression of 5.1 surround sound. We will never judge a sound bar system by how it competes with a dedicated, multi-speaker surround setup – that's really not their purpose, which is to enhance TV sound in environments where home theater systems wouldn't make sense, like a small apartment. It wasn't the surround ability of the SB3851 that tripped it up; once we had the speakers correctly positioned, it gave us a decent if unspectacular representation of space and image. No, what tripped it up was its lack of clarity.
The problems started when we realised that we'd spent what felt like an inordinate amount of time trying to get the sound right. There are loads of options for customising it, including bass, treble, surround balance, subwoofer level and the like, all accessed via the app or remote. In theory, this should mean that you can create just about any sound profile as possible, but in practice it meant that for a good long while, things didn't sound quite right. It would be nice to have sound that was a little more finely-tuned out of the box, as it felt like we spent far longer than we would have liked fiddling with the settings.
Even when we got the sound to a spot we were happy with, it was clear that it wasn't going to be as good as we thought it should be. Admittedly, for a $250 system, it certainly wasn't bad. There was enough presence and heft to the audio that we never felt like we were compromising, and once we'd tune things to our liking, elements like dialogue really leapt out. The two satellite speakers provided a convincing soundstage, and there was enough detail in the mix to keep us happy, whether we were listening to music, playing a game, or watching something on Netflix. And yet: it still felt a little unpolished. Like there was something missing that we couldn't quite figure out.
The bass was a particular problem. While the little sub certainly provides some serious volume, pushing out enough low-end to rattle the windows, it never felt like it had the subtlety we wanted. We love big bass, but the sub didn't feel capable of imbuing it with the life and character that it needs to be really good. We think – and we stand to be corrected here – that the ported design is behind this. Ports allow extra volume while sacrificing a little clarity and tightness, and it feels like that's definitely the case here. We would have happily traded a little bit of low-end oomph for tighter expression. When a nuclear explosion sounds roughly the same as a gunshot, then the bass probably needs a little bit more work.
That being said: you shouldn't let this scare you off. The sound is still a solid B+, especially for the price. For anybody on a budget, or who wants to upgrade their existing TV sound, this will be an immediate improvement. Certainly compared to similar models, like the 2.1 Sony HT-CT370, the VIZIO keeps pace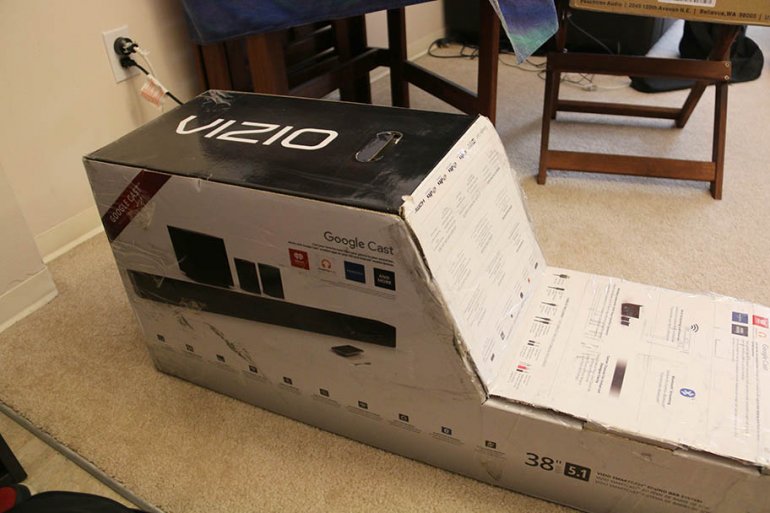 Packaging:
It's always very easy to spot soundbar packaging. It looks like a box which has had someone sit on one end.
Fortunately for us, VIZIO know how to make the oddly shaped box work. Pop open one side, and you can pull the subwoofer straight out. Lift up the thin end, and it's very easy to access the soundbar and all the included accessories. While there are plenty of cardboard spacers and packing material, there's not nearly as much as other manufacturers include, which is a nice change. Getting the bar and its accoutrements out of the box and working doesn't take long at all, which we really like.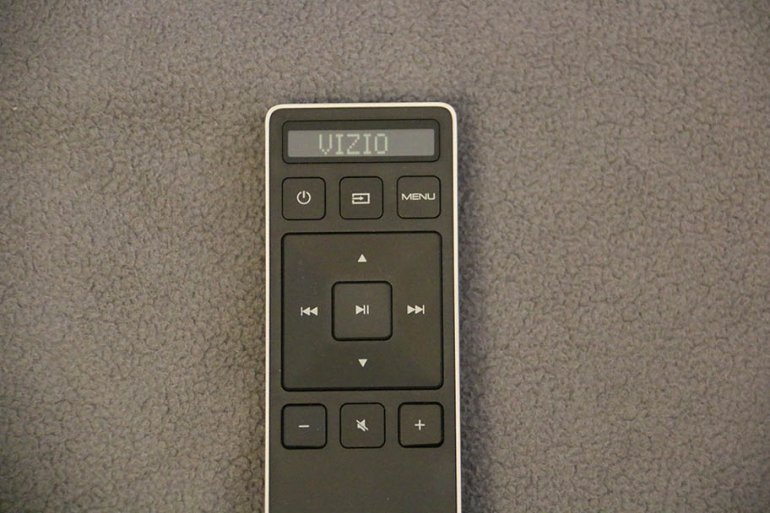 Accessories:
You've got to hand it to VIZIO. Their accessory game is on point. Then again, we're suckers for any product that includes an HDMI cable. Those things are expensive.
And it's not just the HDMI – there's an embarrassment of riches here. You get a bunch of cables, including a stereo-to-3.5mm, a 3.5mm-to-3.5mm, a coax cable, a digital optical cable, and power cables for the sub and the bar. You also get two very long and very thin cables for connecting the sub and the satellite speakers. While this works perfectly well, it would be nice to have these speakers be entirely wireless, even if they had to be connected to a mains outlet. The reliance on a wired connection here means that you either have a pair of very long wires snaking across your lounge, or you have a giant, messy coil in a corner somewhere. Still, as far as cables go, there's everything you need.
There are a couple of other nice touches, as well. You get some Velcro strips to help manage all those cables, and you also get wall mounting kits for both the bar and the satellite speakers. This is something we didn't test – a landlord wouldn't be best pleased – but the brackets felt solid, and given how good the design and build quality is for the system, we have no doubt that they would work just fine.
A word on the remote. It's fantastic. It's actually quite extraordinary how much information it communicates through the very tiny LCD screen at the top, but when combined with the responsive lights on the front of the bar, it makes it easy to adjust things (even if it's not quite as easy to settle on something that sounds good). The remote looks complicated at first glance, but it's actually very intuitive, and we found it a breeze to use. It's also a decent size, which means you're unlikely to lose it down the back of the couch.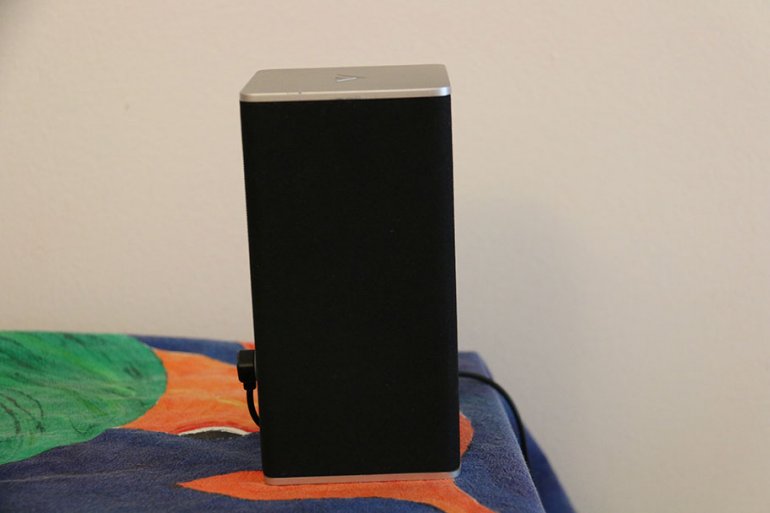 Verdict:
It's true that the sound wasn't quite as clear or as easy to manage as we would have liked. But there's no denying that, in terms of value for money, the SB3851 system is right up there.
It offers a very passable imitation of full 5.1, all wrapped up in an attractive package that is intuitive to use and easy to set up. It's an immediate upgrade on your standard TV sound, at a very affordable price, and we would be churlish to suggest that you should pass it by simply because the sound isn't quite as good as it could be. Taken on its merits, it's a solid system with a couple of imperfections, and if you're looking to bridge the gap between your TV speakers and a full surround sound setup, then this is a very easy way to do it
 
Good:
Sleek, elegant design.
Loads of accessories.
Great remote.
Good value-for-money.
Easy to setup and use.
Bad:
Slightly middling sound.
Unfocussed bass.
See the VIZIO SB3851 on Amazon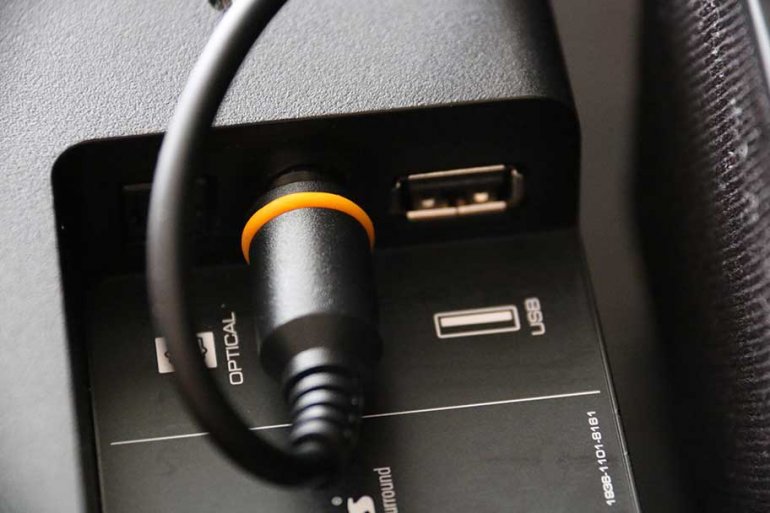 Alternatives: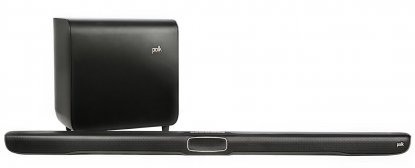 It's actually quite uncommon to find soundbar systems that are over 2.1 channels, making the SB3851 something of a rarity. An easy comparison, albeit an unorthodox one, is the Polk Audio Omni SB1 Plus, an upgrade on their original SB1.
This soundbar system offers 3.1 channels, and although it's a little more expensive than the VIZIO and doesn't include satellite speakers, we much prefer its overall sound signature, particularly the bass, which is rich and deep. You'd go for this if you want a really good soundbar, and aren't too bothered about the extra two channels.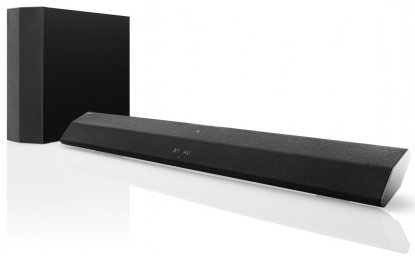 It's getting a little old now, but this is still one of our favorite models. It only offers 2.1 channels compared to VIZIO's 5.1, but for sound and functionality, it's right up there.
We particularly like the detailed and ambitious audio quality, which makes short work of just about any audio source you throw at it. And as a bonus, the HT-CT370 looks really cool, with an elegant, angled design that we still love today.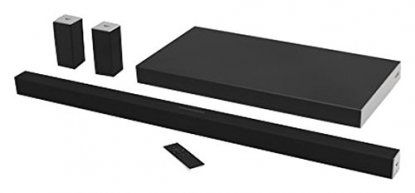 Well, why not? The SB3851 has a lot to recommend it, and since it comes in multiple sizes and configurations, there's nothing to stop us singling out another of the company's models here.
The 4051 adds two inches to the sound bar, and comes packaged with an unusually shaped subwoofer that delivers deeper bass than the model under review here. If you want something a little bit more fully featured, then check this one out.
 
Specs Table:
(Measurements are for the bars only)
| Soundbar | Price | Weight | Dimensions | Wattage | Chan. | HDMI In | Bluetooth | Sub |
| --- | --- | --- | --- | --- | --- | --- | --- | --- |
| VIZIO SB3851 | $250 | 6.75lbs | 38" x 3" x 3" | Unknown | 5.1 | 1 | Yes | Yes |
| Polk Omni SB1 Plus | $400 | 10lbs | 43" x 3.6" x 2.2" | 350W | 2.1 | 1 | Yes | Yes |
| Sony HT-CT370 | $400 | 5.3lbs | 35.4" x 4.45" x 2" | 300W | 2.1 | 3 | Yes | Yes |
| VIZIO SB4051 | $270 | 7.45lbs | 40" x 3" x 3" | Unknown | 5.1 | 1 | Yes | Yes |

Video Review:
Learn More About Home Theater