Wireless audio is harder to get right than you might think. Replicating truly stellar sound through Bluetooth or Wi-Fi takes much more work than simply delivering the signal through a speaker cable. Fortunately, SVS are rather good at building a solid sound signature, which they've proven with multiple releases over the years. With the SVS Prime Wireless speakers, they continue their unblemished track record.
 
What We Like
The sound quality of the SVS Prime Wireless is excellent, with terrific balance and clarity.
The Prime Wireless speakers have superb design and will fit in just about any scenario you can think of.
We really appreciated the preset system, which allowed us to play music instantly without the use of a phone or tablet.
 
What We Don't
Setting up the Prime Wireless speakers relies on the DTS Play-Fi app, which feels clunky and poorly-designed.
The speakers' control panel works well, but feels very basic.
At $599 for the system, the SVS Prime Wireless may be a little too expensive for casual users, but are perfectly suited to anyone looking to jazz up their system.
 
SVS Prime Wireless Specs
| Price | Wi-Fi | Bluetooth | Assistant | RMS Watts | Frequency Range |
| --- | --- | --- | --- | --- | --- |
| $599 | Yes | Yes | Alexa | 200W | 52Hz-25kHz |

Table of Contents

Design and Features
SVS Prime Wireless Looks and Build Quality
SVS definitely have a house look and it's fully present here. Our speakers came in a piano black gloss housing. They were a magnet for fingerprints, but since we weren't handling the speakers all that much, it wasn't too big of an issue. The company's trademark design elements still look great – the rivets around the tweeter, the driver that doesn't quite sit flush with the housing, the lightly-chamfered edges. In size terms, these speakers sit between the smaller SVS Prime Satellite and larger Prime Bookshelf, at 10" high. It's clear from looking at all the speakers that they share the same design DNA.
The biggest addition to the design is the control panel. It's located under the driver of the main speaker. A knob on the left of the panel controls the source and presets – more on these below – and a knob on the right controls volume and play/pause. In the middle is a very simple display that shows which input you have selected. It works fine, but we just couldn't help but think that it was a bit too simple. While these speakers probably don't need a full digital display, like the Bose Home Speaker 500, it didn't stop the existing panel from feeling distinctly old school in a way we couldn't quite put our finger on. Again, there's nothing wrong with the operation, which is easy enough. It's also clear that SVS mean for the majority of control to be handled with the Play-Fi app, which, as we'll shortly see, has its own problems.
While there are enough inputs and outputs on the rear of the speakers to potentially be bewildering, they are all clearly labelled and easy to intuit. You get various inputs, including an auxiliary, and optical, and RCA, which are all useful for when you want to connect to a turntable or external DAC/ We liked the included ethernet connections for moments when the Wi-Fi struggled. We also appreciated the fact that the USB port can be used to charge phones and tablets, although it would have been nice to let us plug in a USB drive loaded with music. Next time, baby.
One other nifty feature worth noting is that the SVS Prime Wireless work with smart speakers like the Amazon Echo Dot (full review here), meaning you can play music on your network using voice commands. All you have to do is connect the two. This is done by downloading the Play-Fi skill from the Alexa skill library - a job of a few seconds. It works well, although it doesn't feel essential to use the speaker. It's a nice-to-have, rather than a key feature.

Controls and App
Connecting the SVS Prime Wireless system is relatively simple. Both speakers need to be connected to a power outlet, and the two need to be joined together with a cable. While this is a far cry from more advanced speakers, like the $900 KEF LSX (full review here) which communicate entirely wirelessly, it's relatively painless to set up. Unfortunately, once you've actually got things connected, you have to use the DTS Play-Fi app, and this is where things get a little annoying.
Play-Fi, if you aren't aware, is a method for speakers from different manufacturers to communicate over a wireless network. Think of it like Bluetooth – a method which doesn't care who makes the devices at either end, but just gets them talking. Play-Fi works via a smartphone app, and SVS use it to help set up the Prime Wireless speakers, and get them connected to a network. You can stream almost anything you want through this app, including high-res services like Tidal.
The problem is, the Play-Fi app simply isn't very good. The design is clunky and unintuitive, and doesn't feel like it's improved in the couple of years that the app has been around. It simply feels slower than it should. For the record, we never experienced any glitches or dropouts in the app, but it's just not up to speed with its competitors.
This is all very puzzling. SVS have already proven that they can build excellent apps themselves – their subwoofer app is one of the better examples we've tried. It's intuitive, simple, and effective. Perhaps it simply wasn't feasible at the design stage, but we really felt quite disappointed when we couldn't use one of the company's own apps to control the Prime Wireless speakers. Using the Play-Fi app felt like we were settling, rather than extracting the best from our experience. If we had one wish for the next version of the speakers, it would be that SVS sucks it up and builds another app. On the other hand, the Play-Fi app does come with a critical listening option, which allows you to take full advantage of the Prime Wireless system's excellent DAC, and its 192kHz/24-bit audio. That we did like.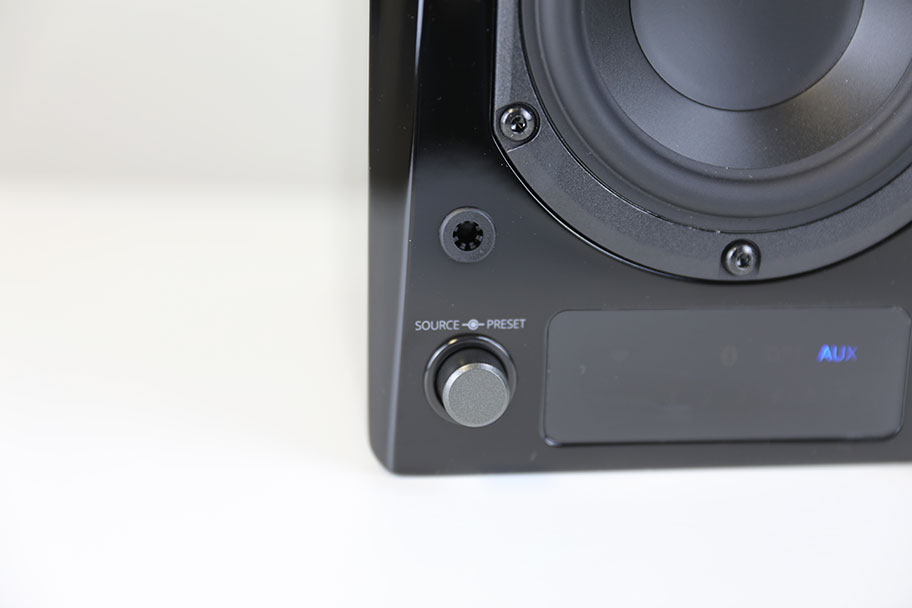 Presets
One of the interesting things you can do with the Prime Wireless is program six specific presets, toggled with the left control knob. The presets allow you to play a specific set of songs on a specific streaming service, all at a single touch. That means, for example, you could have preset one play your work music, and preset two handle some background tunes for dinner. In practice, it works well. Although, there is a slight delay between selecting a preset and having the music play. That aside, we really enjoyed this feature, as we didn't have to pick up a phone to press play. As long as we had a Wi-Fi connection, everything went smoothly. It's not something we've seen on wireless speakers (to our knowledge), and we found it to be a genuinely interesting feature.
 
Accessories
There is very little to get excited about with the 'extras'. The box is identical to just about every other speaker package on the planet and the accessories are minimal. You get a pair of speaker grilles, a basic set of cables, and some stick-on feet for the bottom. That's it. Then again, the Prime Wireless don't feel like they need any additional whizbangs to convince us of their quality.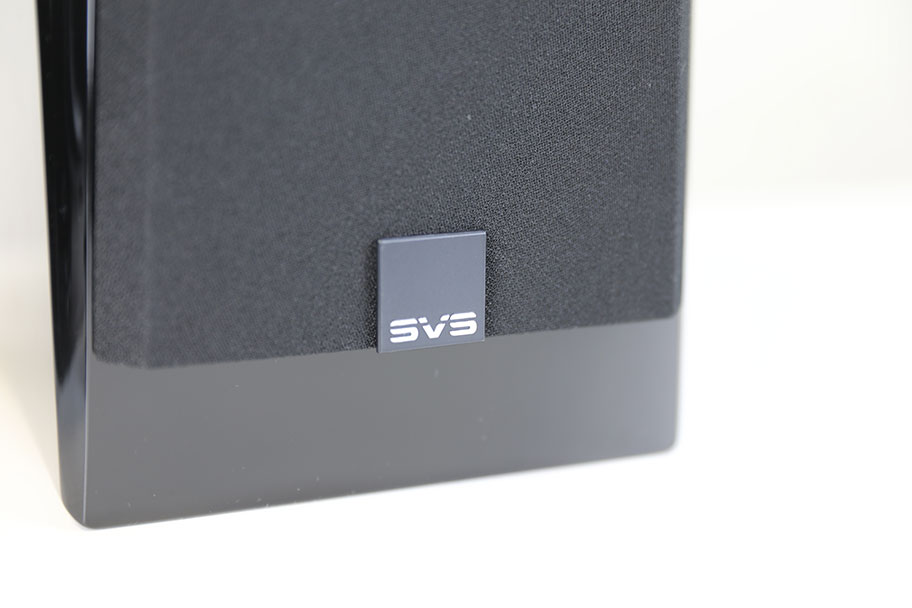 Sound Quality and Performance
SVS Prime Wireless Balance and Clarity
The dominating sound impression of the Prime Wireless is one of clarity. It's very easy, even with only a few seconds of listening, to pick out the different elements in the track. There's none of the slightly woolly bass or overcooked mids that you'd find in less-expensive wireless speakers. Instead, what you have is a genuine sense of balance, where no element of the song overpowers another. Kick drums, snares, and vocals feel perfectly weighted, in a way that doesn't seem biased towards one particular genre. We put everything from hip-hop and electronica to folk and classical through the speakers, and we rarely came away disappointed. In comparison to a pair of Sonos One wireless speakers (full review here), it wasn't even a competition. Admittedly, the Sonos are slightly less expensive than the Prime Wireless, at $199 each ($398 for a pair), but the SVS speakers are a quantum leap in sound quality.
If we did have one criticism, it would be that, every so often, the balance and clarity can become a touch lifeless. Not dramatically so, but enough that we noticed, and wished that there were more liveliness in the sound. You definitely don't get the open, spacious feeling that you would from the KEF LSX. We compared the two systems directly, and there was no question that the LSX speakers were markedly superior. Then again, they cost a good $400 more than the Prime Wireless, at $900 for the pair. Therefore, an increase in quality is not surprising. Simply put, the Prime Wireless aren't perfect, but they still managed to deliver excellent sound that more than justifies the asking price.
A word on bass. One of the options you have with the Prime Wireless is to connect a subwoofer using the subwoofer out on the rear of the main speaker. In doing so, you'll obviously give the low end a huge boost in energy. Our take? The SVS Prime Wireless don't actually need an additional subwoofer. They work perfectly well without one, and we never felt like we were missing out by not having one connected.
However, there's nothing wrong with connecting a subwoofer if you have a spare. We actually have an SVS model in the office - the superb SB-1000 Pro (full review here). We had great fun linking the two systems together, but the bass that the Prime Wireless system delivers through its twin 5" woofers is more than satisfactory, with the level of punch and power that we found surprising. The clear, tight, compact character of the low-end never felt like it needed additional help. Although it must be said, we did wonder what would happen if we still had our review model of the SVS PB16-Ultra (full review here). Sadly, we had to return it, which meant we couldn't experience the combination of the the Prime Wireless partnered with the Ultra's 1,500 watts...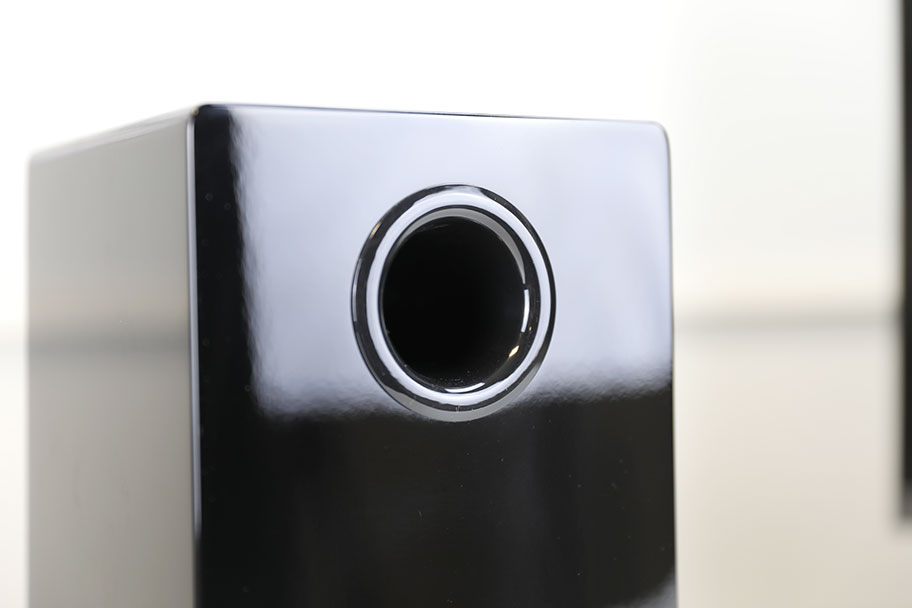 Soundstage and Sweet Spot
We were also really impressed with the soundstage that the Prime Wireless speakers delivered. Not only were elements of each song were clear and discernible, we could precisely pinpoint where those individual elements were. The soundstage was wide and engaging, feeling like it filled up the whole room even at low volumes. In addition, we found that the sweet spot – the listening position where we could hear the speakers most effectively – was accommodating. We didn't feel like we had to be in a specific position, with head held at precisely the right angle, to extract the most from the sound. Quite the opposite, as it was easy to wander around the room without feeling like we were missing out on much. In this aspect, the Prime Wireless match up to just about any other wireless speakers we can think of.
 
Wired vs. Wireless Audio Quality
Like many other wireless speakers, the SVS Prime Wireless offer the chance to listen both wirelessly (over Bluetooth or Wi-Fi) and through a physical, wired input. An external source like a digital audio player can be connected either through an RCA cable or a 3.5mm jack. There's even an optical connection for TVs and consoles. We tested several different sources, and while we do think that the sound has a touch more polish when wired connections are used, it's not dramatic enough for us to insist on it. For the most part, both Bluetooth and Wi-Fi audio sounded great.
We don't know what DAC chip the speakers use, and will update when we hear back from SVS. But it's rated to deliver up to 192KHz/24-bit audio. For the most part, it performs very well indeed, easily comparable to other wireless speakers. Admittedly, you will need to use the Play-Fi app's Critical Listening feature to really crank up the file size, and there's no compatibility with MQA or DSD, but it still sounds great.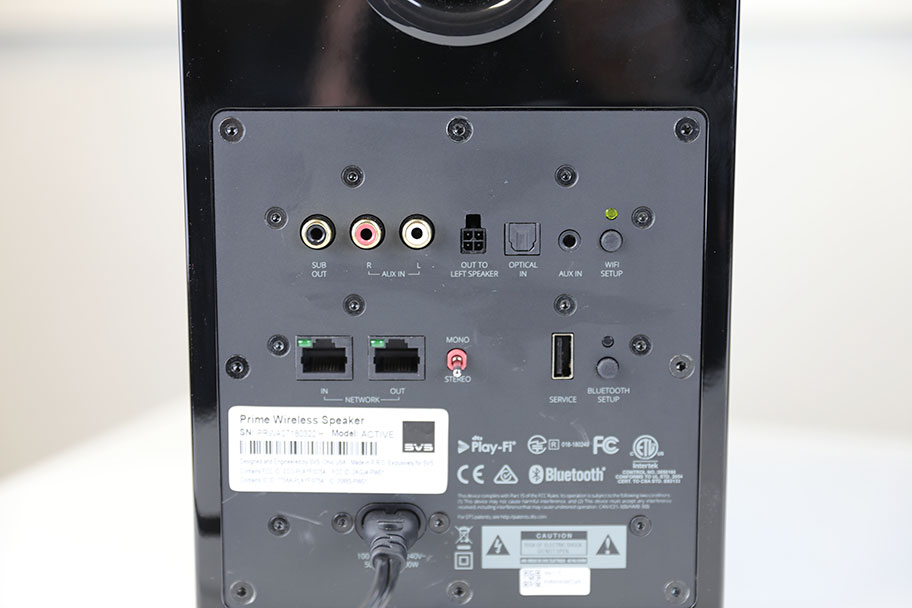 Mono vs. Stereo vs. Multiroom
One of the interesting things you can do with the Prime Wireless system is toggle between stereo, mono, and multiroom operation. The default mode is stereo, with the two speakers connected via an included cable. But if you flick a switch on the rear of the main speaker, you can have it operate in mono mode. Obviously, you won't get the superlative soundstage and spacing that you would in stereo, but overall, the sound quality still felt good enough to use in a pinch. And it's ideal if you happen to be listening to a mono master vinyl on a turntable.
It's also possible to stream to more than two speakers at once using a multi-room setup. This is handled using the Play-Fi app – more on this below – and it works relatively well. If you want, you could quite happily buy multiple Prime Wireless systems and group them together, but the advantage of Play-Fi is that other speaker brands are compatible.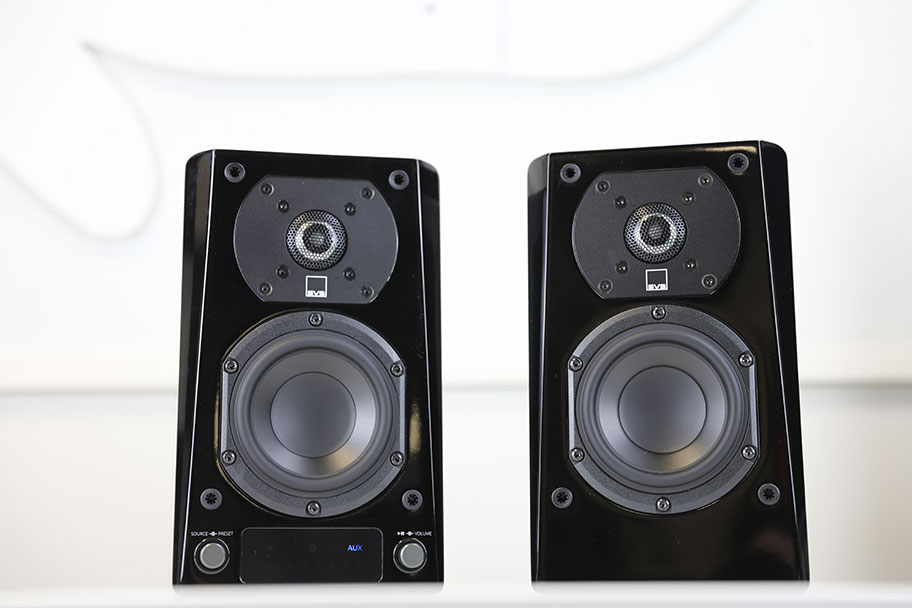 Why You Should Buy the SVS Prime Wireless
The big selling point for the SVS Prime Wireless isn't the sound, which is almost universally good and frequently excellent. It's the presets, which allow you to start listening to your favourite playlists in moments. They are a boon if you regularly listen to the same music, such as when you are working, or working out. These are not the best wireless speakers ever made, and they have a couple of flaws that are puzzling, but they are still very good. If SVS can work out the kinks for version 2.0, they will have an absolute monster on their hands.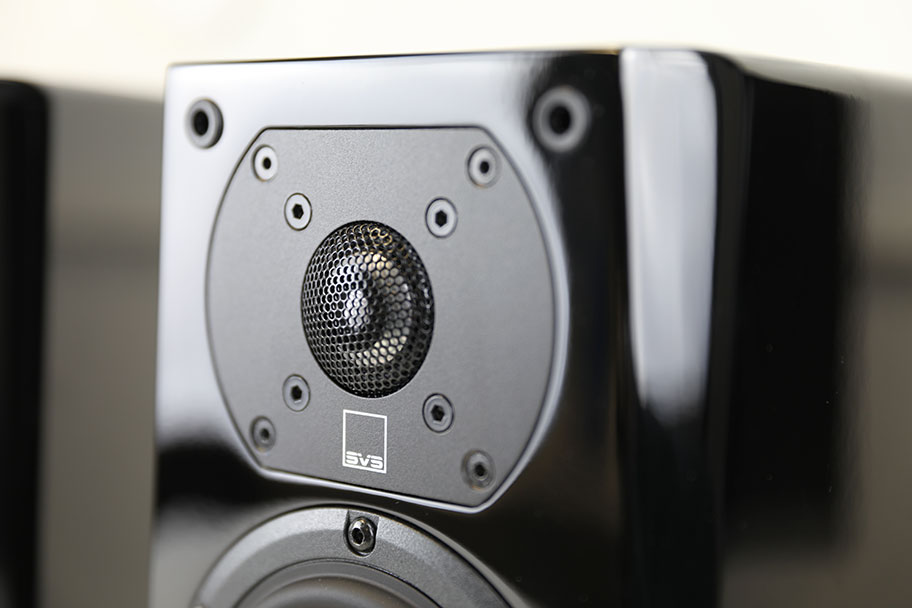 Why You Should Not Buy the SVS Prime Wireless
Ultimately, there are better and more convenient options for wireless speakers available— we highlight some of them below. The need to use the DTS Play-Fi app is frustrating, as it is genuinely one of the worst audio apps around. If you get irritated with technology easily, then you may want to steer clear of these particular speakers. They are good, but there are better options out there.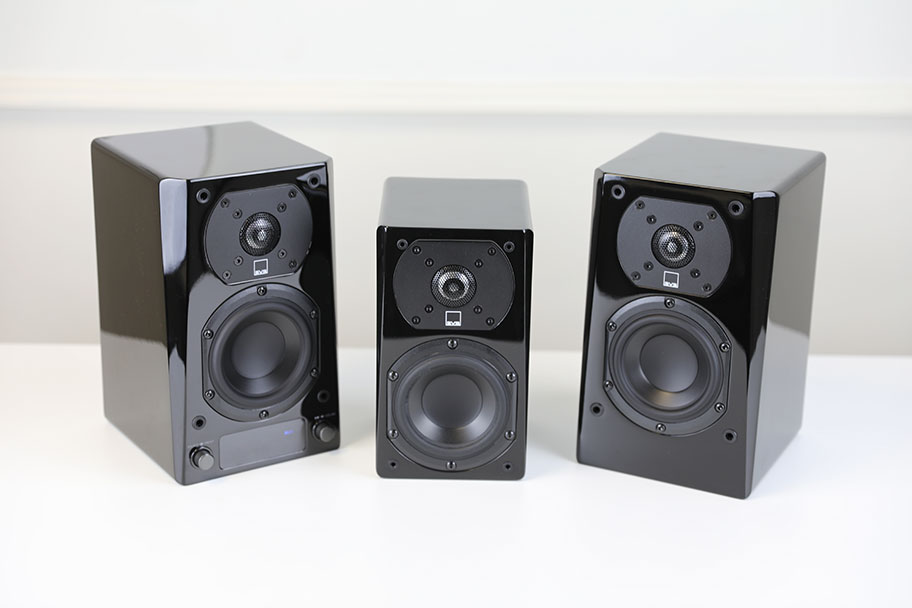 The Competition
SVS Prime Wireless vs. SVS Prime Bookshelf
It's entirely possible to get the same speaker without the wireless functionality, by opting for the SVS Prime Bookshelf. Same design, very similar sound. The kicker is this: a pair of these cost only a little less than the Prime Wireless System ($500 versus $599). If all you need is a basic pair of bookshelf speakers for a hi-fi system, they are a solid choice. But our take is that you should spring for the extra wireless features, especially given that you can use the Prime Wireless as both stand-alone speakers and connected to an existing system.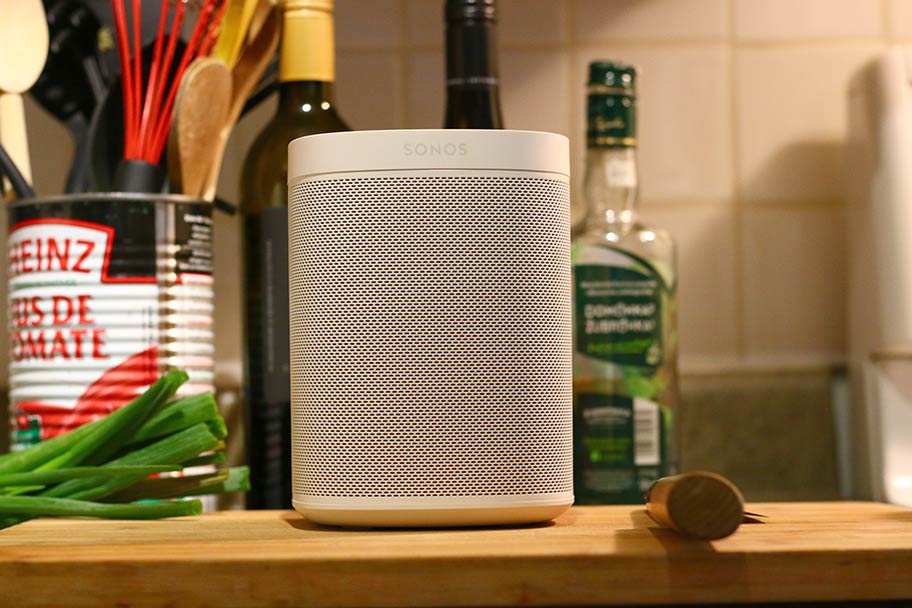 SVS Prime Wireless vs. Sonos One
Technically, the Sonos One is a single wireless speaker, rather than a stereo pair like the Prime Wireless. But you can't talk about wireless audio without mentioning Sonos, and given that you can pair two Ones together quite easily, it's worth comparing them here. Sonically, there's no question that SVS are much, much better. But where they can't compete with Sonos is in setup and ease of use. Sonos are in a league of their own here, and we have yet to see their app and setup process bettered. Two Sonos Ones will cost you a shade under $400, a good $200 less than the Prime Wireless.
 
SVS Prime Wireless vs. Sonos Five
Another Sonos comparison. This time it's the Sonos Five, a single speaker the costs as much as the two speakers found in the Prime Wireless package. That means if you want to double them up for a stereo pair, you'll be looking at an outlay of over $1,000. Honestly, this is the point where Sonos' famous setup and ease-of-use stop being worth it. In terms of sound quality, two Sonos Five speakers just can't compete with the Prime Wireless. It's also worth noting that the SVS speakers work far better for connection to a TV then the Sonos Fives. The latter bring some significant lag to the table, which is not good. Our take: you can probably steer clear of this pairing.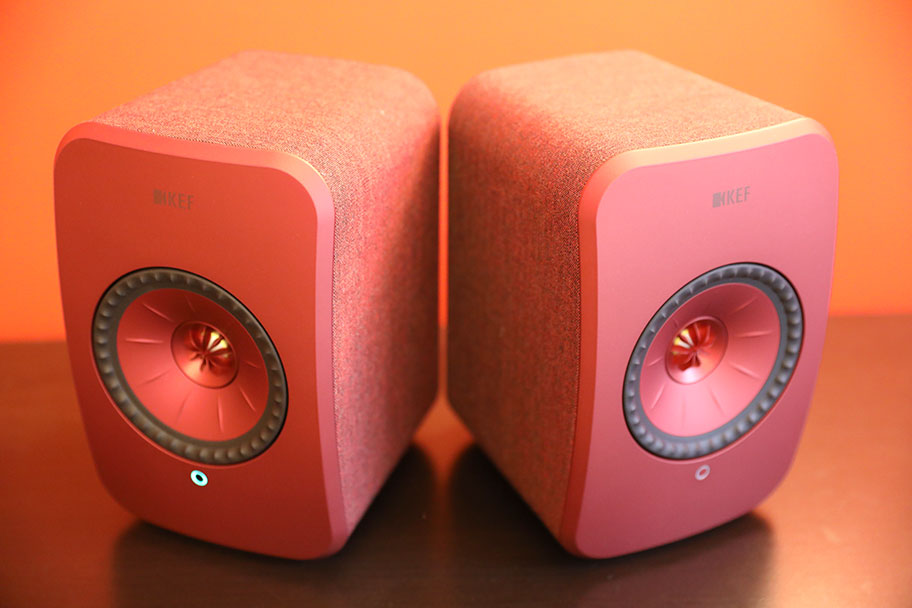 SVS Prime Wireless vs. KEF LSX
If you want to really lean into the sound quality aspect, then we strongly recommend checking out the KEF LSX. They are a smaller, friendlier version of the company's flagship LS50 Wireless II speakers, and we have been blown away by how good they sound. The audio quality is rich and airy, with real lushness – easily better than the Prime Wireless. They do cost significantly more, however – $900 for a pair – and like the SVS speakers, they have their own issues. For one thing, you have to download two separate apps to make them work, which is a design decision we will be puzzling over until the end of time (Update: KEF has changed this to a single app. Huzzah!). Still, they are fantastic speakers and we recommend them to anyone who can afford it.
 
SVS Prime Wireless vs. Audioengine HD4
The Audioengine HD4 ($449) present a sleeker and slightly more modern option than the SVS Prime Wireless, as well as being more affordable by about $150. That's with the caveat that they don't sound quite as good, and don't quite have the volume and depth to fill large rooms. They also lack bass, which could be a problem. That said, Audioengine have been in the wireless speak game for a lot longer than SVS, and they really do know what they are doing. If you are looking for a pair of wireless speakers that are more affordable than the Prime Wireless, they are an excellent option.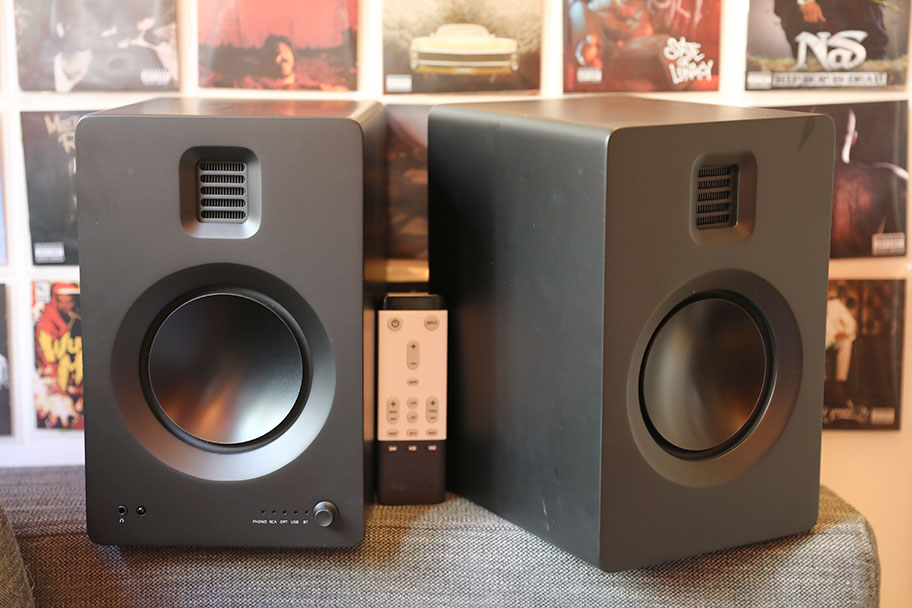 SVS Prime Wireless vs. Kanto TUK
We adore the Kanto TUK speakers. Yes, they are expensive—$800, versus $599 for the SVS— but lordy, do they sound good. The audio quality is rich and sumptuous, with pinpoint detail. They are far better than the SVS speakers, and as a bonus, do not use the execrable Play-Fi app. In fact, they don't use an app at all, just regular Bluetooth. Yes, you'll miss out on some of the bells and whistles found on the SVS speakers, but if sound quality is what you're looking for (and you don't want to spring for the KEF LSX) then you should check these out. They rock.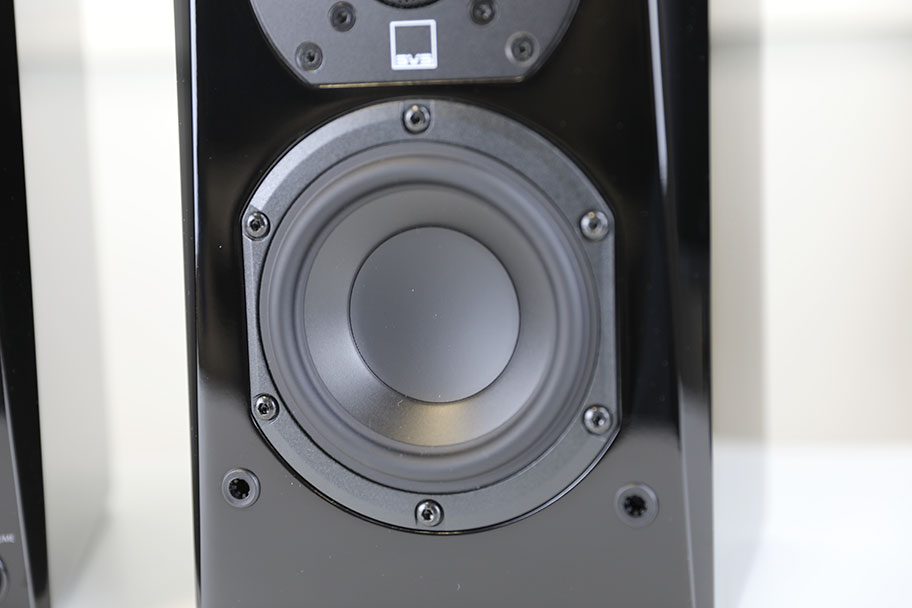 Comparison Table
*Wattage figures are all RMS - the average power output at a reasonable volume, rather than pushed to the max.
**Freq. = Frequency Response
 
Test Equipment for This Review
Learn More About Home Audio