Amazon's Echo series has been a trailblazer for smart speakers. The company was among the first to make virtual assistants available to the world, and with their budget Echo Dot line, they've made it even easier to get a smart speaker in your life. The newest version is the Echo Dot (3rd Gen), which we've just spent a couple of weeks with. In this review, we break down the Echo Dot's sound, design, packaging and accessories, specs and more. To see how it stacks up, check out our list of the best wireless speakers.
 
Design
Amazon Echo Dot (3rd Gen) vs Amazon Echo Dot (2nd Gen)
We give Amazon one thing: they learn from their mistakes. In order for smart speakers to be truly successful, they need to blend into the environment seamlessly, and that means looking as sleek as possible. It's a lesson they took to heart with the Amazon Echo Dot (3rd Gen), a $50 smart speaker that has been given a complete makeover.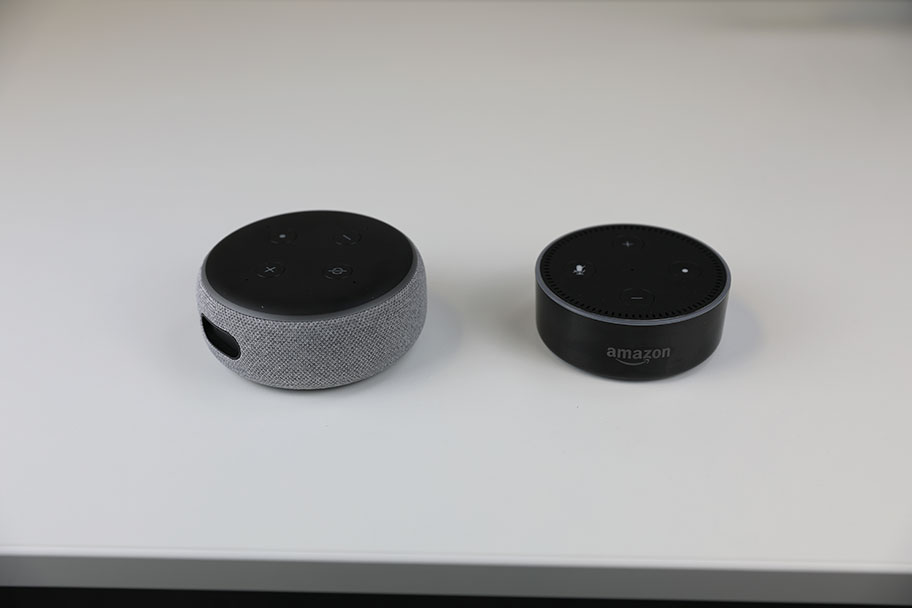 Its predecessor – the 2nd Generation Dot, now reduced to $40 – was affectionately known as the Hockey Puck. One glance will tell you why – just check out some of our photos in this review. For the latest update, Amazon have smoothed out the rough edges, giving the new Echo Dot a more pleasing shape, and covering the sides with a fabric-like material. Although this isn't a portable speaker, and you won't be picking it up much, the material gives the Dot a pleasing tactility. We think it's definitely an improvement on the previous model. It would have, however, been great to see the Echo Dot being offered in a range of colours beyond charcoal, sandstone, and heather grey. Inoffensive they may be, but they are also a little boring. Compare them to the Ultimate Ears MEGABLAST (full review here), with its range of colors and psychedelic packaging. Admittedly, the MEGABLAST is more expensive, at $175, but would it have killed Amazon to add a little color?
Amazon haven't just been content to change the exterior. We'll go into this in a little bit more detail below, but they've also boosted the sound quality and volume, as well as tweaked the outputs. In doing this, Amazon have brought the Echo Dot more into line with current smart speaker trends. In our opinion, these changes not only put the speaker over the previous Echo Dot generation, but give it a major edge over the Google Home Mini. That speaker is offered at $49, which is an almost identical price to the new Echo Dot.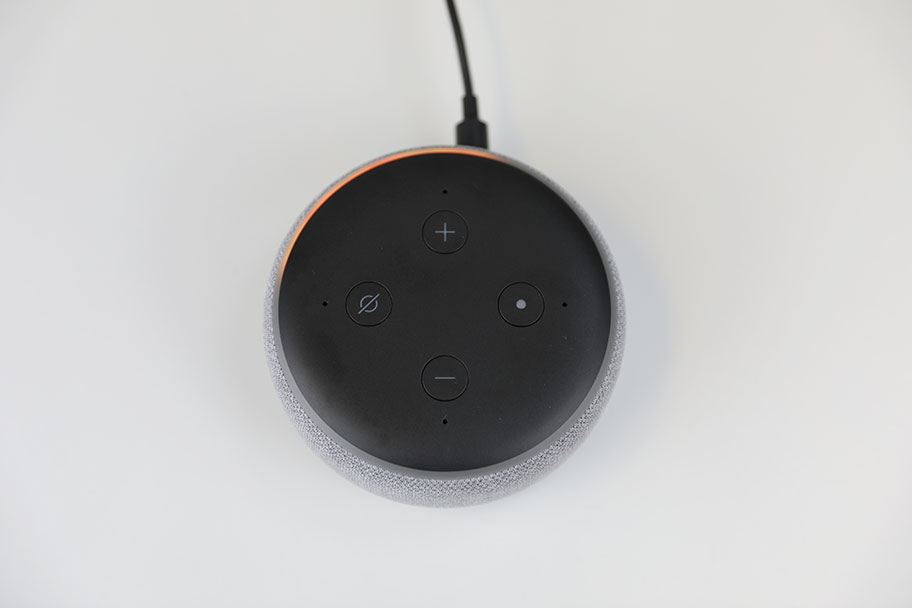 Alexa Smart Assistant
One area we really wish Amazon had focused on little more is their Alexa smart assistant. In the world of smart speakers and voice control, Alexa isn't a frontrunner. Amazon may have a library of third-party skills, which allow their smart assistant to control other apps, but the actual process of activating and talking to Alexa still feels clunky, even years after its release.
Alexa has trouble with follow-up questions, and still has issues recognising requests – especially if the accent is unusual, or there's a little background noise. Wherever possible, we try to judge a smart assistant separately from a smart speaker – Alexa, after all, is available with speakers from many different manufacturers. But it seems very tricky to do that here, especially given that Amazon actually make the speaker. Other speakers, like the $179 Google Home (full review here) pack in the Google Assistant. That virtual assistant is far better than Alexa in almost every way, as it is more able to respond to follow-up questions, and draws on a wider pool of information for its responses.
Alexa still manages to perform basic functions, like stream music off Spotify, set timers, and conduct simple searches online. The smart assistant isn't broken - it's just not nearly as good as we expected. While we love the overhaul that Amazon has given to its speaker design, it really does feel like they need to pay more attention to making Alexa smarter. The issues with follow-up questions, for example, are still a real pain to deal with. It essentially means you have to start a new conversation every time – if, for example, you want Alexa to set different temperatures for different zones in your house, you need to phrase each request separately. We will go into this in a little bit more detail below. By the way, if you're wondering how the third major smart assistant – Siri – performs, you can read our take on the $349 Apple HomePod (full review here). Spoiler alert: it's not quite as smart as Google Assistant, but performs well enough if you know how to talk to it. If you want a full breakdown of the major differences between smart assistants, we've got one right here.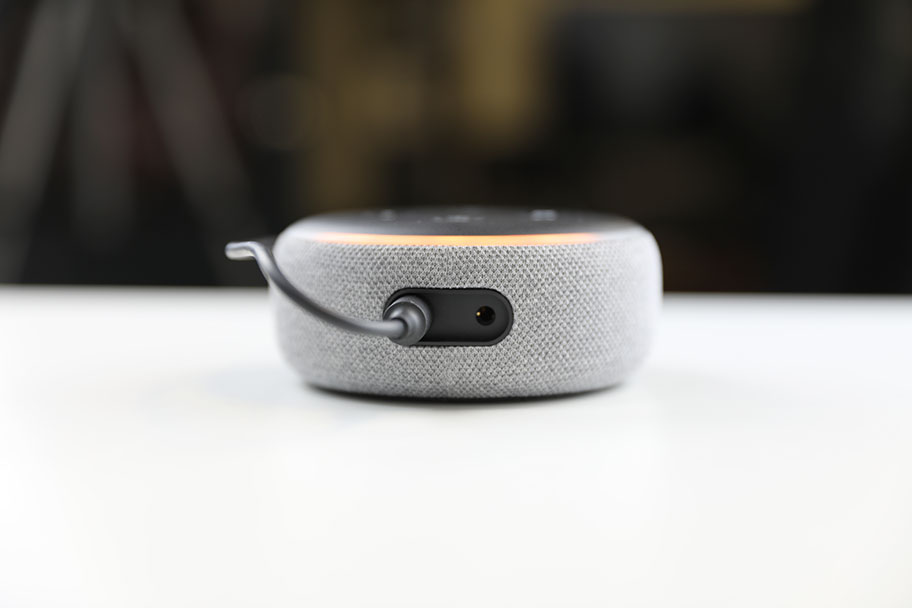 Inputs, Outputs, and Controls
The biggest changes, outside of the design, have occurred with the Echo Dot's inputs and outputs. The previous generation had one charging port on the back, and that was it. The new Echo Dot has an additional 3.5mm output - something not many other smart speakers have. This allows you to connect it directly to another speaker. As you'll see when we talk more about the Echo Dot's sound quality, that's a very good thing. The Echo Dot does not ship with a 3.5 mm cable, but you can get one for less than $10 – here's a very simple one from Amazon Basics. Since you're going to be putting in an order from Amazon anyway, if you decide to buy the Echo Dot, this isn't exactly a hardship.
Bear in mind that you don't have to use this wired connection at all if you don't want to. The Echo Dot's default connection to other speakers is via Bluetooth, and it works very well indeed.
One thing that we found deeply annoying: the power connection. In the previous Echo Dot, the connector was a simple micro-USB. In the new one, it's a proprietary connection that only Amazon uses, meaning you have to rely on the included power cable. That's frustrating as hell. The reasoning is that the speaker needs more power than a micro-USB connection can deliver, thanks to its increased volume capacity, but it still remains a strange inconvenience.
One thing that Amazon has done is standardise controls across virtually all its models. You will find the same set of controls on the Echo Dot as you will on the $149 Echo Plus (2nd Gen). There are two volume buttons, and a button to deactivate the Alexa microphone – an action which causes the light-up ring around the edge of the speaker to turn red, giving a handy visual indicator. There's also what Amazon calls an Action button, which offers an alternative method for activating Alexa. We didn't find ourselves using this much, but the controls generally work well. Setup also felt intuitive and quick, thanks to assistance from the capable Alexa smartphone app (more on this below).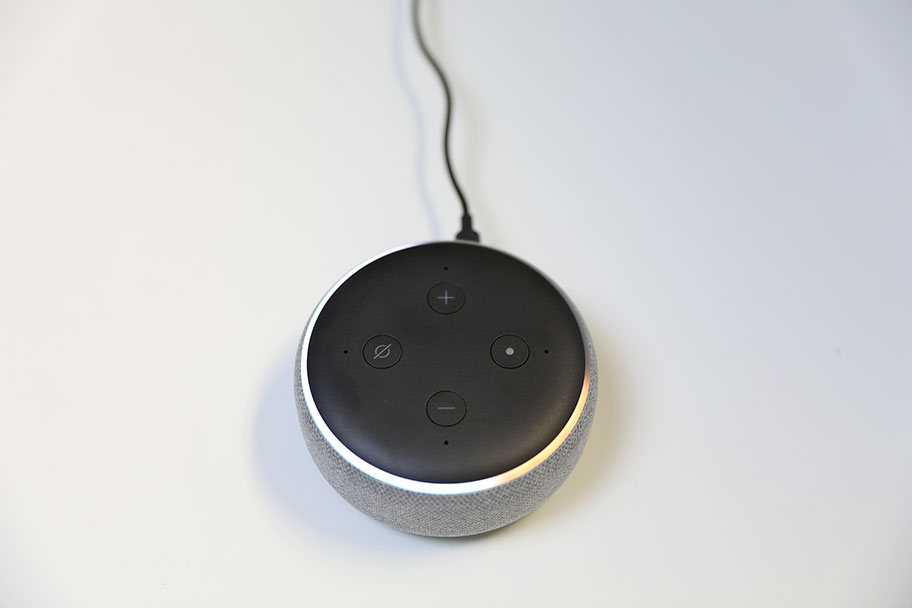 Smart Home Control
Smart speakers have the ability to control the devices in your home. If you have a smart thermostat or set of smart light switches, Alexa will be able to control them - in theory, anyway. Amazon have made their speakers compatible with a huge range of smart home devices – you can see the full list here.
In practice, however, we had the same issues with the Echo Dot that we did with the $130 Echo Spot (full review here). Alexa just doesn't seem smart enough to control a smart home. We were constantly running into issues that required repeating ourselves, and the speaker would continually fail to recognise our devices. This was particularly frustrating, given that the actual app itself connected to the devices flawlessly; we just couldn't understand what the issue was, and the FAQs on Amazon's website didn't help. If you have a smart home, we'd recommend any of Google's speakers for this purpose instead.
 
Alexa App
The main accessory you absolutely need is one that doesn't come in the box: the Alexa app. It's free to download on both iOS and Android, and is essential for setting up the speaker. The app is one of the better parts of the overall Amazon experience. It's very well designed, and feels intuitive and easy-to-use. Adding skills to Alexa – the little bits of programming that allow it to read you a stock report from Bloomberg, play NPR, or turn on your XBox – is simplicity itself. Using the Echo Dot speaker or the Alexa app means giving at least some data to Amazon. How comfortable you are with sharing is entirely up to you.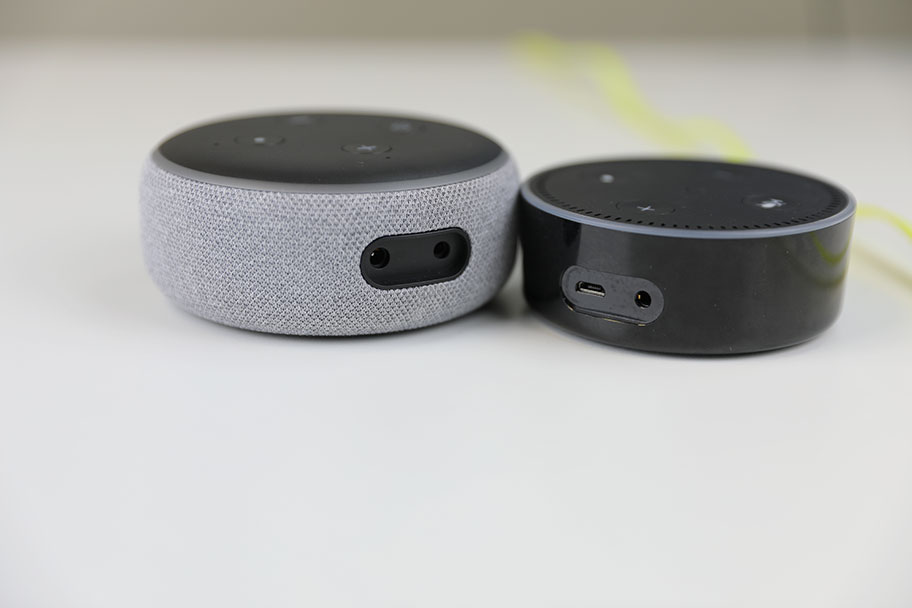 Sound
Overall Audio Quality
There have been some genuine improvements to the sound quality of the third-generation Echo Dot. Amazon have increased the size and quality of the speaker drivers, meaning that the audio issues found on the previous generation have been mostly resolved. Distortion at high volumes is no longer a real issue, and overall, the sound quality feels cleaner and clearer. You definitely aren't going to be impressing your audiophile friends with this one, but for such a tiny speaker, it didn't feel like we were losing out on much. It's worth being realistic about the sound quality, however. It's an improvement on the older Echo Dot models, but it cannot compete with other major smart speakers. The $349 Apple HomePod (full review here) sounds far better, and even more affordable speakers, like the $199 SONOS ONE, sound quite a bit better.
Even Amazon's own lineup beats it. The company has been leaning hard into sound quality recently, even going so far as to release a wireless subwoofer called the Echo Sub. This $130 device is designed to work with other Echo speakers, and give a lift to the low-end. You can absolutely use it with an Echo Dot, but honestly, you are far better off connecting the Dot to a Bluetooth-equipped wireless speaker. This is actually quite a nifty trick, turning a regular speaker into one that is powered by your voice.
It must be said that, while the sound quality is only passable, it's easy to play music, which makes the speaker quite useful. The Echo Dot offers full support for a range of services, including Spotify, Amazon Music, Pandora, and more. Here's a breakdown of every service the speaker offers. We largely used Spotify for testing, and this was one area where Alexa always felt capable and in control. It doesn't offer as many services as some other speakers - the aforementioned SONOS ONE gives you access to Tune-In Radio, iHeart Radio, Amazon Music, Spotify, Audible, Deezer, Google Play Music, and Tidal. However, it covers all the main services.
Volume
The previous generation of the Echo Dot had sound quality that was not only tinny and distorted, but also quite weedy. It never reached a satisfying volume level, no matter how hard we pushed it. That's not an issue here. While the Echo Dot won't get as loud as other Amazon speakers, like the aforementioned Echo Plus (2nd Gen), the drivers managed to deliver sound that fills up a small room. If you have a home office, or want to add a little bit of music in the bedroom, this speaker could be ideal. It really lends credence to the impression that the new Echo Dot is a step forward for Amazon, and a real attempt to fix some of the issues of the previous generations.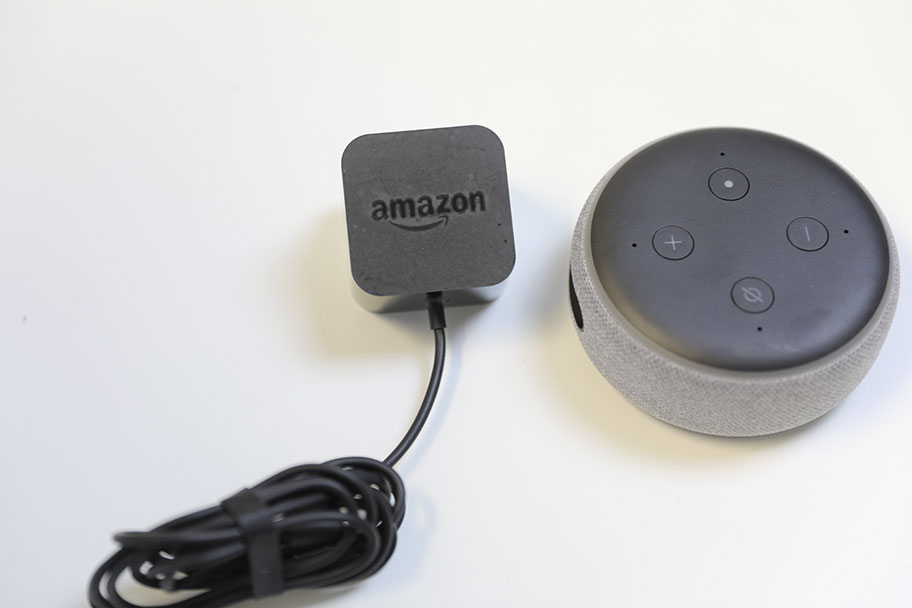 Accessories & Packaging
The Echo Dot costs $50 - so it's hardly surprising that both accessories and packaging are minimal. Ours came in a simple blue box, with the speaker neatly arranged on top of a short Quickstart guide, and the power cable. This cable – which, as we've already mentioned, is proprietary to Amazon – is the only other accessory you get with the Echo Dot. It works well enough. For the price, we weren't expecting anything special or high-end, but it was good to see that a little thought had gone into the packaging.
 
What We Like
The Amazon Echo Dot (3rd Gen) improves on the previous version in almost every way.
The Echo Dot's sound quality is passable for its size, and it excels when used to control bigger Bluetooth speakers.
The added 3.5mm output is welcome, and we love the redesign of the housing.
 
What We Don't
Alexa still isn't the brightest smart assistant, and it struggles with certain functions, like smart home integration.
The micro-USB power connection on the Echo Dot is gone, replaced by a proprietary connector that can't be used on other devices.
It still feels like an add-on for Bluetooth speakers, rather than a dedicated speaker itself.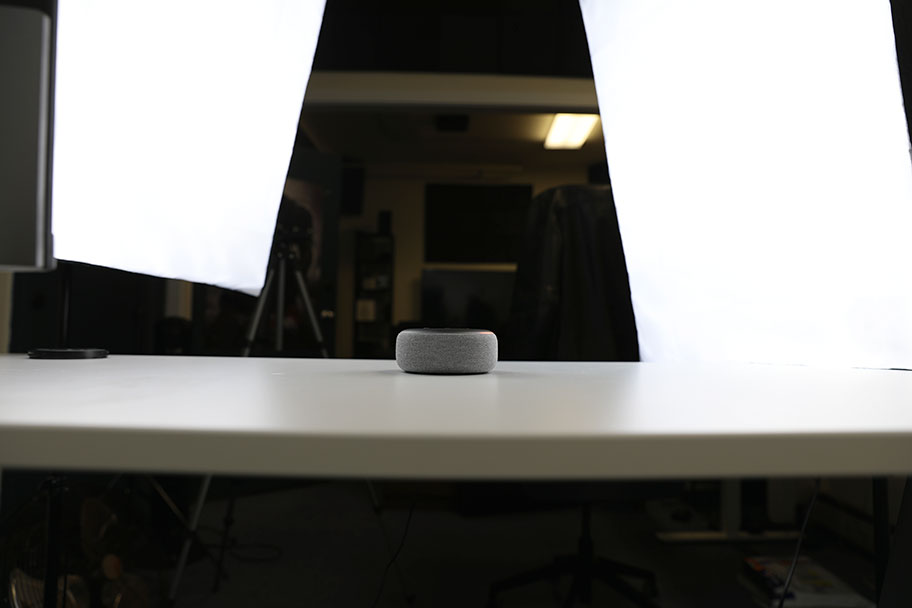 Comparison Table
Want Even More Master Switch? Sign Up For Our Weekly Newsletter!

The Competition
A good deal of the queries we get about the Echo Dot ask how it compares to other speakers in the Echo line. We're going to highlight several other options in this section below, but first, we want to talk about the speaker the Echo Dot most resembles. This is the Google Home Mini. It costs $49, a little under the price of the Echo Dot. While we do like the design, which feels friendly and attractive – enough for the Echo Dot to copy – we do think the Dot is a better speaker overall. It may not have the full functionality or intelligence of the Google Assistant, but its clear controls, prominent mic on/off switch, and 3.5mm out make it a superior option. We've used both, and while the Home Mini is good for smarthome integration, the Echo Dot is a better option for everything else.
What about another Alexa-equipped speaker, the SONOS ONE? This $199 smart speaker reuses the design of the old PLAY:1 speaker, with added virtual assistant functionality and redesigned controls. Very obviously, it has better sound quality than the new Echo Dot, while retaining much of the same functionality. That being said, we don't always feel like ours is worth the extra $150 over the Echo Dot - the sound quality may be better, but it feels a little weedy for the price, especially when compared to other smart speakers. Think of it as a higher-end alternative to the Echo Dot.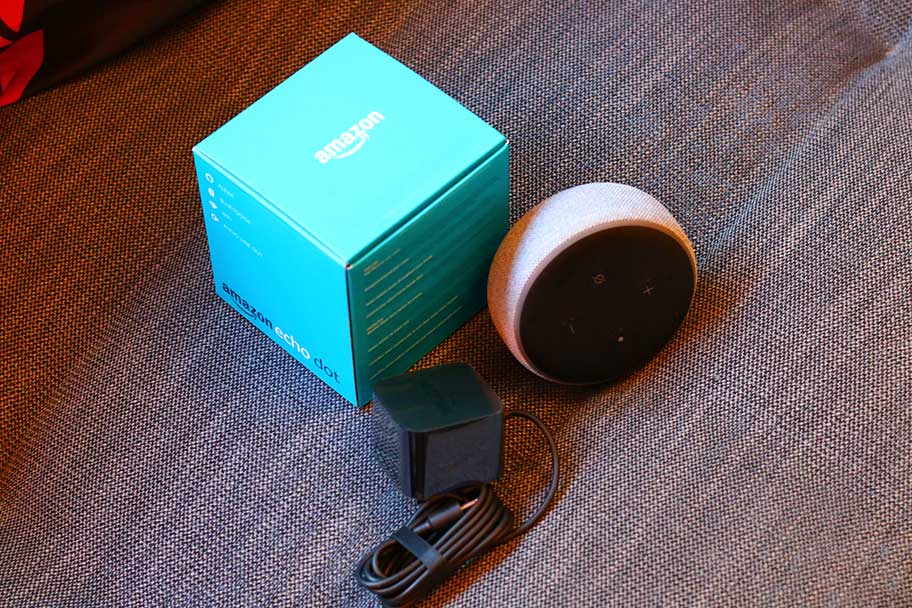 Onto the Amazon speaker comparisons. Amazon recently refreshed its entire echo line – the new Echo Dot was a part of that. If you want something with more advanced sound quality, we recommend the Amazon Echo Plus (2nd Gen). It's much more expensive than the Echo Dot – at $150, it is three times the price. But what you get is a vastly enhanced audio experience, with crisp detail and surprisingly deep bass. Two of these, set up in stereo, make perfect sense – but even one on its own will leave you smiling. It also adds additional features, like a built-in smart home hub that largely alleviates the issues we had with the Echo Dot's functionality. If you have a little bit more money to spend, it's an excellent choice.
If you don't need a 3.5 mm connection and advanced sound quality, the older Amazon Echo Dot (2nd Gen) is still available. It's cheaper than the 3rd Gen now, at $40, and boasts much of the same functionality. We owned this model long before we had the new Echo Dot, and while it's ugly as sin, it still functions well. It has the same features (more or less) as the new version, with full Alexa functionality. It's an excellent alternative, if you'd like to save a little bit of cash - although you will have to cope with the dated looks.
See the Amazon Echo Dot (3rd Gen) See the Best Wireless Speakers
Learn More About Home Audio