When it comes to improving your TV sound, nothing beats a soundbar. Even a small one will give you radically improved audio, and they're versatile enough to work for music and gaming setups too. Whatever your budget is, we've got a soundbar for you, with our collection of the best soundbars of this year. If you're tired of terrible TV speakers, give some of these a try. For more background information on soundbars, see our comparison table and buying advice below the picks.

Best Overall Soundbar (and Best Smart Soundbar)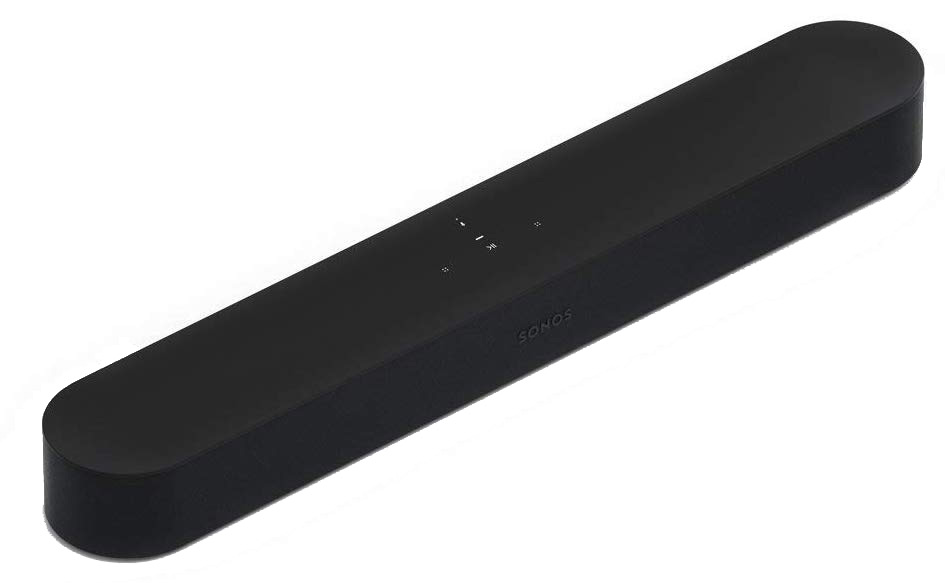 Category: Soundbar
Length: 25.6"
Connections: HDMI ARC, Optical (with Adaptor), Wi-Fi
What We Like: Amazing sound for the price, super-easy setup.
What We Don't: This would be even better with a separate subwoofer.
There's no question that the Sonos Beam is the best soundbar available right now. It's an incredible piece of tech, and the sound quality you get for your money is just out of this world. With elements like movie dialogue, the Beam performs incredibly well. It may not have additional surround speakers, like the VIZIO models below, but it delivers a convincing impression of surround audio. And when it comes to the setup, the process is not only easy, but actually quite fun. Sonos's app makes setup a breeze, and you can use that app to stream music through the Beam as well. There's even Apple Airplay 2, if you have an iPhone. The inclusion of Amazon Alexa means you can issue commands to your Beam, making it the best smart soundbar around.
However, the Beam may not be the best option if you're a basshead. It doesn't come with an included subwoofer, unlike the similarly-priced VIZIO 36" 5.1.2, below. While the low-end is good, it doesn't have the punch and drive enjoyed by other models on this list. But given that the slightly-reduced low-end is one of the only negatives here, there's no reason not to pick up a Sonos Beam. If you want to spend slightly less, but still get smart functionality, try the Polk Command Bar, listed below...Read our in-depth review
See the Sonos Beam
 
Best Soundbar for Improving Your TV Audio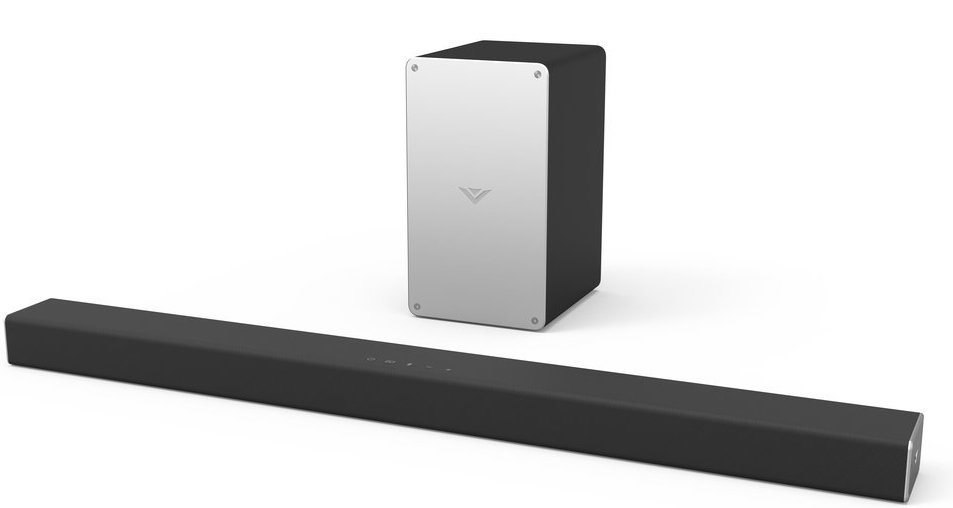 Category: Soundbar with Sub
Length: 36"
Connections: Optical, RCA, USB, Bluetooth
What We Like: Easily the best budget option, slick design.
What We Don't: No HDMI ARC, low-specced Bluetooth.
VIZIO have an excellent soundbar lineup. So excellent that we've included two on this list, and we think the SB3621 is their top pick. If you simply want to improve your TV sound quality, without paying a ton of money, then the SB3621 is the way to go. It's a basic soundbar-and-subwoofer setup that still manages to sound confident and assured. The sound may not have the detail and spread of the more expensive Sonos Beam, but it's got plenty of bass, and is an instant upgrade to TV speakers. We also love the design, which gives premium looks despite the non-premium price.
However, you will make a few sacrifices with the SB3621. The most notable is the lack of an HDMI ARC channel - meaning you won't be able to use your existing TV remote to change the volume. And while there is Bluetooth, it's the slightly-outdated 4.0 version. It'll work fine, but we expected a bit more here. If those caveats don't bother you, then we suggest you go for it. The SB3621 is a very impressive soundbar, regardless of a few omitted features. VIZIO regularly update their lineup, so don't be surprised if a newer model replaces this one in the future.
See the VIZIO SB3621
 
Best Soundbar for Music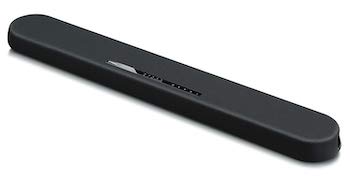 Category: Soundbar
Length: 35"
Connections: HDMI ARC, Optical, RCA, Bluetooth
What We Like: Clear sound quality, good features for the price.
What We Don't: You may want to add a subwoofer if you love bass.
If you want a soundbar primarily for music, rather than home theater viewing, then we strongly recommend you consider the Yamaha YAS-108. On the surface, it looks like a basic soundbar, but offers surprisingly good stereo sound, with a high level of detail and depth. We found that, for music, this bar easily beats models like the VIZIO SB3621. You could argue that the Sonos Beam sounds even better, but it's sound is more geared towards movies.
You also get a solid range of connection options, including Bluetooth 5.0 - compared to 4.0 for the VIZIO SB3621 - making it simple to stream music from your phone or tablet. The main downside to the YAS-108 is the lack of a subwoofer, which might be a dealbreaker for some. The bass is decent, but if you enjoy genres like EDM or hip-hop, you may want to look at investing in a small external subwoofer. Fortunately, these aren't expensive, and there's a dedicated subwoofer output on the back of the YAS-108. For listening to music, this soundbar is an easy choice.
See the Yamaha YAS-108
 
Best Soundbar for Gaming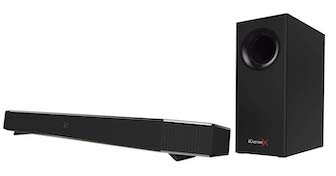 Category: Soundbar with Sub
Length: 23.6"
Connections: Bluetooth, Aux, USB, Optical
What We Like: Great design, optimized for 7.1.
What We Don't: Bass isn't as good as it should be.
Gaming soundbars have become hugely popular, particularly as a space-saving measure. We think the Creative Sound BlasterX Katana is the best soundbar for gaming available right now, beating out models from manufacturers like Razer. It has everything you'd want, including good connectivity, sleek design, and powerful sound. It has a slightly unusual design, with up-firing mid-range drivers - usually, they are front-firing - but we think the concept works well. Although it's a 2.1 channel bar, it'll translate a 7.1 mix, giving you passable imitation of surround sound. It has nothing on the VIZIO SB36512-F6, below, but is still a decent option for those looking for an affordable gaming setup.
The downside of the Sound BlasterX Katana is the subwoofer. It's not very good. Despite its size, it feels a bit loose and uncontrolled when it comes to pushing out the low-end. We like a bit of bass while gaming, and this one doesn't quite satisfy. All the same, the Sound BlasterX Katana is a highly competent gaming soundbar, and we think it's going to be around for quite some time. And yes, there's a headphone port for moments when you want to keep your gaming to yourself.
See the Creative Sound BlasterX Katana
 
Best Soundbar for Dolby Atmos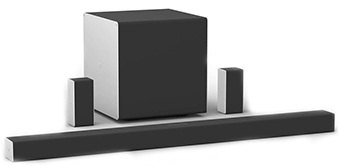 Category: Soundbar with Sub
Length: 36"
Connections: HDMI ARC, Optical, RCA, Bluetooth, Wi-Fi, USB
What We Like: Immersive sound, huge feature set.
What We Don't: We experienced volume issues with this soundbar.
At the moment, Dolby Atmos is the leader in surround sound, dominating even the largest of movie theaters. And while achieving movie theater sound at home used to involve a huge system, soundbars are starting to get in on the action. The best of them being the VIZIO SB36512-F6. This soundbar offers five surround channels at ear level - three in the soundbar, with two satellite speakers - along with a subwoofer. The twin height channels in the bar bounce sound off the ceiling, and the result is near perfection. Bullets and helicopters flying overhead, explosions that come from all angles, and crystal-clear dialogue. In the movies you watch, anyway - if there are actual bullets and helicopters flying around your living room, you probably shouldn't stick around to watch Netflix. Jokes aside, the SB36512-F6 is the best way to experience the ultimate in surround sound without needing a huge home theater investment. For under $500, it's an insane bargain.
We did encounter some issues. Most notably were the volume controls, which felt imprecise and clumsy. We also don't think that the VIZIO SB36512-F6 beats the Sonos Beam for pure sound quality. Regardless, the SB36512-F6 is top for surround sound, and if that's what you want, this is the bar to go for.
See the VIZIO SB36512-F6
 
Best Soundbase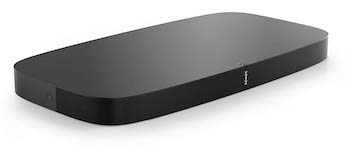 Category: Soundbase
Length: 28.35"
Connections: Optical, Wi-Fi
What We Like: Powerful sound, excellent ease-of-use.
What We Don't: Very expensive for what you get.
Soundbases like the Sonos Playbase should be considered a type of soundbar - just one that happens to be big enough to allow your TV to sit on top of it. We go into the pros and cons of this arrangement in the buying advice below, but if this arrangement sounds appealing, then the Sonos Playbase is the soundbase is a great option. It packs Sonos's trademark simplicity and friendliness into a chassis that houses ten speaker drivers, all of which output superb sound. It's more powerful than the Sonos Beam, as well as most other bars on this list, and fills small-to-medium-sized rooms without hassle.
We wish we could say the same about the price. Unfortunately, we can't, because $699 is a lot to pay for a product that is now two years old. While the Playbase is excellent, Sonos should have dropped the price by now. All the same, we had great fun with this when we reviewed it, and we think it's an excellent alternative to more traditional soundbars. Note that unlike the Sonos Beam, there's no virtual assistant functionality built-in; you'll need to connect an Alexa-enabled device, like an Amazon Echo, to make this work...Read our in-depth review
See the Sonos Playbase
 
Best of the Rest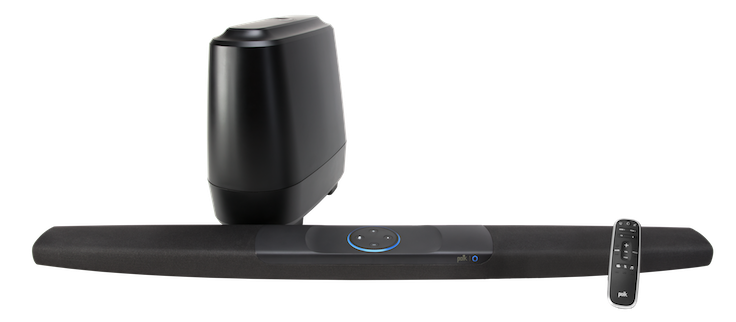 Category: Soundbar with Sub
Length: 43"
Connections: HDMI ARC, Optical, Bluetooth, Wi-Fi
What We Like: Excellent sound, great functionality.
What We Don't: Wonky integration, especially with products like Amazon's Fire stick.
Polk know a great deal about building a good soundbar. And the Command Bar feels like the culmination of everything they've learned: a smart speaker system at a terrific price, that offers a ton of functionality. The 43" soundbar and included subwoofer deliver excellent sound, too, easily comparable to more expensive models on this list, like the Sonos Beam and Bose Soundtouch 500.
Although the inclusion of Amazon Alexa isn't as unique as it once was – the Sonos Beam, above, includes it, as do several others – it's still a very useful and effective way of controlling the system. If you've ever owned an Amazon Echo, you'll recognise the distinctive ring set into the Command Bar's surface. While we would like to see better integration with things like Amazon's Fire stick, which feels a little shoehorned-in, the smart feature set makes this a real winner. You also get full 4K HDR passthrough, and a clever remote. In terms of value-for-money, the Command Bar arguably edges the Sonos Beam - even if we think that model beats it in terms of sound and useability.
See the Polk Command Bar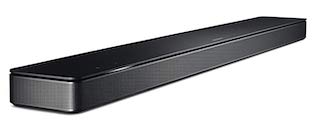 Category: Soundbar
Length: 31.5"
Connections: HDMI ARC/eARC, Optical, Bluetooth, Wi-Fi, USB
What We Like: Innovative setup, smooth sound.
What We Don't: Slightly dull design.
Despite our initial skepticism, the Bose Soundbar 500 performed well for both music and movies, no matter what we played. Although we do think it needs a subwoofer to really kick things up a notch, we loved how natural and smooth the sound was. We also appreciated the ADAPTiQ setup, which requires you to wear a special headband and sit still so the Soundbar 500 can calibrate its sound. It's weird, but it works. With the soundbar, you get access to Amazon Alexa, Apple AirPlay 2.0, and the excellent Bose app. So far, so good. But why isn't it ranked higher in out list?
Our first gripe is the price. At $599, there's no way we'd choose this over the $399 Sonos Beam, which also includes Amazon Alexa. It also has an incredibly dull appearance - somewhat of a Bose trademark, unfortunately. However, it performs well, and lends itself to upgrading with purchasable packages. These include additional speakers, like subwoofers and surrounds, although you'll need to be prepared to pay even more. By the way, Bose offer several variations of this bar, including the Soundbar 700, which offers more power and volume.
See the Bose Soundbar 500
 

Category: Soundbar with Sub
Length: 41.2"
Connections: HDMI ARC, Optical, Bluetooth, Wi-Fi
What We Like: Decent overall, great volume.
What We Don't: Not great for Dolby Atmos.
LG's SK8Y bar (sadly pronounced S-K-8-Y, rather than Skatey) is a fantastic soundbar, overall. It has impressive volume, and it matches that volume with decent sound quality and functionality. We especially appreciated the clear high-end, which always felt like it was giving us a little extra effort in terms of detail and clarity. Like the Yamaha YAS-108, you'll need a separate smart speaker to use an assistant, but that aspect works fine once connected.
Our biggest problem here, and the reason this otherwise-solid bar isn't in our top five, is the Dolby Atmos functionality. It's just not quite convincing enough. We'd advocate for leaving this feature out unless a soundbar can pull it off, and LG SK8Y isn't there yet. If you don't use Atmos content, however, this is a fantastic mid-range choice with a ton to recommend it. If you do want Atmos, check out the VIZIO SB36512-F6, which costs a touch more and does a significantly better job.
See the LG SK8Y
 

Category: Soundbase
Length: 21.65"
Connections: HDMI ARC, Optical, Bluetooth
What We Like: Excellent single-box solution.
What We Don't: Very light on specs, sound is too boxed-in.
The Q Acoustics M2 soundbase might not be our top pick, but it manages to give a good account of itself for its current asking price. If you want to pick up a soundbase without breaking the bank, this is the one to go for. You get everything you need to amp your TV sound, including HDMI ARC and a thunderous 80 watt amplifier. The volume is decent, as is the overall design and feature set.
Unfortunately, the Q Acoustics M2 does have some problems. The sound, as a whole, feels a little too compact and boxed-in, without the stereo spread of similarly-priced bars like the Polk Command Bar. There's no subwoofer out, so if you don't like the bass, you're out of luck. And while we're on the subject of flaws: would it have killed Q Acoustics to provide a little more detail on the specs? However, the M2 is still on this list, which means that despite its faults, we consider it to be quality. It's worth buying if the Playbase is unavailable. Q Acoustics also make some decent soundbars, although we prefer the options named on this list.
See the Q Acoustics M2
 
And for When You Win the Lottery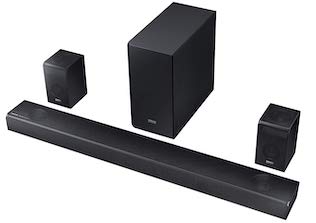 Category: Soundbar with Sub
Length: 48.3"
Connections: HDMI ARC, Optical, Bluetooth
What We Like: Unreal audio quality, huge power.
What We Don't: Costs way too much for most people.
The Samsung HW-N950 is the follow-up to the K950, the company's first big Dolby Atmos soundbar. The original was a monster, packing a huge number of speakers, but this update adds even more. There are two additional side speakers to help with spacing, and the HW-N950 offers full Dolby Atmos and DTS:X surround sound. Bottom line? This will easily compete with any dedicated home theater system, and is ideal for large rooms.
Of course, a $1,300-plus price tag is no joke. That puts the HW-N950 out of reach for most people and is seriously overkill if all you need is extra sound quality for Netflix. But it's still one of the best soundbars available, and easily smokes the competition. If you can afford it, have the space, and want a compact system that really kills it when it comes to sound quality, this gem from Samsung is the way to go. If you want to spend a decent amount, but not quite this much, try the $481 Atmos-enabled VIZIO SB36512-F6, listed above. By the way, while there's no Alexa or Google Assistant here, the soundbar is compatible with the Samsung Smartthings app.
See the Samsung HW-N950

New Soundbars Coming Soon
There are a huge number of new soundbars on the horizon this year. While the models we've listed above will be kicking ass for quite some time, you may want to hold back if any of the following releases have you interested.
Panasonic are going all-in on soundbars. They don't have any on our list right now, as we haven't been impressed with their past efforts, which have also been hard to get in the US. But their HTB900 and HTB700 show real promise, with features that will challenge the likes of VIZIO. Both bars support Dolby Atmos, have wireless subwoofers, and the HTB900 even has Google Chromecast built in. No pricing yet, but you can expect them to be competitive.
We do have pricing for the upcoming Sony HT-X8500. That one will go for around $450, and like the two Panasonic models above, it's a Dolby Atmos-enabled bar. From our early previews, it doesn't seem like the HT-X8500 offers more than the VIZIO SB36512-F6, which is only slightly more expensive. Unlike the VIZIO, the Sony bar has no additional surround speakers. Instead, it upmixes audio to 7.1.2 channels, giving you surround sound in a compact package. We have some misgivings about this one, but we'll wait to hear it before passing judgement.

Soundbars Comparison Table
| Soundbar | Price | Category | Length | Connections | SA* |
| --- | --- | --- | --- | --- | --- |
| Sonos Beam | $399 | Soundbar | 25.6" | HDMI ARC, Opt., Wi-Fi | Alexa |
| VIZIO SB3621 | $180 | Soundbar with Sub | 36" | Opt., RCA, USB, BT | None |
| Yamaha YAS-108 | $200 | Soundbar | 35" | HDMI ARC, Opt., RCA, BT | None |
| Creative SBX Katana | $300 | Soundbar with Sub | 23.6" | BT, Aux, USB, Opt. | None |
| VIZIO SB36512-F6 | $481 | Soundbar with Sub | 36" | HDMI ARC, Opt., RCA, BT, Wi-Fi, USB | None |
| Sonos Playbase | $699 | Soundbase | 28.35" | Opt., Wi-Fi | None |
| Polk Command Bar | $300 | Soundbar with Sub | 43" | HDMI ARC, Opt., BT, Wi-Fi | Alexa |
| Bose Soundbar 500 | $549 | Soundbar | 31.5" | HDMI ARC/eARC, Opt., BT, Wi-Fi, USB | Alexa |
| LG SK8Y | $447 | Soundbar with Sub | 41.2" | HDMI ARC, Opt., BT, Wi-Fi | None |
| Q Acoustics M2 | $300 | Soundbase | 21.65" | HDMI ARC, Opt., BT | None |
| Samsung HW-N950 | $1,393 | Soundbar | 48.3" | HDMI ARC, Opt., BT | None |
*SA = Smart Assistant
Want Even More Master Switch? Sign Up For Our Weekly Newsletter!

Soundbars Buying Advice

Why You Should Buy A Soundbar
In our opinion, a soundbar is the simplest, most convenient way to instantly improve the sound of your source device - be that a TV, or a computer screen. A soundbar is a long, thin box containing a full set of speakers, designed to encompass the sound spectrum in one handy package. Usually, but not always, it will come with separate subwoofer. This is because soundbars don't generally have enough power to generate great bass, which means this particular task has to be outsourced to another box.
The big sell with soundbars is that they are an easy solution. They take all the complicated insanity of external speakers and combine them in a box that can be connected in moments. In most cases, you won't be sacrificing any meaningful sound quality, either. In the past, if you wanted to improve the sound of your TV, your only option was to purchase a separate amplifier or A/V receiver, designated speakers, and a subwoofer. You had to manually connect these to your TV, fighting with speaker wires all the way. Now, you can get all of this included in a simple solution that can be positioned right in front of your TV, or mounted to the wall.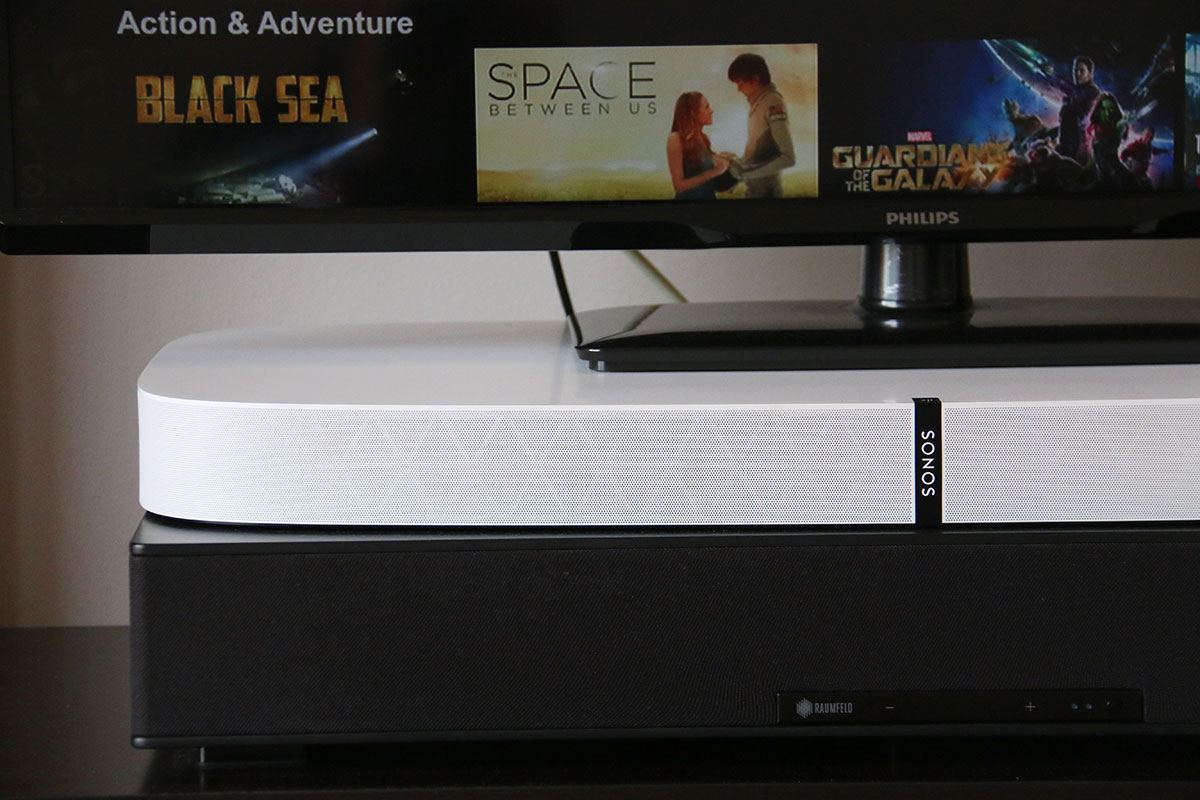 Soundbars vs. Soundbases
You'll notice we have both soundbars and soundbases on our list - even though bases technically don't qualify as soundbars. We've done this because people wanting to buy often consider both. Although this list is soundbar-dominant, both types of product fulfil the same function: a single, in-the-box solution to improve TV or PC sound. If you do want a list with just soundbases on it, here's our take on the best available.
A common question we get asked is if should one go for a soundbar or a soundbase? The latter, if you didn't know, is a rectangular box that sits directly underneath your TV. It packs in all the speaker channels, including a subwoofer, into one convenient package that doubles as a TV stand. In contrast, a soundbar often separates the speaker systems, putting midrange and treble drivers into a slim bar, and usually has a separate subwoofer. Depending on which option you choose, your soundbar could come with an included subwoofer, or give the option to purchase one separately. For example if you buy the Sonos Beam, our top soundbar, it's easy to add the wireless Sonos Sub into the mix.
Each option has its own advantages and disadvantages. As a rule, soundbases cost a bit more than soundbars, but in contrast, there aren't nearly as many options available. In fact, it's much harder to get a solid soundbase than a good soundbar. While soundbases do tend to sound better, this isn't always the case, and they are also almost always heavier and larger. Soundbars have the advantage of being a little cheaper (sometimes), as well as being lighter and more versatile. To be honest, however, you could go for either, purely based on how much space you have under or around your TV setup. We think the best soundbase currently available is the Sonos Playbase. It's expensive, at $699, but it's also an amazing piece of gear; arguably, it sounds even better than the top-ranked Sonos Beam, but we don't think you lose anything by going for the bar over the base.
Soundbars vs. Home Theater: Dolby Atmos Explained
One of the most common things we encounter here at The Master Switch is the idea that soundbars just aren't worth the time or effort. The consensus seems to be that it's best to skip them and upgrade straight to a home theater system. We have a real problem with this and we strongly disagree with that idea. It's true that soundbars are not going to compete with a full 5.1 or 7.1 surround sound system that incorporates multiple speakers and a separate A/V receiver, but they aren't designed to. You choose a soundbar if you want convenience – which is something that even the most diehard home theater fan would admit a regular surround setup doesn't have – or if you have a smaller space that doesn't require or can't fit multiple speakers.
You may notice that several of the bars on this list have a channel rating of 5.1 or 7.1 - or even, in the case of the absurdly expensive Samsung HW-N950, 7.1.4 – yet they are still distinct from pure surround sound home theater systems. What gives? In this case, the number refers to the number of individual speaker channels in the bar and included subwoofer. It's not necessarily meant to indicate surround sound, whatever the manufacturers might say. Truth be told, it's actually a little difficult to get genuine surround sound when the sound source is a single bar below your TV. Don't get us wrong, plenty of the soundbars do an excellent job with positioning and spreading the audio, but it's not going to be as good as having multiple speakers. However, as always, there's an exception to the rule.
Some of the bars in the list come with separate satellite speakers, as well as a subwoofer. That allows you get at least 5.1 sound - three channels in front, two satellites to the side, and a subwoofer. All the same, you shouldn't expect the quality here to be as good as a dedicated 5.1 system, which will generally have a receiver capable of doing more intricate positioning than the circuits in your soundbar. In almost all cases, we'd say that, if you want surround sound - the real thing - you should get a home theater. But if you don't, then a soundbar is fine.
It's also worth knowing about Dolby Atmos is. We have a much more fully-featured, in-depth explanation of what Dolby Atmos is here, but here's a quick primer. It's a surround sound software program that translates audio coming from a source and direct it to separate channels, in order to create the illusion that the sound is all around you. Dolby Atmos has a specific way of positioning sound that uses multiple speakers to create very precise imaging. In order to create a surround sound-like experience, manufacturers include software that uses their speakers to create an impression of the programs - meaning that you can play a source that was mixed for Dolby Atmos through your soundbar and still have it sound damn good. The exception to this rule is a soundbar that incorporates up-firing speakers, which bounce height audio off the ceiling. The VIZIO SB36512-F6, which costs $481, is an excellent example of this. It's not going to be as good as a full home theater, of course, but it's crazy convenient.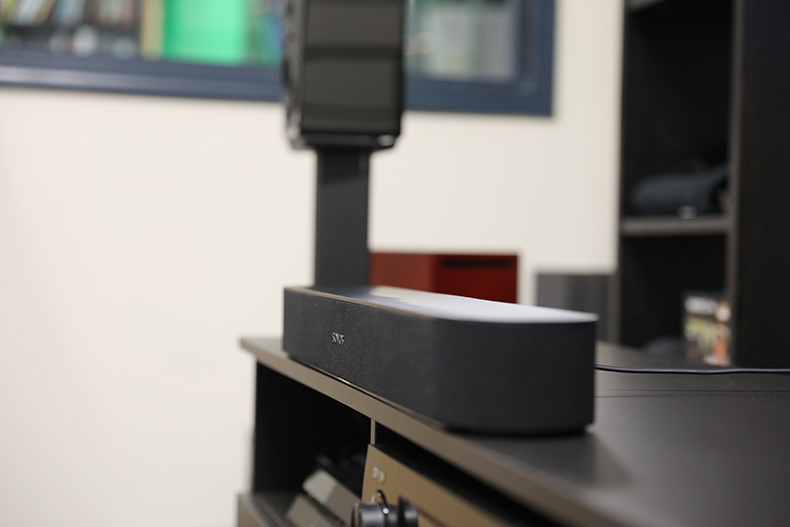 Soundbar Length Explained
The length of the soundbar has absolutely no effect on the sound. We've seen small 30" soundbars get louder than 45" monsters. It's all about the number of speakers contained in the bar, and how much power they have. Soundbars can be small and still have huge power, simply by including an external power brick. You still need to consider length when you buy, but it's got nothing to do with audio quality.
Here's what sometimes happens. You order yours off Amazon, have it delivered, and unbox it, only to find that it's far too long for your actual TV stand. The ends stick out comically over your stand, or worse, actually wedge themselves up against something. In truth, a soundbar that's too long or too short for your setup is inconvenient and looks weird. Fortunately, we've included individual lengths in our comparison table above, which means you should be able to get an idea of just how long each soundbar is, and how much space it's going to take up. To that end, we cannot stress enough that you need to actually measure just how much space you have before making a purchase. Again, you'd be surprised how easy is to forget this in the excitement of purchasing new audio gear. That being said, most soundbars do fall within a general range, from around 34" to 48". The shortest on our list is the Creative Sound BlasterX Katana, at 23.6" long, while the longest is the Samsung HW-N950 at 48.3". There are plenty of options in between those, so you should be able to find a suitable soundbar for your setup.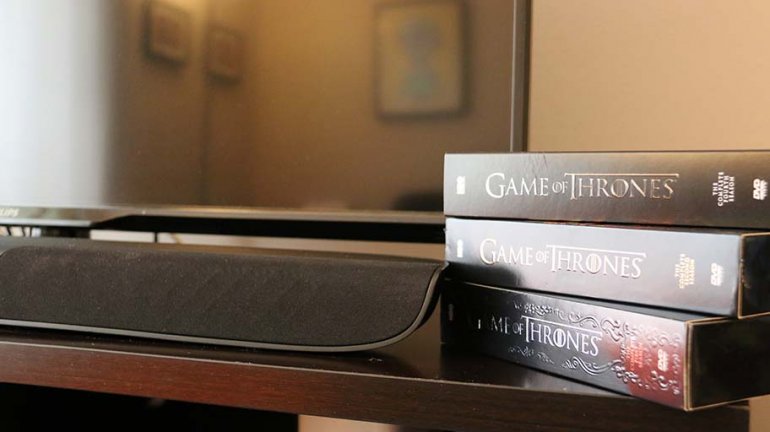 Soundbars and Virtual Assistants: Amazon Alexa vs. Apple Siri vs. Google Assistant
You'll notice the one thing we've paid close attention to is whether or not a given soundbar has a virtual assistant included. Several do, including two soundbars high on our list. The Polk Command Bar, for example, is up there for a reason, and part of that reason is its seamless integration of Amazon Alexa. But is it worth bothering with smart assistants for your soundbar? And if you do, which one should you pick?
Smart assistants certainly aren't going to be taking over the world at this point – just ask Alexa to navigate Spotify – but they can be very handy for using soundbars. Whether it's controlling volume, changing sound presets, or even navigating your smart TV, yelling commands at your bar from the couch is an intuitive, and easy, way to control it. But it's worth bearing a couple of things in mind before you purchase a soundbar with a smart assistant. Firstly, it's very rare to find anything other than Amazon Alexa right now. Even then, the latter is only likely to be added in the coming months – just check out the Sonos Beam, which features Alexa but doesn't have Siri integration yet. You're also not likely to find Google Assistant on any current bars - although, several manufacturers say they plan to added at a later date.
It's also worth paying attention to whether your chosen virtual assistant is integrated within the bar itself, or if you require a separate smart speaker. A perfect example is the $200 Yamaha YAS-108, which works fine with Alexa, but requires you to have a separate Amazon Echo speaker to utilize it. And as for which assistant you should choose? At this point, most virtual assistants are very similar in functionality. This is especially true for controlling music, which isn't all that complicated for virtual assistants to figure out. Our take? You should pick the one that you feel most comfortable with. If you have a choice, go for Amazon Alexa, which is a little bit easier to use than Siri. Google Assistant is arguably better than both of them, but it isn't widely available on soundbars yet.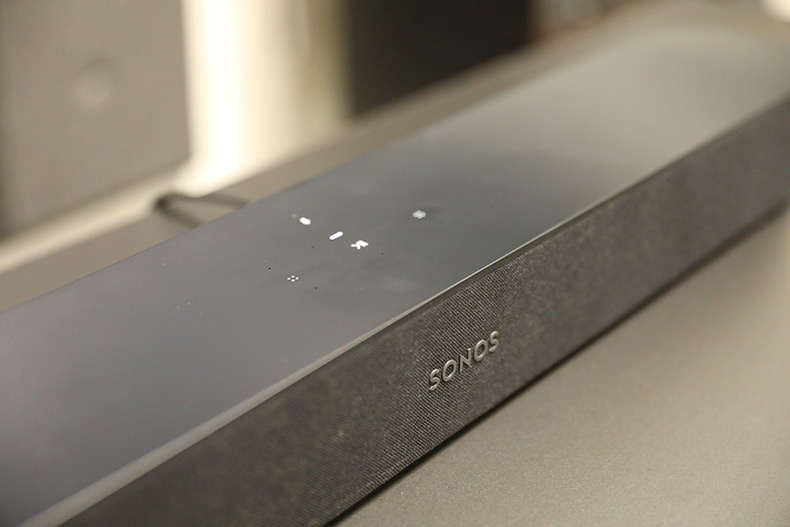 Using Soundbars for Music
Soundbars are for TV sound only...right? Nope. Think about it like this: any music system has at least two channels - left and right - for stereo sound. Well, every single soundbar on our list has at least two channels. That makes them just as suited to play music as a set of speakers and an amp. In some cases, even more so - with a soundbar, there's no futzing around trying to position separate speakers to get the best sound. In many cases, soundbars are actually superior to traditional wireless speakers, as they offer a wider stereo spread.
There's a prevailing belief that soundbars only sound 'good' with TV audio. That just isn't true. While it's true that the sound of any bar has be tuned and designed by the company that makes it, it's extremely rare to find a bar that can only be used for one thing. Most transition quite happily from playing Netflix to playing Spotify. There are some bars we think feel more natural for music - the $200 Yamaha YAS-108 impressed us with its musicality - but all the bars on our list can pull double duty.
Switching between the two isn't difficult, either - or at least, it shouldn't be. Let's say you have our top pick, the Sonos Beam, connected to your TV via an optical cable. Let's also say you're watching Netflix and you have some friends come over for a beer. Simply pause Netflix and, via the Sonos app, start streaming music to the bar. It will switch over automatically, and will sound damn good doing so. In this way, a soundbar can easily become a decent hi-fi system, without any complicated speaker wire.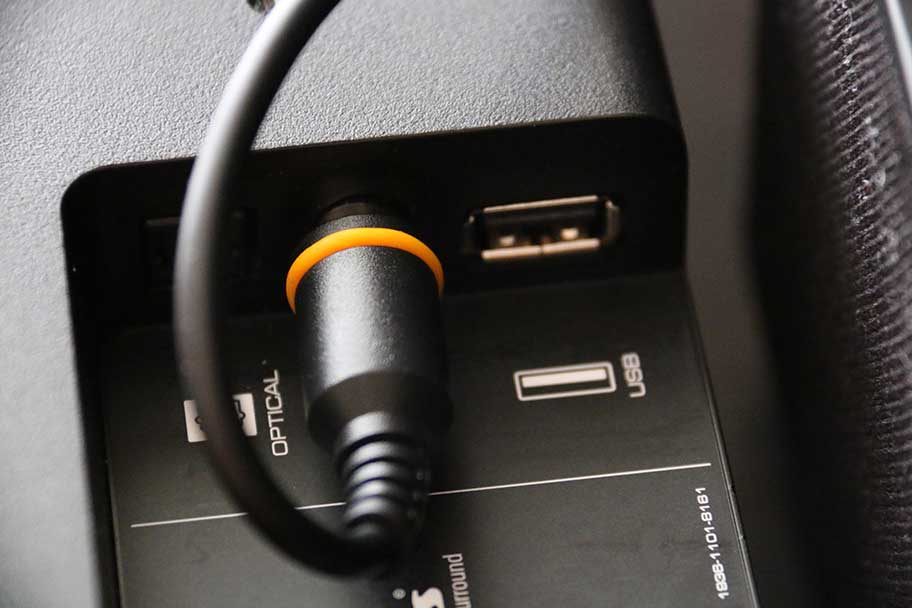 HDMI ARC vs. Optical
These two terms refer to the type of connections on the back of the soundbar, and we have strong opinions about them. Let's cover the basics first. HDMI (High-Definition Multimedia Interface) is a slim, multi-pin connector with a distinctive shape. Chances are you probably use it already to connect your console to your TV. HDMI has become the standard way of getting audio and video data from a source to a screen. In comparison, optical connections actually use light to transfer audio, and consist of thin, bendy little wires with a distinctive connector at the end.
Many of the soundbars on our list have something called HDMI ARC, which is different from regular HDMI. ARC stands for Audio Return Channel, and it allows the TV to send audio back to the source (in this case, a soundbar). So, if you're streaming Netflix on your smart TV, an HDMI ARC connection will play sound through your soundbar. It also allows you to control the volume of your soundbar using a standard TV remote. Keep in mind that, while almost all HDMI-enabled soundbars use HDMI ARC, there are some bars that don't use HDMI at all - like the budget-friendly VIZIO SB3621 ($180). There's also a thing called HDMI eArc, but we'll get into that in a section below.
Truthfully, we think HDMI is better, and we're absolutely convinced about that. Not only does it allow you to use high resolution codecs like Dolby TrueHD or DTS HD Master Audio, which optical does not, it also offers better sound quality. In addition, the cables are cheaper and often a lot more robust. If you have the choice, go for HDMI. You may run into cases where you send audio out from your TV into the soundbar, and it doesn't pass along a surround signal, but these are few and far between.
HDMI eARC Explained
HDMI eARC is a little less common than your standard HDMI ARC connection. Only one of the bars on our list has it - the pricey Bose Soundbar 500, which costs $549. eARC (enhanced Audio Return Channel) is HDMI on steroids. It's a connection which allows the exchange of much more data. That means you can get true 5.1 and 7.1 surround audio - plus, it increases the detail of the audio already present. It also has a feature called Lip Sync Correction, which virtually eliminates any audio lag, ensuring that your sound and picture are always in sync. eARC isn't widespread at the moment, and for most people, regular HDMI ARC will be just fine. For now, it's a nice-to-have, not an essential.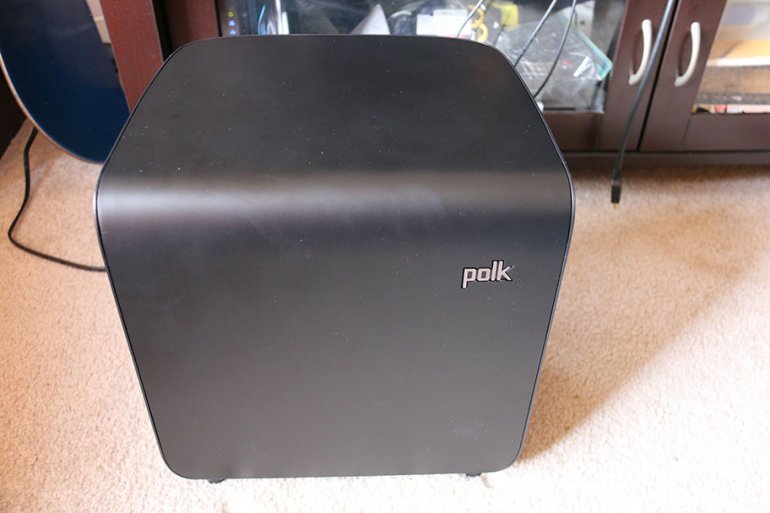 Soundbar Subwoofers Explained
It's not uncommon to see soundbars being packaged with an included subwoofer. This is because a soundbar's enclosure isn't always ideal for handling the low notes, which subwoofers are built to do. So when you see one packaged with your soundbar, don't freak out about paying for equipment you don't need. Well, technically speaking, you don't need a subwoofer, but it's very handy to have one. Your bass-loving friends will thank you.
Of the soundbars in the above list, there's a roughly even split between those that come with an external subwoofer and those that have it incorporated into the actual bar itself. In almost all cases, we greatly prefer having an external subwoofer, which tends to deliver better low end. We think the best subwoofer on this list of soundbars is the one included with the amazing Samsung HW-N950. Ultimately, this is probably a less important decision than deciding what kind of soundbar you want. We'd advise to go for a subwoofer if you have the space, but don't put too much thought into it. Any bar on this list is going to give you decent low-end.

Integrating A Soundbar Into An Existing System
While we can't really recommend switching to a soundbar if you already have a full surround system, you can certainly use it with any existing speakers you might have. We'd love to give you precise instructions on how to do this, but there are so many different soundbar/speaker combinations available that it's impossible. Any soundbar worth a place under your TV will come with instructions on how to do this. Generally speaking, a good setup to start with is a pair of small bookshelf or surround speakers, a subwoofer, and the soundbar itself in the center.
One further thought on buying soundbars. There's a school of thought that it makes sense to buy a soundbar from the same people who made your TV, the logic being that the two products will be matched in some way. You could, for example, pair a VIZIO SB3621 with a VIZIO TV. We'd say this is a little exaggerated, as the audio and visual departments in the same company can often be quite separate. Although we haven't seen any concrete evidence that it makes a noticeable difference, it's still a perfectly legitimate buying strategy.
Learn More About Home Audio