HyperX Cloud Orbit S ($330)
Wireless: No
Connection: USB/3.5mm
Sensitivity: Unknown
What We Like: Amazing sound, full 3D audio, killer design.
What We Don't: No wireless option, heavy, odd design choices.
See the HyperX Cloud Orbit S
Gamers have officially been blessed with the industry's newest gaming headset: the HyperX Cloud Orbit S. If you've been keeping an ear to the ground, you'll have heard the buzz about this team-up between HyperX and AUDEZE. It seems like a match made in heaven, because their brainchild looks great, is well built, and sounds incredible. We've truly put these monsters to the test and are excited to share our results with you. In this review, we break down the HyperX Cloud Orbit S' sound, design, comfort and fit, packaging and accessories, specs and more. To find out how it stacks up, check out our list of the best gaming headsets.
 
Sound
Soundstage and Customization
The HyperX Cloud Orbit S comes packing the almighty 100mm planar magnetic drivers coveted by audiophiles. These drivers are a notch above common dynamic drivers and are typically more expensive for that reason. A planar magnetic driver can pump airy, smooth, wide sound, in order to create a stunningly rich soundstage. The Orbit S' soundstage crushes almost every other gaming headset in its class and delivers a top-notch experience that lives up to its price tag during gameplay.
The headset handles multimedia well, transitioning between music, movies, and podcasts effortlessly. You can even use the 3D head tracking when listening to music and movies, if you're so inclined, but for those who find it distracting, turning it off is as easy as holding down a button. While these headphones are designed for gamers, we thought their overall flexibility was quite good. For reasons we'll touch on in the design section, these aren't a great on-the-go headset, but they function perfectly well for at home listening. Their instrumentation and detail is stellar by default, and the included software allows you to choose from some decent EQ presets. Made to please audiophiles and gamers alike, HyperX has created a delicate profile that's more neutral than most gaming headsets. Out of the box, the Orbit S' sound really impressed us, and with some of the preset EQs, we know this headset will please gamers of all types.
Overall Sound Quality
HyperX has created a delicate profile that's more neutral than most gaming headsets, and is made to please audiophiles and gamers alike. We found the Orbit S' highs to be scintillating and clean. They supplied brilliant detail without harshness. We originally thought the HyperX Cloud Revolver S had the best highs of the HyperX family, but the Orbit S has successfully snatched that crown.
The mids were cool, crisp, and expertly balanced. We could tell HyperX was reaching for something a little different than most gaming headsets, and the mids were proof enough that it had worked. They gave the gamers an audiophile's sound, without losing the richness and warmth that allows for proper immersion. This is where they stood out, even over the SteelSeries Arctis Pros.
Subtler than most gaming headsets, the low-end was extremely detailed. Clear and present, but not the rattling response you might think you want from a gaming headset. There are EQs available that boost the bass, if you're a fan of rumble, but the subtle immersion that the Orbit S offers means you probably won't need them.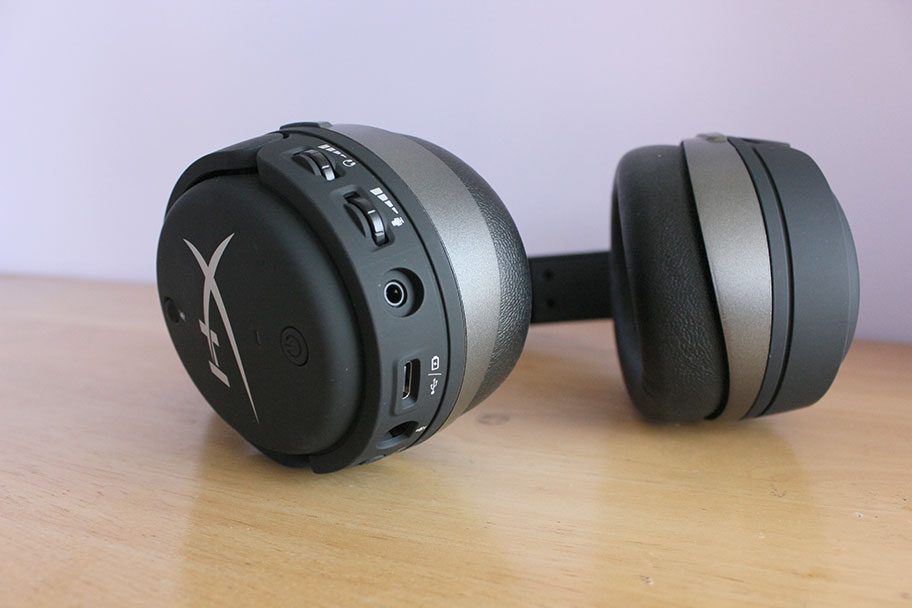 3D Sound
The Cloud Orbit S comes with a hefty price tag, but the technology these cans pack makes them seem worth the cost. In the past, HyperX has impressed us with its mid-range gaming options, so we were pleasantly surprised when they reached for the high-end of gaming audio with this model. One thing that sets the Orbit S ahead of its competitors is the 3D sound experience. The Cloud Orbit S boasts Waves Nx 3D audio, which allows for sound that you can physically track with your head. Seriously, if you hear a sound coming from your right, twisting your head in the sound's direction means it will now sound like it's coming from right in front of you. That means when you are gaming, picking out important spatial details is organic and easy. We had prepared ourselves for this experience by testing with the $399 AUDEZE Mobius (full review here), but what shocked us most was how natural the Orbit S made the experience. Locating targets and pinpointing threats never felt so easy, and the immersion that this experience afforded us during testing was unbelievable. We tested this model with the recently-launched Borderlands 3 and got totally lost in the world, only getting spooked by rushing Psychos once or twice...
As we did with the Mobius, we do have to mention that the virtual reality-esque 3D sound experience isn't for everyone and may be distracting for those who like a more sterile experience. For a lot of reasons, gamers don't tend to turn their heads when they play, and unless you have a large curved monitor or you're playing in virtual reality (VR), you probably won't naturally twist your neck to follow sound. For most gamers, this means that the head tracking feels unnecessary and hazardous to gameplay. If you're one of these people, we're not going to even try to convince you to buy these over something like the SteelSeries Arctis Pros. But for those looking for a more novel experience with the utmost immersion, the Orbit S delivers a hell of a good time.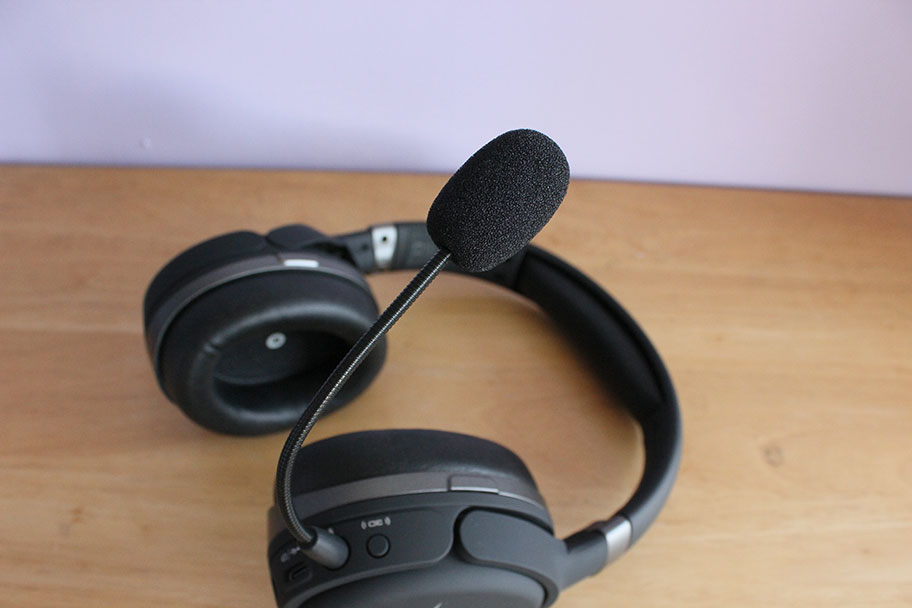 Microphone Quality
One aspect that didn't exceed our expectations was the detachable microphone's sound quality. While it produced clean, somewhat flat, audio, its sound was not nearly as remarkable as the rest of that the HyperX Cloud Orbit S produced. However, we liked the minimalist design and simple arm. It was easy to position to get a decent sound and our friends in chat gave us the thumbs up when asked. For the money, we wish the mic was retractable rather than detachable, but that's just splitting hairs. You aren't buying a headset like this for the microphone, but the one you get is up to the task. We wouldn't record a podcast on this thing, but it does the trick for gaming and Discord chats.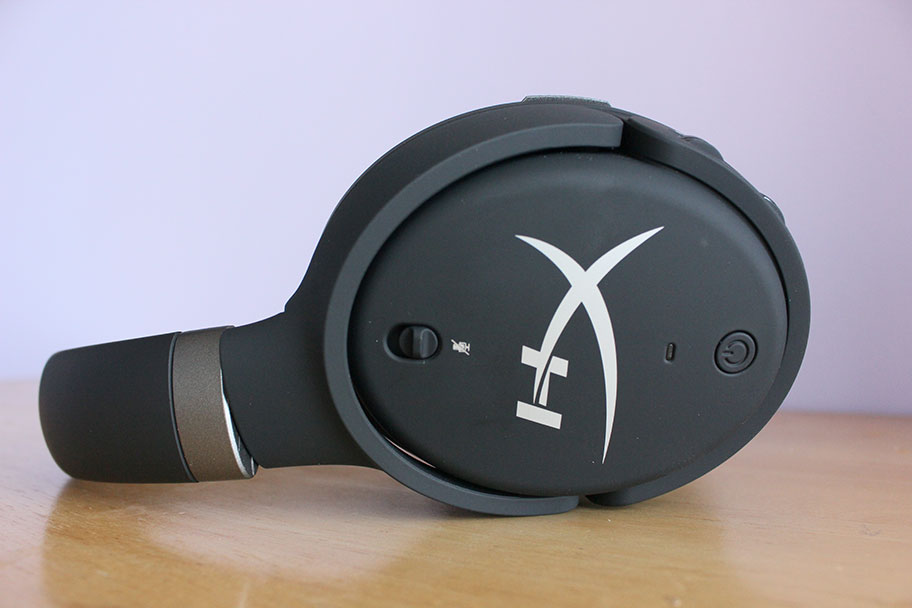 Design
Looks and Build Quality
From the moment of unboxing, the HyperX Orbit S looks hip. Durable grey and black matte plastic, with plush leatherette coverings, keeps the headset's metal structure attractive and comfortable. A high-quality and minimalist aesthetic pervades this design. Even alongside so many controls and input cutouts, the Orbit S manages to look clean and organized. HyperX did a great job balancing this headset to appeal to the often-diverging tastes of its two demographics: the gamers and the audiophiles. They toed the line appropriately and came up with a design that really delivers a high-end gaming headset vibe.
Despite our high praise for the Orbit S, the build leaves us with some mixed feelings. To keep the price down and avoid simply recreating the AUDEZE Mobius, sacrifices had to be made. Unfortunately, those sacrifices came in the form of things we as gamers and consumers find most appealing and expected in a $300 headset. Our biggest gripe is the fact that these headphones aren't wireless. We understand why, and can accept that making them wireless would price them out of a reasonable range, but it's still a tough pill to swallow.
For a headset that encourages head movement, the lack of wireless capabilities detracted from our experience. While the braided cables included are of good quality, and while we liked the USB-C connection, we still couldn't get behind the wired experience. Another issue we had was the "battery life". The 3.5mm connection required to plug these into our phones for mobile testing worked well, but the headset still required a charge, despite not being wireless. This was a new one for us. Typically, the benefit of the 3.5mm connection is that you can listen for as long as your phone stays alive, but with the Orbit S' active drivers, a charge is still required for playback. Luckily, that charge lasts about 10 hours, but can run out quickly if you're using them all day. It's also worth noting for handheld console users.'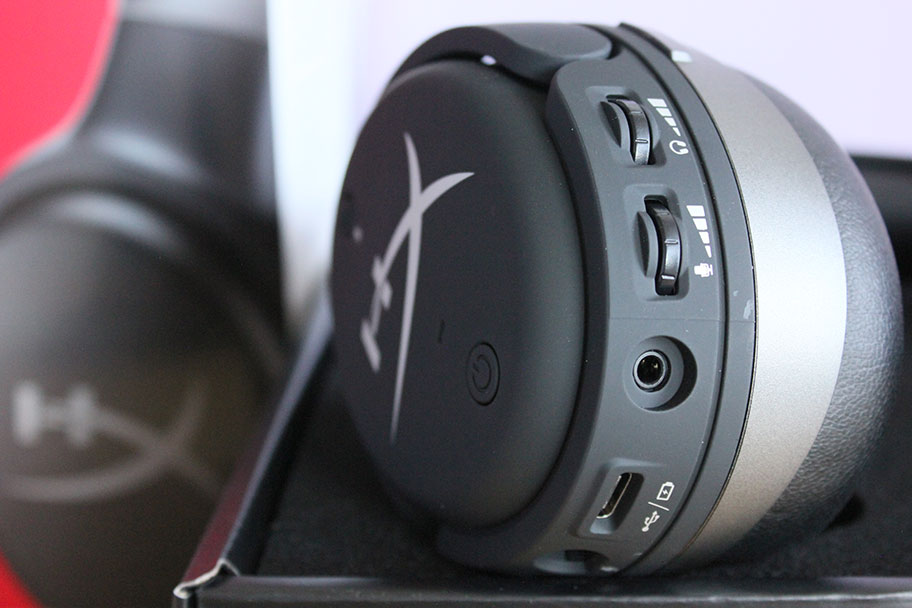 Controls
The Orbit S' controls felt pretty great. The dual sliders for voice and audio on the back left earcup were intuitive - though we still managed to slide the wrong one more than we'd like to admit. And while the microphone could be finicky to attach and remove, a tighter connection is always better than a loose one. Additionally, the button on the earcup's plate was positioned perfectly and allowed us to toggle the 3D experience well. We were happy with the experience of the headphone's controls and liken them to the premium experience the SteelSeries Arctis Pro delivers.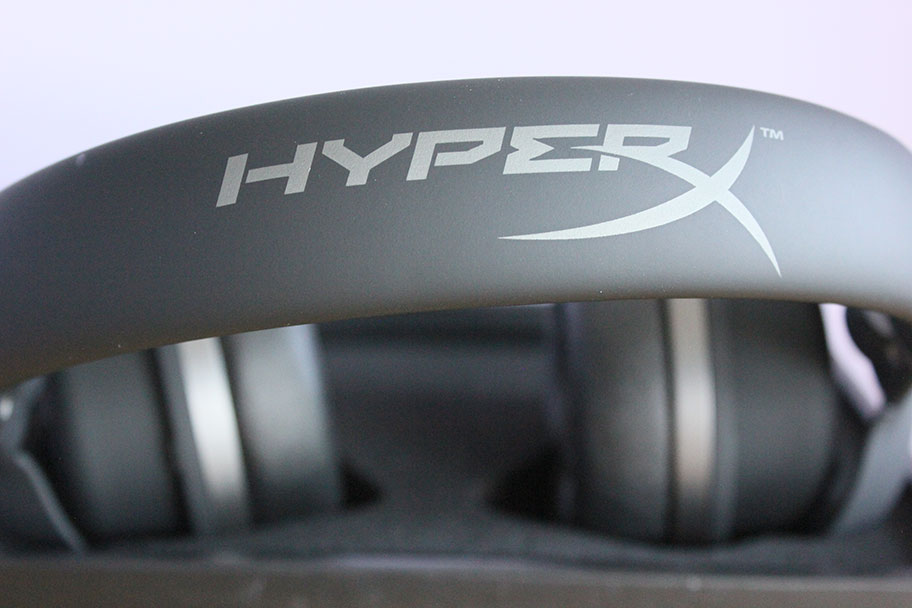 Comfort & Fit
We've yet to review a HyperX headset we didn't think was comfortable; the Orbit S was no exception. Though these aren't quite as comfy as the Cloud MIX or Revolver S, the Orbit S do have plus leatherette cups and headband padding that make them a good fit. While they are heavy, their clamping pressure isn't too bad, and their adjustability was nice.
We did feel that they weren't as comfortable for longer periods, simply due to their weight and annoying fit during our glasses test, but most headsets have the same issues. We were seriously spoiled by the ProSpects glasses relief system found on the Turtle Beach Elite Atlas (full review here). Overall, we found the comfort to be mediocre, but do believe the tech upgrades came at a sacrifice.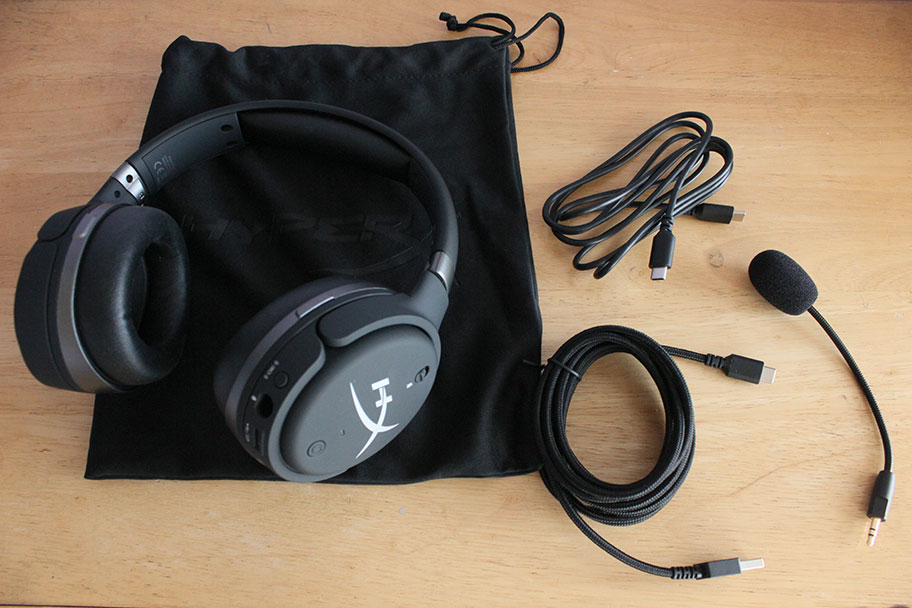 Accessories & Packaging
The first surprise with this headset came with the packaging. We knew this was HyperX's most premium headset, and expected the packaging to convey that. But it didn't. There was nothing necessarily wrong with the packaging - we got the standard cardboard sleeve covering the black box with the headset inside - but the sleeve seemed generic and gaudy with red text on a white box. Our main issue is that this premium headset could easily be mistaken as a $100 headset on the shelf. In fact, we felt our recent unboxing of the much cheaper Turtle Beach Elite Atlas was a much better experience. Turtle Beach's package just seemed to be of higher quality, from the cardboard, to the foam to the marketing. One warning sign for us of inferior packaging is how well everything goes back in the box. We're careful openers and take care to keep things in order, but this box was a bit of a mess after the initial opening. As Magic the Gathering players, we know what good (and expensive) cardboard feels like, and this just wasn't it…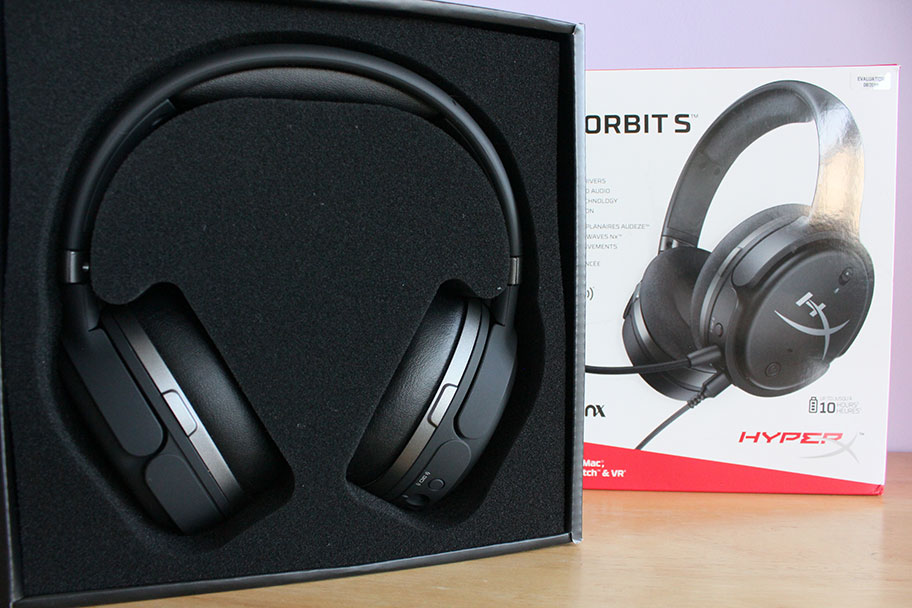 What We Like
The HyperX Cloud Orbit S features amazing gaming audio with excellent balance.
These headphones provide the pinnacle of the 3D sound experience.
The Orbit S flaunts a killer aesthetic.
 
What We Don't
We wish the Orbits came with a wireless option.
These cans felt slightly too heavy for a fully-comfortable experience.
HyperX made some suspect design choices we think detracted from their potential.

Comparison Table

The Competition
The progenitor of the Cloud Orbit S, the AUDEZE Mobius are the toughest opponent. We think that, while the HyperX Cloud Orbit S are a bit cheaper, that price discrepancy isn't made up in the difference between the headsets. As much as it hurts to say, the increased wireless features and improved overall comfort of the AUDEZE Mobius mean we have to recommend spending up. Normally, we're all about a value buy, but when you're already spending that much money on the Orbit S, we recommend you go all out for the best. The Mobius are still just that.
As the closest competitor on paper, the Audio Technica ATH-AG1X brings a lot to the table. The Audio Technicas are definitely more comfortable than the HyperX Cloud Orbit S, and sport a better overall design. Where they lose out is in technology. While it's undoubtedly a great headset, the ATH-AG1X does little to stand out. As a jack of all trades, it's hard to recommend spending so much for a wired headset that is just good. The Orbit S brings a lot more to the table for the price and simply sounds better. After the dust settles, it's clear which one we'd want to spend our money on, and that's the HyperX Orbit S.
At a similar price point, the SteelSeries Arctis Pro are the natural comparison for us. We think these are insanely good cans and believe the Orbit S have a lot to live up to. When it comes to design and comfort, SteelSeries is almost unbeatable. The Arctis Pros earn their name and they offer the best-in-class comfort with some slick design features that provide value for their price. The sound quality is close, but the Orbit S wins in that category. They just sound so good out of the box, and the overall experience is hard to compare unfavorably. They do, however, lack a wireless option, while the Arctis Pros handle wireless connectivity better than almost any other gaming headset. Gun to our heads, we still couldn't tell you which is objectively better. If you want the simple things done to their highest level, pick the SteelSeries Arctis Pro. If you want to sacrifice some luxuries for a more unique experience, go with the HyperX Cloud Orbit S.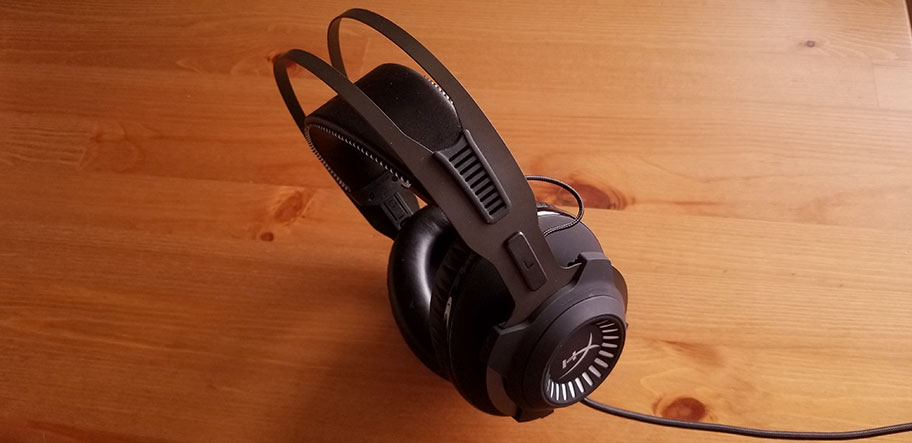 As our current HyperX favorites, the HyperX Cloud Revolver S are a must compare. With an older and bulkier design, we were surprised to say that the Revolvers actually felt lighter on our head than the Orbit S. Both headsets are comfy, but over long periods of time, we have to give our preference to the Revolver S. That said, when comparing sound, there's nothing by HyperX, or most other gaming audio companies, that can hold a candle to the sun that is the Orbit S. These things just produce incredible audio, and their 3D sound dwarfs competitor's immersion levels. We also think they look better and have a better microphone than the Revolver S. However, value is a consideration, and when we're talking about doubling the price, the clean-cut victor is hard to announce. We still think the Orbit S wins, but it was a closer race than we thought.
Learn More About Gaming Audio