Klipsch The Three ($499)
Bluetooth: Yes
Wi-Fi: Yes
Smart Assistant: None
What We Like: Well-made, warm and engaging sound, versatile.
What We Don't: No assistant, occasional boomy bass.
Here at The Master Switch, we've tested an astronomical amount of wireless speakers. From portable to stationary, waterproof to pressurized and potential explosive hazard; we've seen them all. And while we've gotten our hands on some truly mind-blowing, wallet-crushing pieces of gear, it takes a special product to stand out amongst the crowd and and join our favorites in the "Best Of" lists. The Three from Klipsch's Heritage Wireless collection made the cut, no question. In this review, we break down The Three's sound, design, packaging and accessories, specs and more. If you want to see how it stacks up, see our best wireless speakers.
 
Sound
Overall Sound Quality and Soundstage
Klipsch has made some truly breathtaking pieces of equipment, and The Three from their Heritage Wireless series is no exception. Regardless of Klipsch's strange naming schemes, we have to give them credit for creating such a gorgeous little speaker. And while we'll talk about the aesthetics in the design section below, we want to make it clear that The Three sounds better than most speakers we've encountered.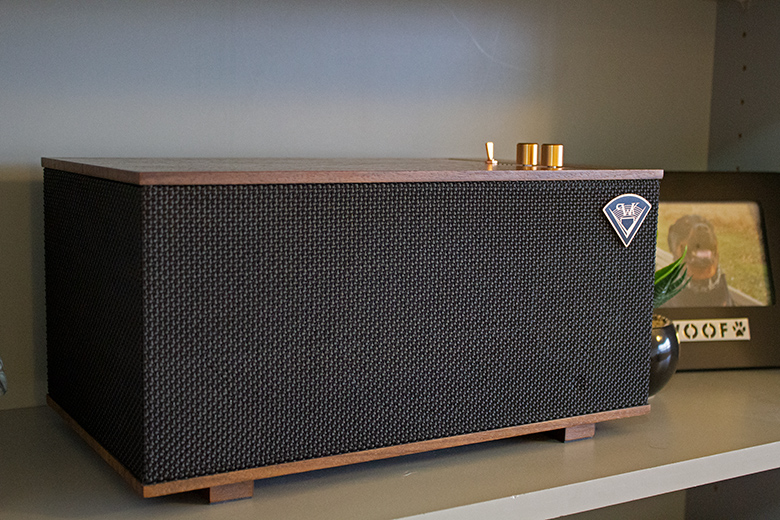 We fell in love with the rich detail and warmth from the moment we turned it on. While this warm coloring might not be ideal for everyone, we can't deny that this speaker sounds dead-sexy. From fast-paced rock songs to smooth jazz, EDM to hip hop, The Three was able to handle any song we threw at it. Even podcasts and YouTube videos sounded great. And when pitted against other wireless speakers in this range - like the RIVA Festival (full review here) - we favored The Three for its warmth and clarity, as opposed to the raw power of the Festival. That speaker is quite impressive in its own right, and has recently dropped down to $299 retail price, which makes it a stellar option for someone looking for a stationary wireless speaker.
As for the soundstage, The Three impressed us on the width and depth of its sound - especially given its size. Despite the fact that this isn't a 360 degree speaker, like the Solis SO-7000 (full review here), we could have been fooled into believing it was, given how impressed we were with its powers and abilities to create such a wide field, and demonstrate power usually seen in much larger speakers. Whether you're standing directly in front of The Three or off to the side, you'll get a balanced sound that beats out most speakers in this price range.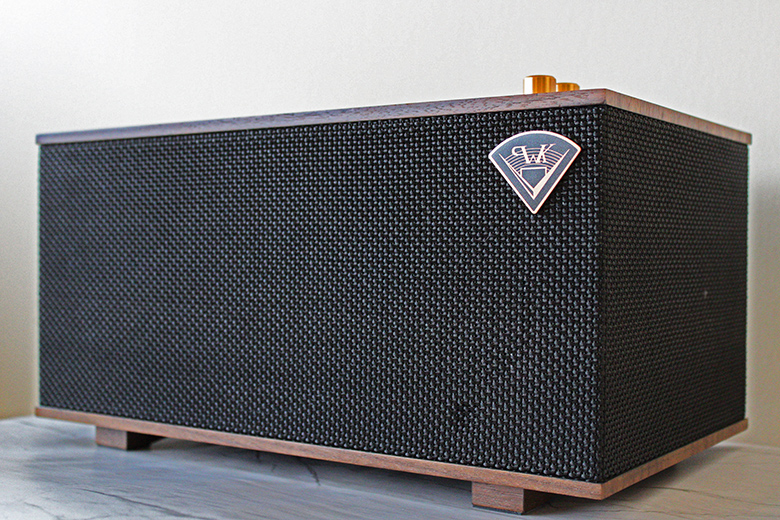 High-End (Treble)
As we mentioned previously, The Three has a warmth to it that almost makes you feel comforted by its sound, like a warm hug... Yes, we might have become a little too fond of this speaker and are tempted to buy it a service animal vest so we can take it everywhere we go. Because of its richness and detail, this speaker has become our go-to for any and all listening purposes. It's even found its way to our home, where we're hoping it can live forever. The warmth begins in the low-end, and extends into the mid-range where it truly has a chance to flourish. We've even pitted this speaker against bookshelf models, like the Fluance Ai40 (full review coming soon), that haven't managed to create the same depth. And those are our top pick for wireless bookshelf speakers.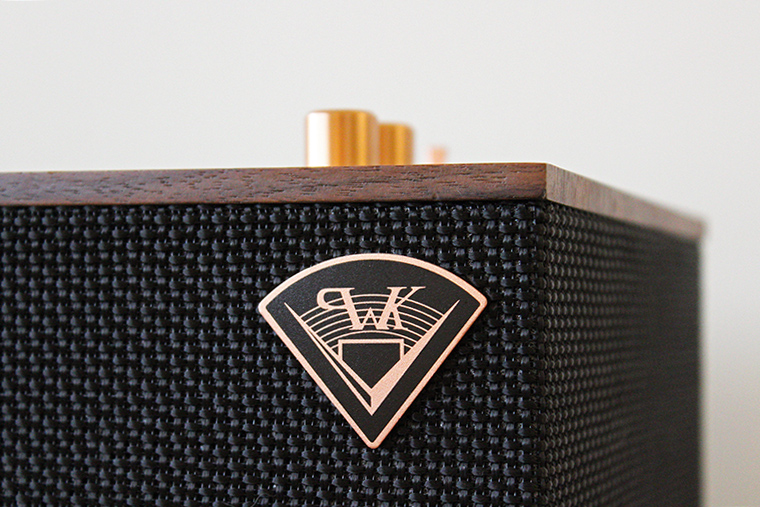 Low-End (Bass)
The low-end is the perfect combination of power, punchiness, and depth, but we've never felt like it was overpowered on bass-heavy tracks. The midrange pulls off clarity with ease, refusing to muddy the rest of the sound, creating the perfect stage for the high-end, which comes in with a crispness that we don't grow tired of. While this speaker can get quite bright during tracks with a lot going on in the high-end, we haven't felt fatigued or tired of listening to them like we have with other wireless speakers in the past - like the RIVA Arena (full review coming soon).
The only, and very slight, "complaint" we have about the sound is a slight boominess coming from the lower-mid-range, that only really presents itself while listening to podcasts or talk shows. Deep voices are accentuated with a low rumble - most likely thanks to the passive radiators, which we'll talk more about below. This isn't necessarily a bad thing, however, and certainly not unpleasant to listen to. The extra boost means you can hear the words loud and clear from across the room. If you want to avoid the boominess, we suggest keeping your sound at a moderate volume, and avoid placing it in a corner where the bass might get trapped. Despite this, The Three is one of the more balanced wireless speakers we've come across, and we'd recommend it for all your at-home listening needs.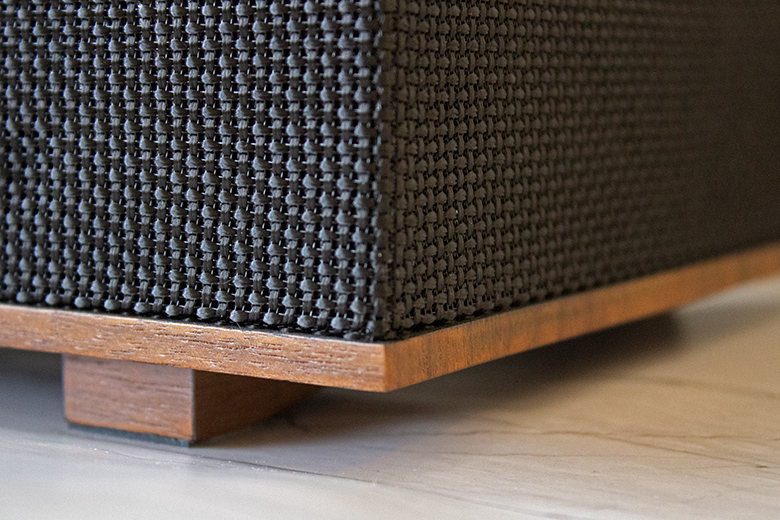 Design
Looks and Build Quality
The Three looks damn good. Klipsch is famous for creating stellar looking gear, blurring the lines between fashion and function, and The Three has set a new standard for wireless speakers. No more cheap, plasticky controls with gaudy buttons and logos - we hope more manufacturers take note of the the Heritage Series' class and style. This speaker could make any home office look professional, or become the perfect centerpiece for your sidebar in the lounge. Comparing this to the UE MEGABLAST (full review here) would be like comparing a 14-year-old's gamer cave to the home office of a successful CEO.
The top, rear, and bottom of The Three are all constructed of beautiful wood, accompanied by steel accents. There are two style options: Ebony and Walnut. We went with the Walnut model, which features natural colored wood, rose gold steel, and a black mesh grille. The fabric mesh grille is woven with a luxurious, textured detail. Everything about this speaker looks and feels premium. The Three's supreme sound is thanks to two full-range drivers, one long-throw woofer, and two passive radiators. In comparison to The Three's sister speakers, The Sixes - which happen to be a pair of wireless bookshelf speakers - the passive radiators give The Three an added oomph.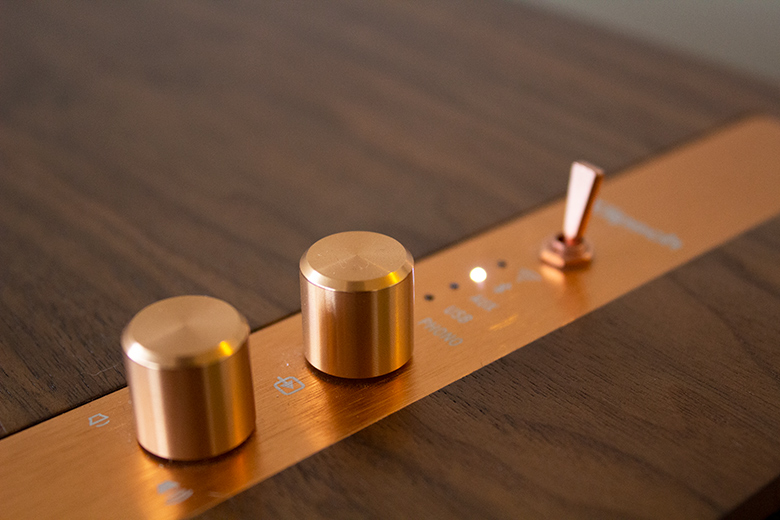 The Three has a weightiness to it that gives you the impression that it's quite sturdy, but we wouldn't go so far as to say that it's durable. This most-certainly is not a portable speaker, and you won't want to risk dropping it. It's not quite as fragile as a pair of tubes on the Linear Tube Audio MK2-S (full review here), but you will want to be gentle when transporting it from place to place. We suggest making it a nice home on your desk or shelf, and letting it live a stress-free lifestyle. If you're looking for a more portable option, we recommend checking out The One, or some of our other best wireless speakers.
 
Controls and Connections
The controls for The Three are located on the top of the speaker, while the connections and ports are on the back. What's interesting about The Three is that you won't find any traditional buttons on it. The controls on top are made of two dials and one old-school kill switch. These three controls are everything you need to get The Three up and running for Bluetooth or analog connectivity. From top to bottom: the switch dictates on/off, the first dial controls the source, and the second dial controls the volume. The source dial also acts as the Bluetooth pairing mode button, in which you press and hold for three seconds to connect to the speaker.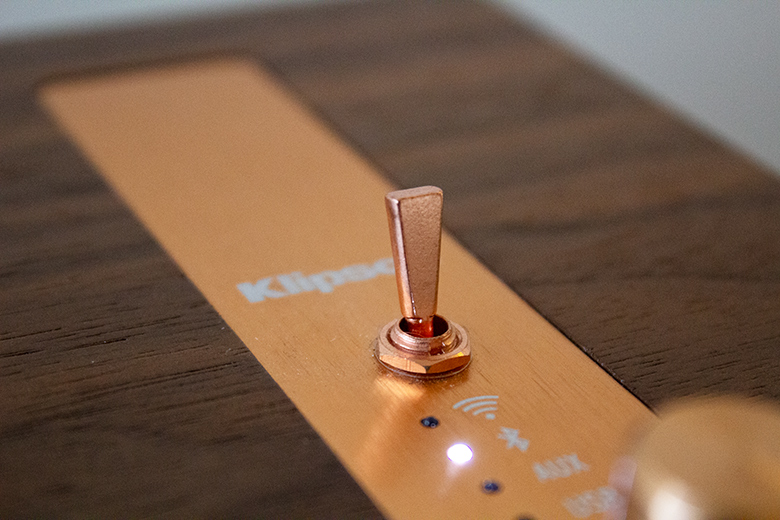 If you're looking to physically connect to The Three - and not by petting the speaker grille like we did - there are a number of ways to do so. The Three supports not only Bluetooth and Wi-Fi, which we'll talk about in a moment, it also connects via 3.5mm auxiliary, analog RCA, USB, and even a phono input for a turntable. That's right, you can connect The Three directly to your record player. This might be the most versatile wireless speaker we've ever reviewed. The only other connection we could think of adding is Optical, like we found on the RIVA Festival, but there are plenty enough options here. Sadly, we didn't have a turntable to test out, so please share your experiences with us if you do. All the other analog connections work well, but we find ourselves mostly pairing through Bluetooth or Wi-Fi.
The Bluetooth connectivity for The Three works very well, and we had no connection issues when walking from room to room in the house. We would only occasionally disconnect when passing through too many walls, but there were no dropouts within reasonable distance. The Three also supports aptX Bluetooth, which is the current standard for lossless audio. Not many wireless speakers in this price range have the same abilities. One speaker we have tested with aptX is the Kanto SYD (full review here). That speaker only costs $330, but is lacking the Wi-Fi capabilities of The Three.
Wireless Connectivity and Klipsch Stream App
The Wi-Fi connectivity of The Three is fantastic, and we found Klipsch's Stream app to be fairly straightforward and easy-to-use. Setting The Three up through Wi-Fi takes a few steps, switching between Wi-Fi Settings and the Klipsch Stream app, but there are clear setup prompts that help guide you through the process. The Klipsch Stream app is a combination of Klipsch technology and Play-Fi. We won't bore you with too many details - you can read more about Play-Fi here - but we'll give you the CliffsNotes. Play-Fi is an online platform that gives you access to high-resolution streaming services through your Wi-Fi network. These are services like Spotify, Tidal, Pandora, SiriusXM, Amazon Music, iHeartRadio, and napster. Using the Klipsch Stream app, you simply have to log into your accounts with these individual services and access them all in one place.
The only issue we had with the Klipsch Stream app was the slight delay between using the controls within the app and the response time on the speaker itself. We found that there was a delay specifically with Spotify Connect that would make adjusting the volume more difficult. We want to point out that we did not have this issue when connecting to Spotify via Bluetooth, and believe it has something to do with the app itself. It wasn't a huge hassle, but is something we wanted to mention incase other readers experience the same. Nevertheless, we appreciate the option to have all of our apps combined into one interface, and don't think this is a negative mark against The Three.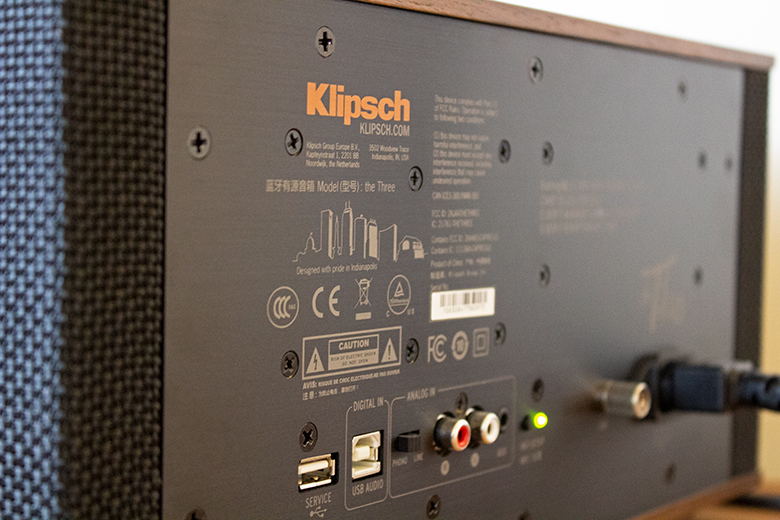 Amazon Alexa and Smart Assistant Connectivity
On top of all the connectivity options The Three has to offer, it's also compatible with Amazon Alexa enabled speakers. Using the Klipsch Stream app, you can sync smart speakers like the Amazon Echo Dot (full review here) and turn The Three into a playback source, giving you the ability to use voice-commands and other smart features.
In Klipsch's newest version of The Three - just released this week - there is an option to purchase the speaker with built-in Google Assistant, which could make The Three our new favorite smart speaker. We'll be sure to test it and report back.
 
Newer Klipsch Wireless Audio
The Three's singular design may not be for everyone. Since its release, Klipsch has put out several wireless audio products, one of which is worth highlighting here. The Klipsch Powergate is a new release, in line with the trend of manufacturers releasing wireless stereo amps - think Sonos, or Amazon. It's a 200 watt Class D amp, fully configured to connect to Wi-Fi, that you can integrate into an existing hi-fi system. If you've ever wanted to cut the cord, it's an excellent choice.
We do wish, however, that it had the same design as the One, Three, and Sixes models. There's no wood here - just dull plastic, which we aren't particular fans of. All the same, it's an excellent alternative for those who have systems already.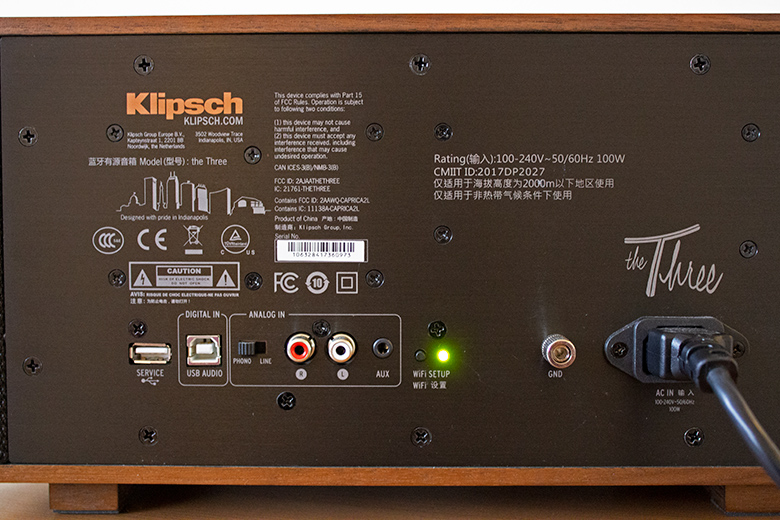 Accessories & Packaging
The packaging for The Three definitely isn't something to call home about. Though it's slightly more interesting than the cardboard boxes most bookshelf speakers package in, we didn't feel like we needed to hang onto it.
As for accessories, The Three comes with everything you need. And we do mean everything. Included within the box was The Three speaker, a power cable, a USB cable, a 3.5mm auxiliary, and a nifty little remote. Unlike the speaker itself, the remote for The Three feels a tad cheap and plasticky. And because we connect mainly through Bluetooth or Wi-Fi, we don't find ourselves utilizing it. But, it's there and will certainly come in handy for those using the analog connection.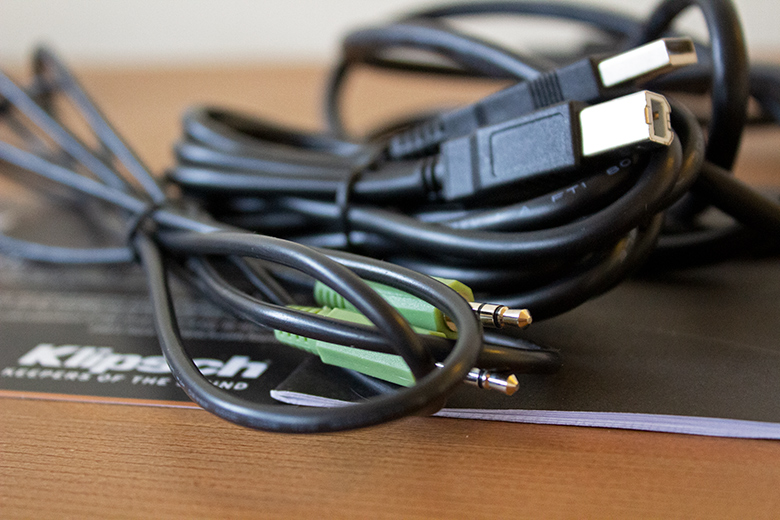 What We Like
The Three is built well and looks gorgeous.
The sound of The Three is warm, with depth and clarity.
The Three has a variety of connection options - both analog and digital.
The Three can be connected to Amazon Alexa-enabled speakers.
 
What We Don't
We would like to see a built-in smart assistant (found in the newer model of The Three).
The Three could be considered overpriced for some.
The lower-mid-range can sound a bit boomy during podcasts.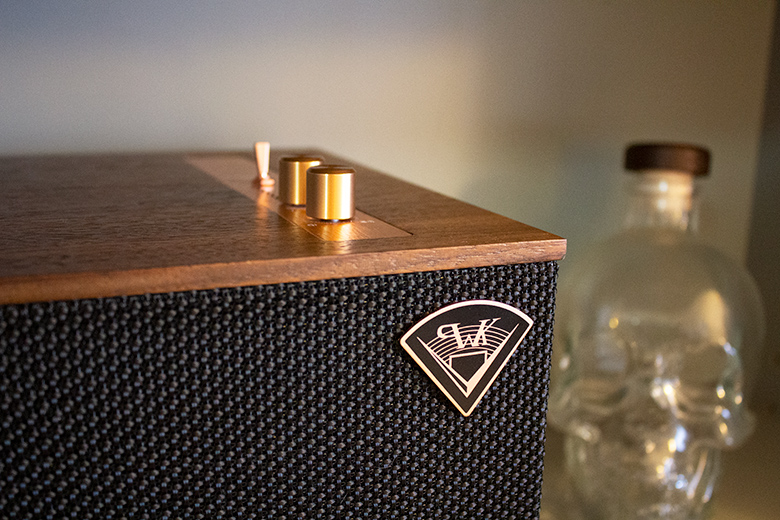 Comparison Table
Want Even More Master Switch? Sign Up For Our Weekly Newsletter!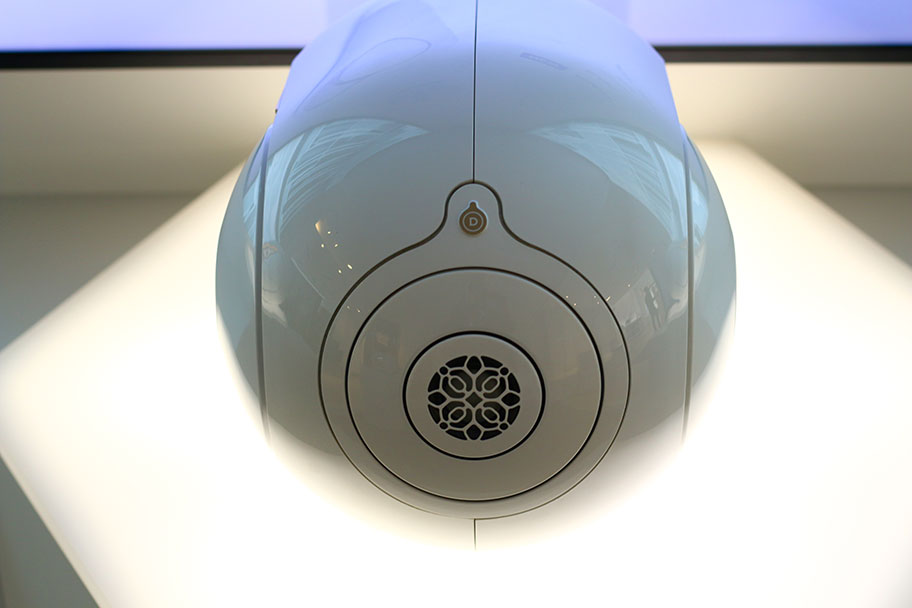 The Competition
If you're looking for an even more high-end wireless speaker, why not try the Devialet Phantom Reactor? It's a scaled-down version of Devialet's 4,500 monster Phantom model, although scaled-down may be something of an overstatement. The damn thing still puts out 900 watts without breaking a sweat, and has bass that can rip a hole between dimensions. It doesn't have the classy looks of The Three, but it has audio quality that far outstrips it. Ditto for price: it's over double the $499 Klipsch speaker, at $1,350. However, it remains a superb choice.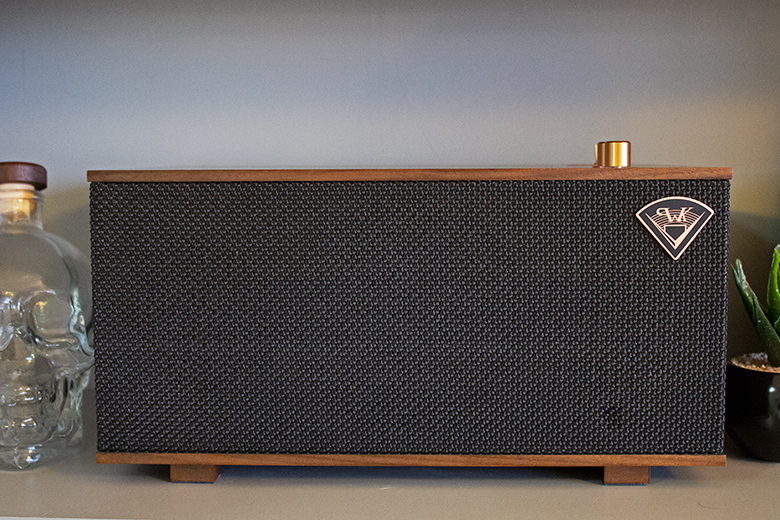 Next up, we'd like to recommend the Google Home Max. We don't technically pit smart and non-smart speakers against each other, but these two battled head-to-head for a spot on our best wireless speakers list. Based on output, the Google Home Max and The Three are similar, but The Three still manages to come out on top. As for style, the Home Max is more of a subtle look, featuring hidden touch controls and a low-key profile, whereas The Three makes a statement with its wood and metal design. While we prefer The Three, we appreciate Google's minimalist approach, and are actually quite fond of the Charcoal option of the Home Max. Where the Home Max has The Three beat is purely for the built-in Google Assistant. But once the public get their hands on the new Google Assistant-enabled Three, we have no doubt that it'll crush other smart speakers in its way. The Google Home Max can be had for $499, identical to The Three.
Another wireless speaker we'd like to recommend is the Kanto SYD. While this speaker might not have the same Wi-Fi connectivity options as The Three, it's a funky statement piece that we couldn't help but like. Priced at $330, the Kanto SYD is relatively affordable, offers aptX Bluetooth connectivity, and comes in a variety of colors. While it might not sound as good as The Three, it's certainly a viable option for someone looking for a unique speaker that delivers decent sound and wireless functionality at a reasonable price. The Kanto SYD also supports connections for RCA, auxiliary, phono/turntable, optical, and even a subwoofer. In our review, we noted that this many connection options was unusual for a wireless speaker, and we're happy to say that it shares that likeness with The Three. This is definitely a good pick if you want to spend a little less, but still enjoy some versatile connection options.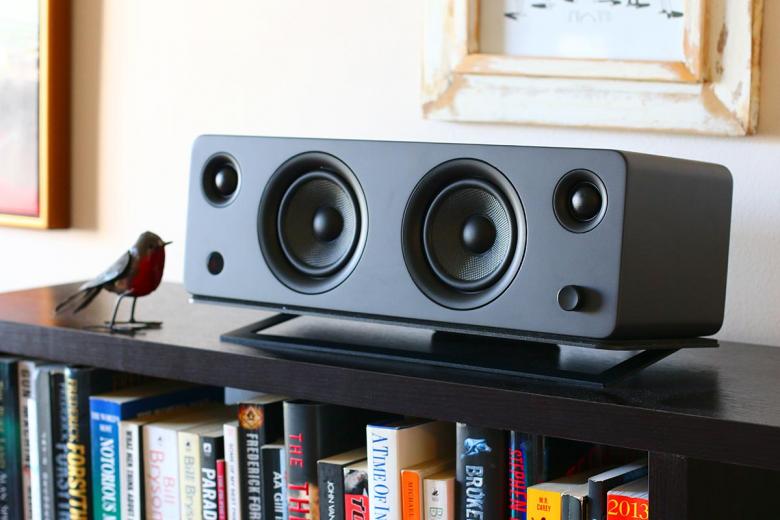 The Three is just one of three speakers in Klipsch's Heritage Wireless Series, the others being The One and The Sixes. As you can imagine, The One is a smaller, portable version, while The Sixes are a stereo pair of wireless Bookshelf speakers. All share the same style, class, and phenomenal sound quality of The Three, while suiting different needs. The One has a smaller footprint and utilizes true wireless technology, making it ideal for moving from location to location. Costing just $250, it's ideal for someone looking for a portable version of The Three. The Sixes, on the other hand, are a breathtaking pair of bookshelf speakers that elevate everything we love about The Three - including the price, at $799. And, if you're looking for a smart version of The Three, Klipsch just launched their newest rendition, complete with built-in Google Assistant. That speaker will cost the same as the original Three at $499 - so we expect to see that one drop in price. Whichever model you go for, we guarantee you'll love it.
Learn More About Speakers