We'll admit: it was a little bit surprising when we got a pair of sports earbuds from Optoma. It may have even been a bit of a "Wait, what?" moment. Optoma? The really good but slightly square company who make projectors, DACs, professional-grade in-ear monitors and audiophile amps? That Optoma? They're the ones responsible for this explosion of neon-yellow and hot-pink rubber ear tips all over our desk?
Imagine if Beats By Dre decided to market a do-it-yourself home tube amp kit. That was the level of eyebrow-raise we had.
Fortunately, Optoma know what they're doing. And the Nuforce BE Sport3 succeed because they get the basics right. These might not be the best sports earbuds on the market, but they've become one of our favorites.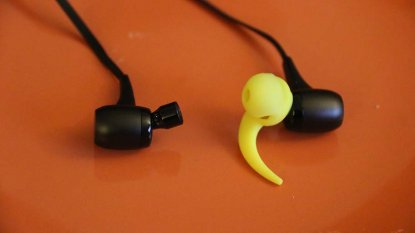 Design
Optoma obviously understand the importance of getting a good fit when you're using earbuds in a workout situation, which explains the cornucopia of rubber gizmos they pack into the BE Sport 3's plush carrier bag. Not only do you get a collection of standard tips in various sizes, but you also get a pair of grey 'Twinblade' tips, for an enhanced fit. On top of that, you've got multiple sizes of spiked rubber wedges, designed to go between the tip and the housing, for a more secure fit. Although it took us a few minutes to find the best fit, this was mostly down to the sheer number of options on offer. It's quite conceivable that once you've got a setup that makes sense for you, you can store the rest of the tips out of sight – or even throw them away, if you're particularly confident.
It's worth noting, again, but the colour choices are particularly garish. We're not big fans. It's a minor enough point, but what, you couldn't give us a tasteful blue? Perhaps a soothing gunmetal grey? Just because we are actually getting off our backsides and going to the gym doesn't mean we want to burn our eyeballs out.
Getting the tips on to the housing is simplicity itself, a simple matter of stretching them and sliding them on. The housings themselves are phenomenal: smooth and weighty, with a pleasing heft to them that is nonetheless light when worn in the ear. They also have at least one truly brilliant feature: the outer part is magnetized, so you can snap them together. Once you've got them hanging round your neck, snapped together and stuck in place, you'll wonder how you ever lived without it. It's the perfect example of the company getting the basics absolutely right, and it meant continued hassle-free use for us.
The earbuds are rated at IP55, which means that while they aren't completely waterproof, they can more than withstand a bit of sweat and dirt. We put this to the test ourselves, using the buds over multiple sessions in our local gym: sessions which included heavy cardio, weight lifting, and suspension training. No matter what we did, or how we moved, they stayed in place. After two hours, they began to feel a little bit uncomfortable, but that's a long time to wear any pair of buds for, so we forgave them. They certainly didn't make us feel hot or itchy, which is a problem we've had with other models in the past.
The in-line controls are dead simple. Although the call quality was probably a smidgen less good than we normally expect, the actual controls themselves were easy-to-use. There are two volume buttons, and a single central button to handle all functions, which worked just like we expected it to. Pairing it with our phone took almost no effort: a prolonged press of the button, a couple of taps on screen, and we were done. It was also reassuring that we encountered zero signal dropouts. Charging is straightforward, done via USB and connected to a port on the controls hidden away by a tiny flap.
The buds come in a small, soft case, edged in bright yellow and with its own carabiner clip. Like the buds themselves, it's simple, effective, and gets the job done.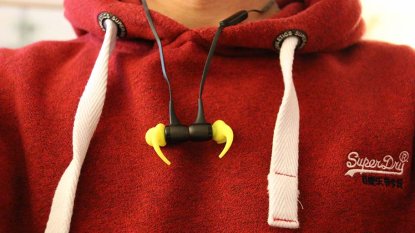 Sound
We were worried about this one. Bluetooth buds, and exercise buds in particular, don't have a very good rep for sound quality. Partly it's to do with the fact that Bluetooth transmission isn't always optimal, but also because by their very nature, they have to be light, which means they can't always deliver intense, satisfying bass.
We have never been so happy to be proven wrong. While the audio quality of the BE Sport3 isn't going to be unseating classy numbers like the MEE audio in-ears any time soon, it more than holds its own. Optoma focused on getting the aptX Bluetooth codec right, and they've done a fantastic job.
It was the bass that really surprised us. Although it felt compact, it didn't feel like it had lost any detail or power. Kick drums still had genuine weight to them, and synth basslines were satisfyingly gritty. And while the stereo spread could probably stand to be widened a little more, it was still a pleasant surprise to hear just how accomplished the rest of the frequency spectrum was. The mids and highs were full of life and texture, and increased audio quality made our workouts a pleasure.
We were also impressed by the battery life. While we didn't squeeze the advertised ten hours out of these while operating at a reasonable volume, we did get to eight and a half in our tests, which is more than enough. That length of time is comparable with the best in the field.
The sound quality is helped along by the tight seal from the multiple choices of tips, proving once again that if you get the basics right, the rest will follow. For the amount of money these cost ($79 on Amazon) you really are getting more than you pay for.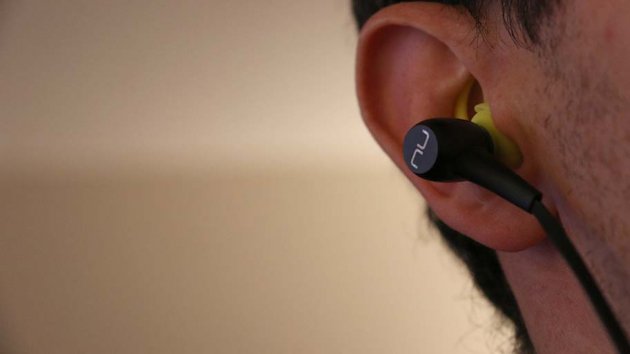 Should You Buy Them?
The BE Sport3s don't quite unseat the mighty Jaybird Freedoms, which are still our top choice of workout earbud. But in the sub-$100 category, they're a force to be reckoned with. What Optoma have created isn't sexy, or technologically groundbreaking, but they get the basics right, and prove that sometimes, that's all you need. If you're in the market for a pair of wireless workout earbuds, you should strongly consider these. They get the job done in just about every way.
See the Optoma BE Sport3s on Amazon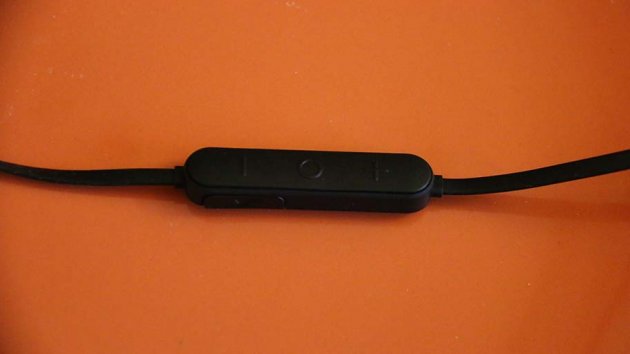 Good:
Great sound, design that gets the basics right
Bad:
Eyeball-searing colours
Best For:
Anybody who needs a basic pair of earbuds for running, or the gym

Alternatives:
Although the cost quite a bit more, these are still far and away our favorites. As we said in our review: "Although they can initially be bewildering, they're a real gem, and it's clear that Jaybird put a lot of thought into the way they work. These are real winners."
A cheaper alternative, which offers a basic setup coupled with surprisingly robust sound. We prefer the BE Sport3s to these use in the gym, but they're worth looking at.

Breaking Down The Specs:

*This is a rating of how resistant to water, dust and sweat a product is. Confused? Our man Niko has a great explanation here.