Rock Jaw Audio is an independent headphone manufacturer that was founded in June 2012 from a humble bedroom in leafy Leicestershire, England. Focusing exclusively on the earbud headphone market, their design approach to IEM (In Ear Monitors) has quickly managed to attract the attention of the audio industry, and more importantly, the audiophile community. 
Their Alfa Genus earbuds are the second generation of an already-successful (and award-winning) pair. The current updated spec introduces a more durable aluminum housing, replacing the previous rubberized plastic coating. The feature which originally captured our attention with the first model - the inclusion of three pairs of interchangeable tuning filters - is still present in mark two. Far more than being a gimmick, this unique approach to user-definable EQ character is reason enough to pick these up. Rock Jaw Audio are not the only company to feature interchangeable EQ filters, but are possibly the first to offer it at such a low price point.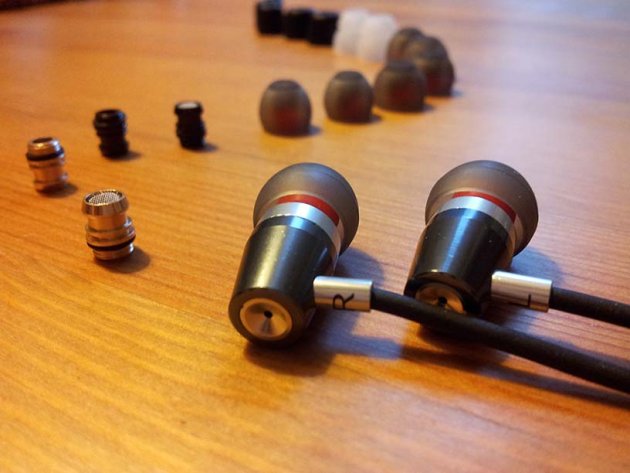 Design
First impressions start with the Alfa Genus' smart black packaging, and the box leaves little to the imagination: the see-through panels on both sides proudly display the curious-looking mini barrels (the filters), a variety of eartips, and of course the earbuds themselves. 
Speaking of eartips, inside the simple but well-designed box you'll find a generous selection - six pairs of eartips in several variations and sizes (Silicone S/M/L, Memory Foam M/L and double flange in S size), as well as a carry pouch with an embroidered Rock Jaw Audio logo.
The Alfa Genus earbuds feel reasonably light to the hand and look quite stylish in their cosmo-grey aluminum housings, featuring chrome ring flanges allowing to find the ear direction, with clearly visible left and right indicators. The non-detachable 3'95" black lead is of premium tangle-free variety, and features a built-in generic mic with universal pause/play button (for Android devices).
Out of the box the Alfa Genus come already loaded with the Silver filters which feature a slightly lifted Bass. In addition, you'll also find two more pairs of filter caps - Gold (Natural or flat-response) and Black (Treble). 
For those unfamiliar with headphone EQ filters, let's note that these do not use digital technology. They are hardware filters that look like small threaded barrels. They screw into the ear capsules - one for each ear. You could unscrew/change them with the eartips attached, and the process is far less fiddly than expected.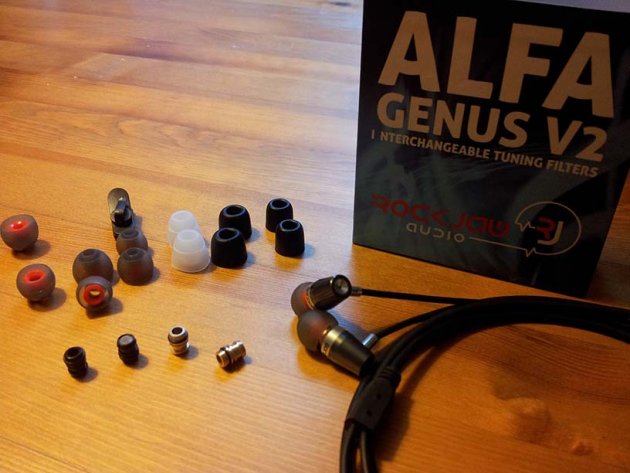 Sound
The Alfa Genus V2's are really well optimised for handheld devices - their low impedance (16Ω), makes them perfect for any smartphone, tablet or other media player accompanying you on your travels or daily commutes. Being so easily-driven means that they immediately deliver that burned-in sound - this pair won't need two or three days to reach optimum performance, as it's already cranking from the word go. 
Starting with the Bass filters (attached already), our first impressions revealed a sound which is not overcooked. It's not ultra-bassy, just full sounding; it has plenty of punch while staying mellow and detailed. We'd say that if they were a large pair of bookshelf speakers, they'd be just shy from a trouser-flipping low end - the bass is substantial but fast and really well contained.
You will hear a bit of a difference when you put in the regular-voiced Reference filters, which Rock Jaw Audio recommend for music producers. It's a subtle difference, with the audio spectrum feels more evened-out.
Moving onto the Treble filters, it needs to be noted that they do not overemphasize top frequencies, instead they roll off the bass frequencies ever so slightly. Rock Jaw describe it as "a reduced bass sound signature with more detail on the upper mids and treble" and that's spot on. They sound more 'airy', although we suspect that you might feel slightly robbed if trying these straight after the silver Bass caps, which by the way remain our firm favorite out of the three.
We need to point that despite the different filters' varying character, the EQ curves are expertly tuned, with subtle enhancements which will definitely be appreciated. As always with in-ear headphones, a perfect earbud fit makes a world of difference, so it is recommended that you find the right ear tip size (and type) for your ears.
 
Should You Buy Them?
Rock Jaw Audio pride themselves on exceeding expectations, and it is evident that their success is not due only to their technical knowhow, but to their smart component sourcing. The design and development process apparently included quite an extensive customer-feedback research, and it shows. It is not often that we hear of a company sending their products of up to twelve weeks to a panel of independent testers - ranging from teenagers to seasoned producers. 
Bottom line: these are an excellent, versatile, affordable pair of buds that will please you no matter what music you listen to. Highly recommended.
See the Rock Jaw Audio Alfa Genus V2s
 
Good: 
Great quality, steady fit, tangle free cord, filter caps
Bad: 
The lead could be a few inches longer (for this reviewer at least, and especially when the lead is passed behind your back and under your clothing), play/pause button could be sturdier.
Best For: 
Music lovers on a reasonable budget
 
Alternatives
Another product that uses this kind of approach would be the RHA T20i, albeit at a higher price point. They use a dual driver technology and are very impressive indeed. Check our review here.
You could also check the Shure SE215-CL for a similar audio performance (to the Alfa Genus pair) but without the EQ filters.

Breaking Down The Specs:
Learn More About Headphones