Very few audio designers are as accomplished as Aaron Fournier. After stints at Tivoli Audio and V-Moda, the Boston-based engineer started his own company, Thinksound, with the goal of making environmentally-friendly headphones that sounded fantastic. Fournier and his team build headphones using natural materials like wood, and with the latest model from the company - the Thinksound On2, a sequel to the On1 - they've taken things to a whole new level, building a genuinely delightful pair of headphones that we got a real kick out of using, and which we think you will, too.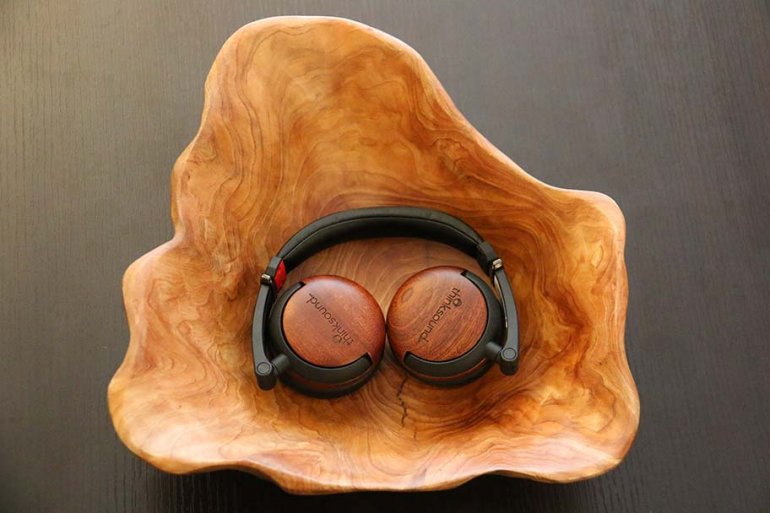 Design
The first thing you notice when you pull the headphones out of their cloth carry bag – the first thing anybody notices – is the wood. It's what the company's mission is, and it's the most attractive thing about the Thinksound On2 (which as you may have gathered are on-ear, rather than over-ear, headphones).
While other companies might give you wood-like material, or simply throw it in as an afterthought, that's very much not the case here. The circular wooden cups look and feel beautiful, the wood rich and dark, with the company's logo engraved on each side. When even holding a pair of headphones is a pleasure, you know you're onto something special. A comparison, in terms of shape and size, would probably be the Bang & Olufsen H2 - a good pair of headphones at an identical price. We much prefer the On2s, but if you're looking for an alternative, they're very solid.
Beyond that, the second thing you notice is just how simple they are. The headband is thin, made of plastic and leather, the latter encompassing the top of the headband. The left and right indicators are not only prominent, but the right indicator is coloured red, meaning you can find it at a glance – an indicator of just how much thought the company has put into the design.
The headphones are incredibly light and flexible, weighing barely 7oz without the cable. The cups tilt inwards and then upwards for easy portability, halving the size of the model in a couple of movements. The hinges feel smooth and natural. 
Really, we've got very little to say about the design that isn't overwhelmingly positive; we loved almost everything about it. If we had one criticism, it's that the inside of the left earband has an unsightly barcode sticker on it, which would be a problem, except that it's almost impossible to remove. Not something you're going to notice when you're wearing the headphones, but a slightly puzzling oversight nonetheless.
(Update: Fournier says, "The barcode is there unfortunately to track unauthorized dealers and fakes.  Each barcode allows us to track the headphone production batch and date." Fair enough, although we still wish there was an alternative. He also says they're working on Bluetooth, and a hard carry case.)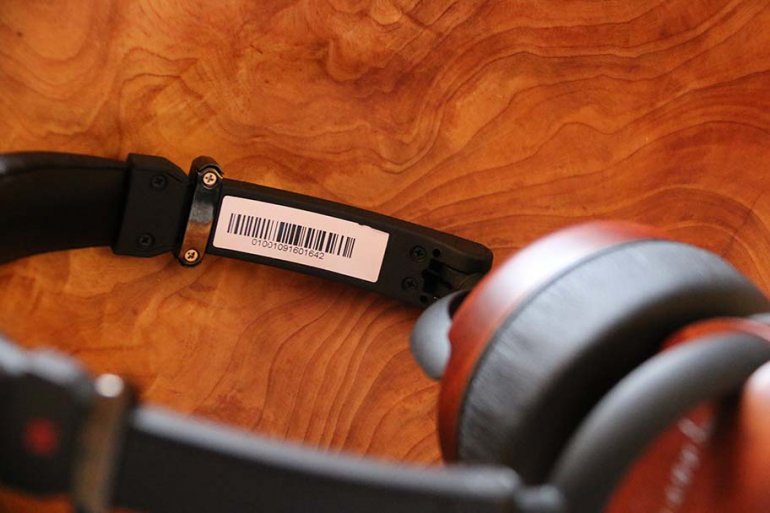 Comfort & Fit
We prefer over-ear headphones to on-ear here at TMS. We've consistently found that they give better isolation, and are more comfortable to wear for long periods. Fortunately for the On2, that's not too big a deal here. On the contrary: rarely have we come across a more comfortable pair of on-ear cans.
The inner cups are made of plush leather, and are refreshingly plump and squashy. They sit extremely well on the ears, and are small enough to allow a pair of glasses to rest on top of them, which is something not a lot of other headphones pull off. We didn't have any problem with using them over extended listening sessions, and the isolation was surprisingly good
While they're not going to unseat our love for big, hard-to-drive over-ear headphones, they still rank up there as some of the most comfortable on-ears we've ever tested.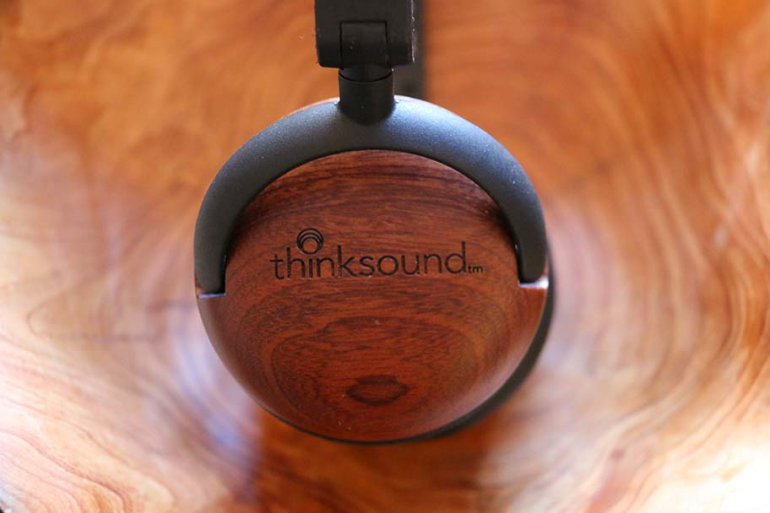 Sound
All the good design and comfortable leather in the world won't mean a thing if a pair of headphones doesn't sound good. Just ask Beats By Dre.
Not a problem here. Fournier knows his audio, and it's clear from the moment the first note plays that he and his team have spent a lot of time making sure these sound bad-ass.
Although they don't feel quite as powerful and deep as other models, they make up for it with some absolutely superb articulation. The high-end felt super crisp without being brittle, with a level of detail and subtlety that we found highly addictive. The mid-range felt warm and rounded, much like the cups themselves, and as we cycled through a variety of test songs and genres, we couldn't quite believe that a pair of $200 headphones could sound this good. They really are extraordinary.
You can't talk about the On2 without talking about the soundstage. The spread and placement within the stereo field is just phenomenal, with each part of the track granted its own space, even on extremely dense songs. Whatever wizardry Thinksound have knocking about in between the wood and the leather, it's working. It's working beautifully.
Again, these aren't going to please those who love super-deep bass. The 40mm dynamic drivers are more than sufficient, but don't quite have the power to really put some serious oomph into your track. If, however, you enjoy genres that are slightly more subtle, like folk or acoustic rock or classical, then you'll fall in love with the sound signature. And by the way: these headphones absolutely sing when you pair them with a decent amplifier. We hooked them up to a Fiio A5 (see our in-depth review), and fell in love. You certainly don't need one to use these – at 50Ω, you can happily drive them with a smartphone – but if you've got an amp or two knocking around, you're in for a wild ride.
Actually, they kind of reminded us of the Sennheiser Momentum Wireless a little. To be fair, those are wireless headphones (full review here) and over-ears, but the sound signature is similar. Full-bodied, without being overpowering. The Sennheisers are more accurate, but also more expensive, so don't just jump straight in there if you're looking for an alternative.
Call quality using in-line mic (discussed below) was absolutely fine. No worries there.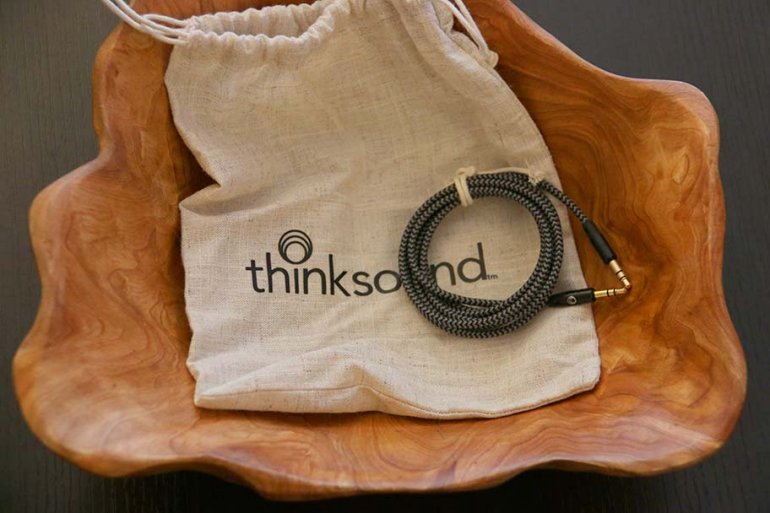 Accessories
In keeping with Thinksound's environmental ethos, accessories are minimal, and refreshingly earthy. Chief among them are two 4'6" cloth-covered cables, one with in-line control/microphone, and one without. There's no major difference in sound between the two. Although the in-line microphone doesn't have a volume control (a common feature among many newer headphones, which is a result of the number of different smartphone models available, and the inability to adapt to all of them) the single control button works well.
Each of the cables comes – and were not even a little bit joking about this – tied up with a small piece of string. We don't know why, but this makes us very happy. The cables look and feel great, too.
And there's no fake leather, zippered case here. Instead, Thinksound ship the On2 in a simple cloth carry bag. It's not the most spacious bag we've come across, but it makes a nice touch, regardless.
 
Packaging
There's nothing too wild about the packaging; it gets the job done. A simple sleeved cardboard container slides open to reveal the On2, with the accessories slotted into different chambers. What's nice is that the packaging is fully recyclable, so when you do get these, make sure to pop the box in the right bin. Given that the company has made you such a fly pair of headphones, it seems the least you could do.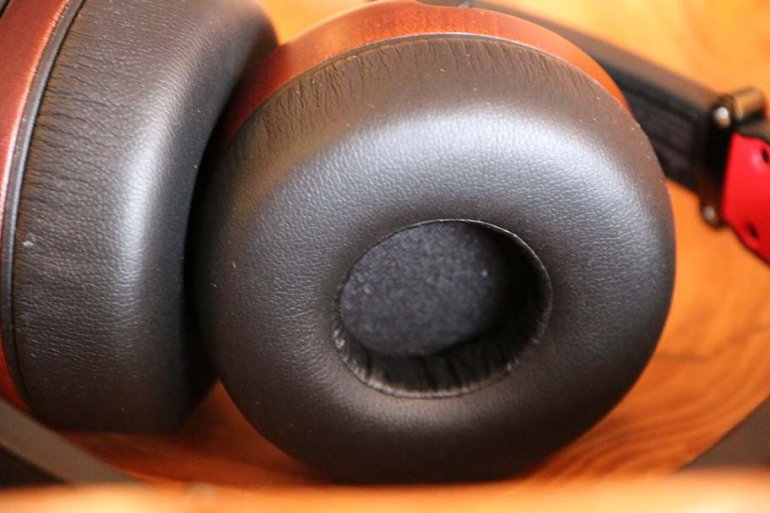 Verdict
It is really, really hard to find fault with the On2s. They have terrific sound, superlative design, excellent comfort and a compelling price point. Admittedly, they definitely aren't going to satisfy fans of deeper bass (although these headphones might), but really, that's a subjective assessment. For what they are, they provide a genuinely fantastic experience, and if you're in the market for a new pair of headphones – and want something that will give you maximum bang for your buck – then there should really be only one option: go wood.
 
Good:
Wooden earcups are far more than a gimmick.
Detailed, rich sound.
Simple, effective design.
Terrific value for money.
Bad:
Weird barcode in the headband.
Bass isn't as powerful as other models.
See the Thinksound On2s on Amazon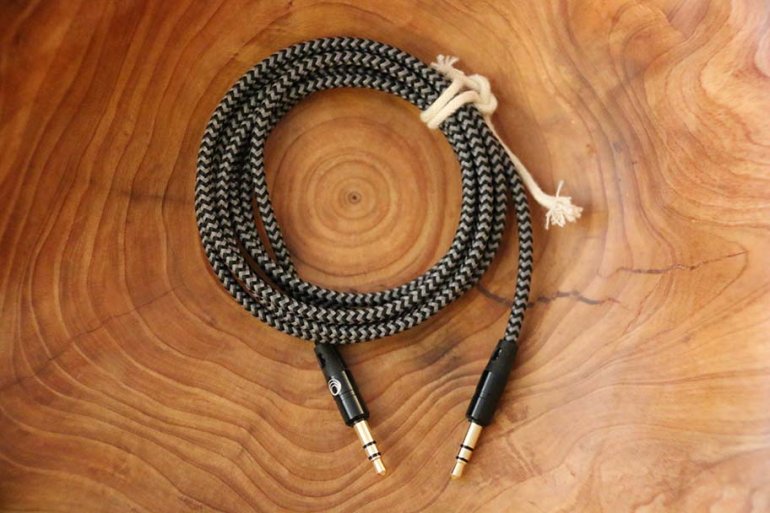 Alternatives
Although it doesn't have quite as accomplished a sonic signature, Bob's signature pair adds cloth into the wood and plastic design, and provides an outstanding experience. 
It's also slightly cheaper, and along with the looks (which we love) it comes with a set of on-ear controls, as well as a larger driver for deeper bass. The particular model we've linked to here is also wireless, operating via Bluetooth. Essentially, your trading off really good sound for slightly more powerful bass and a bigger feature set.
Double the price – but then, this is Grado we're talking about. The Brooklyn headphone maker had a real winner with its RS2e reference series cans, and for good reason. The audio palette is nothing short of spectacular, with an extraordinary level of detail.
They look amazing, too, with the company's signature 1960s spaceman aesthetic. Although they aren't (in our opinion) nearly as comfortable to wear, they are still some of the finest headphones available right now.
These are a little more corporate - no wood here. But the smooth black design does look fabulous, and at the same price (and size, and shape) as the On2s, they're a worthy comparison.
Audio quality is far more restrained - something which B&O are known for. If you can live with that, you'll find that they're highly flexible, and a couple of ounces lighter than the On2s, as well.
 
Specs Table

Video Review
Learn More About Headphones