Shanling M5S ($429)
Storage: None (Exp. to 2TB)
Max Sample Rate: 32-bit/768kHz
Wi-Fi/Bluetooth: Yes/Yes
What We Like: Stunning sound, funky design, two-way Bluetooth.
What We Don't: Soundstage issues, no access to streaming services.
See the Shanling M5S
The Chinese audio world has exploded over the past decade. One thing the country is particularly good at is creating great digital audio players. Shanling are a company specializing in just that, and they are absolutely crushing it. In this review, we break down the sound, design, packaging and accessories, specs and more of the Shanling M5S. To see how it stacks up, check out our list of the best DAPs.
 
Sound
Shanling M5S Low-End (Bass)
While the Shanling M5S may be a great digital audio player (DAP), it's definitely not one for bass-heads. If you like thundering, heavy low-end, you're going to hate this DAP from the get-go. Given that we consider ourselves bass fanatics, we were a little worried.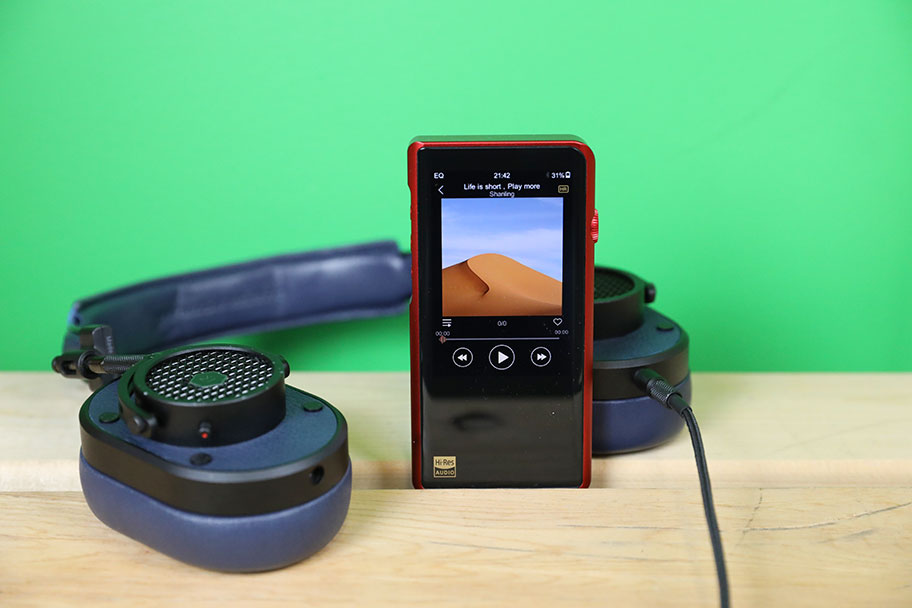 We knew of the M5S's reputation, and we'd already heard its predecessor, the M3S, but our experience was much better than we'd anticipated. While the bass didn't pack a large amount of power, it still impressed us. It did this through accuracy, control, and tone. This wasn't a WWE wrestler; it was a wushu master, dancing around the ring. The bass boasted incredible detail, and for genres like metal, it was fantastic. Being able to pick out elements in the low-end, even with file types that didn't have the resolution to accurately convey some information, was a joy.
This is something the M5S excels at and easily trounces cheaper players, like the FiiO M9. We think the $300 FiiO is a better overall player, in terms of build and operating system, but there's no question that the $429 M5S has better sound quality. The bass is where you hear this quality the most, getting a sense of just what you're paying for. If you like your music neutral, and seek control and clarity over everything else, then this is unquestionably the DAP to go for.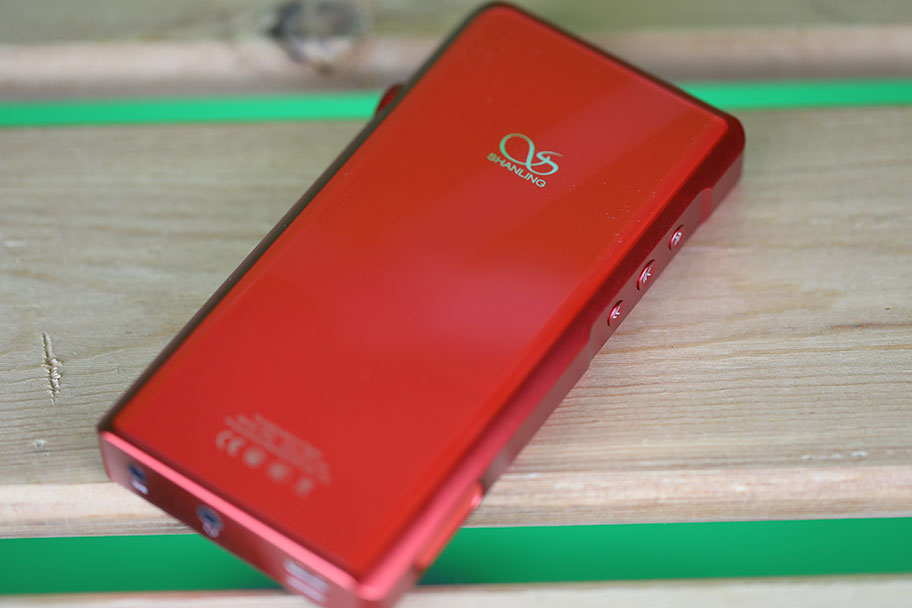 Shanling M5S High-End (Treble) and Mids
Control and clarity, however, can often be an indicator that the sound will be slightly harsh in the highs. Mercifully, that's not the case with the M5S. This particular wushu master might be throwing you to the matt, but at least she makes sure you land without any broken bones.
The highs were crisp and neutral, with excellent detail. Even over long periods, they never felt needling or overly dry. Instead, they were simply revealing, showing you what was there without coloring it in any way, and never becoming fatiguing to listen to. Don't get us wrong: more expensive players, like the $599 HiBy R6, deliver more high-end sparkle and detail. But it's not a huge leap, and for $429, the M5S more than holds its own. If you do want to customize the sound, there's a fairly basic EQ section, as well as a selection of preset filters, all accessible through the settings menu.
The same goes for the mids. We usually like a bit of warmth and presence in our mids, but we didn't miss it here. Not when everything felt so damn right, like we were really getting a feel for what the musicians wanted us to hear. The flat, clean mids never forced themselves to the front of the picture, and overall, the sound quality of the M5S felt precisely-engineered. There was clearly some high-level engineering going on, and it meant that the M5S instantly shot into our top five digital audio players available.
That being said, if you do like a little bit of color and warmth in your sound, then this DAP is going to leave you cold. Its precision and technical mastery means that it won't satisfy those looking for a slightly wilder ride. It can also be a touch unforgiving. While it will happily make sense of low resolution files, things do get a bit crunchy when quality is reduced. Put a 160kbps MP3 file through this player, and you'll instantly be aware that it's a 160kbps MP3 file.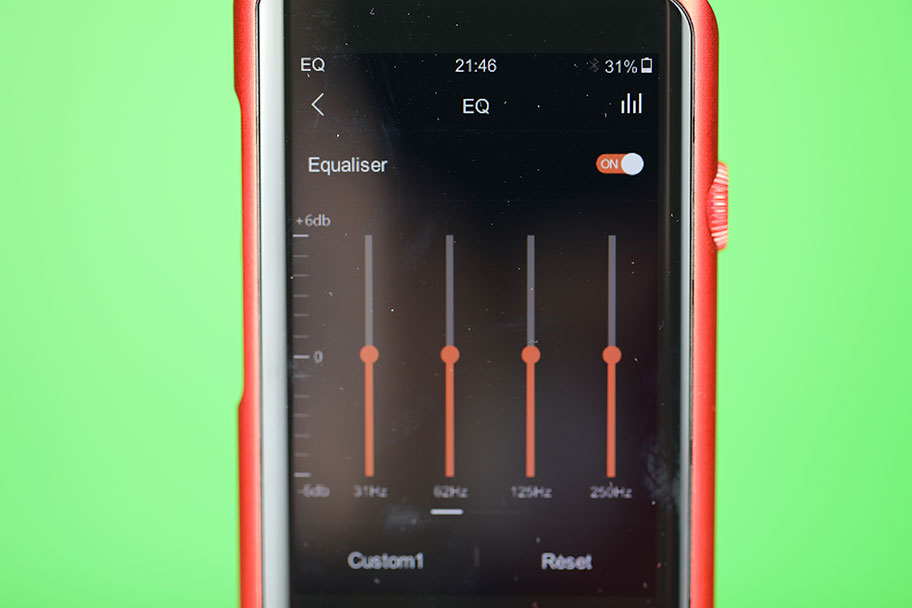 Shanling M5S Soundstage
One element of the sound we did have trouble with was the soundstage. The imaging was fine, but we never felt like we were getting as much information as we would have liked. The instrumentation on our test tracks never felt as wide or as far-reaching as it should have - compared to something like the iBasso DX220, it was a little lacking. That's kind of a shame. When you have a DAP that performs with as much technical precision as the M5S, it's a bit of a letdown to find one aspect of the sound not performing as it should.
Fortunately, a decent pair of headphones can partly make up for this downfall. The M5S performs well with just about any headphones you plug into it, offering 300 milliwatts at 32 ohms (here's a more detailed explanation of what this means). But we found that connecting it to a pair of headphones with a great soundstage, like the AudioQuest Nighthawk Carbon, made a big difference.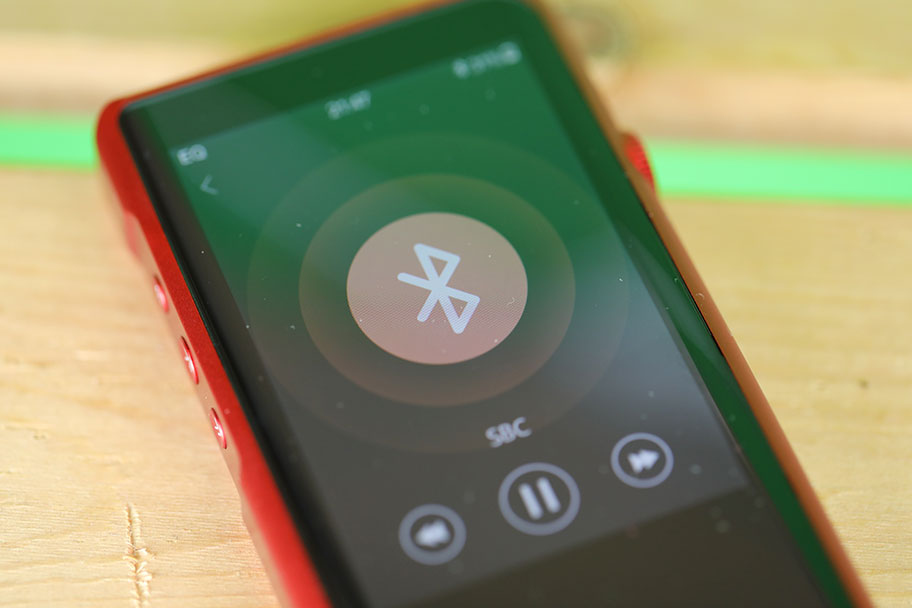 Shanling M5S File Handling and Bluetooth
The M5S has dual AK4493 EQ DACs embedded in its circuits – and if that sentence was utter gobbledygook, here's what it all means. Those DACs are in charge of file handling, and in this area, the M5S more than holds its own. It's compatible with audio files up to 32 bit / 768kHz, and DSD files up to DSD256. That's more than enough to handle just about any file you throw at it, and competes well with other DAPs in this price range. For comparison, the more expensive Cayin N5iiS ($499 versus $429 for the M5S) can only go up to 384kHz.
There's also the option of wireless audio transmission. We'll go into the ins and outs of this in more detail below, but in terms of sound quality, Bluetooth audio transmission works exceptionally well. The M5S is capable of handling a wide range of Bluetooth codecs, including LDAC, aptX and AAC (here's an explanation of what all that means). We did find that a wired connection was a tad better than Bluetooth transmission, but the difference was barely noticeable. For the most part, you can use Bluetooth with confidence here.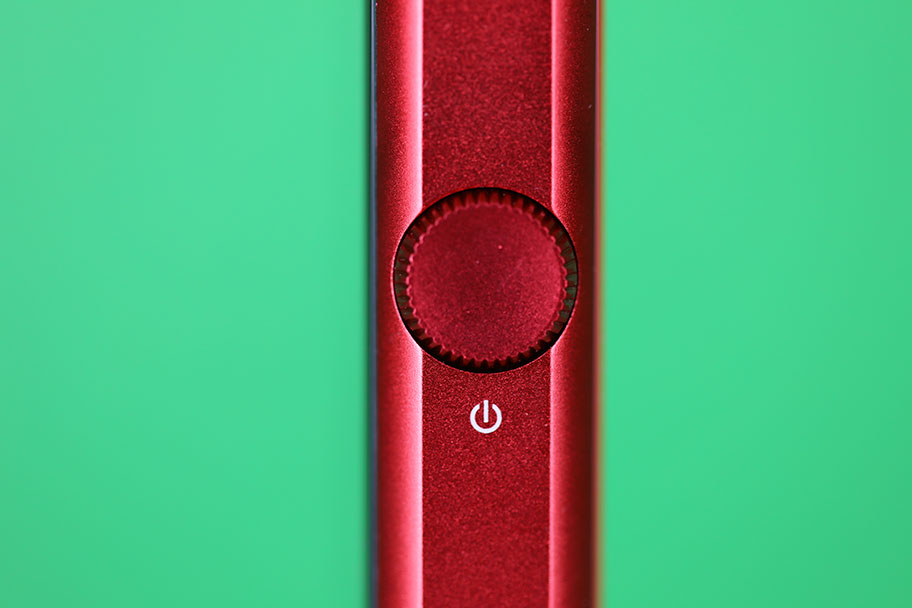 Design
Shanling M5S Build Quality and Controls
In our most humble opinion, we believe that more audio products should come in candy-apple red. The world would be a better place. There would be more smiles and more high-fives. We have a sneaking suspicion that any audio product that comes in candy-apple red actually sounds better, and we think that all manufacturers should adopt this as the default color of choice. It's opinions like these that make us the leading audio site on the planet. You're welcome.
Our M5S came in a bright red housing, and simply because of that, we were immediately charmed by it. It's also available in black and titanium, if you're boring. The M5S is slightly smaller than a smartphone, while being a little thicker overall. The housing feels robust and solid, and the delicately chamfered edges give it a welcoming profile. The screen, too, is excellent. It doesn't quite have the resolution or clarity of the aforementioned FiiO M9, but we had absolutely no problem using it. It's not edge to edge – the screen runs about two thirds of the way down the player – but we never found it to be a problem, and we could easily see what was going on at all times. So far, so good.
Controls are minimal and work well. The knurled volume knob is easy to find without looking, and doubles as a screen on/off button, which brings the operating system to life instantly. On the other side of the player, you'll find a play/pause button and two track skip buttons. It's the kind of setup that doesn't require an instruction manual to operate – even a chimp could do it. We do love it when pricey audio gear is simple and efficient.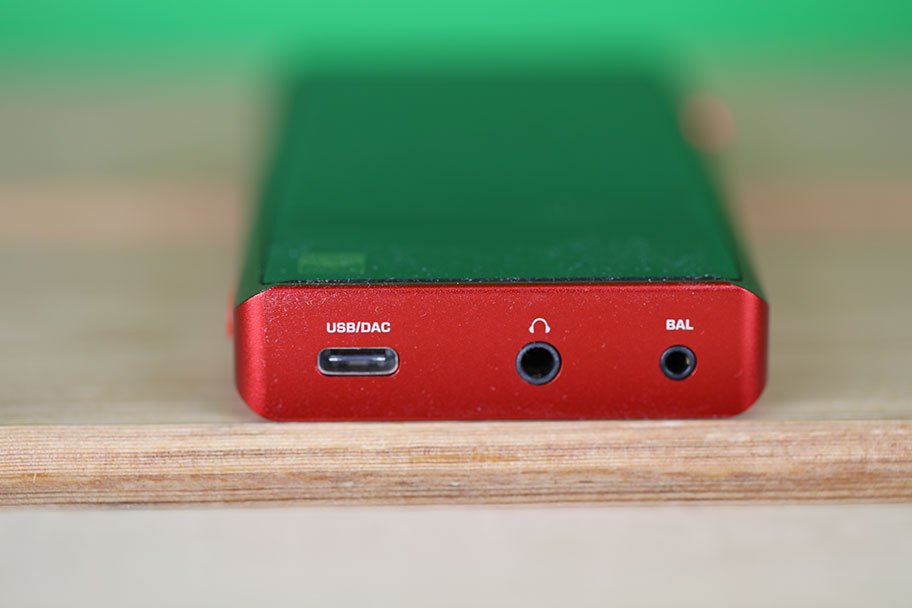 Shanling M5S Inputs and Outputs
The M5S offers a comprehensive set of inputs and outputs. Chief among these is a slot for a microSD card – the player is capable of taking a card up to 2TB in size, making it easy to get a sizeable number of high resolution files on your device. You will have to purchase a microSD card, of course, but that's no major hardship these days. Outside of that, you get both single ended and balanced headphone outputs (ideal for sensitive in-ear headphones), and a USB charging input that doubles as an input for a DAC. All of these work well, and we love how clean the design is. With the exception of the SD card slot, all of the other inputs and outputs are restricted to the bottom side of the player.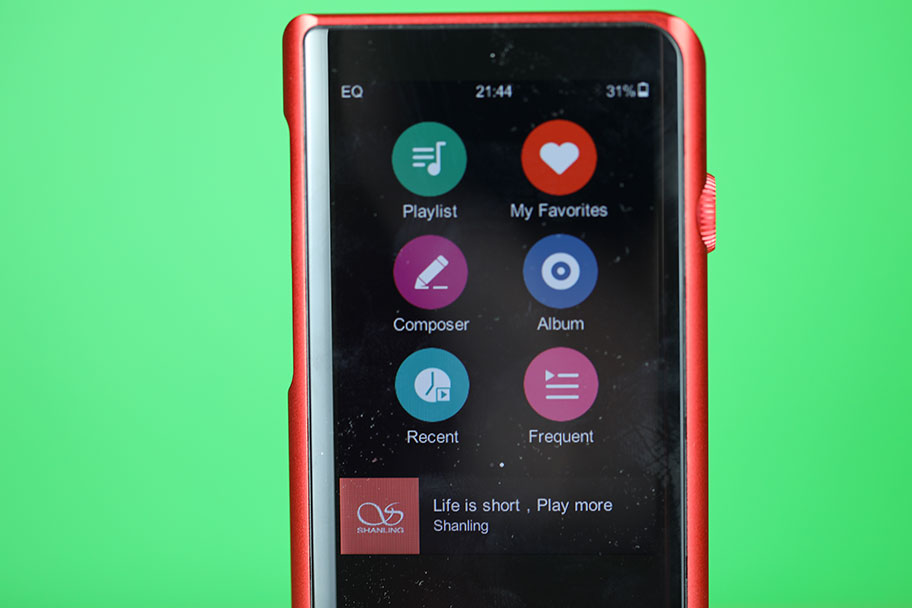 Shanling M5S User Interface
The M5S uses a modified Android operating system called MTouch 2.0 OS. For the most part, it does its job well. The icons are clearly laid out, and you can customize them to your heart's content. We also found the operating system to be nicely responsive, without any serious lag. It's more functional than flashy, but there's nothing inherently wrong with that. Everything is where you expect it to be. An experimental swipe down from the top of the screen reveals a series of shortcuts, including brightness, Bluetooth, and even a gain option. Then again, none of this is surprising. Shanling excel at putting together coherent operating systems, even on screens that are much smaller than this. Just check out their M0, a $99 player with an absolutely tiny screen that is a joy to operate.
 
Shanling M5S Wireless Features
We already mentioned that wireless audio on the M5S sounds good. It's worth talking about in more detail however, because when it comes to wireless audio, the M5S gives you a lot of options.
Let's start with Bluetooth. We've mentioned the aptX, LDAC and AAC compatibility already, but what's interesting is that the Bluetooth is two-way. What that means is that it can both send and receive a Bluetooth signal. You can tell the M5S to transmit to a wireless speaker, and you can also tell it to receive an audio signal from your phone, which you can then listen to via headphones. This kind of functionality is fantastic to see in an affordable product, as it used to be the privilege of much more expensive players, like the $899 iBasso DX220. Getting two-way Bluetooth in a sub-$500 feels like someone, somewhere is rigging the race.
We were also super excited to see that the M5S had Wi-Fi capability. We've long wanted to listen to Tidal and Spotify from our DAPs… So it was a bit of a bummer that the M5S doesn't offer this functionality. It will connect to Wi-Fi quite happily, but only to support DLNA and AirPlay streaming from your phone, tablet, or PC. That's a real missed opportunity. Sure, we can handle this on our phones, but they don't have the digital architecture or sound quality of the M5S. When the M6S eventually arrives, we hope that streaming services are an option.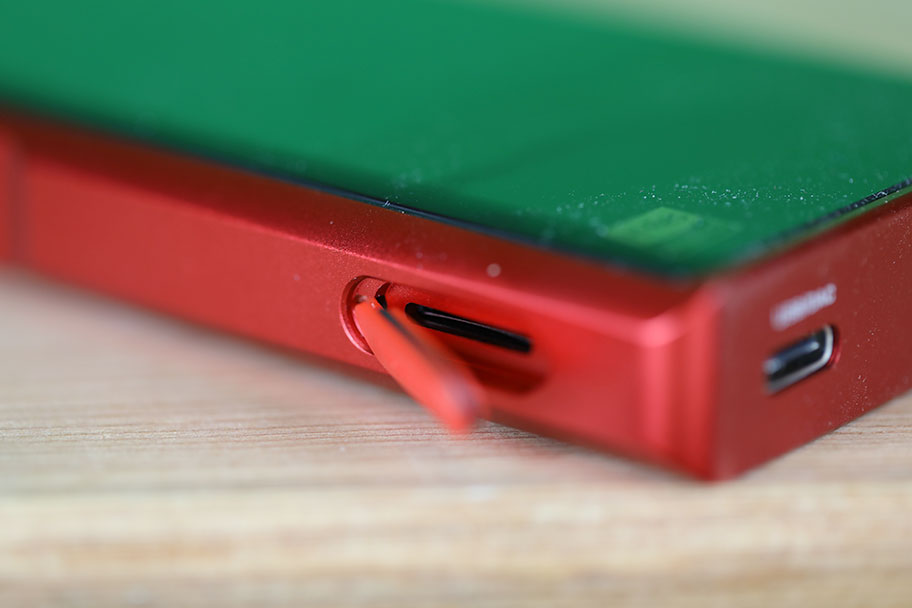 Shanling M5S Battery Life
DAPs live and die by their battery life, and fortunately, the M5S is no slouch. Depending on what type of output you use, and the size of the file you're playing, the M5S can run for between eight and 17 hours. On average, we found ourselves nudging the 13 hour mark before needing a recharge. That's pretty impressive. When compared to more expensive players, like the $1,699 Astell & Kern A&futura SE100 which only gets 9 hours of battery life, the M5S absolutely crushes. Incidentally, isn't M5S also a much more appealing name than whatever the hell A&futura SE100 is?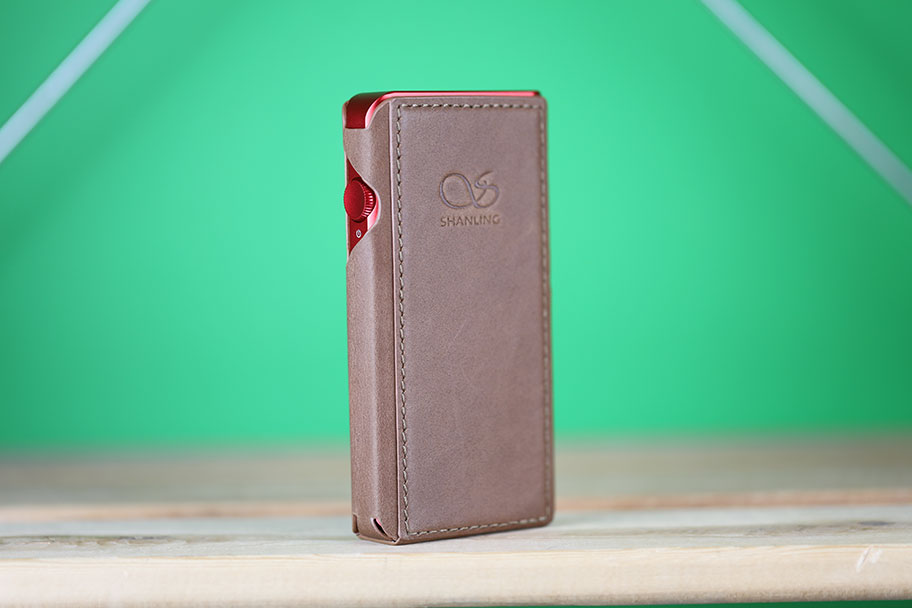 Accessories & Packaging
The packaging the M5S comes in is sleek and effective, much like the player itself. You don't get any accessories beyond a fancy, fabric-covered USB-C charging cable, but there are additional accessories available for purchase, like a leather case that goes for about $30. Shanling included one of these with our review package. While we appreciated the gesture, we honestly weren't sold on the need for a case. It didn't feel right on the smooth M5S, and fit so tightly that it was a real chore to get it on and off. In our opinion, you can skip the case.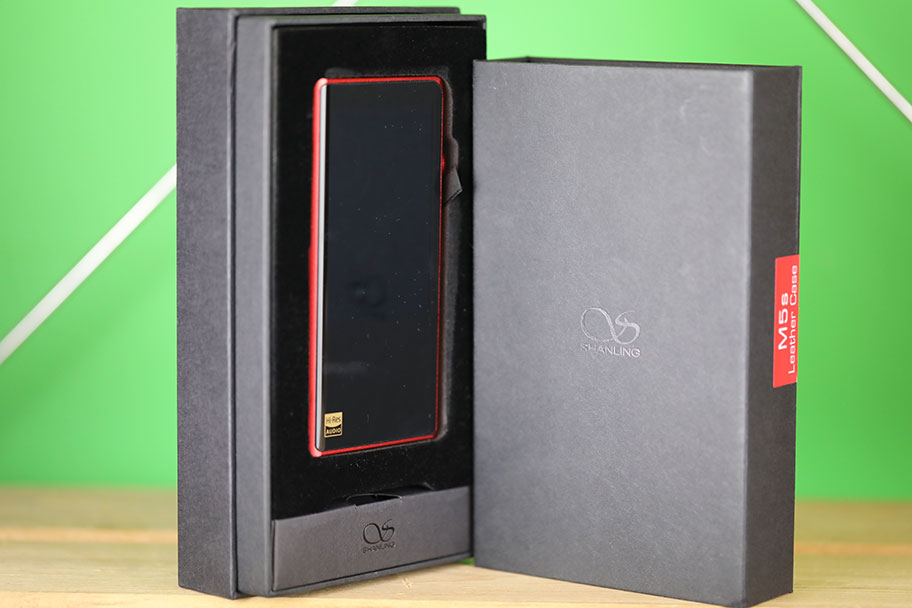 What We Like
The Shanling M5S offers terrific sound quality, with real precision, detail and depth.
We love the design of the M5S, which matches sleek looks with a robust build.
The features – including two-way Bluetooth – are wide-ranging, and give you plenty of options.
 
What We Don't
The Shanling M5S suffers a little in terms of soundstage and imaging.
The M5S has Wi-Fi capability, but no way to access streaming services directly from the device.
Other DAPs offer better value at lower prices.
 
Comparison Table
| DAP | Price | Storage | Max Sampling | Wi-Fi/BT |
| --- | --- | --- | --- | --- |
| Shanling M5S | $429 | None (Exp. to 2TB) | 32-bit/768kHz | Yes/Yes |
| FiiO M9 | $300 | 2GB (exp. to 512GB) | 24-bit/192kHz | Yes/Yes |
| HiBy R6 | $499 | 32GB (Exp. to 2TB) | 32-bit/384kHz | Yes/Yes |
| iBasso DX220 | $899 | None (Exp. to 2TB) | 32-bit/384kHz | Yes/Yes |
| Shanling M3S | $370 | None (Exp. to 2TB) | 32-bit/384kHz | No/Yes |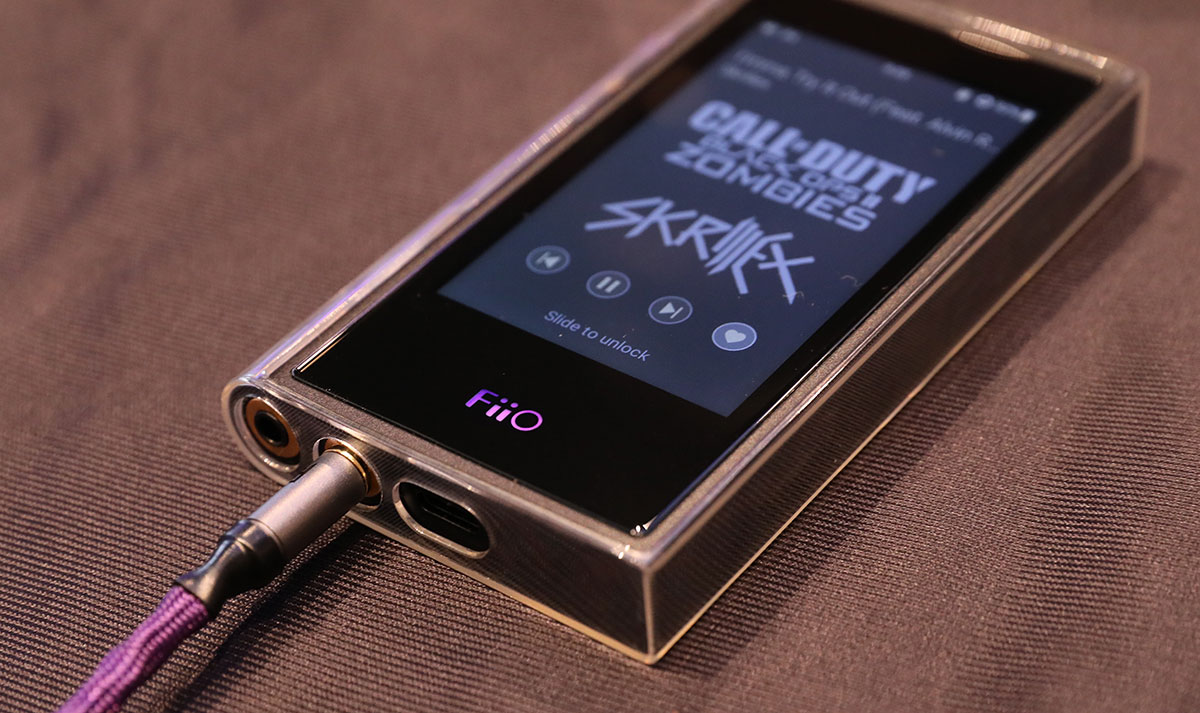 The Competition
There's a staggering amount of competition in the DAP world at all price points. The main competitor for the M5S right now is the FiiO M9. Overall, we think the M9 is a better player. It offers a sound quality that's only slightly less perfect, while arriving in a fantastically-built package. The operating system is superb, and the screen is significantly bigger than that on the M5S. It doesn't offer quite the same level of file handling, at 192kHz maximum versus 768kHz for the M5s, but that's not a huge issue. At $300, the M9 is an absolute gem and is currently our favourite DAP available.
On the face of it, the HiBy R6 is a much better option than the M5S. It offers a huge screen, a full Android operating system that allows you to download apps from the app store, and Wi-Fi connectivity that works well with Spotify and Tidal. It's also only a bit more expensive, at $499. But there are downsides - chief among them being sound. If the M5S is a wushu master, then the HiBy R6 is her clumsy student. The audio quality is passable, but way too dark for our tastes, lacking detail. We also found the Wi-Fi connectivity to be laggy at times. These issues may improve with the upcoming R6 Pro, which we haven't heard yet, but right now the M5S is a better option.
If you want a much more premium option, we are loving the iBasso DX220 right now. It didn't quite sneak onto our list of the best DAPs – we reserved a spot for its more affordable, better-value brother, the DX120. But there's no question that, if you have $900 to spend, the DX220 is the option to go for. We love its smooth sound and full MQA support, along with its big touchscreen. The world of DAPs is ridiculously crowded, but we've got a serious soft spot for the DX220.
If you're interested in saving a bit of money, but still want to experience some of that Shanling goodness, try the Shanling M3S. It's the predecessor to the M5S and it must be said that the differences are minimal. You get a slightly smaller screen and less powerful file handling, which runs up to 384kHz. The sound doesn't feel quite as precise, either, as the DACs are a bit older than those in the M5S. But at $370, it's a solid budget option. Be warned: as this model has now been superseded, you may have to hunt around to find one.
Learn More About Digital Audio