VIZIO SB46514-F6 ($817)
Connections: HDMI ARC, Optical, USB, Auxiliary, RCA
Wi-Fi/Bluetooth: Both
Length: 46"
What We Like: Stunning surround audio, killer subwoofer, great connectivity options.
What We Don't: Staggering price tag, not great for music.
See the VIZIO SB46514-F6
Soundbars are a convenient and effective way to improve your TV sound. Until recently, however, they've been seen as poorer cousins to full, multi-speaker home theater systems. VIZIO is trying to change that. The company not only makes great TVs, but also puts a lot of effort into soundbars that rival traditional home theater setups. This includes the model on our test bench this week, the SB46514-F6. In this review, we break down the SB46514-F6's sound, design, packaging and accessories, specs and more. To see how it stacks up, check out our list of the best soundbars.
 
Sound
Overall Audio Quality
The VIZIO SB46514-F6 may have a name ripped from the very worst of the Transformers films, but it's actually surprisingly helpful once you know what to look for. The name tells you exactly how many speakers are in the system. In this case, it's a soundbar (SB) that is 46" long, and is a 5.1.4 system – that is, a system with five surround speakers, one subwoofer, and four height speakers. We confess, we have no idea what the F6 stands for. The SB46514-F6 is a $999 soundbar system, and remains one of the most affordable ways to get Dolby Atmos home theater sound in your living room. This model also sees frequent discounts online. We'll talk about the Dolby Atmos sound below, but for now, let's break down the overall audio quality, and what you can expect from the SB46514-F6.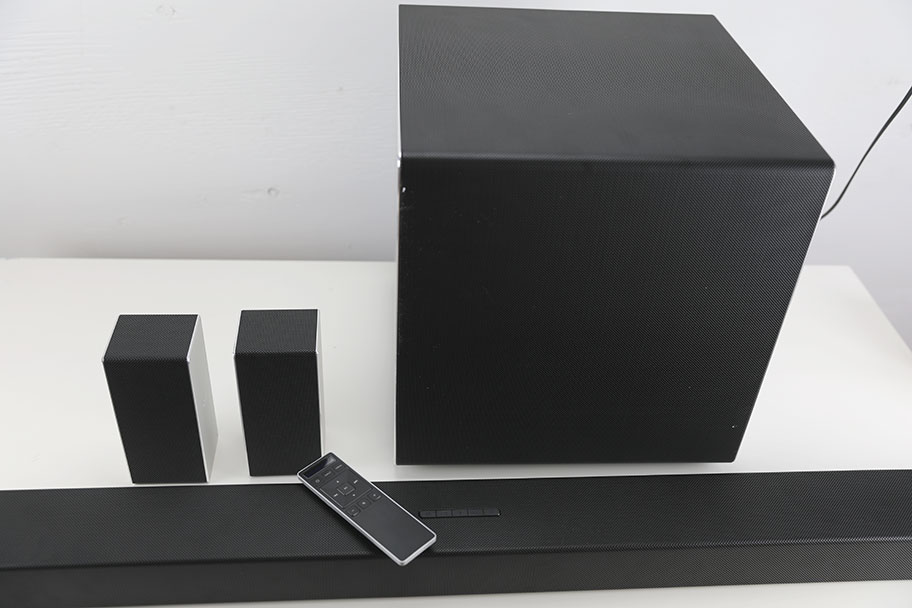 The SB46514-F6 has some of the best overall sound quality of any soundbar we've ever tested. Initially, it felt a little rough around the edges, especially with music or movies that demanded a bit of subtlety. However, once we'd listened to the system for a few hours, we realized that what we initially interpreted as rough and ready was more of an exuberance. This is a soundbar system that lives for excitement, injecting any audio we put through it with a life and bounce that we found addictive. Many soundbars in this price category tend to present relatively neutral, balanced sound. A good example would be the Samsung HW-N950, which is a 7.1.4 system that retails for upwards of $1,300, and presents a restrained audio picture. We never once felt restrained with the SB46514-F6.
Although the bass occasionally felt out of control – more on this below – we had a huge amount of fun with the overall sound quality. It more than matches up to the price tag, and competes not only with other similarly priced soundbars, but also with some of VIZIO's other offerings. The SB36512-F6 (see if you can work out what kind of system it is from the name) is a far cheaper model, at around $400, and presents a much less assured soundscape.
The SB46514-F6 features some basic EQ options, which lets you adjust the bass and treble. We found we didn't use these very much, as we were more than satisfied with the standard sound quality, but it's great to see these features being included. However, you'll see when we talk about the display on the soundbar, using them can sometimes be a little confusing.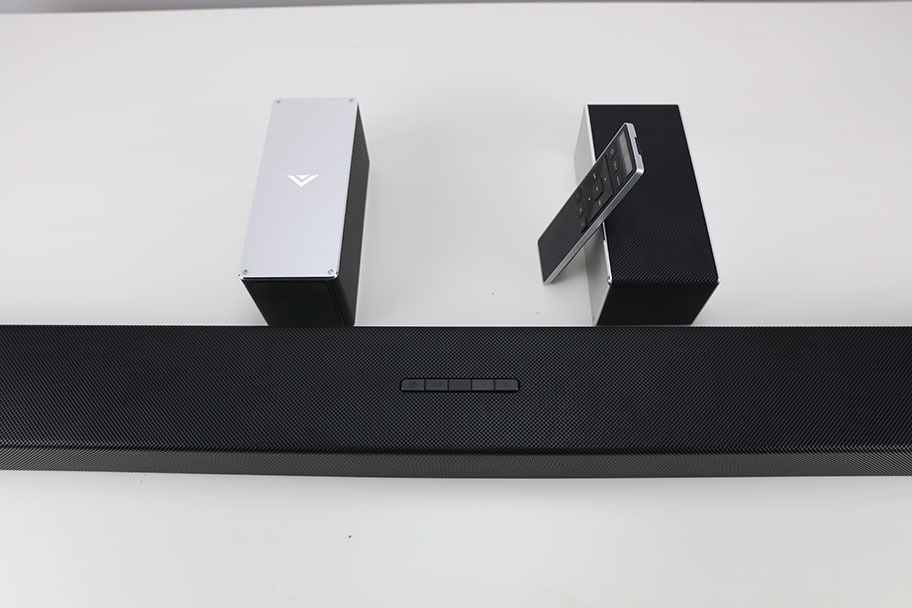 Dolby Atmos
Most will buy this bar for one reason only, and that's Dolby Atmos. If you're not familiar, this is an advanced type of surround sound program that relies on audio coming from above, as well as from the sides, front, and behind – there's a much more in-depth explanation here if you need it. Systems that use Dolby Atmos usually have upwards of seven speakers, and given that the SB46514-F6 only has four – a soundbar, two surround satellite speakers, and a subwoofer – you may very well be asking how this actually works.
It works if you think about surround sound, not in terms of number of speakers, but in terms of channels. VIZIO do something very clever, in that they pack multiple speaker channels into one soundbar. The bar itself – a 46" monster – contains not just the front left, front right, and center speaker channels, but also two upward firing channels as well. The satellite speakers, which are designed to be placed at the rear of the listening position, each contain not only a front-firing channel, but also an upward firing one. These four upward firing channels – two on the satellite speakers, two in the soundbar – are designed to bounce sound off the ceiling. This setup means that you can get full Dolby Atmos sound with minimal hassle, and the fewest amount of speakers possible. But can a system like this actually compete with a full Dolby Atmos home theater rig?
The answer is: sort of. Once we'd actually cued up some Dolby Atmos content in our testing room, we found that the Atmos sound was good, but not spectacular. While there was definite height information entering the mix, it often felt just a touch thin, without the level of detail we would have liked.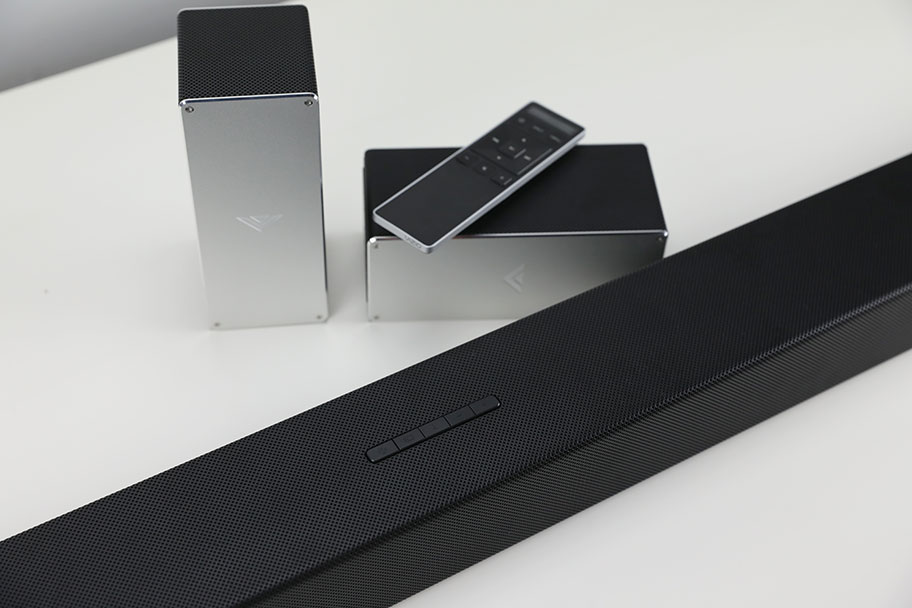 On the one hand, this was to be expected. It's very difficult to pull off Dolby Atmos cheaply or well. Multi-speaker home theater systems with dedicated height channels can often go for thousands of dollars, so we would be lying if we said we fully expected the SB46514-F6 to redefine surround sound for us. On the other, you can get better results in this particular area if you spend only a little more. The Sony HT-ST5000, for example, costs $500 more while presenting a much more confident Dolby Atmos sound – although it does lack the additional surround speakers that come with the SB46514-F6.
We don't want to overstress this. Dolby Atmos sound is always great to have, and finding it in a sub-$1,000 speaker package is like finding that someone has left you a really good bottle of whiskey in a nondescript box under the Christmas tree. So, we'd like to moderate our complaints here. Dolby Atmos is a tricky thing to pull off, and the SB46514-F6 does it as well as could be expected.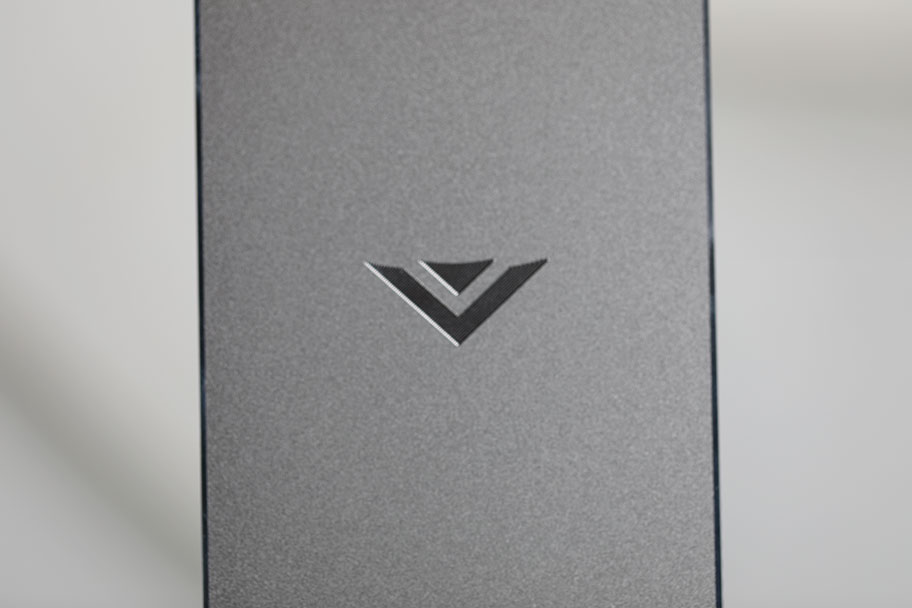 Music vs. Movies
As the SB46514-F6 is fully equipped with Bluetooth, listening to music is straightforward and simple. That being said, we got much better results while watching movies and series. The punchy, dynamic sound quality of the soundbar – particularly the center channel – really lent itself to elements like dialogue. Music, on the other hand, often felt a little uncontrolled, as if the bar was trying to juggle too many things at once.
You could make the argument that you don't really buy a soundbar like the SB46514-F6 to listen to music on, but it's clear that VIZIO have taken that into account. With the soundbar, you even get a free six month subscription to the Tidal HiFi streaming service, which is like finding that someone has bought you a bottle of whiskey and a really good cigar for Christmas. But all the same, this soundbar definitely performs much better with a decent movie playing through it than it does with two channel streaming music.

Subwoofer
The subwoofer that comes with the SB46514-F6 is an absolute beast. It's huge, heavy, and is designed to not need careful positioning. It's a downward firing subwoofer, which means the driver points straight down at the floor – more on this here – and we found it performed well no matter where we placed it in the room. The best results, surprisingly, came from having it right next to the couch, but you can place it just about anywhere and still get a good outcome.
Bass is particularly important with any surround sound. Without the anchoring effect of good bass, all the surround jiggery-pokery in the world won't matter. And while the SB46514-F6's subwoofer did occasionally lose control of its material, with a touch of distortion – especially when playing music – it performed exceptionally well for movies and series. It's a wireless subwoofer, and pairing with the soundbar happened more or less automatically. Unlike other standalone subwoofers, you don't have access to any controls like phase or crossover. But then again, since this subwoofer is only designed to be used with a single soundbar, this isn't exactly a problem.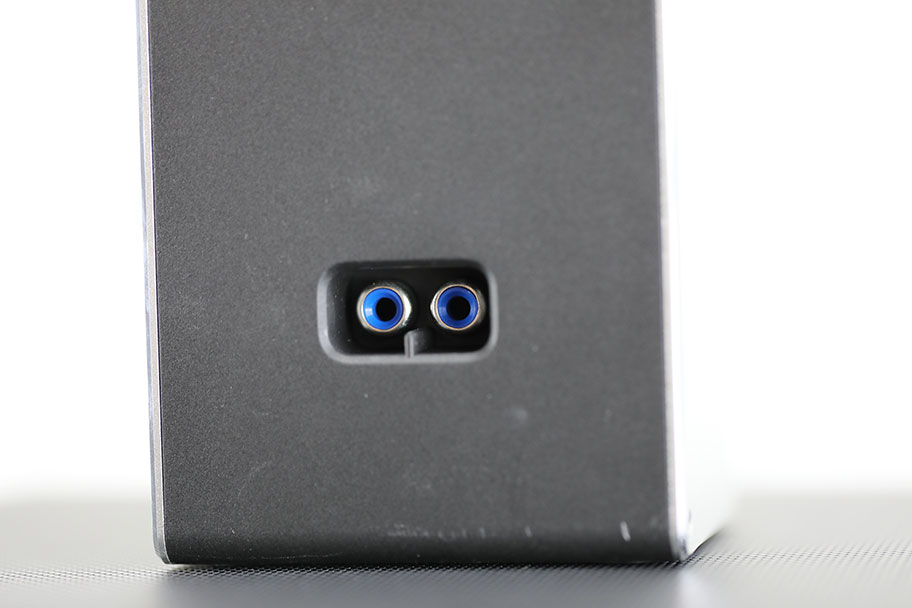 Design
Setup and App
VIZIO have a fantastic app, called SmartCast, which you use to set up the SB46514-F6. It's designed to be a central place for you to stream content from the likes of Netflix and Amazon Prime, but we found it most useful for the actual setup experience. It made connecting our soundbar to our network exceptionally simple. It's not quite as intuitive or as natural as the setup app that Sonos uses – they are still the absolute kings of easy setup, and that's true whether you're buying a small wireless speaker or a monstrous 5.1 Surround Set for home theater use. But overall, we think the SmartCast app is one of the better examples we've seen. It makes the SB46514-F6 accessible, simple, easy-to-use, and we think that other manufacturers should take notes.
The SB46514-F6 is not a fully wireless system, despite the presence of a wireless subwoofer. You'll have to connect the two satellite speakers using the included wires, connecting directly to the subwoofer itself. Fortunately, this is as straightforward as it gets. There's no bare speaker wire or banana plugs involved – just a simple, color-coded jack system that makes it easy to get up and running.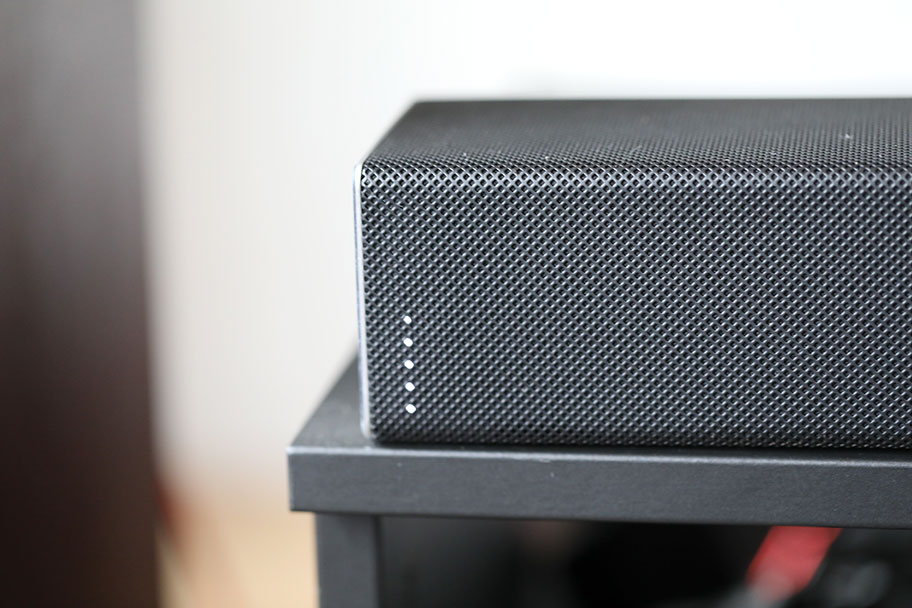 Looks and Build Quality
VIZIO Definitely have a house look for their soundbars. Almost every surface of the bar is covered in black speaker grille, and this is true for both the surround speakers and the subwoofer. It looks uniform and sleek, and we think it will fit in well with just about any room decor. We particularly like the subtle logos on the silver side caps of the soundbar. It also helps that the build quality is tremendous, and although we didn't subject the SB46514-F6 to any impact tests, we felt like it could take the odd hit and keep on coming.
There is one element of the design we didn't like, and that's the display. To communicate volume, the SB46514-F6 relies on a series of white dots, which appear on one end of the bar when you turn the sound up or down. The dots are easy to see at a distance, but the problem is, they are used for indicating just about every tunable aspect of the bar, which includes things like bass, treble, and balance. Switching between functions gets murky and confusing, even with the handy digital display on the remote (more on this below). It feels like a legacy feature; something that remains unchanged because the folks at VIZIO haven't come up with anything better yet.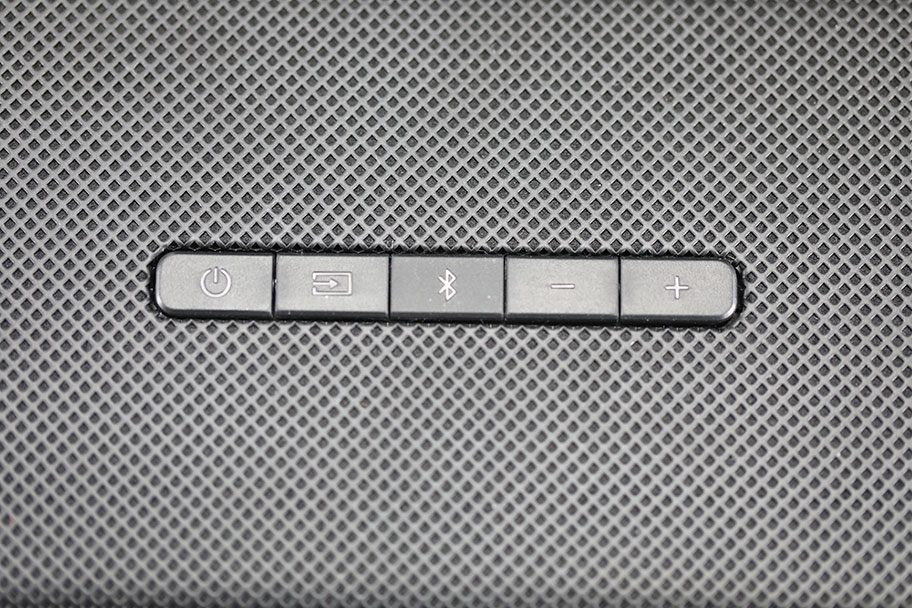 Inputs and Streaming
The SB46514-F6 has a commendable range of inputs. These range from simple 3.5mm analog input to an RCA input for Coax/SPDIF connections, as well as an optical connection. There is also, crucially, an HDMI ARC connection. HDMI ARC is essential for getting sound from your TV to the soundbar, which is especially useful in the case of smart TVs – you can read more about HDMI ARC here. But for the most part, the clearly labelled connections allow you to use the soundbar in any configuration, whether the source of the sound is your smart TV, a Blu-ray player, or a gaming console.
There's also a full Wi-Fi connection, as well as Bluetooth compatibility. This is especially important given the streaming capabilities of the bar. While it may not be as good at playing music as it is with movies and series, having the option to listen to songs wirelessly is incredibly useful. We found streaming over Spotify to be the work of moments. You also get full access to Google Chromecast, and you can even connect a smart speaker with Google Assistant enabled, which will let you control the bar with your voice. We tested this with a Google Home (full review here) and it worked extremely well.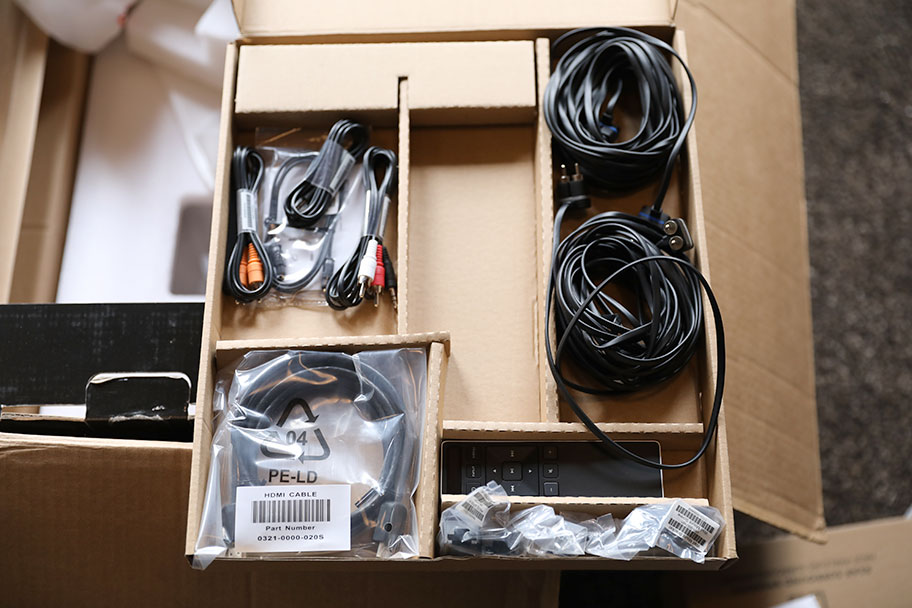 Accessories & Packaging
There's a dedicated accessory box that comes in the sizeable and weighty packaging for the SB46514-F6. It's filled with a cornucopia of wires: speaker wires, HDMI cables, RCA cables, anything you could possibly need to get your system up and running. It's great to see that VIZIO are aiming for a single box solution here, where you don't need to buy a single additional thing to get started, but we don't want to talk about wires. Wires are boring. We want to talk about the remote. To be fair, analyzing remotes is also quite boring, but at least the VIZIO remote is doing something innovative.
We adore the remote that comes with the SB46514-F6, as well as all VIZIO bars, including the less-expensive SB36512-F6. We found ourselves using it far more than we use the already-capable SmartCast app. The remote not only has clear and simple buttons, but a brilliantly simple digital display that lets you navigate various features of the bar, ranging from Bluetooth pairing to volume to balance. Thanks to the remote, we hardly ever had to rely on the physical controls on the top of the bar itself, or the convoluted indicator lights.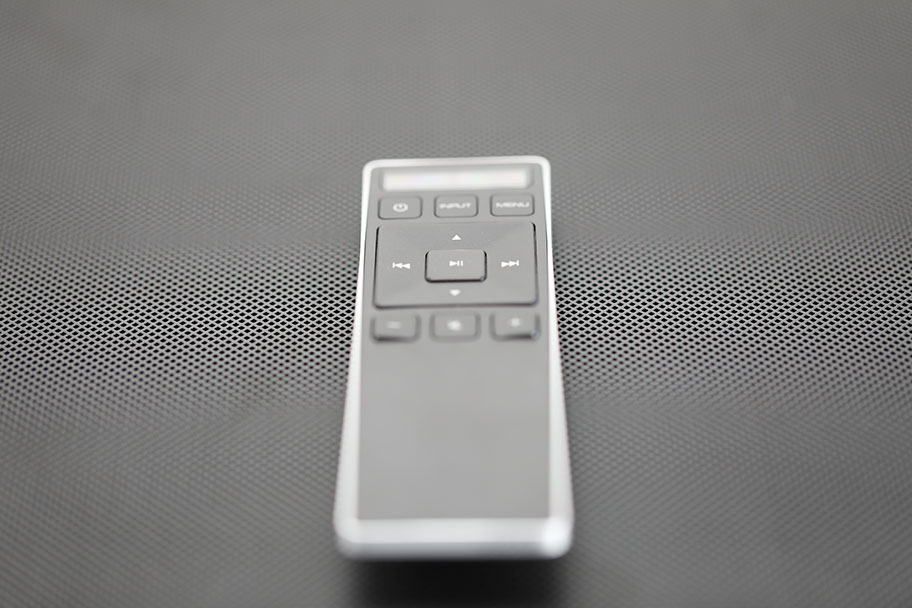 What We Like
The VIZIO SB46514-F6 delivers good Dolby Atmos sound for under $1,000, which is incredibly rare.
The overall sound quality is top-notch, as is the design and build quality.
VIZIO's SmartCast app makes setup and operation of the SB46514-F6 a breeze.
 
What We Don't
The VIZIO SB46514-F6 isn't great for listening to music, and is far better suited for movies.
The digital display on the VIZIO SB46514-F6 can sometimes be a little confusing.
The wireless subwoofer sounds great, but can sometimes distort.
 
Comparison Table
| Soundbars | Price | Connections | Wi-Fi/BT* | Length | Assistant |
| --- | --- | --- | --- | --- | --- |
| VIZIO SB46514-F6 | $817 | HDMI ARC, Optical, USB, Auxiliary, RCA | Both | 46" | Google |
| Samsung HW-N950 | $1,400 | HDMI ARC, Optical, USB, Auxiliary, RCA | Both | 48" | None |
| Sony HT-ST5000 | $1,298 | Optical, USB, Auxiliary, RCA | Both | 46.5" | None |
| Sonos 5.1 Surround Set | $1,300 | HDMI ARC, Optical, USB, Auxiliary, RCA | Wi-Fi | 25.6" | Google, Alexa |
| VIZIO SB36512-F6 | $398 | HDMI ARC, Optical, USB, Auxiliary, RCA | Both | 36" | Google |
*BT = Bluetooth

The Competition
VIZIO aren't the only company to produce Atmos-ready soundbars, but at the moment, they are the only ones to do so for under $1,000. However, if you are prepared to spend a little more, you'll find that the quality skyrockets with the price. The Samsung HW-N950, for example, is a clear upgrade. It not only offers Dolby Atmos, but the more flexible DTS:X as well, and has a full 7.1.4 setup compared to the 5.1.4 offered by the VIZIO bar. It also sounds significantly better, with rich depth and detail. However, the price is a variable. The bar is a bit old now, but still sells for around $1,400 new. We have seen used versions sell for roughly $700, however. If you're prepared to go that route, you may score a bargain.
It's also worth looking at the Sony HT-ST5000. It is a little less powerful than the VIZIO SB46514-F6, and doesn't have any surround speakers – two upward-firing Atmos speakers are contained within the bar itself, making it a 7.1.2 channel system. However, this model sounds better than the VIZIO bar, and is significantly better for music than either the VIZIO or Samsung models. Part of this is thanks to the included subwoofer, which is fantastic. You can pick up the HT-ST5000 for $1,298, roughly $300 more than the VIZIO bar.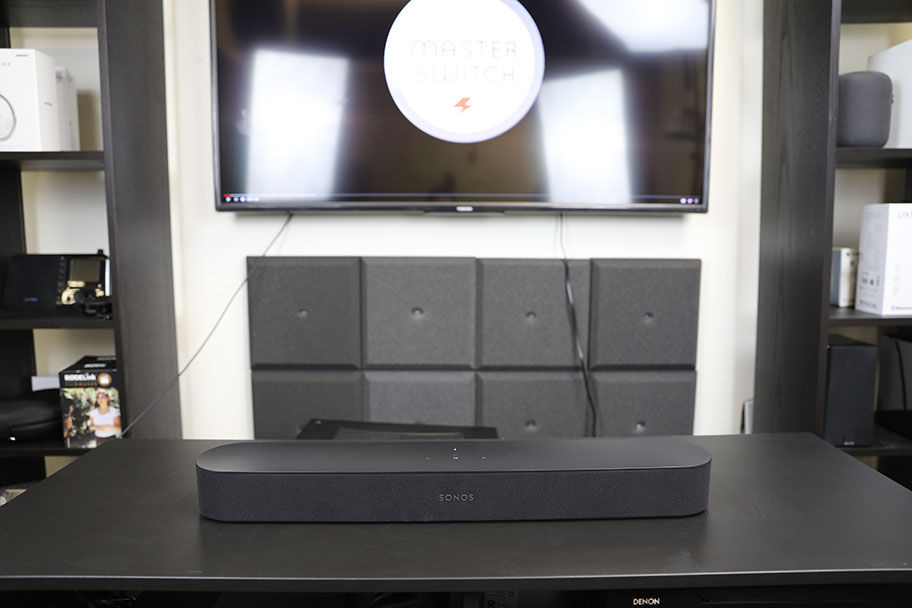 Right now, Sonos and VIZIO are heavy competitors in the soundbar market. The difference is that, while VIZIO claims fame through Atmos compatibility, Sonos are all about wireless surround sound and ease-of-use. The Sonos 5.1 Surround Set may be expensive, at around $1,456, and doesn't offer height-based audio at all, but it does sound fabulous, and is an absolute dream to set up and use. You would go for this setup over the SB46514-F6 if you had a little more money to spend, and weren't interested in height audio. We think that, if Sonos ever do put out a Dolby Atmos product, other manufacturers should be scared – including VIZIO.
If you're on a budget, VIZIO make plenty of other soundbar packages that offer Dolby Atmos without the hefty price tag. Our favorite is the VIZIO SB36512-F6. It offers virtually the same features as the more expensive SB46514-F6 – Dolby Atmos, multiple speakers, the SmartCast app – but with two key differences. The first is the price – at $398, it's around $600 less expensive. The second is the size and power. This model is significantly smaller, and isn't nearly as loud as its bigger cousin. We also think the sound quality is too loose and uncontrolled for our tastes. However, it's a great choice if you don't want to spend almost four figures on a soundbar.
Learn More About Home Audio