Smart soundbars make sense to us. After all, soundbars are meant to be an easier, more compact alternative to full home theater surround sound, and so adding smart voice control is just the next step. After a month of testing, we think SONOS's Beam soundbar is one of the best available. In this review, we break down the Beam's sound, design, packaging and accessories, specs and more. To see how it stacks up, check out our list of the best soundbars.
 
Sound
Soundstage
For a soundbar to be effective, it has to get the soundstage right. To get the full impact of a movie or series, you need to be right in the middle of the action, with the different elements of the sound spread out around you. Many leading soundbars achieve this by shipping with additional satellite speakers, and even wireless subwoofers, but the $399 SONOS Beam does not. Given that fact, it's quite startling just how wide and well-positioned the sound is without the additional pieces.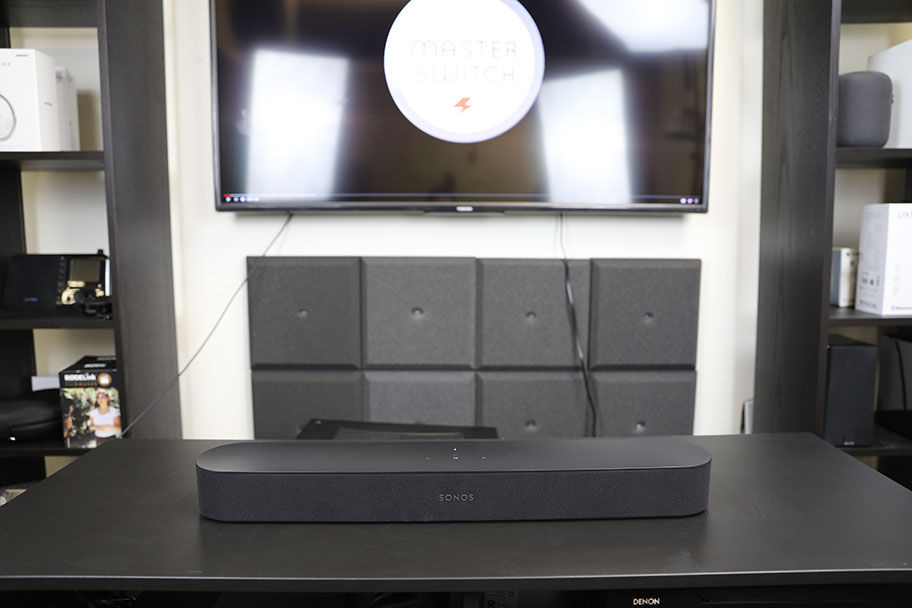 We tested the SONOS Beam using multiple sources: binging Game of Thrones in our offices, at home watching Netflix, and on several gaming sessions. In all cases, we were hugely impressed by just how wide and detailed the soundscape was. There might not be additional speakers here, but the Beam's four woofers, one tweeter, and three passive radiators work extremely well together. Bullets whizzed overhead, arrows shot past our ears, and even dialogue felt like it was coming from distinct points in the room. Compared to other soundbars we've tested, it was a completely different experience. The other leading smart soundbar, the Polk Command Bar, is cheaper at $249, and ships with a separate subwoofer. But it just cannot compete, in terms of audio-realism, with the SONOS.
If, for whatever reason, you do feel that the surround sound is lacking, it's very easy to add additional speakers to the SONOS Beam. You will have to use those already in the SONOS ecosystem - the soundbar does not play nice with speakers from other manufacturers – but this is no hardship. The $199 SONOS ONE, for example, will work just fine as a satellite speaker. If you want to upgrade further, it may be worth checking out a full home theater system.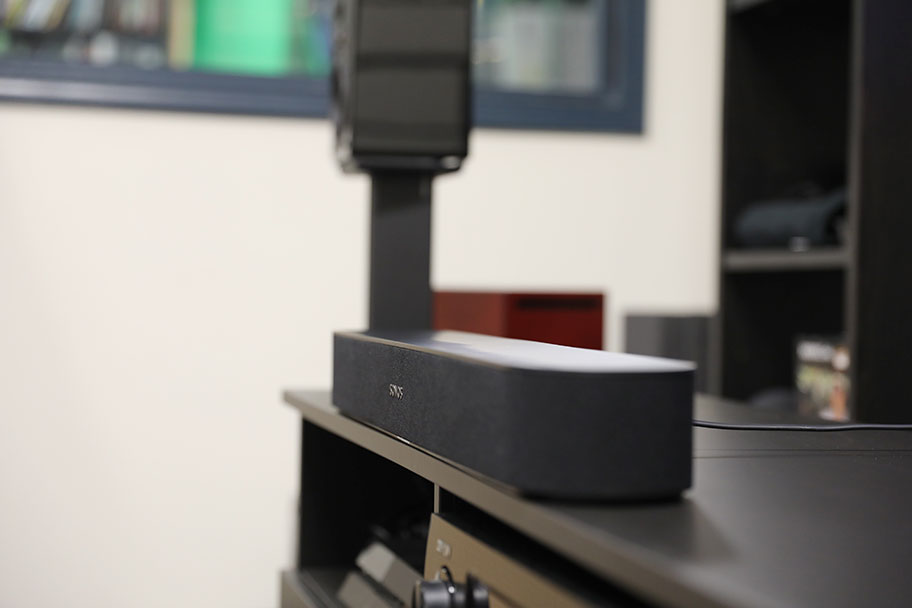 Low-End (Bass) and Mids
It also helps that - with a few exceptions – the actual sound quality of the SONOS Beam is legit. We particularly felt this in the low-end, where the woofers – driven by five Class D digital amplifiers (here's an explanation of what that means) – managed to kick out some seriously impressive bass. While it wasn't as powerful or realistic as bass from a dedicated subwoofer, we never felt like we were losing anything significant. It had more than enough punch and depth to satisfy, even on demanding movies like Mad Max: Fury Road.
We really enjoyed the midrange as well. Dialogue on the soundbar felt clear and natural. We would have liked to hear just a touch more detail, but again, we don't think there are any serious problems here – certainly not for the price. Compare this to something like the Samsung Sound+ HW-MS650 – another smart soundbar that incorporates Amazon Alexa, and which costs $100 less. The Samsung certainly holds its own, but the Beam does a more impressive job with dialogue. You also have the option to turn on various enhancements via the SONOS app, including a dialogue enhancement. Although, we don't think the sound actually needs it – it works perfectly well on its own.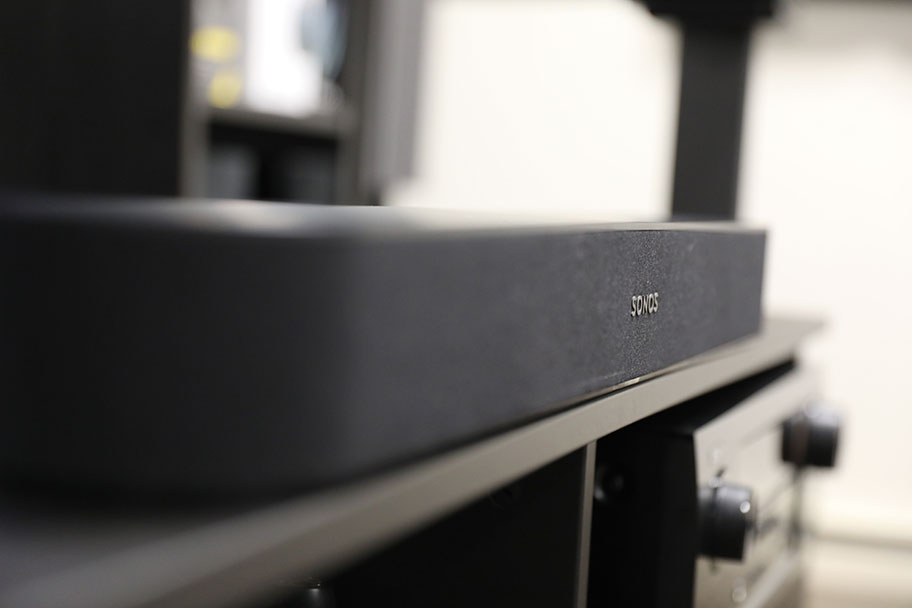 High-End (Treble) and Volume Issues
We did, however, encounter some issues in the upper ranges of the sound. At medium volumes, the highs were fine. When we cranked things up, though, we began to encounter problems. Not only did we detect some distortion in the overall sound, but the highs in particular really suffered. They felt harsh and tinny, distinctly unnatural, and we very quickly turned things back down. The soundbar gets more than loud enough - SONOS doesn't give out wattage specs, but it's not all that concerning here. But if you want a soundbar that you can really crank up, it may be worth spending a little bit more money and getting something like the Bose Soundbar 700. That bar costs $799, and while it doesn't quite have the design or panache of the SONOS, it arguably beats the Beam in terms of sound quality.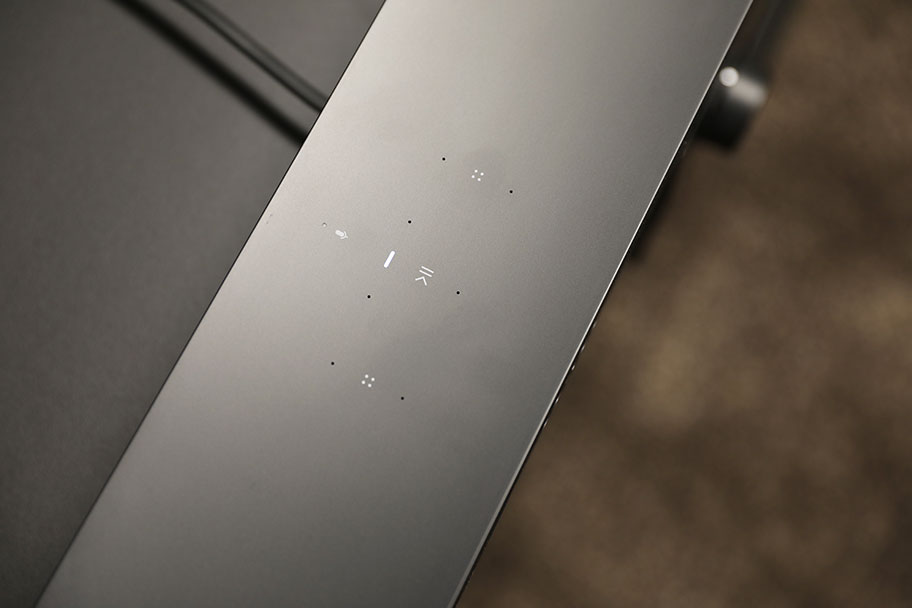 Amazon Alexa
The big selling point for the SONOS Beam is that it comes with the Amazon Alexa virtual assistant. This assistant, found in many smart speakers, allows you to control the Beam entirely with your voice, if you so desire. Primarily, this allows you to do things like turn up the volume, search streaming services, tell your TV to sleep after a certain point, and the like. But you can also use it to control any other smart devices you have connected to your home Wi-Fi. In theory, it's a very useful thing to have… But we just didn't find ourselves relying on it all that much.
As we will explain more below, the SONOS app is excellent. We found it much more natural to use the app itself to control volume than to tell Alexa to turn things down. It's also an issue that, out of the three main virtual assistants – Alexa, Siri, and Google Assistant – Alexa arguably has the most trouble with delivering the right response. You can read more about the differences here. The Beam is sold primarily as a smart soundbar, but we found that we had a little bit of trouble getting it to do what we wanted – especially if the command relied on other services. Telling Alexa to play Maniac on Netflix, drew a blank – until we realised that in order to make it work, we needed an Alexa-enabled TV streamer, like the $40 Fire TV stick. As you can imagine, that was pretty frustrating. It worked well enough once we'd tracked one down, but we really feel like it's just an additional barrier to enjoying the soundbar's smart functionality.
For balance here, we don't think this is all SONOS's fault. Alexa appears on multiple speakers from multiple different brands, and its own issues shouldn't detract from how well it is integrated into the bar. We'll touch on this a little more below, when we talk about the controls, but activating and using Alexa is straightforward enough, even if it doesn't always do what we want it to.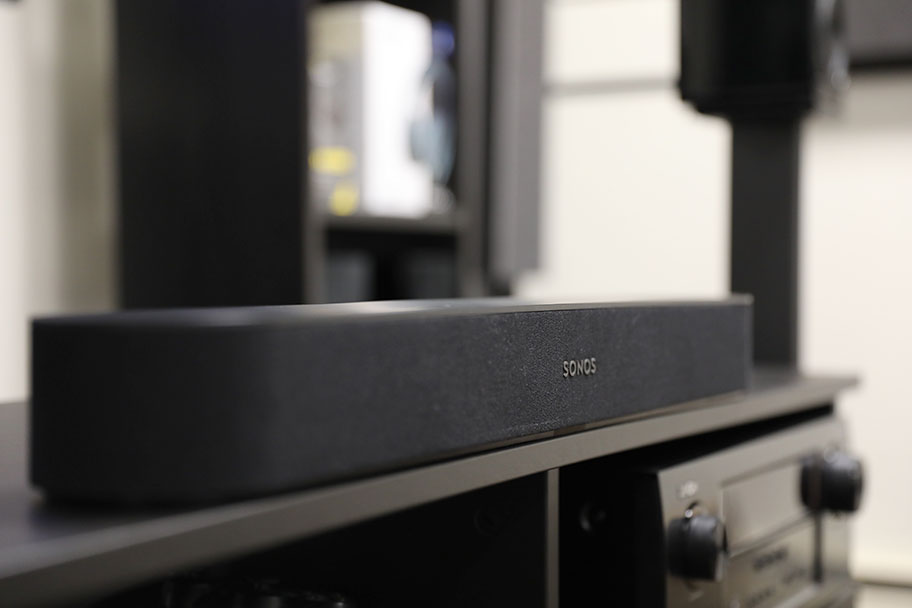 AirPlay 2 and Music Streaming Service Compatibility
One thing you can do directly from the Beam is play music from various services. Because the bar is fully Wi-Fi enabled (no Bluetooth) the signal is always good, and we found that getting Alexa to track down a specific song on Spotify was relatively straightforward. We were also able to select the Beam from a staggering number of services, helped along by the fact that it includes Apple AirPlay 2. The full list of services that the Beam works with is quite long – way too long to list in this review. It includes everything you'd expect to see, and you can go into it in detail here.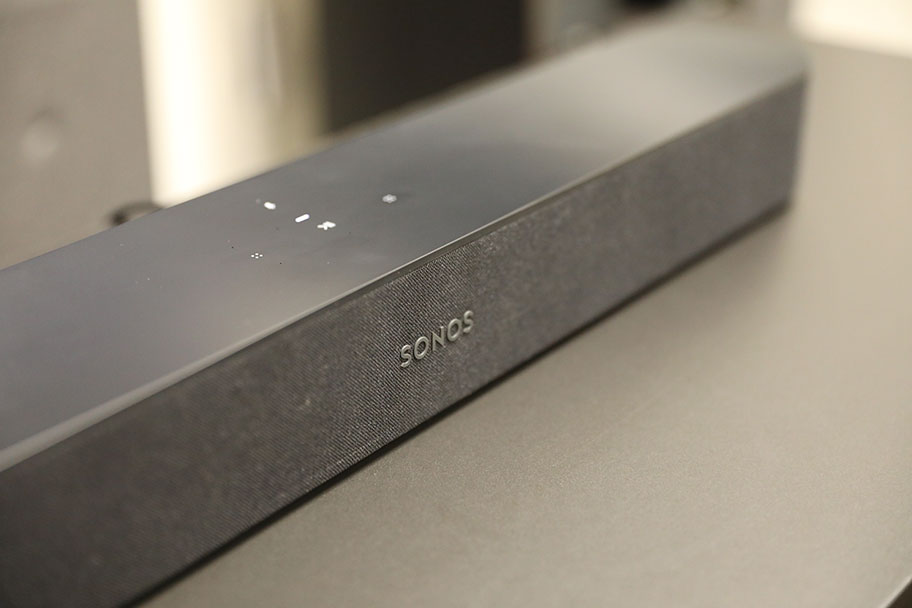 Design
Setup
There are two things in the world of audio that we find absolutely insane. The first is just how good SONOS are making it easy to set up their products. The second is how almost nobody else is learning from them. Setting up the Beam is as simple as plugging it in, and downloading the SONOS app (iOS/Android).
This not only lets you connect the bar to your Wi-Fi network, but also allows you to have the Beam respond to your existing TV remote. It also walks you through the Amazon Alexa setup process - although you will need your Amazon password and username for that. It's a simple and straightforward process, with virtually no room for error, and no unclear elements - although very obviously, you will need an Amazon account to use Alexa. The Beam is perfectly useable without one, but you won't be able to use the smart assistant. Still, the setup is handled very well indeed. If you ever want to know why SONOS have done so well with their wireless speakers, then you only need to look here. Compared to other, older sandbars, like the ponderous Samsung HW-K950, the Beam is an absolute dream.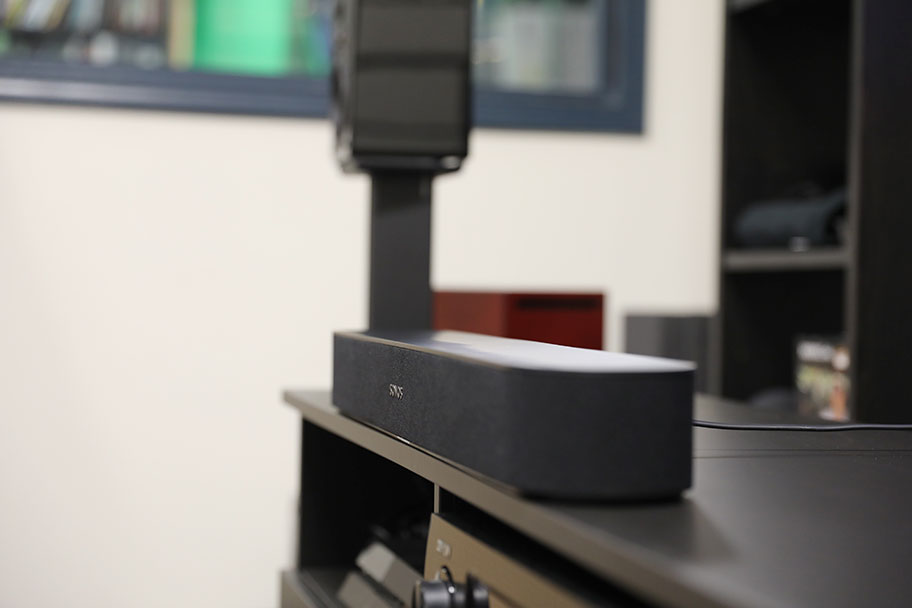 Looks and Build Quality
The company's older speakers all had a definite aesthetic, with sharp edges and boxy housing. SONOS has worked hard to streamline the design a little with their newer smart speakers, and that's definitely the case here. While the matte housing does occasionally pick up fingerprints, the Beam is one attractive little bar. It's a surprisingly subtle design, with rounded ends and a very slightly concave top-end, with simple touch controls in the middle. It's a world away from something like the old Playbar, its predecessor. That model costed, and still costs, $699 – a good $300 more than the Beam – and offers no smart functionality at all. It also happens to look less appealing. In other words, we much prefer the look and feel of the Beam. The color options for the new bar, by the way, are a simple black or white.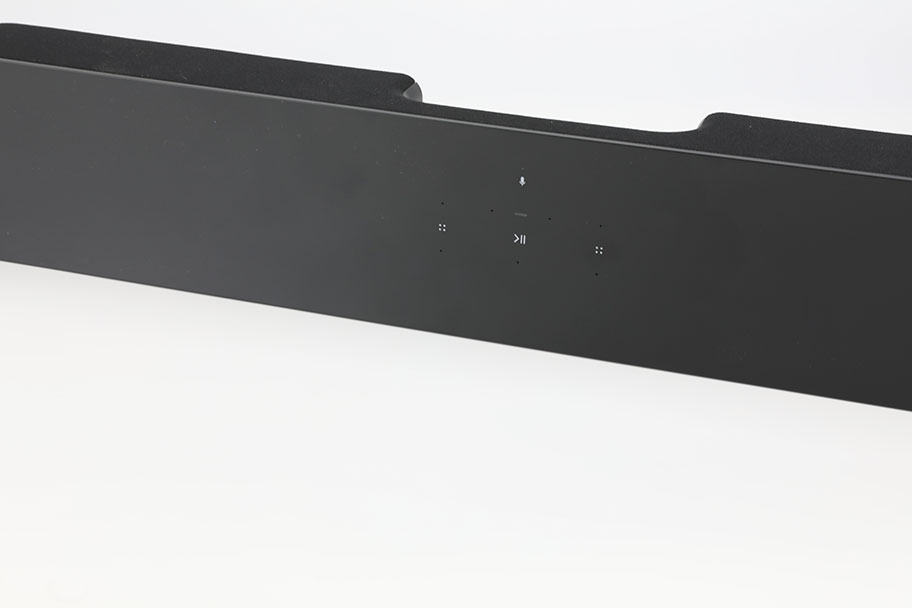 Touch Controls and Inputs
When you aren't controlling the Beam with your voice, or with the app, you'll be using the simple touch controls on top of the bar. These are intuitive, and respond at the very slightest touch. You can play and pause music, skip tracks, adjust the volume, and – crucially – turn off the Alexa microphone. Unlike other smart speakers, like the Amazon Echo Spot (full review here), it can sometimes be tricky to tell whether the microphone is on or off. The only indicator is a small light – if it's on, so is the microphone. In the aforementioned Spot, turning off the microphone makes a giant red ring appear around the screen. We'll admit: we aren't entirely sure what SONOS could have done differently here, but it doesn't change the fact that the microphone on/off light is a tough to see.
On the back of the bar, you get a comprehensive range of connections, including an HDMI ARC. This stands for Audio Return Channel, and it lets the bar receive and play sound from the TV itself. If you use your TV as a source to directly access services like Hulu and Netflix, then this is a godsend. It's the key thing that allows you to control the TV functions with your voice, and it makes installing the bar a breeze. HDMI is not always a given on many leading soundbars these days - so it's great to see it here. Your TV will need an HDMI ARC port to make this work, but as most modern TVs have one, this shouldn't be an issue.
Outside of the HDMI, there's an ethernet connection (for when your Wi-Fi network is being difficult. The company also includes an optical audio adapter, if you want to go down that route.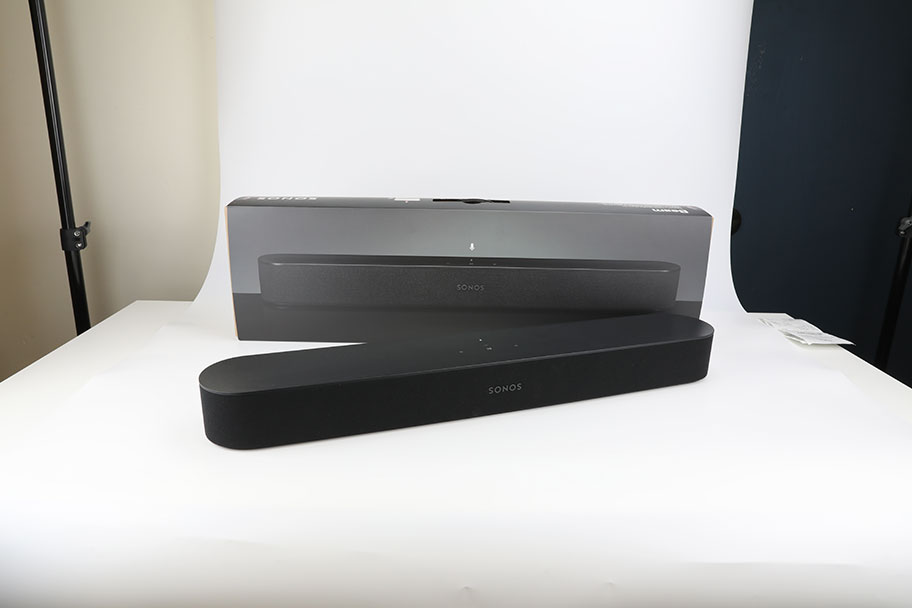 Accessories & Packaging
Although it's a little less important than their amazing, streamlined setup process, another area that SONOS excel in is the packaging. All their products come in boxes that really feel like they've had some thought put into them - the Beam is no exception. The slim box slides apart without any issue, and while unwrapping the soundbar, you genuinely feel like you've made a wise purchase. Accessories are minimal – a power cord, and HDMI cable, and the aforementioned optical audio adaptor. Nothing we didn't expect to see, and we don't think there's anything missing here. Everything you need to get connected is in the box.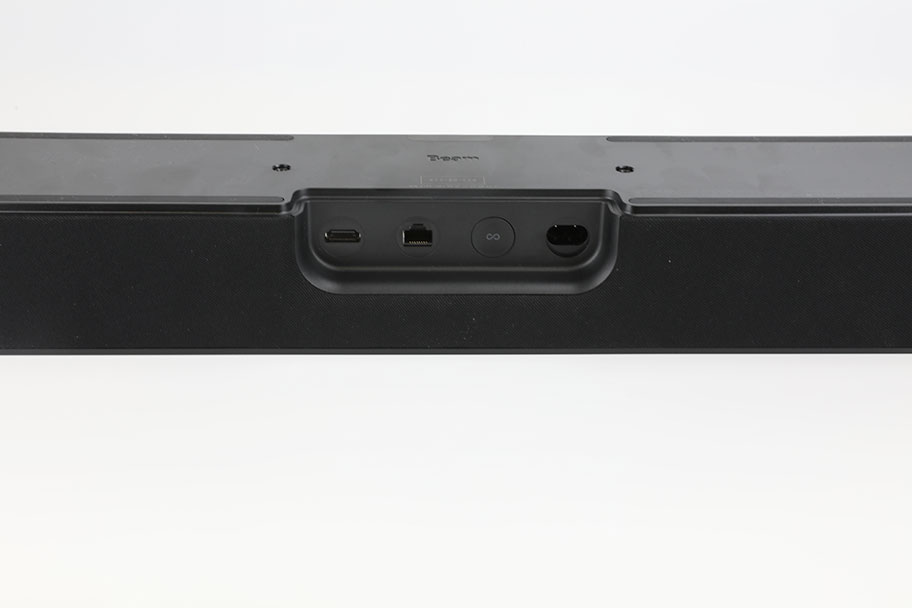 What We Like
The SONOS Beam delivers superb soundstage, which really helps involve you in whatever you're watching or playing.
The Beam's bass and dialogue are terrific, with real weight and depth.
The soundbar has an HDMI ARC output, and setup is a dream.
 
What We Don't
We encountered issues at high volumes, where the SONOS Beam would distort, especially in the upper ranges of the sound.
Amazon Alexa functionality is good to have, but requires a bit of work, as well as additional components, to get it to do what you want.
It can be tough to see if the microphone is on or off.
 
Comparison Table
| Soundbar | Price |  Assistant | Sub.* | Conn.** | Wattage | App | Length |
| --- | --- | --- | --- | --- | --- | --- | --- |
| SONOS Beam | $399 | Alexa, Siri | No | BT / Wi-Fi | Unknown | Yes | 25.6" |
| Bose Soundbar 700 | $799 | Alexa | No | BT / Wi-Fi | Unknown | Yes | 38.5" |
| Apple HomePod | $349 | Siri | No | Wi-Fi | Unknown | Yes | N/A |
| SONOS Playbar | $699 | None | No | Wi-Fi | Unknown | Yes | 35.4" |
*Sub = Subwoofer Included?
**Conn. = Connectivity
Want Even More Master Switch? Sign Up For Our Weekly Newsletter!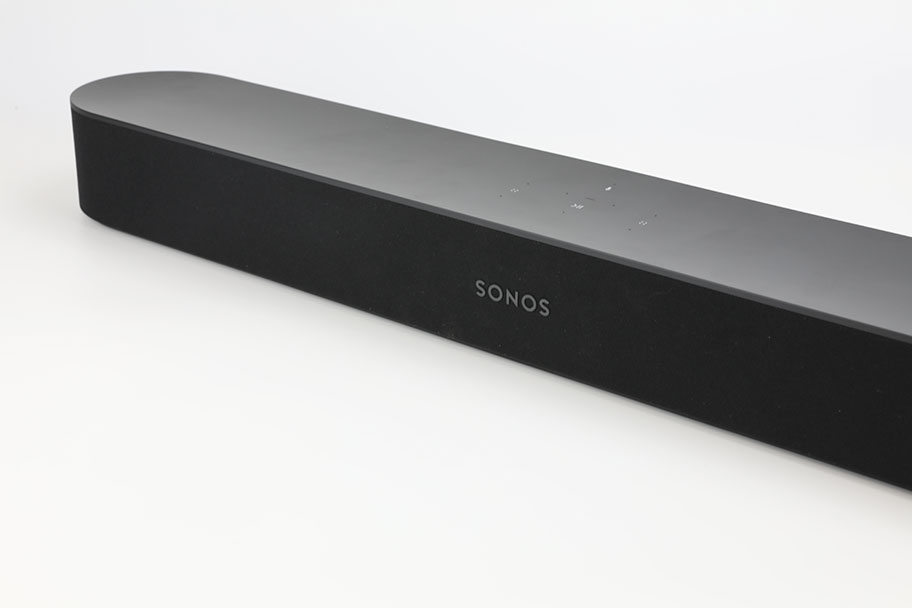 The Competition
SONOS definitely are the only company with a smart soundbar available – and they aren't the only company putting a lot of thought into how to use advanced technology. The Bose Soundbar 700 is a much more high-end option that feels similar to the Beam, and which packs in a number of interesting features. It has superb sound quality – better overall, in our opinion, than the Beam. And along with the obligatory Amazon Alexa inclusion, it has a feature known as HDMI eARC, which allows the soundbar to receive high-resolution audio from TV. The Beam actually can't do anything with this audio yet – it's a functionality that will be added in a later firmware update. But it does give it a leg up over the Beam, and it means that the 700 is arguably the soundbar to go for, if you want to future-proof yourself. You will pay for the privilege: right now, it costs $799, a good $400 more than the Beam.
If you don't want to spend quite as much, we recommend checking out the Samsung Sound+ HW-MS650. It costs around $100 less than the Beam, at $296. It does offer the Alexa virtual assistant, but there's no way to control this on the device itself – you'll have to connect it to another smart speaker. That process can be a little frustrating, and while this is a good soundbar overall, we feel like it's a second banana to the superb Beam. However, if you're on a budget, it will perform exceptionally well. It may not have the Beam's soundstage or bass weight, but the audio quality has enough grunt to satisfy your needs.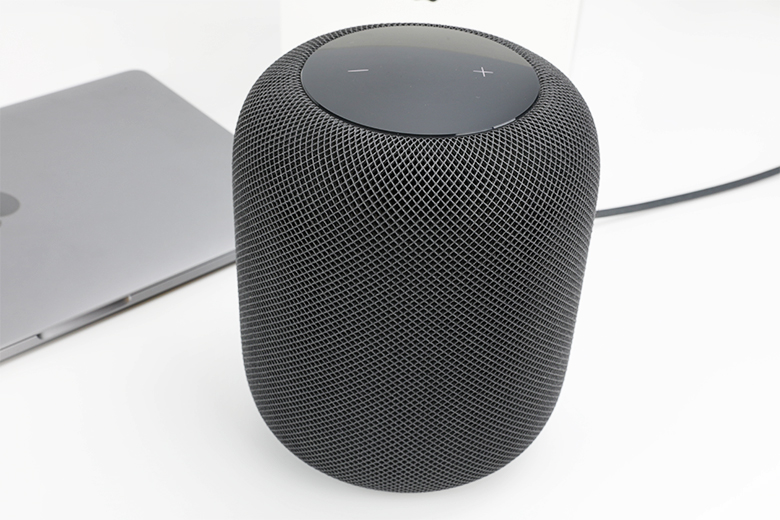 We also want to go out on a limb here and compare the Beam to a leading smart speaker: the Apple HomePod. They obviously have different uses – you can't use the HomePod for watching movies and series unless one of your components has Apple AirPlay 2. But we frequently get asked about whether a reader should go for the Beam or the HomePod, so it's worth talking about here. In our opinion, the HomePod has much better sound – it doesn't distort at the top end, for one thing. It's also cheaper, at $349. There is a significant downside, in that you'll require an iPhone to actually use the speaker. It also doesn't quite have the surround sound effect that the Beam has. If you plan on listening to music primarily, we'd recommend the HomePod. For watching movies and series, go for the Beam.
SONOS make one other soundbar, the $699 SONOS Playbar. We don't recommend going for this model any more. It's quite old now, and is still far too expensive. The sound may be a touch louder and more powerful than the Beam – in our memory, there wasn't any distortion when we turned it up to max volume. There's no smart functionality, the design has aged badly, and we don't think it's worth your time. The Beam is significantly cheaper, by around $300, and will give you just as much bang for your buck. Of course, if you already own the Playbar, you could always pick up a Beam and use them both together. We have no idea if that's even possible, or what it would sound like, but it would be a fun experiment. We'll get back to you.
Learn More About Home Audio