The tangles.
Oh dear God, the tangles.
If it weren't for the fact that the Audiofly AF1120 in-ear monitors are in the conversation for the best we've ever listened to, we would have chucked it in long ago. They're a perfect example of the idea that audio gear can have more pain points than most other tech…because the result can be so damn spectacular. Because while the fiddly, filament-thin twin earbud cords get knotted faster than a shibari model, the payoff is locked-in fit, incredible sound, and a genuinely great experience.
So. Ready to find out if these are for you?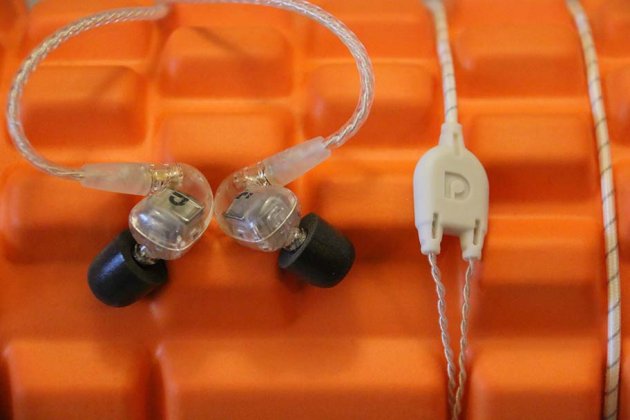 Design
As a rule, we've got a lot of love for Audiofly. The Aussie company got our attention with the excellent AF140 buds (reviewed here). Those had triple-driver structures, and since the AF1120s come with six - six! drivers in each bud, we were keen to see just what they could do.
Basics first. The AF1120s are technically in-ear monitors designed for on-stage musicians, but they function perfectly well for everyday listening (we'll also be referring to them as buds throughout this review, because in-ear monitors sounds clunky). Unboxing them is a pleasure. They come packaged with a rectangular, zippered, waxed-canvas case that looks and feels terrific, and has more than enough space for the cornucopia of eartips, adaptors (6.3mm and airplane), velcro tabs and tip cleaners packaged with it. It's not the most streamlined of cases, but it'll easily slip inside a backpack.
The buds themselves come linked to a 4'11" cable, with a thicker section running from the jack to a splitter. And this is where things go awry, for the splitter is where the cable becomes thin, braided wires, and they're among the fiddliest things we've ever come across.
They tangle. They twist. They coil in on themselves. They tie into Gordian knots that, in one case, took whole minutes to undo. Audiofly does include a movable bracket on the cable to help prevent tangling, but woe betide you if you leave it down, or if the gangly earbud hooks slip between the cables. We do hope you enjoyed your day so far, because it's about to get messy.
We pushed past this issue, for reasons we'll go into below. For now, let's talk about the actual buds themselves - transparent, faintly medical-looking hunks of plastic on the end of curved ear-hooks. Picking and interchanging buds is simple enough, and before long, we had an almost perfect fit.
The AF140s suffered from fitting issues, and this has largely been fixed on the AF1120s. The plastic coating around the ear hooks is longer, and feels firmer. Once you've got the buds inserted (we recommend, as we always do, the superb Comply memory foam tips which are all but ubiquitous among high-end earbuds these days) they are coming out, no matter how hard you headbang.
Not only are they exceptionally comfortable to wear for long periods, but the isolation is absolutely superb. Even with the music turned off, we couldn't hear what our partner was saying without actually removing the buds. That's very, very good, and it goes some way to mitigating the ridiculous, tangly cables. You can also wear these in a number of different configurations, including down the back, and down the front. We prefer the former, but either works well.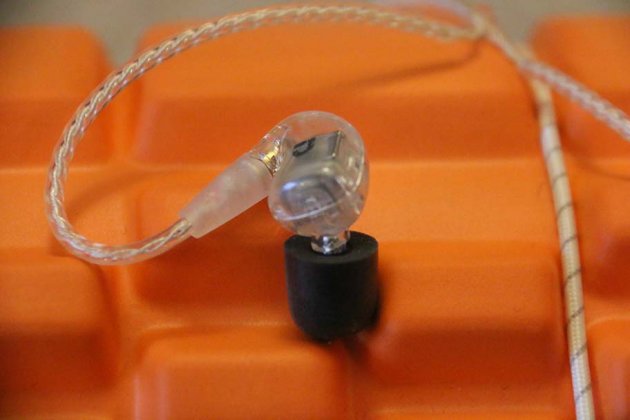 Sound
We tested the AF1120s in multiple situations, including on a OnePlus 2 smartphone, on an actual hi-fi setup, and with a separate DAC and amp (the Nuforce uDAC5 and the Fiio A5, since you ask). We didn't take them on stage to rock a crowd, mostly because we're very good at talking about audio kit, but not exactly amazing at making music. That's okay. We can pretty much confidently say that they'd be OK in a live setting, because in every other setting we tested them on, they were spec-bloody-tacular.
Audiofly took everything we loved about the AF140 and supercharged it. They doubled the number of drivers, inserting a frankly ridiculous six into each bud without noticeably increasing the size. The drivers have been tuned to perfection, and their representation of the audio in our test songs were just unbelievably good. That's probably why the company made these transparent: when you've got this much technology packed into such a tiny space, and when it does it's job so well, you really want to show it off.
The real star of the show, however, is the crossover. This is the set of electronics that divides the frequencies and allocates them to specific drivers – in this case two per low, high, and mid frequencies. It creates a sense of space and realism that is just staggering. The clarity that these buds showed off matched any high-end headphones we've tested, creating a beguiling soundstage that we couldn't get enough of. Throughout, the bass never lost its weight, or the highs their detail. Even if the headphones didn't sound half as good, the combination of the crossover and the six tuned drivers represents a major technical achievement.
The sensitivity is pretty high (110dB), and an impedance of 10Ω - easy to drive, but these will always sound best if put through a decent amplifier. But despite a tiny drop in quality, we had absolutely no problems playing these through a phone. That being said, we wouldn't recommend it, as inserting and removing them does take a little bit of time. Still, it's good to know that it's an option, even if there's (very obviously) no in-line controls or microphone.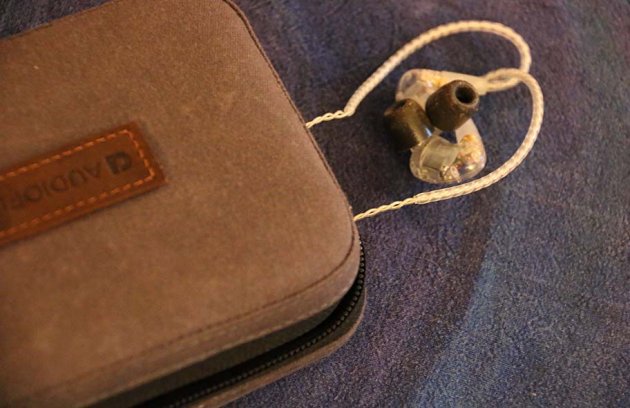 Should You Buy Them?
The AF1120s are extraordinary. Not only do they represent the top-line live music monitors on the market, but they're also an extraordinary pair of earbuds for pleasure listening. For once, the pricetag of $700 is, we feel, entirely justified. These are a pair of high-end buds, to be sure, but if that's the way you prefer to listen to your music (as opposed to a pair of over-ear cans), then they are an essential investment. If it wasn't for the serious issues with the tangly cords, these would be among our favorite pieces of kit this year.
See the Audiofly AF1120 on Amazon

Good:
Extraordinary sound, perfect fit
Bad:
Horrendous tangles
Best For:
Audiophiles who don't mind dealing with the odd bit of tangled cables – or stage musicians

Alternatives
A wide frequency range, simple design and exquisite sound quality set these above the rest. A little more expensive than the AF1120s, but a commendable alternative, and one of the best and most revered buds on the planet.
A much cheaper alternative, with some truly phenomenal sound. It's not quite six-driver-perfect, but if you don't have $700 to drop on a pair of buds, then these could be the ones you're looking for.

Breaking Down The Specs: