The tangles. Oh dear God, the tangles. If it weren't for the fact that the Audiofly AF1120 in-ears are in the conversation for the best we've ever listened to, we would have stopped listening to them long ago. They're a perfect example of the idea that audio gear can have more pain points than most other tech…because the result can be so damn spectacular. Because while the fiddly, filament-thin twin earbud cords get knotted faster than a shibari model, the payoff is locked-in fit, incredible sound, and a genuinely great experience. In this review, we break down the AF1120's sound, design, comfort and fit, packaging and accessories, specs and more, as well as how they compare to other models. To see alternatives, read our list of the best high-end headphones.
 
Sound:
Clarity and Transparency
With the Audiofly AF1120, the Australian company really went to work. They doubled the number of drivers, inserting a, frankly ridiculous, six into each bud without noticeably increasing the size. The drivers are tuned to perfection, and their representation of the audio in our test songs were just unbelievably good. That's probably why the company made these transparent: when you've got this much technology packed into such a tiny space, and when it does it's job so well, you really want to show it off.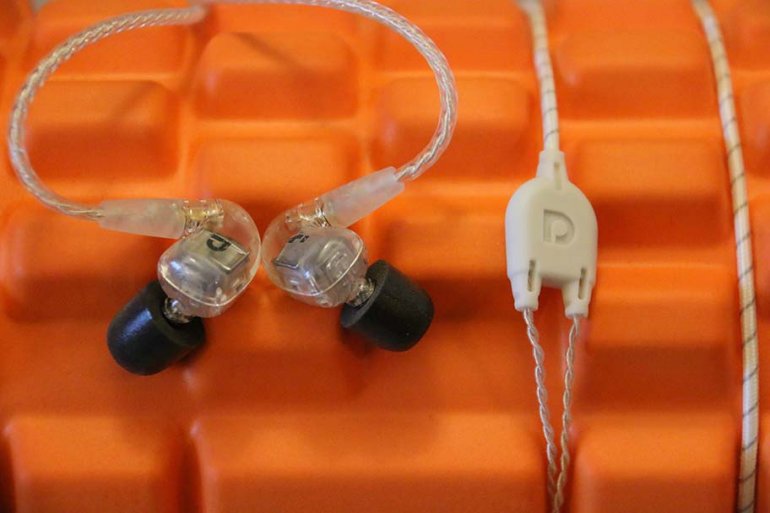 They are, if we're being technical, designed to function as both in-ears for music listening, and for music performing on stage. We didn't take them out to rock a crowd - mostly because we're very good at talking about audio gear, but not exactly amazing at making music. But that's okay. We can confidently say that they'd be OK in a live setting, because in every other setting we tested them on, they were spec-bloody-tacular. We tested the AF1120s in multiple situations, including on a OnePlus 2 smartphone, on an actual hi-fi setup, and with a separate DAC/amp combo, the Optoma NuForce uDAC5 (full review here). The clarity and balance was easily on par with more expensive in-ears from the likes of Shure. Compared to that company's SE846 ($899 to the AF1120's $669), they hold up their end of the deal well. We think the Shures have just a touch more high-end detail, but it's very minor.
 
Crossover and Low-End (Bass)
The real star of the show, however, is the crossover. This is the set of electronics that divides the frequencies and allocates them to specific drivers – in this case, two per low, high, and mid frequencies. It creates a sense of space and realism that's just staggering. The clarity that these buds showed off matched any high-end headphones we've tested, creating a beguiling soundstage that we couldn't get enough of. Throughout, the bass never lost its weight, or the highs their detail. Even if the headphones didn't sound half as good, the combination of the crossover and the six tuned drivers represents a major technical achievement. Then again, Audiofly is great at delivering in-ears with multiple drivers that perform much better than expected. A good example of these are their AF140 in-ears - which are also cheaper, at $500.
The sensitivity is pretty high (110dB), and they have an impedance of 10Ω - easy to drive, but these will always sound best if put through a decent amplifier. Despite a tiny drop in quality, we had absolutely no problems playing these through a phone. That being said, we wouldn't recommend it, as inserting and removing them does take a little bit of time. Still, it's good to know that it's an option, even if there's (very obviously) no in-line controls or microphone.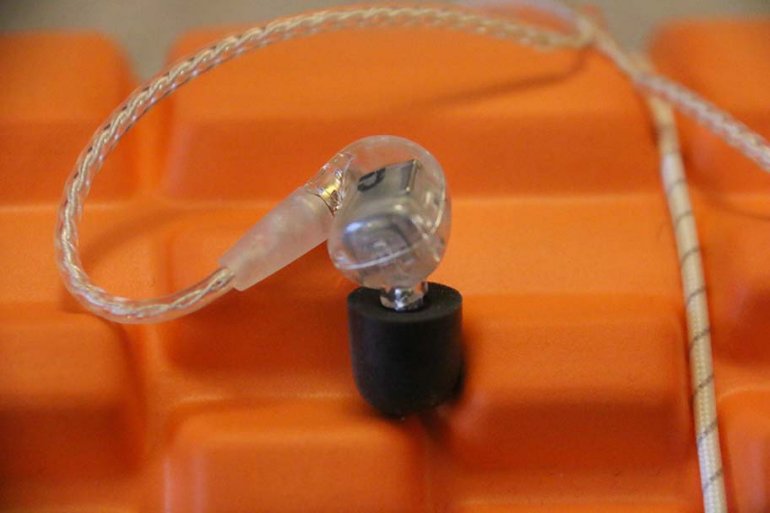 Design:
Tangled Cables
The AF1120s come linked to a 4'11" cable, with a thicker section running from the jack to a splitter. And this is where things go awry, for the splitter is where the cable becomes thin, braided wires, and they're among the fiddliest things we've ever come across. They tangle. They twist. They coil in on themselves. They tie into Gordian knots that, in one case, took whole minutes to undo. Audiofly does include a movable bracket on the cable to help prevent tangling, but woe betide you if you leave it down, or if the gangly earbud hooks slip between the cables. We do hope you enjoyed your day so far, because it's about to get messy.
 
Looks and Build Quality
The problem with most in-ear headphones is that, when it comes to their design and aesthetic, there's not a huge amount to discuss. They are, after all, very small. But we got a real kick out of just how good-looking these were. Despite the fact that the transparent hunks of plastic on the ends of the curved ear hooks looked faintly medical at first glance, being able to see the innards is always a pleasure. Their unique shape means their isolation and comfort properties are really good, too – something we'll go into a little bit more detail below. And while you don't get the 3D printed-housing of something like the Brainwavz B400s (full review here), they still managed to be robust and tough. If you are interested in those Brainwavz, by the way, they are significantly cheaper than the AF1120s - $190 versus $669 for the Audiofly. We still think the latter is much better though.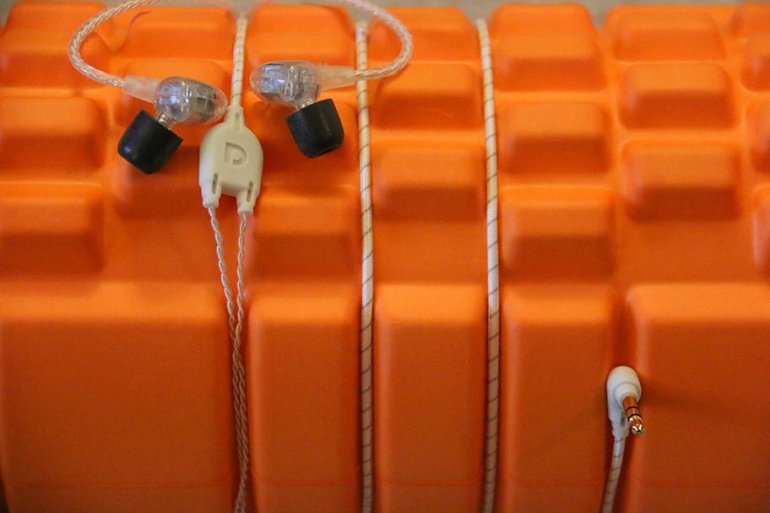 Comfort & Fit:
The old AF140s suffered from fitting issues, and this has largely been fixed on the AF1120s. The plastic coating around the ear hooks is longer, and feels firmer. Once you've got the buds inserted (we recommend, as we always do, the superb Comply memory foam tips, which are all but ubiquitous among high-end earbuds these days) they aren't coming out, no matter how hard you headbang. Not only are they exceptionally comfortable to wear for long periods, but the isolation is absolutely superb. Even with the music turned off, we couldn't hear what our partner was saying without actually removing the buds. That's very, very good, and it goes some way to mitigating the ridiculous, tangly cables. You can also wear these in a number of different configurations, including down the back, and down the front. We prefer the former, but either works well. Picking and interchanging buds is simple enough, and before long, we had an almost perfect fit.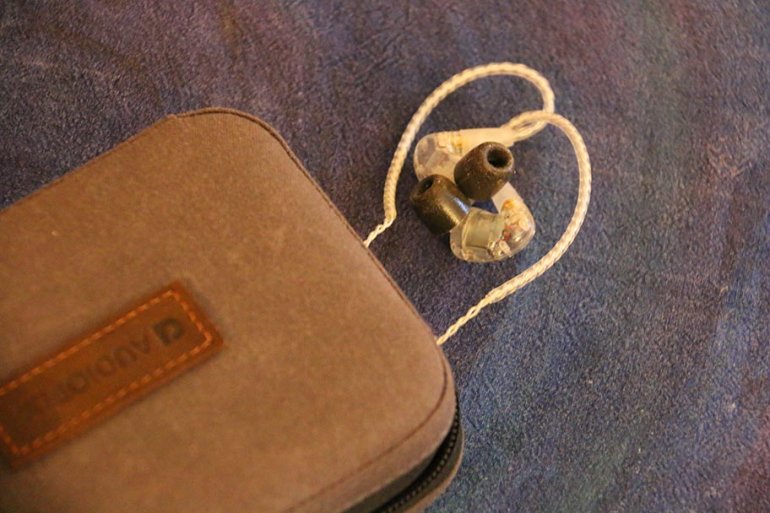 Accessories & Packaging:
Unboxing them is a pleasure. They come packaged with a rectangular, zippered, waxed-canvas case that looks and feels terrific, and has more than enough space for the cornucopia of eartips, adaptors (6.3mm and airplane), velcro tabs, and tip cleaners packaged with it. It's not the most streamlined of cases, but it'll easily slip inside a backpack. For $669, the accessories and packaging aren't mind-blowing, but you definitely don't feel shortchanged.
 
What We Like:
The sound of the Audiofly AF1120s is absolutely extraordinary - far better than their sub-$1,000 pricetag would suggest.
The design is superb, and the comfort and isolation left us happy.
​We really like the case the AF1120s come in, which feels suitably premium.
 
What We Don't:
The AF1120s have some of the most horrendous tangles we've ever come across in our entire careers.
While they are excellent, they may be a little bit much for some people, especially those who just want to listen to music casually.
​It's not a huge negative, but there are no in-line controls on the cables. Just something to bear in mind before you buy.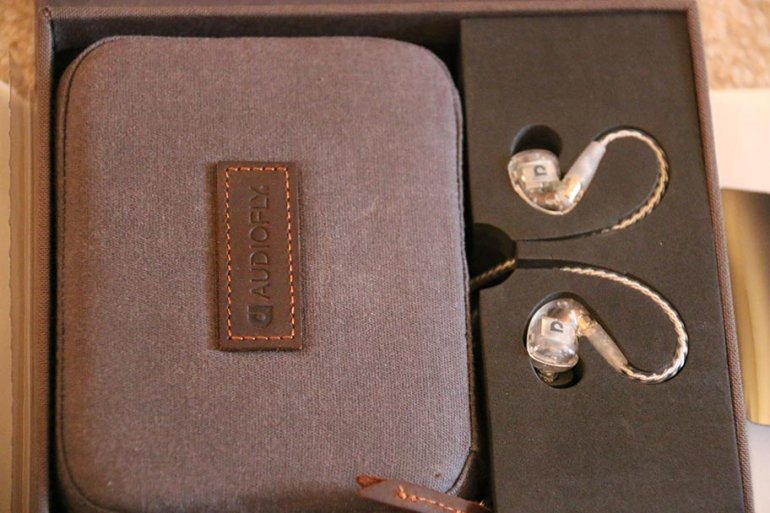 Comparison Table:
| Headphones | Price | Weight | Imp* | Drivers | Cable | Plug |
| --- | --- | --- | --- | --- | --- | --- |
| Audiofly AF1120 | $669 | 0.7oz | 10Ω | 6 x Various | 4'11" Removable | 3.5mm, 6.3mm |
| Shure SE846 | $899 | Unknown | 9Ω | 4 x Various | 1 x Removable | 3.5mm, 6.3mm |
| Sennheiser IE 800 | $600 | 0.3oz | 16Ω | 7mm | 3'7" Fixed | 3.5mm |
| MEE Pinnacle P1 | $199 | 0.4oz | 50Ω | 10mm | 4'3" Removable x 2 | 3.5mm, 6.3mm |
| Audiofly AF140 | $500 | 3.52oz | 18Ω | 4 x Various | 5'4" Removable | 3.5mm, 6.3mm |
*Imp = Impedence
Want Even More Master Switch? Sign Up For Our Weekly Newsletter!
 
The Competition:
The in-ear market is crowded, but the most obvious competition for the AF1120s are the Shure SE846. Shure have a long history as a company, and know a great deal about designing excellent in-ears. They certainly did that here, putting together a package that offers superlative sound. The highs, for one thing, improve on the AF1120. The design is similar, too, although you can get a variety of solid frames if you don't want to see the innards. Pricewise, they are definitely more expensive, at $899 to the AF1120's $669. If we're being honest, we prefer the Audiofly model, but it's a very close-run thing – you be perfectly happy with either.
As another alternative, try the Sennheiser IE 800s. They offer a wider frequency range, simple design, and exquisite sound quality set these above the rest. When they were released, they were quite a bit more expensive than the AF1120s, but the price has come down significantly since then. They can now be found for $600, a solid $69 less than the Audiofly. Again, we prefer the Australian model, but Sennheiser definitely know what they're doing. We also love the rocket-ship aesthetics, of course.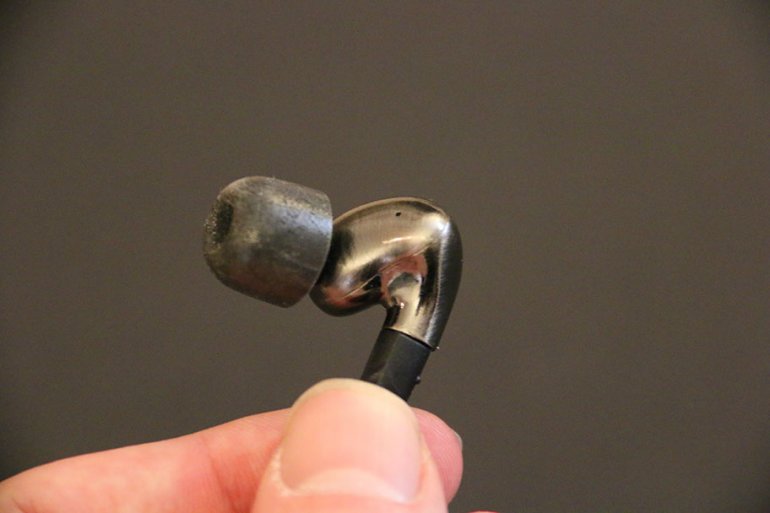 If you'd like a cheaper alternative that still delivers great sound and great design, try out the MEE audio Pinnacle P1. At $199, they are significantly cheaper than the $669 AF1120s – a fact that is reflected in the sound quality, which isn't nearly as good. Having said that, it's fantastic for the price you pay, and the design and accessories more than make up for the shortfall. We love these, and highly recommend them if you're on a budget.
And if you want to spend that budget and still stick with Audiofly, try out their AF140s. While they aren't significantly cheaper than the AF1120s ($500 to the latter's $669) they don't suffer too much by comparison. Despite only having four drivers, to the six that come packed into the AF1120, the sound signature is very similar – which is to say, excellent. Unfortunately, the cable tangle issue is very much the same.
See the Audiofly AF1120 See the Best High-End Headphones
Learn More About Headphones