Here at TMS, we're a unique blend of adventurer and nerd, making our lives the perfect test for portable Bluetooth speakers. And we've spent months hunting down our favorite one. Whether it be hiking through rugged forests or a simple day at the beach, we want to be able to take our music everywhere we go. We've been compiling a list of the best portable Bluetooth speakers, and this little number has found itself near the very top. Enter, the UE BOOM 2. In this review, we break down the sound, design, accessories and packaging, specs and more of the UE BOOM 2 portable Bluetooth speaker. If you want alternatives, see our list of the best wireless speakers.
 
Sound
Power and Volume
The Ultimate Ears (UE) BOOM 2 might not be designed for audiophiles, and we don't expect it to perform like a stationary wireless speaker. But we can certainly say that it's in our list of the best portable Bluetooth speakers for its winning combination of sound, design, and usability.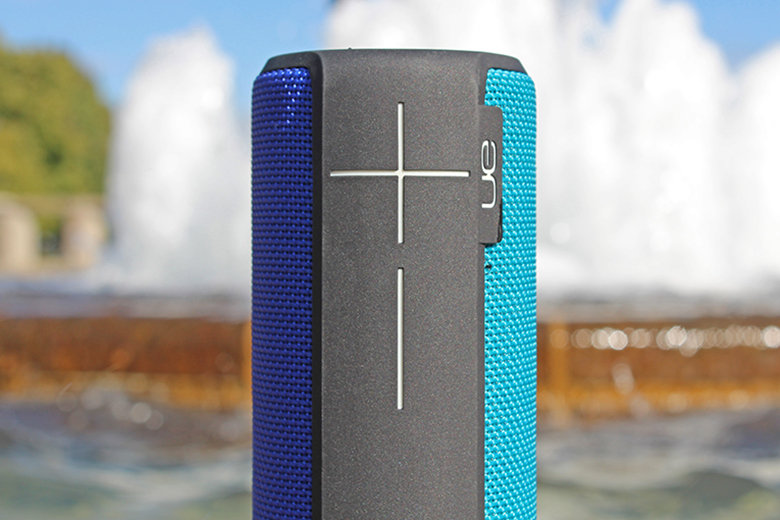 The BOOM 2 is fairly powerful for its size, and delivers a volume that one wouldn't expect from such a small package. We don't recommend blasting this speaker as you would with a larger model - like the $200 UE MEGABOOM (full review here) - but we can say that the BOOM 2 can get quite loud before distorting the sound. However, keep in mind that this speaker is meant for casual listening while on-the-go or outdoors - you aren't looking to power an entire party with this one. If you are, then we have a special treat for you in a moment...
 
High-End (Treble) and Low End (Bass)
The high-end of the BOOM 2 is where the speaker really shines: the treble on this model is almost as bright as the colorful skin the speaker comes in. We were taken aback by how crisp and clear the detail in the high-end was, and were able to thoroughly enjoy many genres that included stringed instruments and effects. It was a tonal aspect of the speaker that we wish every portable speaker could pull off - crisp highs that aren't too bright or jarring. We were able to directly compare this to the $79 JBL Flip 4 (full review here) which we found to be lacking clarity in the high-end, while also distorting at louder volumes. With the two side-by-side, we had a clear winner.
Regarding the low-end, we weren't quite as impressed as we were with the highs. While the bass wasn't entirely lacking, we did find that we were craving a little more oomph - something we found in models like the $110 JBL Charge 3 (full review here). That speaker offered a more powerful bass, and we think it did better justice to our hip-hop tracks. Though the bass on the BOOM 2 wasn't our favorite of the speakers we tested, it was definitely present. We didn't feel as though it overwhelmed any of the other elements, and we rarely had issues with "muddy" sound. The low-end and lower mids were clear, and tracks with a lot going on in that range came through with little-to-no issues. If you're looking for something with more power overall, we'd recommend investing in a larger portable speaker, like the $261 JBL Xtreme 2. You might lose the lightweight design, but you'll get a lot more sound out of it.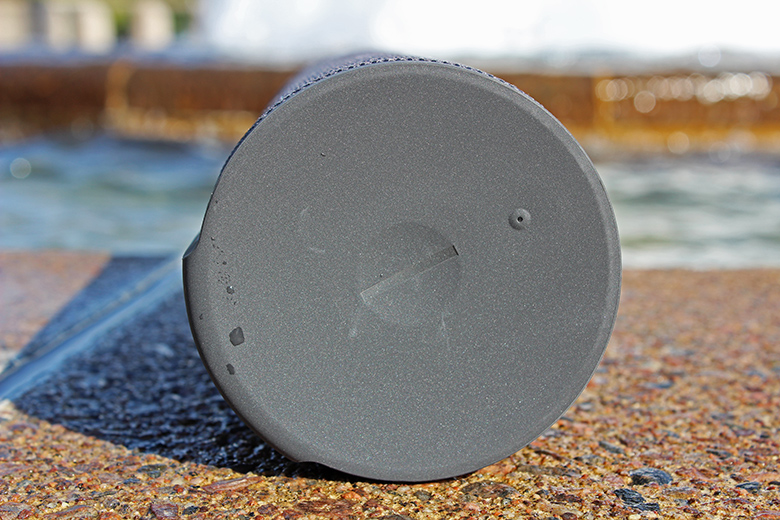 360 Degree Sound
The BOOM 2 features 360 degree sound. What this means is that you can place the speaker virtually anywhere in your room and get great sound quality. It's like an infinite sweet spot. While the BOOM 2 doesn't quite have a full 360 degree sound - a bit is lost for the button real estate - it does manage to cover a staggering amount of room. When placed in the middle of the room, it fills the space nicely, without any dead spots or dropouts. We'd recommend standing the speaker upright in order to achieve the best sound distribution possible, and avoid accidentally cutting off a portion of your sound.
We've seen this design model done before in multiple units, including the far-more-expensive $349 Apple HomePod (full review here). But we believe Ultimate Ears manages to pull it off better than anyone, in terms of portable speakers. It's a design that they've kept consistent, and only improved over time.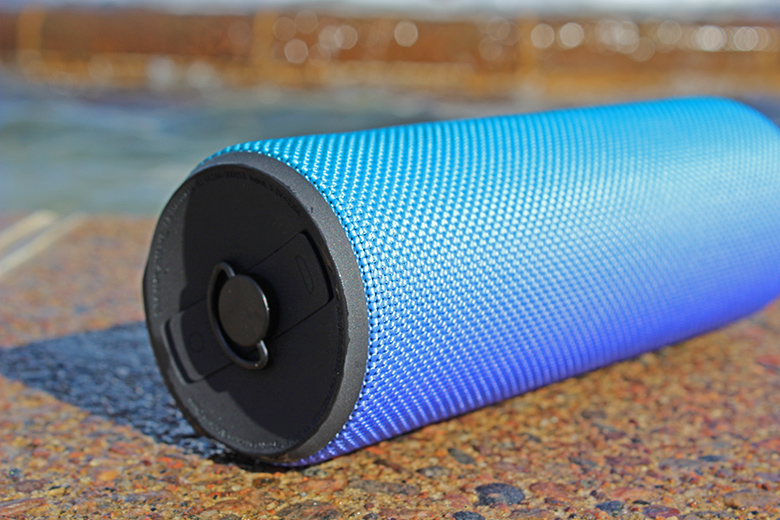 Multi-Room Audio, PartyUp Mode, and Ultimate Ears App
If you're looking to power an entire party, you won't be able to achieve it with just one BOOM 2 - you're going to need an army of them. Fortunately, both the BOOM 2 and MEGABOOM are equipped with a feature called PartyUp Mode. This feature allows you to connect up to 150 BOOM and MEGABOOM model speakers with a simple app. The Ultimate Ears app is available to download for Android and iOS, and turns the BOOM and MEGABOOM speakers into the greatest party accessory ever. No, we don't expect you to purchase 150 BOOM speakers - that would cost a lot of money - but to have the option is mind-blowing. Before UE introduced PartyUp Mode, the leading multi-room feature was JBL Connect+ with their ability to connect up to 100 JBL Connect+ enabled speakers. Looks like UE won this round. If you and your friends are looking to invest in matching speakers to get the party started, we recommend the BOOM and MEGABOOM series.
The Ultimate Ears app itself is simple and easy to use. We have nothing negative to say about it, and that's honestly the best review you can give an app - in our humble opinion. You can connect to the BOOM 2 without using the app, but the app allows you to link multiple speakers, and manage your Alexa-enabled MEGABLAST, if you have one. If you don't want another app on your phone, simply skip this step and connect via standard Bluetooth.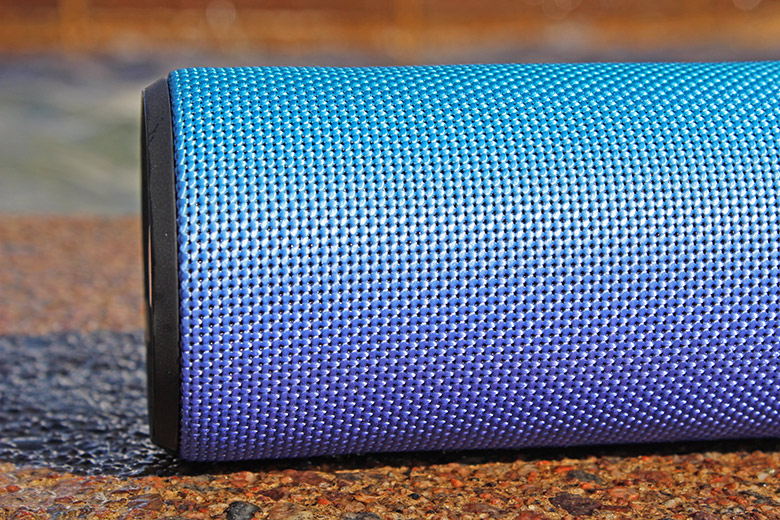 Design
Build Quality and Aesthetic
The build quality and the design of the BOOM 2 is identical to that of all other UE speakers. The speaker is cylinder-shaped, and wrapped in waterproof fabric and rubber material. The fabric grille of the speaker extends around the entirety of the tube shape, and gives it a nice tactile feel. You'll understand what we mean when you get your hands on one. The rubber is thick but soft, and feels like it can take a real beating, which makes you believe you could take this speaker on an adventure.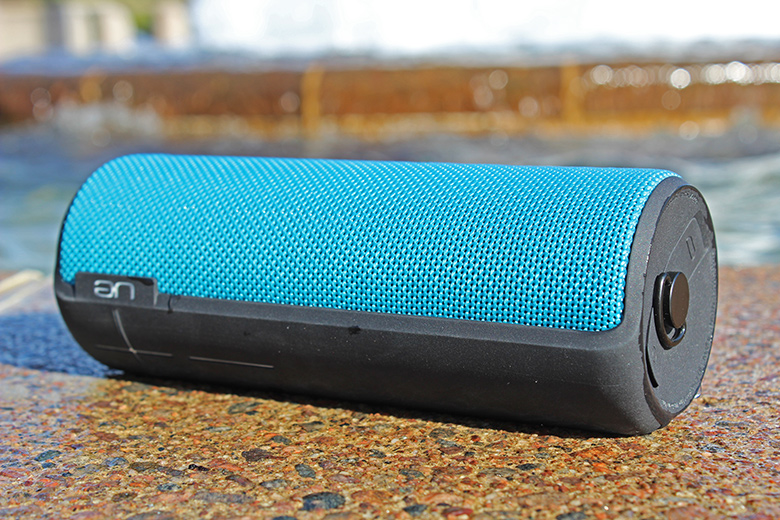 The speaker itself is lightweight and easy to carry with one hand. As seen in the pictures, you can comfortably tote the BOOM 2 around in your purse or even a large pocket. If you're an outdoorsy person, with access to carabiners or tripod mounts, you'll be able to take advantage of the removable D-ring located on the bottom of the speaker by the ports. It's a small touch, but one we thought was really neat when imagining all of the possible uses - camping, tying the speaker to a floaty, or mounting it on a tripod for better sound distribution. It's a much more reliable option that the clips found on models like the $45 JBL Clip 3, and convinced us that the BOOM 2 is worth the extra money.
The BOOM 2 comes in a multitude of colors, patterns, and limited edition styles. There's a style for everyone, whether you want subtle black-on-black or vibrant blues and purples. We were grateful to have so many options to pick from, rather than the standard solid colorways of something like the $197 JBL Xtreme. As we mentioned, the materials feel sturdy, and held up well under wet or dirty conditions. Even our bright blue model withstood some abuse, as we tested its durability. We're happy to report that we never had any issues with the fabric becoming dull or stained, and our BOOM 2 maintained its brilliance and shine.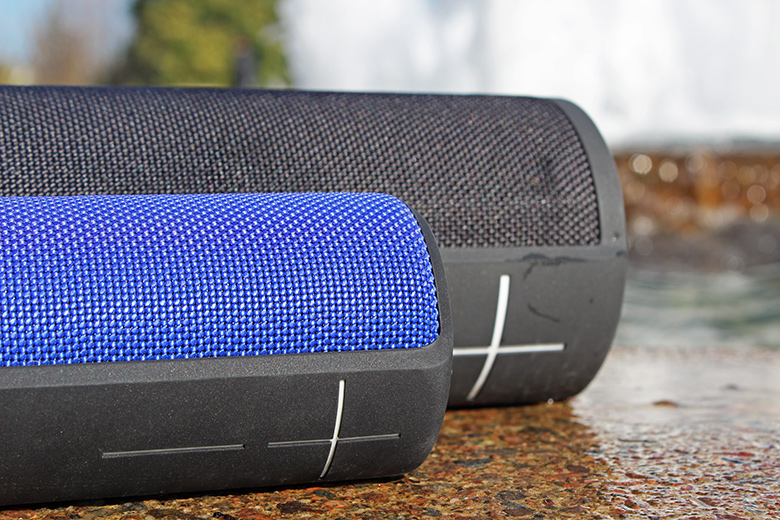 Controls
The volume controls for the BOOM 2 are located on the side of the speaker in the form of gigantic plus and minus pads. Just like every other UE speaker - including the tennis ball-shaped $68 UE WONDERBOOM - these are obvious and need little-to-no explanation. While we do prefer singular buttons over massive pads - for aesthetics and usefulness - we found the controls to be very straightforward and easy to use. This makes the speaker an ideal candidate for gifting to your elderly relatives, or just someone with very large fingers.
As for the power and Bluetooth pairing buttons: those are located on the top of the speaker. The power button is in the center, with the smaller pairing button slightly off to the side. Both buttons, like the volume controls, are simple and easy to use. The user-friendliness of the BOOM 2, and the UE line in general, is one of our favorite aspects of the speakers. To connect to the BOOM 2, simply press the power button to turn it on - you'll hear a neat jungle beat to signify that it has power - and hold down the Bluetooth pairing button until you hear the connection sound. This too has a cool jungle vibe - one we much prefer over the alarming connection sounds of JBL speakers, which make us feel like we're being arrested by RoboCop.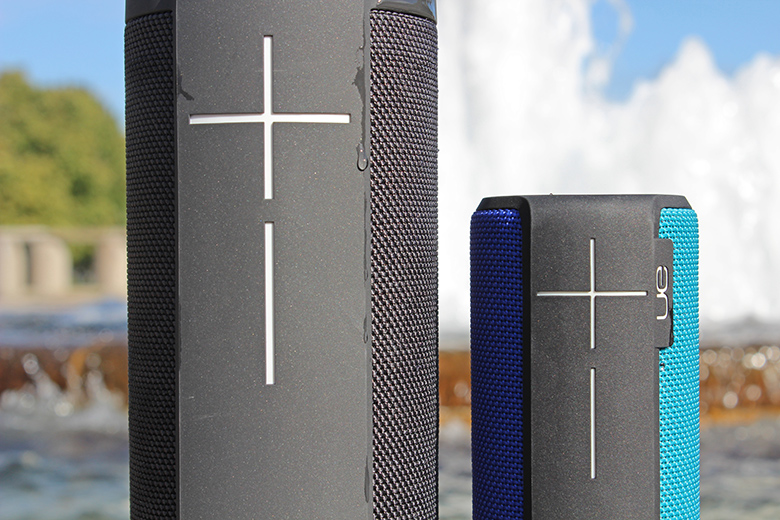 Ports and Connectivity
For physical connections, you have one micro-USB charging port, and one aux port. The addition of the aux port is one that we found very useful, and wish it were included on all of the UE speakers - like the $175 UE MEGABLAST (full review here), which was seriously lacking. While we mostly used the BOOM 2 for wireless listening, we did like having the option to manually plug in our playback device. We found this as a handy way to connect to a personal computer that was struggling with a Bluetooth bug. Don't get us wrong; we don't often need an aux connection and understand why it's usually not included, but it's nice to have the option. We'd like to see UE keep this in their BOOM lineup.
Connectivity-wise, the BOOM 2 impressed us. It couldn't quite handle going through multiple walls or obstacles, but the range was perfect for outdoor listening, or simply moving around the house. We never experienced significant dropouts - at least not until we entered another room entirely - and we had a great time listening to this in an outdoor setting. The BOOM 2 is rated for up to 100 feet of distance - triple what the $35 Cambridge Oontz Angle 3 Plus (full review coming soon) has to offer.
If you're interested in upgrading your Bluetooth to the best available but want it in a portable package, check out the Denon Envaya. That speaker might cost a bit more - ranging in price from $199 to $250 depending on the model you go for - but it's fully equipped with aptX Bluetooth, and is even IP67 rated. That means it's waterproof and dustproof. You might have a hard time tracking the Denon Envaya down in the United States - so keep your eye out for availability.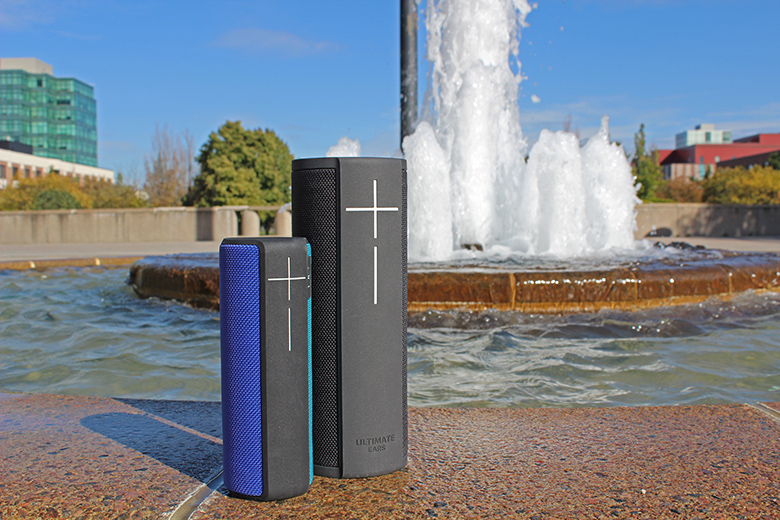 Waterproofing
As we've mentioned previously, the BOOM 2 is waterproof. But what does that mean? We won't get into the nitty gritty about the definition of IP Ratings - you can read this if you want to learn more - but we'll give you a quick rundown. The BOOM 2 is IPX7 rated, which means it can be submerged in three feet of water for up to 30 minutes. This is a common rating for portable bluetooth speakers, and makes it easy to bring the BOOM 2 anywhere you go. There's no need to worry about getting it wet at the beach, and you can even take a dunk in the pool with the BOOM 2 in hand. And yes, we have tested the waterproofing on the speaker by tossing it into our local fountain - we even have the soggy shirt to prove it. If you're looking for something with even stronger waterproofing, we recommend the $120 FUGOO Style-S, which is IP67 rated for dust- and waterproofing. This is currently the most powerful IP rating for portable speakers.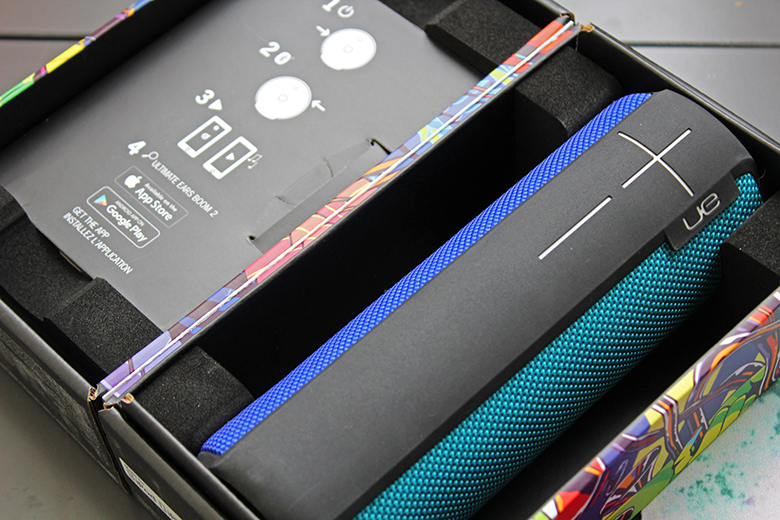 Battery Life
The battery life of the BOOM 2 is solid, rated for up to 15 hours of playback. Of course, this estimate is for moderate volumes, but we never had any issues with our BOOM 2 dying on us throughout the day. We often used it as a laptop sound enhancer - like a mini soundbar - and found that it could go for multiple work days before requiring a charge. The battery life did fluctuate between charges based on how loud we were playing our music, but at a lower volume, we got between ten and twelve hours. You won't expect this to last a week long hike through the wilderness, but you can certainly trust it to last a day trip to the beach! If you're looking for something with a longer battery life, try the JBL Charge 3 - rated for 20 hours of battery life.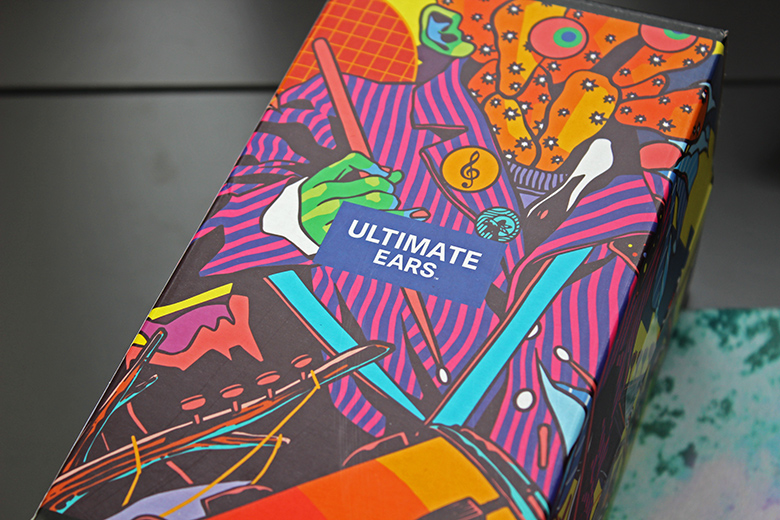 Accessories & Packaging
The accessories and packaging of the BOOM 2 are almost identical to that of the UE MEGABLAST, which we reviewed recently. Unlike most speaker manufacturers, there is one thing we can say about Ultimate Ears: they take packaging seriously! The UE line of speakers has the most psychedelic, out-of-this-world packaging and accessories that we've ever seen. The box, while similar in design to other packaging, is decorated in a wild display of colorful art and graphics that we couldn't take our eyes off of. Other manufacturers should take note of UE's style, because that alone could sell their product.
The accessories accompanying the LSD-trip-inspired box are equally as entertaining. Depending on which style of BOOM 2 you pick, you get a neon-colored charging cable with matching power adapter. Though we admire the pizzaz, we do think UE could have toned down the cable color just a bit. You might never lose sight of the neon yellow cable on your desk, but it can certainly be a distraction or upset to your overall office aesthetic. The one positive about the cable, however, is that it's housing is flat rather than rounded. This eliminates the possibility of tangles, and makes for a hassle-free re-packaging.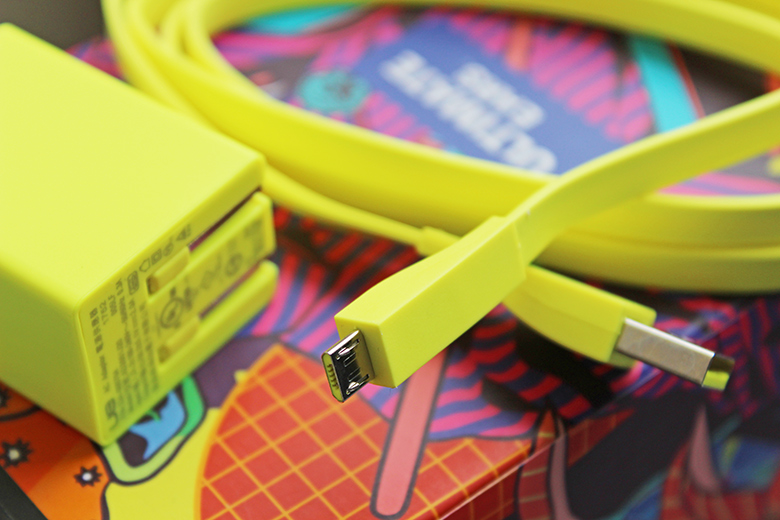 What We Like:
The BOOM 2 is lightweight and easy-to-use.

The sound quality of the BOOM 2 is decent for its size.
The BOOM 2 is IPX7 waterproof and quite durable.
The BOOM 2 can be paired with up to 150 BOOM speakers.
 
What We Don't:
The BOOM 2's sound can distort at high volumes.
The BOOM 2 could use a little more bass boost.
The accessories for the BOOM 2 are a garish safety vest yellow color.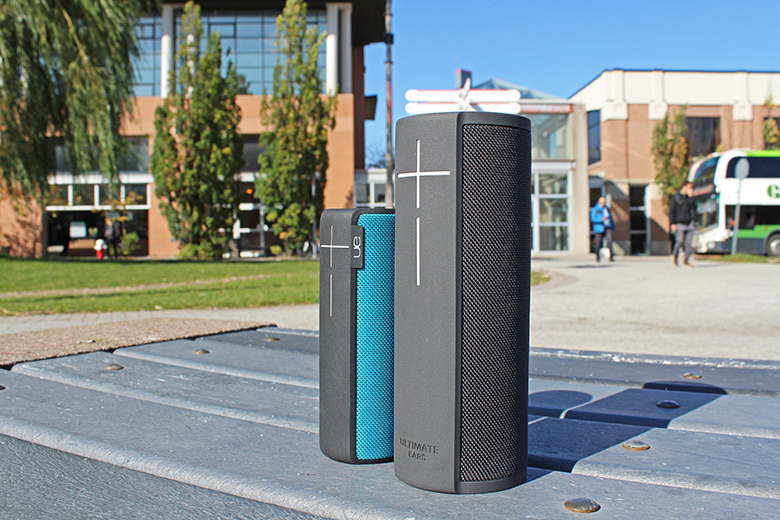 Comparison Table
| Speaker | Price | Battery | Waterproof? | App | Drivers | Max SPL* |
| --- | --- | --- | --- | --- | --- | --- |
| UE BOOM 2 | $100 | 12 Hours | Yes - IPX7 | Yes | 2 x 1.77", 2 x 3" passive | 90dB |
| Beats Pill+ | $130 | 11 Hours | Yes - Unknown | Yes | 2 x woofer, 2 x tweeter | Unknown |
| JBL Flip 4 | $79 | 10 Hours | Yes - IPX7 | Yes | 2 x 1.6", 2 x passive | 80dB |
| JBL Charge 3 | $110 | 17 Hours | Yes - IPX7 | Yes | 2 x 1.97", 2 x passive | 80dB |
| UE MEGABOOM 3 | $200 | 20 Hours | Yes - IPX7 | Yes | 2 x 2", 2 x 3.5" passive | 90dB |
*SPL = Sound Pressure Level
Want Even More Master Switch? Sign Up For Our Weekly Newsletter!
 
The Competition
At the $100 mark, the UE BOOM 2 has a lot of competition for portable Bluetooth speakers - we find it difficult to narrow them down. So we're going to recommend a handful of speakers that we've personally reviewed before, and suggest you check back for our best portable Bluetooth speaker roundup, coming soon!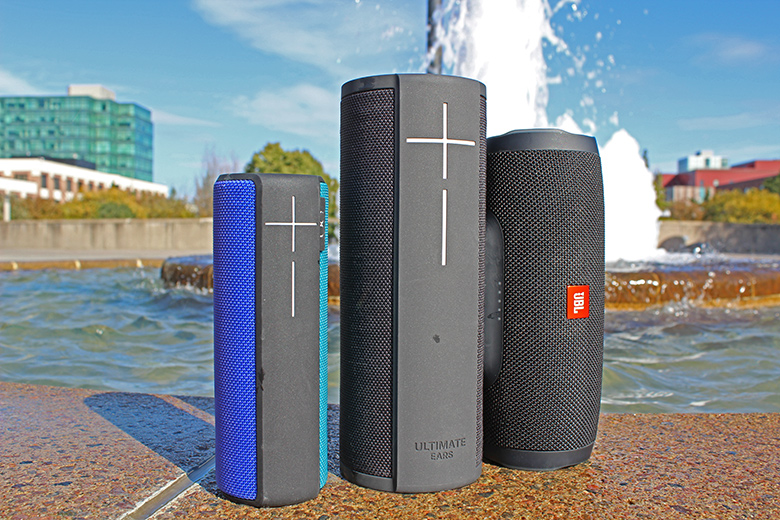 First up is the JBL Flip 4. This speaker is listed on our best wireless speakers list for its portability and user-friendliness. While the sound might not be up to snuff in comparison to the BOOM 2, it isn't half bad. The JBL Flip 4 offers the JBL Connect+ feature we mentioned previously, and can be connected to any JBL Connect+ enabled speakers, which include a multitude of options. If you try the JBL Flip 4 and aren't completely satisfied with the power, you can buy another with the same feature and link them together. The battery is rated to last 12 hours of playtime, but we averaged between four and ten hours depending on how loud we were listening. The battery life isn't quite as good as the BOOM 2, so we would recommend the latter if you plan on going for long trips without power. Despite a lackluster battery life, the connectivity is decent, and we had no issues. The JBL Flip 4 can be had for a mere $79, but we'd suggest springing the extra $20 for the BOOM 2, if you can.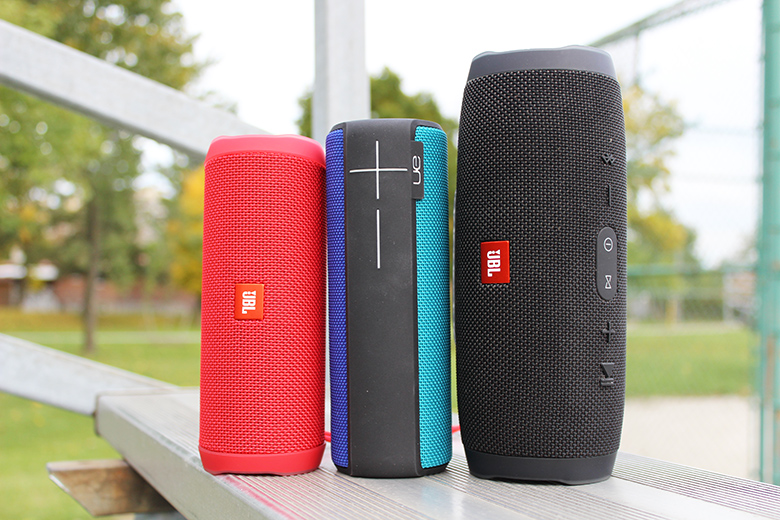 Next, we suggest the JBL Charge 3. Older cousin to the JBL Flip 4, the JBL Charge 3 is slightly larger, has a better sound overall, and feels a tad more durable than the smaller model. Though it needs a firmware upgrade to be compatible with JBL Connect+ speakers, it's certainly still a solid investment if you're looking for a portable speaker with multi-room audio. We prefer the overall sound quality of the BOOM 2 - those highs and clarity really sold us - we can appreciate that the JBL Charge 3 has a better bass response, and was able to get louder than most other portable speakers we tested. The JBL Charge 3 has a decent battery life, and connectivity was a breeze - it's also IPX7 waterproof like the BOOM 2, which makes it an ideal candidate for outdoor adventures. The JBL Charge 3 is available for $110, just $10 more than the BOOM 2. If you're looking for something handheld, go with the BOOM 2. If you want more bass, pick the JBL Charge 3.
The Beats Pill+ is a speaker we reviewed over the summer, and had this to say about it in comparison to the BOOM 2. "The UE BOOM 2 does a much better job of handling the low-end. If we're being honest, it's actually a much better speaker overall – not only is it cheaper at [$100] to the Pill+'s $130, but it offers better waterproofing, a longer battery life, and much better sound." One note we did have about the Beats Pill+ is that it had better volume than the BOOM 2, and was able to get much louder overall. If you're looking for something to blast tunes at a party, this could be a good option for you. Keep in mind that, while the Beats Pill+ is durable, it isn't rated for waterproofing, like the BOOM 2. If you need a speaker with proper waterproofing, go for the latter.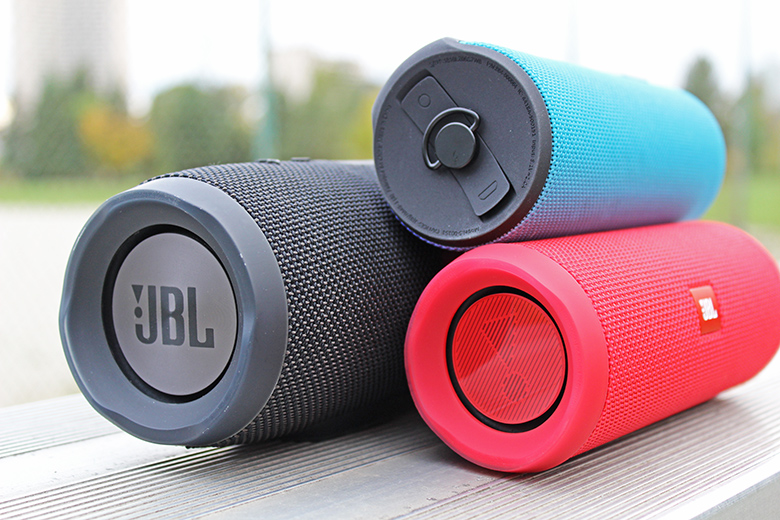 Let's compare the BOOM 2 to the UE MEGABOOM 3 - the newest rendition of the UE MEGABOOM speaker. While we had our hands on the original UE MEGABOOM more than two years ago, we've held it in quite high regards. Now, with this newer model, we can safely say that the UE MEGABOOM has retained its value, and continues to impress us. The UE MEGABOOM is the larger version of the BOOM series, and is compatible with the PartyUp Mode that we talked about previously. If you're looking for a serious party starter, we recommend going for the larger model. The UE MEGABOOM 3 has improved bass response, is waterproof, and can compete with models twice its size for sound. Having recently reviewed the UE MEGABLAST - the same speaker but with added Amazon Alexa functionality - we believe this is a great addition to your portable speaker repertoire. Though it's quite a bit larger than the BOOM 2, causing you to lose the one-handed portability, it's a great option for someone looking for a rugged portable speaker that delivers solid sound. It costs $200 to the BOOM 2's $100, but we think it's worth the extra expense.
Learn More About Speakers