1More Portable BT Speaker ($100)
Portable: Yes - 11 Hours Battery, IPX4 Waterproof
Bluetooth/Wi-Fi: Bluetooth
Smart Assistant: None
What We Like: Good battery life and call quality, stereo pairing.
What We Don't: Atrocious sound quality, dull design, fiddly controls.
See the 1More Portable BT Speaker
1More make some of our favorite headphones and earbuds of all time. They are remarkable devices that offer huge performance at reasonable prices. Naturally, we were quite excited when we found out they were releasing their first Bluetooth speaker. The imaginatively-named 1More Portable BT Speaker has been in our testing room for a few weeks now and, after many hours of listening, we wish they'd stuck to headphones. In this review, we break down the Portable BT Speaker's sound, design, packaging and accessories, specs and more. To see how it stacks up, check out our list of the best wireless speakers.
 
Sound
Low-End (Bass)
The biggest problem with the 1More Portable BT Speaker is the sound. For a $100 wireless speaker, we expected quite a bit more than what we got. The audio quality was all over the place. What strange and terrible circumstances led to a company with an impeccable reputation issuing a product as poor as this?
When it comes to sound quality, 1More's track record is nearly flawless. Some of their headphones and earbuds are among our favorites of all time. The 1More Triple Driver In-Ears (full review here) remain a landmark product, and some of the best earbuds we've ever heard. This really makes us wonder what the hell went wrong with the Portable BT Speaker – and in particular, what went wrong with the bass.
It's clear what 1More were going for when they created the Portable BT Speaker – exciting, punchy, lively, party-friendly bass that would cut through a busy crowd at the park or beach. Instead, what they got was bass that sounds like it's had a few too many wine coolers itself. The low-end feels bloated and uncoordinated, stumbling around without really knowing what it's doing. There's none of the precision or directness you get from other Bluetooth speakers in the same price range. The UE WONDERBOOM 2, for example, pulled off the same goal as the 1More speaker for exactly the same price. No matter what genres we put through the Portable BT Speaker, the low-end felt overcooked. Every so often, it became actively unpleasant to listen to, but we certainly weren't listening to it for enjoyment.
1More says the Portable BT speaker was "tuned by Grammy winning sound engineer, Luca Bignardi, for a precise representation of the artist's intended sound." Bignardi's credits include opera legend, Andrea Bocelli. He has worked with 1More before, tuning their earbuds and headphones, and has always done excellent work. God knows what happened here, then, because the Portable BT Speaker sounds as if Bignardi tuned it after a long lunch.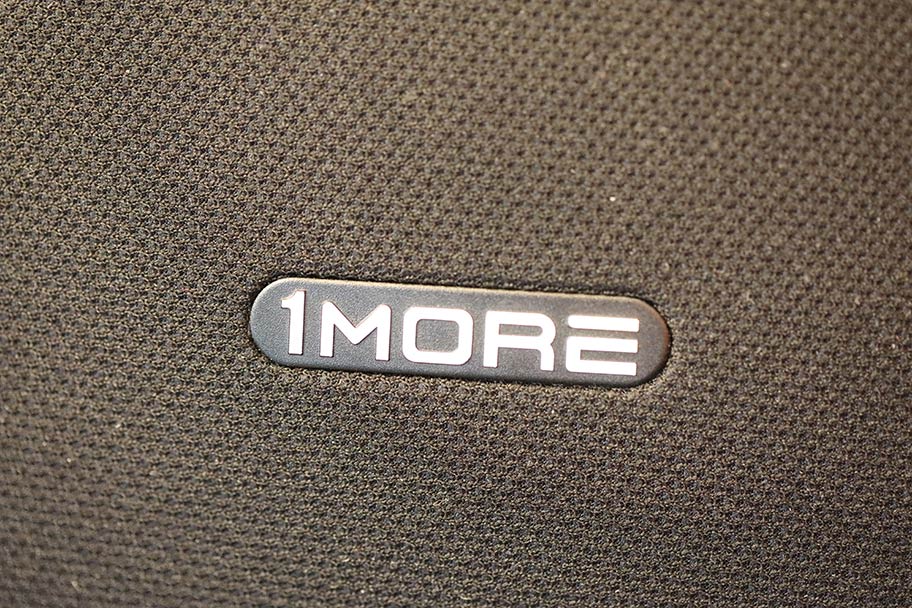 High-End (Treble) and Mids
Sadly for the Portable BT speaker, the sound doesn't improve elsewhere either. While the mids and highs avoid the bumbling nature of the bass, they still feel flat and lifeless. Vocals didn't have the kind of detail we were looking for, and instruments like violins and snare hits left without making an impression. Again, this is a real shame, and we cannot imagine the circumstances that led to this particular sound signature being approved.
Out of curiosity, we put the Portable BT Speaker up against several other models in our testing room to see if we were being overly-critical, but we weren't. When a $100 speaker is outperformed by the likes of the $26 Cambridge Soundworks Oontz Angle 3 (3rd Gen.), something has gone terribly wrong. The poor bass could have been rescued by a little extra attention to the highs and mid, but that just didn't happen. The overall impression here is of a speaker that came out of the oven half-baked, and in our opinion, the sound quality just isn't worth the three figure price tag.
 
Positioning and EQ
The Portable BT Speaker can be listened to in two positions. It can either sit flat on the surface, which emphasises the bass (please don't) or it can hang from its attached lanyard. The latter position does slightly improve the detail in the highs, although we found the effect to be less dramatic than we'd hoped. One strangely frustrating thing was that the speaker doesn't sit upright if you position it on its side, thanks to its sloped housing. You can either hang it or sit flat, with nothing in between, unless you prop it up against something.
The 1More Assistant app does let you adjust the sound a little, by letting you loose on a reasonably competent equalizer. Although this can remedy some of the speaker's inherent flaws, it only goes so far. The app is fine - works well, no lag, and gets the job done - but it feels superfluous to requirements.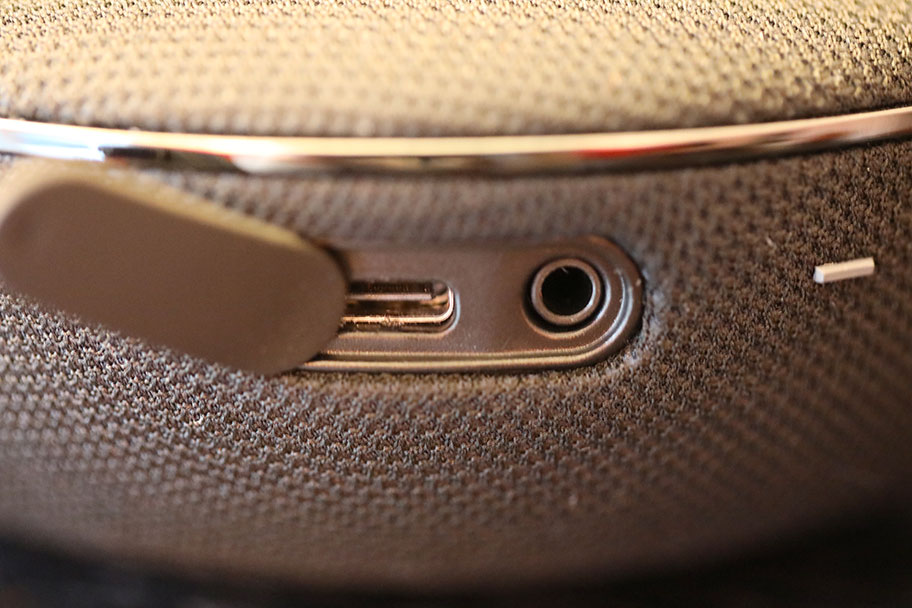 Volume
The Portable BT Speaker puts out 30 watts of power, easily beating more expensive speakers, like the $150 JBL Charge 3 (full review here) at 20 watts. We had no problem hearing the Portable BT Speaker in a crowded space during a party, but we'd be lying if we said we could hear what was going on with the music, which was just a vague beat in the background. The bottom line is that, if sound quality isn't important to you, and you just want something that gets loud, the Portable BT Speaker could be a decent option. In all honesty, we think you can do better with the aforementioned JBL, or any of the other speakers we've mentioned here, but there's no denying that the 1More Portable BT Speaker pumps up the volume.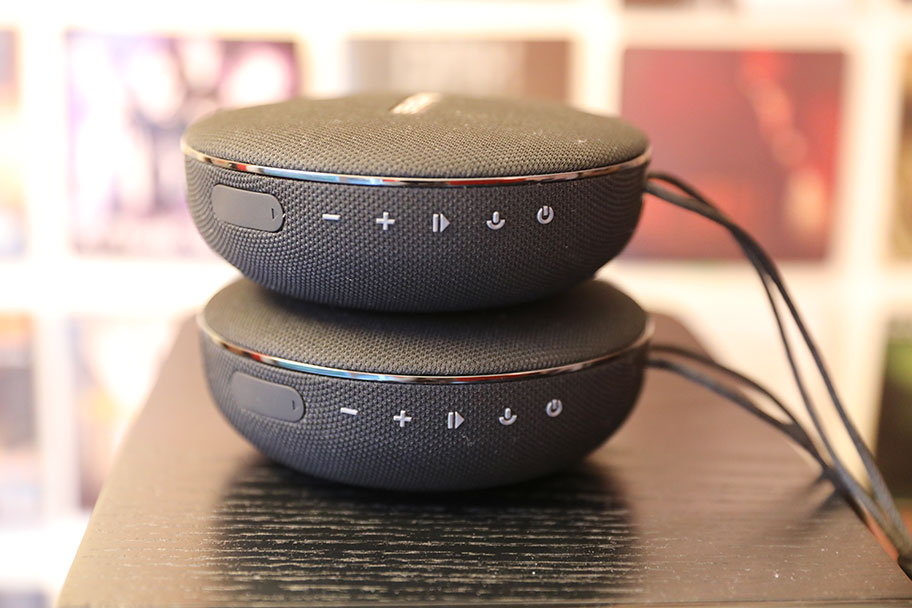 Soundstage and Stereo Pairing
While you can use a single Portable BT Speaker in isolation, it's also easy to connect two for a stereo image. You even get a discount if you buy a second one, for a total of $149 for the pair. Pairing them is relatively straightforward – all you have to do is turn both of them on, and they will connect automatically. It must be said that the stereo image and soundstage are excellent, despite the poor overall sound quality. With two of these speakers going, the positioning of the instruments feels precise and clean. Being able to pair multiple speakers is a trick we've seen before - most notably with the $100 JBL Flip 4 (full review here) - and it's one of the few things that the Portable BT Speaker does well.
 
Bluetooth
If you want to get an idea of what kind of product the Portable BT Speaker is, look no further than how it approaches Bluetooth codecs. A codec is a little program for encoding or decoding a signal – in this case, Bluetooth audio (you can read more about this here). The Portable BT Speaker uses two different codecs: AAC when one speaker is used, and SBC while playing in stereo with two speakers. The catch is that you have to switch between them manually, by pressing and holding two of the buttons on the side of the speaker.
Now ask yourself: who would do this? Who would ever grab a $100 portable wireless speaker, and remember to switch the Bluetooth codec? No-one, that's who. If that's the kind of thing you care about, then chances are you're spending a lot more than a hundred dollars on your speakers. Why on earth couldn't this procedure have taken place automatically? Surely this can't be beyond 1More's engineering department? But no: it's thrown in almost as an afterthought. It probably was...
Ultimately, whether you choose AAC or SBC, it doesn't make a huge difference to the sound. You'd need quite a bit more tuning, preferably from someone other than Luca Bignardi, to do that. But the fact that this technical and tricky operation needs to be performed by the listener shows that 1More really didn't think this through. For the record: the Portable BT Speaker uses Bluetooth 4.2 (more on what this means here), and has an effective range of about 30 feet. Any further and you'll experience dropouts. If you want a speaker with a longer range, try the less-expensive Anker SoundCore, which runs out to 66 feet.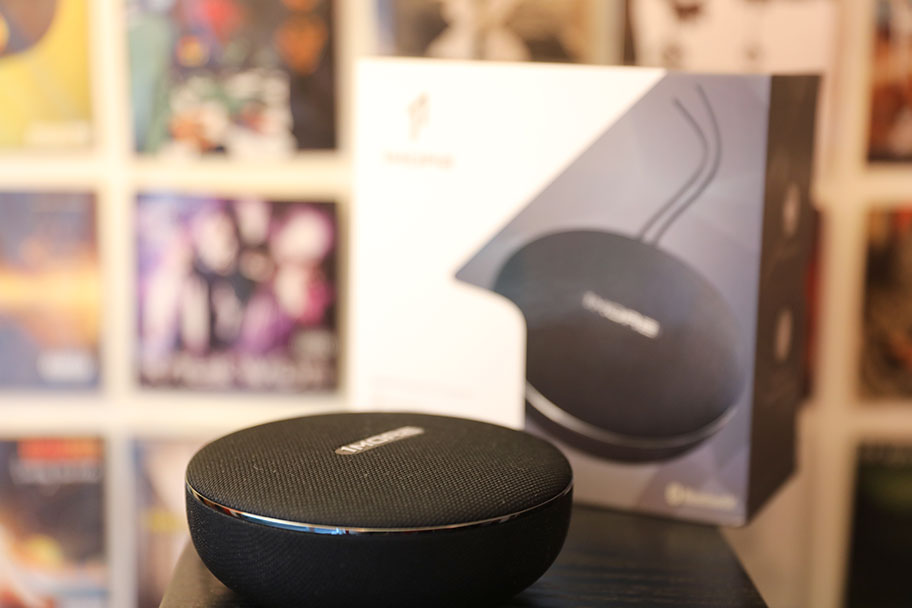 Call Quality
The Portable BT Speaker has the ability to make and receive calls, which is nice, and we had no issues with this during testing. Although the audio wasn't quite as clear as we would have liked, the person on the other end had no problem hearing us, and vice versa. If you want a speaker specifically for call quality, we recommend the Bose SoundLink Color II. It's a little more expensive, at $129, but we think it offers even better call quality and clarity.
 
Design
Looks and Build Quality
There are a few things we like about the design of the Portable BT Speaker. Almost every surface is covered with textured fabric, which feels pleasant in hand. The speaker also feels rugged and we can confirm that ours survived a drop following an incident of butterfingers. Unfortunately, that's where our love for the design ends. It's not that we dislike the overall looks of the Portable BT Speaker, it's that we can't muster up any enthusiasm for it. The overall design feels so bland. You get exactly one color – black – and everything from the prominent logo to the annoying lanyard makes us sigh. You can't remove the lanyard, by the way, unless you untie it. The 1More Portable BT Speaker: for those who get genuine pleasure out of untying knots.
In the panoply of wireless speakers, the 1More is easily one of the most drab we've ever seen. Portable Bluetooth speakers shouldn't blend in; they're designed for use in crowded, noisy, outdoor situations, and they shine if they're colorful or unusual. Even a model like the Bose SoundLink Revolve+ features a distinctive shape, useful carry handle, and looks good. When Bose are beating you on looks, you need to rethink your strategy.
Controls
Matters are even further complicated by the controls, which don't work nearly as well as intended. There are five controls lined up on one side of the speaker: two volume controls, a play/pause button, a mic button, and a power button. The power and play/pause buttons are mislabeled in the manual, because of course they are. And while the buttons work fine, it always feels like you have to press them a little too hard to get them to do what you want.
 
Battery Life
In testing, we got 11 hours of battery life out of our Portable BT Speaker when listening at 70% volume. That's highly acceptable and roughly the amount we'd expect from Bluetooth speakers at this particular price. There are definitely better options, however, if you're looking for the best battery life. The aforementioned UE WONDERBOOM 2 runs for roughly 13 hours and is a better speaker overall. We managed to fully charge our Portable BT Speaker in just under three hours, which is standard for most Bluetooth speakers.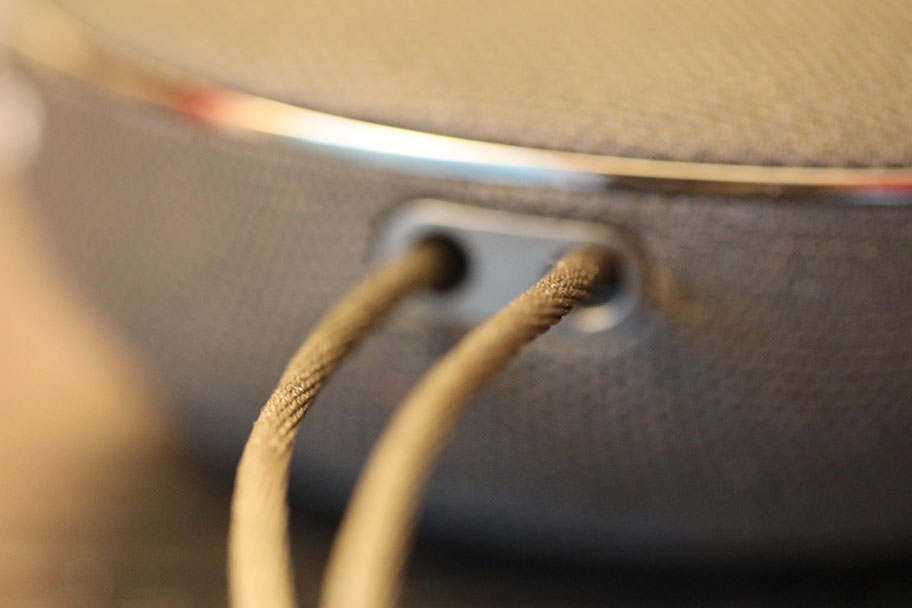 Waterproofing
Any portable speaker worth its price has to be able to handle a bit of water. While the Portable BT Speaker is no slouch, it offers significantly less waterproofing than other models. It has a waterproof rating of IPX4; in the world of waterproofing, that means it can withstand splashes of water. In comparison, the $33 Tribit XSound Go has an IPX7 rating, which allows it to go for an actual swim. Even the Oontz Angle 3, mentioned above, has a higher waterproof rating than the Portable BT Speaker. We're not saying that an IPX4 rating isn't enough for most people – we tested the Portable BT Speaker's waterproofing, and it works fine - but the point we keep coming back to is that this speaker just doesn't offer enough for the price.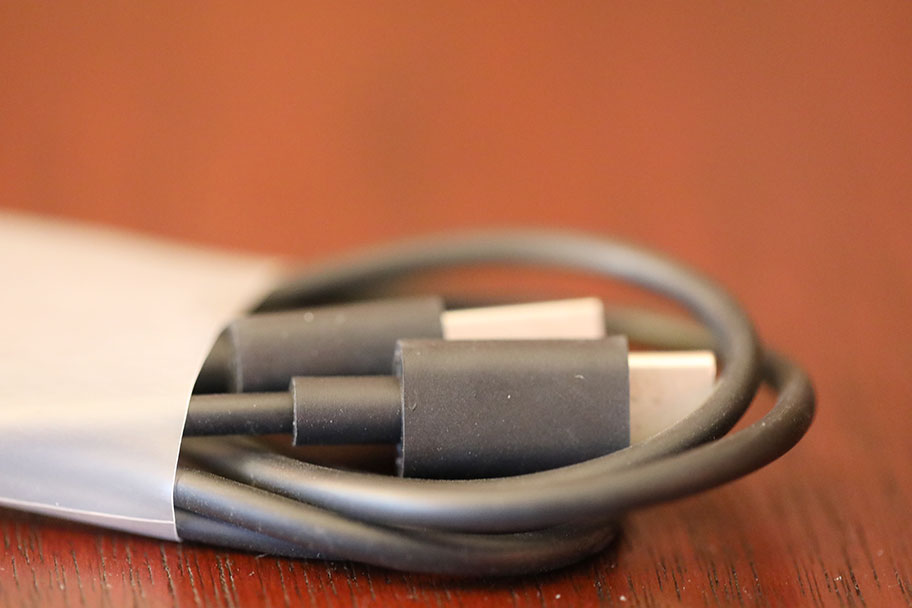 Accessories & Packaging
Oddly enough, despite everything, it was the packaging that frustrated us the most. Not because it was poorly designed - it's a simple box that is easy to open and extract the contents from. It frustrated us because it's a step backwards. Check out the pictures in our review of the 1More earbuds. There was clearly some thought put into the packaging, which featured stunning blueprint drawings and felt unusually premium. The Portable BT Speaker came in a simple box that's easy to open and toss into the recycling. That's it. What a missed opportunity. What a shame.
The only other accessory you get is a USB-C cable charging. We're glad to see that 1More are using USB-C; if they'd opted for micro USB, we might have just thrown the speaker straight into the ocean.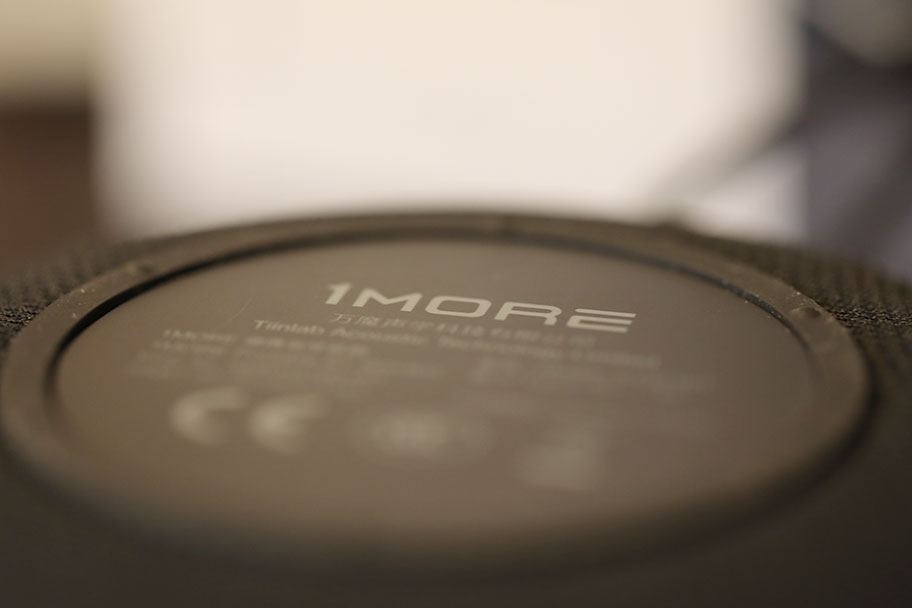 What We Like
The 1More Portable BT speaker offers a decent soundstage, especially if paired with a second speaker.
The Portable BT Speaker offers good battery life and is rugged enough to handle splashes of water.
The call quality is decent, although the speaker is bested by its rivals.
 
What We Don't
The sound quality of the 1More Portable BT Speaker is far worse than the price would suggest.
The design and controls of the Portable BT Speaker are bland.
The Portable BT Speaker doesn't have a high enough waterproof rating for the price, where other speakers do.
Comparison Table
*WP = Waterproof

The Competition
There's a serious amount of competition in the world of wireless speakers and the 1More Portable BT Speaker doesn't have what it takes to compete. Fortunately, there are several other options that do. If you want to spend even less, pick up the JBL Flip 4 for $90. It's an ideal speaker for taking outdoors with you, with rugged housing and full waterproofing. The sound quality is decent. The Flip 4 has less battery life than the 1More Portable BT Speaker and isn't quite as loud, but it's still a superior option – especially given the fact that it's less expensive. Like the 1More speaker, you can pair multiple Flip 4s to get a stereo effect. JBL's Connect+ software allows you to pair more than one hundred compatible speakers, which is overkill in the best possible way.
Our wallet-friendly choice is the Cambridge Soundworks Oontz Angle 3 (3rd Gen.). This speaker offers great features for under $30, which is less than a third of the price of the 1More Portable BT Speaker. You get 12 hours of battery life and IPX5 waterproofing, which easily beats the 1More's IPX4 rating. We also think the sound quality is marginally better, especially in the highs. This model isn't nearly as loud as the 1More, but that's a minor issue. We think it's still a superior speaker that does exactly what it sets out to do.
If you're prepared to spend a little more, then the popular Bose SoundLink Color II is a good choice. It costs $129, and while its battery life suffers at seven hours, we love the design and sound quality. You can get your SoundLink Color II in a variety of colors, and the design is light and portable. It's also one of the best wireless speakers for taking calls, and the rugged housing means it can take a beating. Battery life aside, it's a superior option to the hapless 1More Portable BT Speaker.
Finally, there's the UE WONDERBOOM 2, which is identically priced to the 1More, at $100. This speaker offers several significant advantages. It sounds better, for one thing, with bass that is lively and interesting. It also has a better battery life, better waterproofing, and much better design. It is, without question, a superior choice. It isn't quite as small as the 1More speaker, but it's a better option in just about every way.
See the 1More Portable BT Speaker See the Best Wireless Speakers
Learn More About Portable Audio